How to Turn an Ugly Thrift Store Ottoman into a Statement Piece
Jun 12, 2015
As you might know, thrift stores are wonderful emporiums for DIY projects. A couple weeks ago we brought you a four-step thrift store hack on how to reupholster a chair and a simple tutorial on how to turn a drab dress into a fab two-piece set. Now we're back with a $12.99 ottoman that was a disgusting green/brown color. Let's just say I was embarrassed to carry it to the check out counter and then into the colorful world of Brit HQ. However, as with many thrift store finds, I just needed to squint my eyes and imagine what it could be! Follow below to learn how to create a perfectly fitted slip cover for a not-so-pretty ottoman.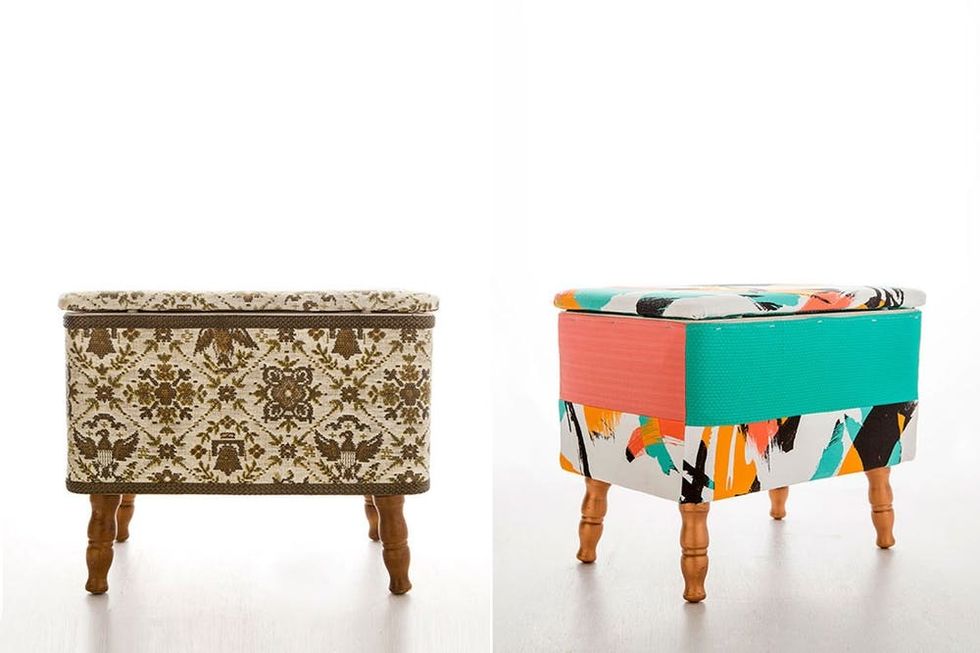 ---
Materials:
Tools:
– staple gun
– screwdriver
– pins
– sewing machine
– scissors
– measuring tape
– pen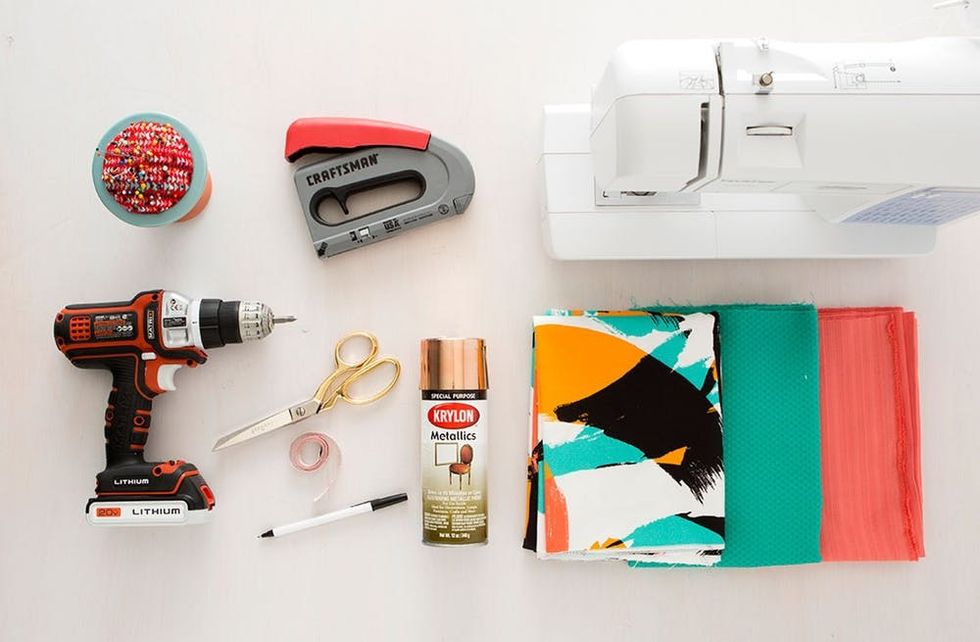 Instructions:
1. Disassemble your thrift store ottoman. Unscrew the legs and hinges, and take the pre-existing fabric off if possible.
2. Measure your ottoman and cut out panels of fabric. Stitch the pieces together if you plan on creating a "dip dye" effect like ours above.
3. Once you have your full-sized panels, pin them together around the ottoman, pulling the fabric tightly to create a new slip cover.
4. Slide the slip cover off of the ottoman and stitch all four sides. Fold the top edge over to create a clean hem.
5. Put the slip cover back on and staple it to the ottoman, evenly spacing the staples along the top side and then wrapping the fabric underneath the ottoman.
6. Cut out a piece of fabric to cover the lid of the ottoman, wrap and staple tightly.
7. Trace the lid, cut out a piece of fabric and staple it onto the inside of the lid.
8. Spray paint the legs of your ottoman.
9. Reattach all of your pieces to create your new ottoman.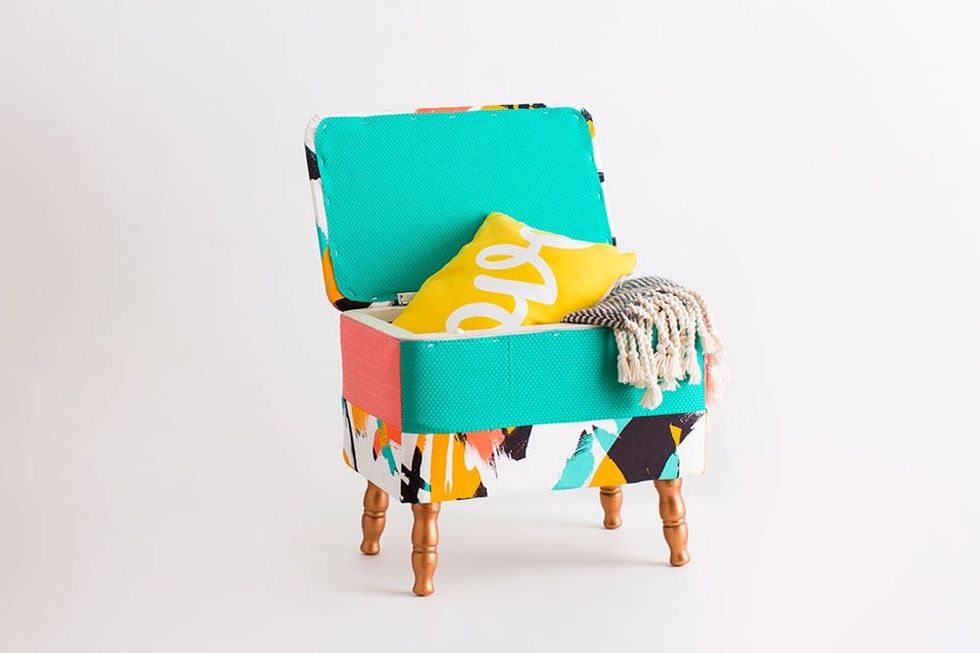 What we love most about this thrift store find is that it doubles as a chest for storing extra pillows and blankets!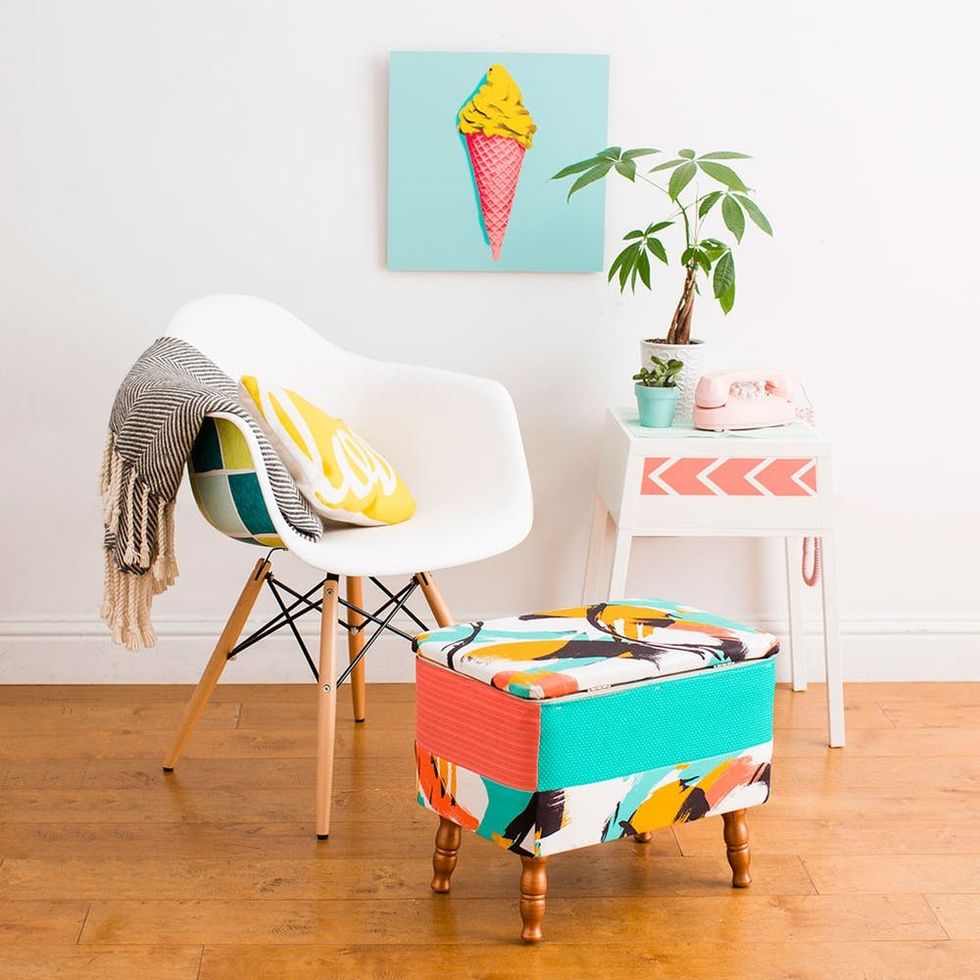 This piece is the perfect foot rest for any chair.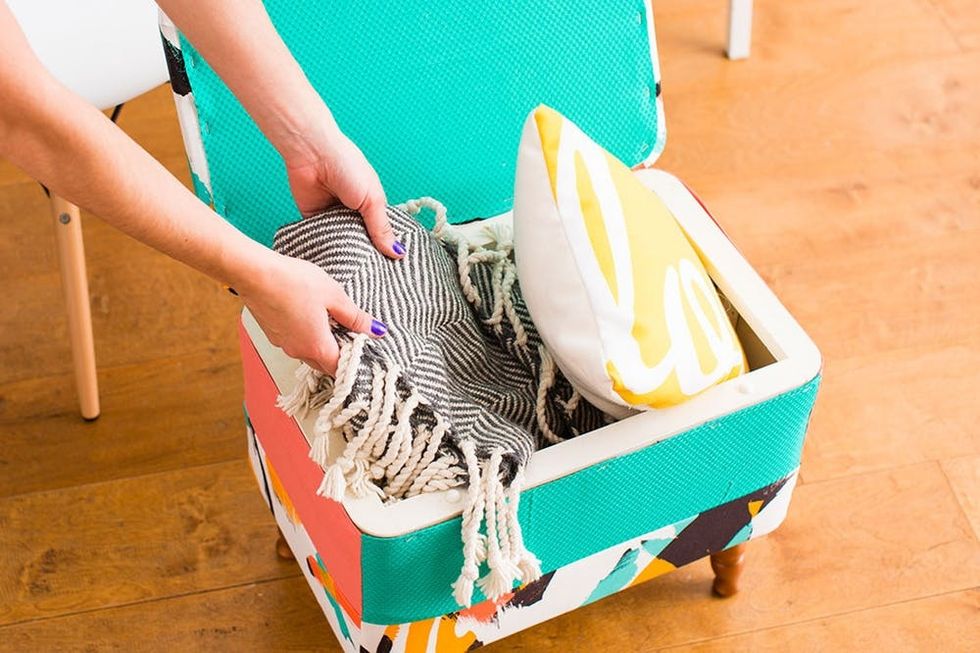 Have you created any masterpieces from thrift store finds? Share them with us using the hashtag #iamcreative. As always, leave comments and questions below!
Kelly Bryden
Kelly Bryden, an east coast native, is stoked to be a part of the Brit + Co team. Design, DIY, and fashion are her passions. If she isn't crafting you can catch her on the dance floor or wrapped up in aerial silks.