Expert Tricks for New Year's Eve Photo Booth Pics That Aren't Lame
Dec 30, 2015
Folks, 2016 is right around the corner and you know what that means? It's New Year's Eve party time! And what better way to ring in the new year than with a photo booth to capture some final 2015 memories with all your favorite people? We've once again teamed up with our friends at Photojojo for photo tips and tricks to ensure that the last pictures of your pals in 2015 are truly unforgettable.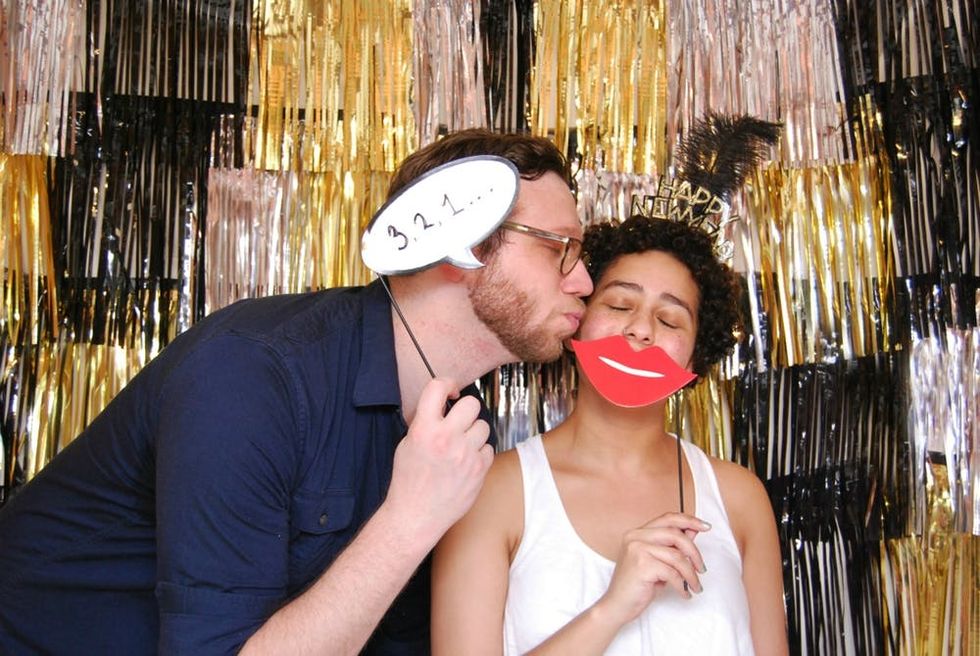 ---
SHINE BRIGHT
Whether your party is indoors or out, there's a good chance it'll be taking place at night. This means you won't have any natural light available for your photo booth but, no worries! We've already covered someways in which to utilize your on-camera flash by using what's called a flash bounce. Now we're going to take it one step further with an important additional tip so that the smiling faces in your photo booth pictures are well lit.
First, a few notes: If your ceiling is really high then using a flash bounce alone may not be enough. The light from your flash could end up getting lost before it has a chance to bounce back and hit your subject. And if your walls are any color other than white, this can effect the white balance in your shot, resulting in funky colors.
The solution: We recommend setting up a white umbrella behind the camera. You can either hold it or tie it to a tall object, like an extra tripod or even a chair. Just make sure the umbrella is angled slightly over and behind your camera. This way when the flash goes off, the light will first bounce off your light bounce, then directly off the umbrella instead of the ceiling and off-white walls. Now your subject will be brightly lit and your white balance will stay in check. Now that's something to smile about!
MAKE THE BACKDROP SPARKLE
Looking for a pretty but inexpensive backdrop to really make your booth pictures pop? You can make one yourself with just a few ingredients! You won't have to worry about breaking the bank, plus you can brag to your party guests about your awesome DIY skills.
Get your hands on a few different colors of fringe garland (which you can find in most party aisles and stores). Cut it up and adhere it to a white or clear shower curtain using electrical tape. Pin your shower curtain to the wall, and voila! You've got a super sparkly backdrop that your friends are going to love standing in front of.
Looking for even more backdrop ideas? We've got 16 of them right here.
PLENTY OF PROPS
What's a photo booth without props for your guests to hold? Grab up some party favors like hats and 2016 glasses, as well as speech bubble signs for them to write in. This way your friends aren't just standing there smiling like they would in any old photo. Rather, they're going to feel free to be silly, resulting in extra playful shots that are filled with personality!
You can ask your guests to bring props they want to pose with or just provide 'em all yourself! Brit + Co has a super cute Prop Party Pack for New Year's Eve, and Photojojo has chalkboard speech bubbles for personalized messages.
LET IT RAIN (BALLOONS)
This tip could have gone under the "props" section but really it's just so awesome that we felt it needed its very own title.
Blow up a bunch of balloons and keep them in a large garbage bag off to the side. Now your party guests can grab them at will and throw them around in their photos for some cool and colorful action shots.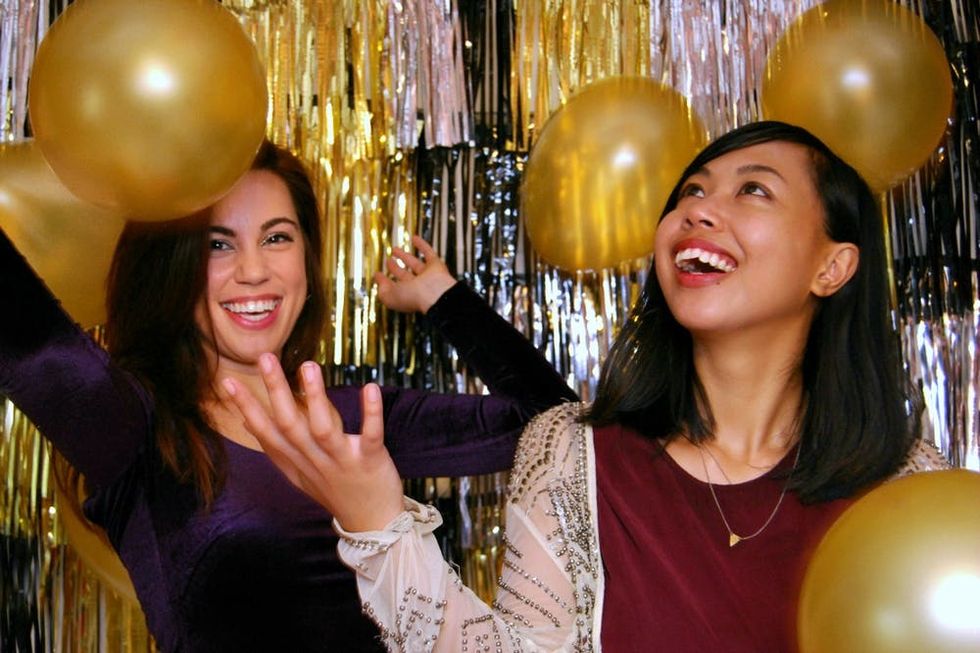 Keep in mind that it's impossible to control where the balloons are going to go once they're thrown up in the air, so we recommend having someone off to the side throwing balloons into the frame as well. And since the balloons are going to fall really slowly, make sure not to snap the shot the second the balloons are thrown up. Instead, wait a few seconds for them to start to fall and then snap away just as they begin to enter the frame!
MAKE IT A SELFIE
Your friends love having you take their picture (and why wouldn't they, you're so talented!) but it can also be a cool treat if you give them control over their own shots.
Get yourself a shutter remote (if you're using your phone to snap the pics, Photojojo has a remote just for you!) and set up your camera to accept the remote's signal. While this is a simple step, it's different for each camera. So just peep your manual or look up your camera online to find where the setting is. Once you've got that set, hand the shutter remote over to whoever is getting their picture taken and tell them to go for it!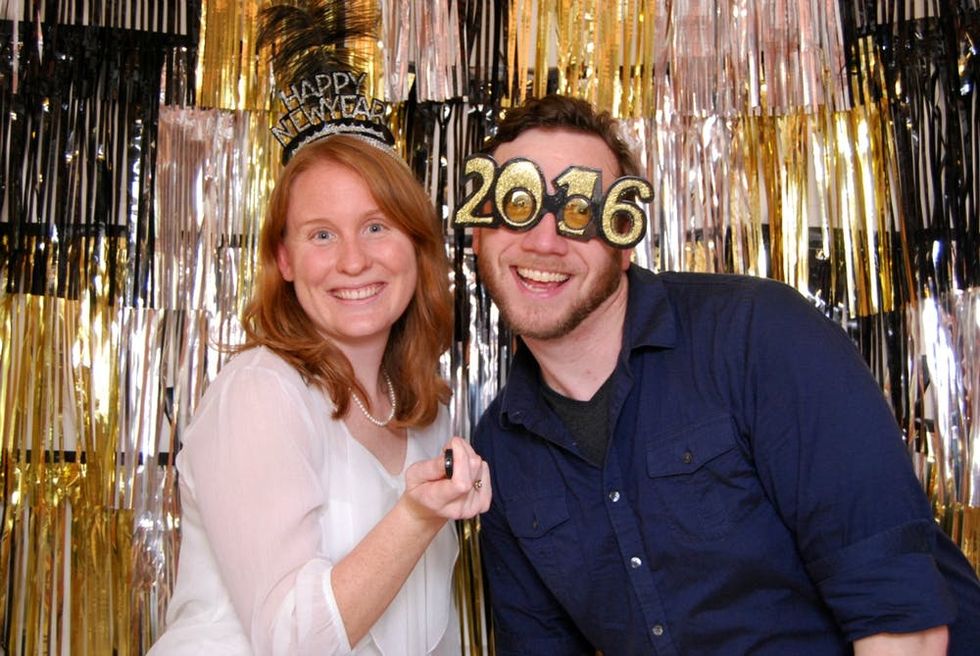 If this isn't the cutest way to say hello to 2016, we don't know what is. And if you want to make this new year the one in which you become a photo/DIY pro, follow the Photojojo blog for more tips!
Show us some of your shots by tagging us on Instagram + using hashtag #iamcreative!