17 Savory Brunch Pie Recipes That Will Warm You Up
Oct 24, 2015
With fall in full swing and the holidays on the horizon, it's time to start dreaming up scrumptious, satisfying breakfasts you can serve to out-of-town guests or take along to family brunch get-togethers. Sure, you could stick with sweet staples like pancakes and pastries, but with just a little extra prep, you can take things to the next level and dish up savory breakfast pies that are just right for chilly fall or winter mornings. Whether you make them ahead of time or serve them fresh out of the oven, these 17 dishes are a surefire way to warm your relatives and friends.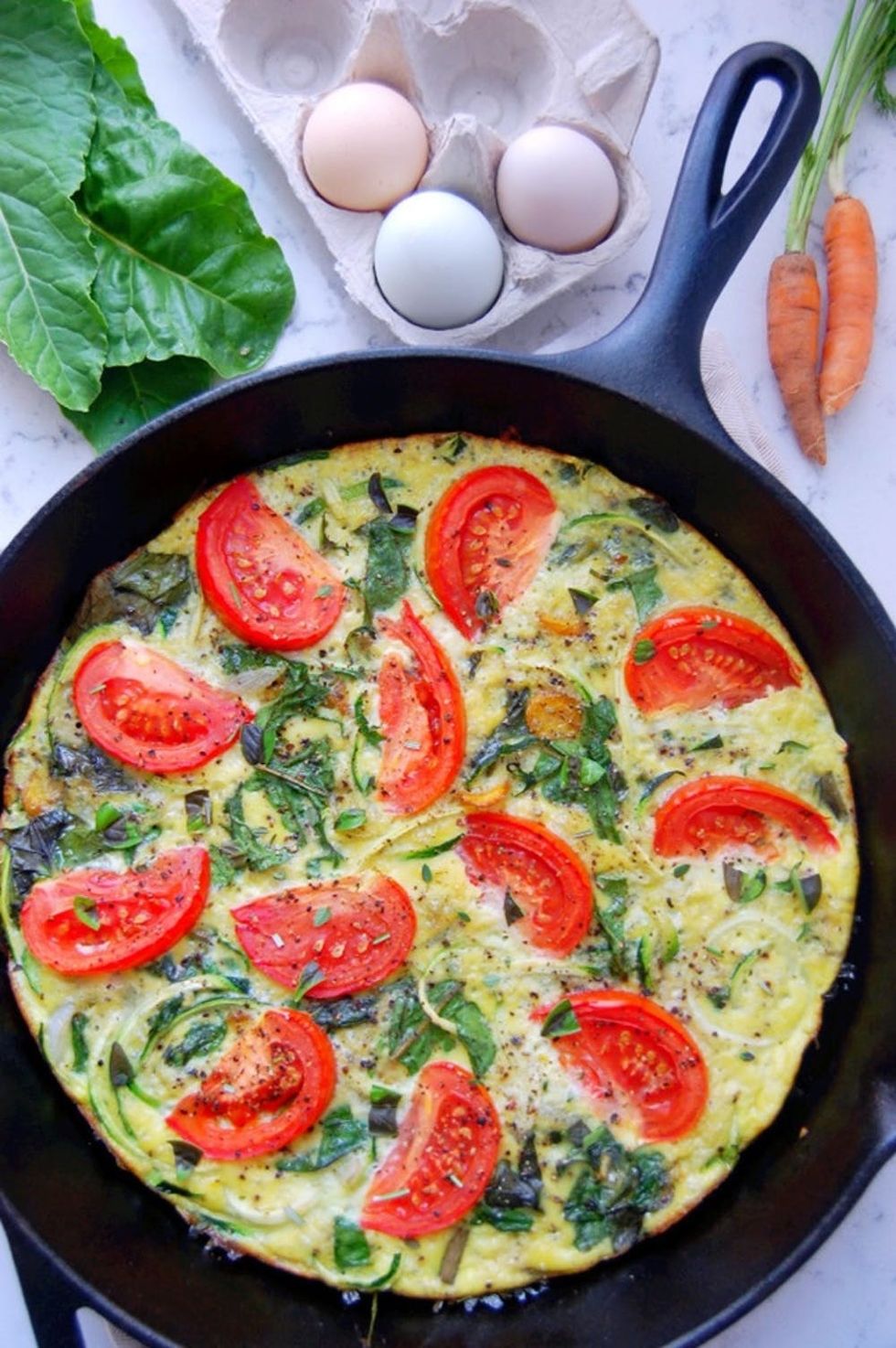 ---
1. Zucchini Noodle Frittata With Swiss Chard: Who doesn't love zucchini noodles? This healthy replacement for pasta at dinnertime doubles as a breakfast superstar in an easy egg frittata. Featuring Swiss chard, tomato slices, onions and carrots, this meal is a colorful and tasty crowd pleaser. (via Uproot Kitchen)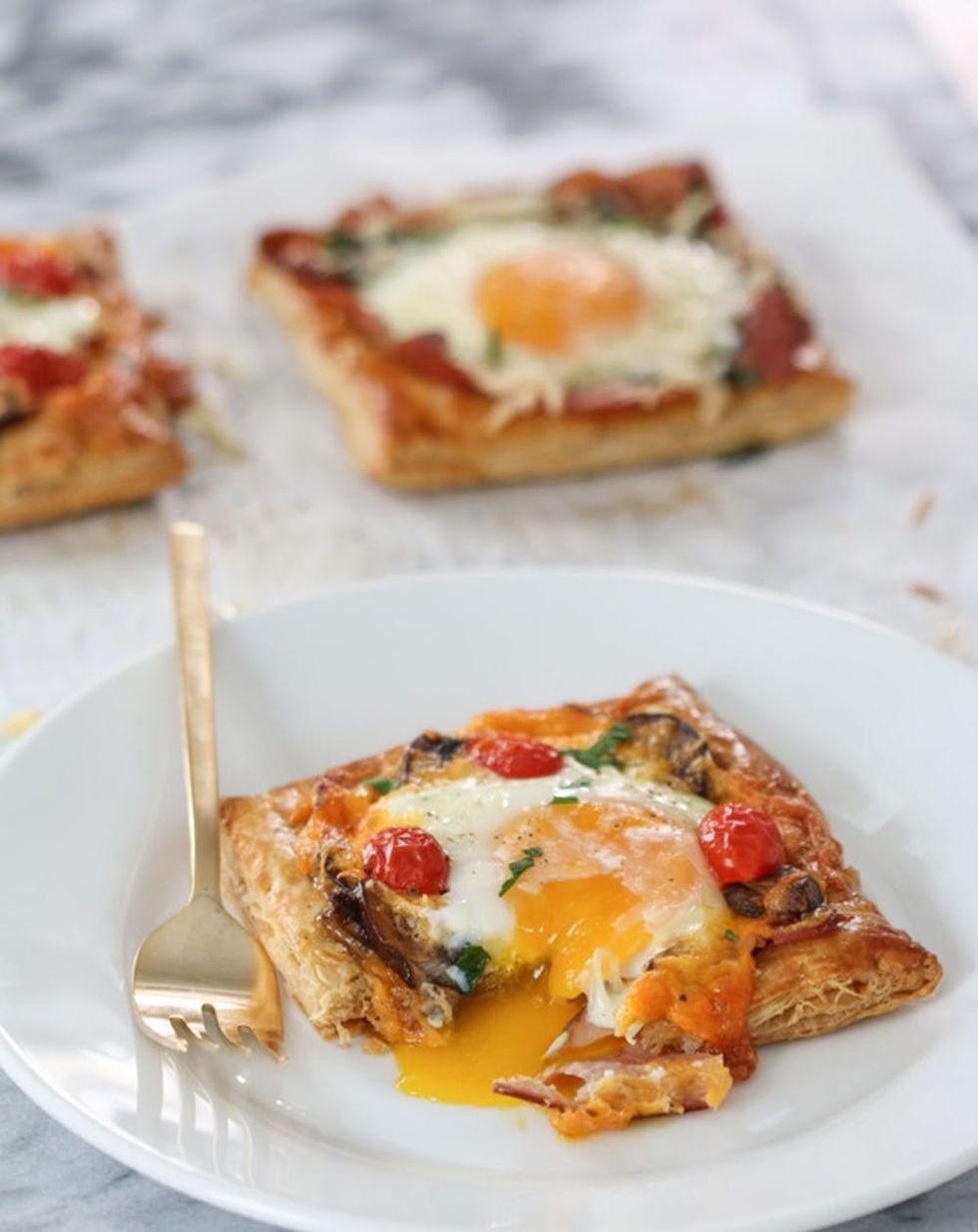 2. Egg-Topped Pie: Why serve eggs on the side when you can use them to top ham, mushroom and tomato pies? Seriously, these flaky bites look just as spectacular as they taste. (via Inspired By Charm)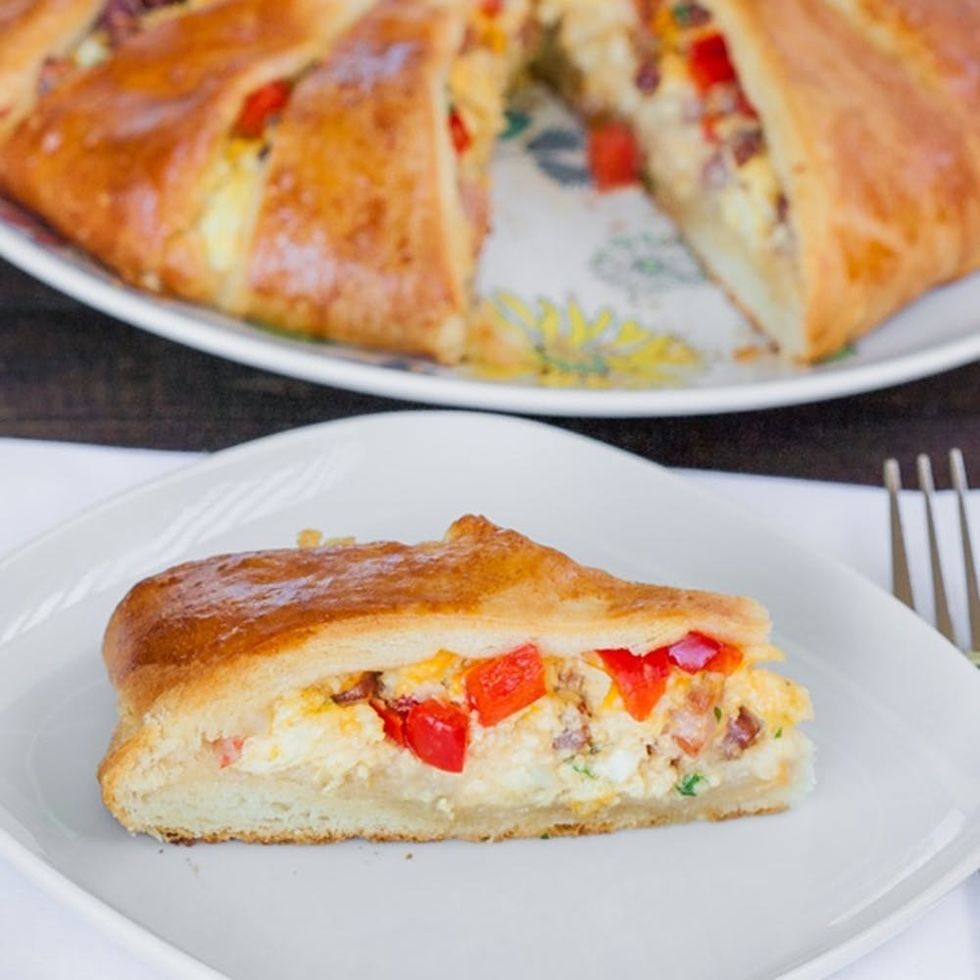 3. Crescent Roll Pie: Crescent rolls aren't just for Thanksgiving dinner when you use the dough to create a delicious brunch pie filled with eggs, bacon, bell peppers and cheddar cheese. (via Jo Cooks)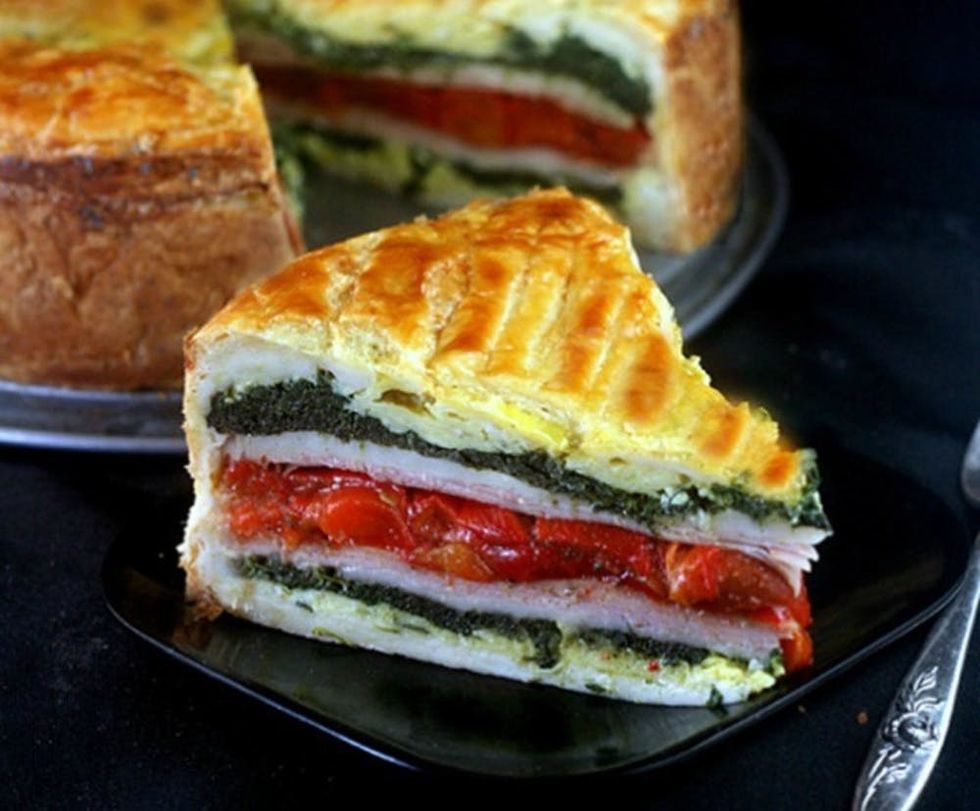 4. Tourte Milanese: Layers of deliciousness await as you sink your teeth into a ham, Swiss cheese and bell pepper-packed delight. Don't dig one of the ingredients? It's super simple to swap in your faves. (via Parsley, Sage + Sweet)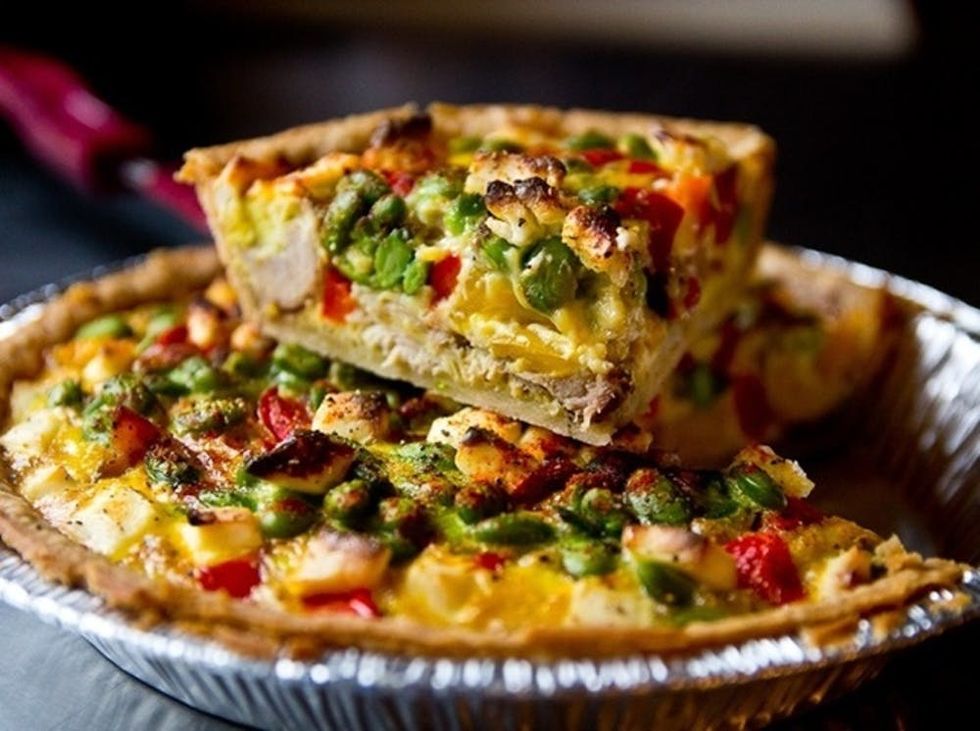 5. Chicken + Egg Pie: Whichever one came first — the chicken or the egg — you'd better believe they make for one heck of a tasty breakfast pie combination. This baked beauty also calls for edamame and bell peppers, helping you get your daily dose of veggies. (via Jody Wagstaff)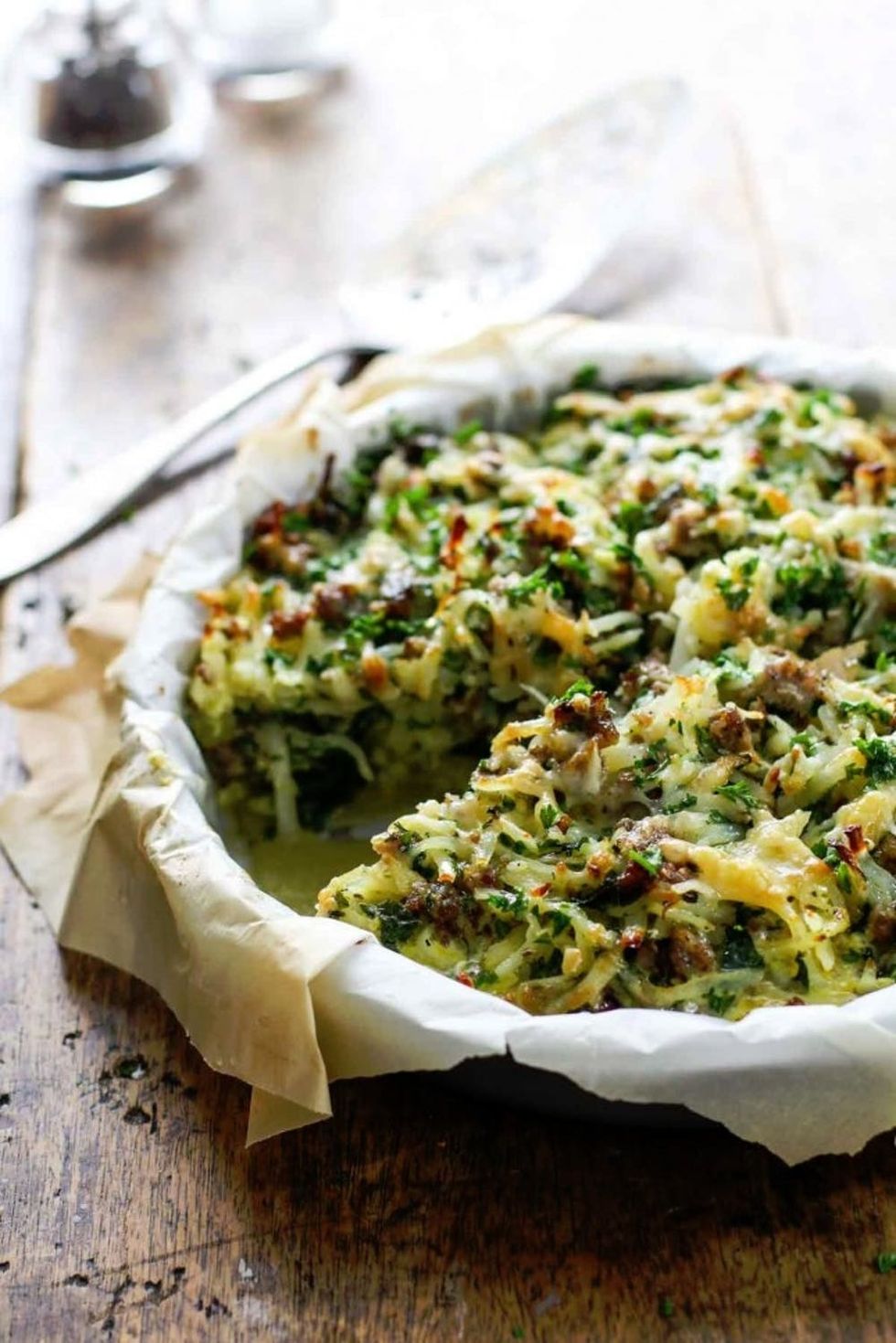 6. Sausage + Potato Pie: Can't decide what to bring to an upcoming potluck brunch? This six-ingredient pie features two classic breakfast foods — sausage and potatoes — making it a safe, but still creative, choice. (via Pinch of Yum)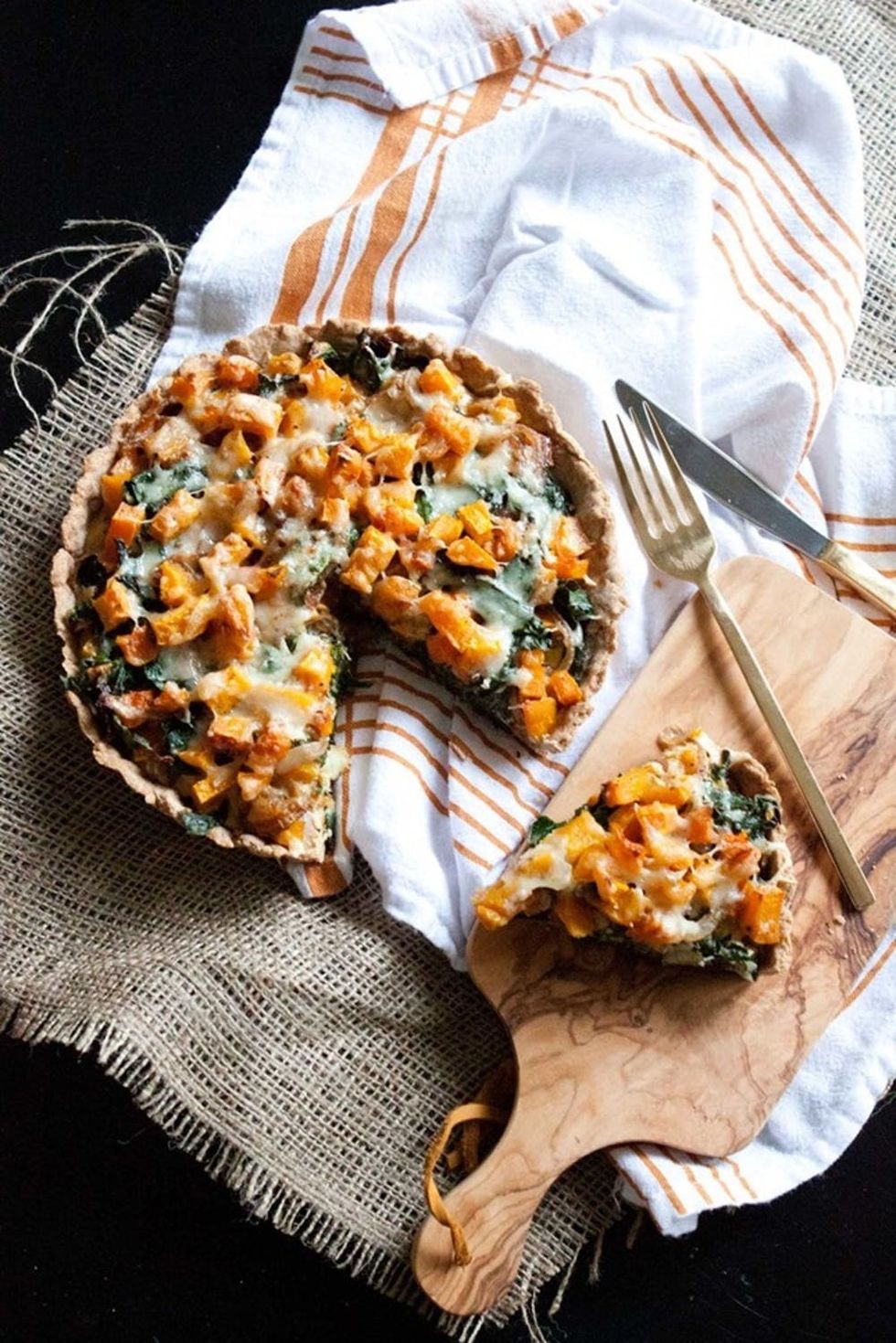 7. Butternut Squash + Kale Tart: Get your greens well before lunchtime with the help of this crazy good Gruyere-topped tart. It'll squash guests' hunger in an instant. (via Passports + Pancakes)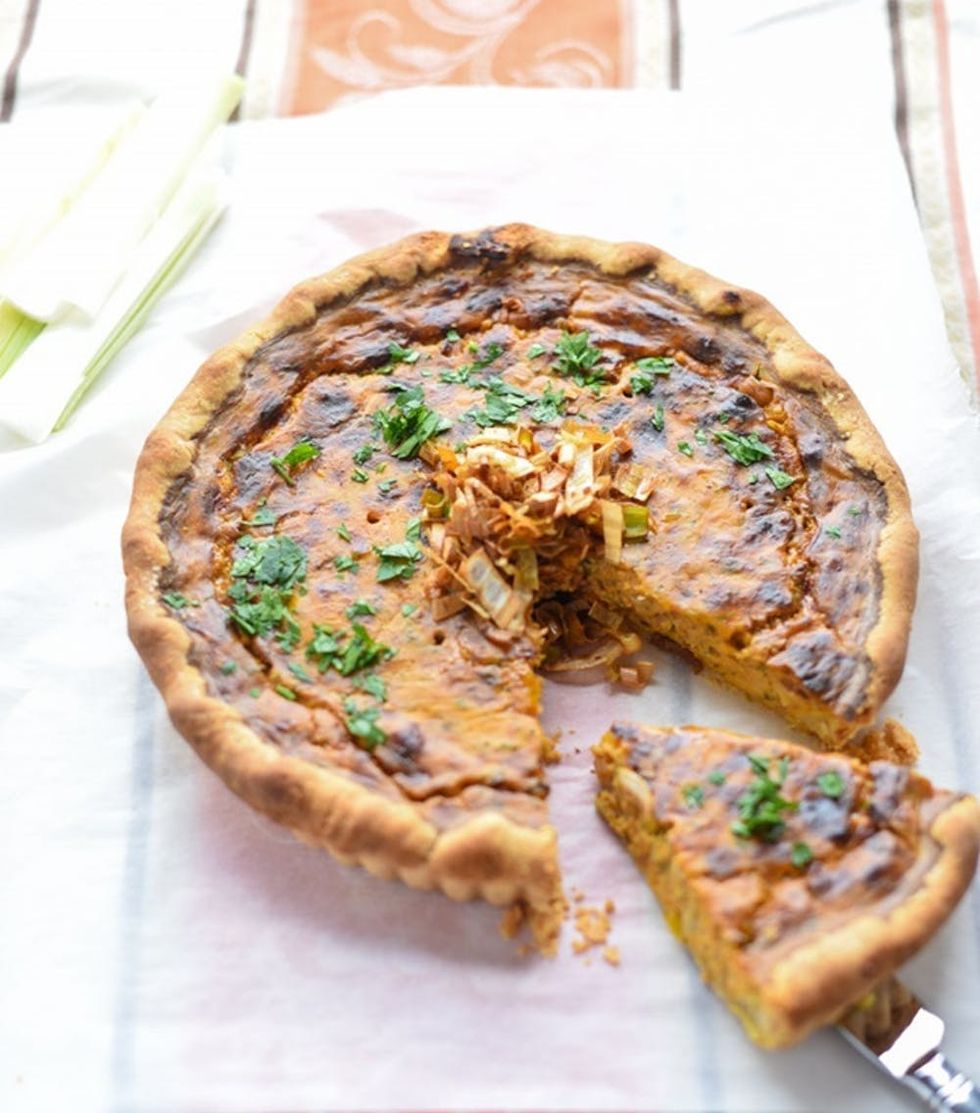 8. Leek + Pumpkin Quiche: Yup, that's pumpkin pie all right, but not the kind you'd typically expect. Impress guests by serving this one for breakfast and its sweeter sister for dessert later on. (via Brazilian Flair in the USA)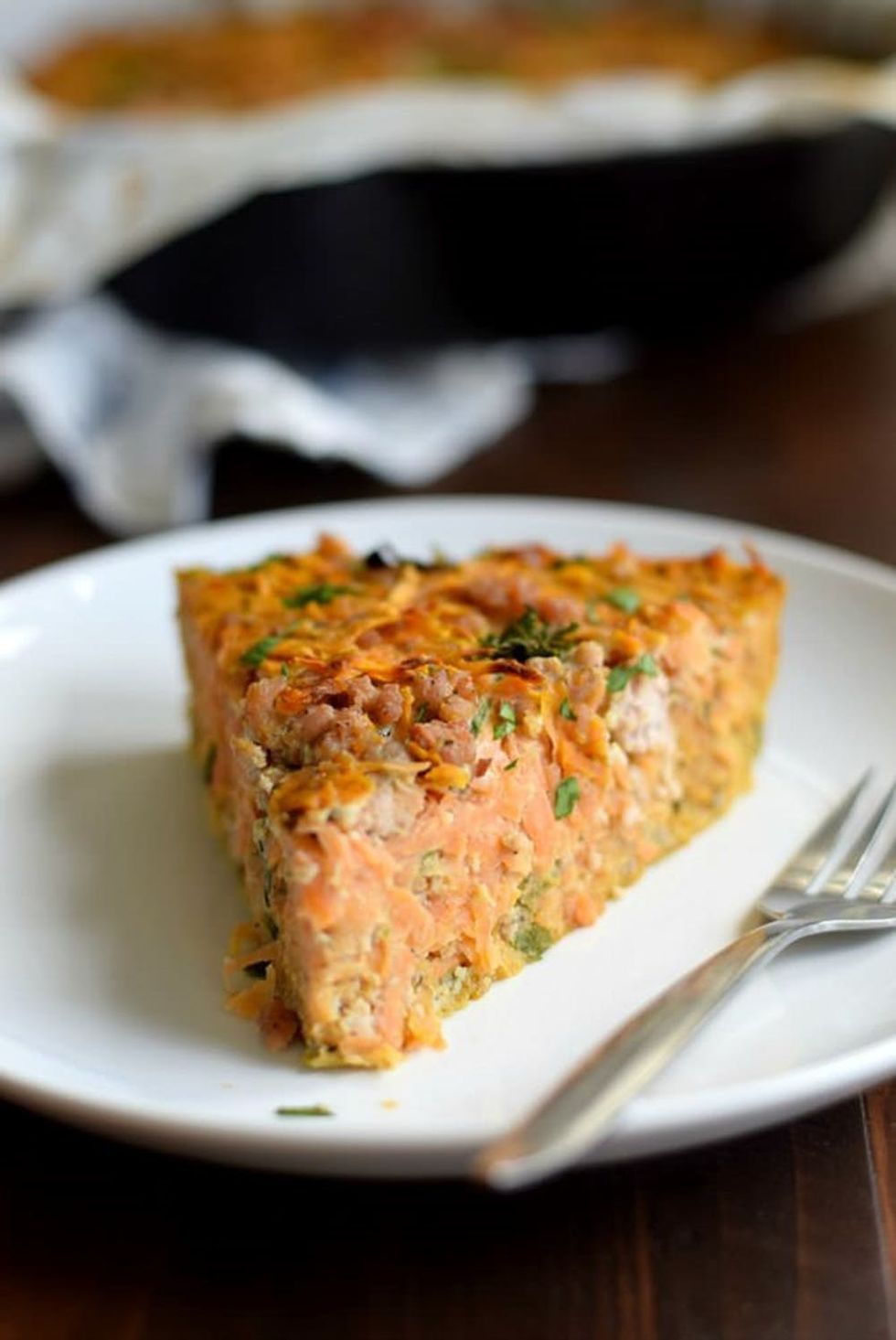 9. Sweet Potato Hash Brown Pie: When it comes to healthy breakfast picks, hash browns sadly don't make the cut. But instead of giving up on the greasy go-to, try this innovative recipe instead. Calling for sweet potatoes rather than standard white spuds, it delivers the best of both worlds. (via Hold the Grain)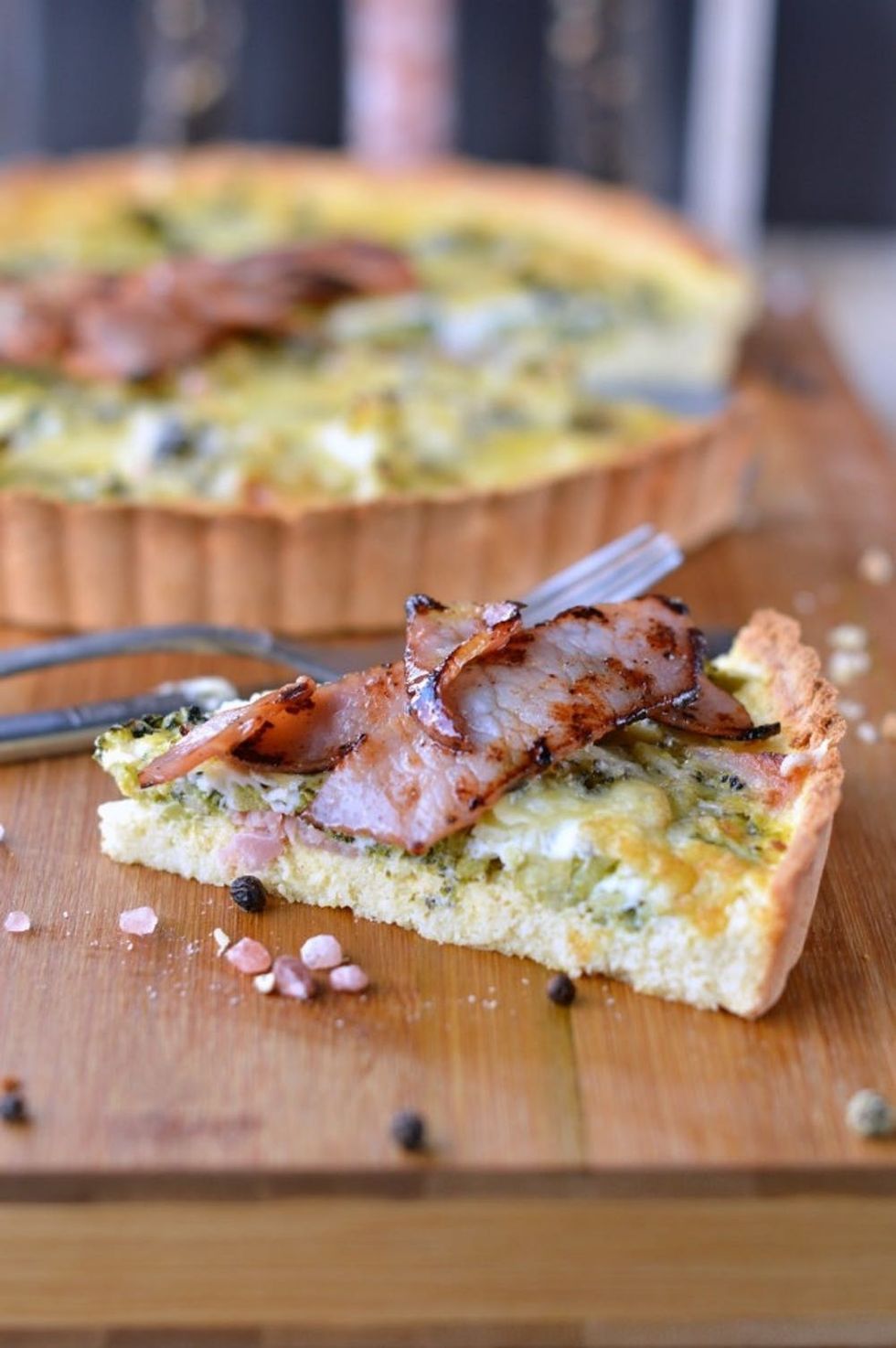 10. Bacon, Broccoli + Coconut Flour Quiche: Ham fans will fall head over heels in love with a rasher bacon and broccoli quiche that features coconut shortbread crust, plus melted mozzarella or Parmesan cheese. (via Sweet as Honey)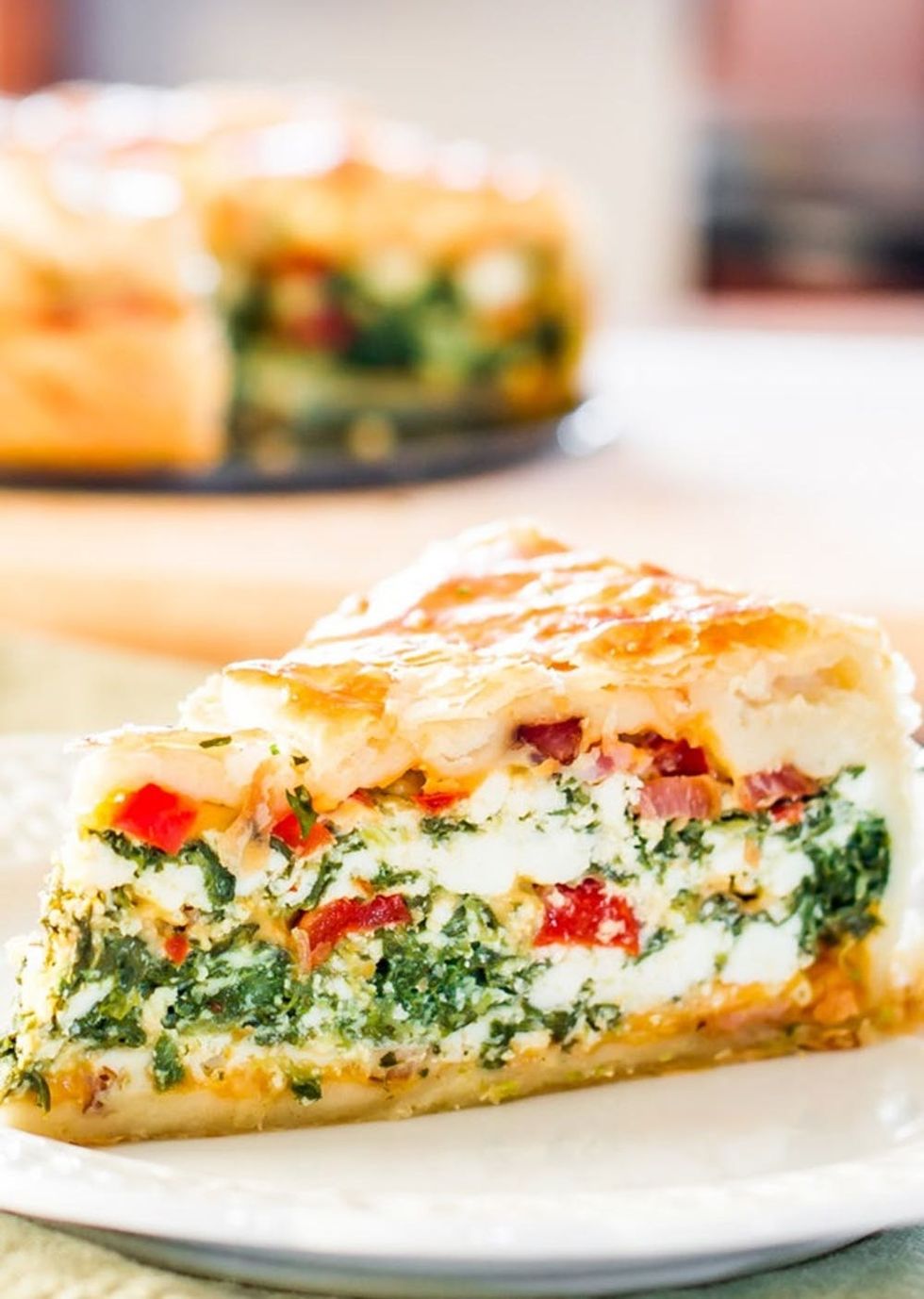 11. Spinach + Ricotta Bake: Think ricotta only works well in ravioli or lasagna? Not when you toss together this spanakopita-esque spinach bake. (via Jo Cooks)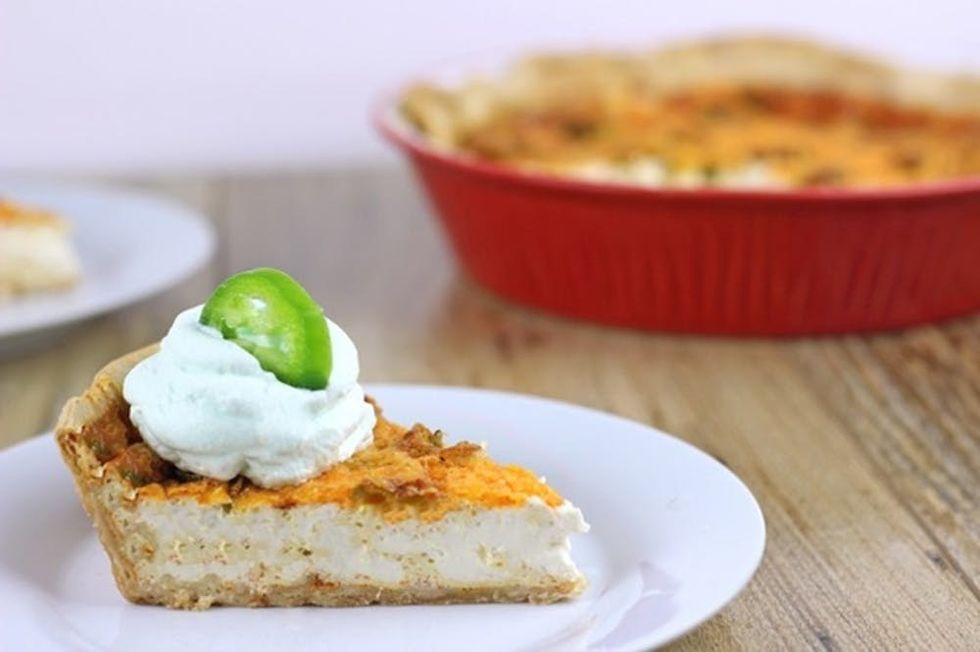 12. Jalapeño Popper Quiche: Spice up your morning and get things poppin' — even when the weather outside is frigid — with the help of this creamy, cheesy quiche. (Dinner, Then Dessert)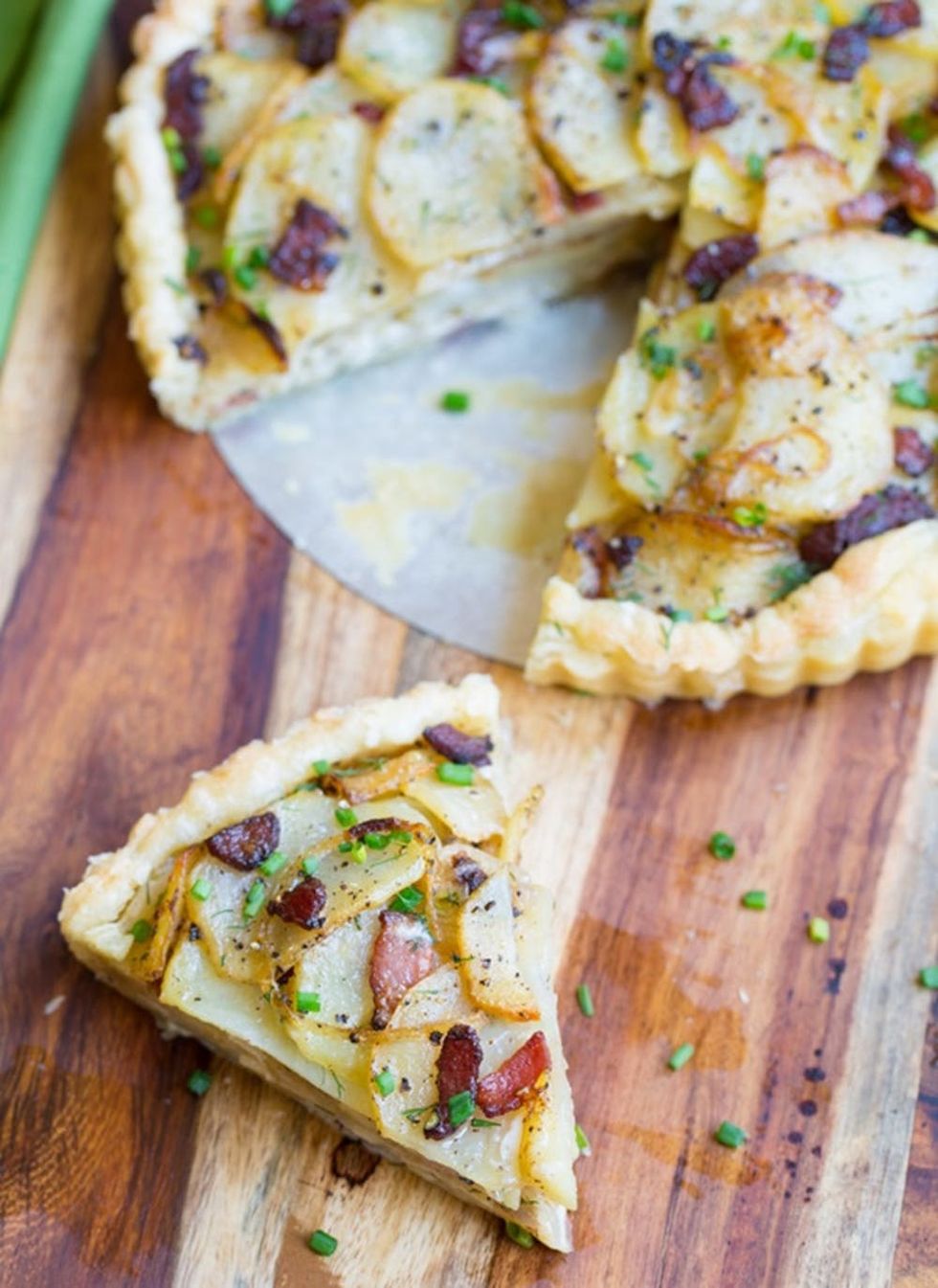 13. Irish Potato Pie: Enjoy some scalloped potato pie now, then bookmark this recipe for St. Paddy's Day. There's a good chance you'll decide to make it again way before March, though. (via A Spicy Perspective)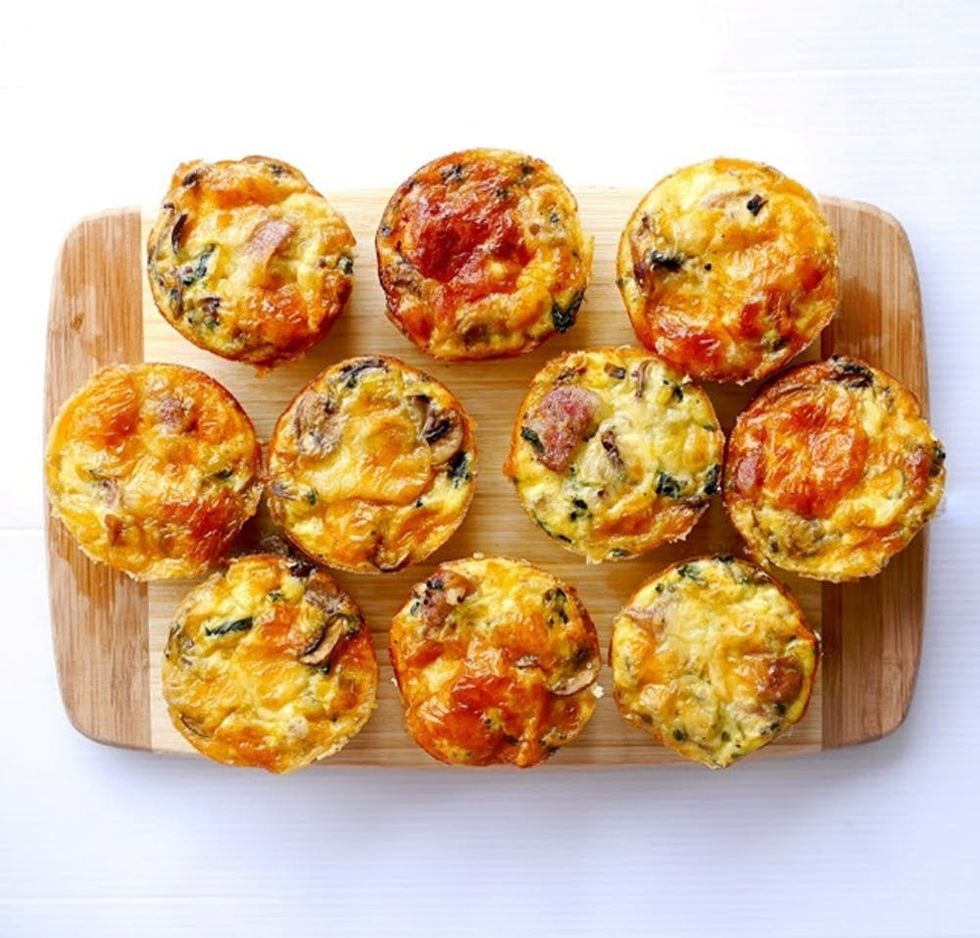 14. Mini Crustless Quinoa Quiche: Better than muffins and filled with healthy, hearty quinoa, these mini quiches are easy to gobble before dashing out the door on busy weekday mornings. (via Yellow Fingers)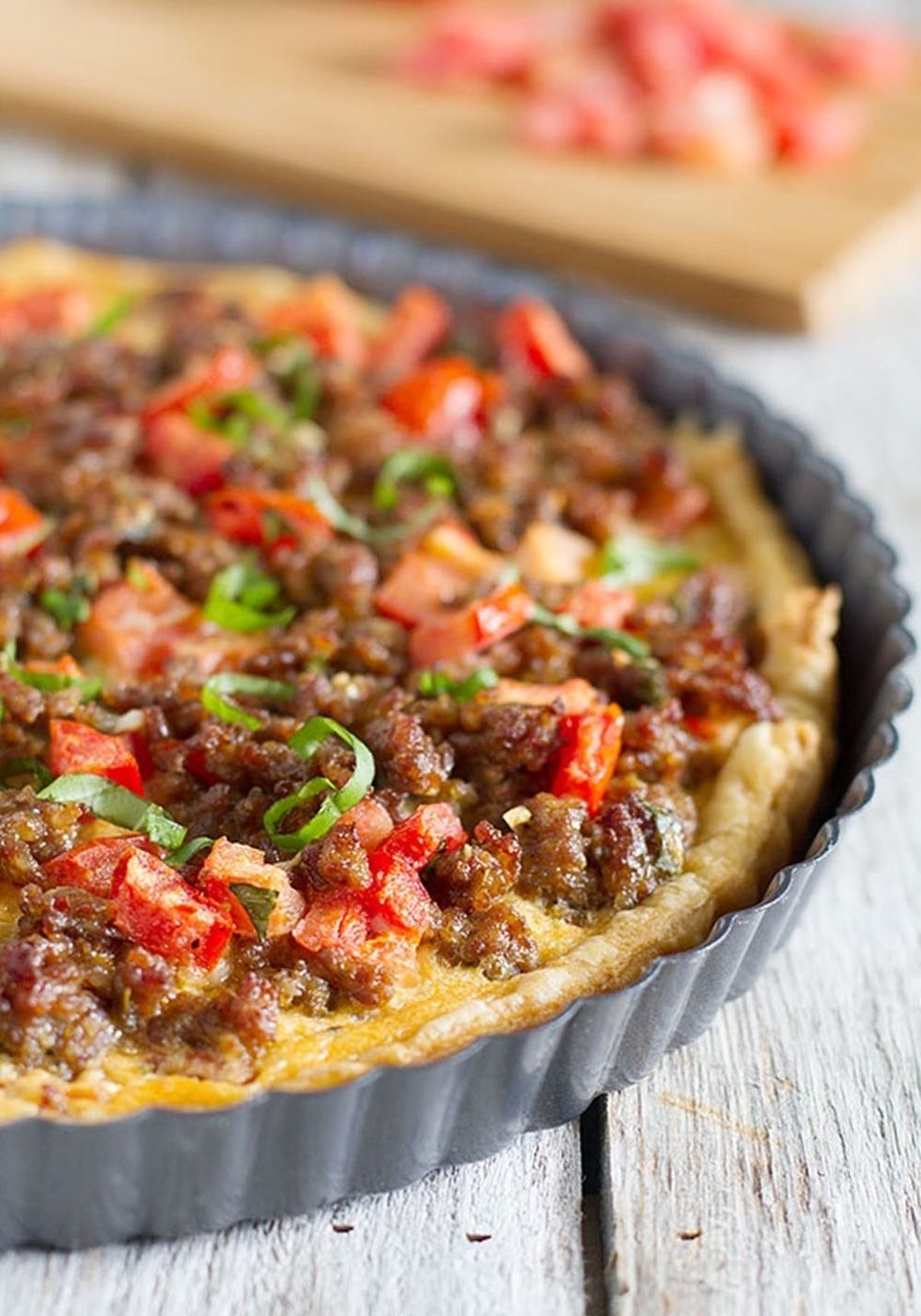 15. Italian Tart: Meat-eaters, prepare to start salivating. Topped with Italian sausage, tomatoes, basil and two types of cheese, this pie is sure to become a regular part of your winter meal rotation. (via Taste and Tell)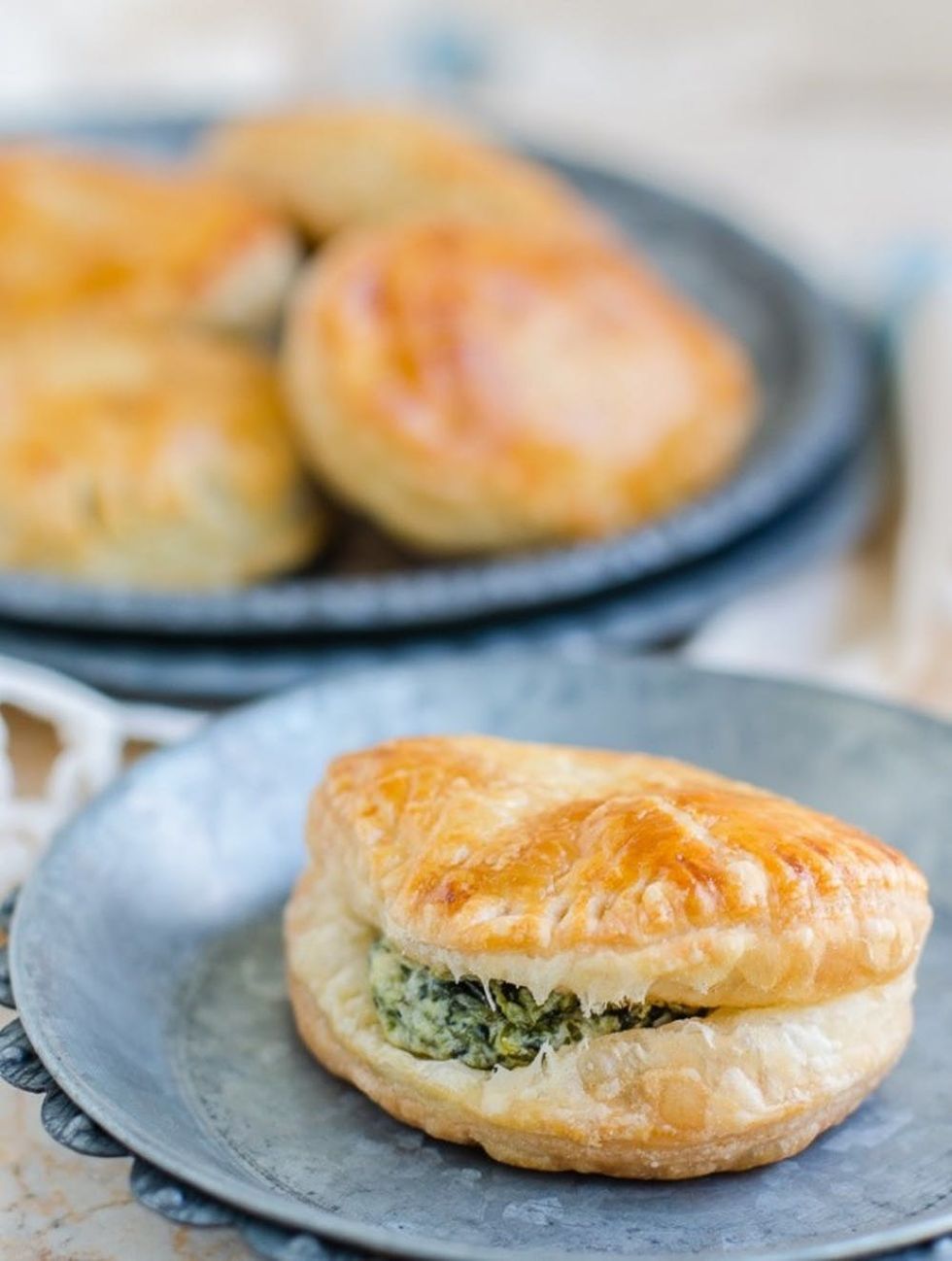 16. Spinach + Cheese Hand Pies: Whether you serve some for breakfast or as appetizers during a holiday dinner party, Parmesan, ricotta and mozzarella hand pies are a cheese-lover's dream come true. (via Mommyhood's Diary)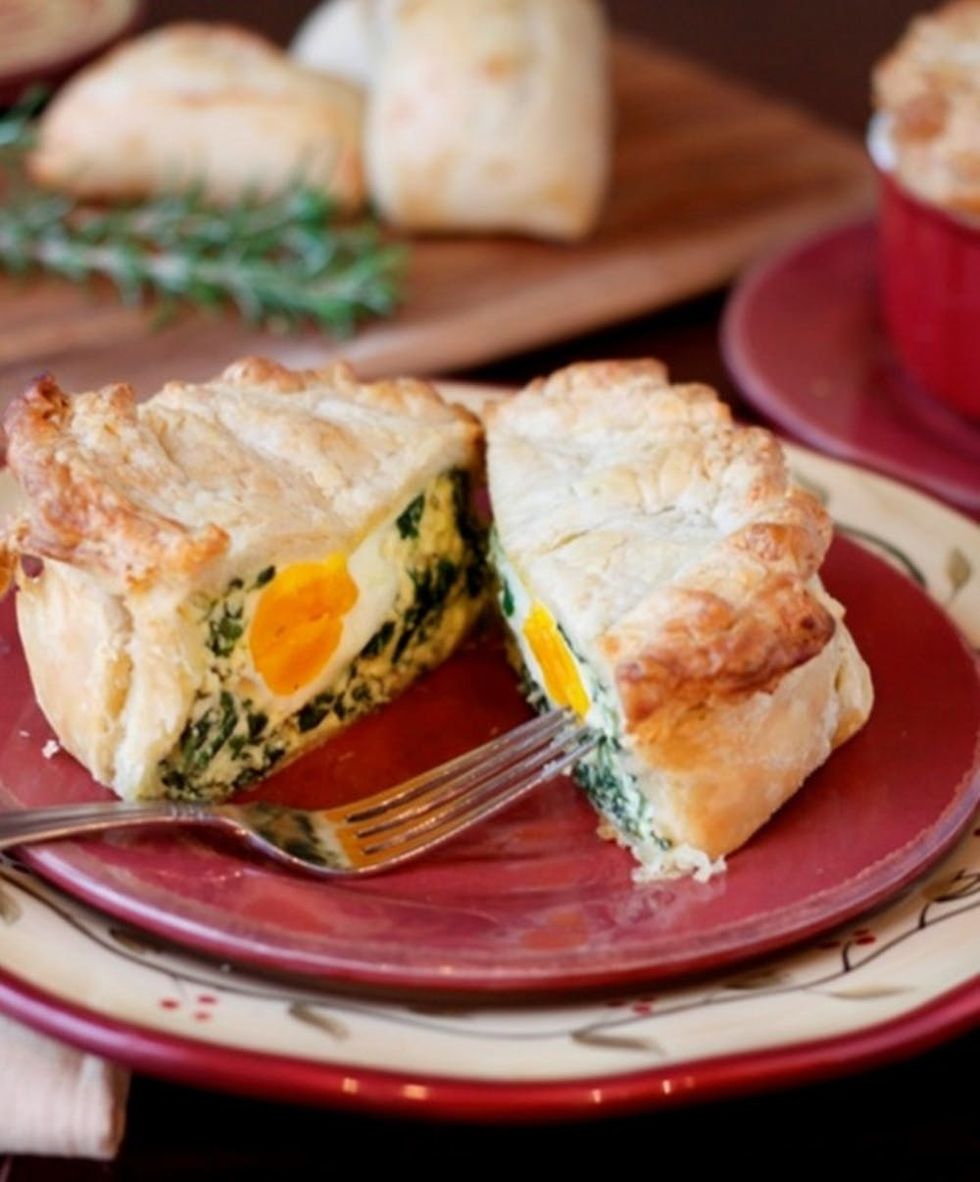 17. Torta Pasqualina: Yes, this is technically an Easter pie, but with its flavorful combination of spinach, eggs and ricotta, you'll surely want to enjoy it all year long. (via Bell'alimento)
Which of these savory pies would you love biting into? Start dishing below.
Heather Walrath
Heather's a California girl at heart who's learning to live and love life in our nation's capital. When she's not blogging, she's reading, traveling, going to the theater, checking out local wineries and working on her novel. You can follow along with her latest adventures at
High Heels & Flip-Flops
.
Recipes