This Inclusive Target Ad Will Make you Smile
Oct 26, 2015
Target has really been killing it lately on the diversity front. Between changing the game with plus-size clothing and removing gendered labels from the toy section, Tarjay is on the forefront of inclusive marketing. This Halloween, they launched an ad that shows that their representation game is still going strong.
In a recent advertisement, Target showed a little girl with arm braces and crutches in their Halloween section. She was rocking a Queen Elsa costume alongside other kid models. She's so cute we bet you won't be able to "let it go."
---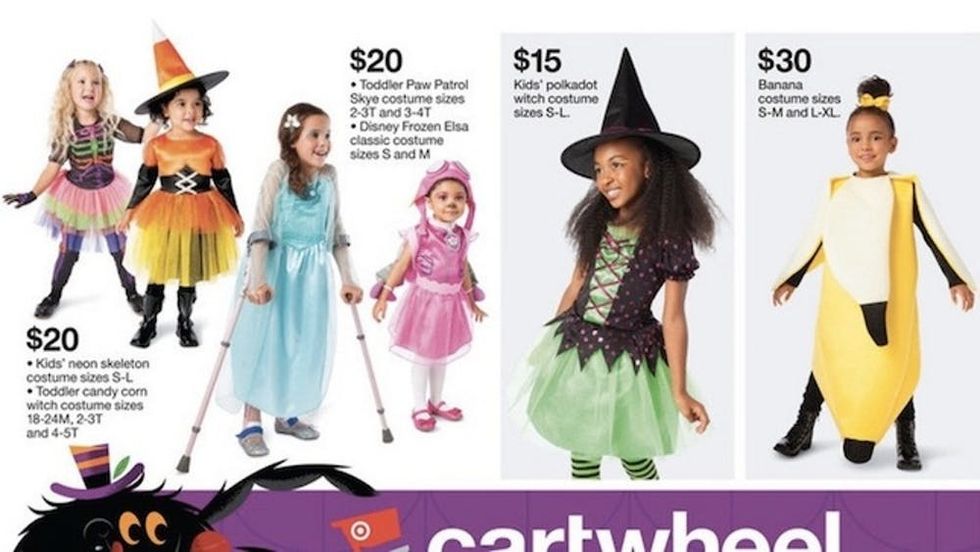 Consumers took to social media to praise Target for this ad, most citing the importance of normalizing differently abled children.

@coolgurlcool We're really glad that you liked it! Our Advertising team tries hard to include all of our guests. Thanks for tweeting us!

— AskTarget (@AskTarget) October 23, 2015
It's nice to know that big brands are taking inclusion and representation so seriously. We're hoping for a future with a greater variety of models in advertising, and that kind of change is propelled by ads like this. And because they're such a socially savvy company, you officially don't need to feel guilty about going to Target for one thing and coming home with six other things. You're basically just doing your part for social change.
What kind of representation would you like to see more of? Tell us in the comments!
(h/t Mashable, photos via Target, @Coolgurlcool and Jenn Spickenagel Kroll)
Molly Sanchez
Molly Sanchez is a writer, comedian and lover of burritos everywhere. She has written for The Bold Italic, Liquid Bread, Thrillist and HelloGiggles. She devotes her time to Bloody Mary research, exploring San Francisco and promoting wide spread shower beer awareness and appreciation. Find her on Twitter @seriousmolly trying to get famous people to laugh at her jokes or on Instagram @mollyfuckingsanchez where she swears a lot.
Pop Culture