Taylor Swift's Sexual Assault Case Is a Way Bigger Deal Than People Think
Aug 11, 2017
UPDATE (August 14, 7:15 P.M. EST): A jury has ruled in favor of Swift in her countersuit against former DJ David Mueller. Swift will be awarded $1 in damages.
UPDATE (August 11, 6:15 P.M. EST): Since this story was originally published, Mueller's suit against Swift has been dismissed by the presiding federal court judge.
---
*
This week marked the start of a trial where a young woman must face her alleged sexual assailant in court, and testify under public and legal scrutiny about what happened to her. The woman is Taylor Swift, and she's being sued by a former DJ who lost his job after the pop star accused him of groping her in 2013 at the station where he worked in Colorado.
The DJ, David Mueller, is suing Swift for $3 million in damages. Swift would have been well within her rights to settle out of court to get him out of her life. Instead, she opted to countersue for a symbolic $1 and take the case to trial, seizing the opportunity to send the message that all sexual assault is wrong.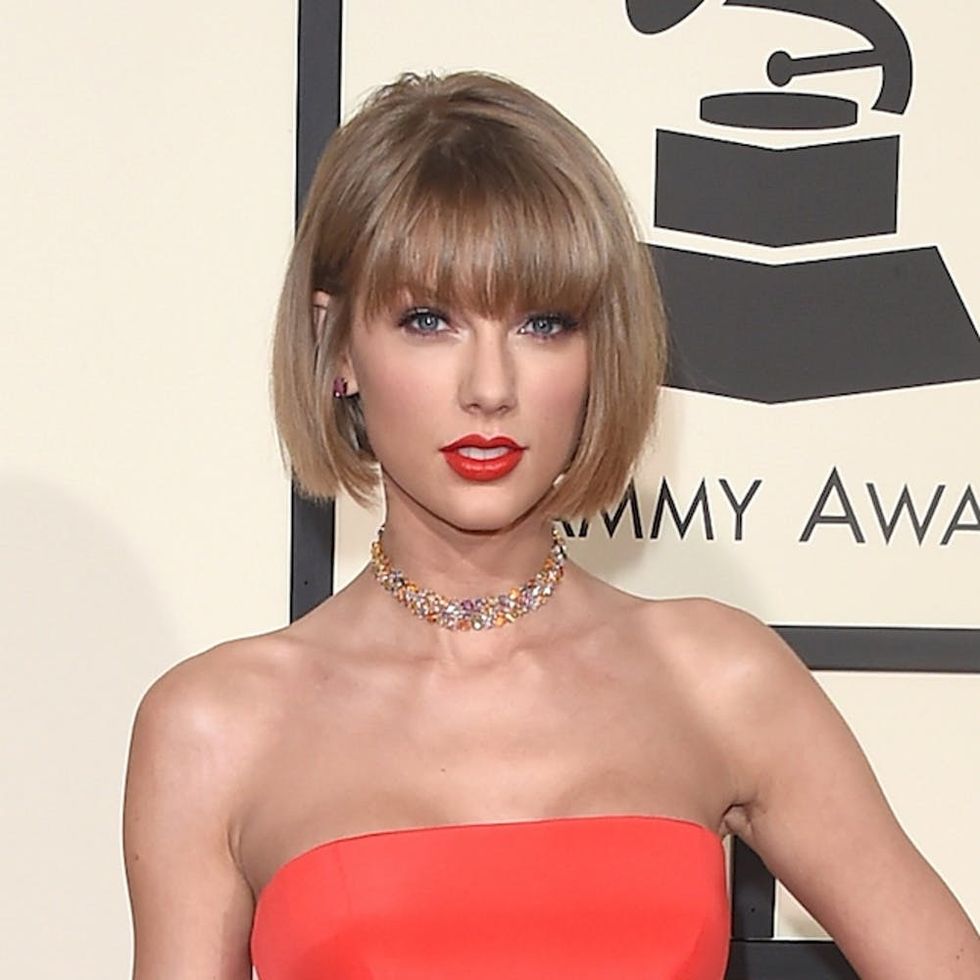 If you haven't heard about this trial, you're definitely not alone. Unlike other high-profile sexual assault and abuse cases, such as Ke$ha's 2016 legal battle against Sony and longtime producer Dr. Luke, and Bill Cosby's sexual assault trial earlier this summer, social media has been pretty quiet about Swift's legal ordeal.
This could, in part, be due to the nature of the alleged crime. Swift testified that Mueller (who denies the allegations) reached up her skirt and groped her "ass" (Swift's term). Swift said that the alleged assault was "horrifying and shocking," but still, the trial isn't getting much attention.
To some, Swift's reported assault may seem like a minor incident when compared to the abuses other women have survived, but the truth is that all assault is wrong and can have devastating emotional consequences for survivors, including depression and PTSD. That is, the alleged incident Swift described was not "just" a grope: It was sexual assault.
The relative quiet around Swift's trial could also be related to the fact that Swift has spent most of the past year out of the public eye. She also drew a great deal of scorn from Kanye West fans after the two publicly argued about whether or not he had permission to use Swift's nude likeness in his controversial 2016 music video for "Famous." Swift contended that Kanye didn't have her permission and expressed outrage, but Kim Kardashian West later released audio that challenged Swift's take. Suffice to say that many people were upset, and some (including Kanye) accused Swift of racism.
These are legitimate objections to Taylor Swift as a musician, brand, and public figure. But the stand she's taking is important, and it matters for all of us.
Though Mueller, the alleged assailant, is the one bringing charges over damages, Swift is exercising her right to stand up to him in front of a judge. In so doing, she's telling survivors that what happened to them is wrong, and that there ought to be consequences for people who violate other people's physical boundaries.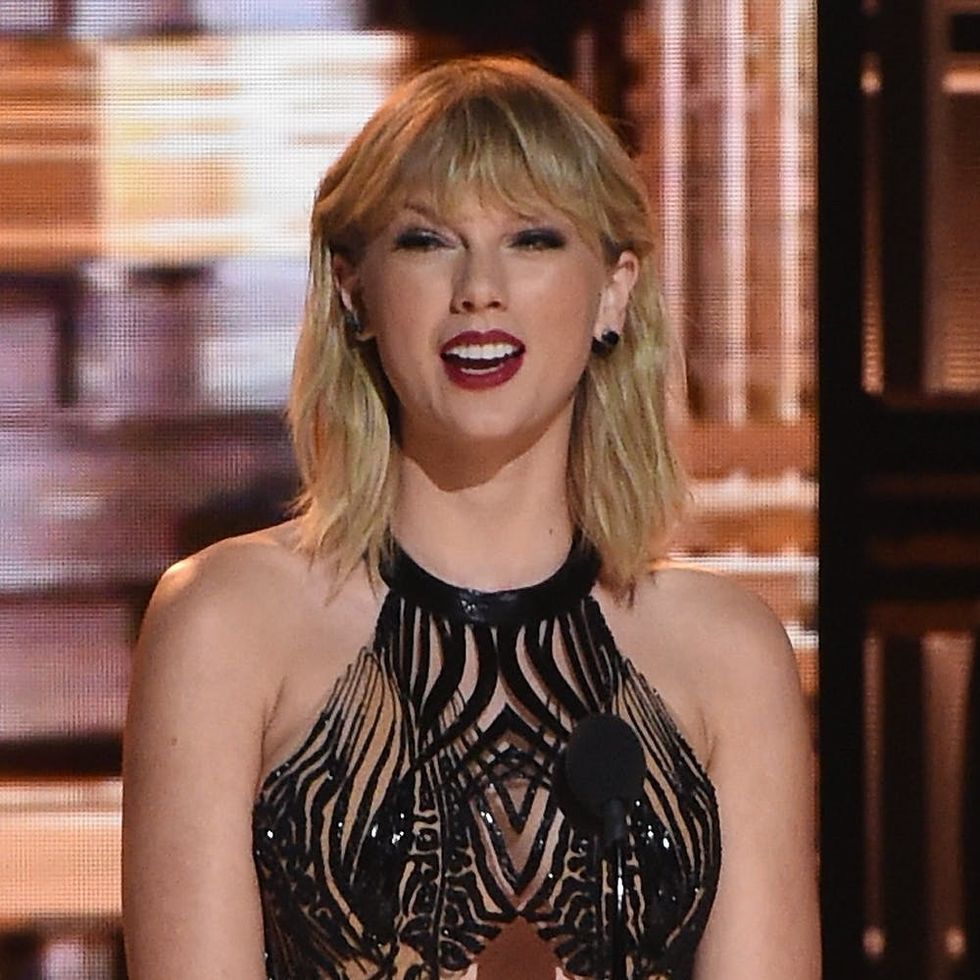 The decision to speak openly about the alleged assault comes with personal and professional risk for many who choose to come forward. Most sexual assaults are not reported to the police, in large part because of fear: fear of retaliation, of a ruined reputation, of the justice system, concerns that there isn't enough proof to make a case, and feelings that the crime wasn't "serious enough," according to the Maryland Coalition Against Sexual Assault.
Sadly, fears over not being taken seriously or that the justice system won't help are completely justified. According to the Rape, Abuse, and Incest National Network (RAINN), only 11 out of every 1,000 accused perpetrators of sexual assault are referred to a prosecutor, and only 6 out of 1,000 will spend time in prison.
Swift is in a position of unique power. She's an ultra-rich superstar who has the support of millions of fans, her celebrity friends, and her mom. And that makes it all the more powerful for her to take a stand and tell women that all assault is "serious enough."
Whether she intends to or not, Swift's testimony sends a message to all survivors — and perpetrators, for that matter — that any assault should be taken seriously, and that assailants should be held accountable for their actions.
Do you have thoughts about Taylor Swift's sexual assault case? Tell us on Twitter @BritandCo.
(Photos via Getty)
Elizabeth King
Elizabeth King is a politics, history, and culture writer based in the Twin Cities. She is generally pretty cranky but still enjoys traveling, music from the early 2000's, and plotting the resistance. Feel free to say hi on Twitter at @ekingc or check out some of her work at www.elizabethcking.com.
Current Events
Still haven't taken up that new creative skills you swore you'd learn this year? Or ready to take your design skills to the next level? Let's say so long to the weirdest year ever by checking those big learn-something-new goals off our perpetual to-do lists.
We've teamed up with Clorox to give you the gift of unlimited creativity now through the end of the year. Once you sign up, you can take as many of our 120+ classes as you want for FREE for one whole month!
Here's how it works:

Head to brit.co/learn and sign up for the "All Access Pass."
Use the code "CLOROXCARES" at checkout to redeem your free month of classes.
You will be automagically signed up for Clorox's email list once you redeem your free all access pass. (It's the #1 Choice for Disinfection!)
Your pass lasts one month from when you checkout. This means you have unlimited access to all the classes during that month.
This offer is valid now through December 27, 2020.
Browse our catalog to find the right class for you, tell a friend and take the class together over Zoom, or organize a 'cocktails + crafts' night with a friend in your bubble so you can learn something new together.
What are you waiting for? Time to start learning all the things!

Thanks to Clorox for making this happen! When it counts, trust Clorox.
Lifestyle