32 "I Do"-Worthy Wedding Hairstyles for Every Length
Mar 19, 2016

Sure, your dress is a huge part of your wedding day look, but there's so much more to consider — bridal accessories, wedding day makeup and, of course, hair! Whether you consider yourself a boho bride or you're more drawn to classic styles, your hairstyle is a make-or-break detail that pulls your whole look together. That said, nothing short of show-stopping will do, but with so much inspiration out there, narrowing down the ultimate hairstyle for your "I dos" isn't exactly a straightforward task. You have enough on your plate already, so we've done all the work for you, pulling together 32 drop-dead gorgeous wedding hair ideas. From beautiful braids to bombshell buns, scroll on for some serious hairspiration.
---
Wedding Day Hairstyles for Long Hair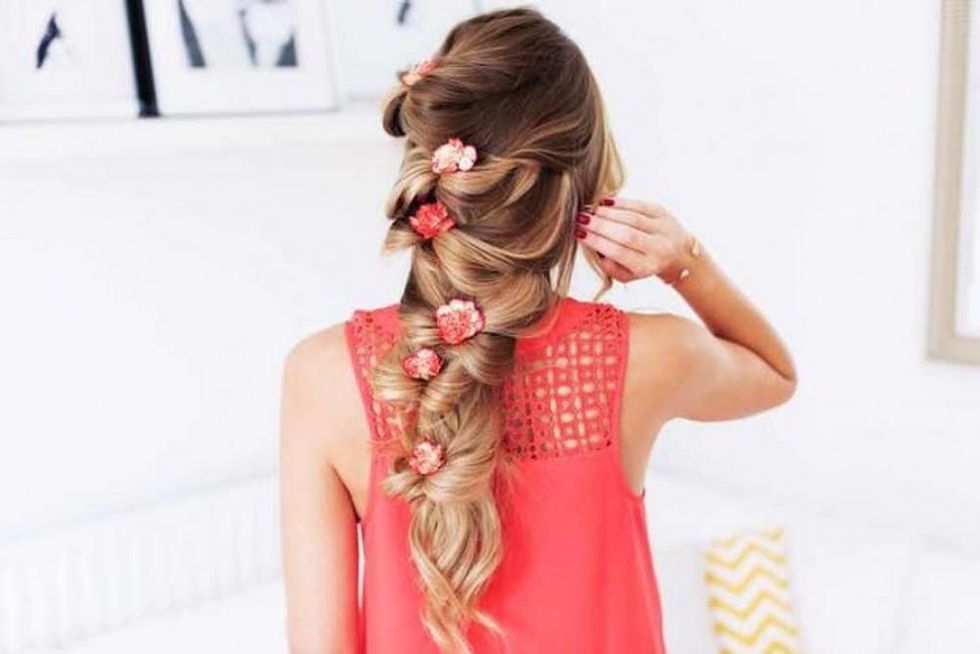 1. Romantic Floral Braid: Boho brides, this is your day-of 'do. As if a don't-care French braid wasn't dreamy enough, pretty pink flowers woven throughout send the romance factor through the roof. It's the perfect finishing touch for an ethereal Grecian gown or crocheted sheath style. (via @zane_jurjane)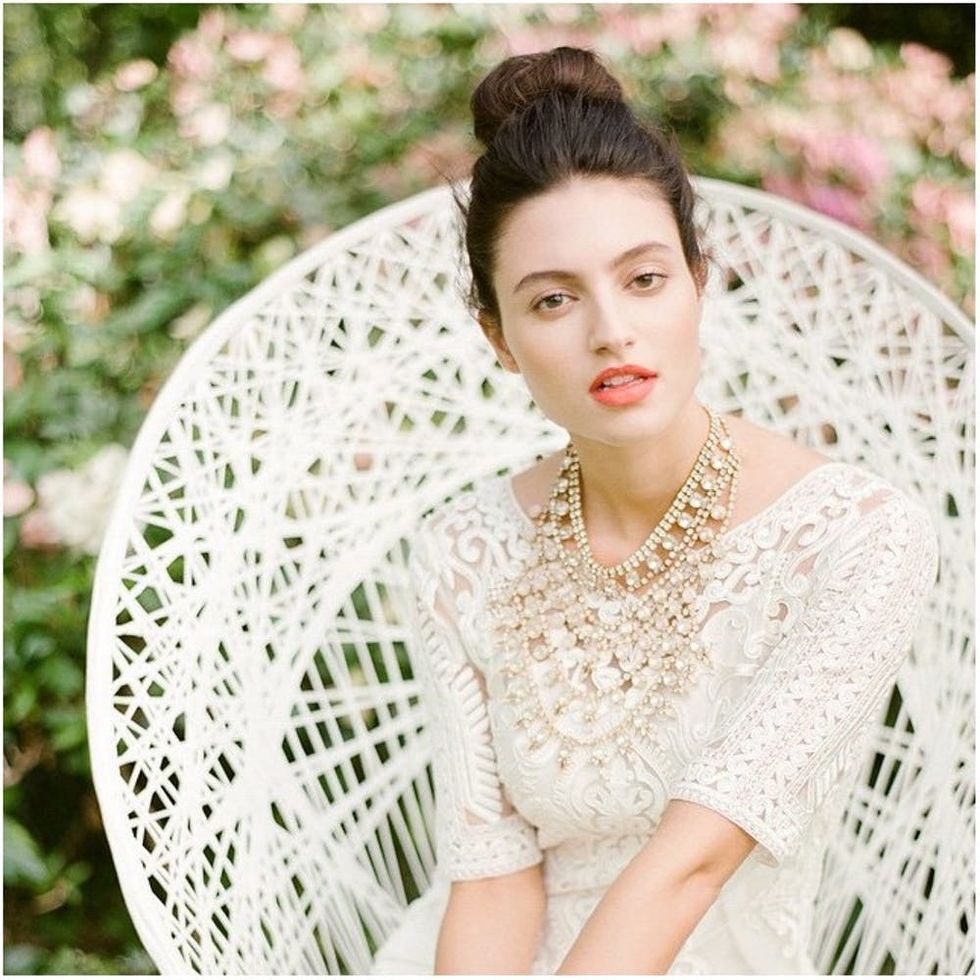 2. Voluminous Chignon: Nothing says timeless elegance quite like a classic bun, and this gorgeous style is no different. Add volume to the top and allow a few wisps of hair to fly free for a subtle, modern edge. Don't forget the red lipstick. (via @ktmerry)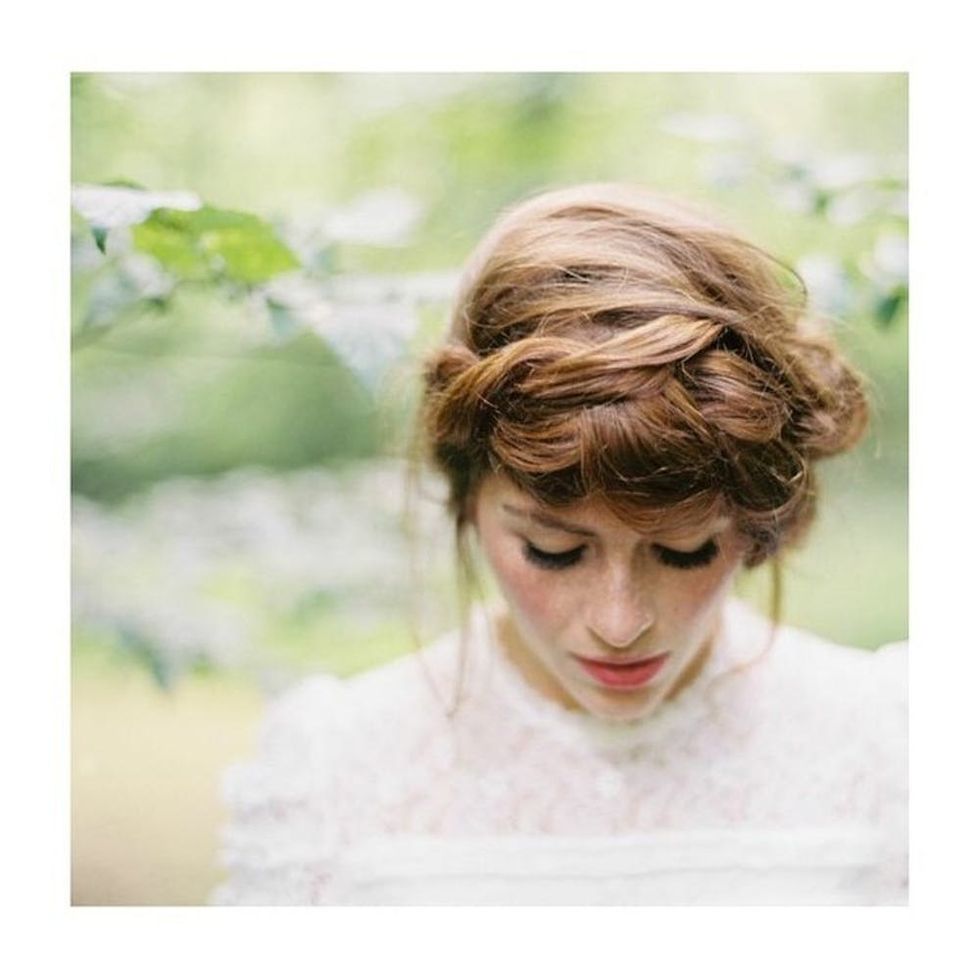 3. Messy Crown Braid: Who needs a tiara when you can do up those luscious locks like this? Soften a contemporary column dress with this beautifully undone style, or amplify the old-world charm of a glitzy art deco gown. (via @elisabricker)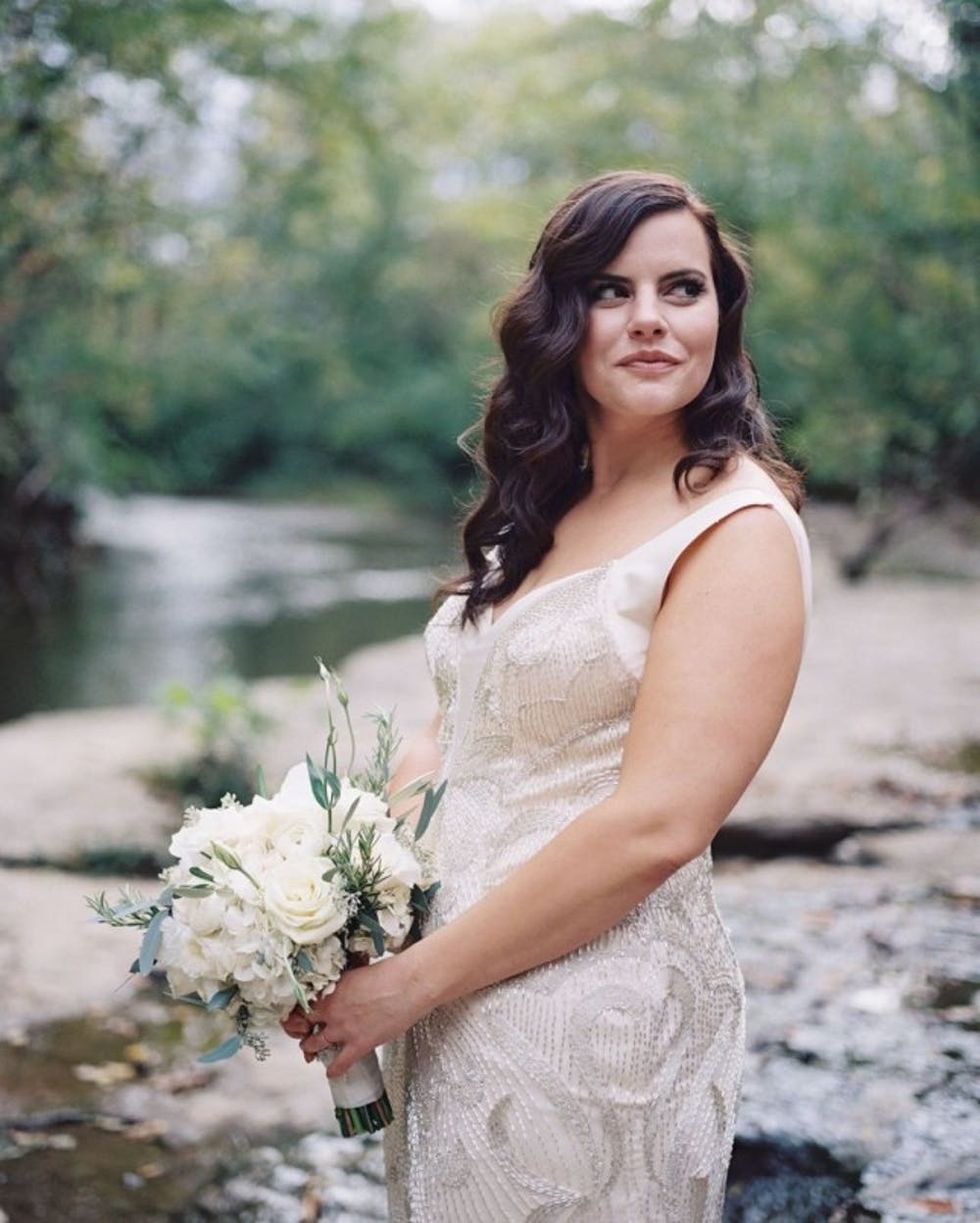 4. Retro Red Carpet Waves: Vintage theme? Opt for cascading waves that evoke Old Hollywood glamour. For maximum impact, rock a pair of glitzy drop earrings and sweep hair off to one side. (via @kristinsweeting)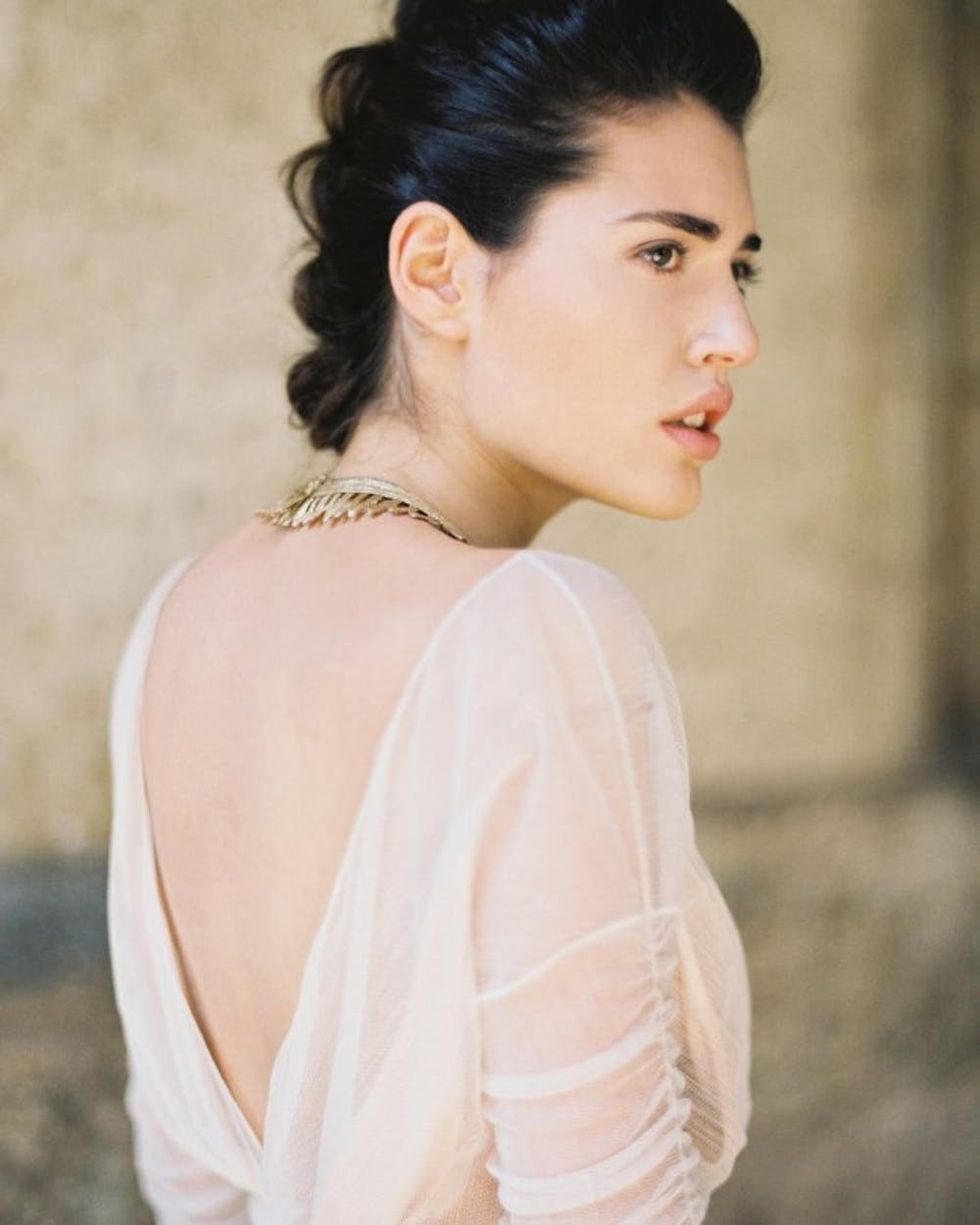 5. French Faux Hawk: Want to make your bridal style go down in sartorial history? Add this rad faux hawk braid to your "I do" repertoire. Balance out the badass vibes with natural makeup and a sophisticated long-sleeve gown. (via @erichmcvey)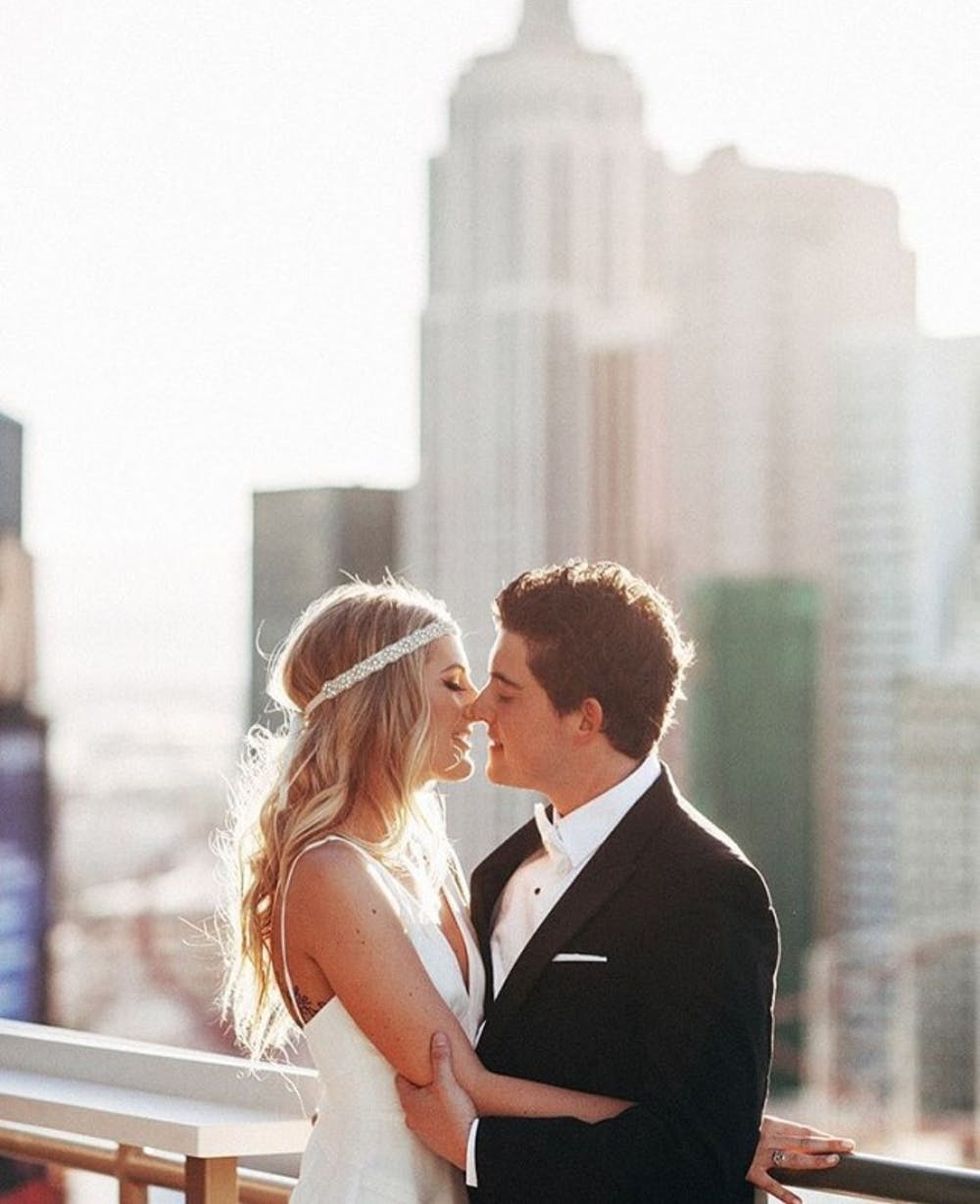 6. Boho Bride: For a swoon-worthy look that fuses boho chic and big city glamour, top off long and lovely beach waves with a statement headpiece. (via @heatherelizabethphoto)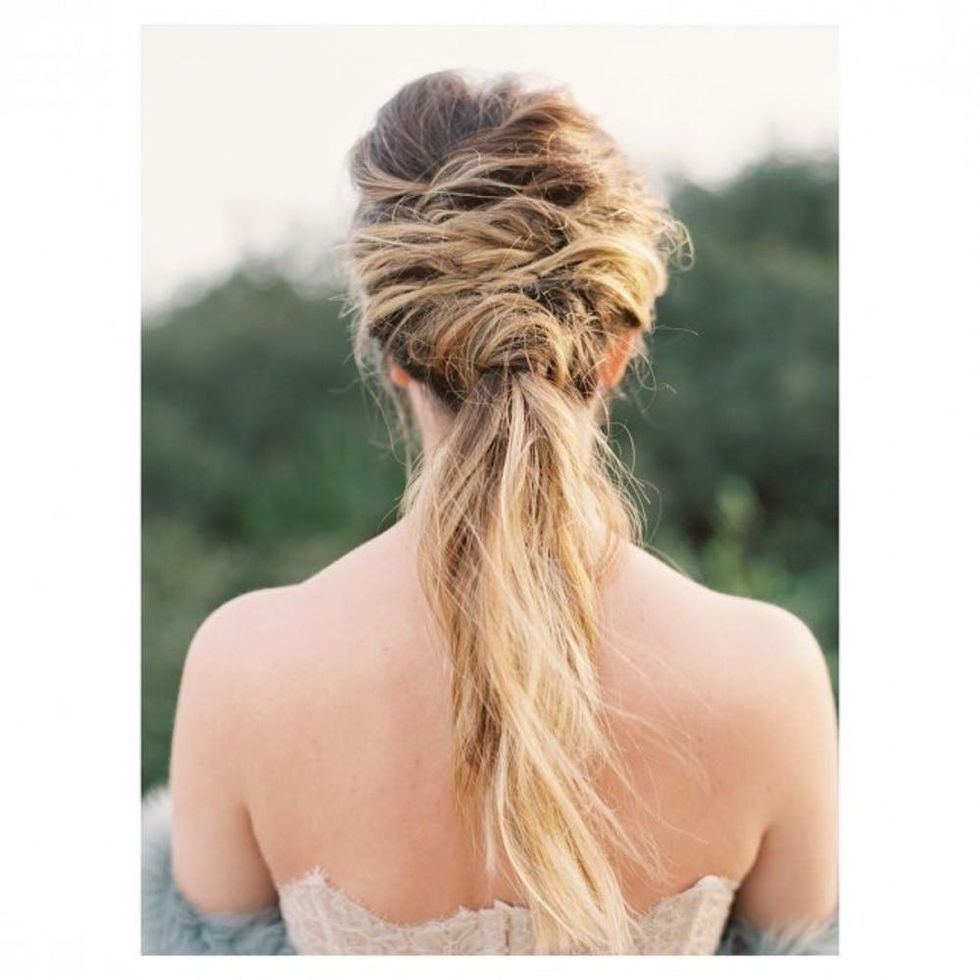 7. Textured French Twist Ponytail: Half messy French braid, half low ponytail, this textured style has lazy-girl chic written all over it. The best part? The 'do's woke-up-like-this vibe is perfect for bustin' a move on the dance floor. (via @jenniferpharr)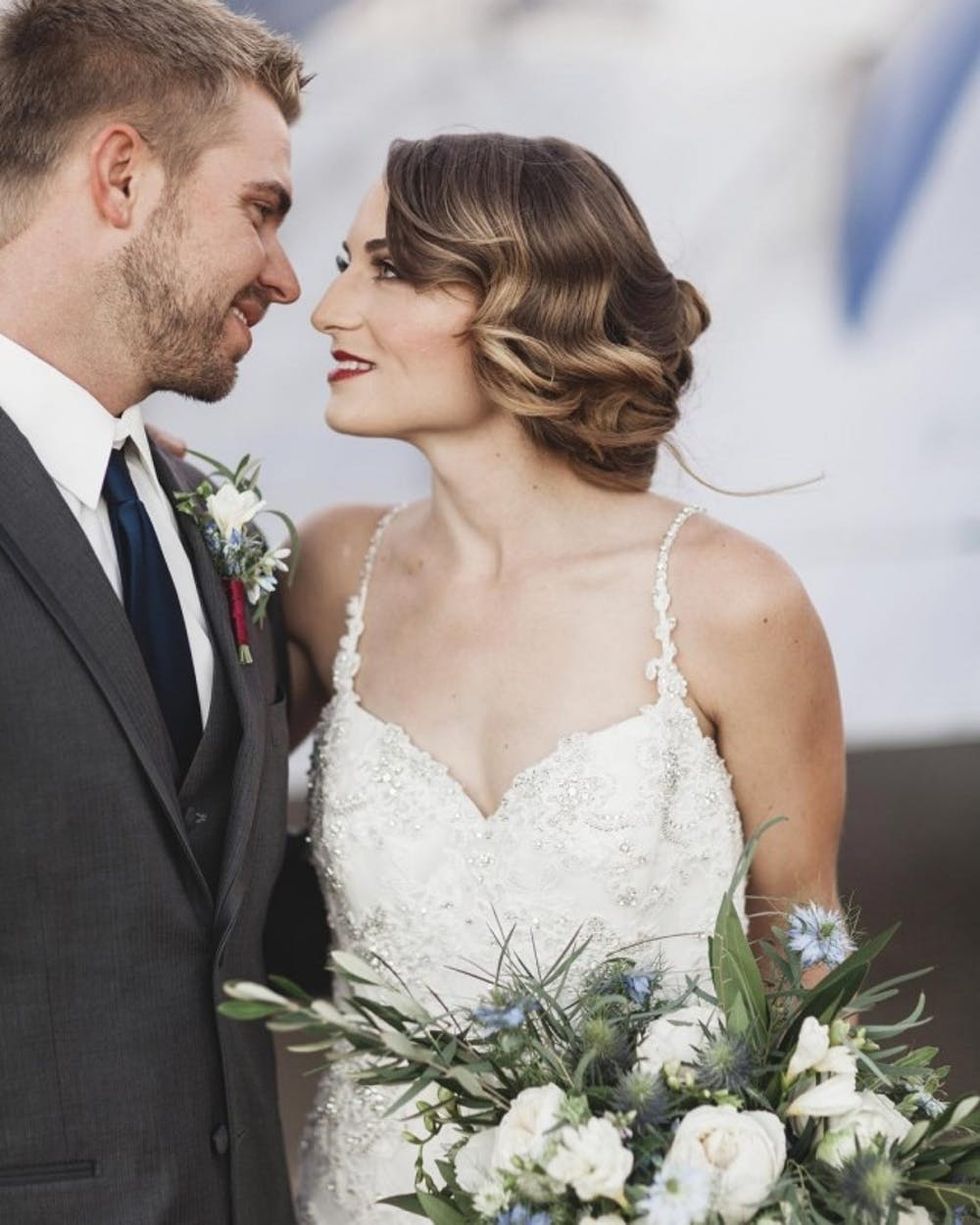 8. Fabulous Finger Waves: Finger waves add major personality to your bridal look, delivering an element of drama that Jay Gatsby himself would approve of. For a softer style, start waves at eye level and brush through before pulling up into a low updo. (via @heatherelizabethphoto)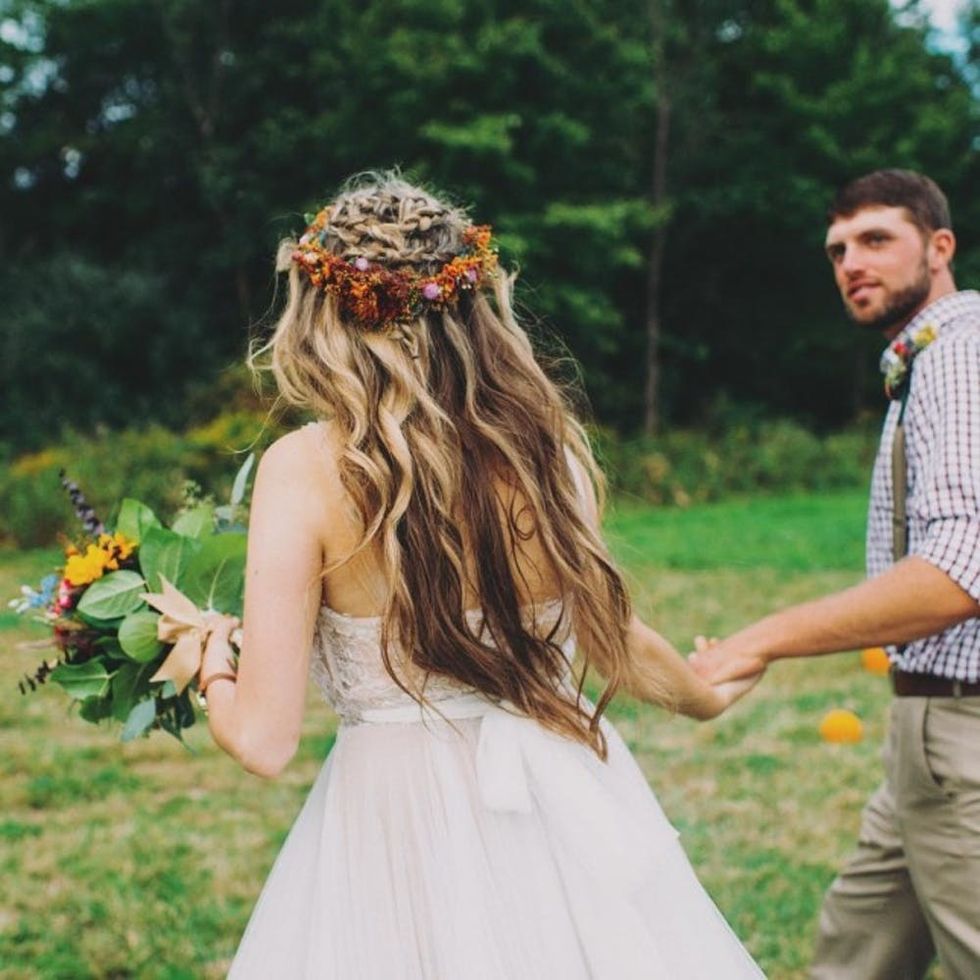 9. Half-Up Swirl Braid: Blaze new beauty trails without abandoning the laid-back look you're all about with a petite swirl braid that plays nicely with bohemian waves. Instead of hiding the inspiring style under a veil, play it up with a wreath of bright seasonal blooms. (via @im_jessica_oh)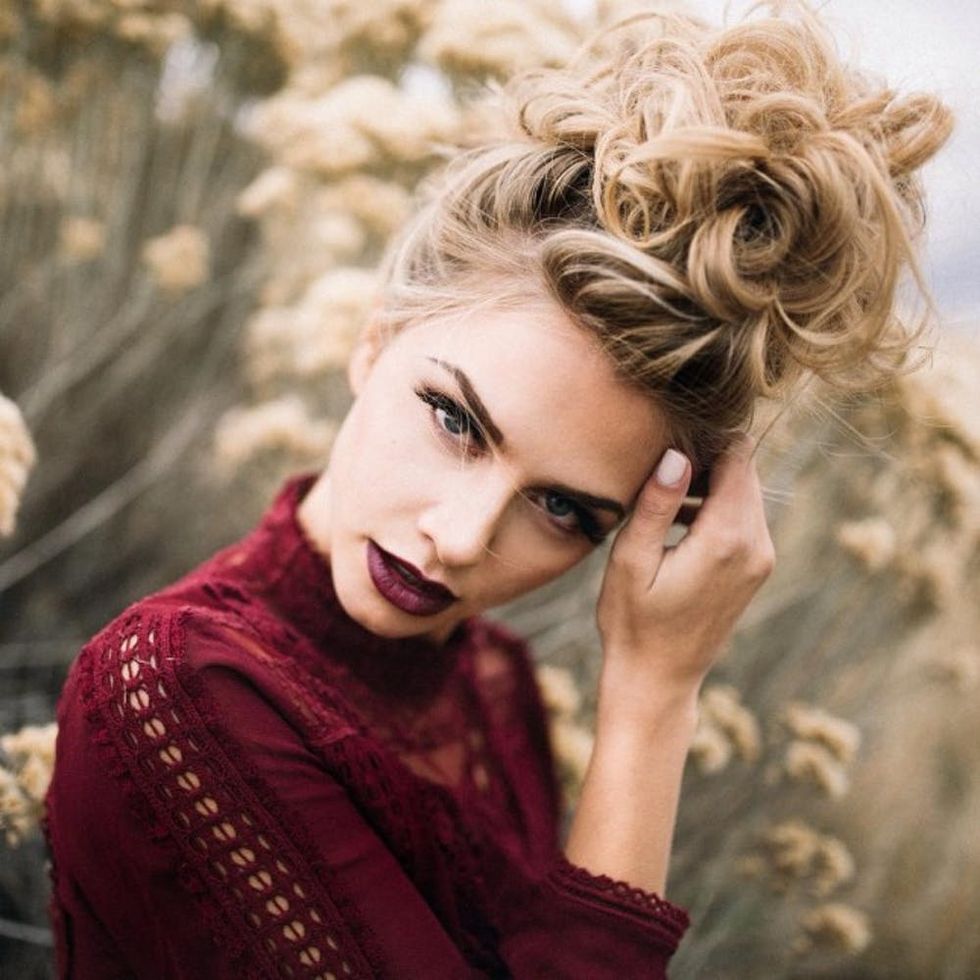 10. Curls for Days: Just picture it — an urban loft with a subtle industrial edge, you in the coolest two-piece gown around, a white leather jacket and this bombshell updo. Your wedding hashtag is guaranteed to go viral. (via @hairandmakeupbysteph)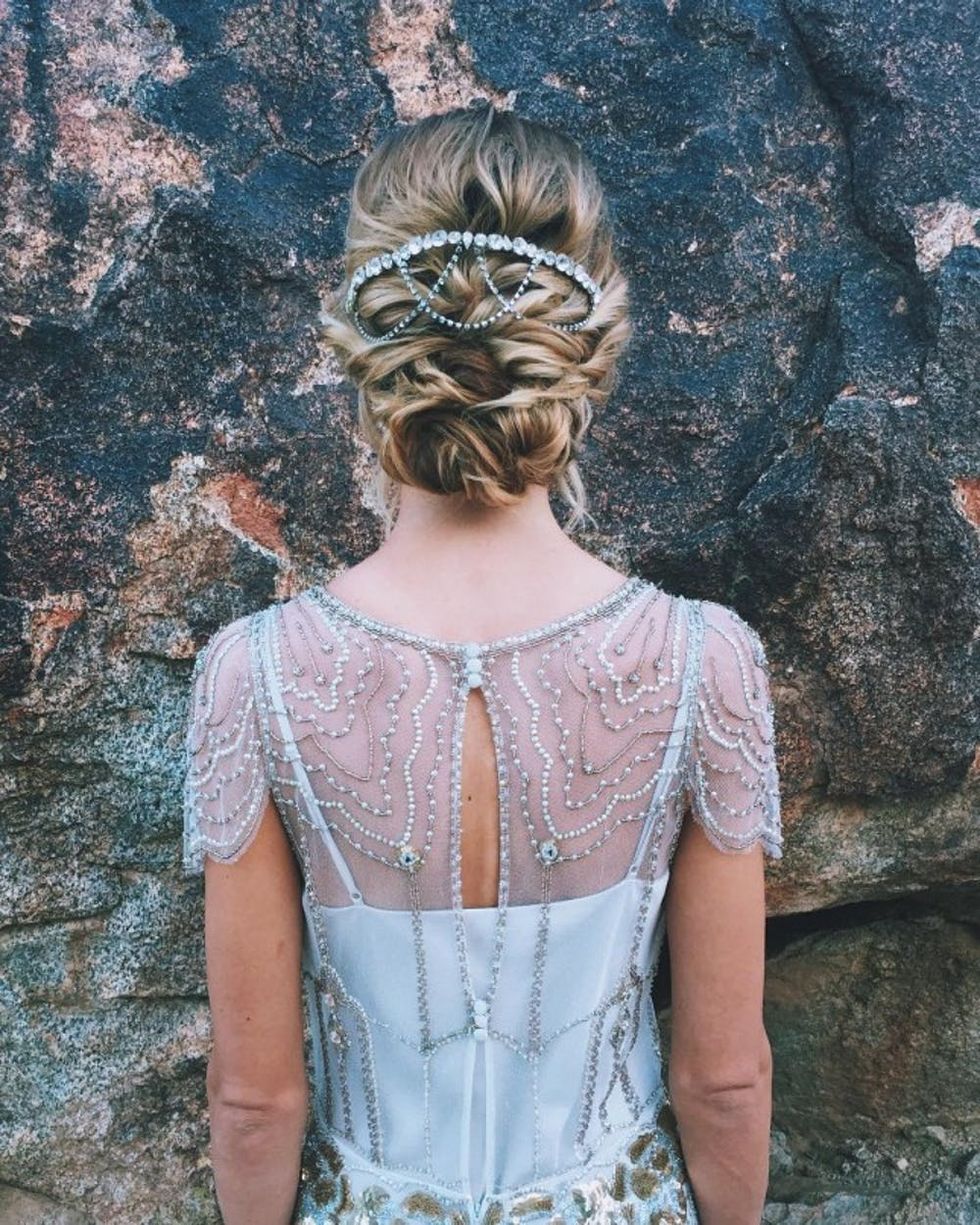 11. Enchanting Braided Updo: When in doubt, add a little glitz. Dripping with crystals, this braided updo might make you think about reversing your walk down the aisle. (via @locksbyleslie)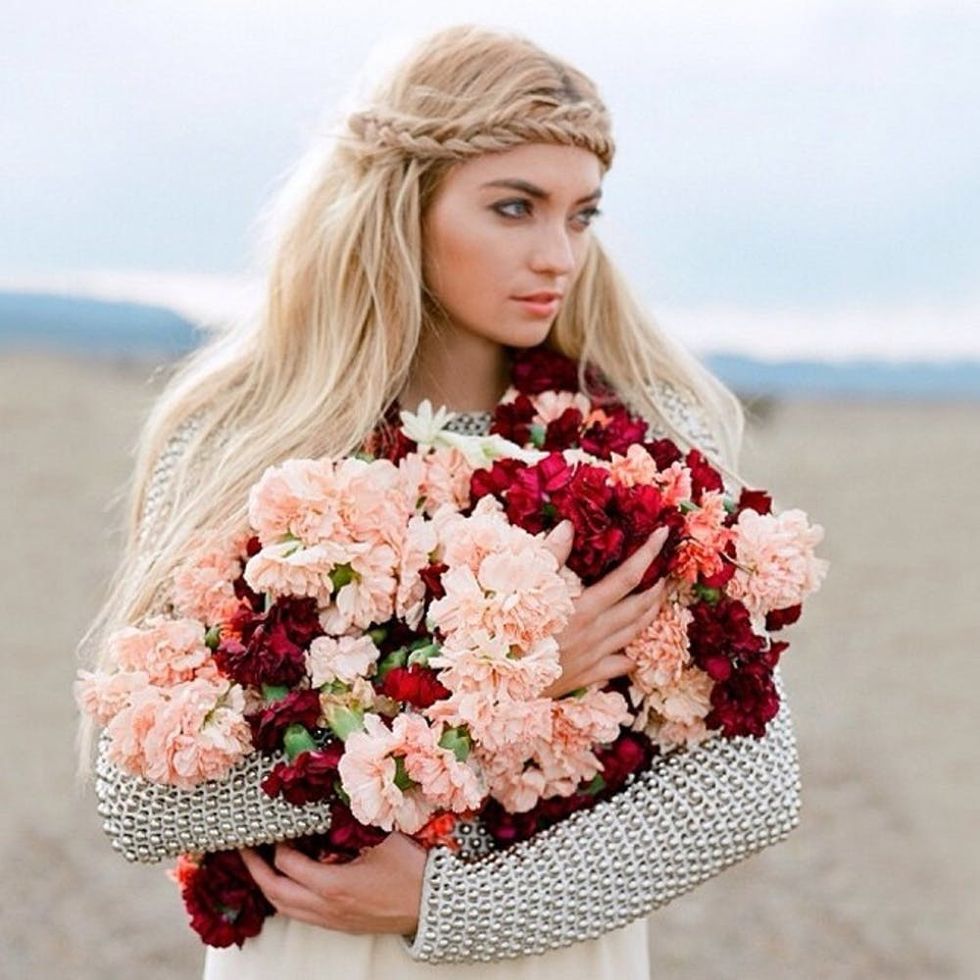 12. Half-Up Braid Crown: Waterfront weddings and countryside soirees call for free-wheelin' hairstyles like this. For a different take on the flower crown, try braiding bright flowers into your braids. (via @josevilla)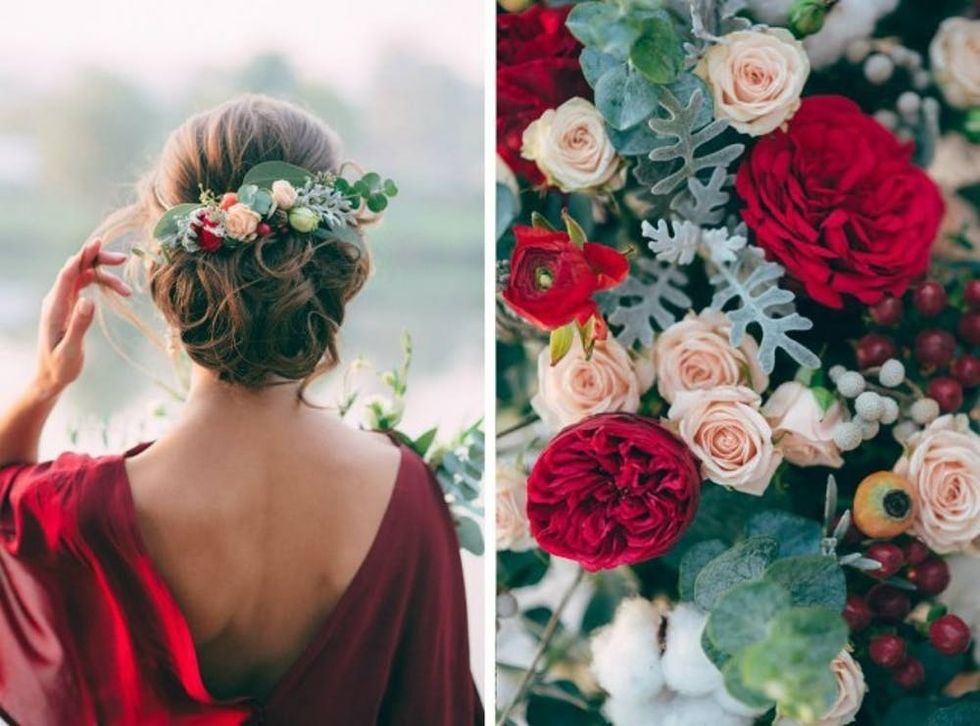 13. Curled Updo With Flowers: Channel the whimsical feel of a garden setting by adorning a classic curled updo with a simple gold crown wrapped in blooms borrowed from your bouquet. Tie the whole look together with a minimalist mani in a complementary hue. (via @marianlogoyda)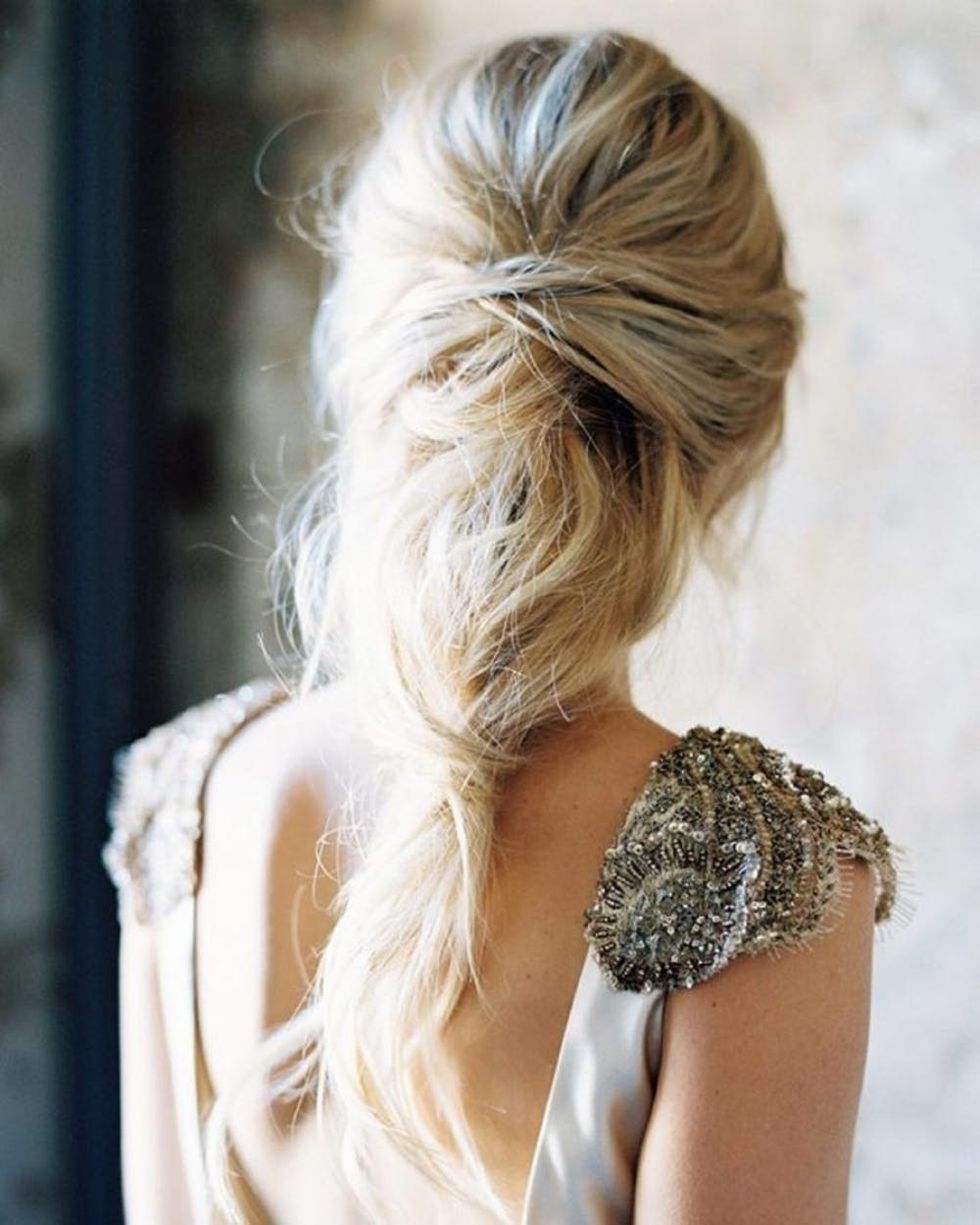 14. Messy Twisted Ponytail: Proof that less is sometimes more, this fusion 'do is polished enough to wear for your wedding, but effortless enough to pull off at all of your pre-nuptial events. (via @amandapaigegros)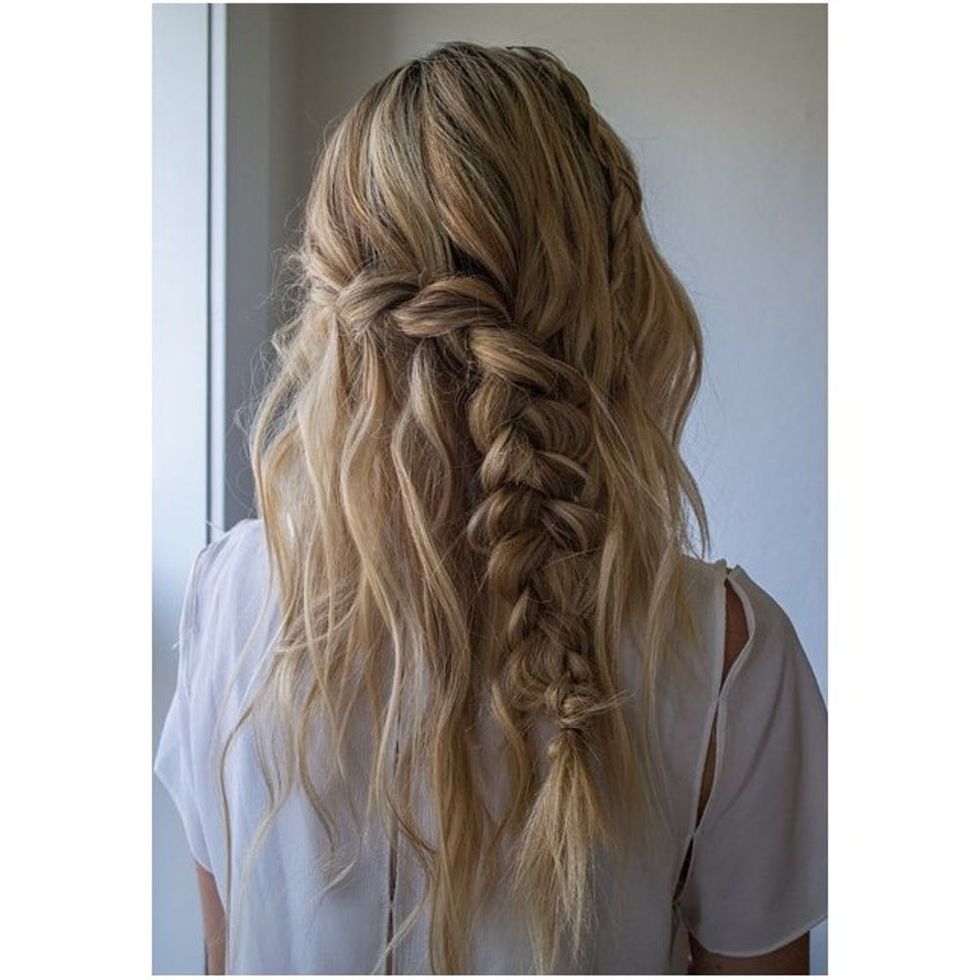 15. Unfinished Half-Up Crown Braid: This asymmetric half-up braid feels straight out of your favorite storybook, making it the ideal partner to airy princess gowns and floral veils. (via @hairandmakeupbysteph)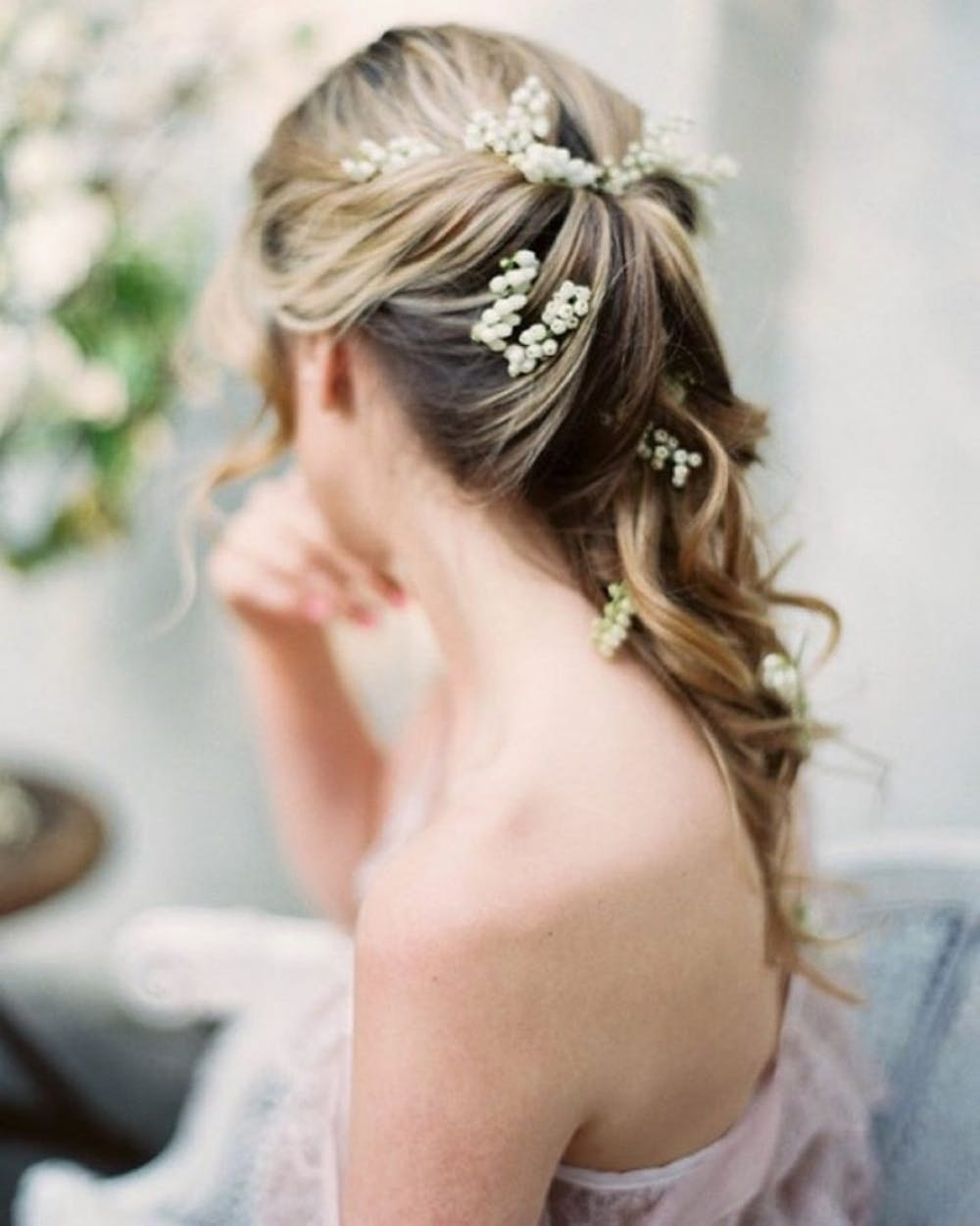 16. Elegant Inside-Out Ponytail: You'll be shocked by how easy this ethereal ponytail is to pull off. Pull hair pack into a low ponytail, curl, then pull through. Tousle just a touch for a note of softness, then weave in your favorite dainty florals. Stunning. (via @sallypineraphoto)
Wedding Day Hairstyles for Medium Hair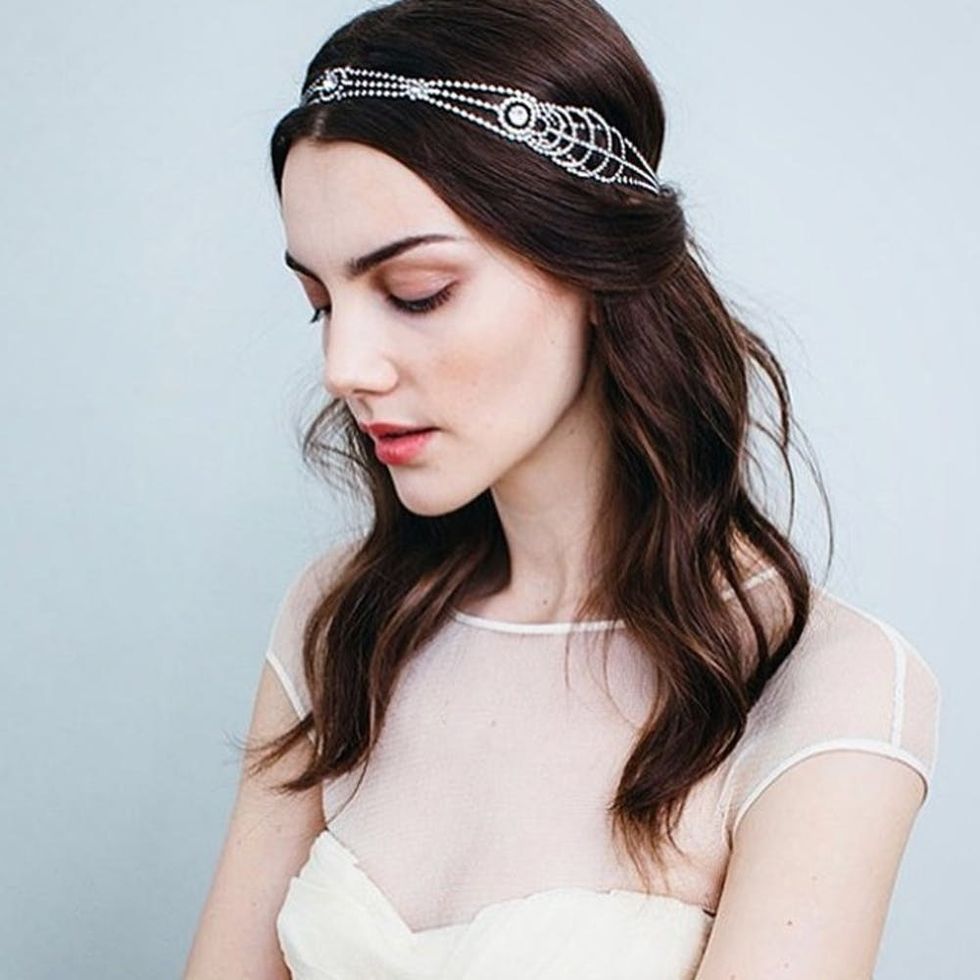 17. Crowned Classic Style: If an ornate updo just doesn't speak to you, forget the fuss and embrace pared-down styles that pack just as much polish. A statement accessory, like this crystal headwrap, will make a classic half-up hairdo feel wedding-ready in seconds. (via @jenniferbehr)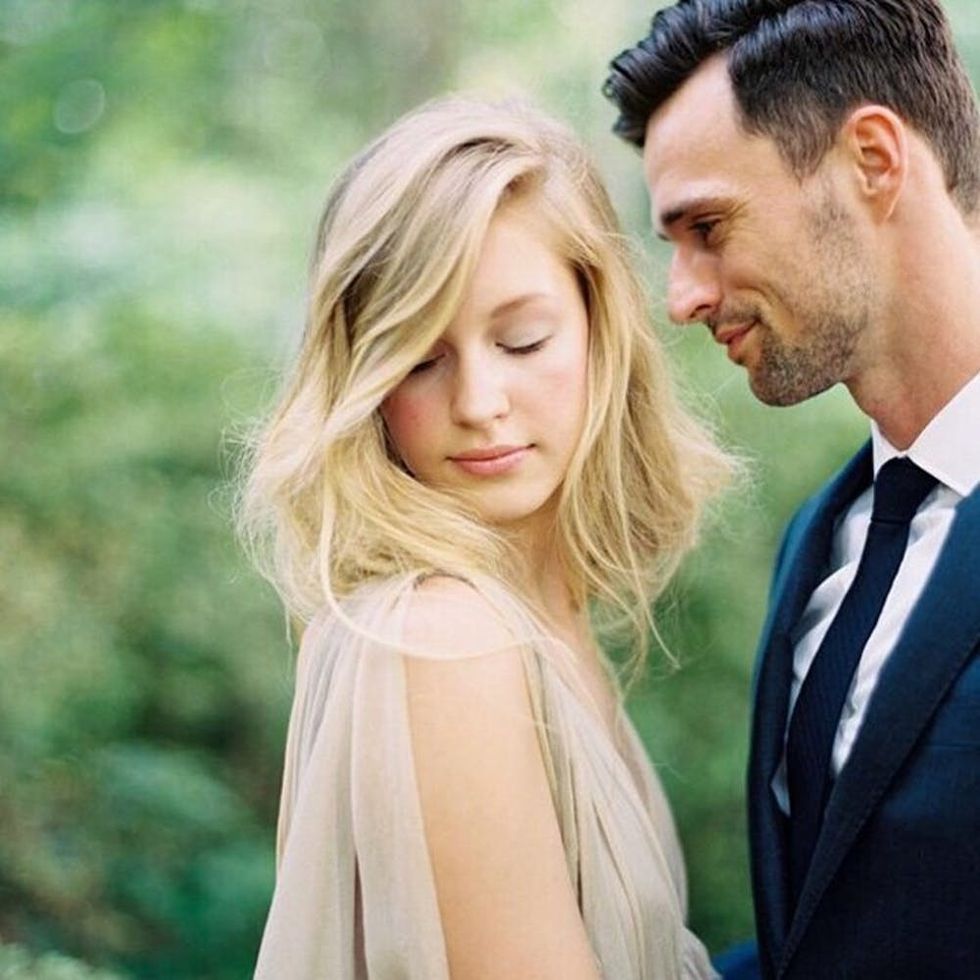 18. Tousled Locks: Let your inner lazy girl shine through (in a totally DDG way, of course) as you walk down the aisle in the ultimate undone 'do, chiffon A-line gown fluttering in the gentle breeze. Love the look, but have long hair? Tease locks and style them into a faux bob for a similar effect. (via @elisabricker)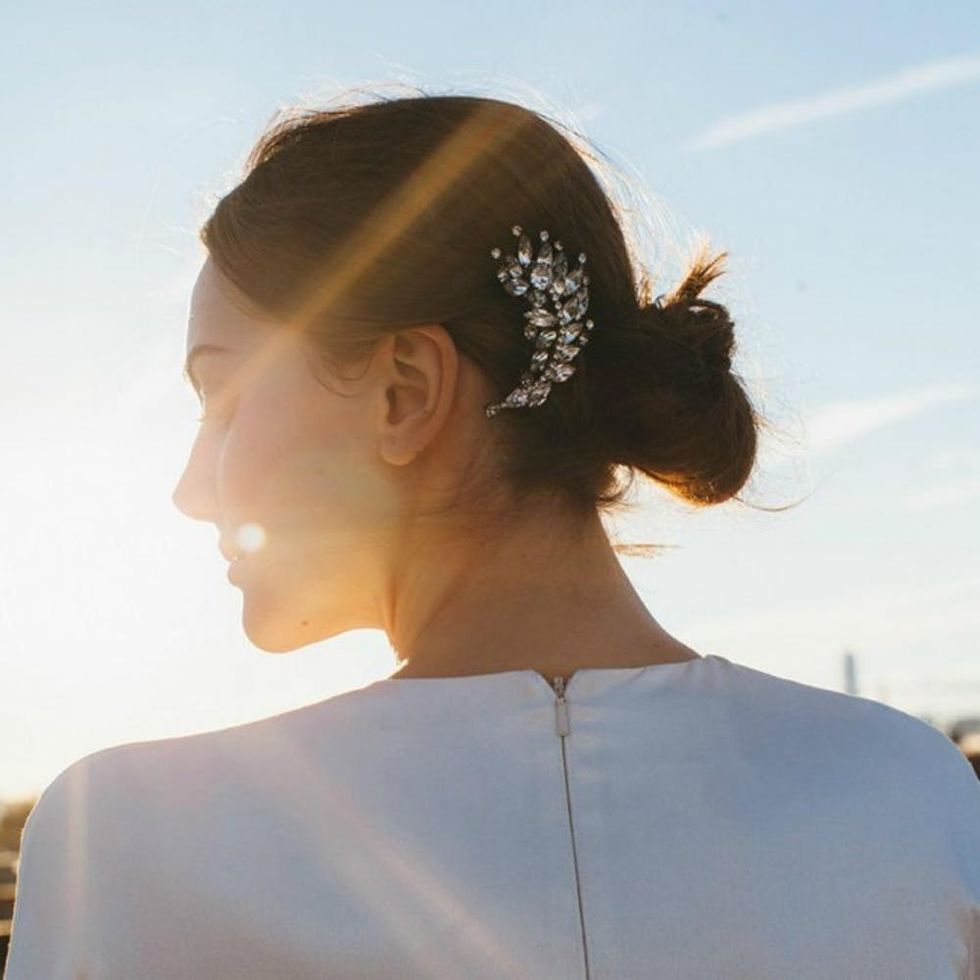 19. Sleek Low Chignon: Whether you're planning a short and sweet civil ceremony or a swanky ballroom affair, a classic chignon will never steer you wrong. Dress it up with a bit of bling, or leave a few strands around your face for a more free-spirited look. (via @jenniferbehr)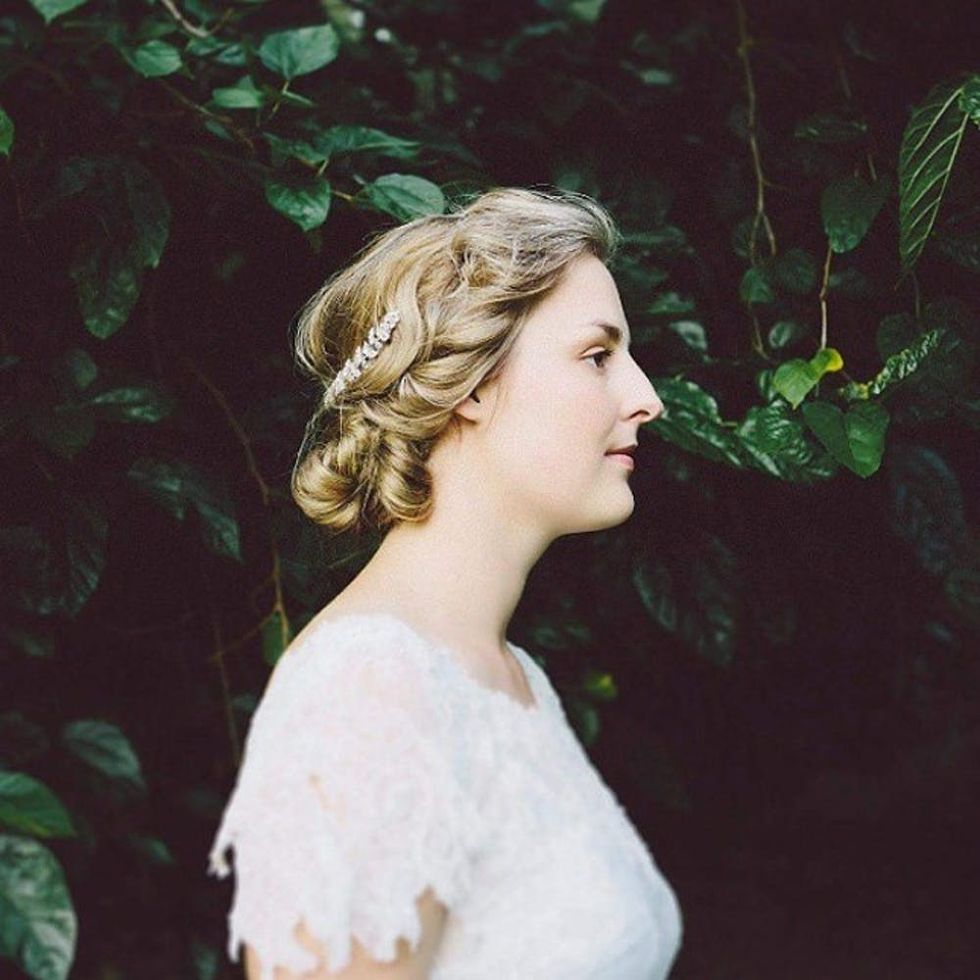 20. Timeless Twisted Bun: This stunning hairstyle was practically designed with the indecisive bride in mind. Twists, volume and an elegant chignon — it's a triple threat waiting to send your wedding day look into overdrive. For endless ladylike vibes, pair this one with a timeless lace gown and a cathedral-length veil. (via @nectarine)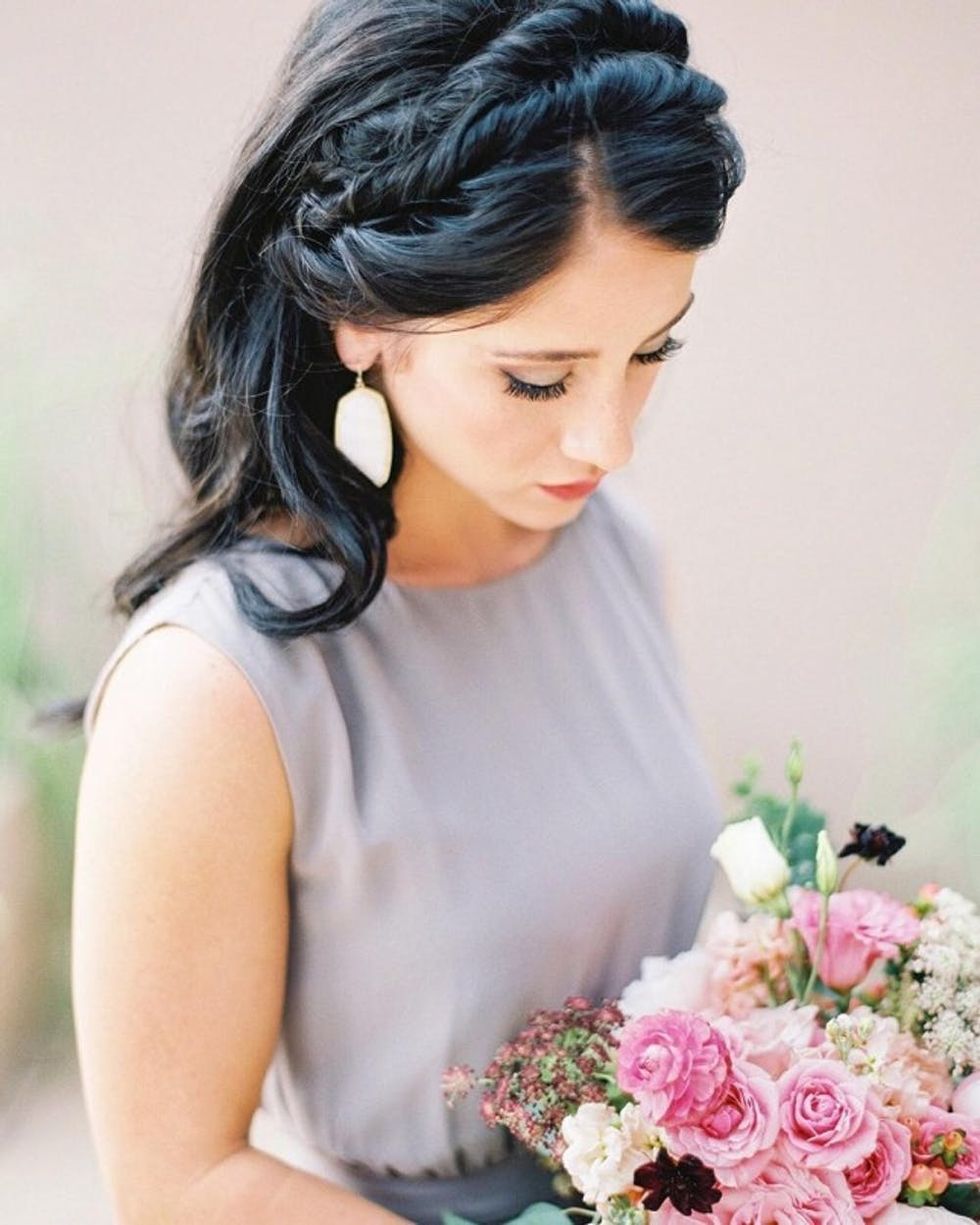 21. Half-Up Twisted Headband: Here's a gorgeous style you can totally do yourself. The look works well with almost any length hair and can easily be elevated with the addition of embellished pins or delicate flowers. (via @melissajill)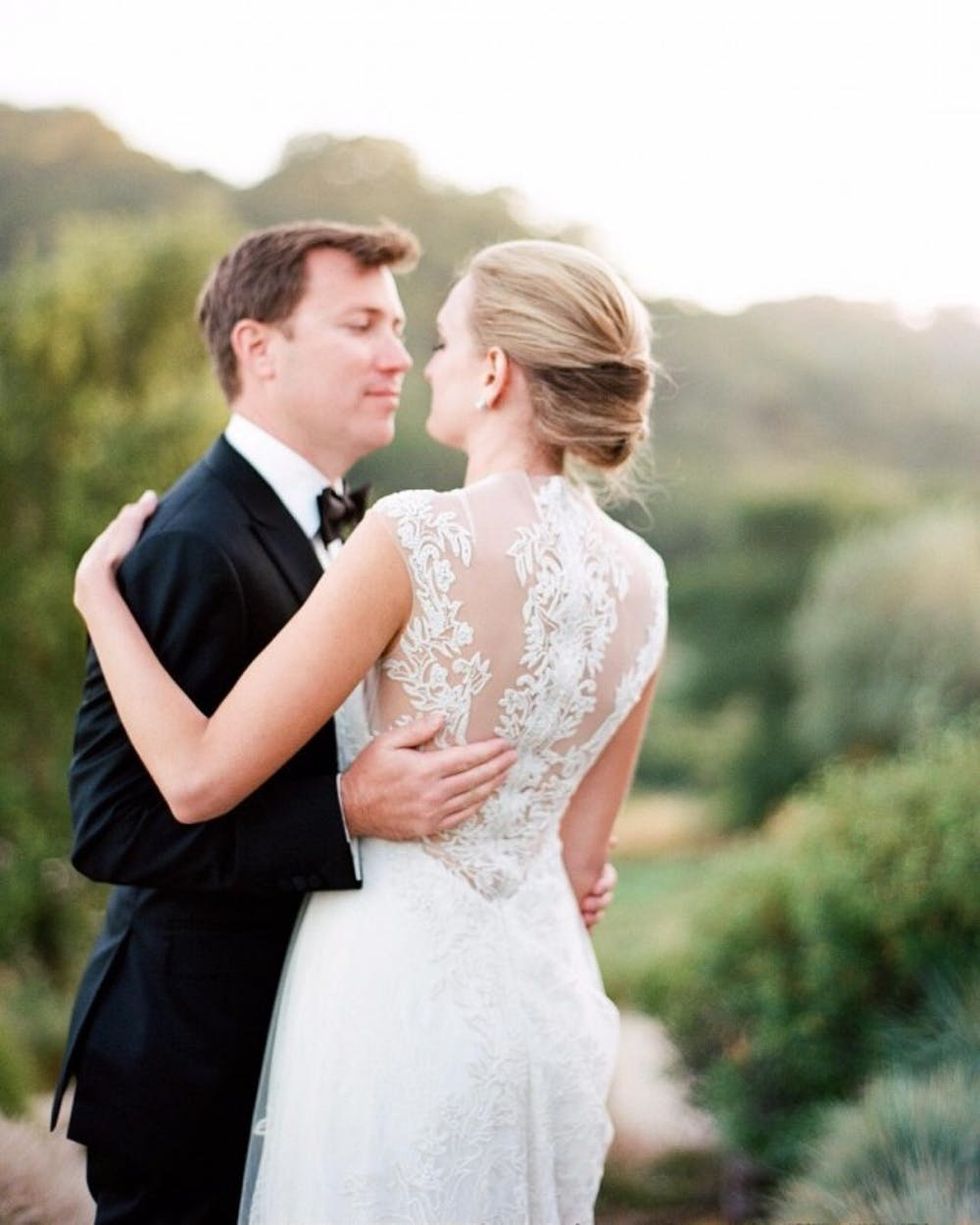 22. Classic French Twist: Let a standout back shine by keeping your hairstyle simple. This French twist is the epitome of sophistication, but won't detract from your dress's best features. (via @sylviegil)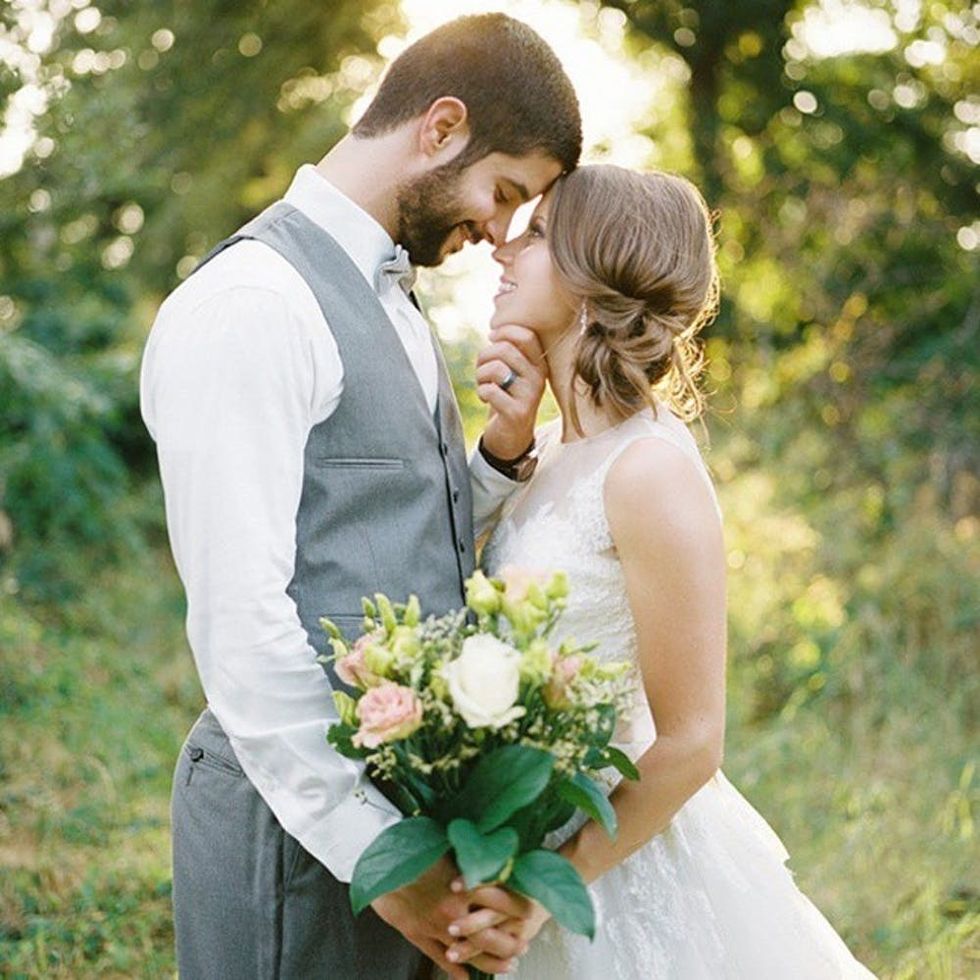 23. Sideswept Style: Whether you consider yourself a traditional, glam or boho bride, this sideswept bun won't disappoint. For a fun touch, skip the traditional blusher veil for a bandeau or birdcage style. (via @benqphotography)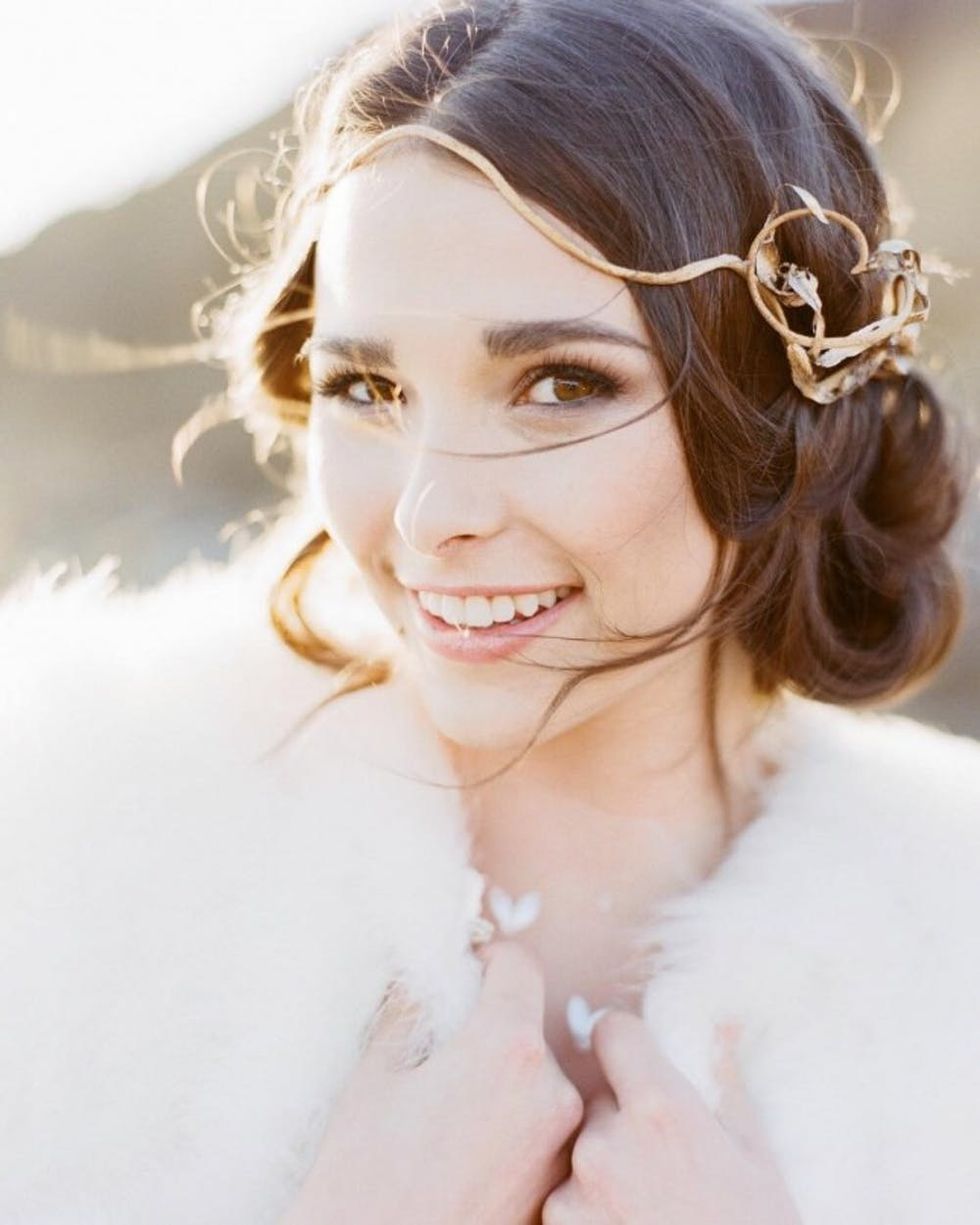 24. Lots of Loops: Carefully pinned curls put a playful twist on a classic bridal updo. Throw a one-of-a-kind headpiece into the mix (draped just-so across the forehead) for a healthy dose of personality. Perfectly painted pink lips are a must. (via @sylviegil)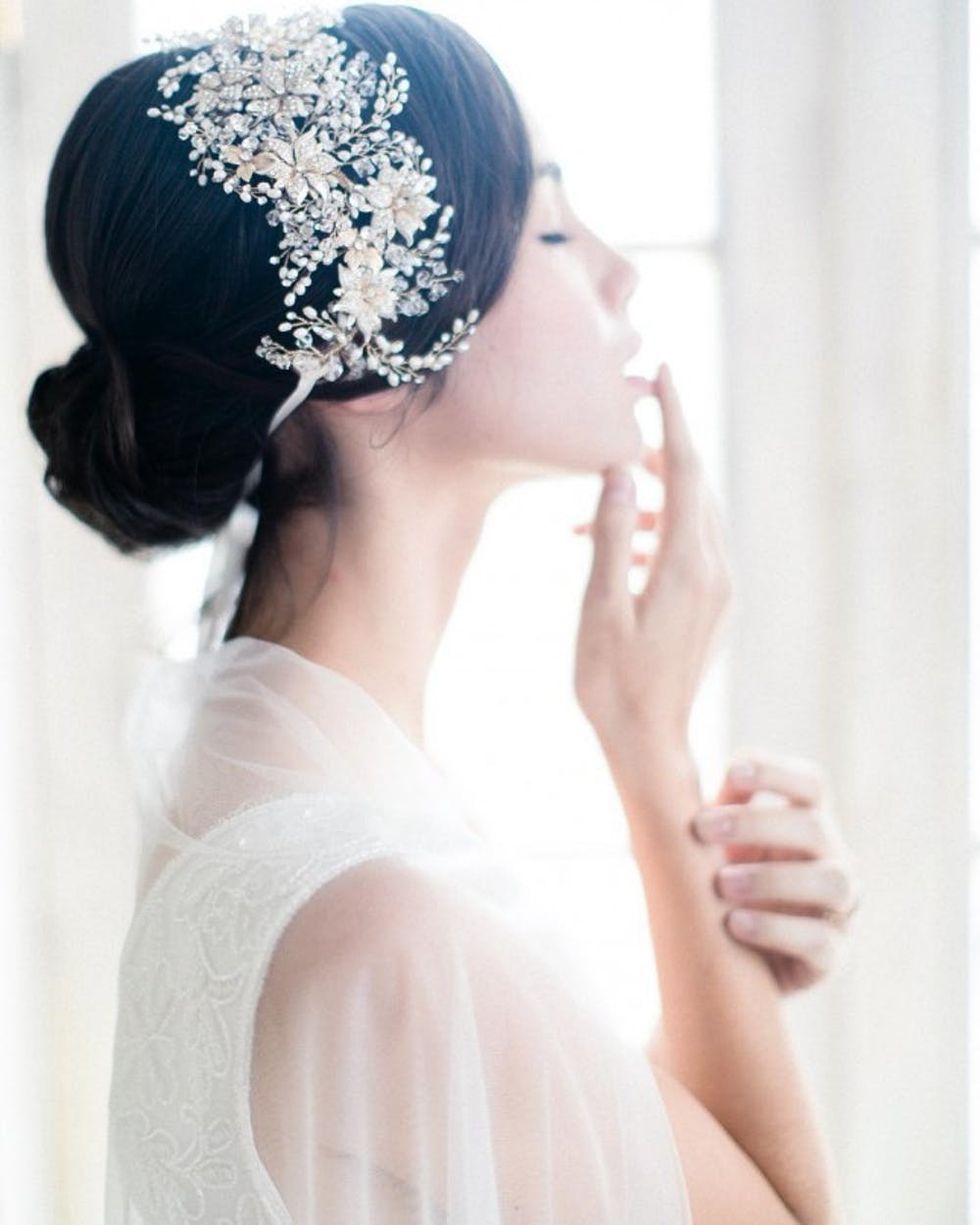 25. Ornate Headbands: Dress up a simple 'do with a show-stopping headpiece that isn't afraid to turn a few heads. A floral number like this will keep guests talking about your impeccable bridal style for years to come. (via @nadiahungphotography)
Wedding Day Hairstyles for Short Hair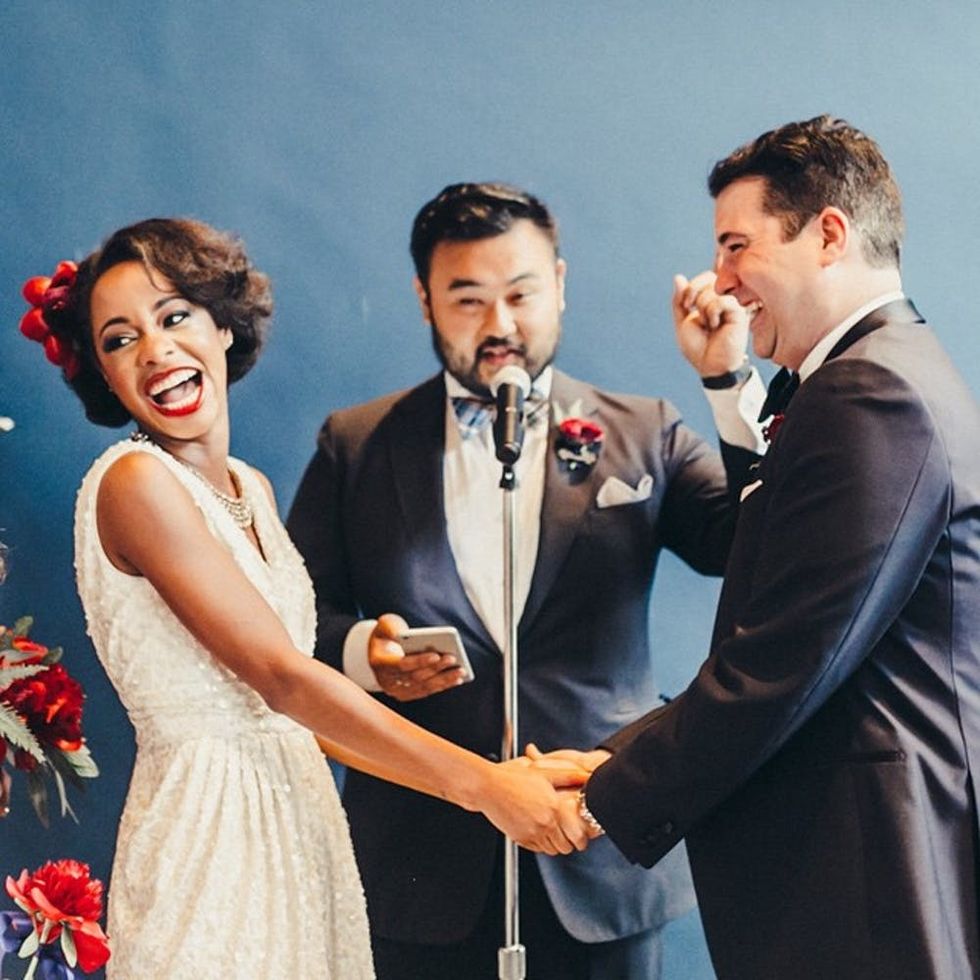 26. Bright Floral Accent: A few full flowers in vivid hues bring a lively pop of color to your monochromatic wedding day getup. To really take your look to the next level, match your lipstick to your blooms. (via @ambergressphotography)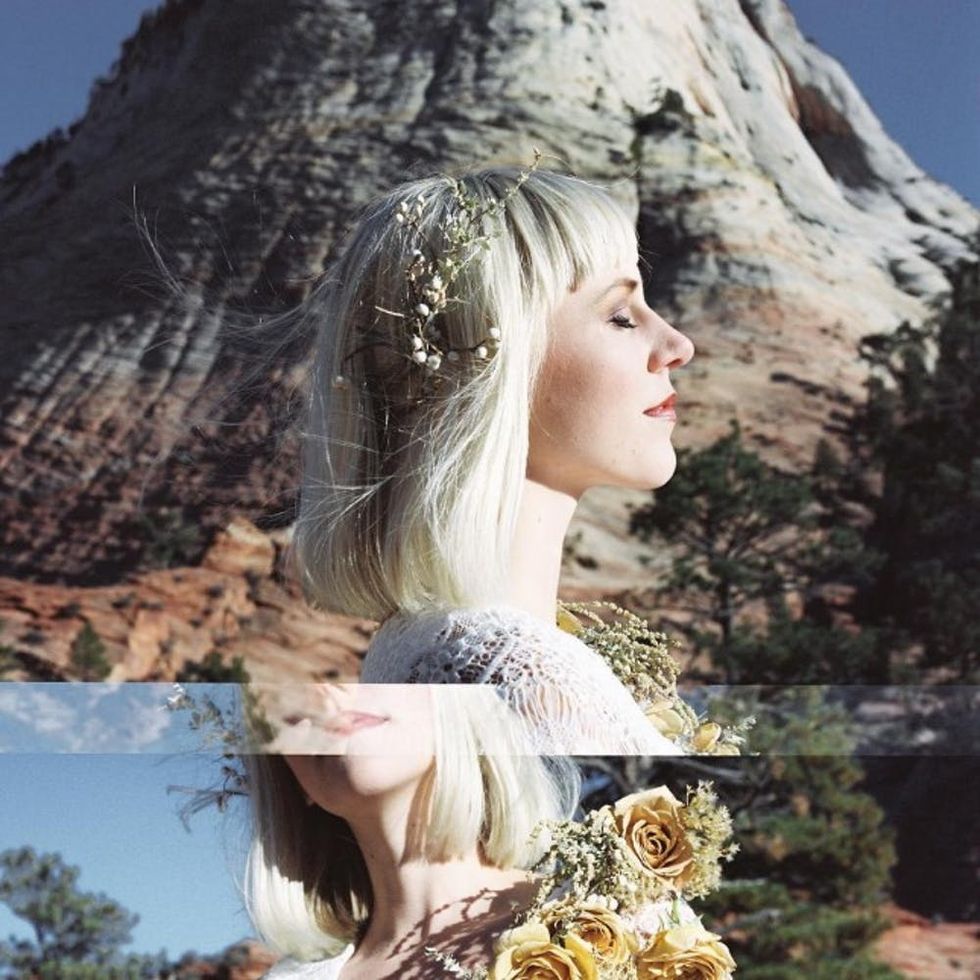 27. Sleek Bob: You have a killer bob, so why not show it off? Get glossy and wear your locks straight, then add a wreath of vines for a modern goddess effect. (via @braillegold)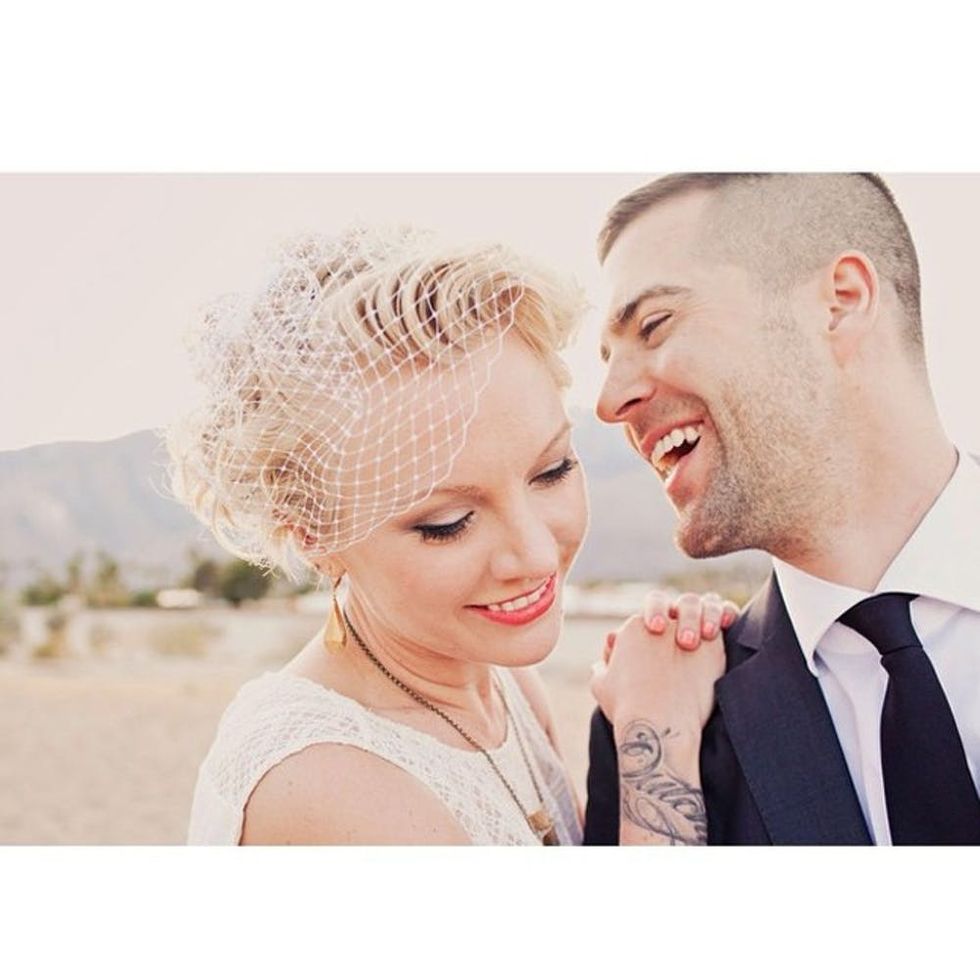 28. Retro Curls and a Birdcage Veil: Short, sideswept curls and a retro birdcage veil are a match made in matrimonial heaven. The only thing missing? A cool cat eye and statement studs. (via @ourlaboroflove)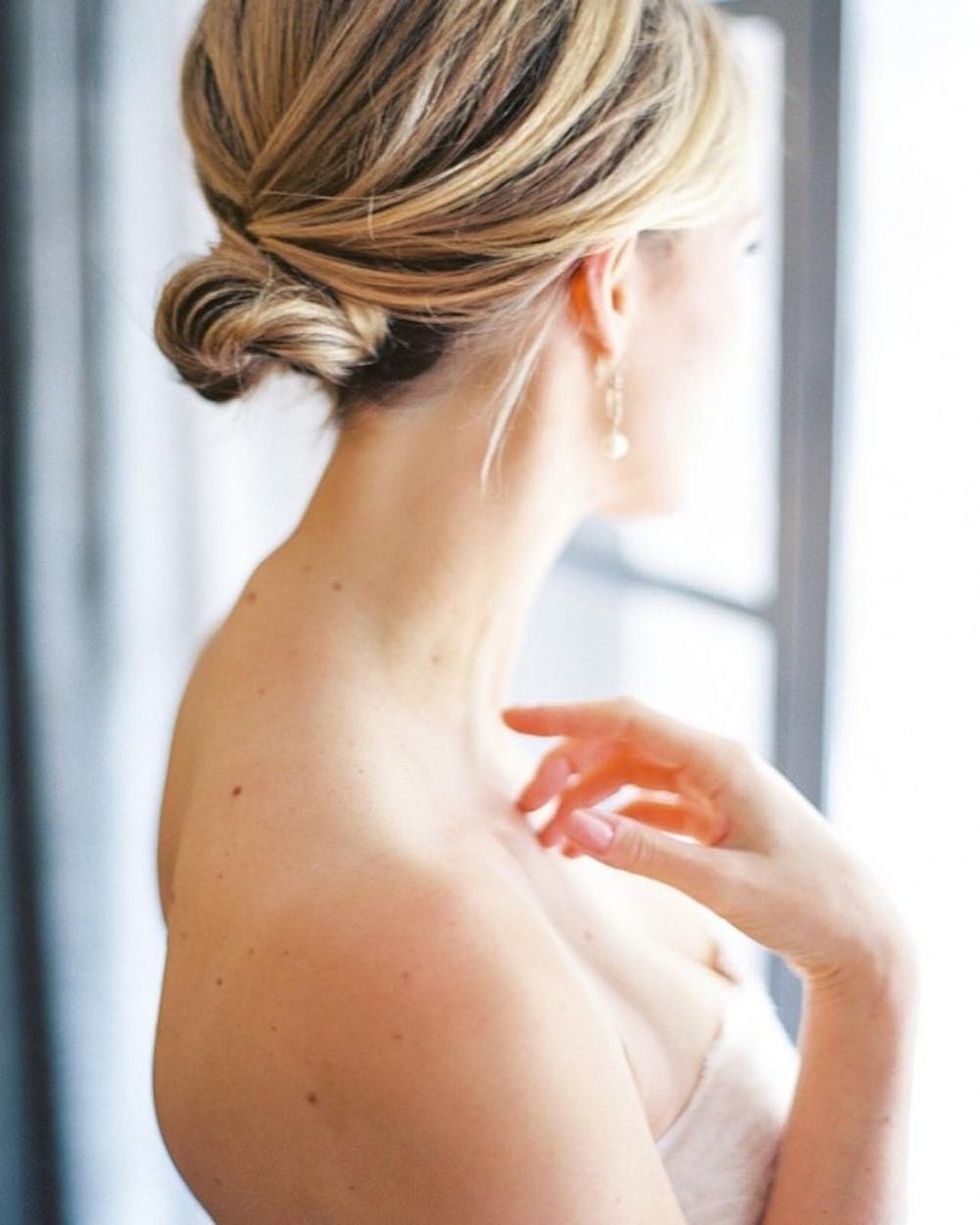 29. Sleek Petite Bun: You don't need long hair to achieve a stunning style, and this elegant twist is proof. Team it with classic pearl drops and a fingertip-length blusher veil.(via @melissajill)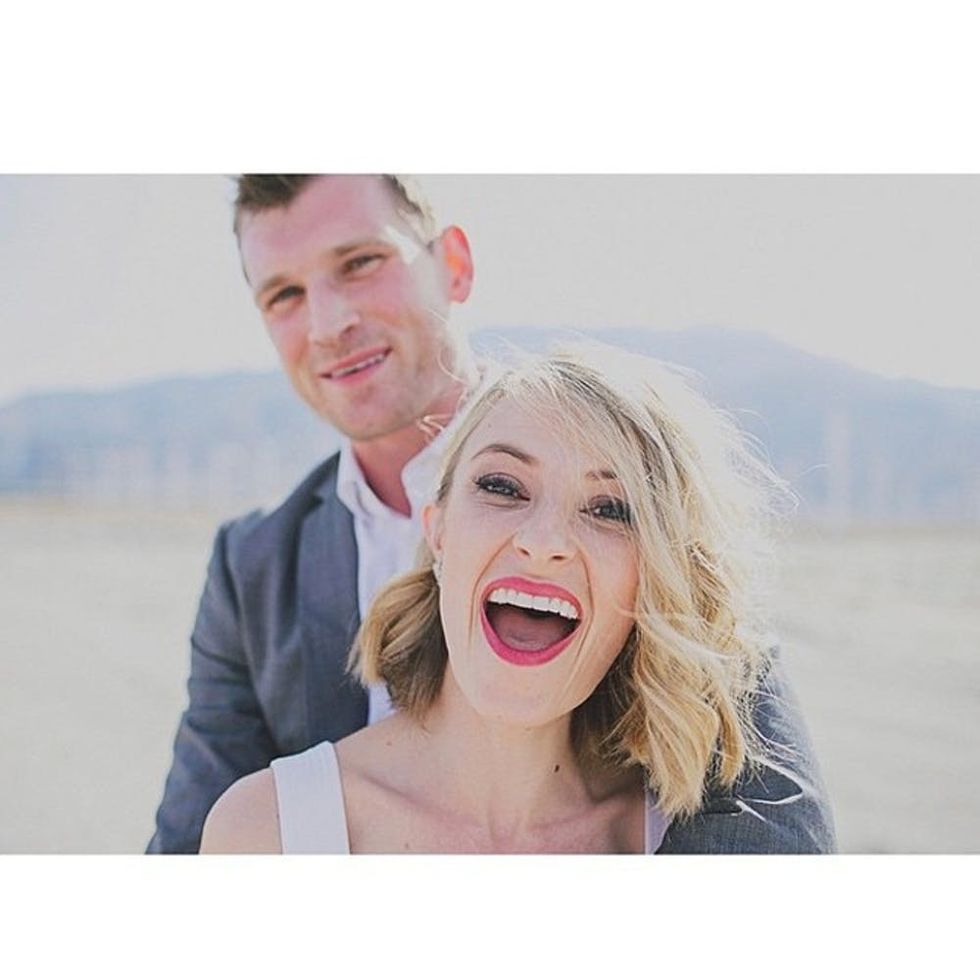 30. Sideswept Curled Bob: The only thing more fun than this bride's pretty fuchsia lipstick? Her two-in-one hairstyle. Curls add volume and bounce to the look, while pinning back one side creates an edgy sideswept effect. (via @ourlaboroflove)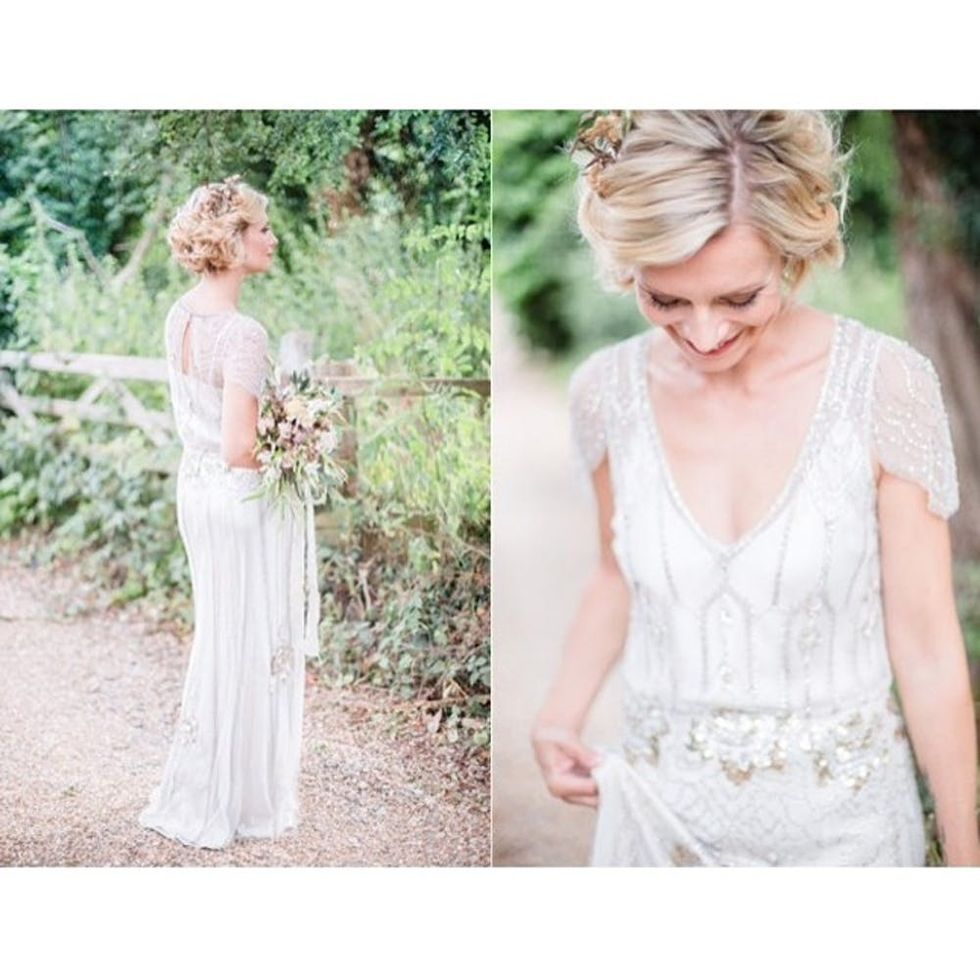 31. Floral Headband: Who says long-haired brides get to have all the fun? Flawlessly coiffed chin-length locks bring the wow-factor with a reverse crown of seasonal flowers. (via @cecelinaphotography)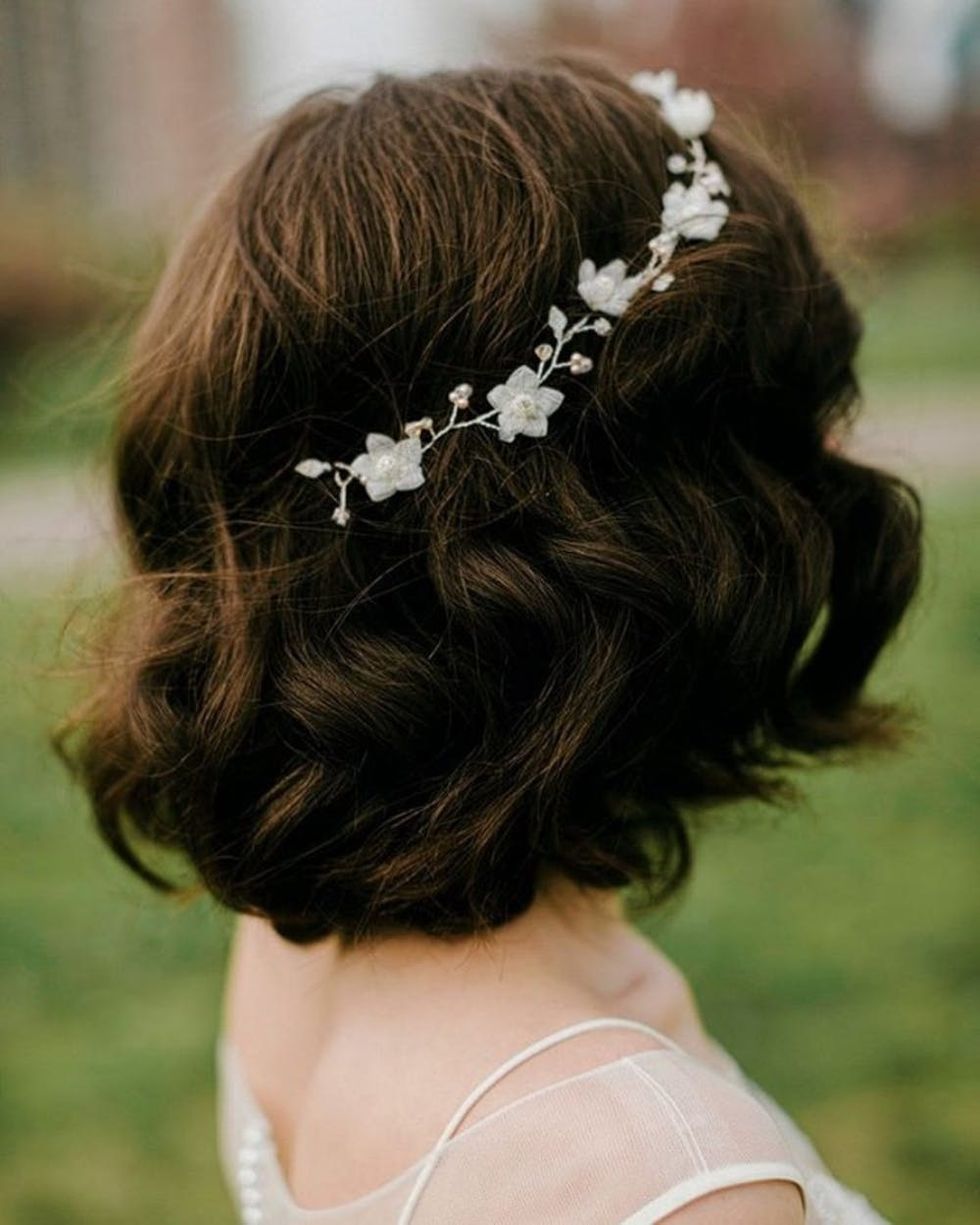 32. Short Romantic Bob: Loose curls and a dainty floral headpiece are all you need to take your wedding-day look into hopelessly romantic territory. (via @theknot)
Your Big Day is just starting! Check out all things Brit + Co Weddings, and follow us on Pinterest for more beautiful + creative wedding inspo.
Libby MacCarthy
Libby MacCarthy is an urban planner turned writer with a love (bordering on unhealthy obsession) of all things fashion and beauty related. She lives for perfectly brewed coffee, farmer's markets, dinner parties and perusing impeccably designed boutiques. When she's not on the hunt for the latest trends, you'll likely find her plotting her next adventure or nose deep in a book. Libby currently splits her time between the East Coast and her adopted home of France. Follow her daily adventures on
Instagram
.
Wedding Beauty