This Where the Wild Things Are Wedding Is Seriously Magical
May 18, 2016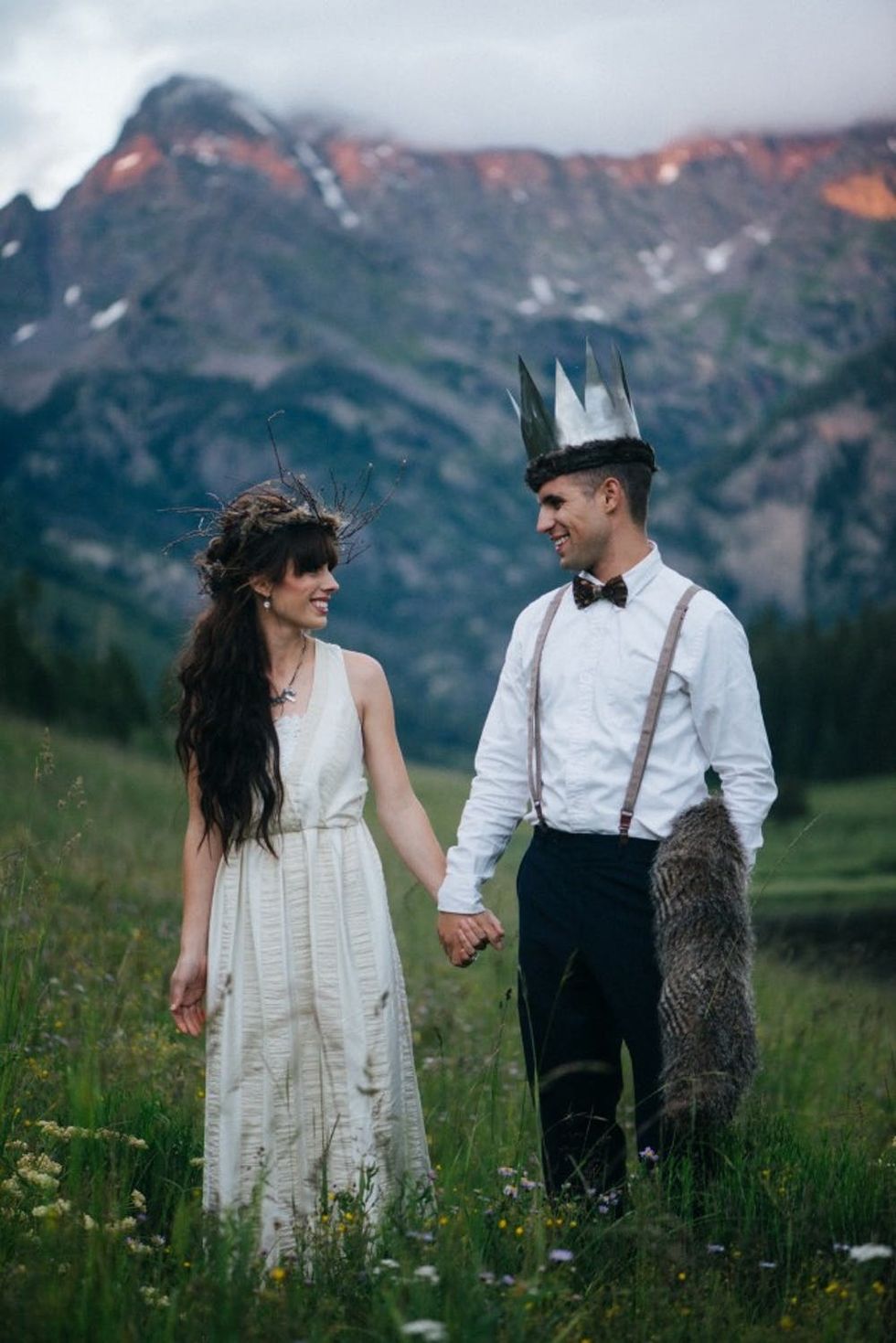 You already know that there is a lot of real wedding inspo hidden among the fantasies of children books and movies, but you will be *totally* swooning once you see this wedding shoot inspired by Maurice Sendak's Where the Wild Things Are. This wild + exciting shoot, photographed by Elizabeth Cryan Photography and planned by MAG Events, is every outdoorsy couple's dream come true. With beautiful touches of fall, including a dreamy wedding cake and some serious boho wedding decor, these guys were all about the details. We're feeling pretty confident all you boho brides (and those with the sudden urge to plan a spring-y party) will be inspired by these magical details for your very own big day.
---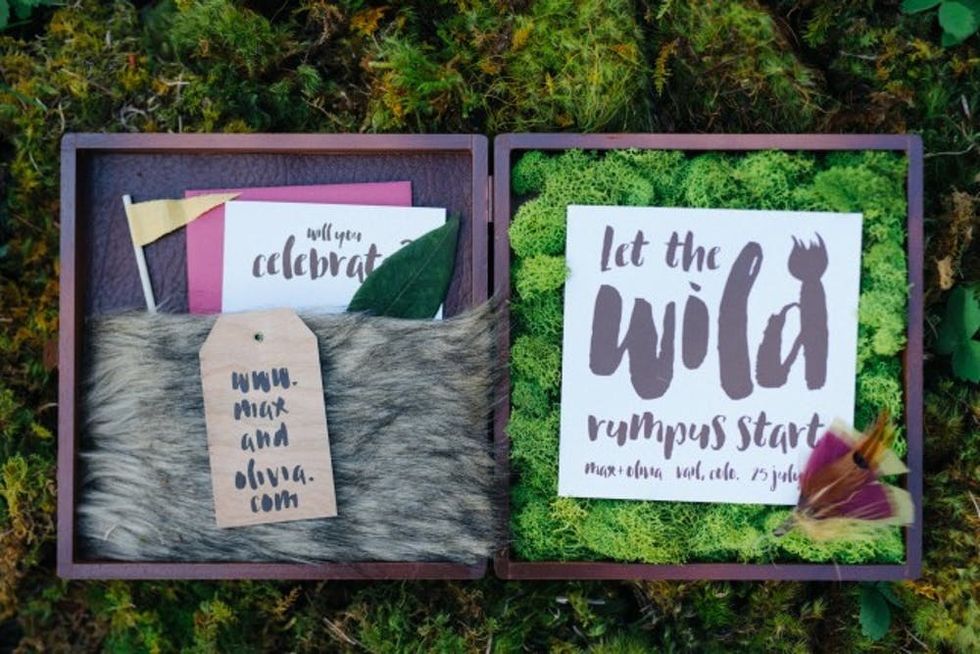 For the wedding stationery, Anthologie Press created free-spirited invites using a modern square design, with lots of outdoorsy touches like faux moss and Max's tail to accent the suite. The addition of a wooden gift tag for the wedding website also adds a bit of character. Whether you DIY or hire a talented artist to help you with your own, these cuties are sure to impress your guests.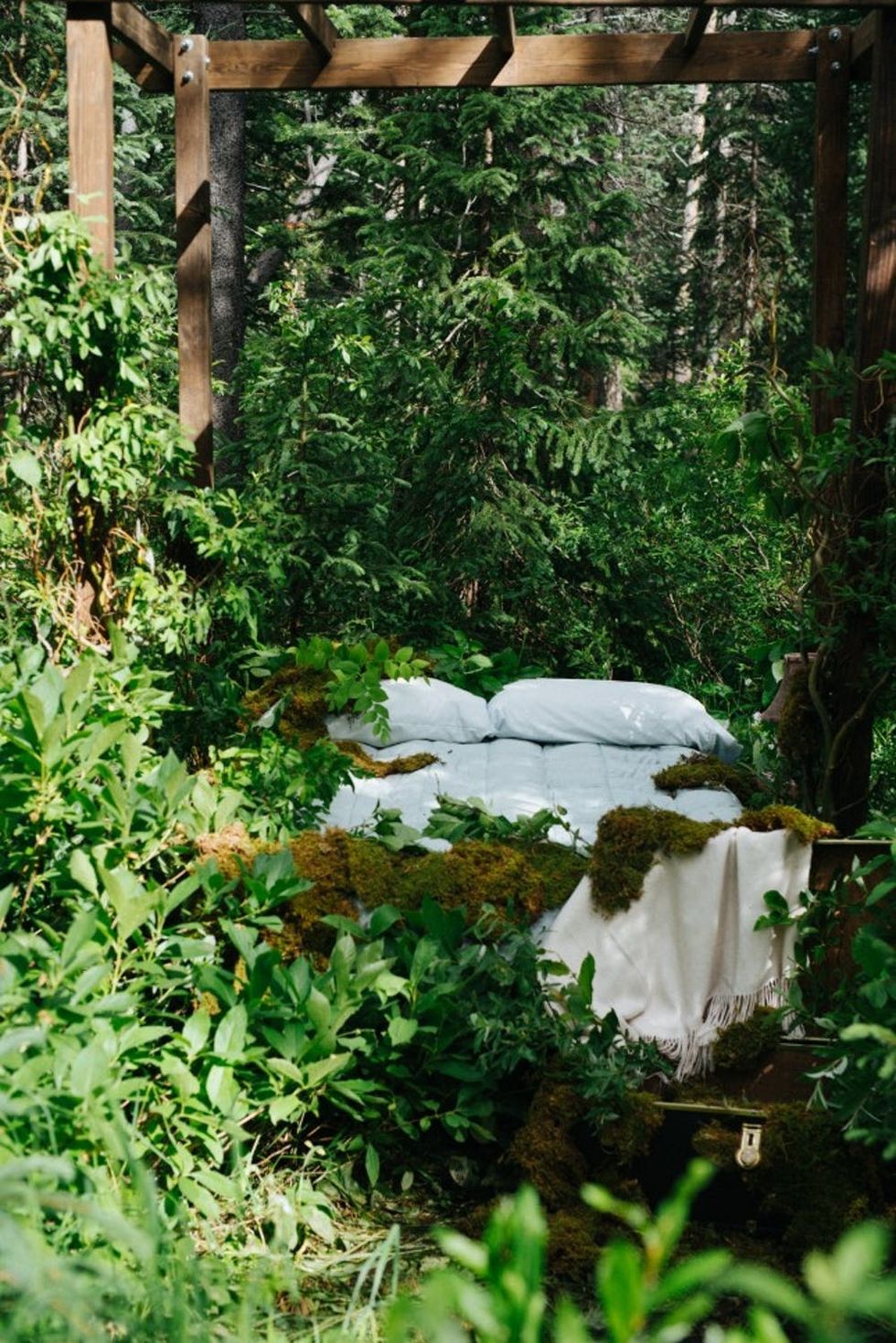 Piney River Ranch served as the perfect backdrop for this enchanting affair. MAG Events recreated the first scene of Where the Wild Things Are with a forest-like backdrop adorned with lots of leafy greens and a simple wooden bed. If you don't live in a tropical or wooded area, any outdoor venue will do. After all, you just need your imagination to take you there.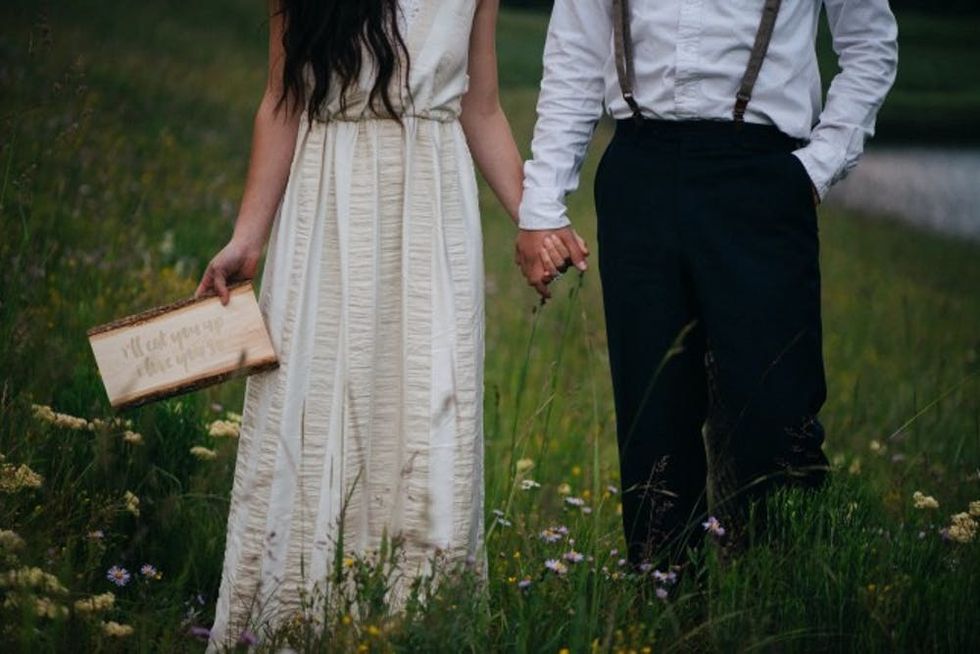 The couple's attire followed suit, with a bohemian ivory dress for the bride and a simple jacket-free style for the groom. This super casual look tied together oh-so well with the rest of the rustic details while shedding some light on the story in the book.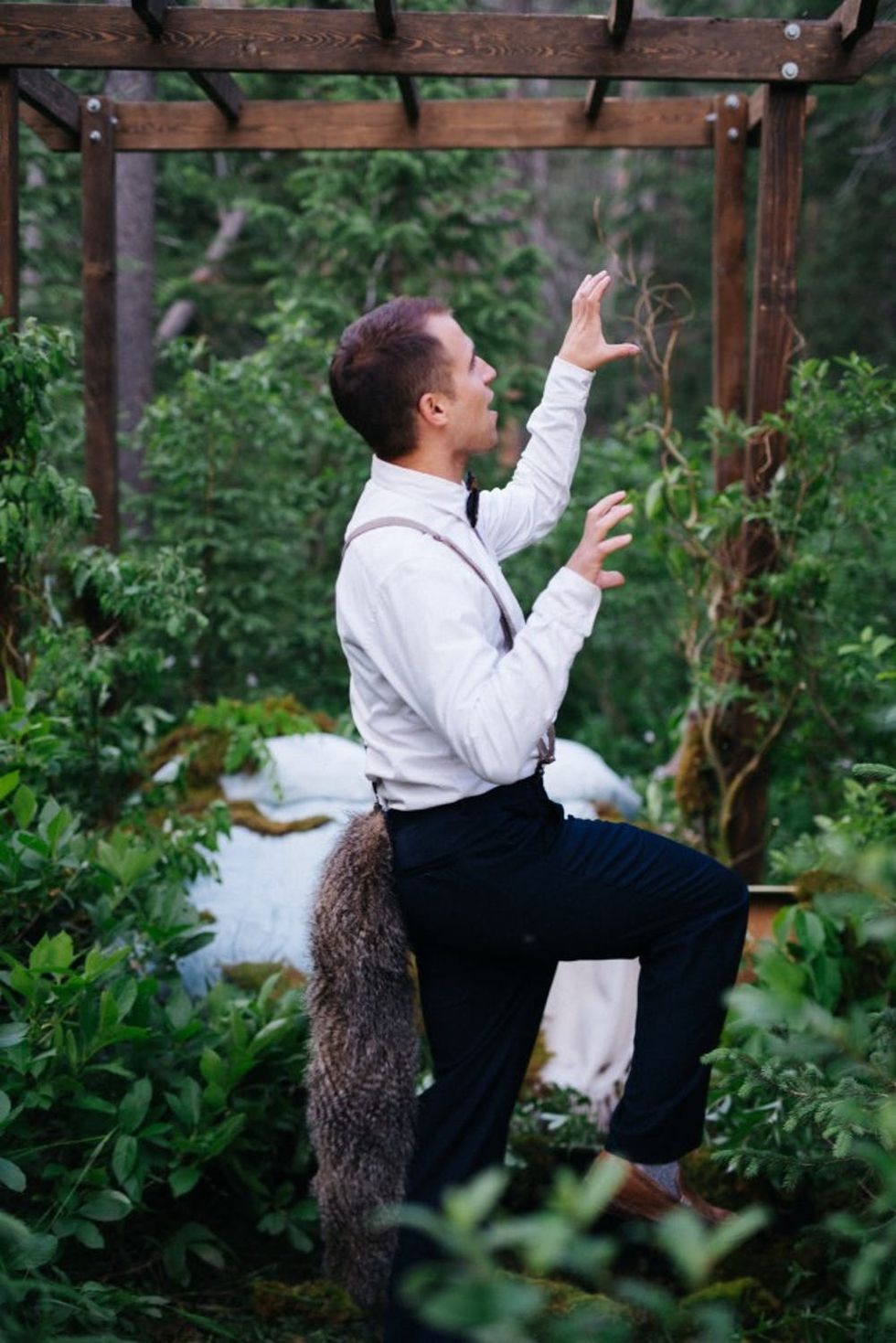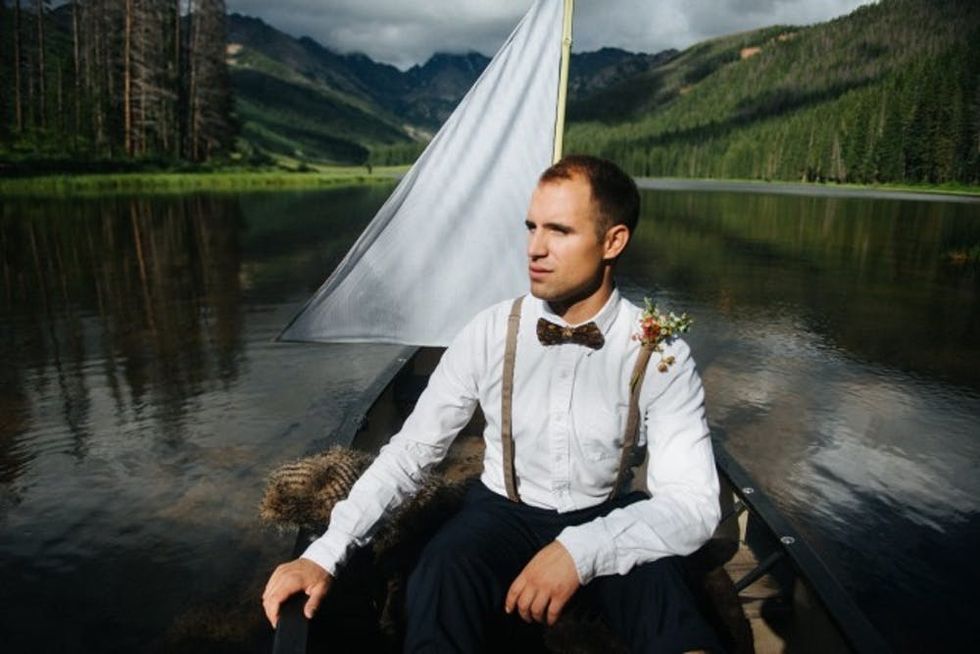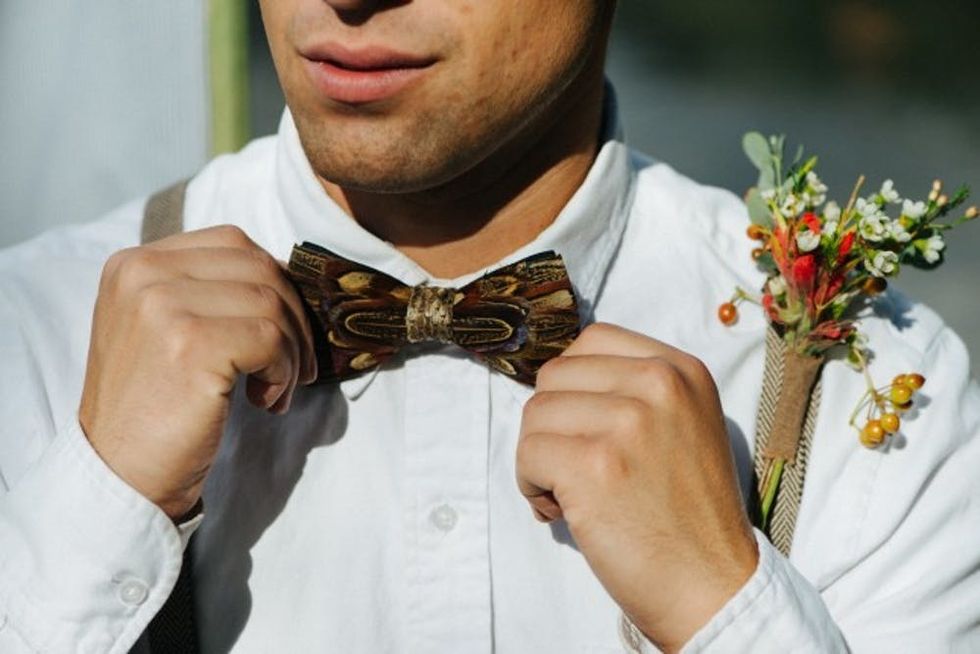 For the groom's outfit, the team chose classic navy trousers, a white top and some funky suspenders to bring down the seriousness a notch. And since they were in such a unique setting, the team worked hard to make sure that the "wild" side of things stood out by adding a feather bow tie from Brackish Feather Bow Ties and a boutonniere created by Bella Calla. If you want something a bit more unique for your groomsmen's boutonnieres, simply grab some local florals and put those little DIY hands to work. We promise no two arrangements will be alike!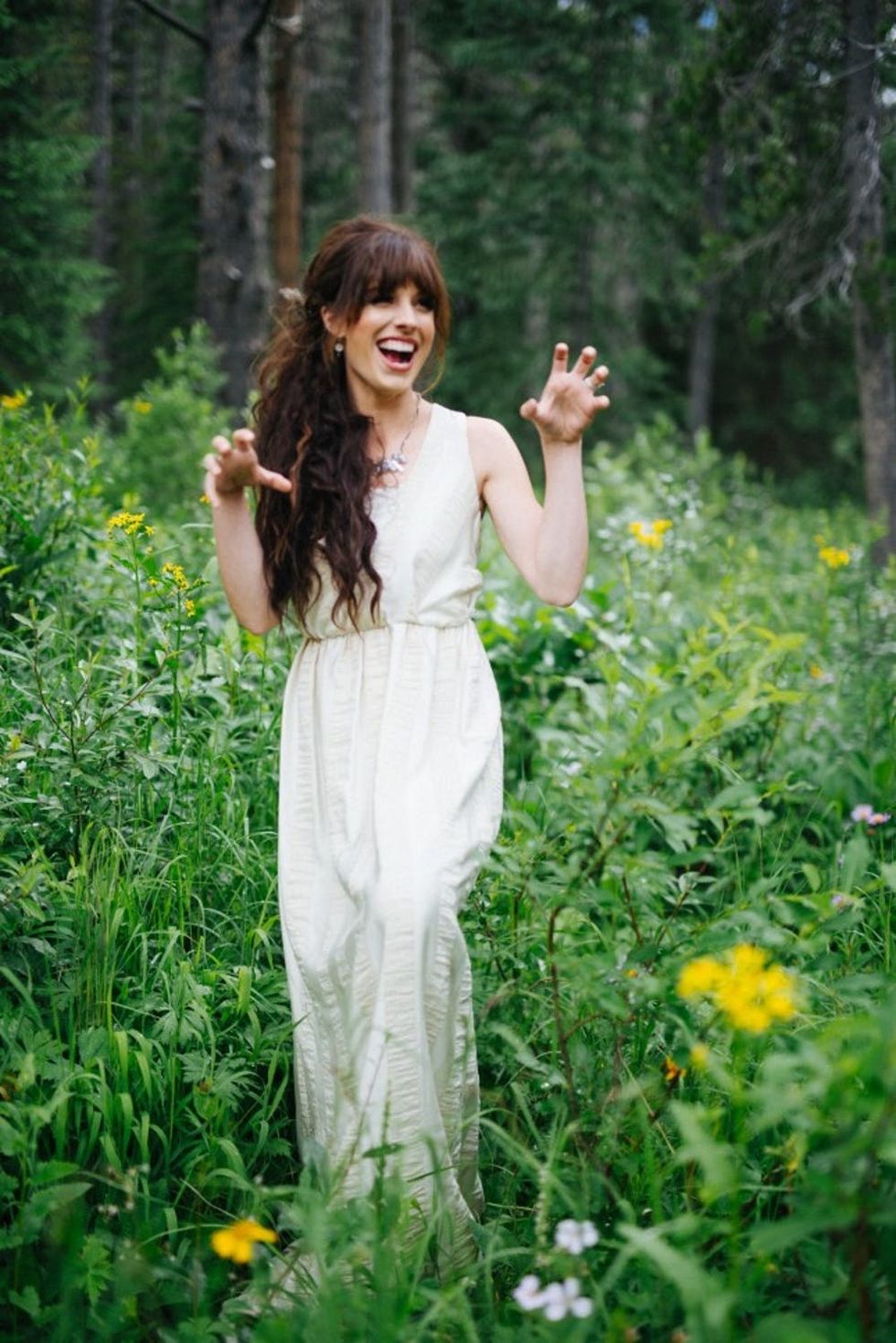 And if you have a soft spot for expert craftsmanship, you won't be able to resist the bride's intricate D'Lola Couture wedding gown. This little number's modern silhouette and simple lace details make this gown a treasure. It's a sweet blend of drama and effortlessness working together hand-in-hand.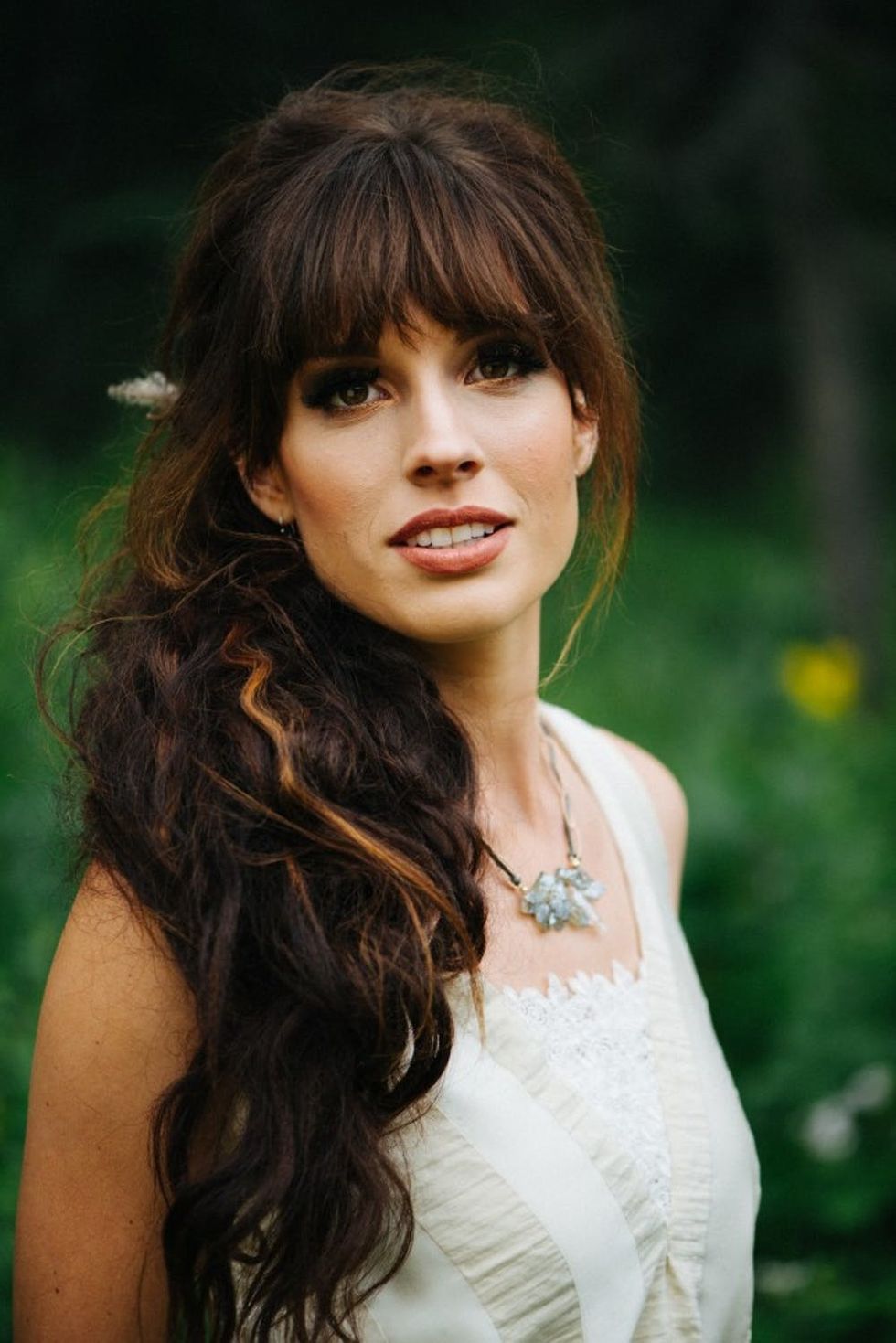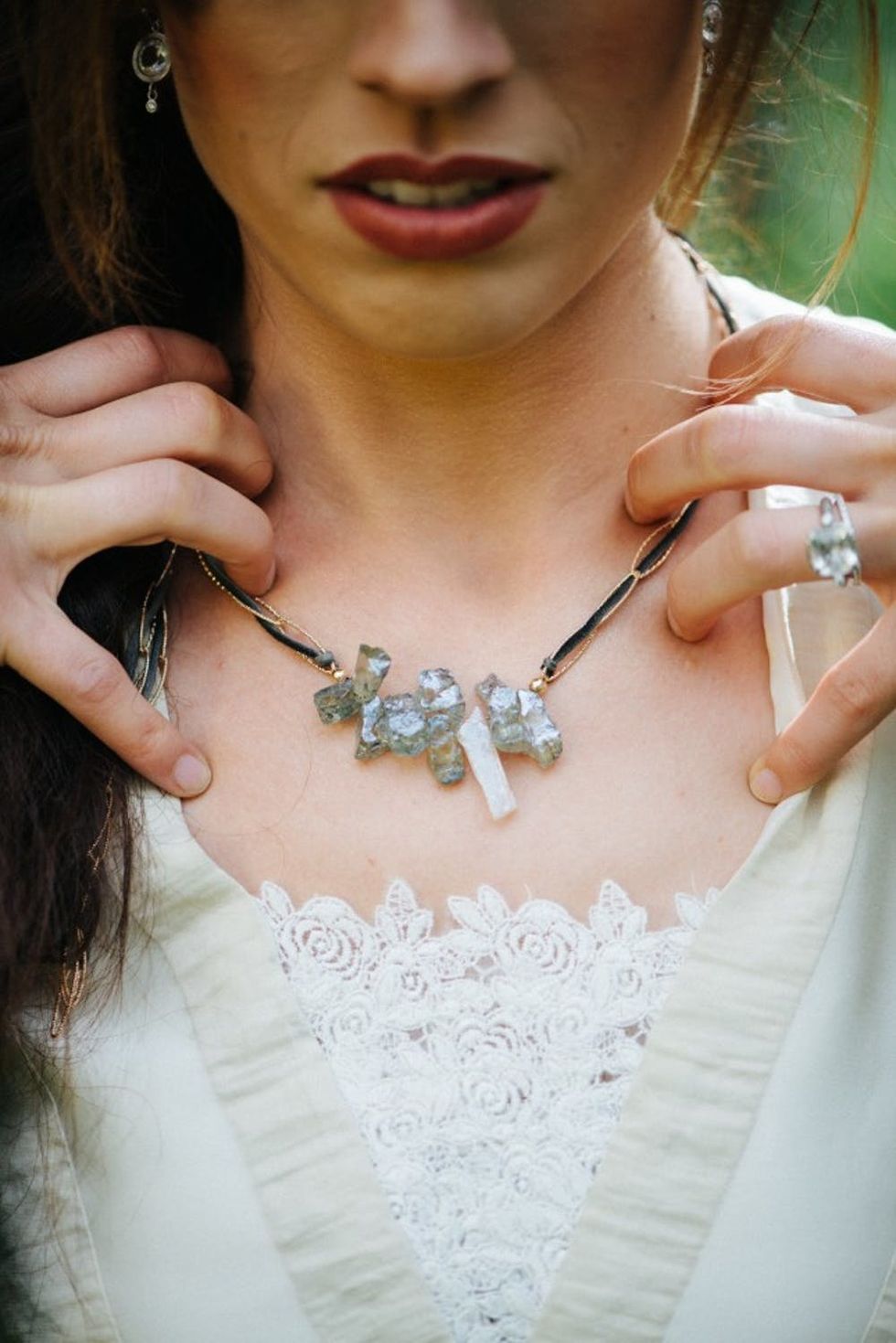 The bride's makeup was ethereal, with an ultra-natural no-makeup makeup look, while her chic crystal necklace from Ashley Schenkein Jewelry Design brought the boho vibe. If you're thinking of wearing a similar jewelry piece, personalize it by swapping in your favorite stones. Wearing something you love on your big day will make you feel fabulous and super confident.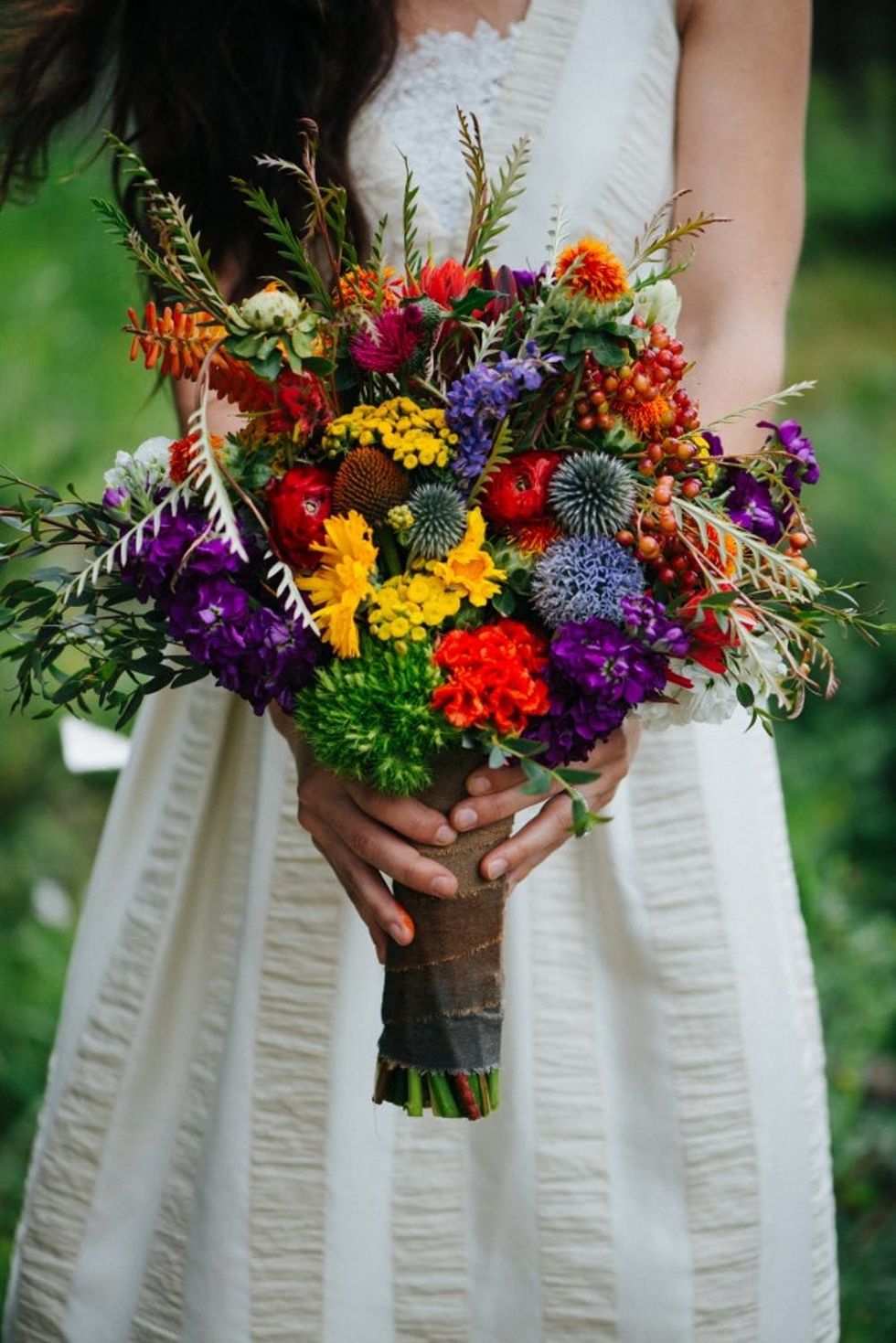 As is a must for any bohemian nuptials, the floral bouquet, beautifully designed by Bella Calla, made for a head-turning bridal accessory. The moody floral hues were the perfect palette to juxtapose the earthy look of the surrounding greens. To get the look yourself, grab a bunch of your favorite wildflowers in all sorts of colors and tie them together with some earthy-toned silk ribbon. You'll end up with a super stunning and sustainable end result.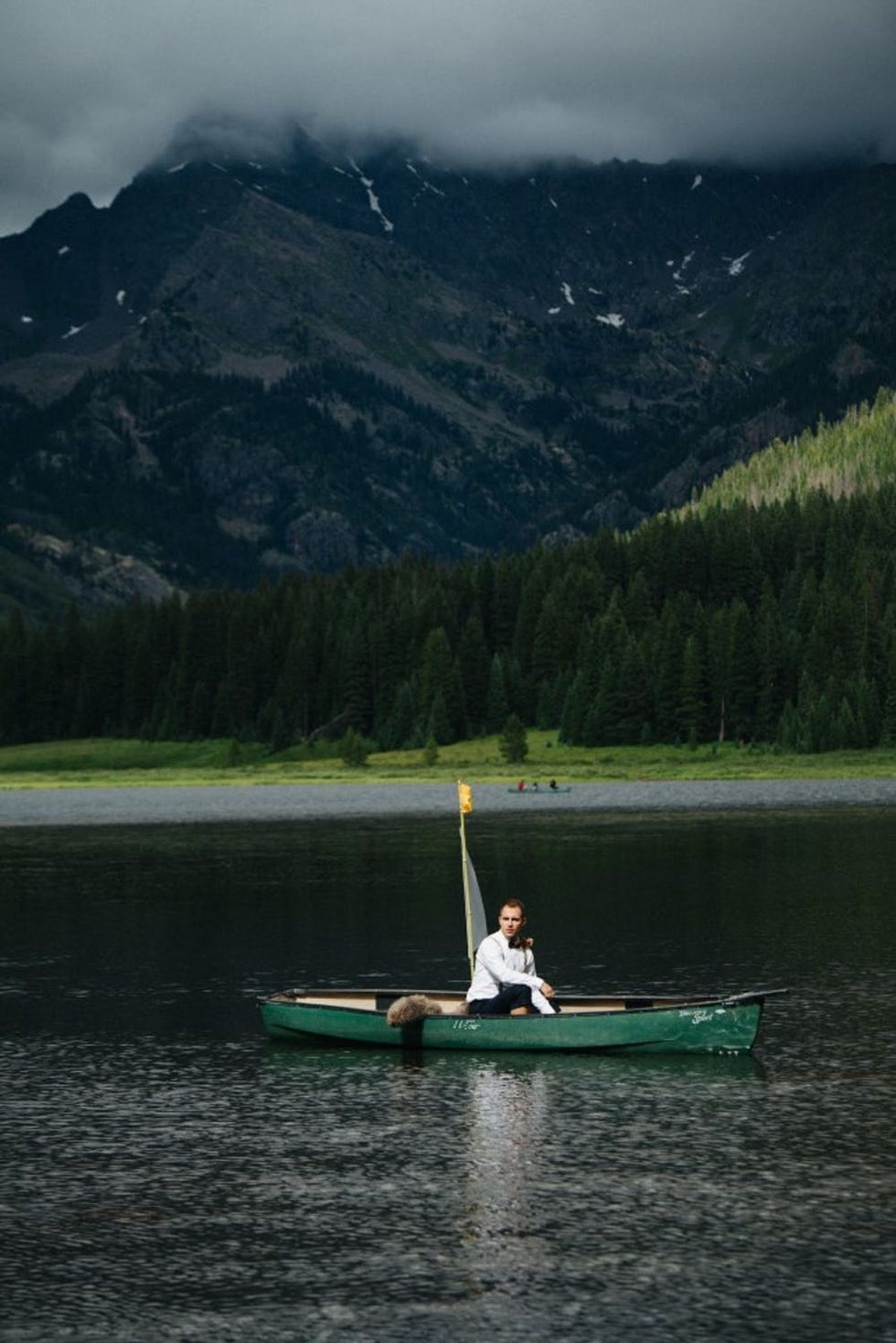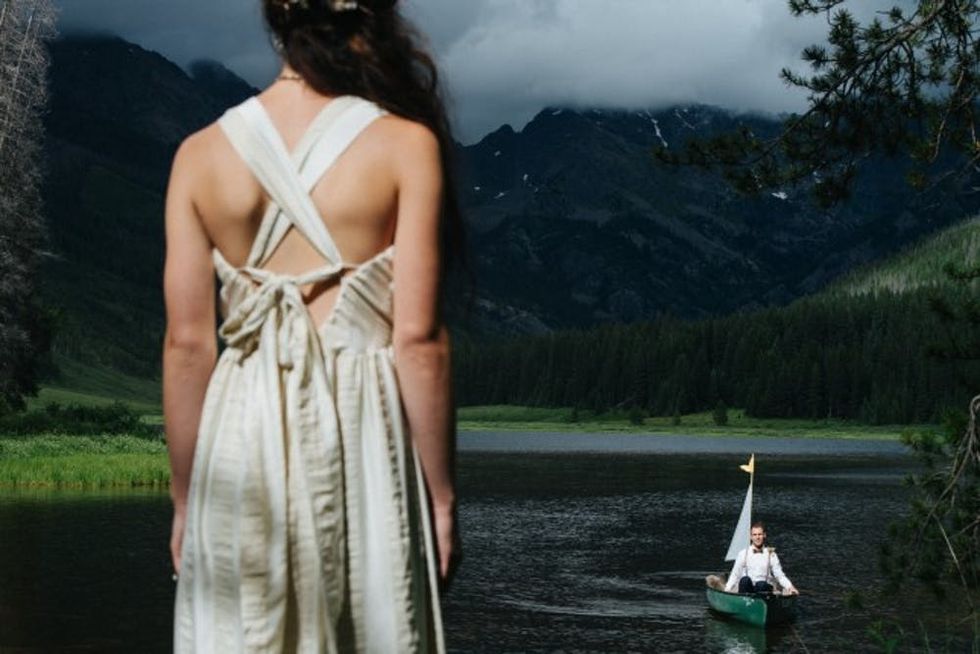 Just like in the book, where Max imagined a stranded boat and sailed off to distant lands in his imagination, the creative team arranged for the groom to arrive in the cutest little canoe for the ceremony. Except this time, it was to meet his sweet bride. Talk about a grand entrance! And that view? #SWOON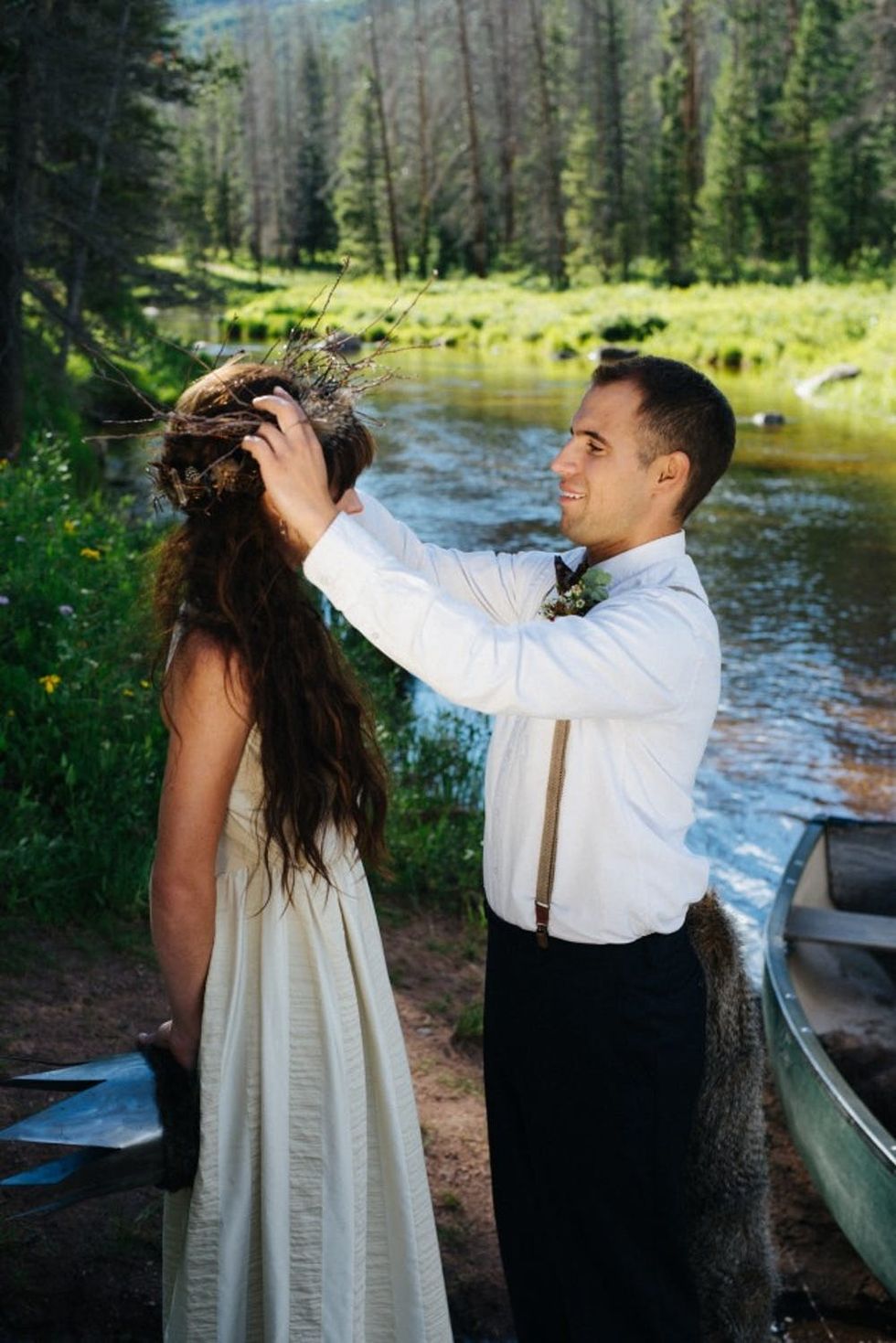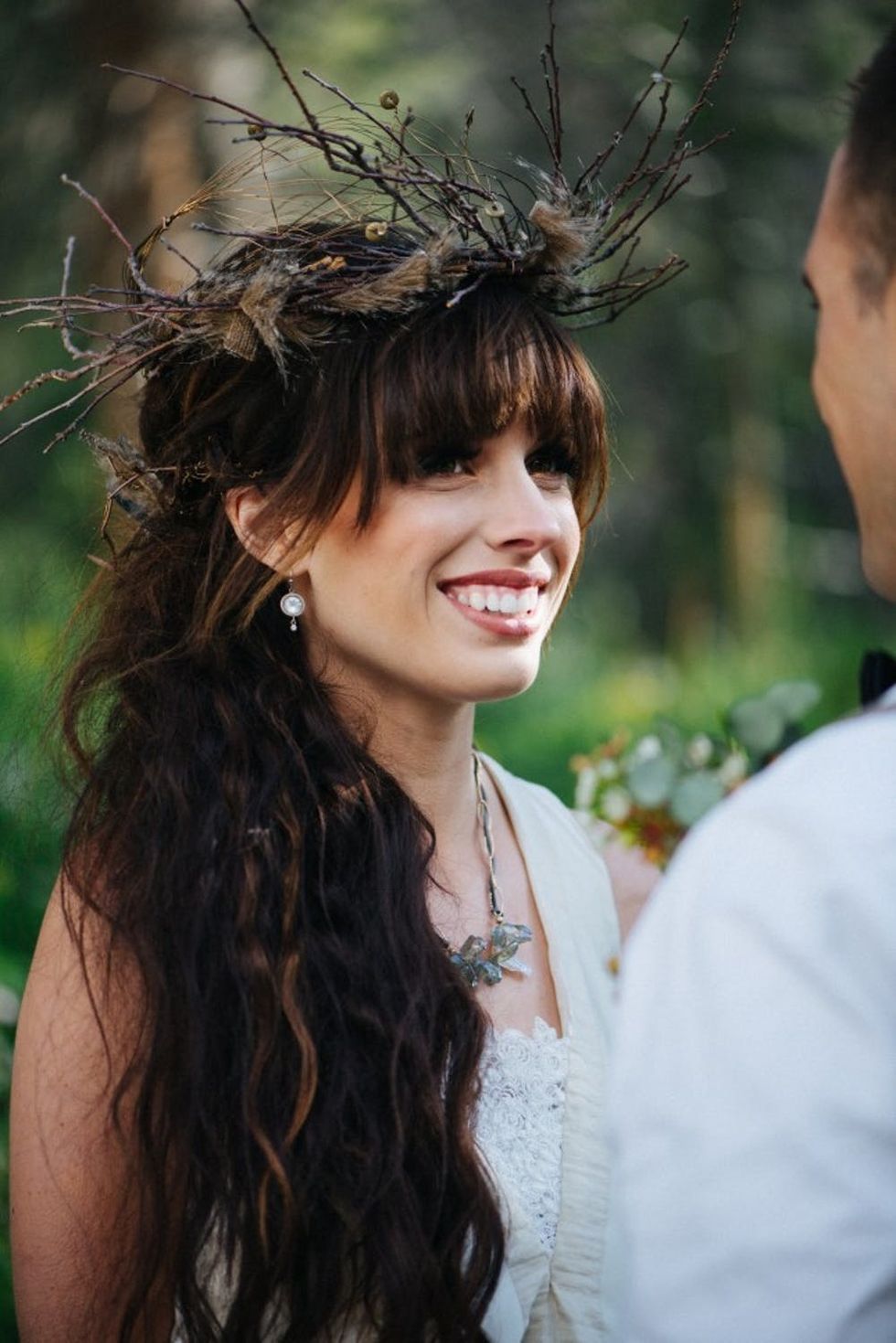 In lieu of wedding bands, this free-spirited couple exchanged — yes, you guessed it — crowns. For the bride, the team created a headpiece with a whimsical woodland goddess look. The combo of dried wildflowers, feathers and branches played off the varying textures and embodied true indie vibes you won't be able to resist.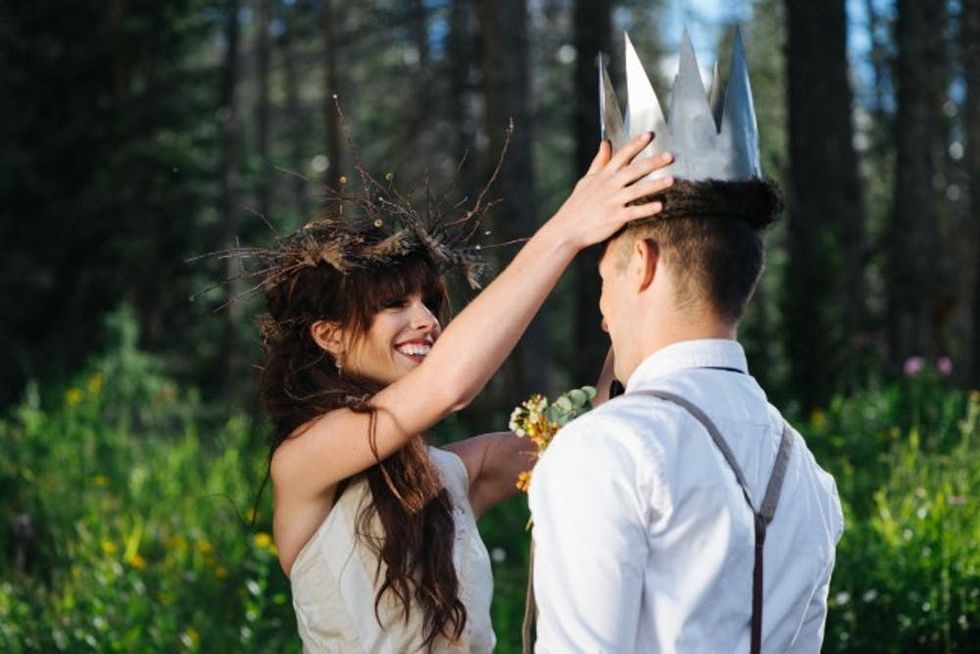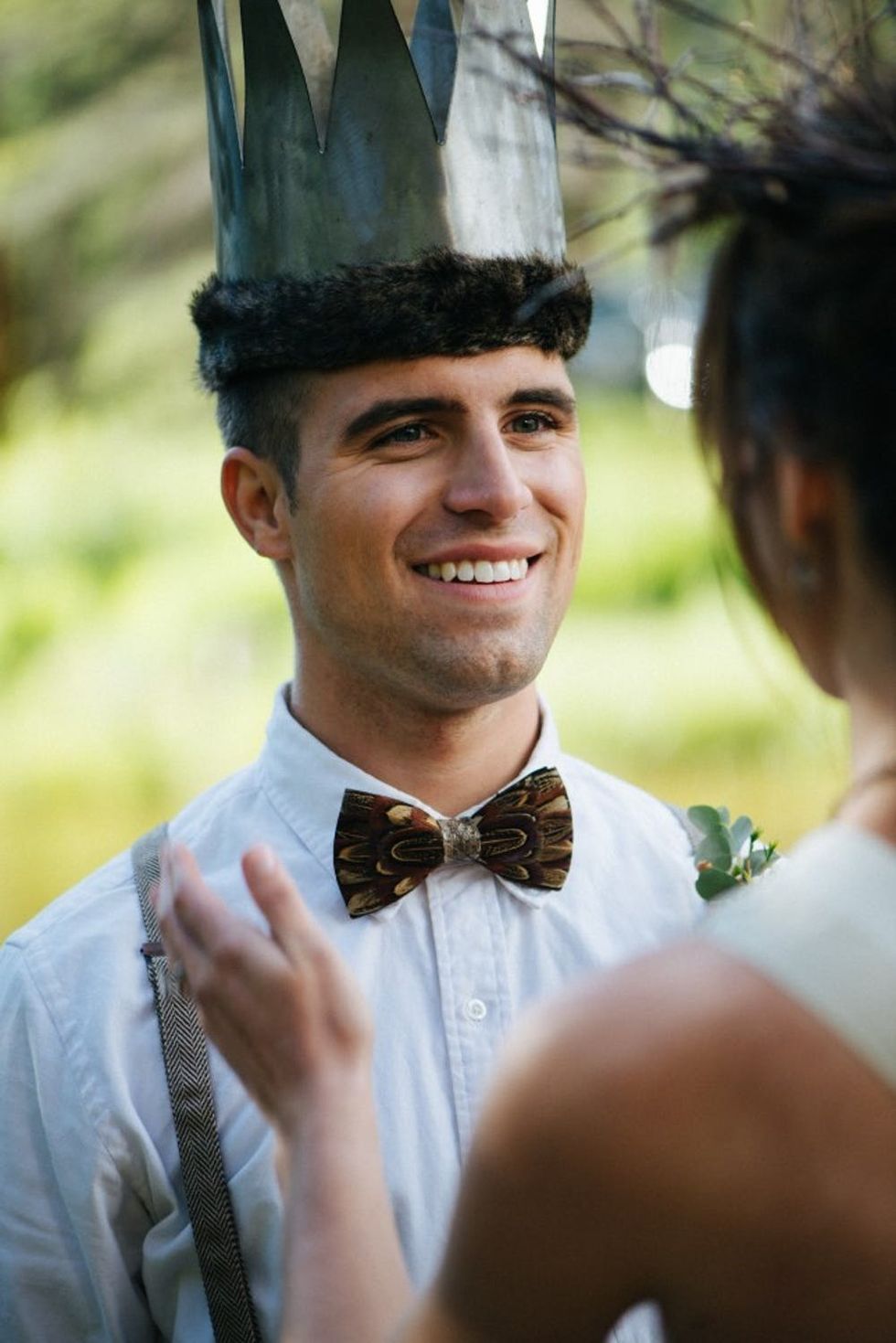 For the groom's crown, the team mimicked the storyline and gave him a true crown. And just like the book, the boy became king of all the wild things. To make your own Where the Wild Things Are crown, grab some cardstock, silver spray paint and faux fur to create a mini crown that you can exchange with your sweetie. It'll be an accessory to remember.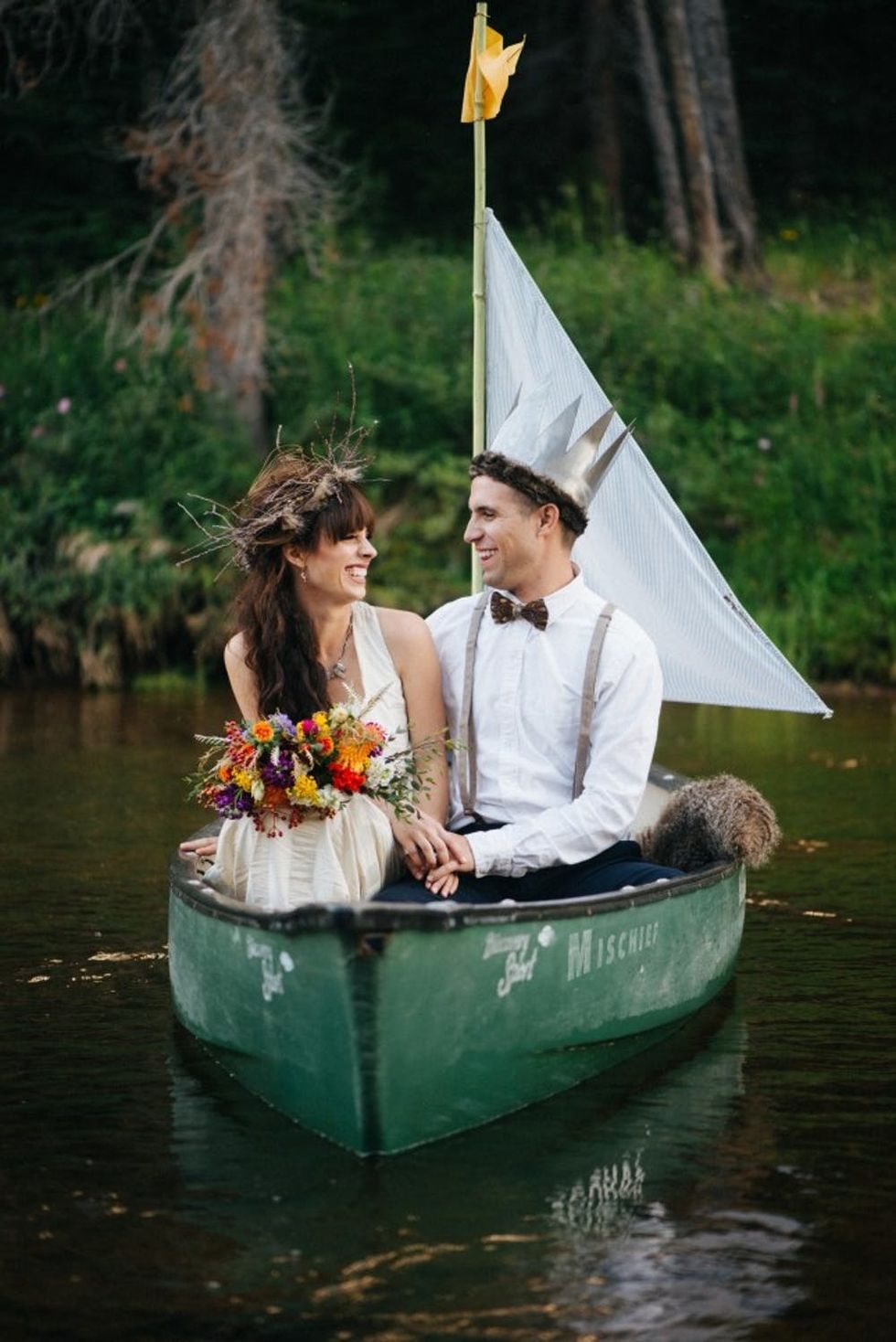 From there, the entire day was spent in the wilderness, embracing the beautiful scenery around them with the wild things close by.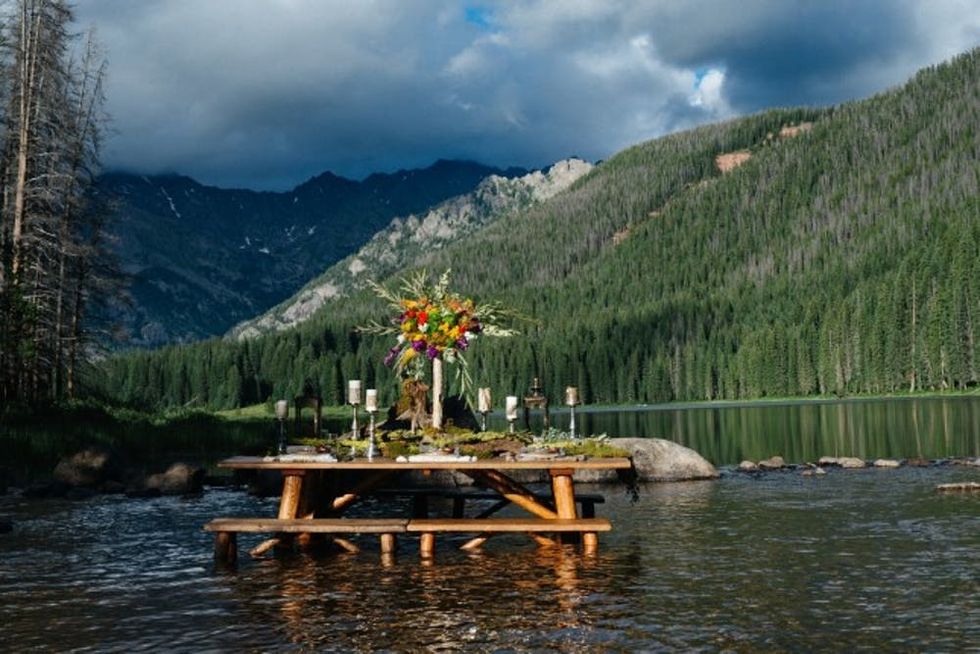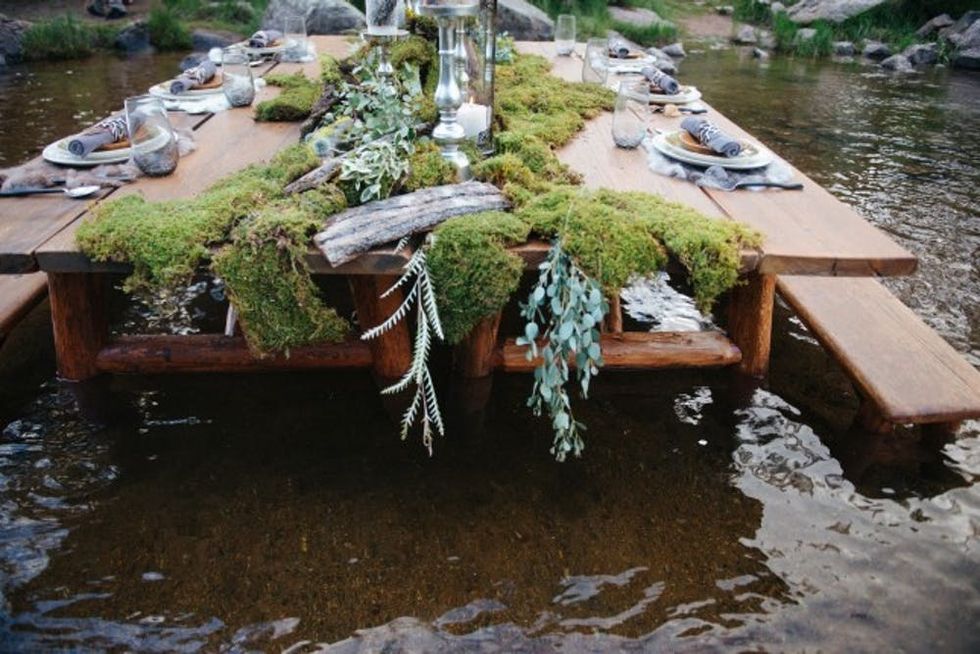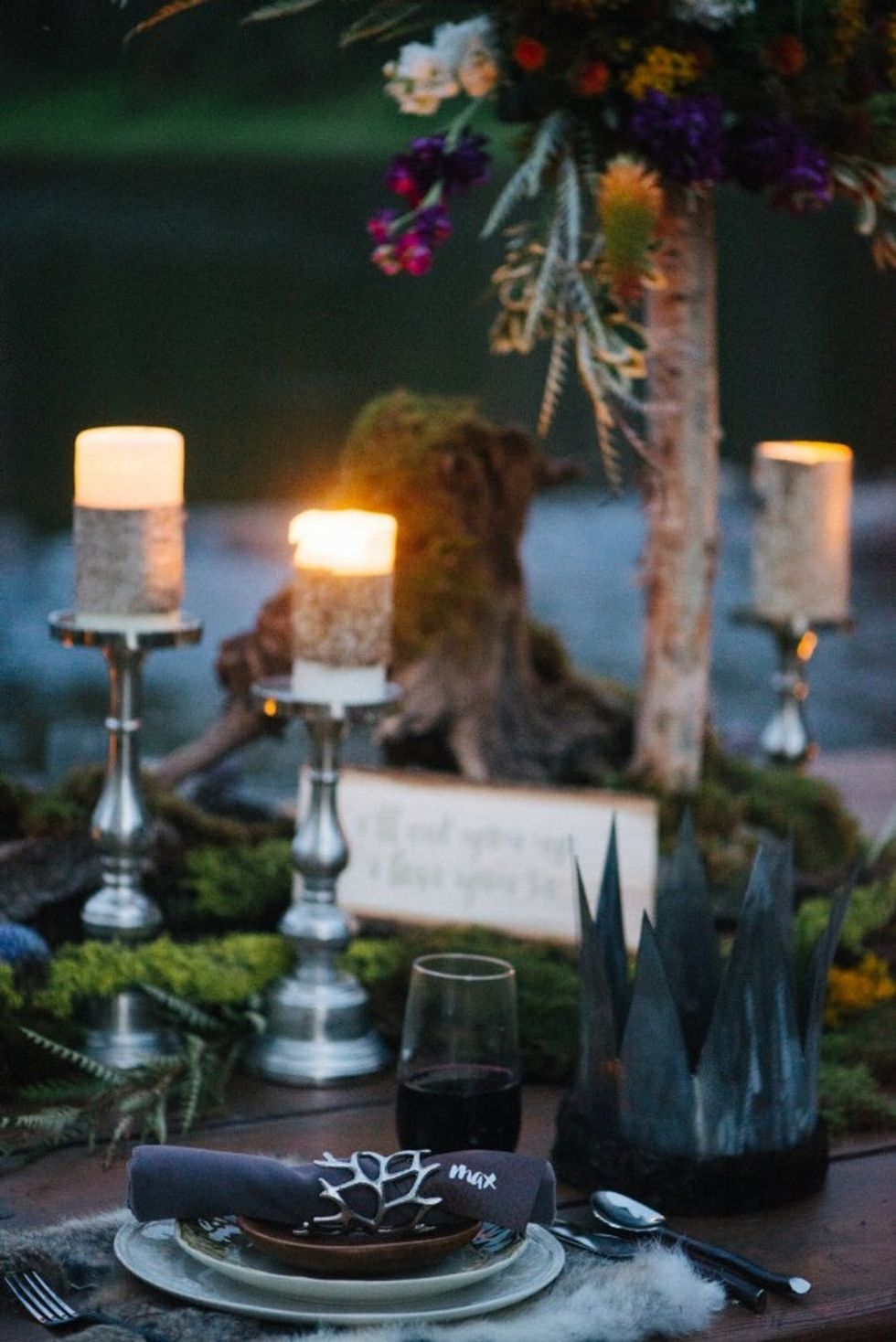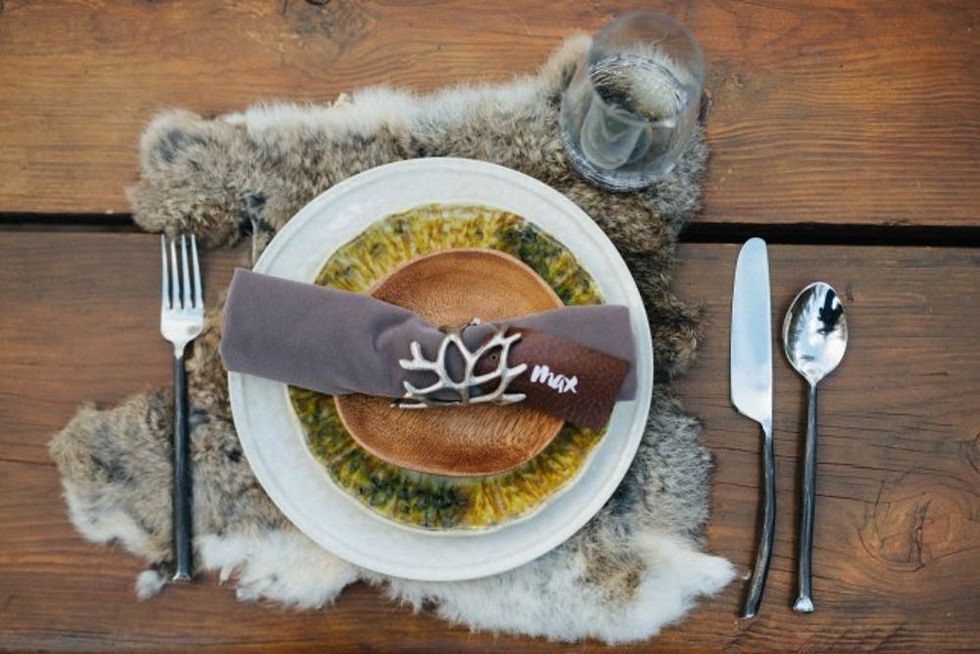 Unique rentals from Patina Preferred: A Vintage Rental Boutique added just the right wild and bohemian touch to the reception space. The tablescape, located in the middle of the river, was also spot on and featured a simple place setting with lots of vintage vases and candles as centerpieces. So serene!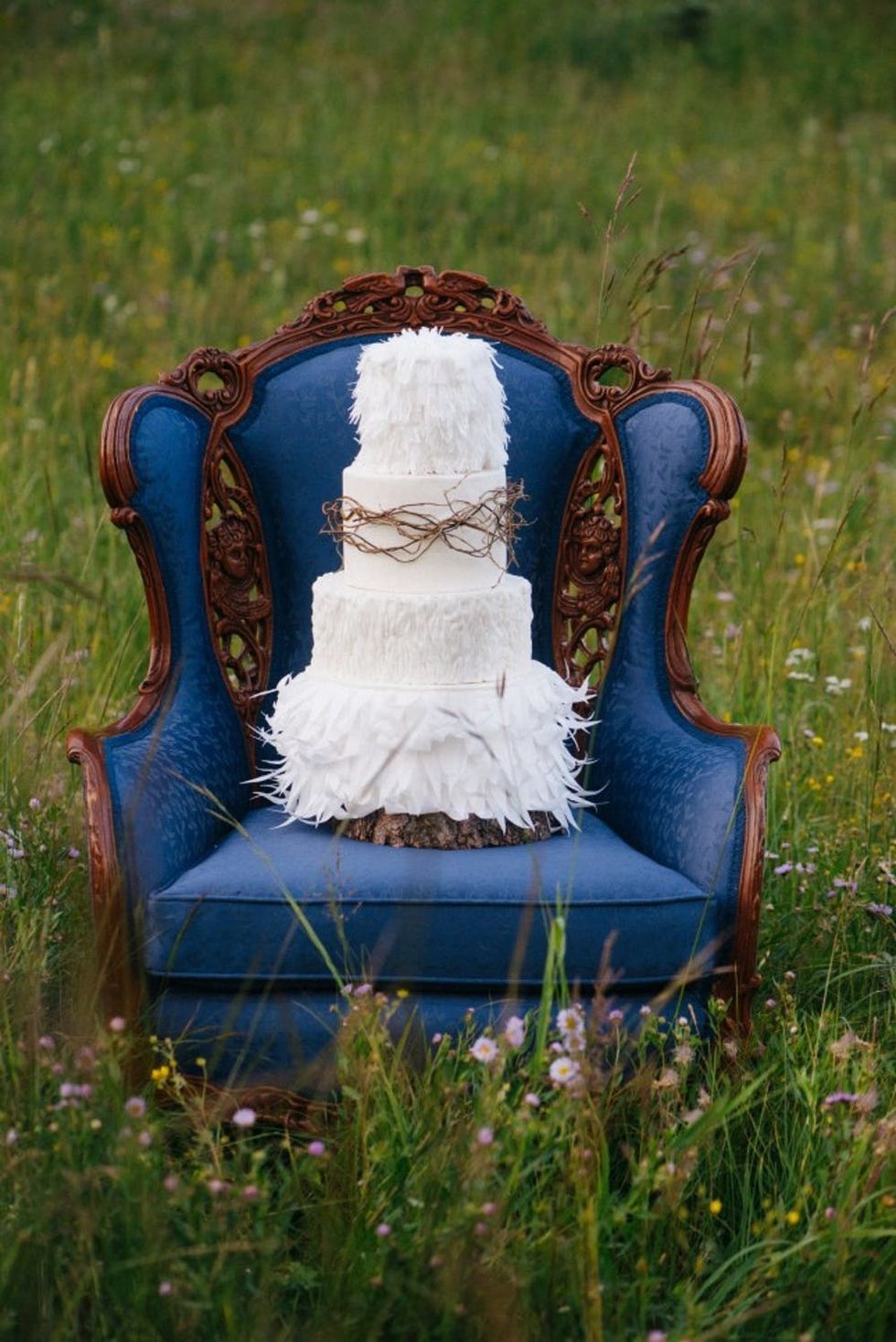 Feathers don't just belong on the headpieces, people! This beauty took the feather cake trend to a whole new level with its feather-covered four-tiered design. For styling, the cake team at Kelley Kakes wrapped branches around the middle tiers, which made this cake look ultra country-chic. This type of feather touch would be beautiful in any boho-meets-glam nuptials.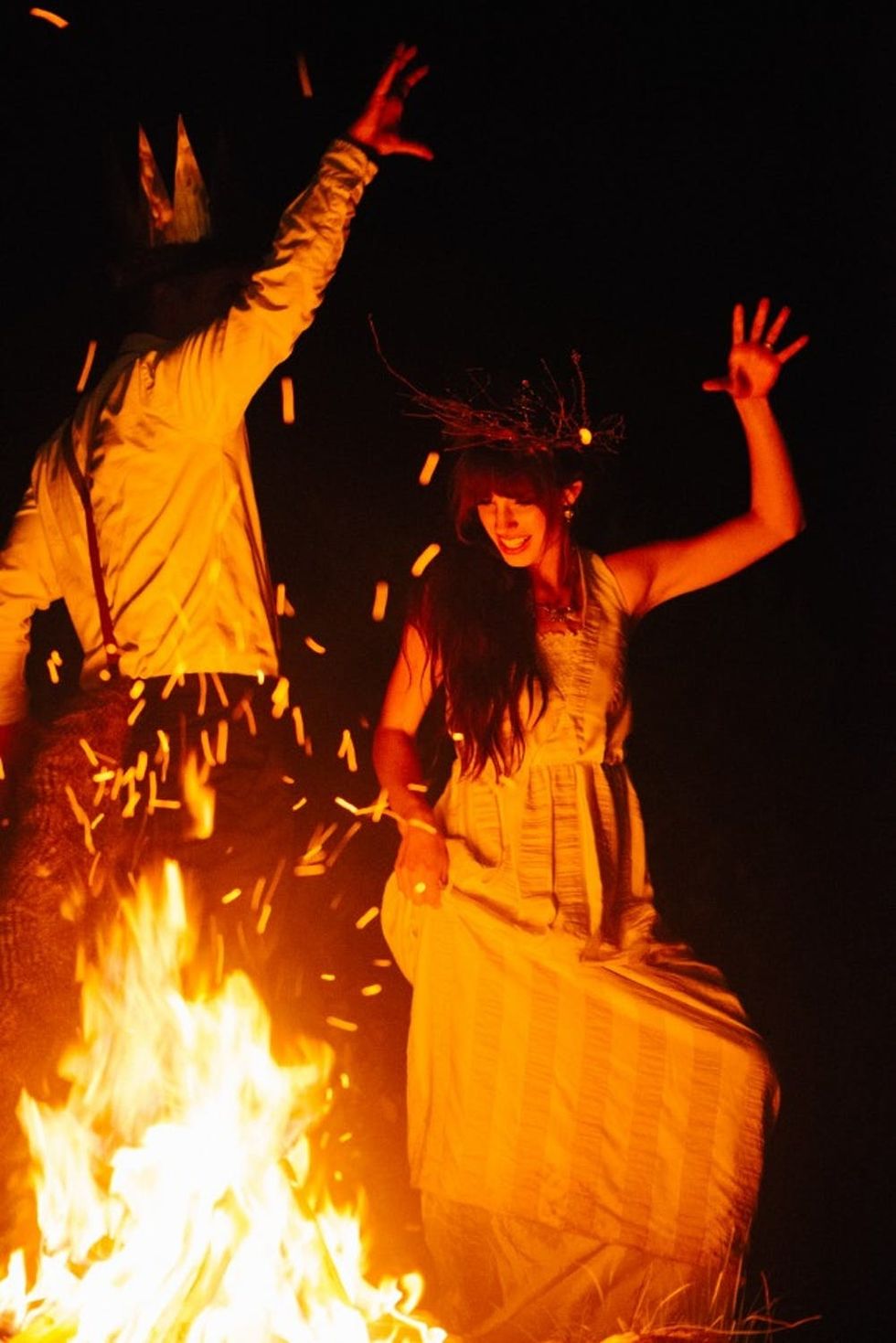 And now, let the wild rumpus start!
Vendors:
Photography: Elizabeth Cryan Photography
Venue: Piney River Ranch
Floral Design: Bella Calla
Cake Designer: Kelley Kakes
Event Planning: MAG Events
Rentals: Patina Preferred: A Vintage Rental Boutique
Hair and Makeup: The Parlour at Fort Collins
Bridal Gown: D'Lola Couture
Groom's Bow Tie: Brackish Feather Bow Ties
Jewelry: Ashley Schenkein Jewelry Design
Headpieces: Opam inc
Stationery Designer: Anthologie Press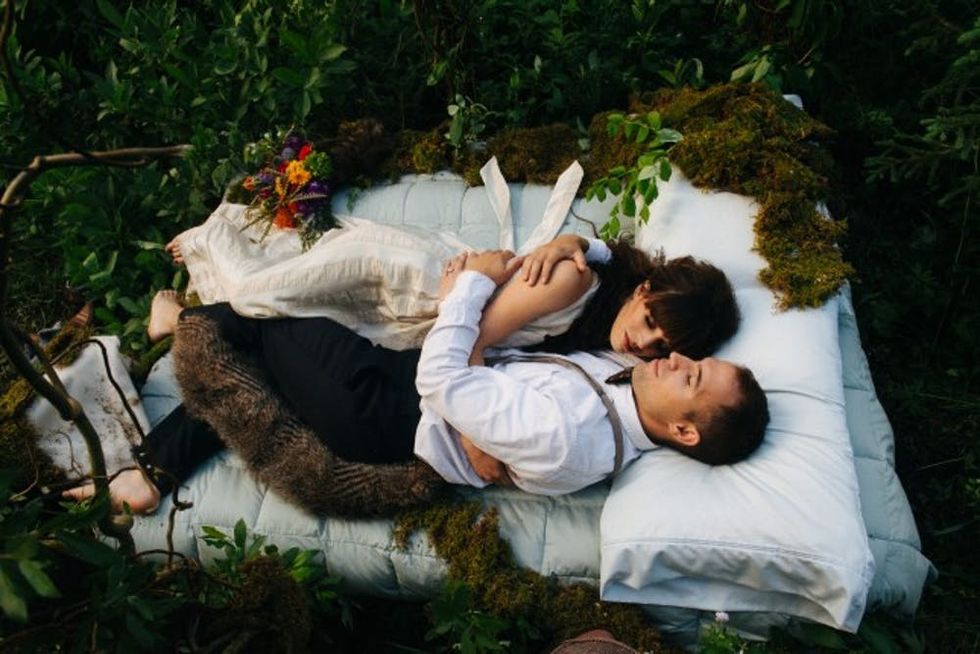 Your big day is just starting! Check out all-things Brit + Co Weddings, and follow us on Pinterest for more beautiful + creative wedding inspo.