20 Fail-Proof Conversation Starters for a Fab First Date
Jun 15, 2017
Your date-night makeup is perfect. You've got the perfect not-too-chill, not-too-crazy first date planned. You're hoping this night turns into a second date. But despite all that preparation, the time you'll spend interacting with each other is still an important variable — one that's pretty hard to prepare for by yourself. The conversation will totally flow if you and your partner are a good match, but having these 20 topics in your back pocket to get things started won't hurt!
---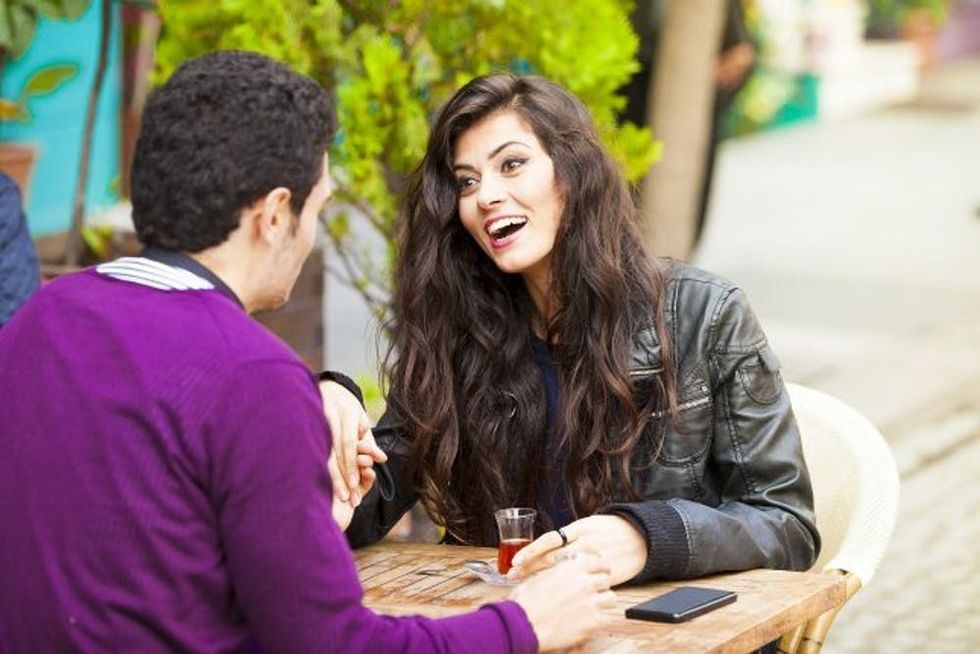 1. What's on your bucket list?
2. Who are three of the most significant people in your life outside your family?
3. What do you value most in a friendship?
4. What's your favorite physical quality in a person?
5. If you could describe your musical taste in three artists, who would they be?
6. If you could give me a tour of your hometown, where's the first place you would take me?
7. Tell me the story of your name.
8. What business would you open if you knew you wouldn't fail?
9. What makes you laugh more than anything?
10. What's your favorite place in the whole world?
11. What's your childhood nickname?
12. Where would you never, ever move to, even for the job of your dreams?
13. What was your favorite family vacation growing up?
14. If you could sit front row at a concert, what one would you go to?
15. If you could sit front row at any sporting event, which team or event would you see?
16. Tell me about your best friend.
17. What's your biggest pet peeve?
18. What was high school like for you?
19. What do you hate about dating?
20. If you had to get a tattoo, what would you get, and where would you put it?
What are your go-to convo topics to break the ice? Let us know @BritandCo!
(Featured photo via Getty)
Gabrielle Gresge
Gabrielle Gresge is a Chicago native and journalism student at the University of Missouri. While not chasing deadlines, she enjoys giving campus tours, exploring her new home, and missing her old one. She loves to write about these experiences in her own handwriting at
gabriellegresge.wordpress.com.