30 Colorful Cocktail Dresses for Summer
Jun 13, 2012
Summer wedding season is just getting started, and it's time to stock up on the long, the short, the peplum, the one-shoulder, and the strapless, in every color under the sun. And brides, you can thank us later for making your bridesmaid dress search a wee bit easier.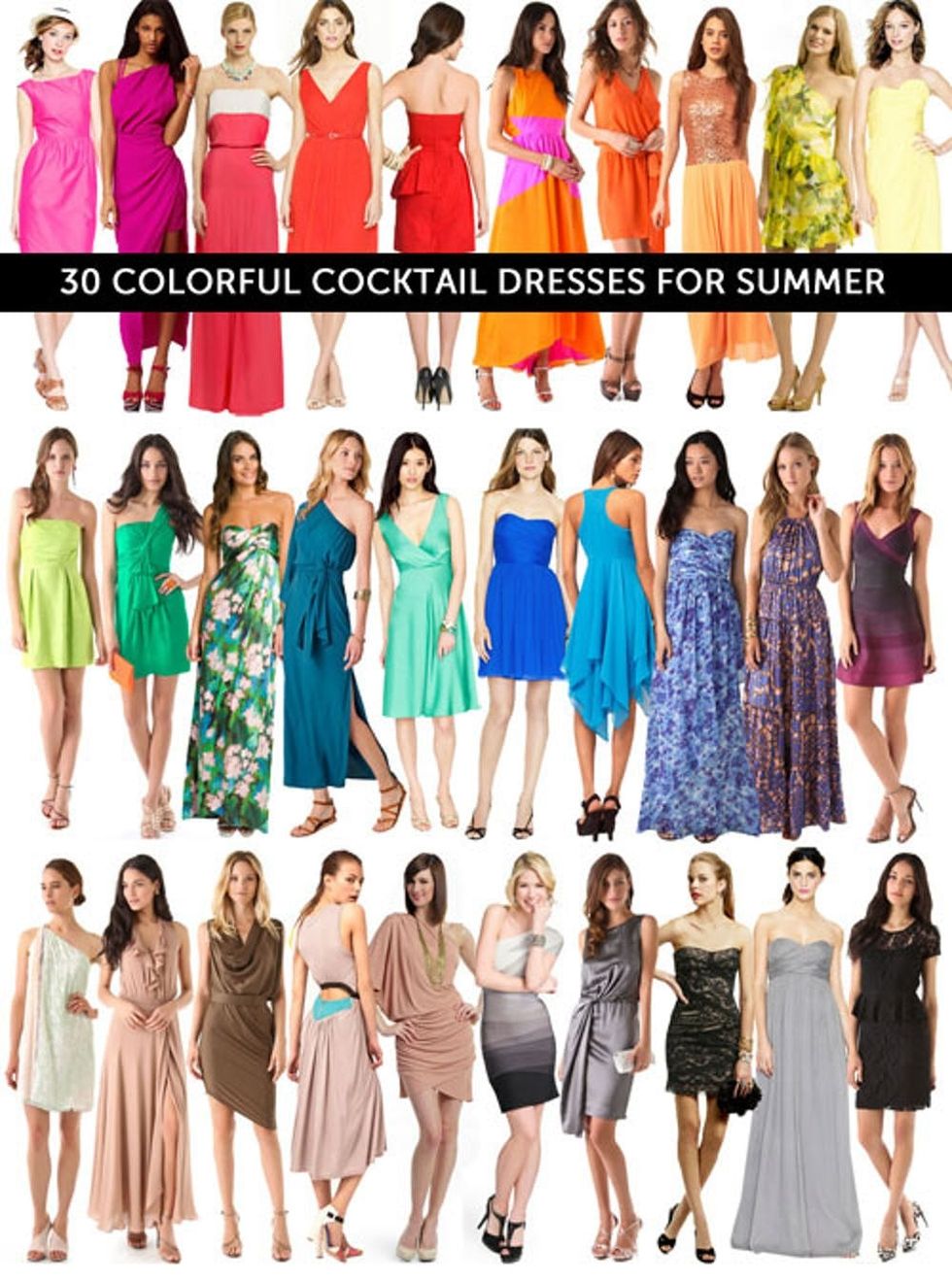 ---
Between all of the folks here at Brit & Co., we're going to over 30 weddings, rehearsal dinners, launch parties, etc between now and September. For dudes, the question of what to wear is as simple as a blue, navy, gray, beige or seersucker suit. For the ladies, however, it's tough to know where to begin. Consider this color-organized dress guide a mood board for summer style – we hope it helps you find a few perfect dresses for all your big summer events! (P.S. For each color family, dresses are listed from left to right.)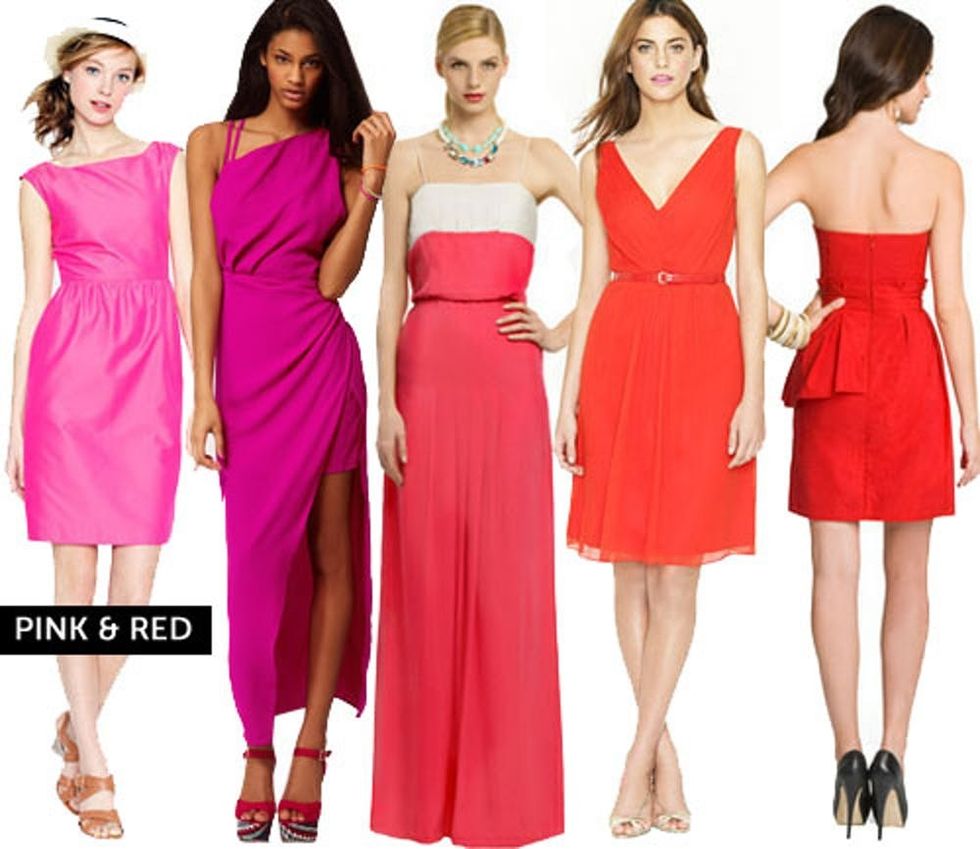 Pink & Red
 Romance runs rampant at weddings, and you can't help but blush as the happy couple exchanges vows. Outfit yourself in a dress to match your rosy hue.
1. Lucille Dress in Cotton-Silk Faille ($168)
2. Mini Dress with Maxi Overlay ($92)
3. Sachin + Babi Sweetest Revenge Maxi (Rental $100)
4. Louisa Dress in Silk Chiffon ($250)
5. Alice by Temperley Tiered Tulip Dress (Rental $60)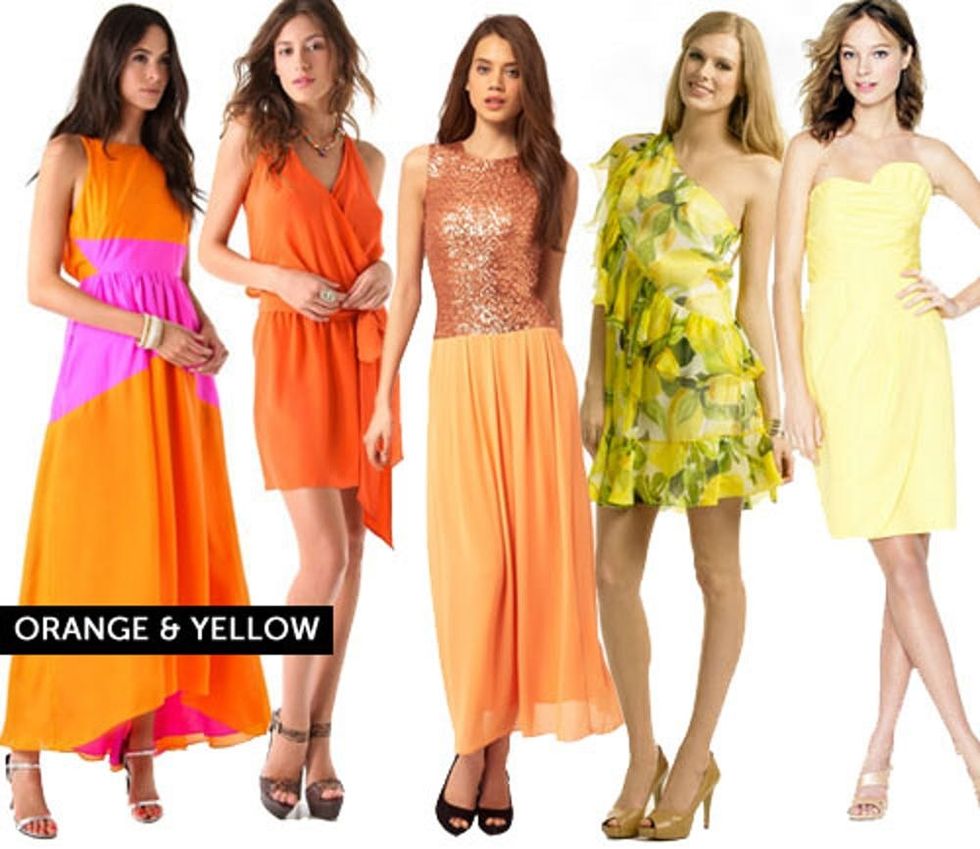 Orange & Yellow
 Or perhaps you want to take color inspiration from mimosas, sunshine, and poppies?
6. Tibi Featherweight Sandwashed Dress ($675)
7. Haute Hippie Halter Dress Clementine ($375)
8. Sequin Drop Waist Maxi ($125)
9. Moschino Lemon Print Ruffle Dress (Rental $75)
10. Gabby Dress in Cotton Taffeta ($180)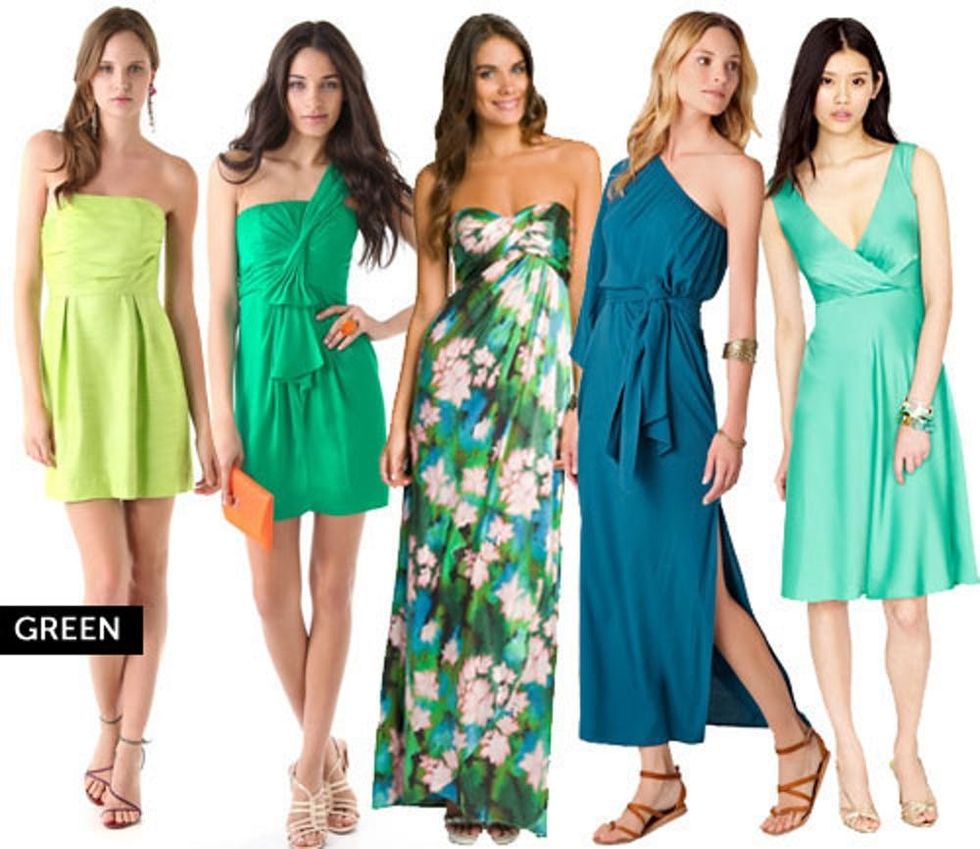 Green
 Nothing beats the small of freshly cut grass in the summertime. And admit it, you're a little bit green with envy. ;)
11. Electric Lime Shoshanna Marnie Strapless Dress ($395)
12. BCBG Palais One Shoulder Dress ($248)
13. Rainforest Maxi Dress Nicole Miller ($75)
14. Indah Fahna Dress ($58)
15. Sophia Dress in Tricotine ($140)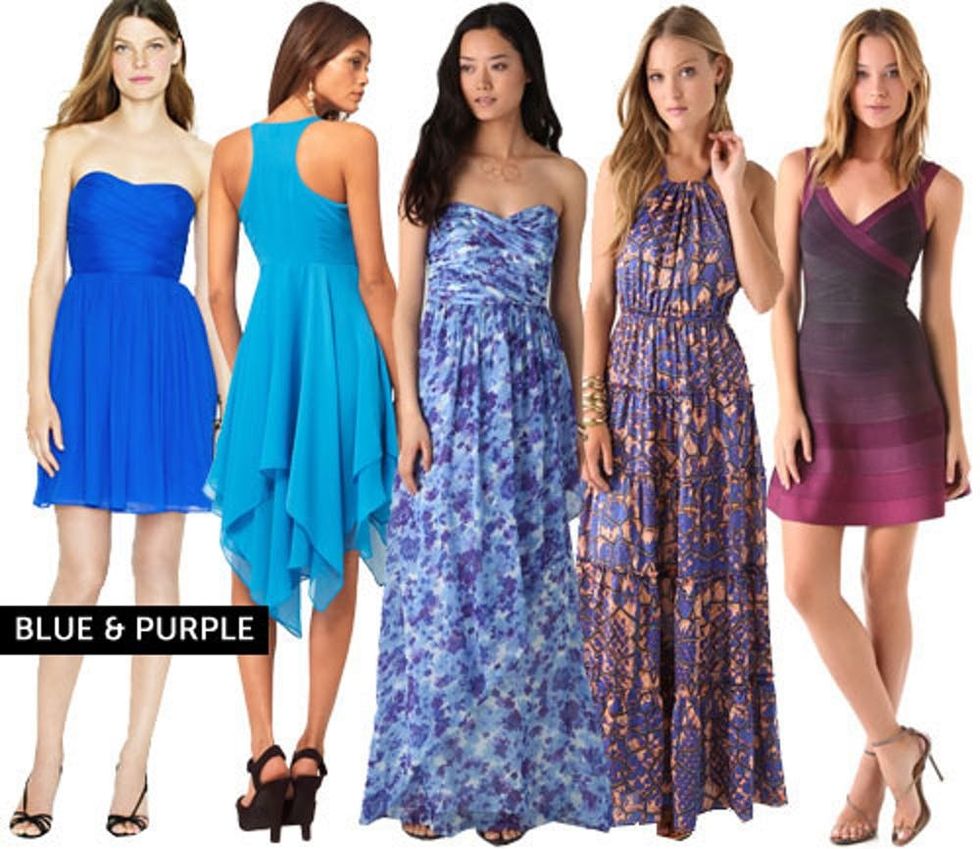 Blue & Purple
 Violets are blue, and your dress is too! Any of these dresses would look great paired with simple gold accessories.
16. Arabelle Dress in Silk Chiffon ($250)
17. Racer Back Chiffon Dress ($67)
18. Shoshanna Strapless Printed Maxi Dress ($615)
19. Tbags Los Angeles Print Maxi Dress ($216)
20. Herve Leger A Line Ombre Dress ($1,590)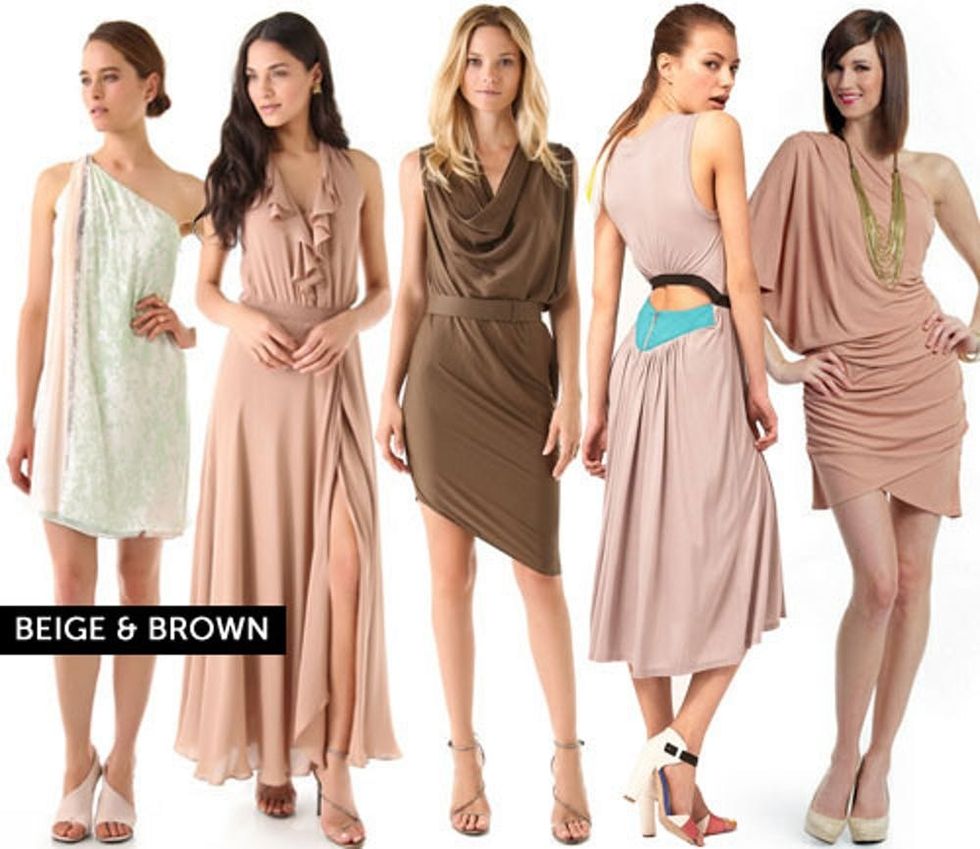 Beige & Brown
 Feeling an earthier vibe? Embrace beige, brown, and other neutral tones as the summer sun sets on a new pair of newlyweds.
21. Diane von Furstenberg Liluye Short Dress ($445)
22. Haute Hippie Ruffle Maxi Dress ($625)
23. Halston Heritage Belted Drape Dress ($375)
24. Midi Dress with Open Back ($47)
25. Sultry Safari Dress (Rental $75)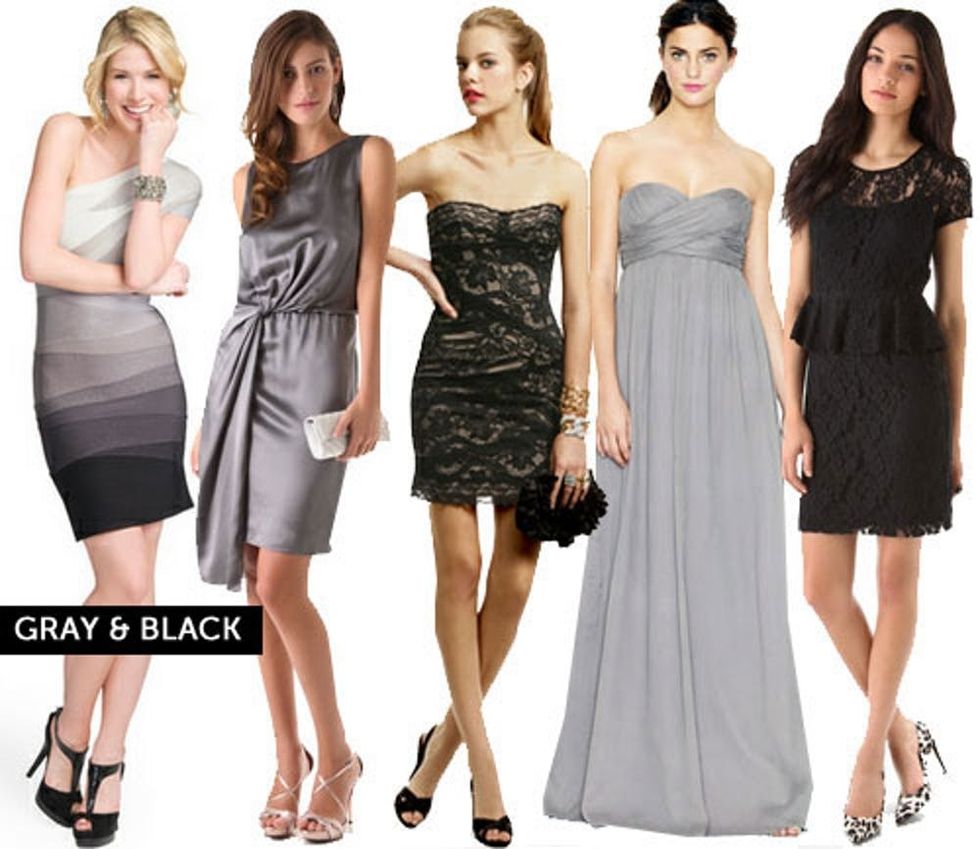 Gray & Black
 Black tie weddings in the summer can definitely be tough, but this quintet of grayscale goodness should get you off to a good start.
26. Herve Leger Stormy Skies Bandage Dress (Rental $150)
27. Halston Heritage Draped Sleeveless Dress ($375)
28. Nicole Miller Noir Lace Cocktail Dress (Rental $65)
29. Taryn Long Dress in Silk Chiffon ($365)
30. DKNY Lace Peplum Dress ($325)
Don't forget to bring flats for all those late night wedding reception dance parties! What are your go-to online shops for cocktail dresses? Got any favorite dresses from our list? Let us know in the comments below or say hi on Twitter.
Anjelika Temple
As Chief Creative Officer and Founding Partner at Brit + Co, Anjelika Temple brings her voracious consumption of all things creative and colorful to DIY projects, geeky gadgetry finds and more. When she's not DIY-ing her heart out, you'll find her throwing dinner parties with friends or adventuring with her husband David, their daughter Anokhi, and their silly dog Turkey.