50 Beautiful Bridal Shower Themes + Ideas
Jul 23, 2014
Planning a wedding is a ton of work. Aside from the actual reception and ceremony, there's the dress, the flowers, the cake, the bridesmaids… the list is so long it's stressing us out. That's where your bridesmaids come in. It's their job to plan the bachelorette party and most importantly, the wedding shower. So to help your lovely ladies of honor out, we've rounded up the ultimate list of bridal shower inspiration. From fancy tea parties to cozy camping trips, here are 50 themes and ideas that brides are bound to love.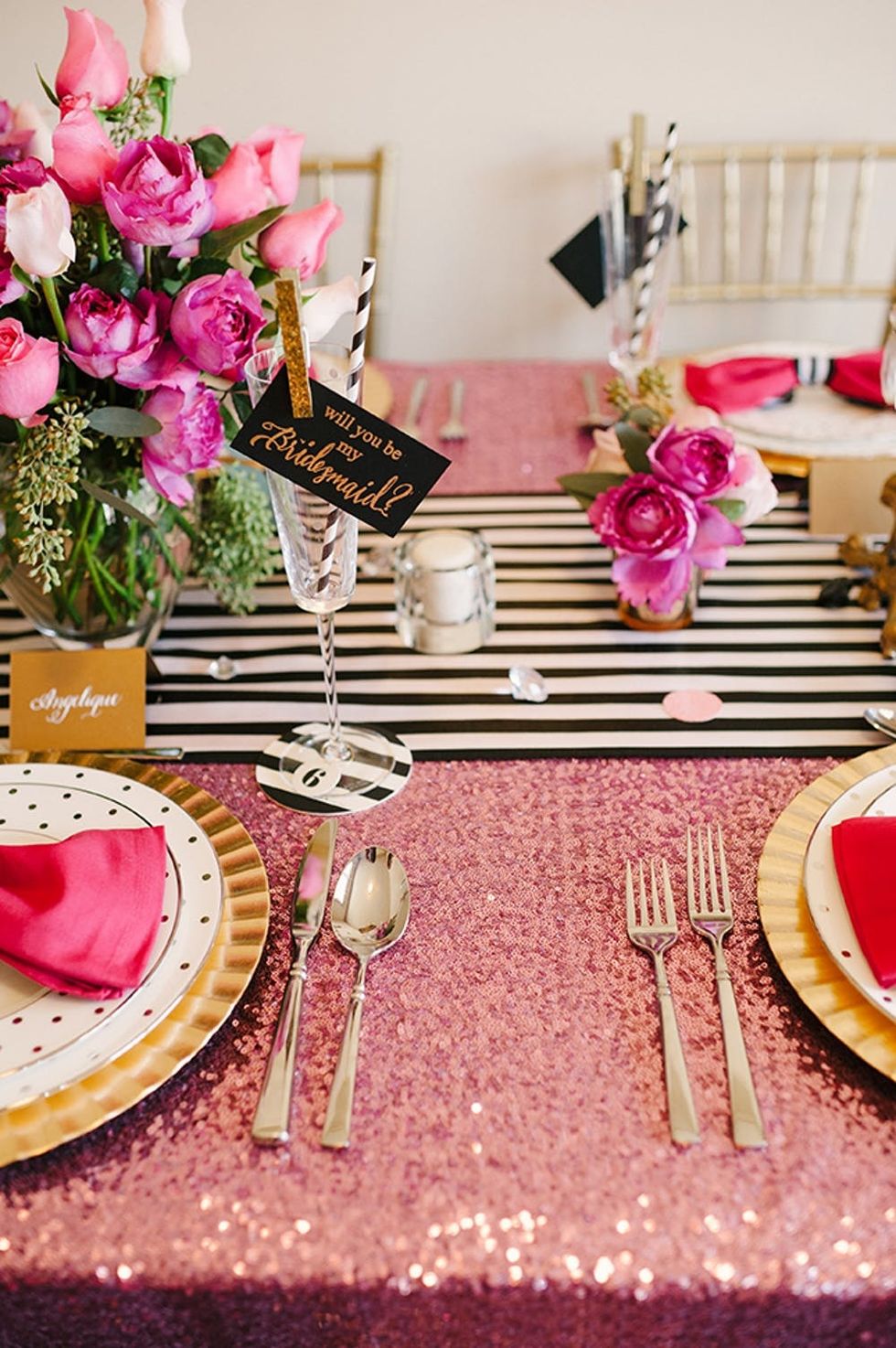 ---
1. Kate Spade: A girl's trip to Vegas isn't in the cards for you? Don't worry, it's not on brand for Kate either. Bring the sequins home, and throw a girls party to celebrate the impending nuptials of your BFF. (via Lauren Rae Photography / Hostess With The Mostess)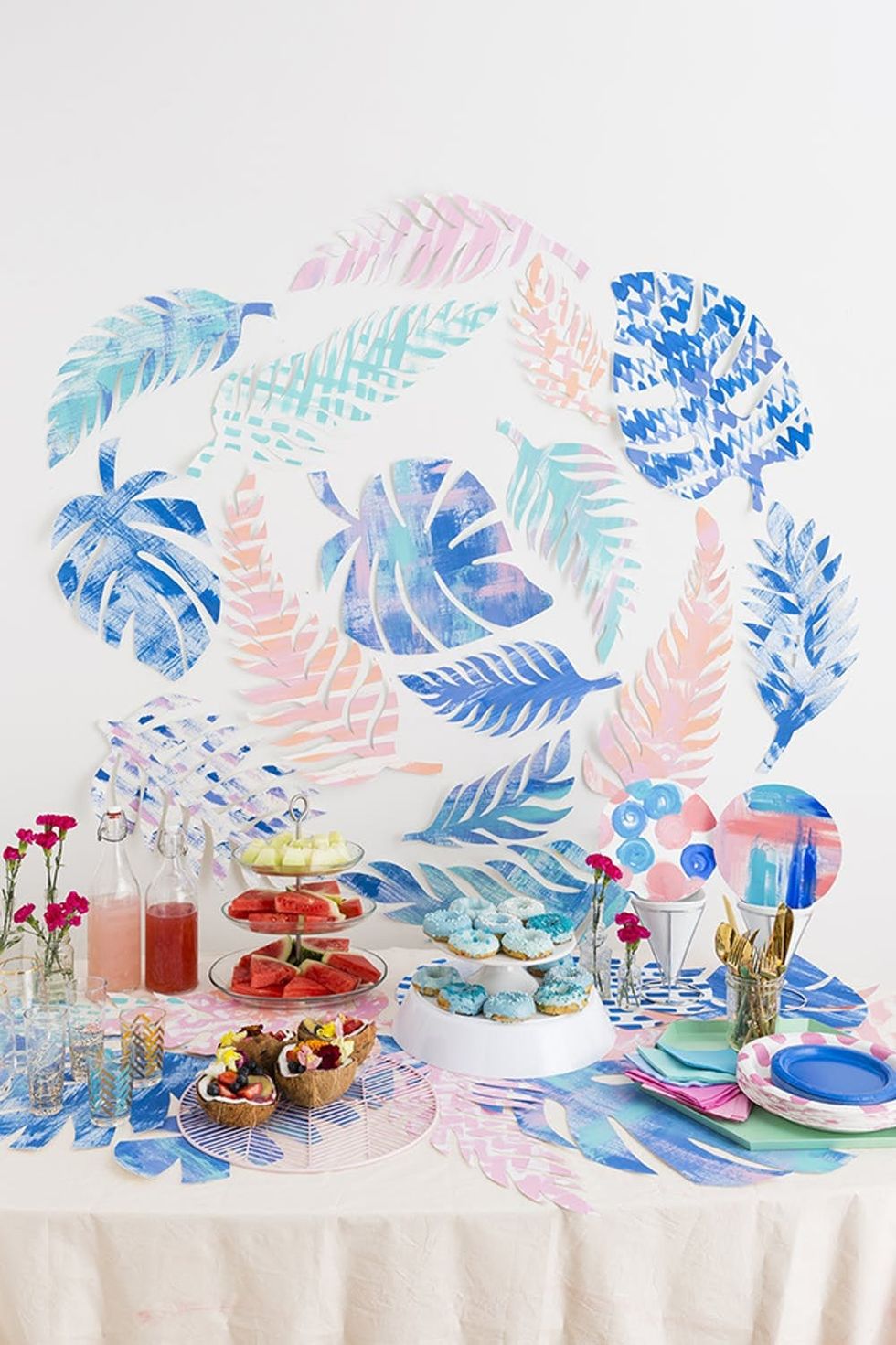 2. Paper Tropicalia: Green doesn't suit everyone as a color palette, so mix it up using pastels and summery shades. With paper, anything is possible. (via Brit + Co)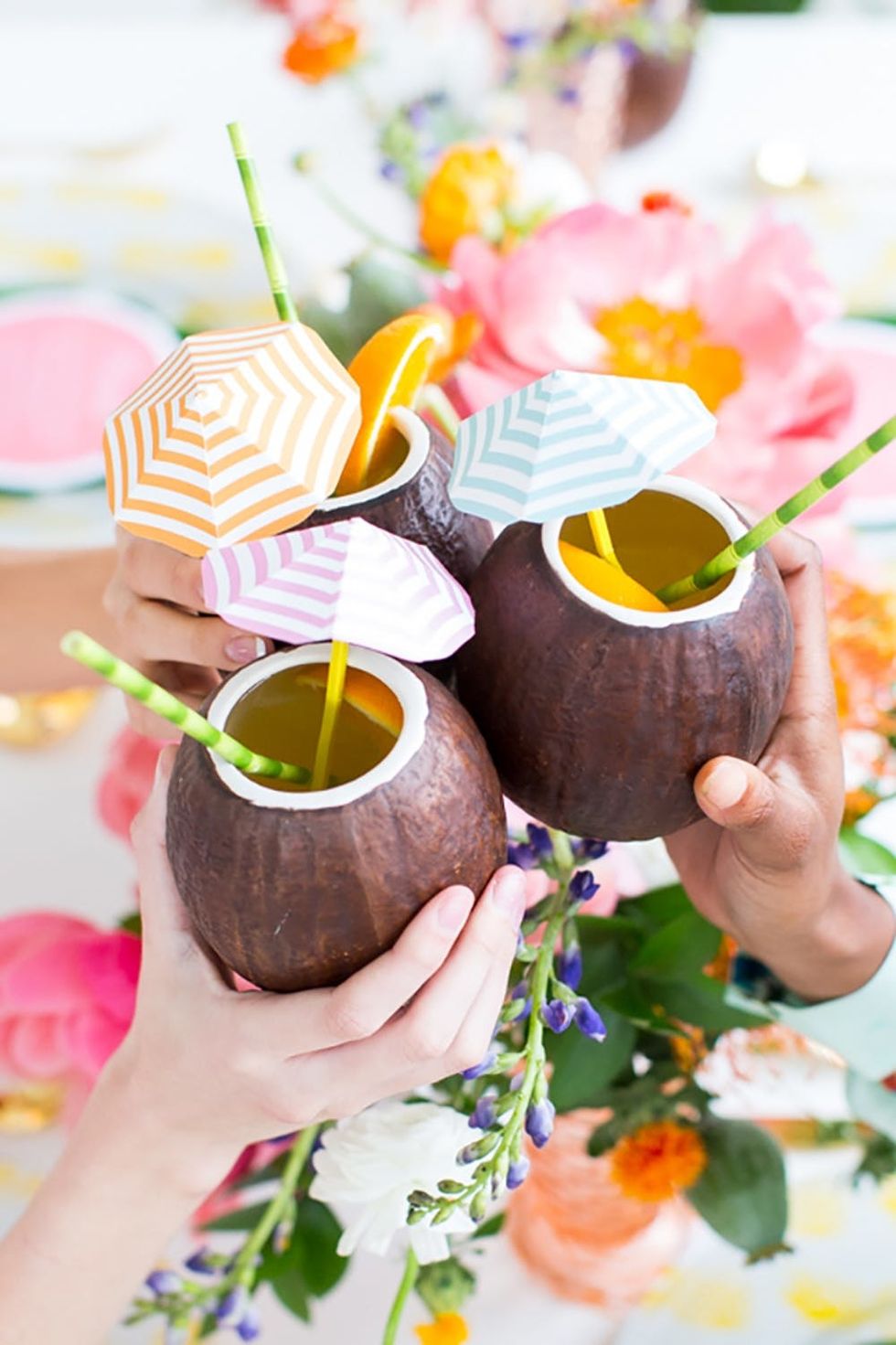 3. Retro Brunch: There's a reason you've been collecting all that kitschy cute dinnerware. Put it to good use for your trendiest friends. (via Sugar & Cloth)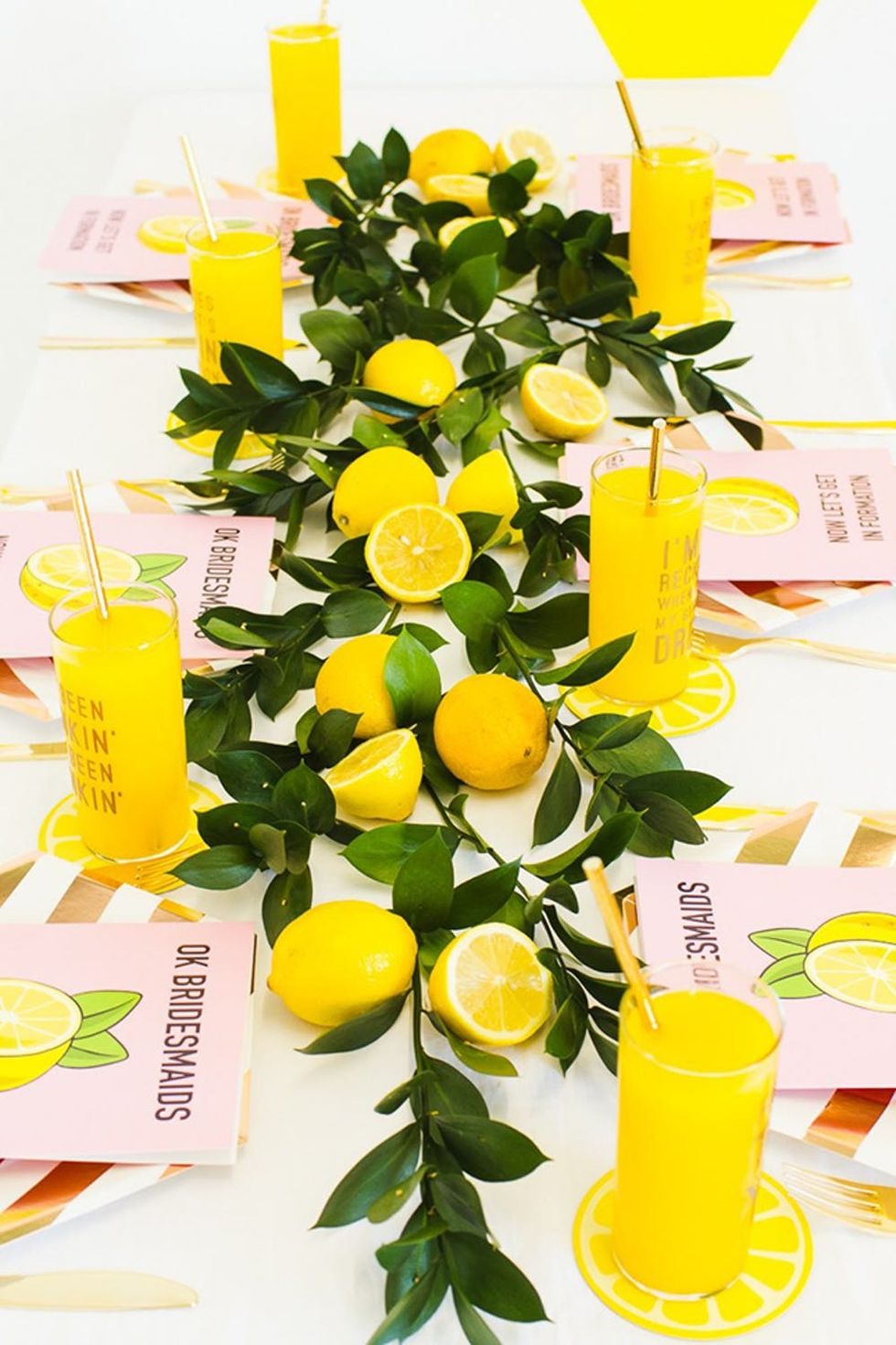 4. Beyonce's Lemonade: Queen Bey + a refreshing summery bevie = party planning perfection. PLUS your soundtrack is already decided. (via Bespoke Bride)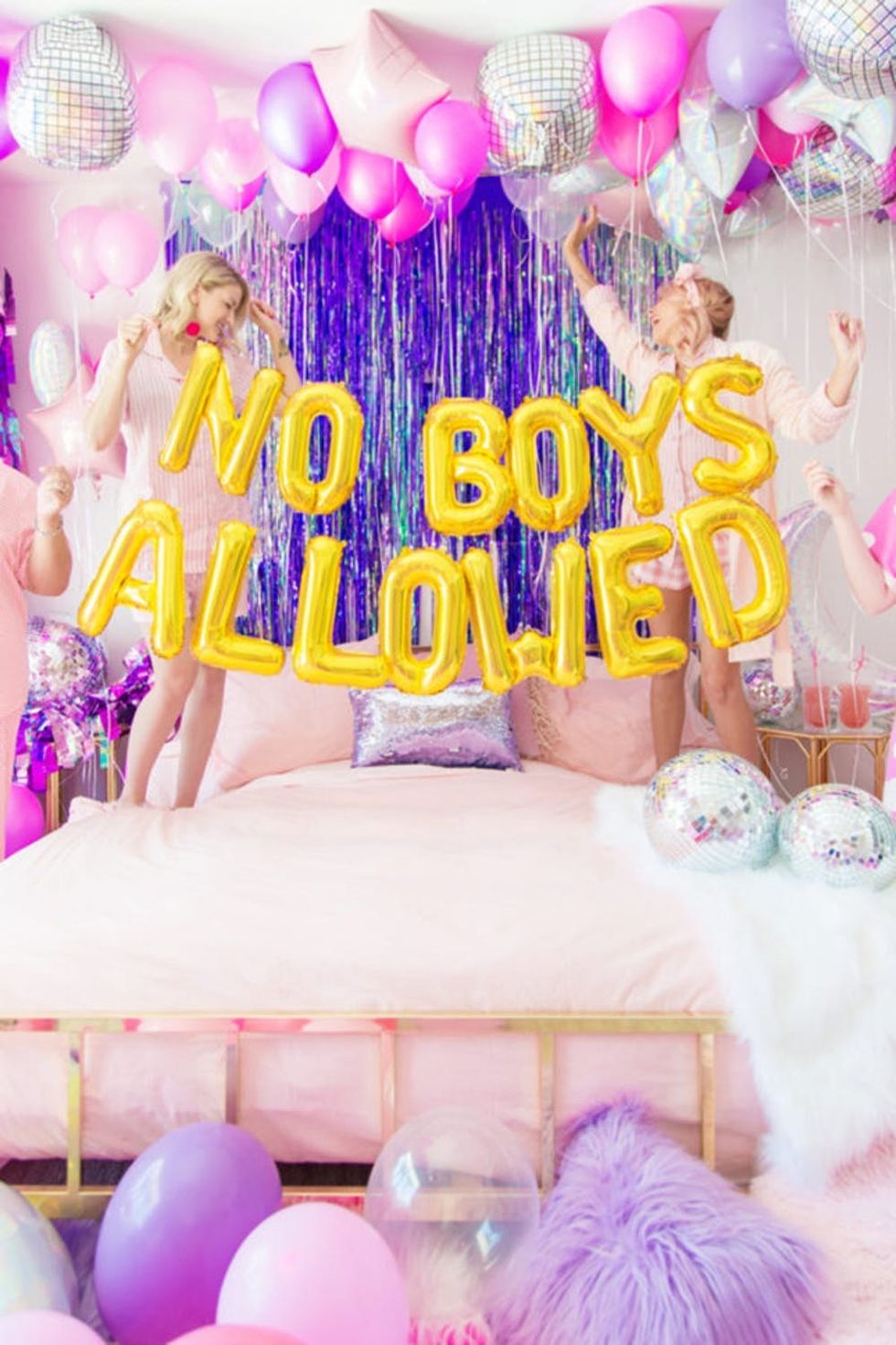 5. Slumber Party: No boys allowed. Need we say more? Iredescent unicorn streamers, PJs and balloons for all! (via Studio DIY)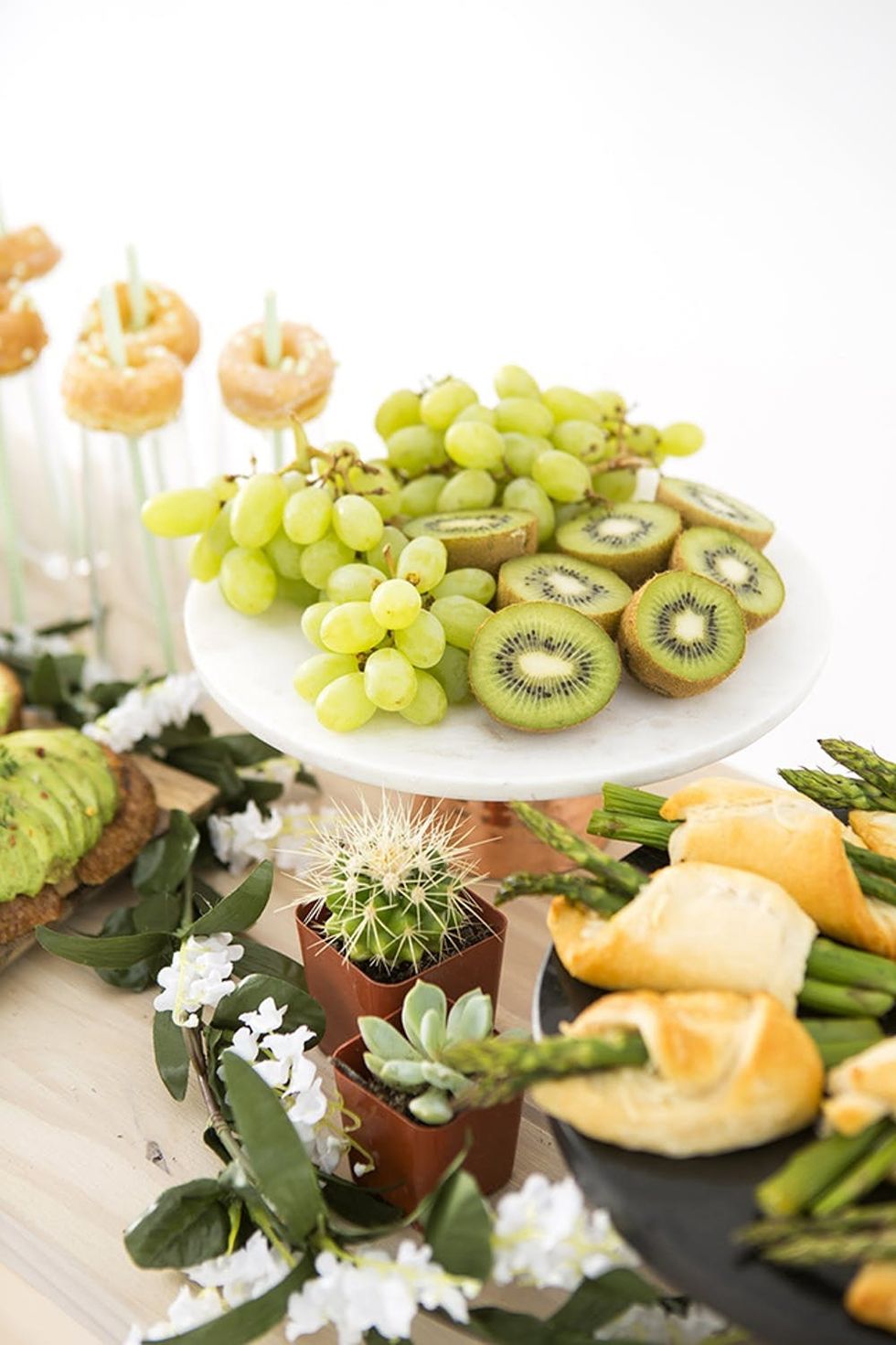 6. Pantone's Color of the Year: Greenery provides the perfect excuse to eat all kinds of healthy snacks. Which color will they announce this year? A sassy red? A moody blue? (via Brit + Co)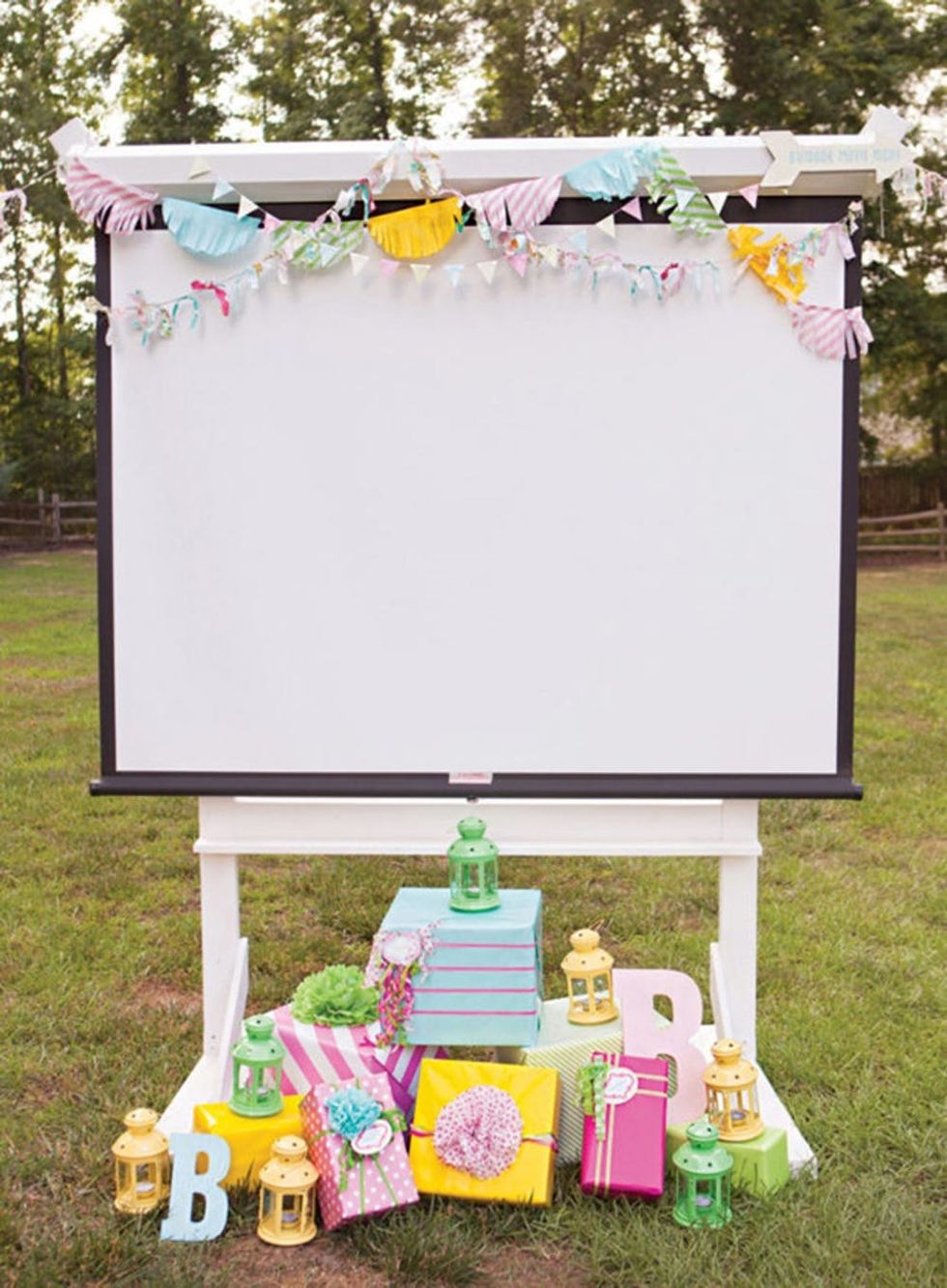 7. Outdoor Movie Night: You probably haven't done this since you were a kid, but a movie night outside is the epitome of summer fun. Don't forget to rig a wicked sound system, otherwise you'll all be crowded around your laptop speakers. (via Becca Bond Photography /Hostess With The Mostess)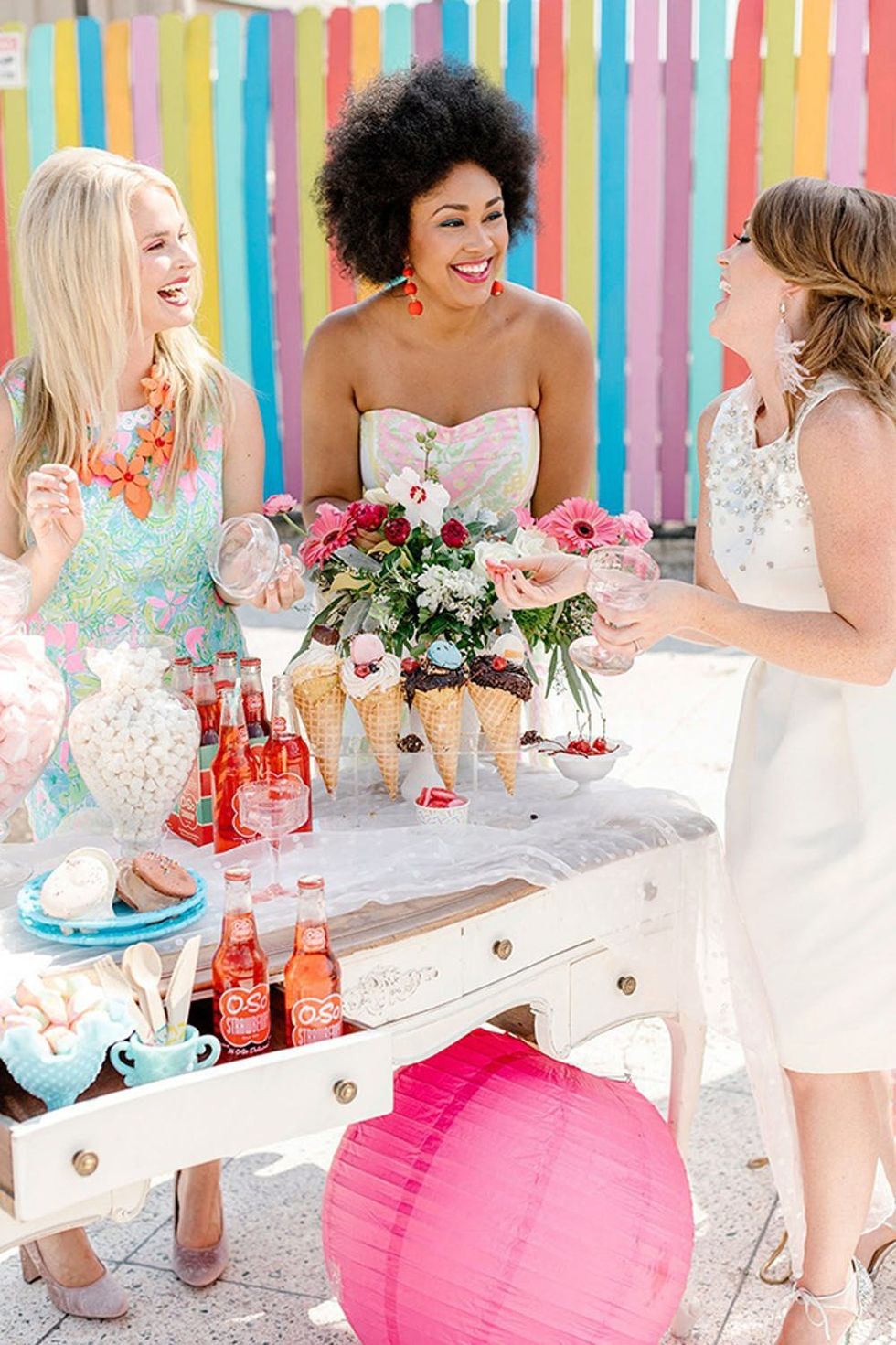 8. Ice cream Social: Dust off your finest ice cream scoop, and start looking for the best waffle cones. A retro vibe is lots of fun, but you could update it to suit your needs. (via Bespoke Bride)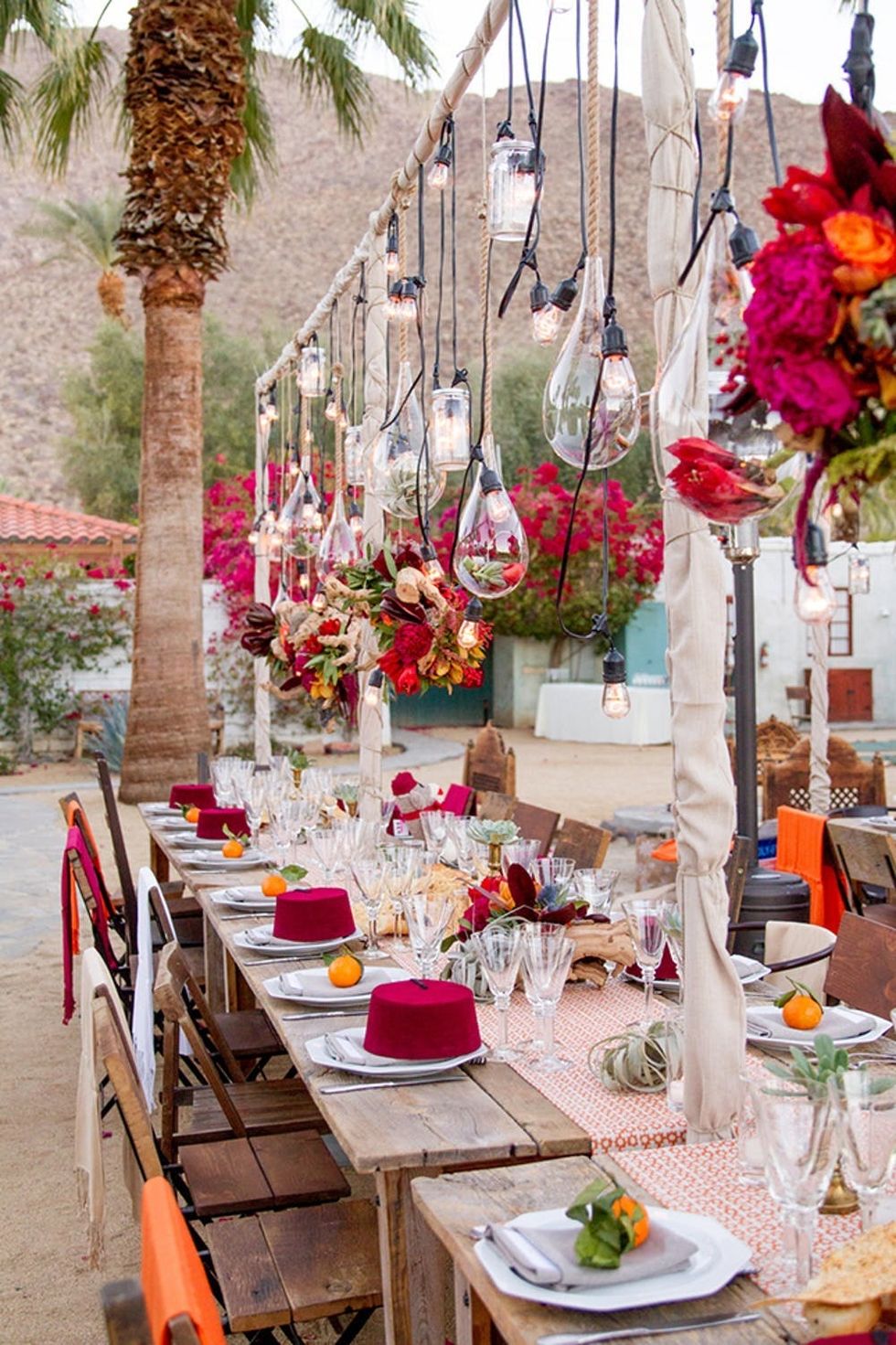 9.Moroccan Oasis: Instead of placing floral arrangements in vases, hang them among balloon lights and air plant terrariums for some unexpected drama. Rock the Kasbah! (via Isabel Lawrence Photographers / Style Me Pretty)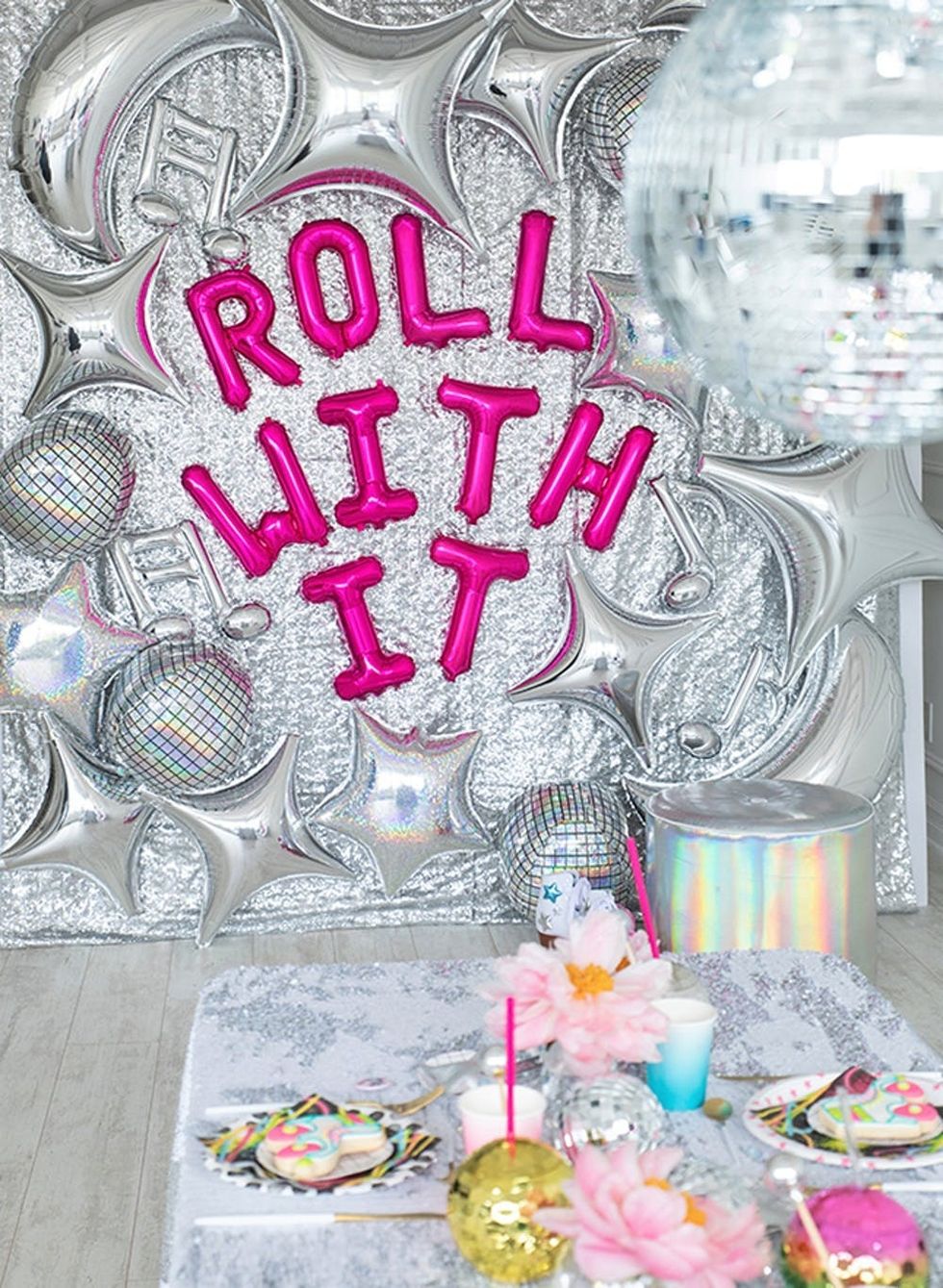 10. Roller Disco: Gather the squad for some roller derby action and bust out the jams and disco balls. Bonus points for jumpsuits, big hair, and way too much eyeshadow. Boogie night references are welcome. (via Inspired by This)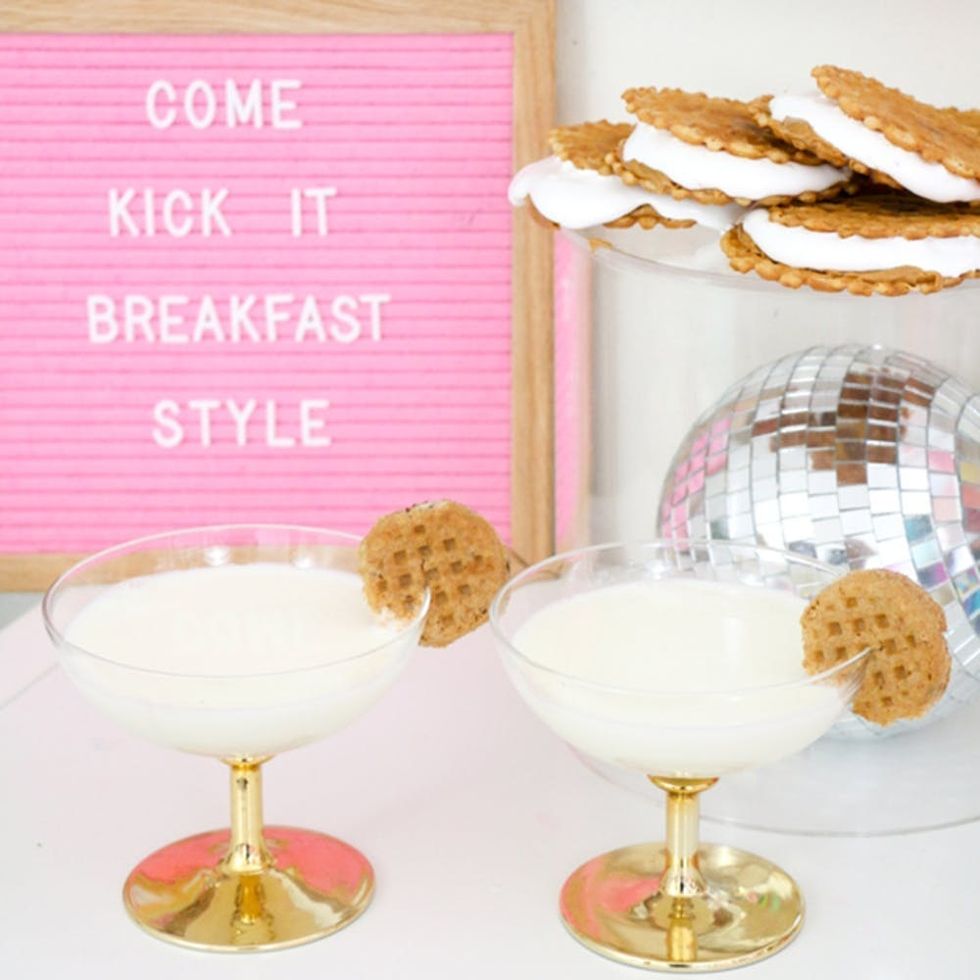 11. Waffle Brunch: Sure, it may not be February 13th, but what better excuse to celebrate the women (and waffles!) in your life than your birthday. (via A Kailo Chic Life)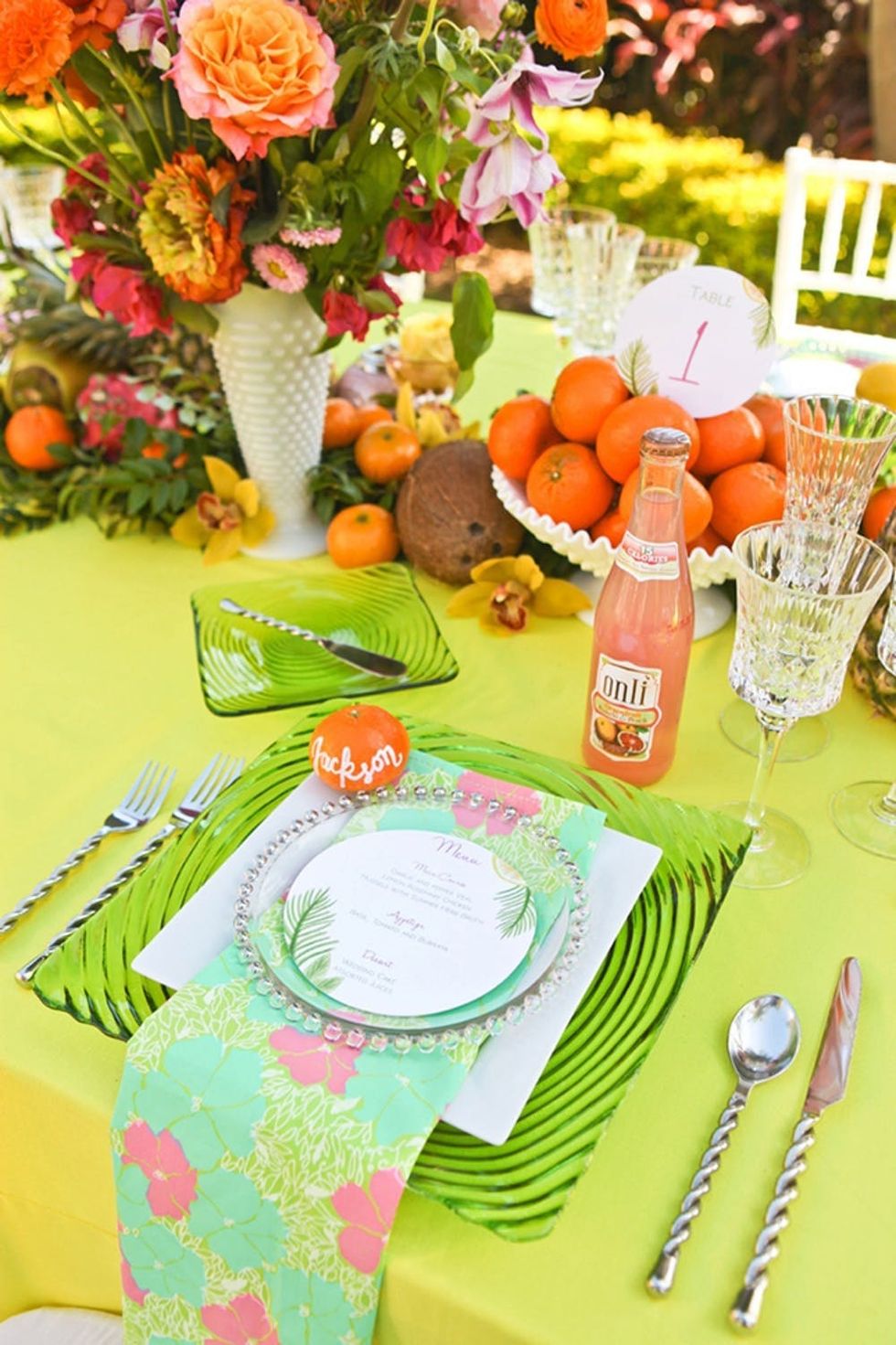 12. Lilly Pulitzer: Finally, an opportunity to use every single color of tableware you have. Pink cutlery? Do it. Funky florals? You better be using those. Oh, and don't forget the bold and punchy citrus. Slowly but surely, you'll be able to pull together a playful party full of pattern-heavy shift dresses.(via Krystal Zaskey Photography / Every Last Detail)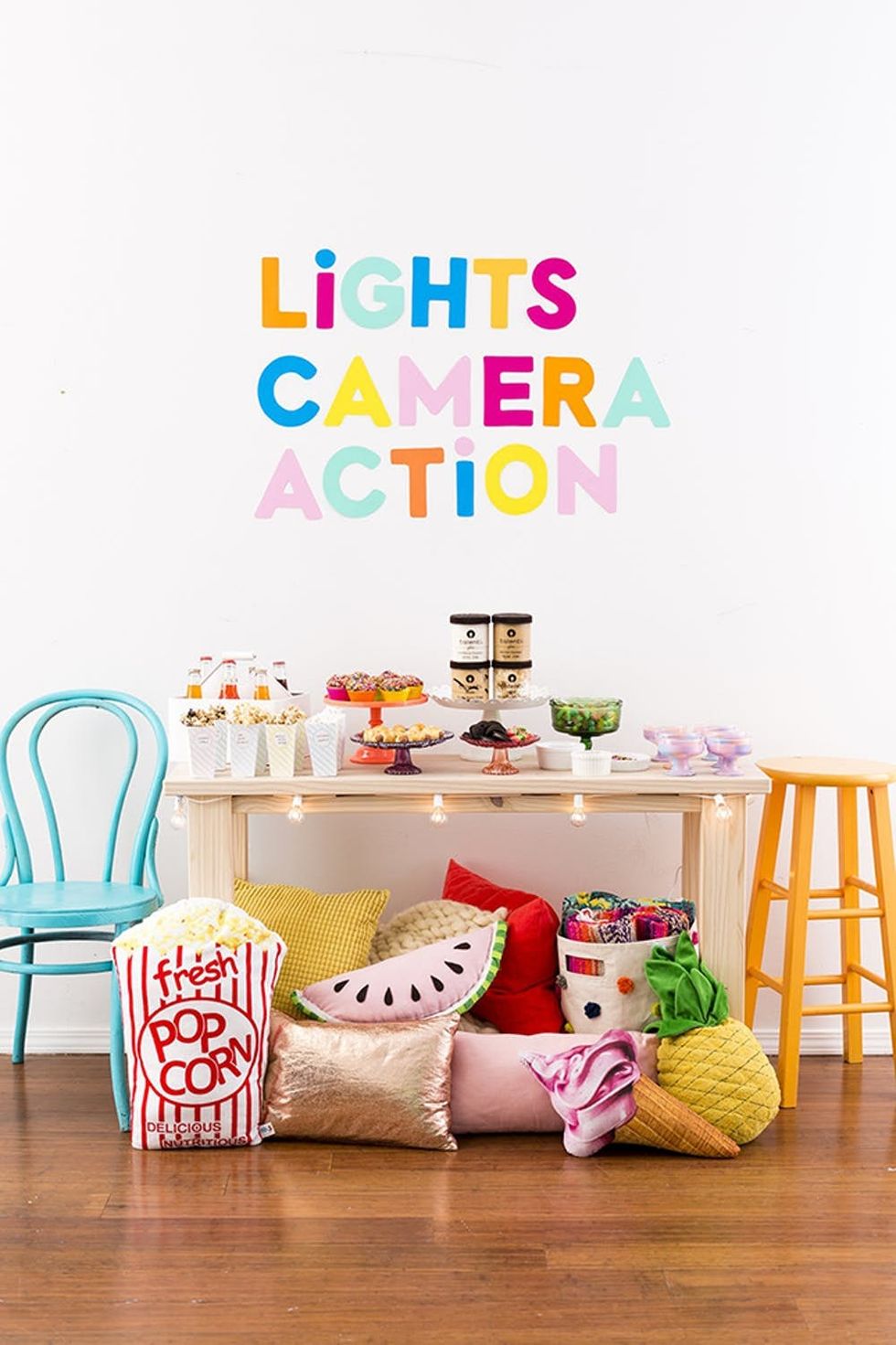 13. Movie Night In: Not everyone has a yard, or a projector, but everyone has a TV. What's more? It's a budget friendly way to catch the latest releases, or the squad's faves. (via Brit + Co)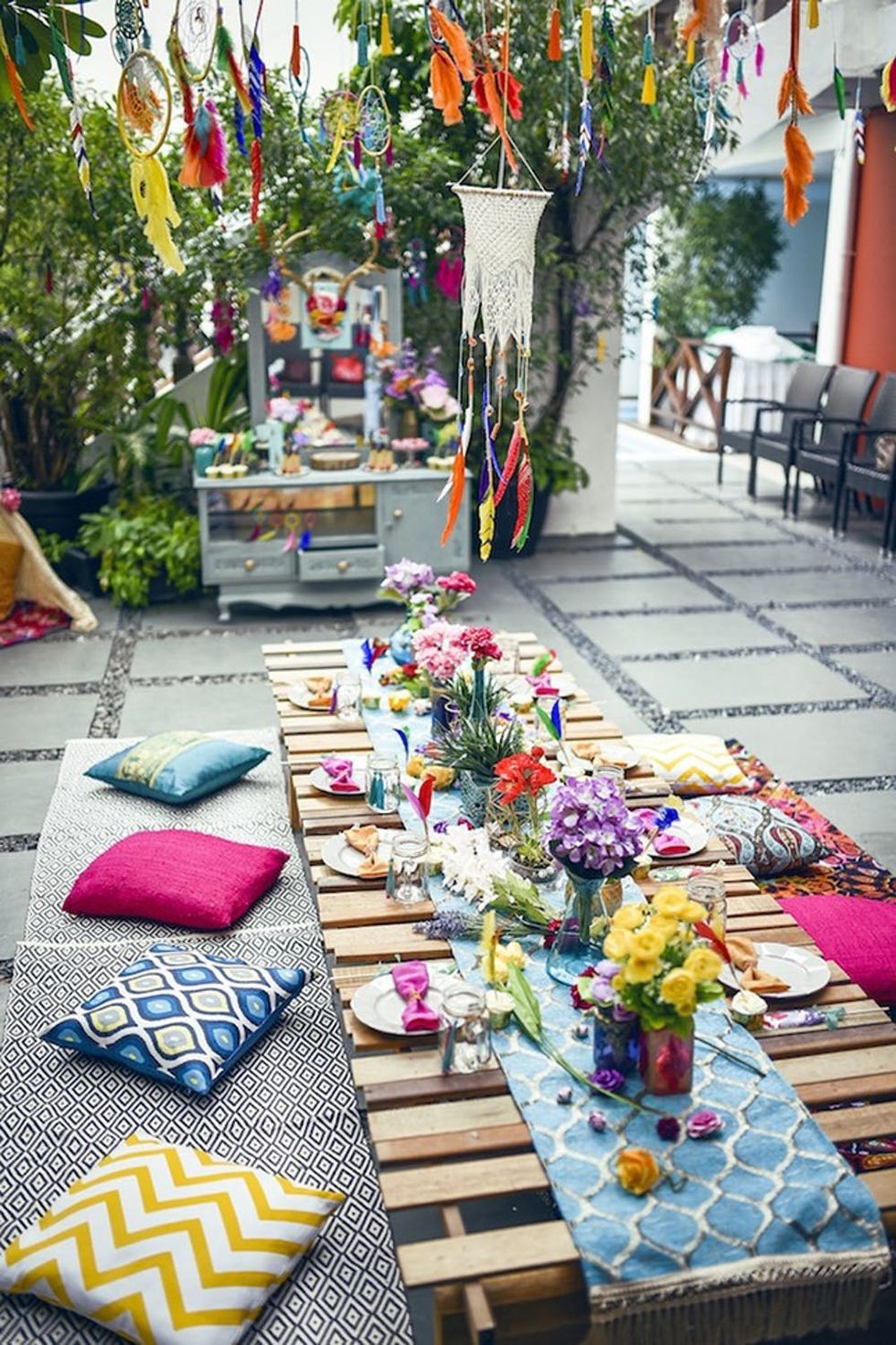 14. Coachella: Tickets are legit expensive, and getting time off work to go is tricky. BUT, you can recreate the Indio Desert in your backyard, complete with rich textiles, a wicked playlist, and a whole lot of tassel fringe. (via Kara's Party Ideas)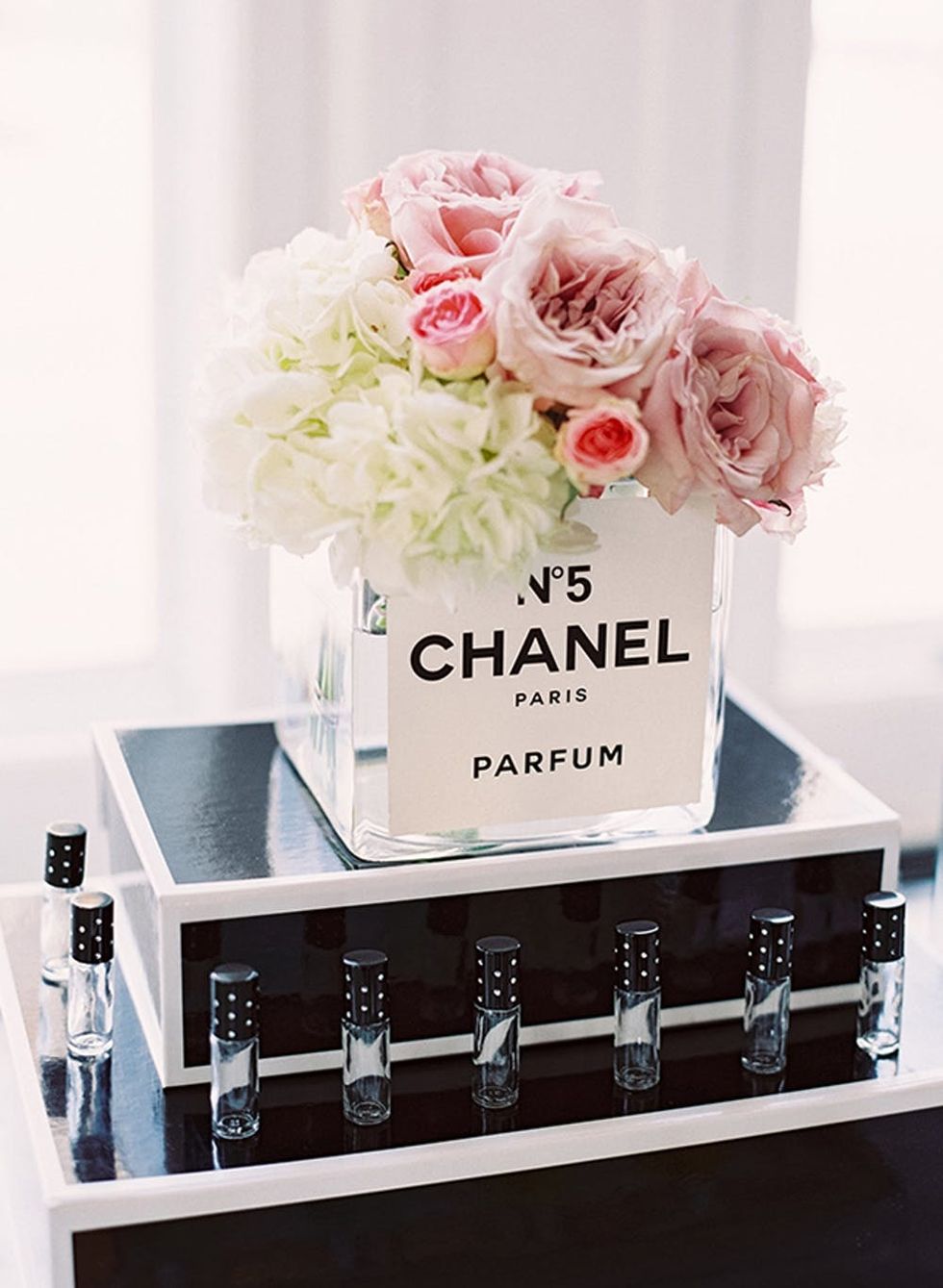 15. Chanel: Celebrate in utter luxury, with quilted this, and scented that. With a bigger budget, having everyone create a custom perfume is as classy as it gets. (via Justine Milton Photography / Inspired By This)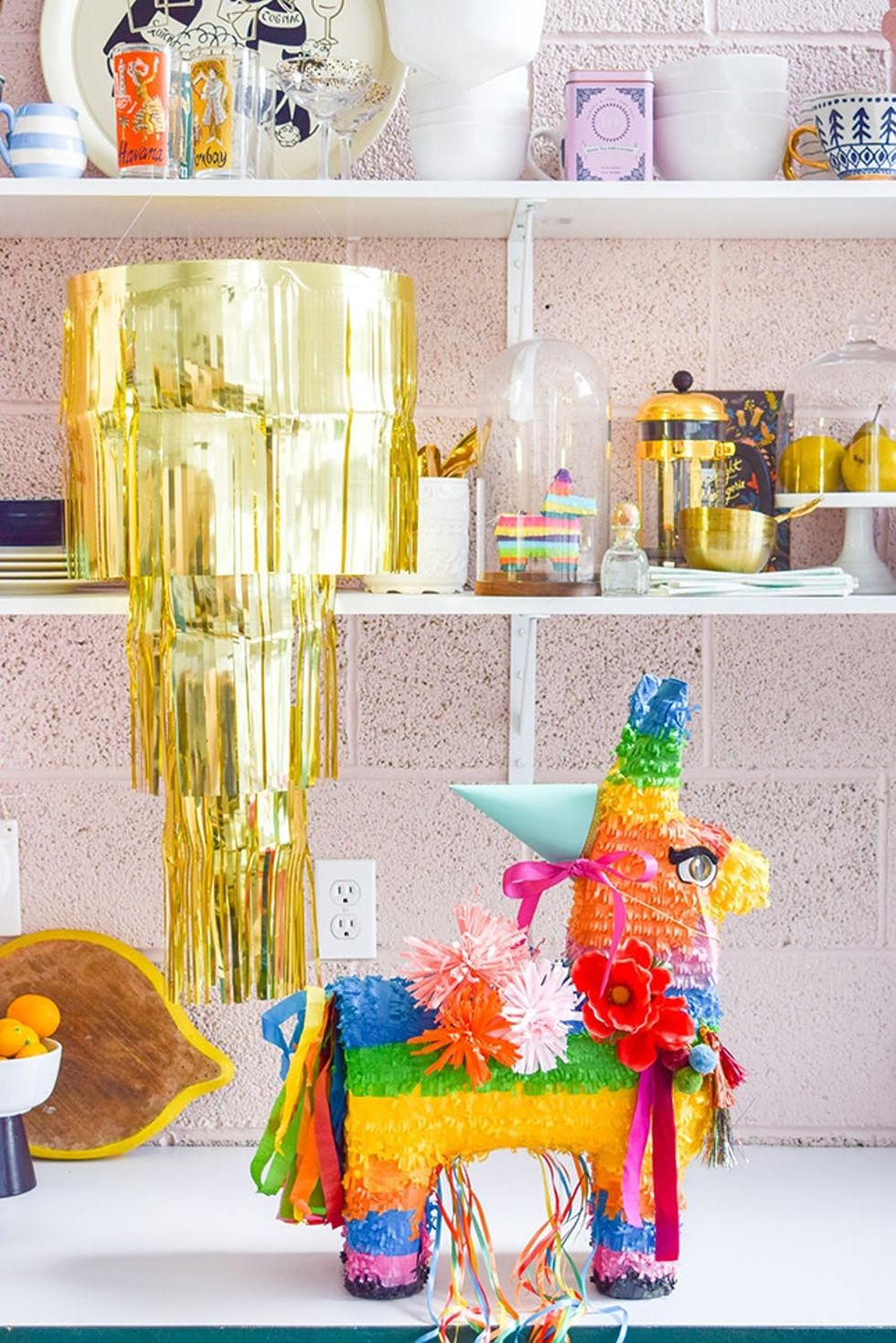 16. Fiesta: May or not, who doesn't love a piñata and tacos? Boring people, that's who. (via PMQ for two)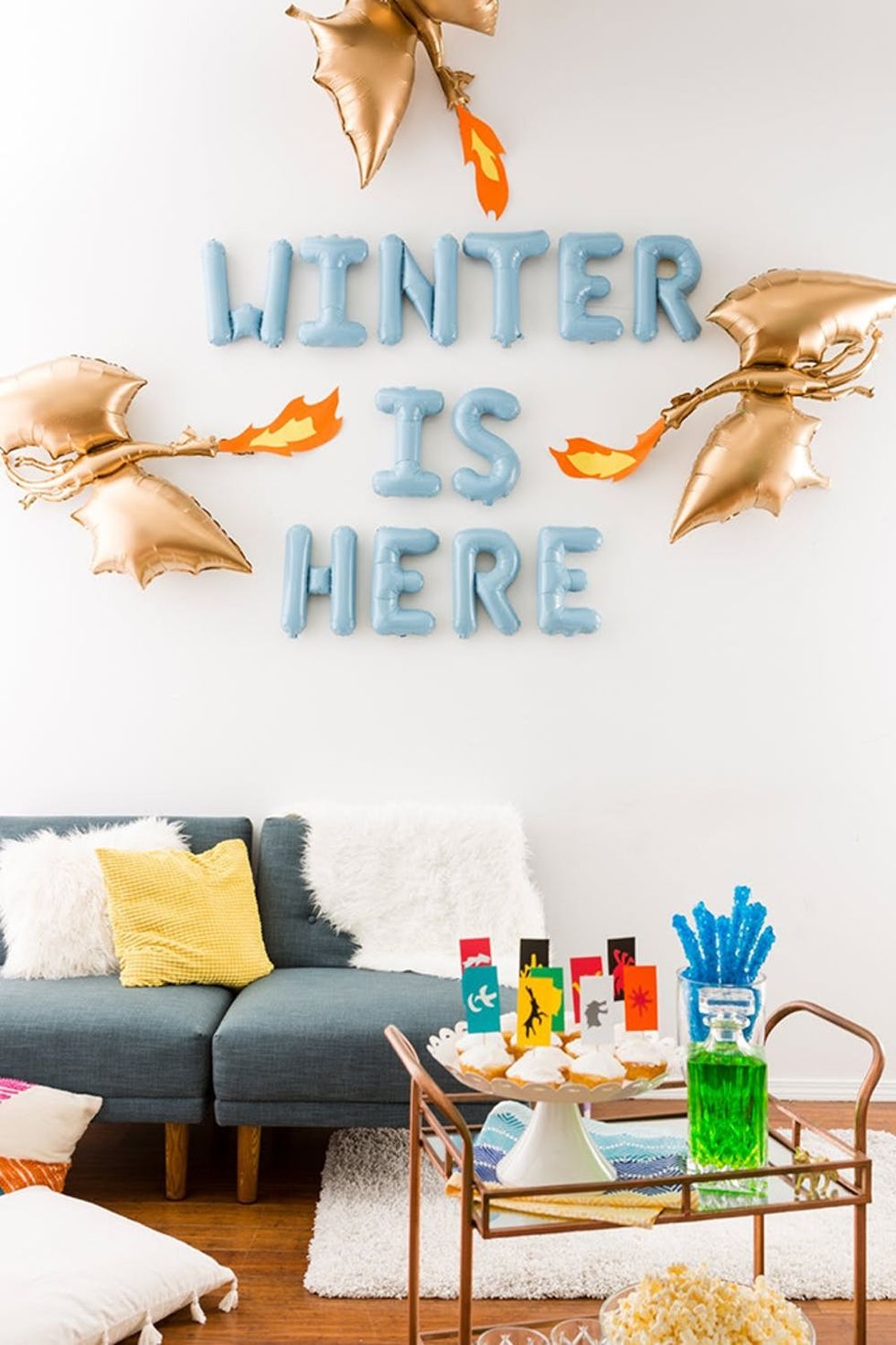 17. Game Of Thrones: If it's not securing land, power, or a military alliance — is it even a marriage? (via Brit + Co)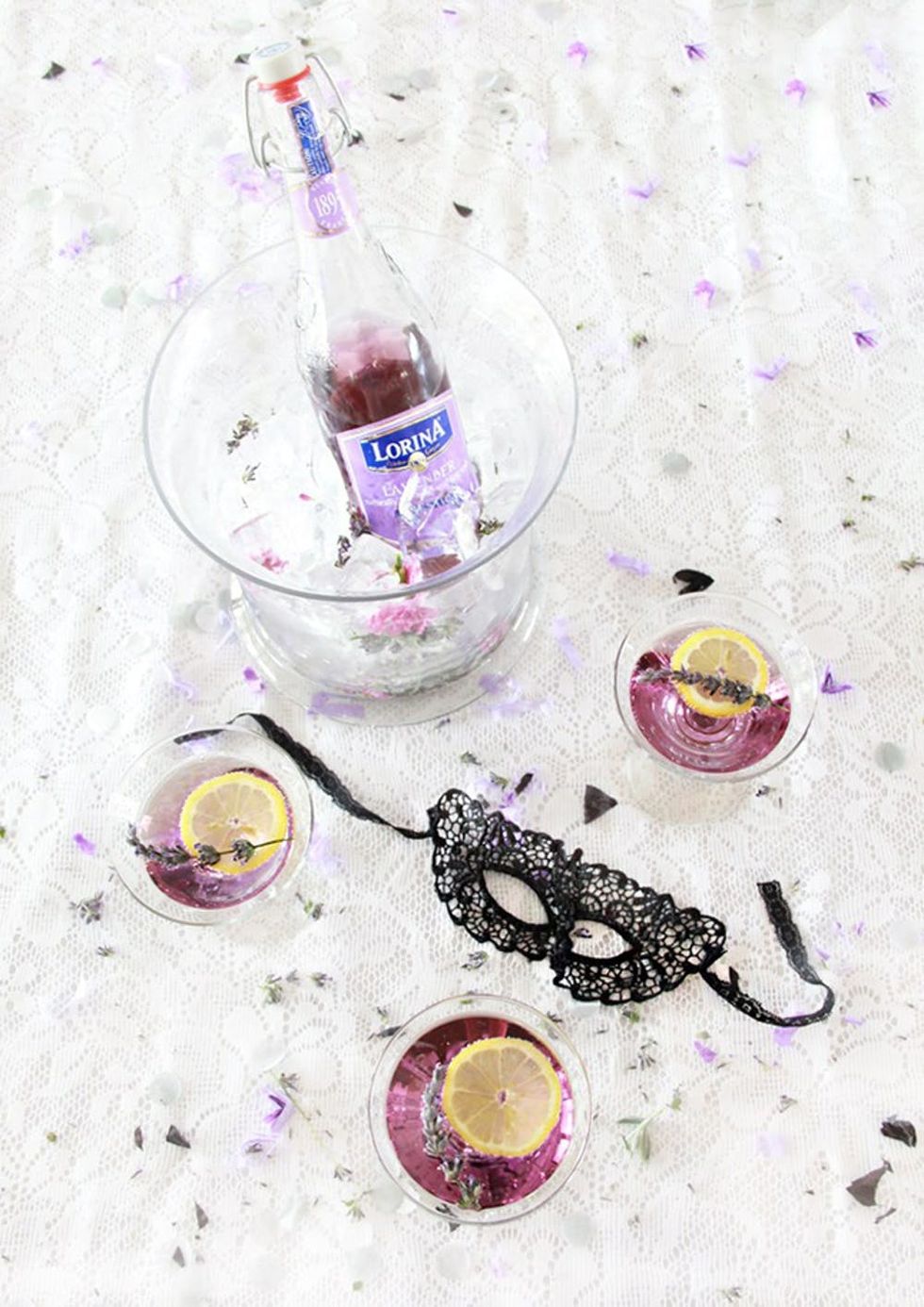 18. Martini Masquerade: This one could easily take a 50 Shades vibe if you wanted. But you can keep it sexy and simple with masks and lavender bubbly. (via A Bubbly Life)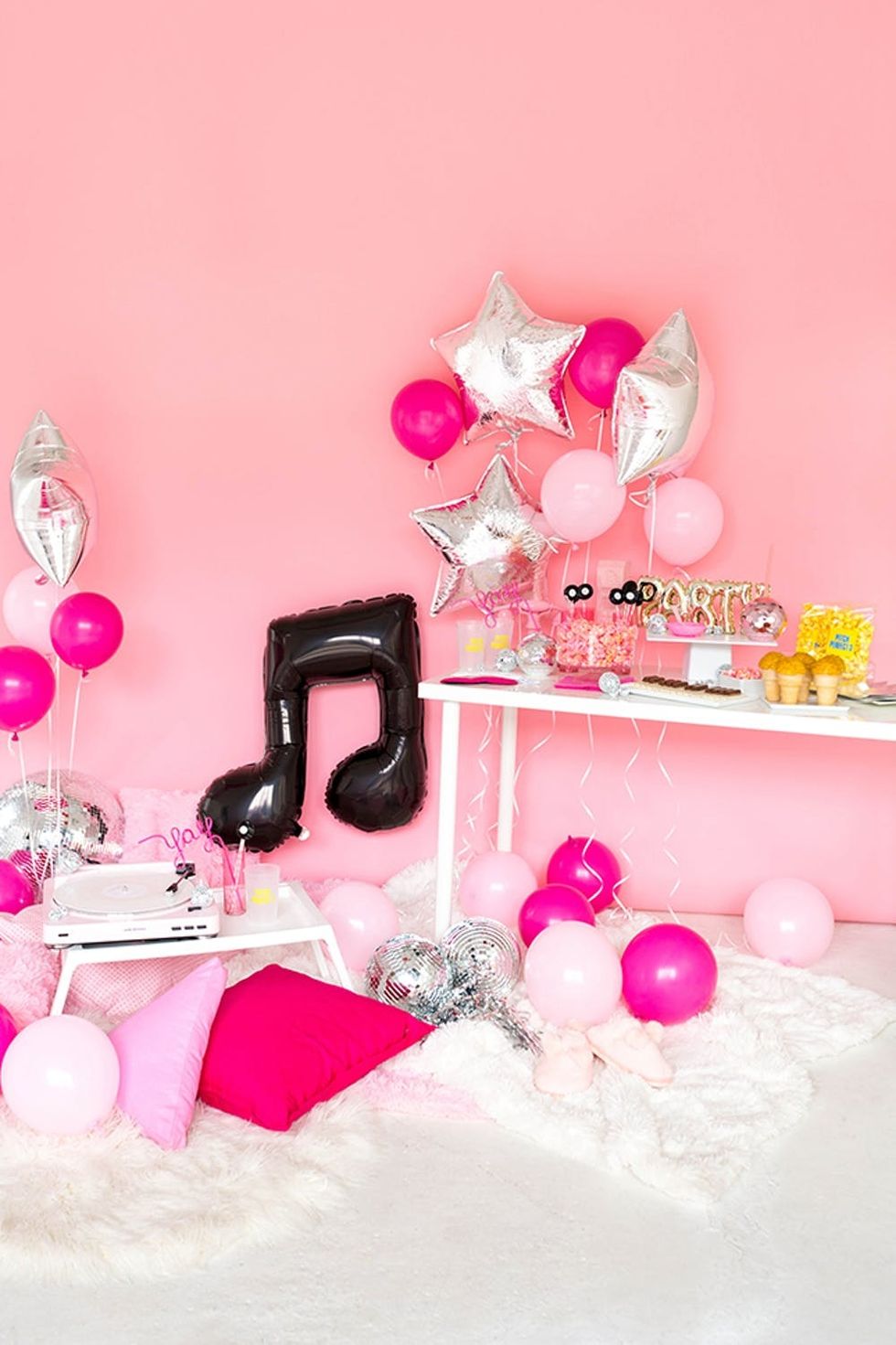 19. The Right Note: Does the Bride to Be love to rock-out? Is her beau a musician? The answer is clear: music themed everything. (via Aww Sam)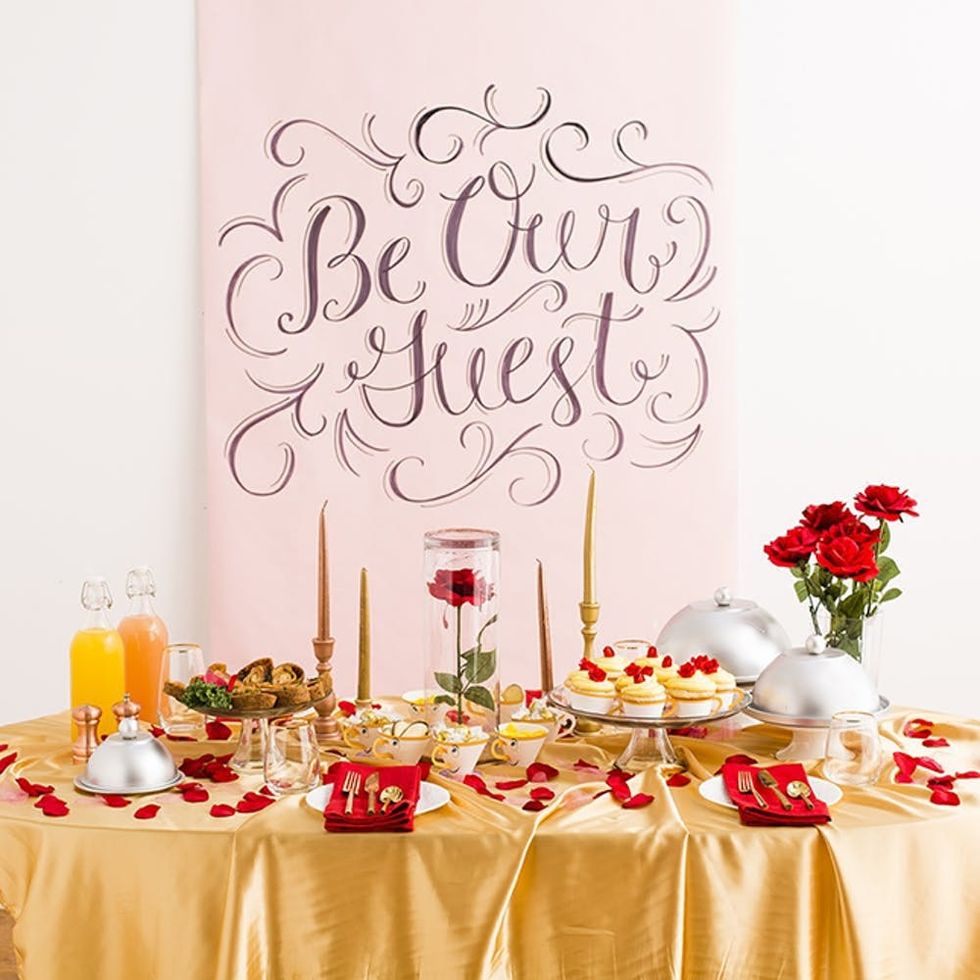 20. Beauty & The Beast: Because your BFF Belle, finally found her Prince aka the Beast. (via Brit + Co)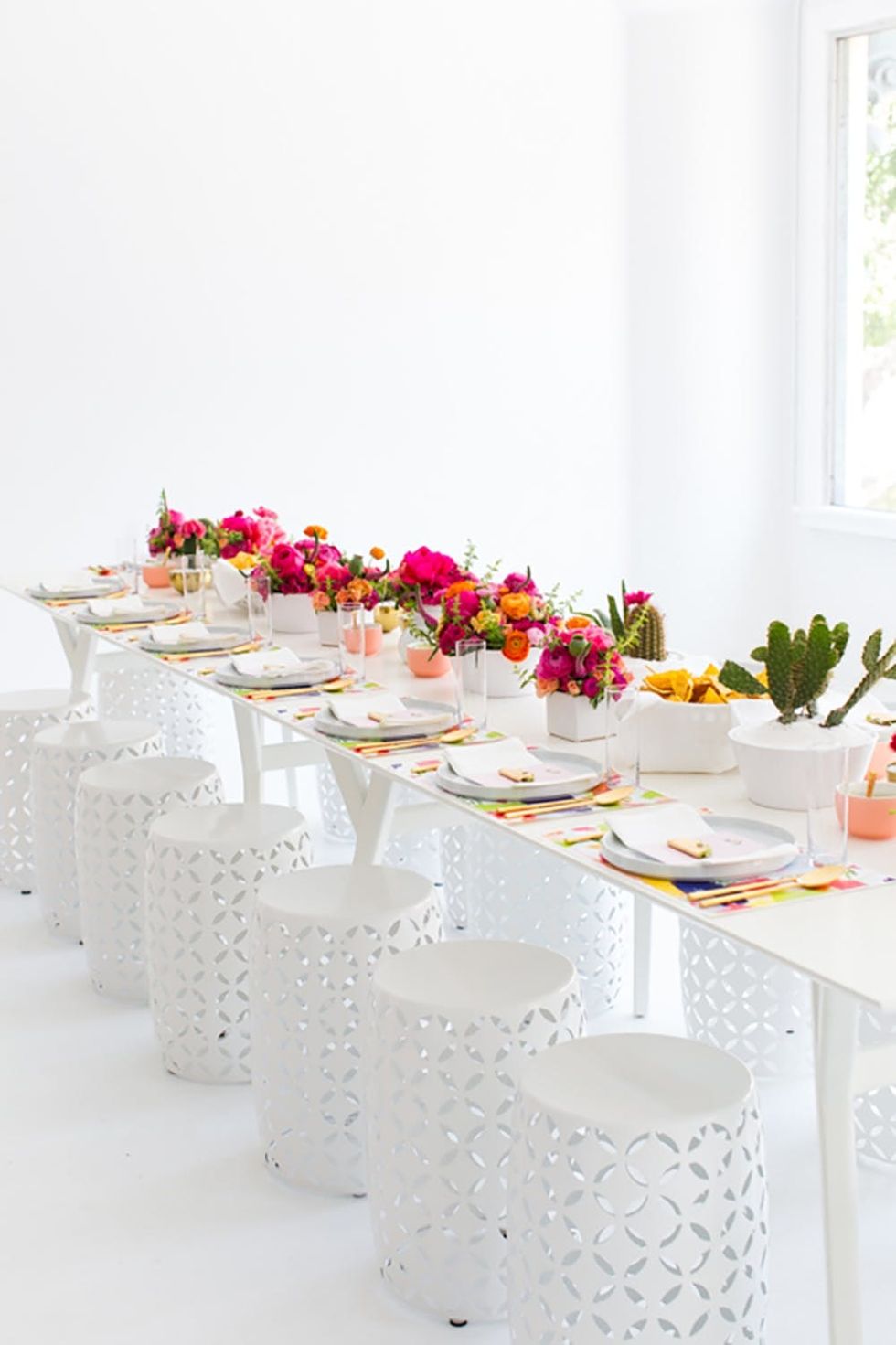 21. Prickly Cactus: No need to go over the top with the theme. Cactuses and succulents are trendy, simple, and allow you to pull from your extensive collection, and even add to it! (via Sugar & Cloth)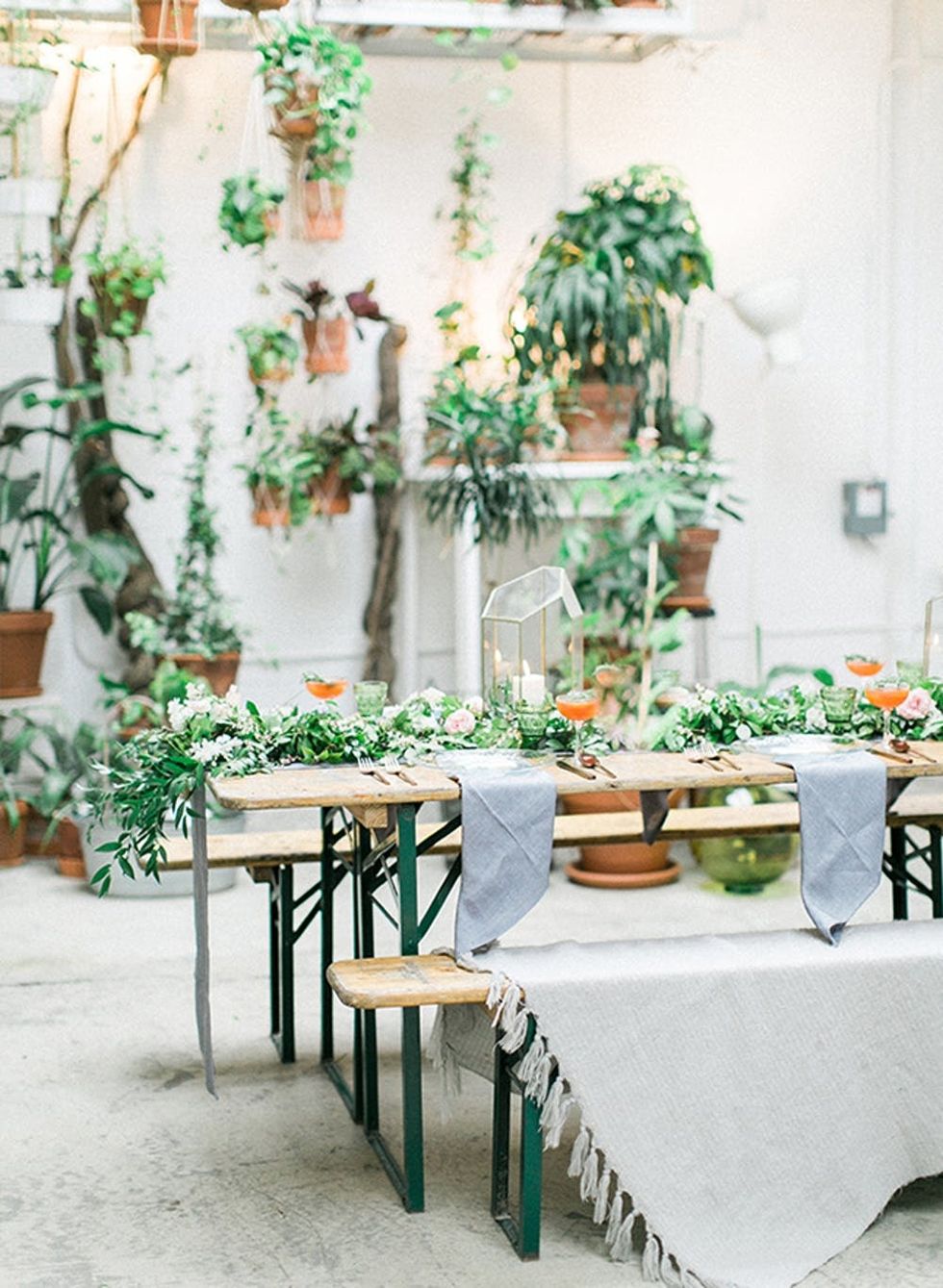 22. Sustainable & Earthy: How much can you borrow or upcycle for this bash? Impress the eco friendly bride with your environmentally conscious choices. (via Kayla Tiffany Photography / Inspired By This)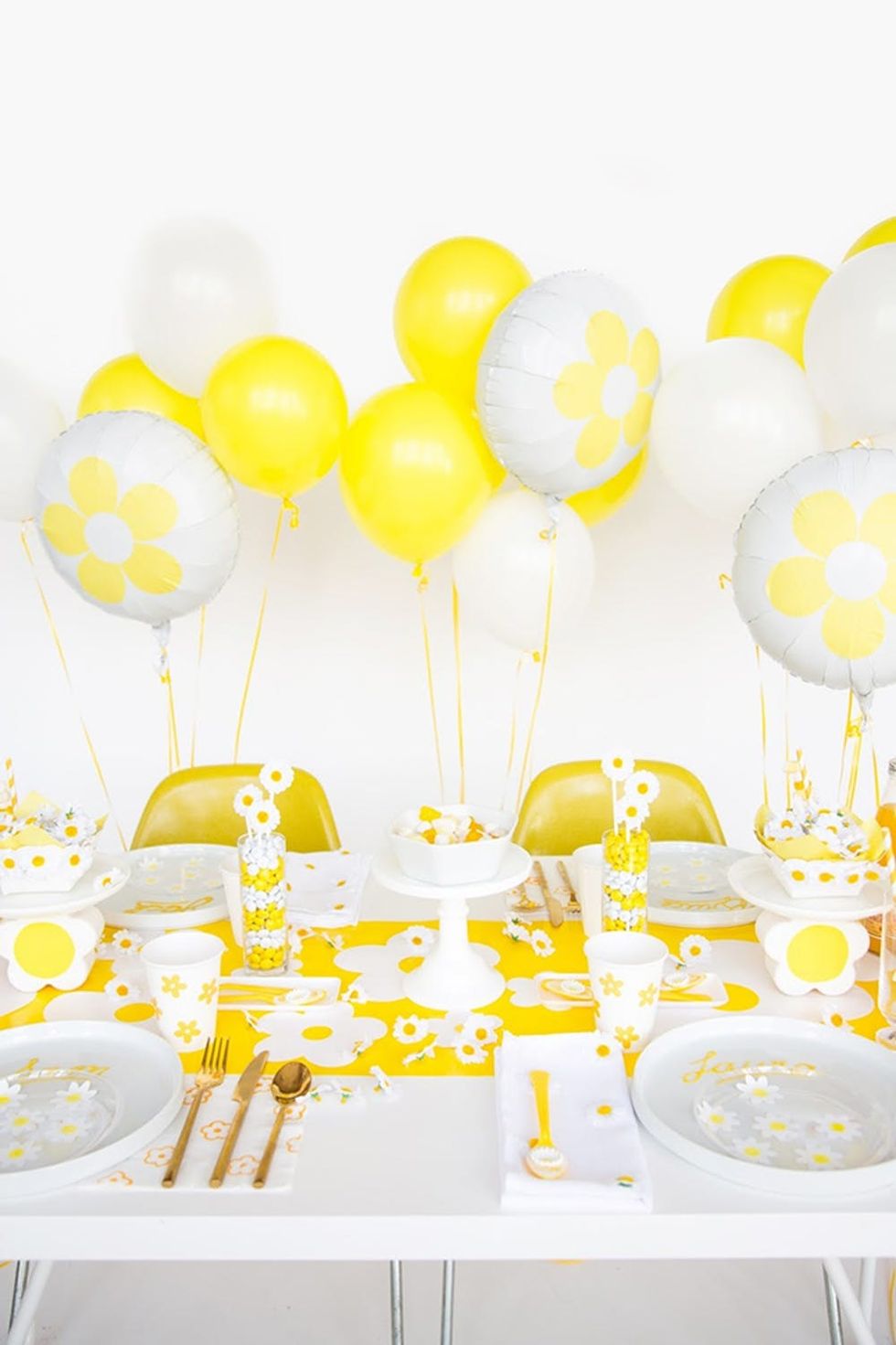 23. Daisies: These cheery little blooms are hopeful, feminine, and won't clash with anyone's outfit (hopefully). Plus, you can DIY everything you need, so you can use your existing party essentials. (via Aww Sam)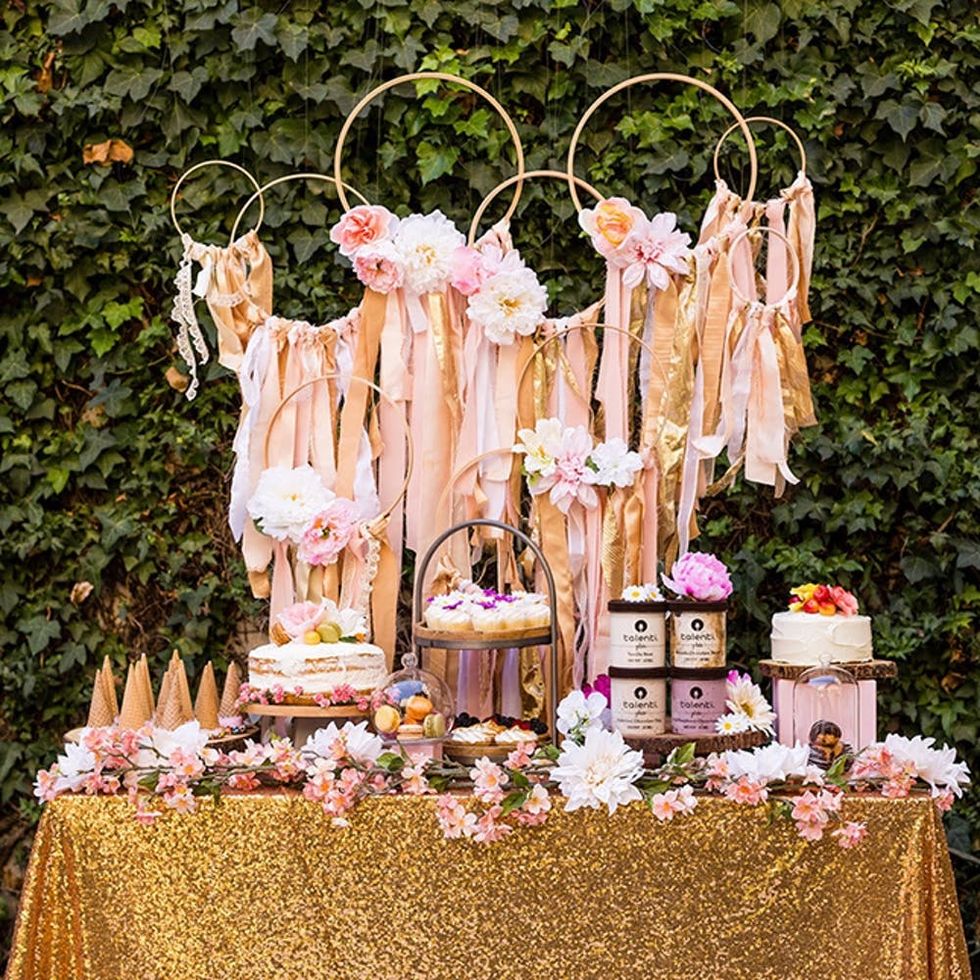 24. Dessert Bar: Not digging a theme? Cool. Just put out a bunch of desserts, and suggest everyone do their photos before cake stains are a problem. (via Brit + Co)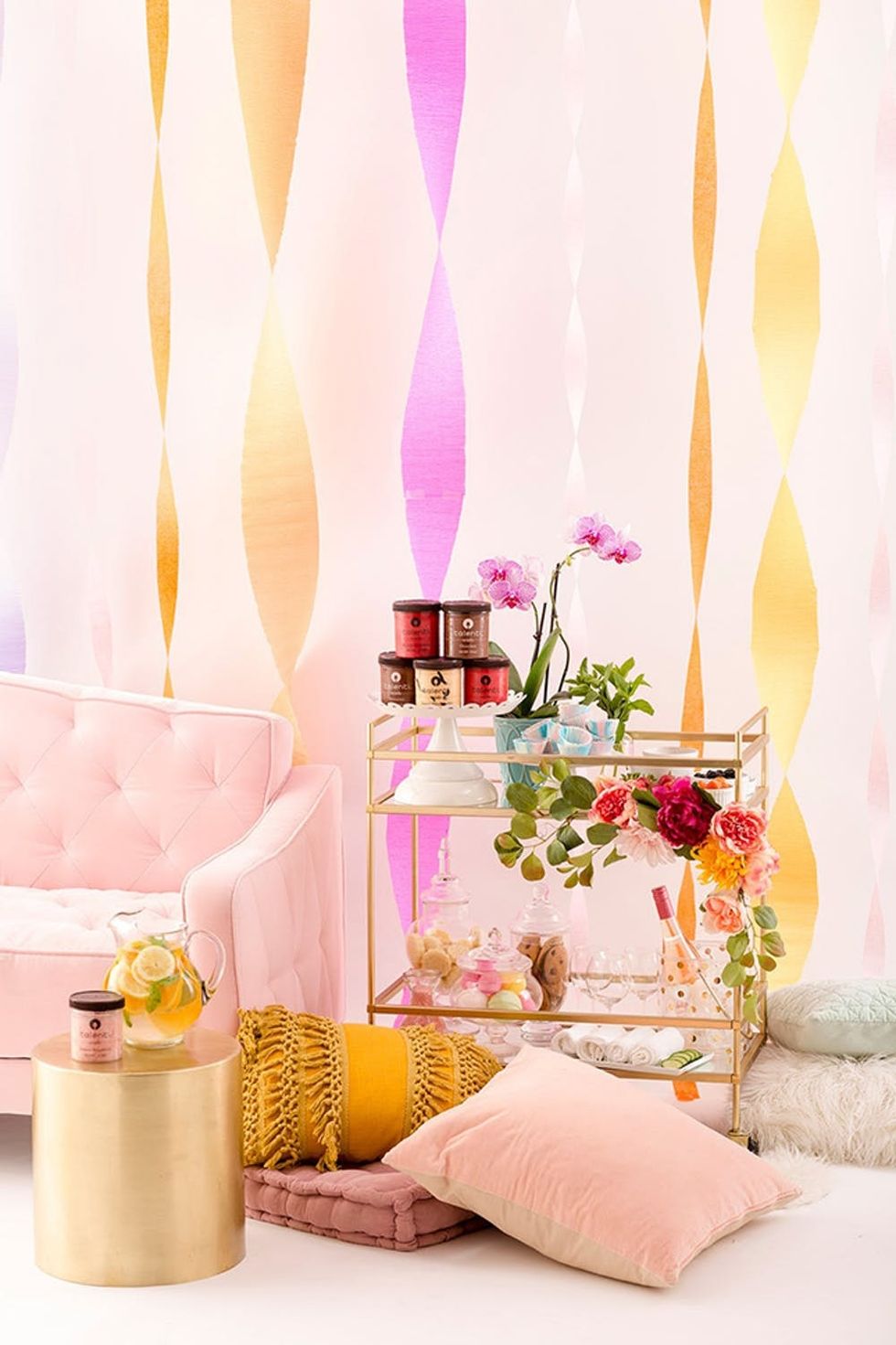 25. Spa Night In: Grab some face masks, matching bathrobes of etsy, and DIY some spa treatments. This is how you relax and pamper yourselves for cheap. (via Brit + Co)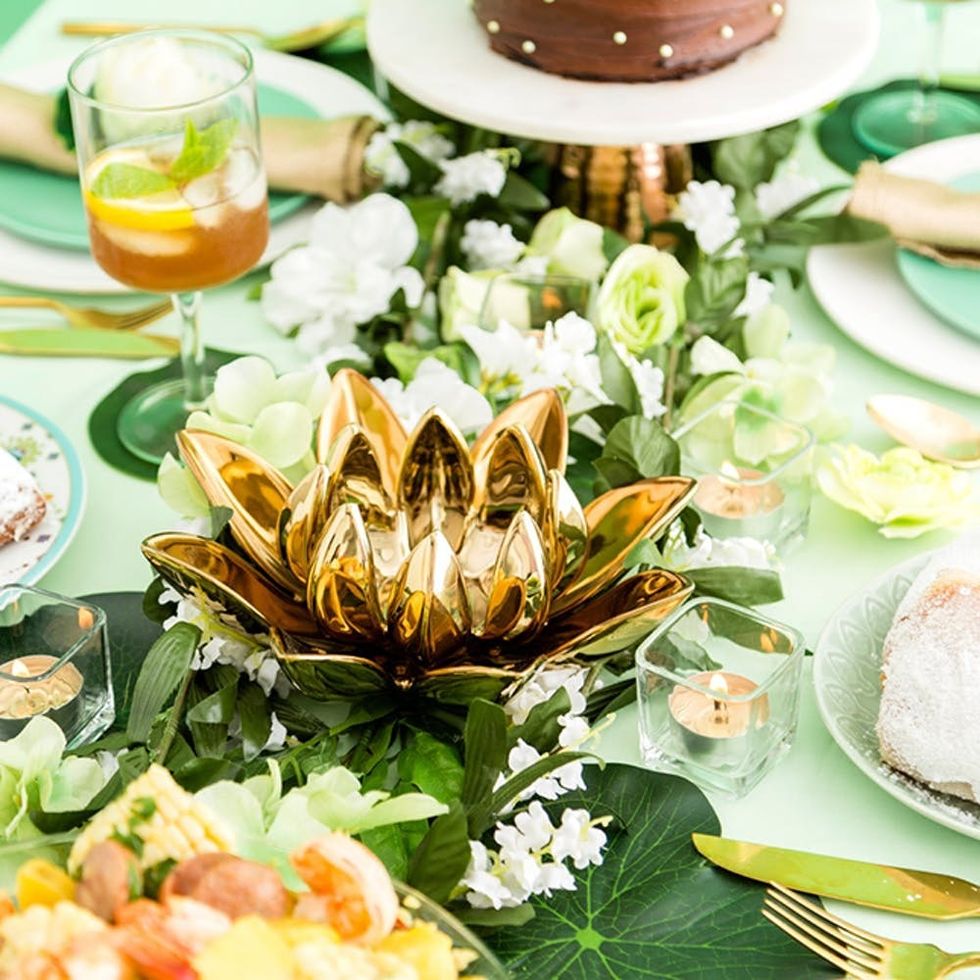 26. Princess & The Frog: Bring a lush and decadent tablescape to life in honor of your best boo. (via Brit + Co)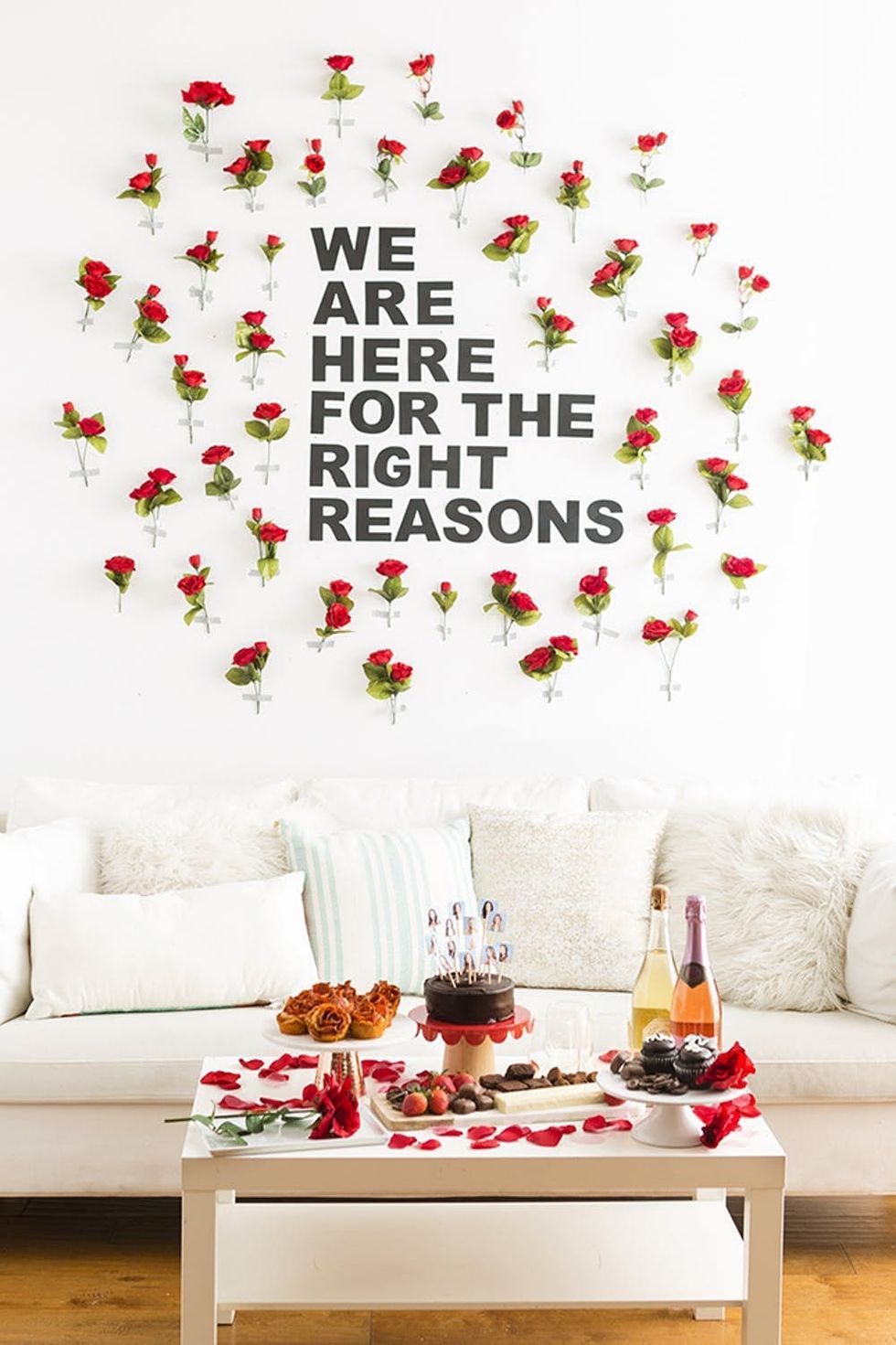 27. The Bachelor: There could not be a more perfect event theme for a bachelorette. Love brought you all together, everyone is there for the right reasons, except in this case you already know who's getting the rose. (via Brit + Co)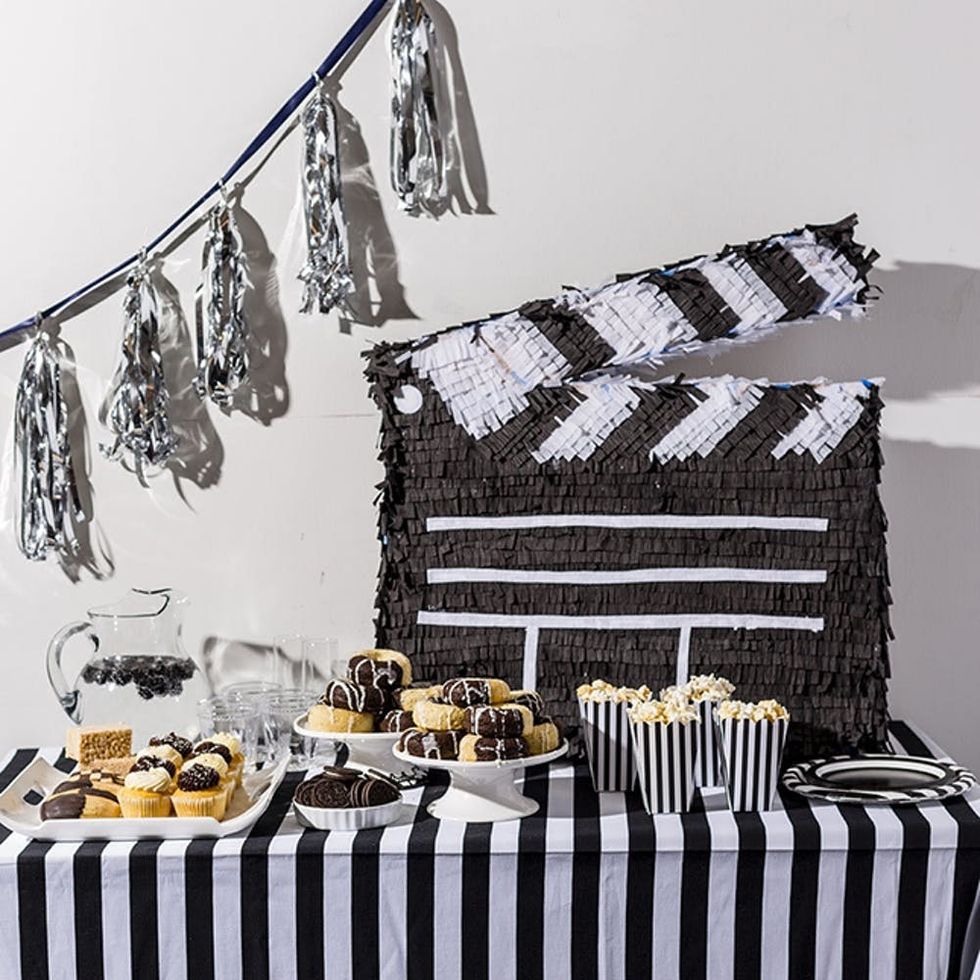 28. Film Noir: Some of the greatest love stories ever told happened on the silver screen, so this just honors those romances. (via Brit + Co)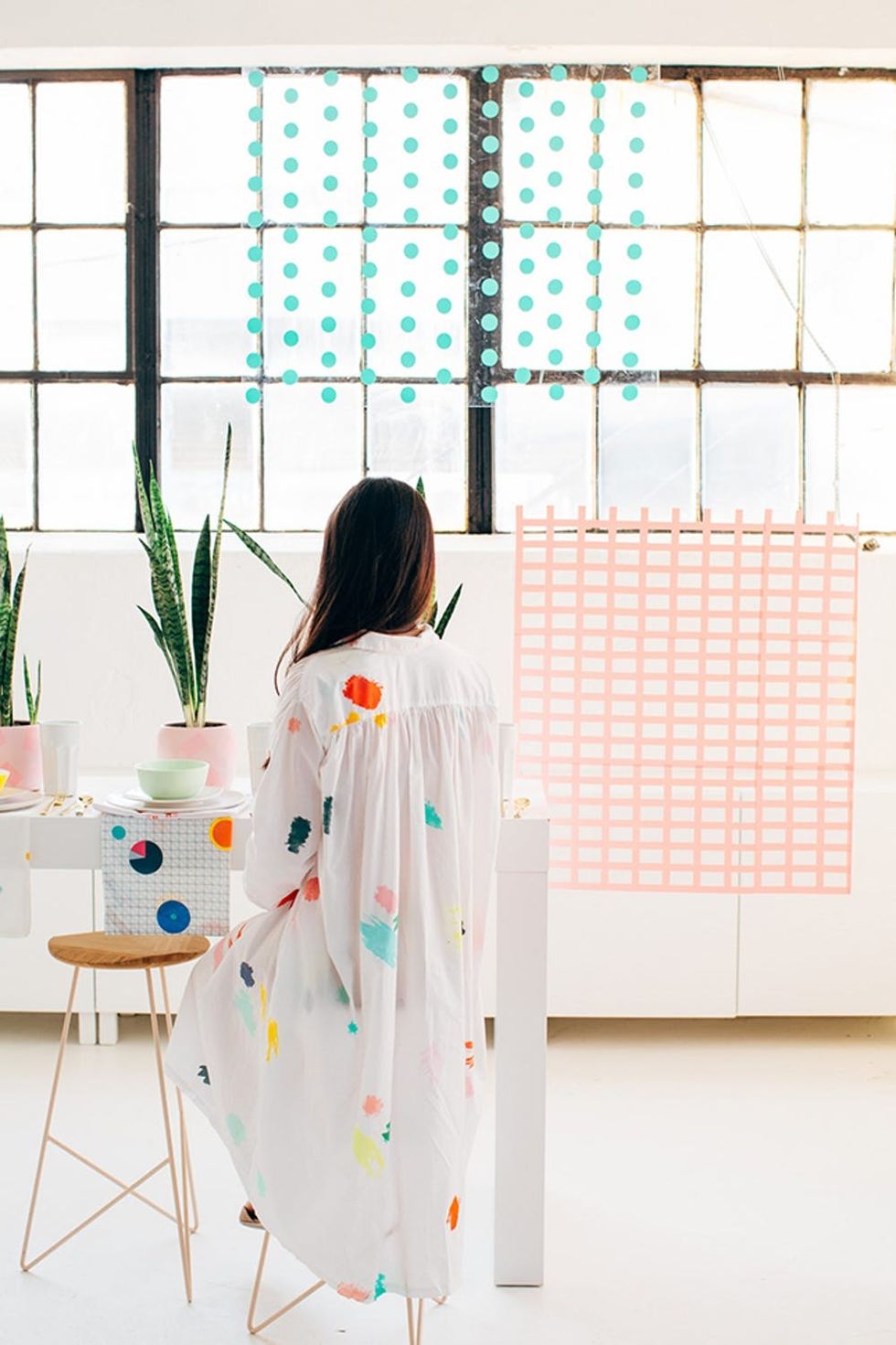 29. Pattern Party: More is more, and less is a bore. Create a visual feast for the eyes with your choice of decor and accents, and nothing will steal the spotlight from the bride. (via Sugar & Cloth)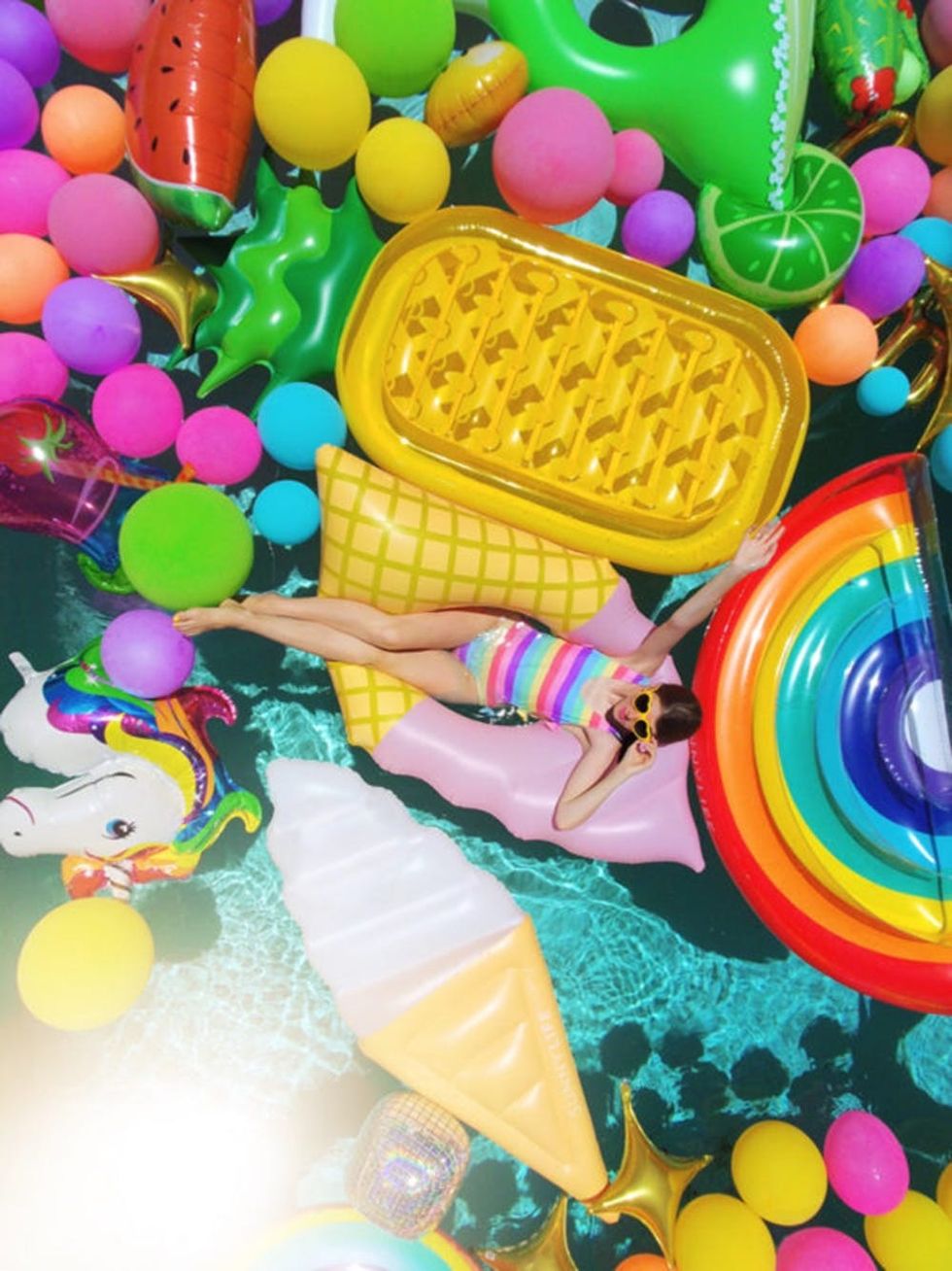 30. Pool Float Party: Get an AirBnB with a pool, and call upon your reserve of giant pool floats. The gang can spend the afternoon reclining in style. (via Studio DIY)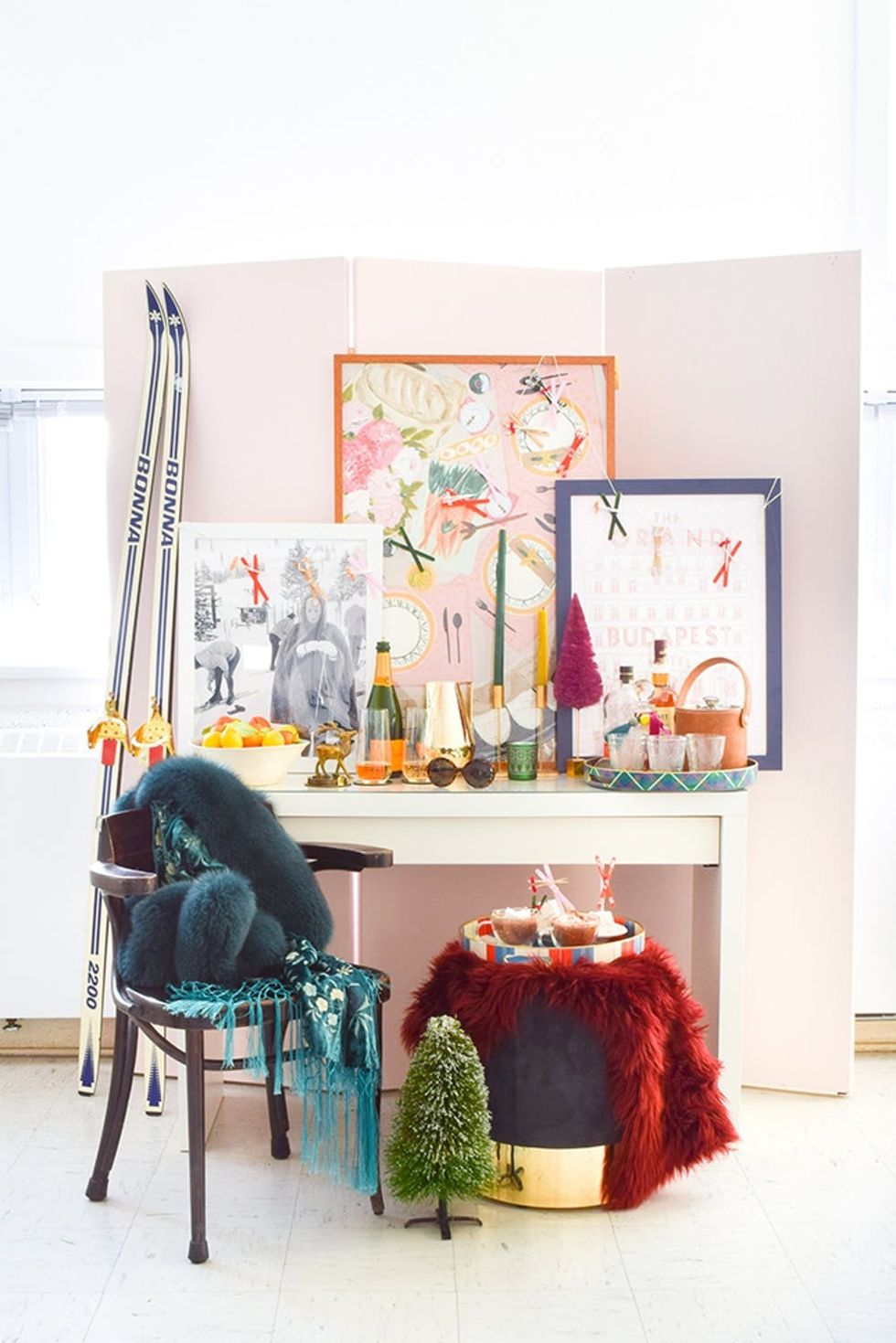 31. Après Ski: For the winter nuptials, consider a glam chalet look. For the record, no one has to have actually gone skying, for this to work. (via PMQ for two)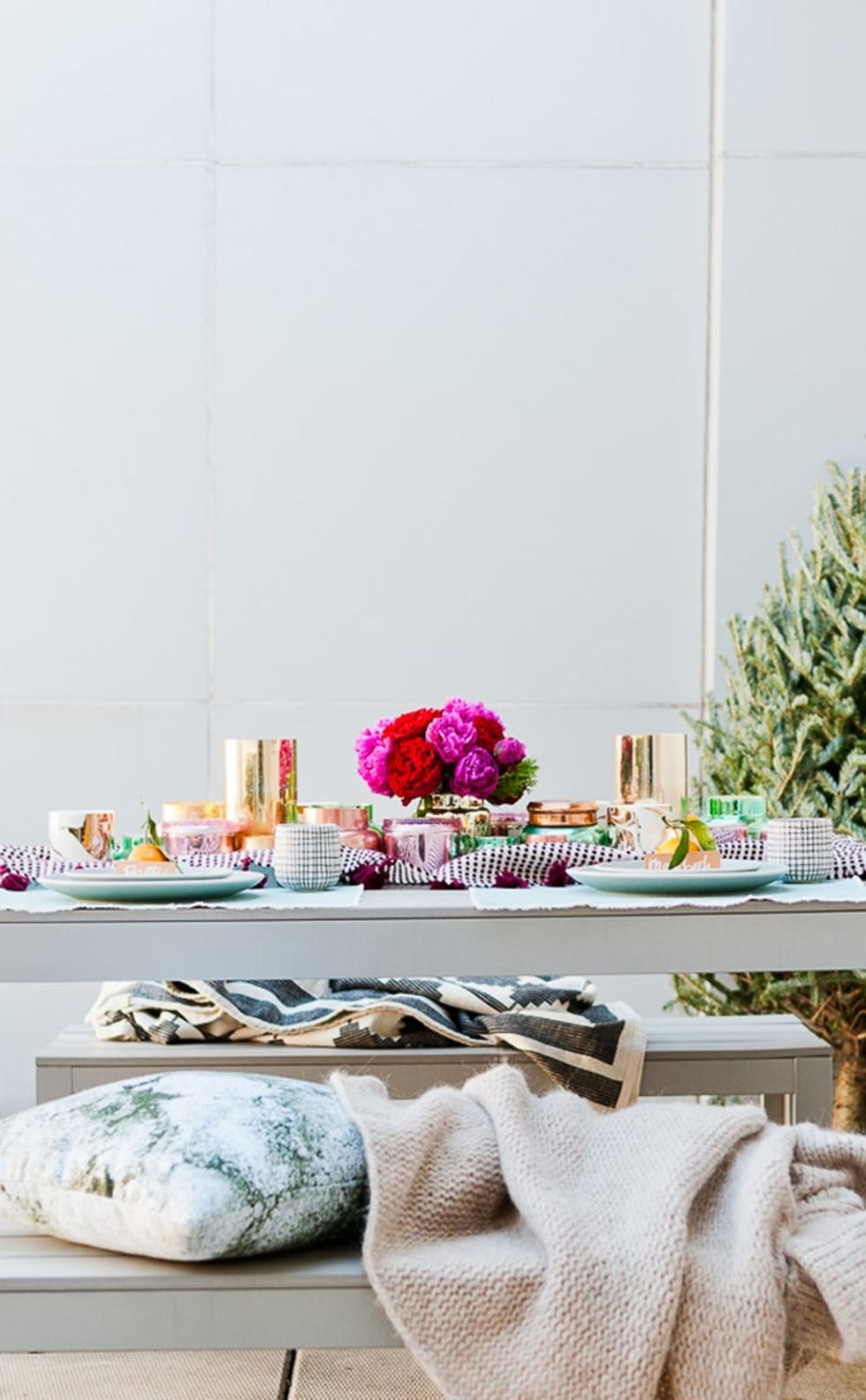 32. Winter Dinner: Couples taking advantage of the colder months for a destination wedding, still deserve all the fanfare of the fun summer months. With enough blankets and pillows, any party can be cozy and chic. (via Paper & Stitch)
More Ideas to Consider
33. Flamingos: You can totally do a whole bridal shower based on flamingos. Not only are they awesome, but they're pink — which is an easy hue to incorporate when it comes to flowers, decor and balloons. (via The House That Lars Built)
34. Rooted In Love: So the theme may sound a little cheesy, but this theme is definitely one of our favorites. Go all out with the roots idea by serving your apps in mini planters, using potted plants as decor and garnishing your drinks with fresh herbs. How adorbs are those carrots and hummus pots?! (via Hostess With the Mostess)
35. Winter Wonderland: If your bride is a snow bunny, throw her a sparkly winter party. Snowflakes make gorgeous toppers, by the way. (via Hostess With the Mostess)
36. Something Blue: If you want to go traditional, throw a Something Blue bash, complete with lots of blue decor and desserts. Look at those high heel cupcakes! (via Hostess With the Mostess)
37. Glitter: If you want your party to sparkle, add small glittery details like gold dipped balloons or gold rimmed champagne glasses. A little glitter goes a long way! (via Studio DIY)
38. Burlesque: While this could definitely be a bachelorette party theme, we love the idea of getting more of the guest list to join in on the fun. Pass out feather boas, play swanky tunes and put on your sky-high heels. (via The Why We Love / 100 Layer Cake)
39. Downton Abbey: If you're a huge fan of the British show that took the U.S. by storm, a Downton Abbey shower would be right up your alley. All of the bridesmaids should dress up as actual maids, the menu should be filled with classic British fare and there should be plenty of tea. (via Momento Photography / SouthBound Bride)
40. Whimsical Circus: Bright neon colors work with gold, circus accents for a super whimsical theme. We love the crazy streamer backdrop and the idea of serving vibrant rock candy. (via Canary Grey / Green Wedding Shoes)
41. Champagne Tasting: Your best buds will love getting their drink on at your champagne tasting shower. Once you've all had a few glasses, let loose with some party games. (via Katie Parra / Style Me Pretty)
42. Julia Child-Inspired: Another centerpiece to capture the bride's love of cooking or baking is this huge Dutch oven pot filled with flowers. If you're a fan of the amazing Julia Child (who isn't?) you'll love throwing this chef-centric shower. Have your guests fill out recipe cards to add to the soon-to-be-bride's collection. (via Injoy Imagery / Wedding Chicks)
43. Neons + Neutrals: Whoever thought of this whole neon meets neutrals thing is a genius. We love the combination and we're especially crushin' on those neon handled forks! (via Amanda Watson / Ruffled)
44. Quirky Tea Party: If you're throwing a very small get-together, a quirky little tea party on the lawn is a great way to celebrate. (via Bertuzzi Photography / Ruffled)
45. Country Western: You know what they say, you can take the girl out of the country but can't take the country out of the girl! Have your guests rocks cowboy boots, drink some sweet tea and have a good ol' fashion hoedown. (via Paper Antler / Style Me Pretty)
46. DIY Mimosa Bar: If you're throwing any type of brunch party, a mimosa bar is seriously crucial. We're also loving the color dipped vases hanging in the background. (via Katie Pritchard Photo / Green Wedding Shoes)
47. Whiskey Tasting: Who says it always has to be a champagne affair? This theme's perfect for the girl that loves a hearty sipper. (via Style Me Pretty)
48. Watercolors: Sometimes a soft and pretty theme is just what the doctor ordered. You could throw a watercolor painting party, passing out paper and palettes to all of your guests. Or, you could take it less literally and decorate based on soft, washed-out hues. (via Annabella Charles Photography / Style Me Pretty)
49. Vintage Pool Party: We are obsessed with this '60s-inspired tiki party. Decorate with bold and bright colors, wear your one-piece and have the best pool party everrrr. (via Sarah Layne Photography / 100 Layer Cake)
50. Classy Backyard BBQ: A backyard BBQ is a no-frills way to celebrate a wedding. Dress it up by elevating the menu and decorating with beautiful flowers. This is a great one to include the men in, too. (via Eric Kelley Photography)
Follow us on Pinterest or more bridal shower inspo!
Rachel Sumner
Rachel is a Contributing Editor at Brit + Co and the founding editor of lifestyle blog,
SADIERAE + CO.
While her background is in fashion and styling, she also loves all things creative, cooking, traveling, binge-watching TV shows and giving piggy back rides to her golden retriever, Louie.