Blackberry Lavender Honeycomb Cake Is the Dessert Your Summer Needs
Jul 15, 2015
It's time to flex those creative muscles and make a stunning, unique cake like no other. We're talking blackberry, lavender and homemade honeycomb for this decadent three-layer masterpiece. Like most art, no design can be completely replicated, nor can you really make a "mistake." Swirls of different colored buttercream are painted on like watercolors and the hand-broken shards of honeycomb are arranged like a sugar sculpture. You can't go wrong with this summery flavor combination. So let's get baking!
---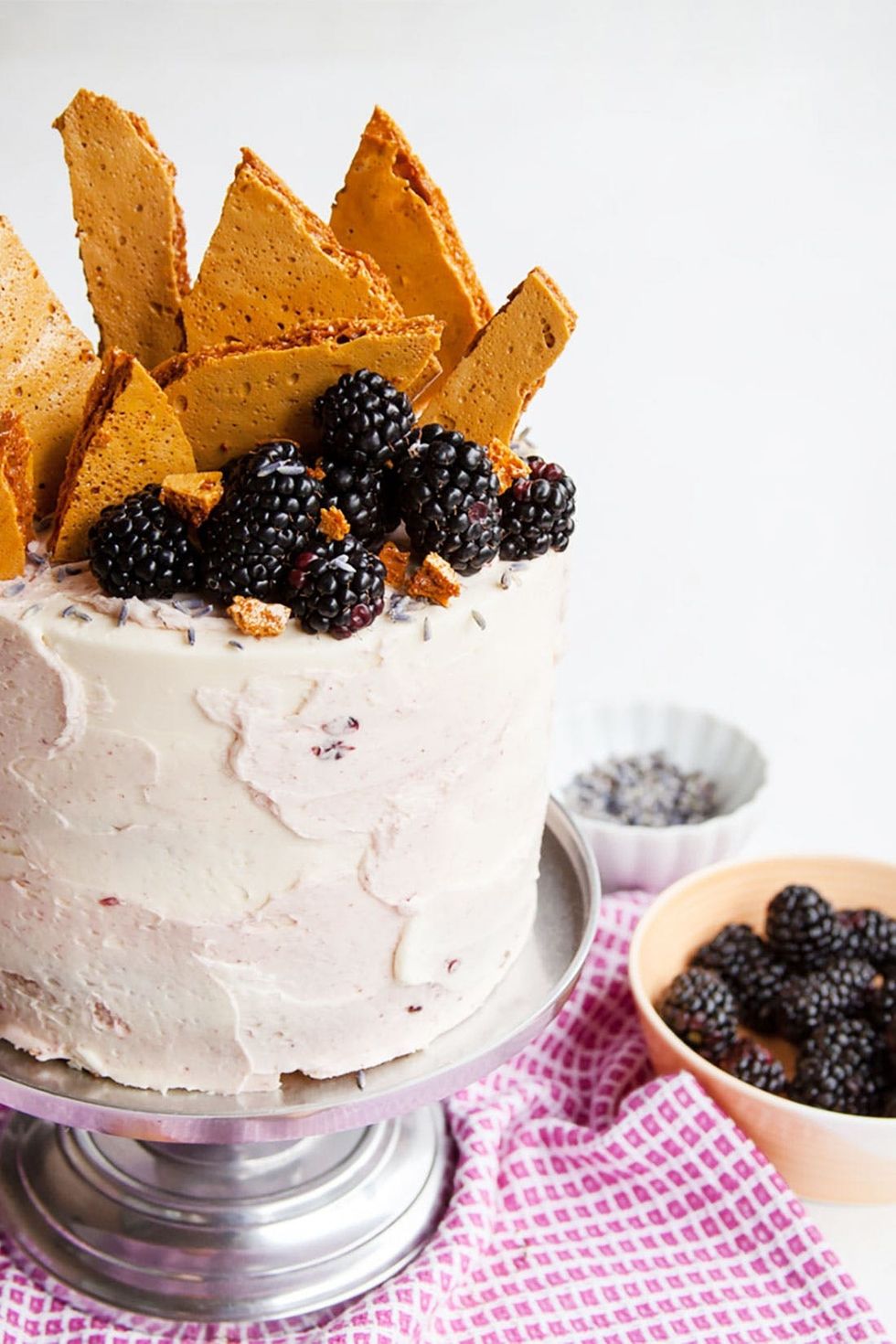 How to Make the Cake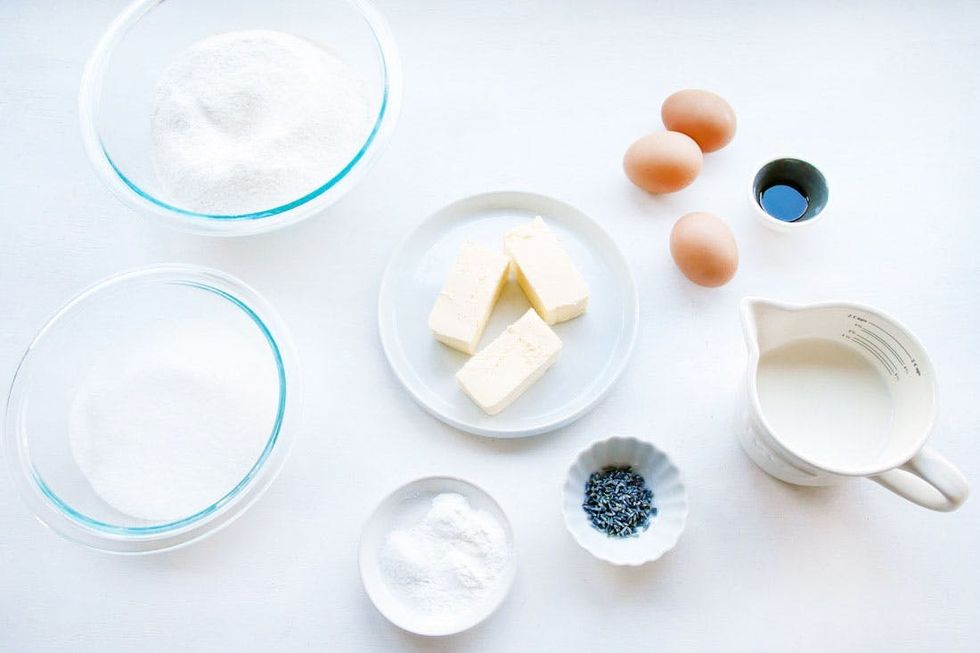 Ingredients:
— 3/4 cup unsalted butter, softened
— 1 1/2 cups granulated sugar
— 1 teaspoon vanilla extract
— 3 whole eggs
— 2 1/2 cups cake flour
— 1 tablespoon baking powder
— 1/2 teaspoon salt
— 1 cup whole milk
— 2 teaspoons culinary lavender
Preheat the oven to 350 degrees Fahrenheit. Grease and flour three six-inch cake pans and set aside.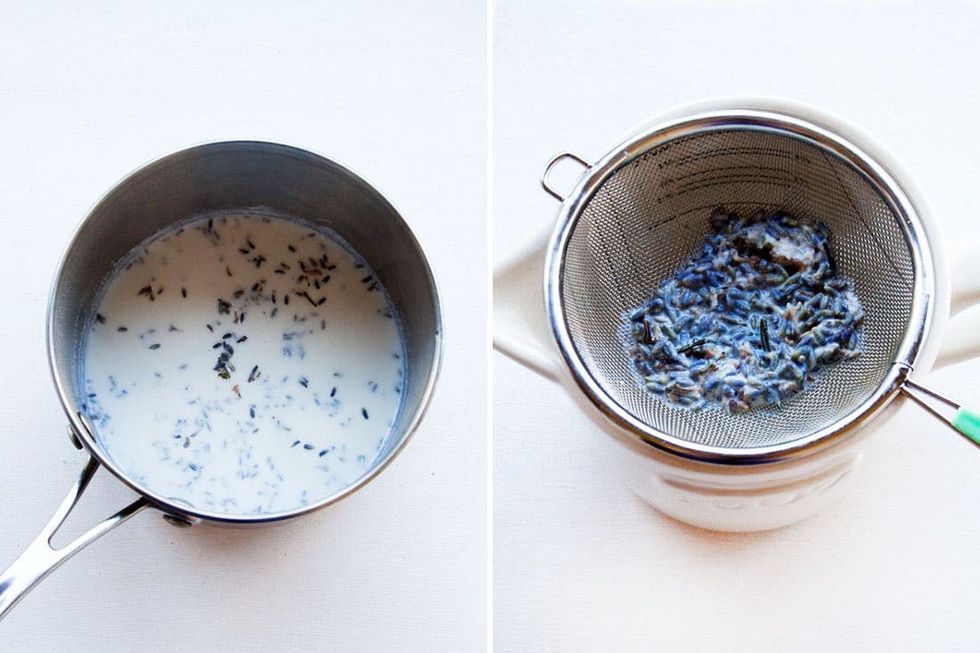 First, make the lavender milk. Place the milk in a saucepan over medium-high heat. Gently bring to a simmer, then add the lavender and turn the heat to low. Continue to simmer for five to eight minutes. Remove from the heat and let cool. Once cool, strain out the lavender buds.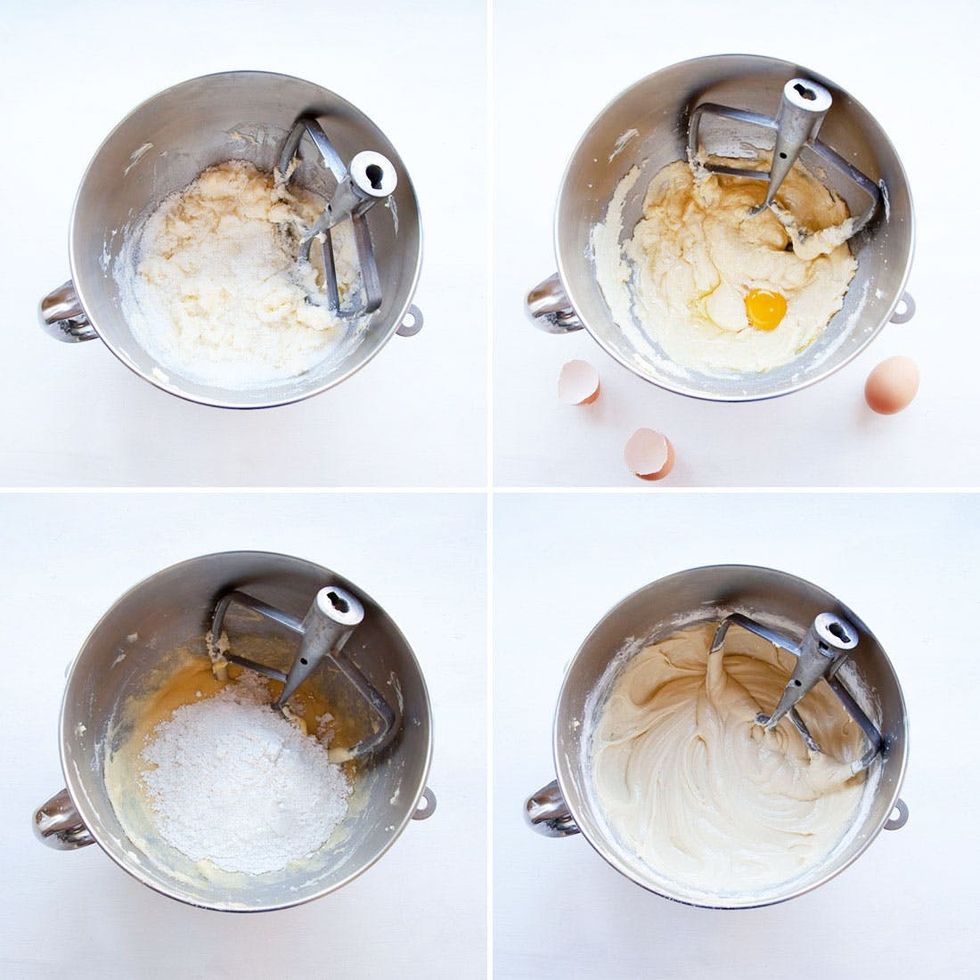 Sift together the dry ingredients and set aside. In the bowl of an electric mixer fitted with the paddle attachment, beat the butter until smooth. Add the sugar and mix on medium for three to five minutes, until the sugar and butter are light and fluffy. With the mixer on medium-low, add in the vanilla and eggs one at a time. Stop the mixer and scrape down the sides and bottom of the bowl. With the mixer on low, add in half of the flour mixture. Mix until just combined, then slowly pour in the milk. Add the remaining flour mixture and mix until smooth.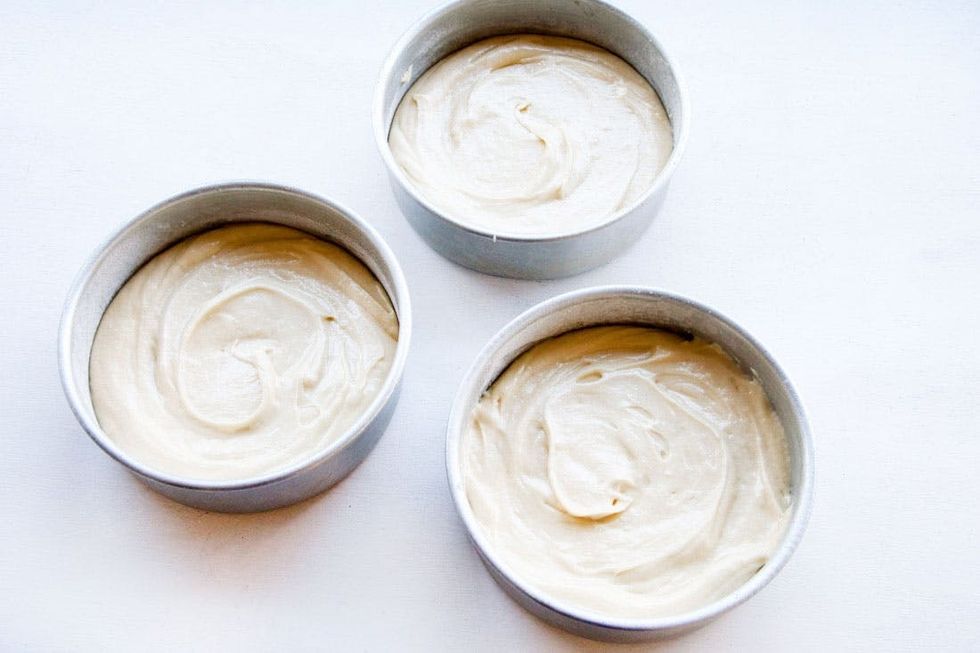 Evenly divide the batter between the prepared cake pans. Bake for 25 to 30 minutes, or until a toothpick inserted in the center of the cakes comes out clean. Let cool on a wire rack for 10 to 15 minutes before removing the cakes from their pans. Cool completely, then level the tops of the cakes with a long serrated knife.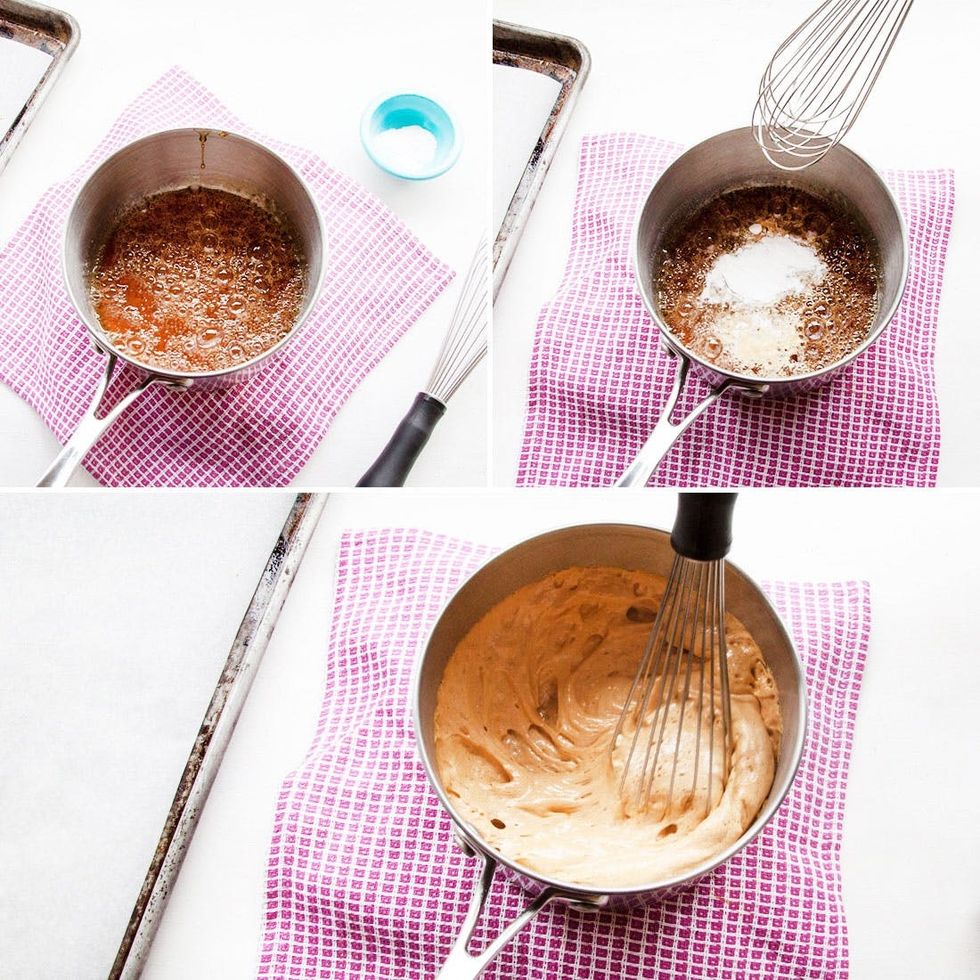 Ingredients:
— 3/4 cup granulated sugar
— 2 tablespoons honey
— 2 tablespoons water
— 1 1/4 teaspoons baking soda
While the cake is baking, make the honeycomb: Place the honey, sugar and water in a medium saucepan. Heat on high until it turns a medium-dark amber color and reaches 300 degrees Fahrenheit on a candy thermometer. Once the honey mixture reaches 300 degrees, immediately remove it from the heat. Working rather quickly, whisk in baking soda.
How to Make Honeycomb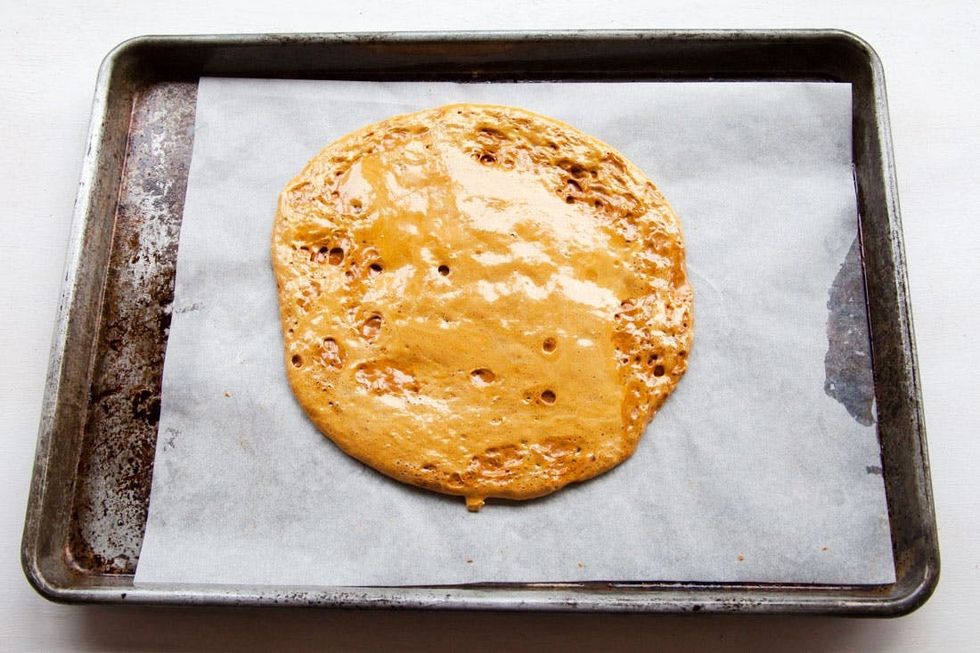 Pour the contents out on a parchment-lined baking sheet and let cool.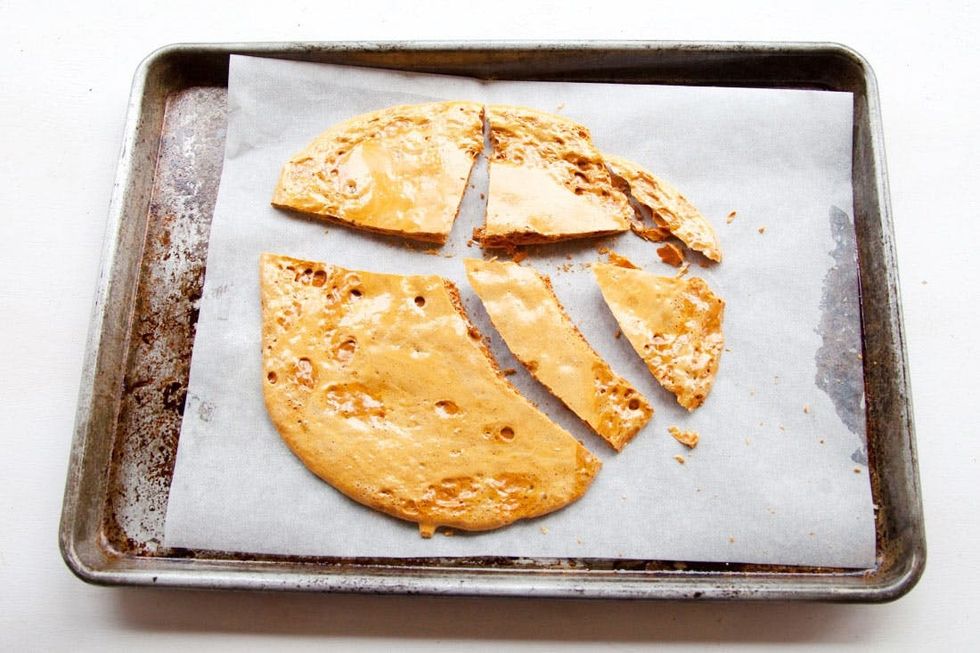 Once completely cooled, break the honeycomb into pieces.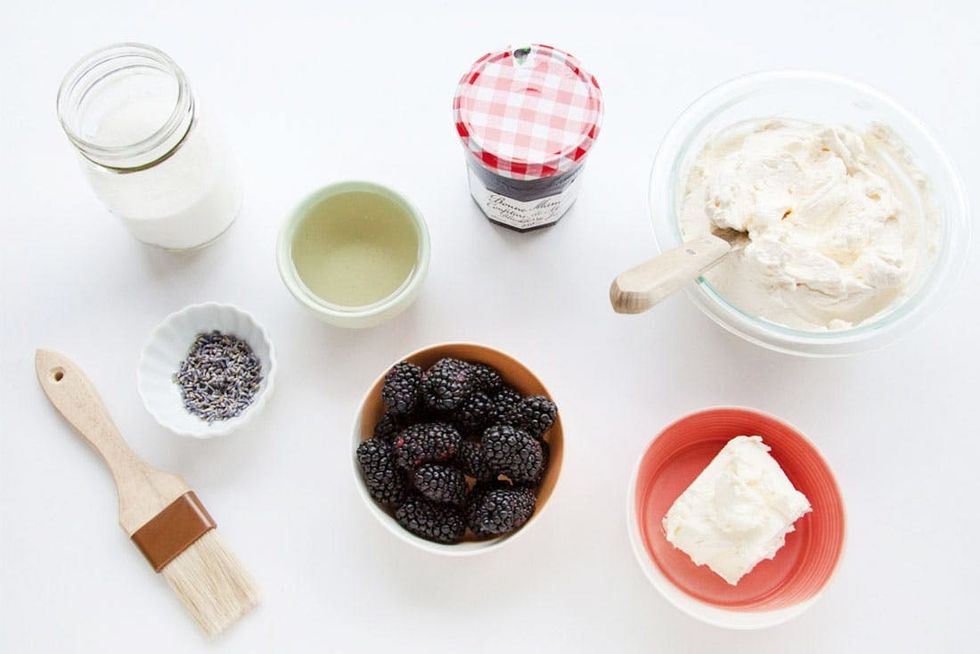 Lavender Simple Syrup Ingredients:
— 1/2 cup granulated sugar
— 1/2 cup water
— 1 1/2 teaspoons culinary lavender
Blackberry Buttercream Ingredients:
— 5 cups vanilla buttercream
— 6 tablespoons cream cheese, softened
— 1/4 cup blackberry jam
Make the lavender simple syrup. Place the water and sugar in a small saucepan over medium-high heat. Bring to a boil, then reduce heat to low. Add in the lavender and simmer for 8 to 10 minutes, or until the mixture becomes a syrup. Remove from heat to cool, then strain out the lavender buds.
How to Frost the Cake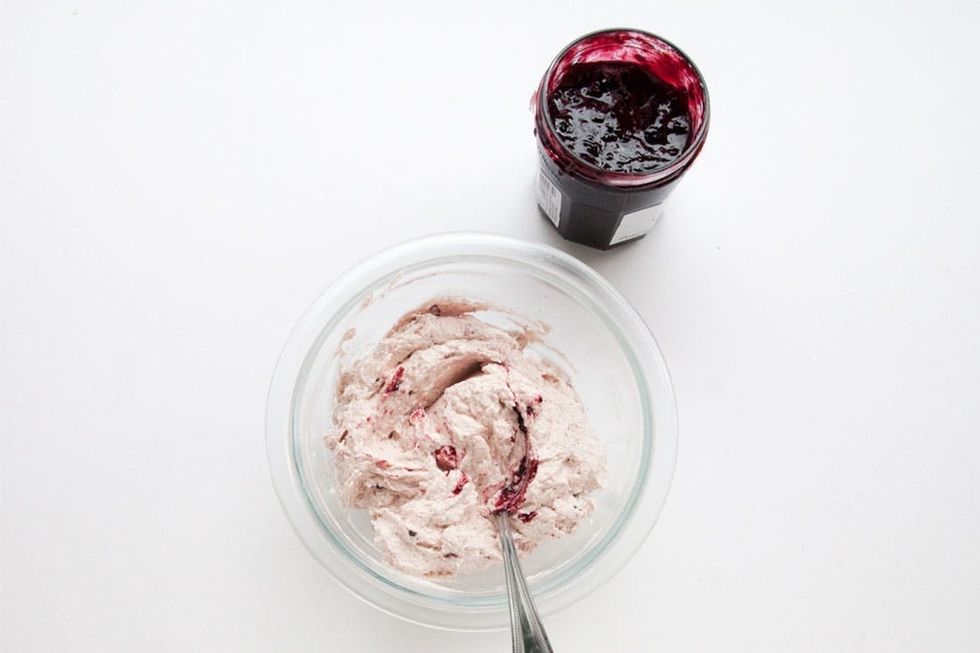 Next, make the blackberry buttercream. Beat softened cream cheese into 1 1/2 cups of vanilla buttercream. Stir in the blackberry jam until just combined.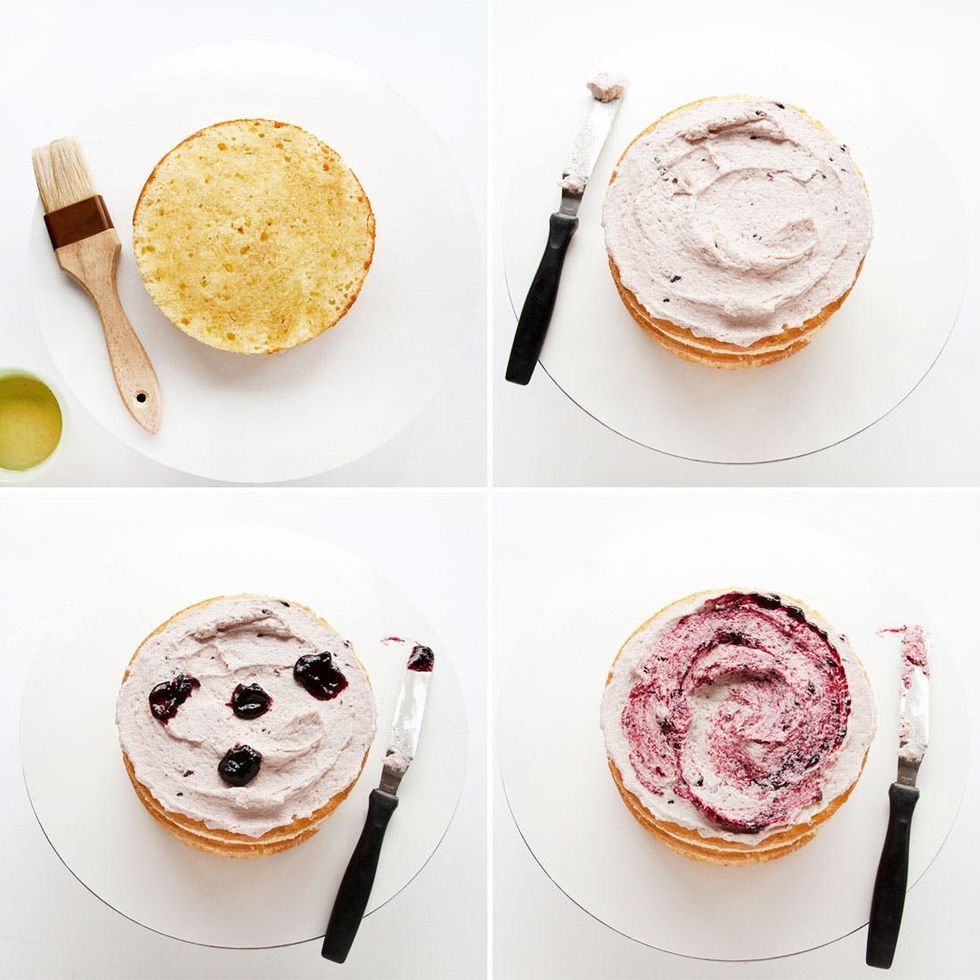 Generously brush each layer of cake with the lavender syrup. Place the bottom layer of cake on a cake board or serving dish. Spread on 1/2 cup of blackberry buttercream with an offset spatula.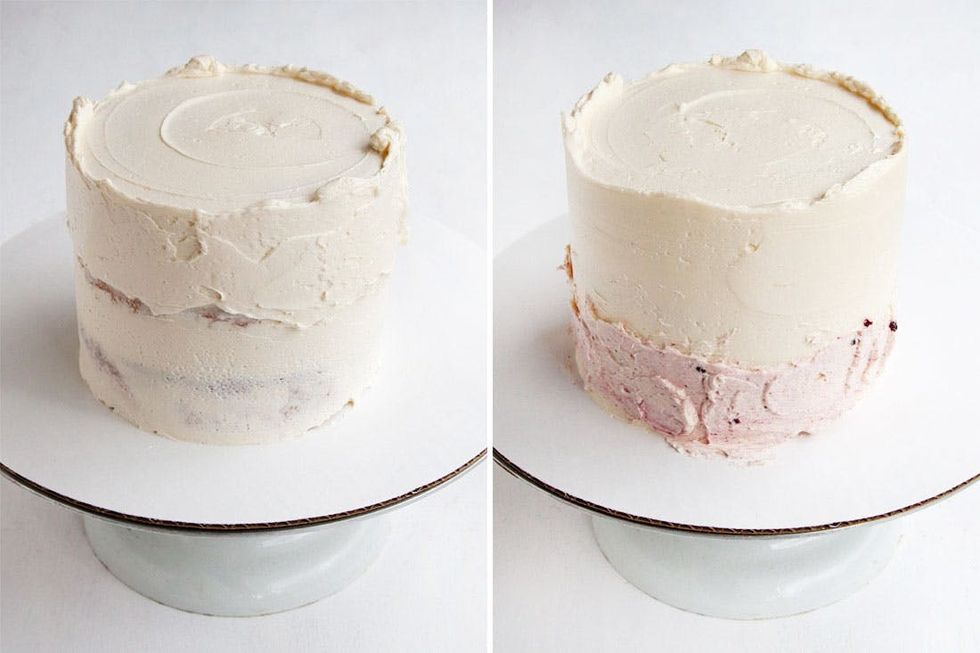 Place a few extra dollops of blackberry jam on top and gently swirl into the surface of the buttercream to create a ripple of blackberry jam. Repeat with the second layer of cake, then top the second layer of buttercream with the third layer of cake.
Crumb coat the cake with the plain vanilla buttercream, then chill to set in the refrigerator for 10 to 15 minutes. Continue to frost the cake with the vanilla buttercream, starting from the top down. At the bottom of the cake, spread on some of the remaining blackberry buttercream.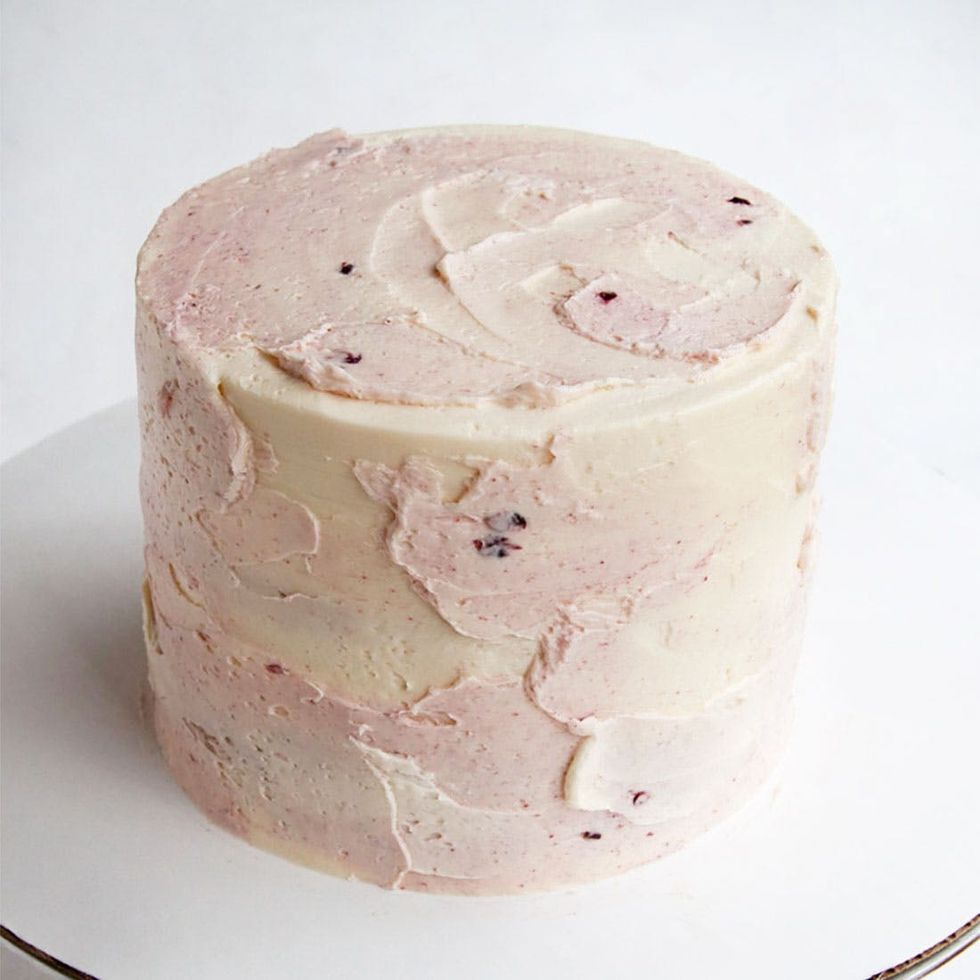 Begin smoothing out the buttercream and swirling the vanilla and blackberry buttercreams together to create a watercolor effect. Add more vanilla or blackberry buttercream as needed to create your desired design.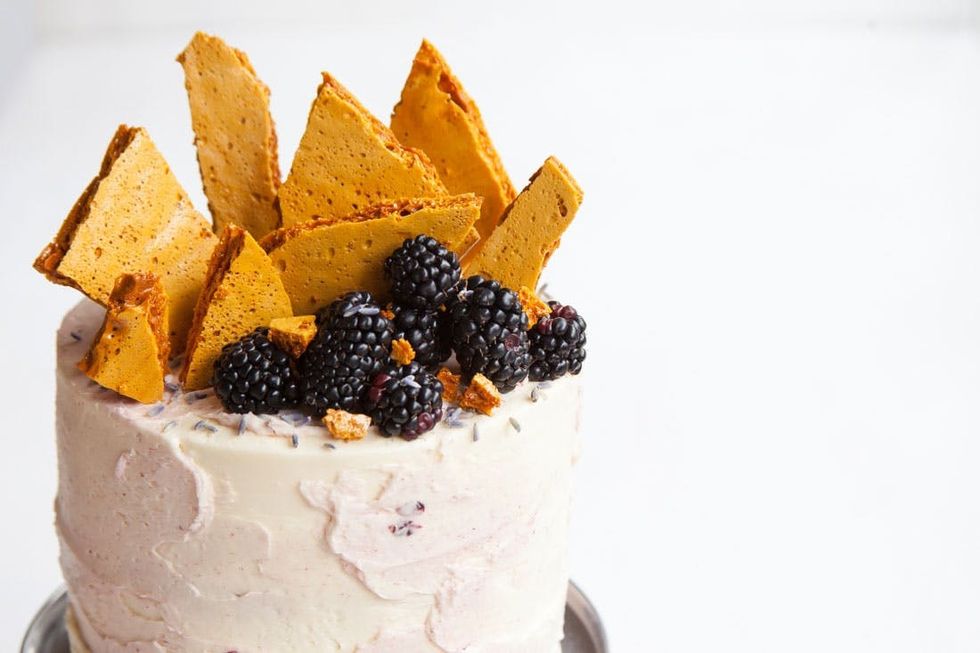 Garnish the top with the honeycomb, fresh blackberries and a sprinkle of lavender.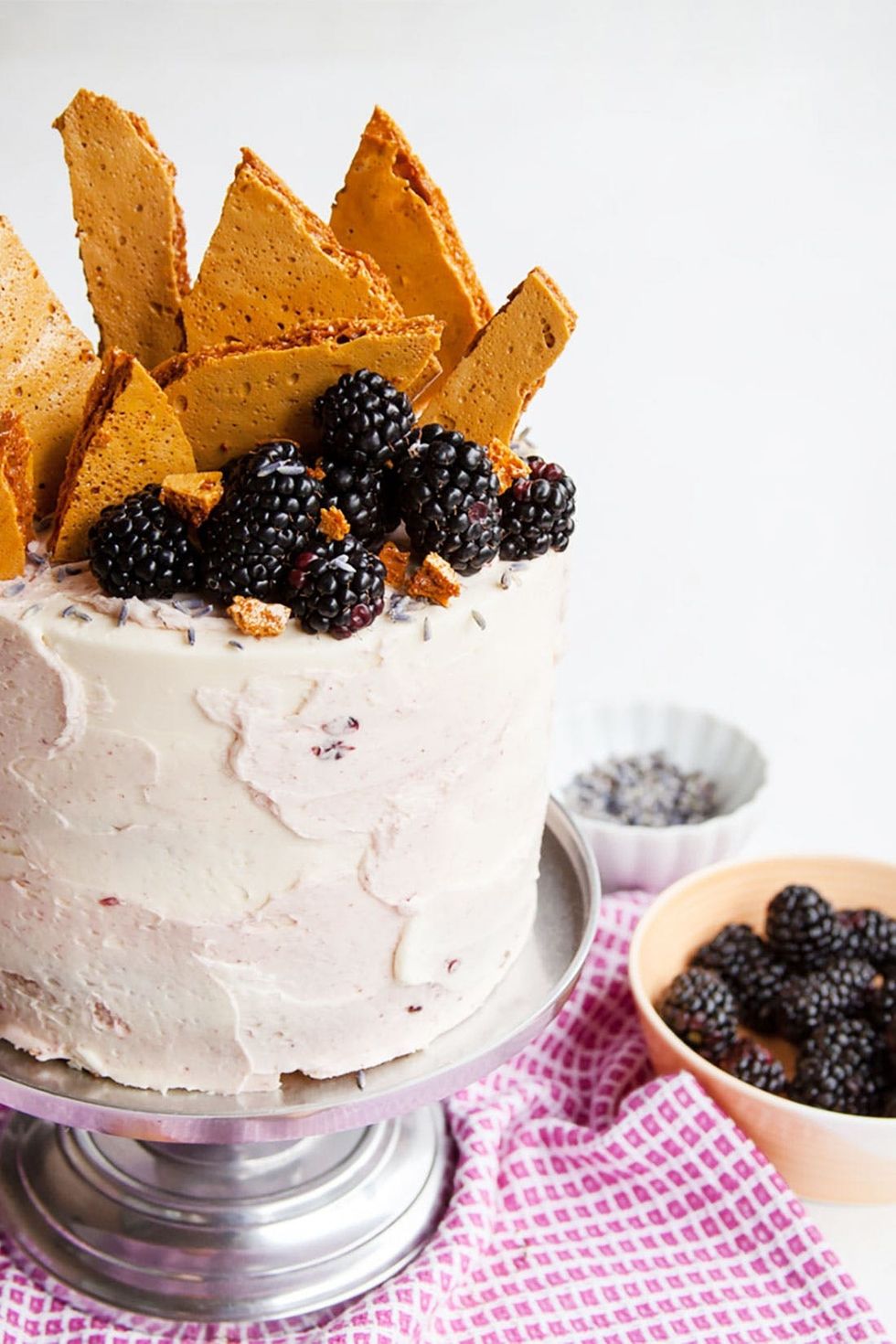 (Almost) too pretty to eat, right? Let your inner artist go to town and turn any cake into edible art!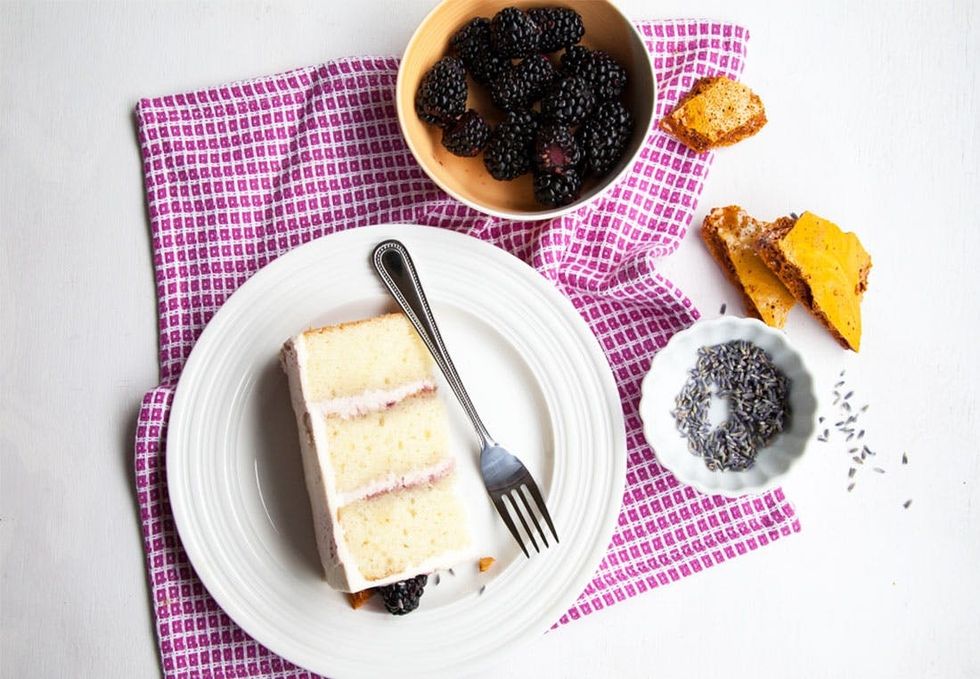 Will you be making this cake yourself? If so, we want to see the results! Share photos with the hashtags #britstagram and #iamcreative so we can take a look.
Tessa Huff
Tessa Huff is a specialty chef and food stylist who urrently lives in Vancouver, British Columbia where she practices both classic and contemporary pastry techniques, recipe development and food photography. Find her at
Style Sweet CA
.
DIY Recipes
Still haven't taken up that new creative skills you swore you'd learn this year? Or ready to take your design skills to the next level? Let's say so long to the weirdest year ever by checking those big learn-something-new goals off our perpetual to-do lists.
We've teamed up with Clorox to give you the gift of unlimited creativity now through the end of the year. Once you sign up, you can take as many of our 120+ classes as you want for FREE for one whole month!
Here's how it works:

Head to brit.co/learn and sign up for the "All Access Pass."
Use the code "CLOROXCARES" at checkout to redeem your free month of classes.
You will be automagically signed up for Clorox's email list once you redeem your free all access pass. (It's the #1 Choice for Disinfection!)
Your pass lasts one month from when you checkout. This means you have unlimited access to all the classes during that month.
This offer is valid now through December 27, 2020.
Browse our catalog to find the right class for you, tell a friend and take the class together over Zoom, or organize a 'cocktails + crafts' night with a friend in your bubble so you can learn something new together.
What are you waiting for? Time to start learning all the things!

Thanks to Clorox for making this happen! When it counts, trust Clorox.
Lifestyle