These Ice Cream Sandwiches Are Boozy + Glittery
Jun 24, 2016
Yes, you read that right — boozy and glittery ice cream sandwiches. You might be asking yourself, "Am I in heaven?!" The answer is yes. These chocolatey, sweet sandwiches are packed with a boozy surprise inside and a glittery outside. And that does equal heaven. Not into boozy desserts? No problem! Substitute the ice cream for your favorite flavor. We suggest cookies and cream or mint chocolate chip.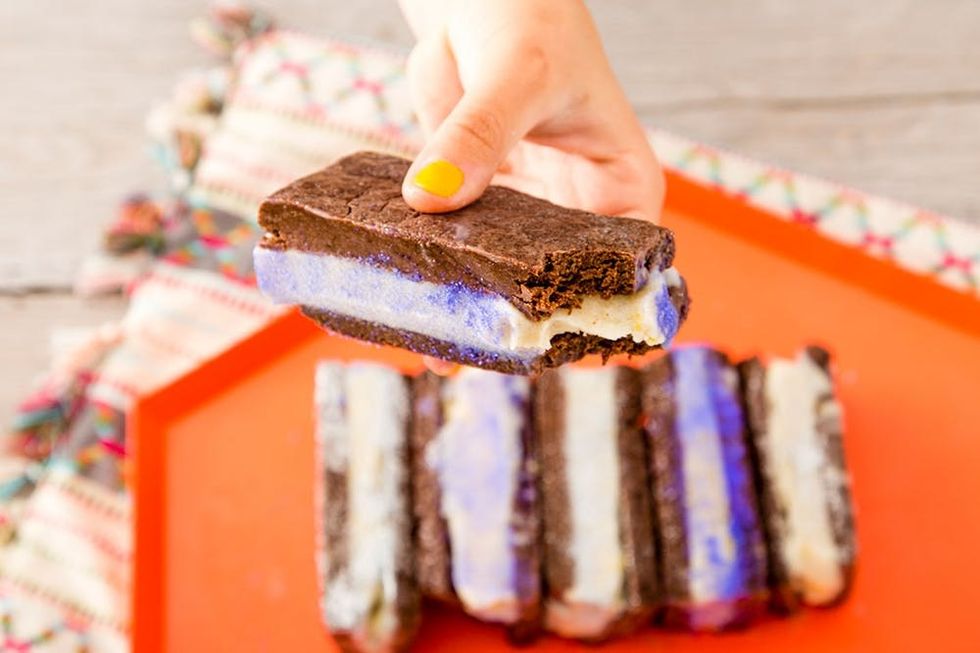 ---
Cookie Ingredients:
— ½ cup vegetable shortening or Crisco
— 1¼ cups light brown sugar
— ½ teaspoon baking powder
— ¾ teaspoon salt
— ½ cup Dutch-process cocoa powder
— ½ teaspoon vanilla extract
— 2 cups flour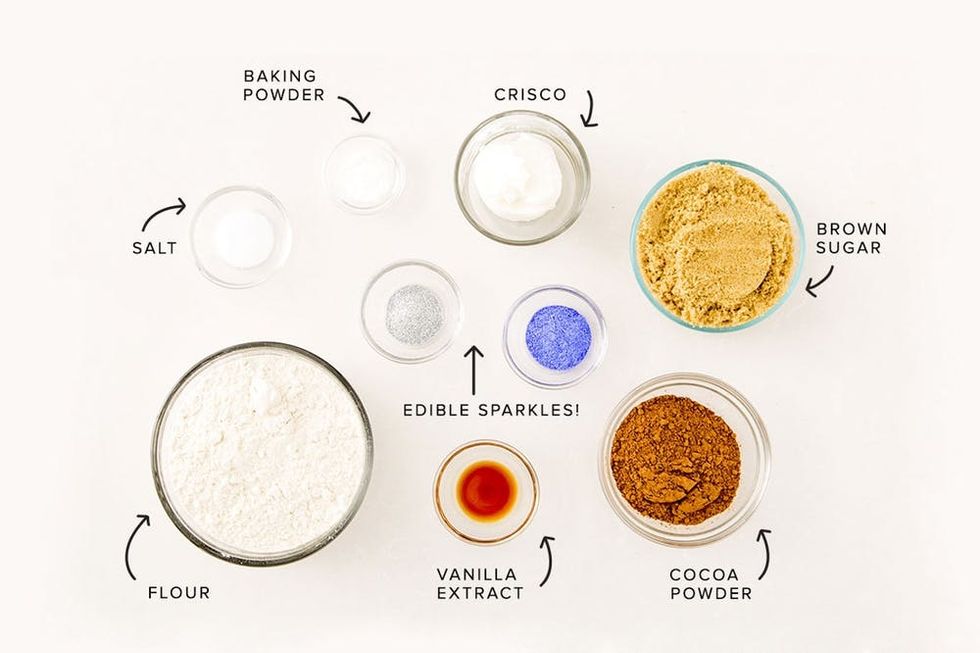 Boozy Ice Cream Ingredients:
— 2 cups of plain yogurt
— 1 cup of sugar
— 4 Tablespoons of Amaro Lucano
— 1/2 teaspoon of orange zest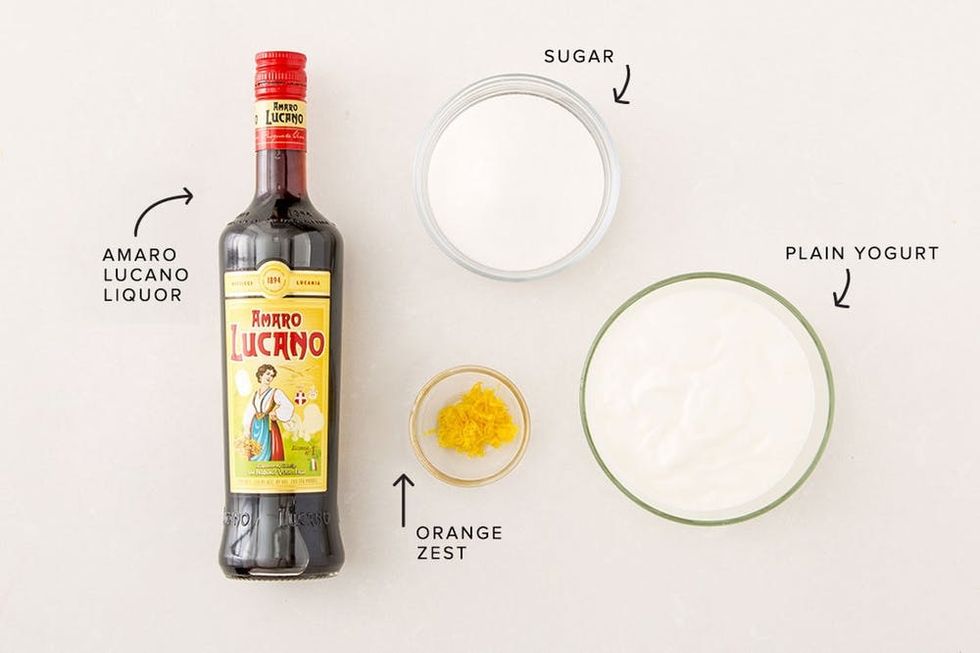 Instructions:
1. Make the ice cream first by mixing together the yogurt, sugar, orange zest and liquor in a bowl. Line a rectangular dish with plastic wrap, pour the mixture into the container and let it freeze overnight.
2. Beat together the Crisco and the brown sugar with an electric mixer. Once mixed, add in the baking powder, salt, cocoa powder and vanilla.
3. Mix in 1 cup of the flour, followed by about 2 tablespoons of water, then add the remaining 1 cup flour and another 2 tablespoons of water.
4. Roll the dough out onto a floured surface to about 1/4-inch thickness. Cut into rectangles that are about 2 x 4 inches and place onto a baking tray lined with parchment paper.
5. Bake for 8 minutes at 350 degrees Fahrenheit and then let cool in the freezer for about 2 hours.
6. Take the froyo out of the freezer and remove from the container and plastic wrap. Cut the block into 1/2-inch slices and dip the sides in edible glitter.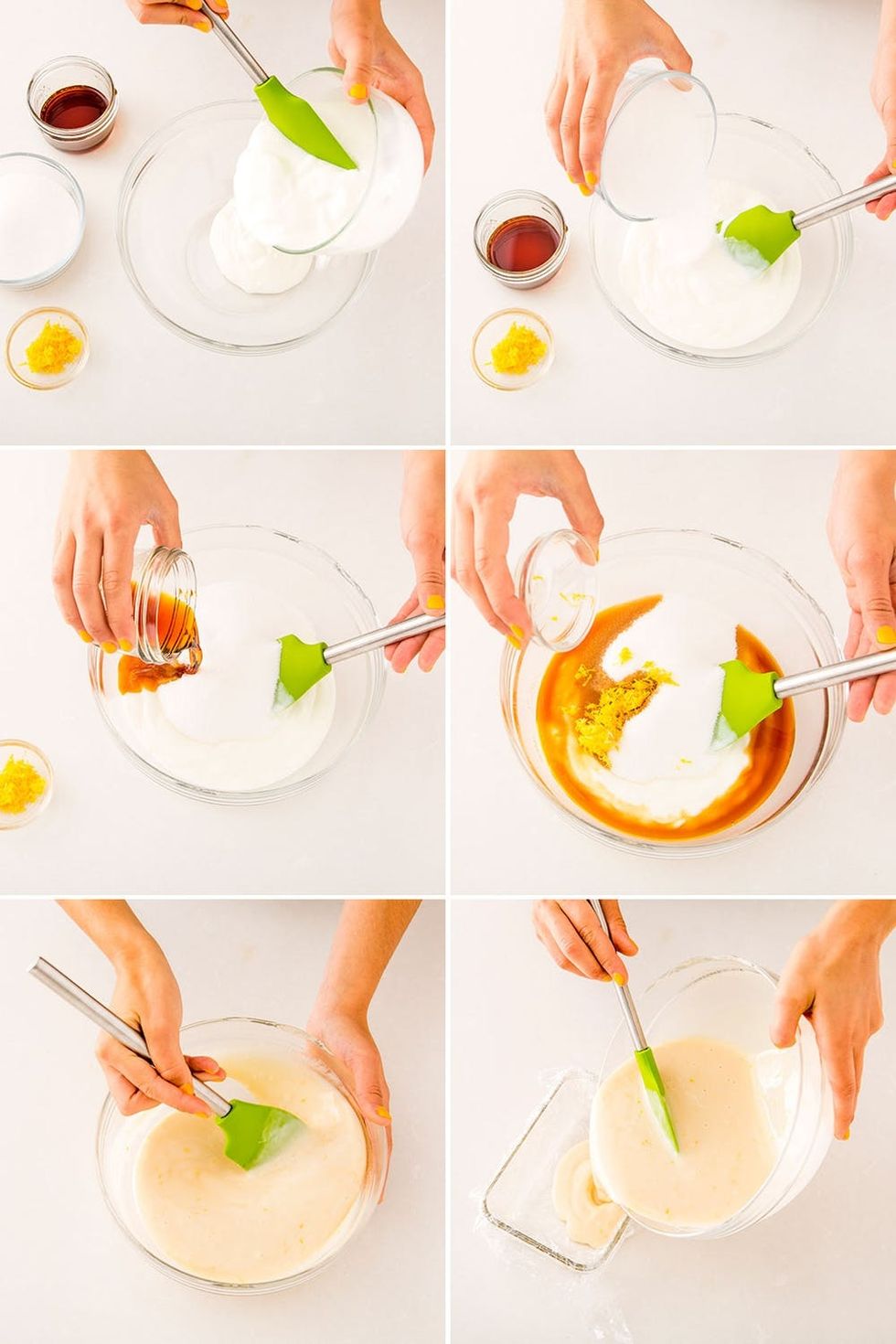 This boozy froyo is a breeze to make. The orange flavor is strong, so add accordingly.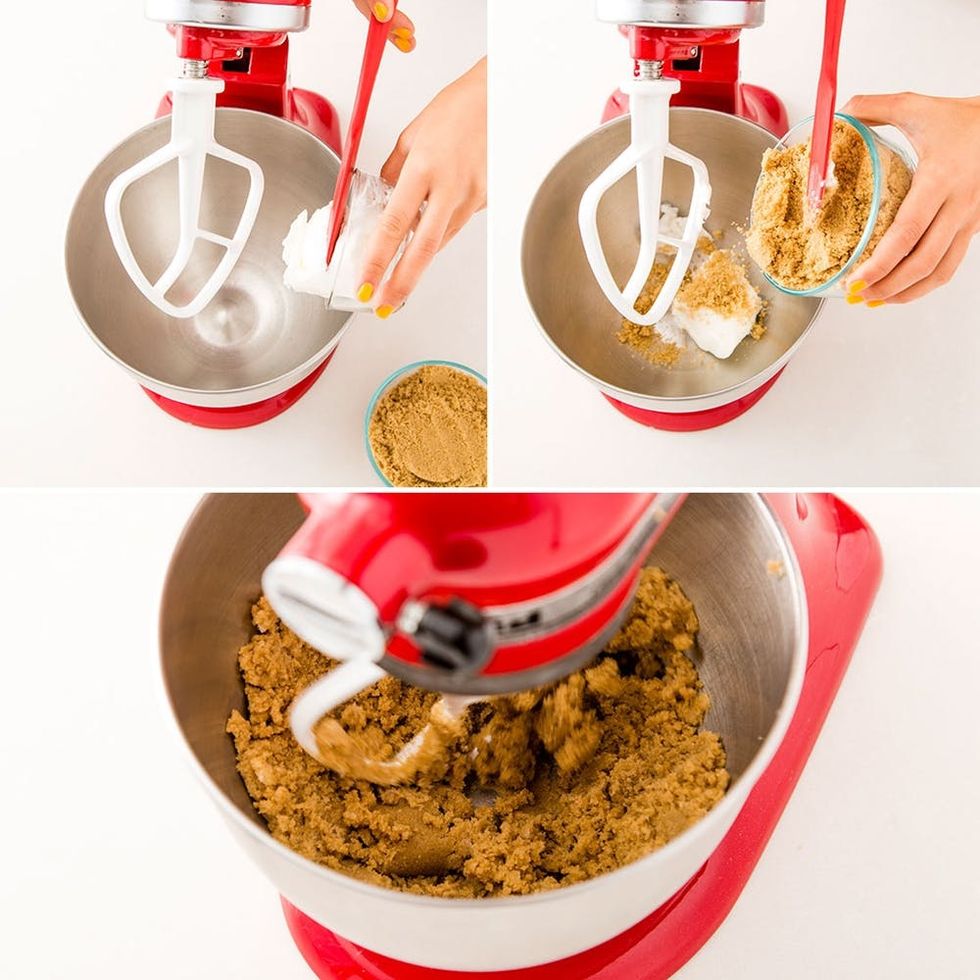 Add Crisco and light brown sugar into an electric mixer and beat until combined.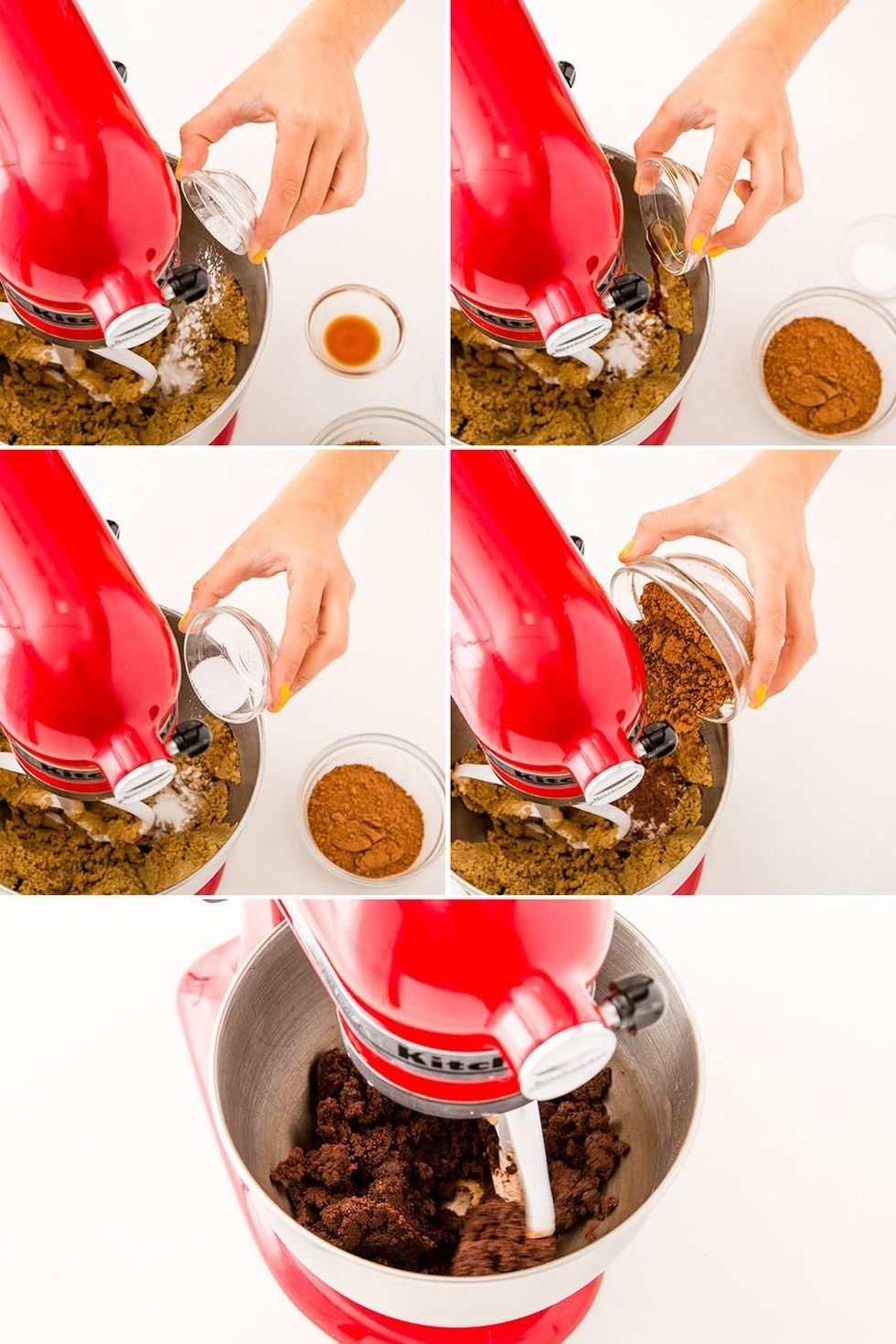 Next add baking soda, vanilla, cocoa powder and salt into the mixer, and let it mix until fully combined.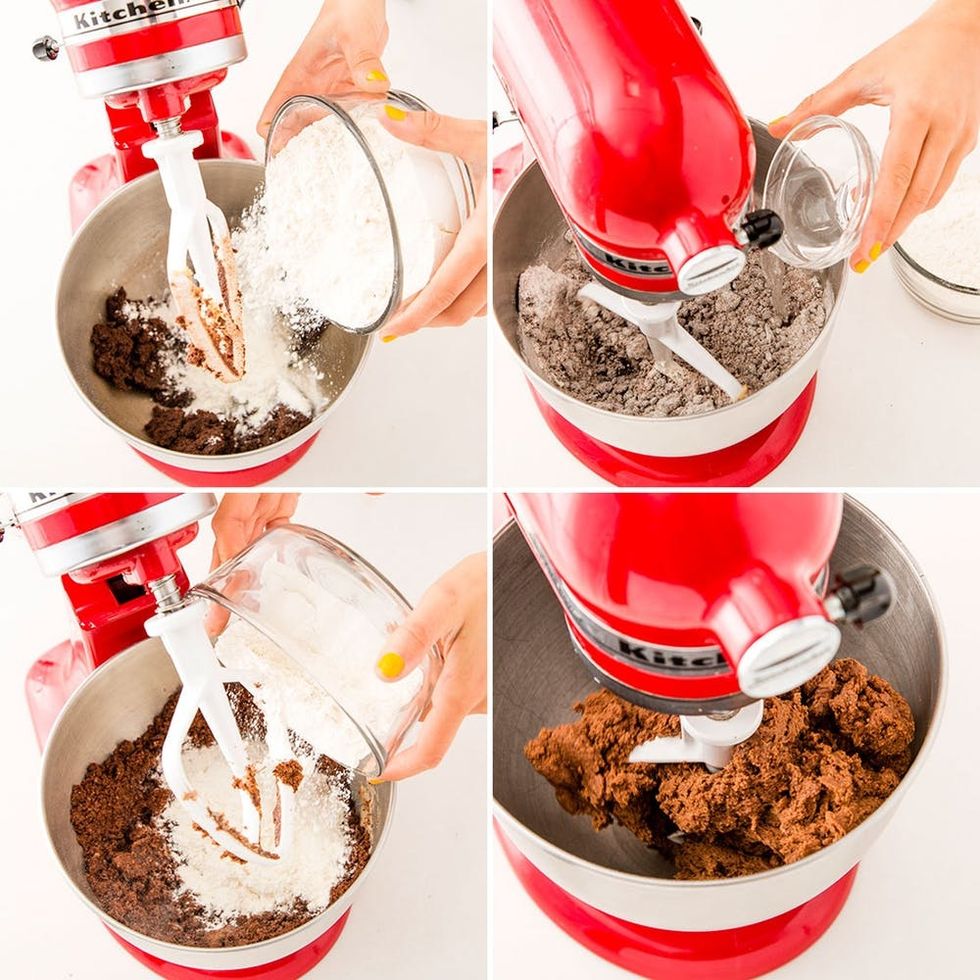 Divide the flour in half and add into the chocolatey mixture. It will be dry, so add in about two tablespoons of water and then mix until combined. Add in the rest of the flour and another two tablespoons of water and stir until no dry ingredients remain.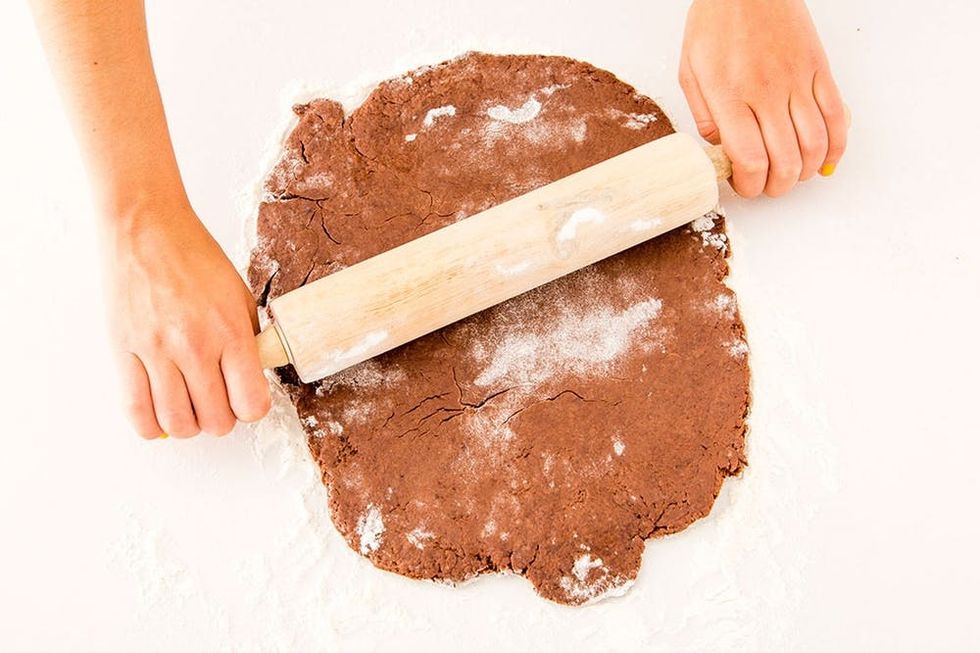 Roll out dough on a floured surface to be about 1/4-inch thick. Cut into 2 x 4-inch rectangles.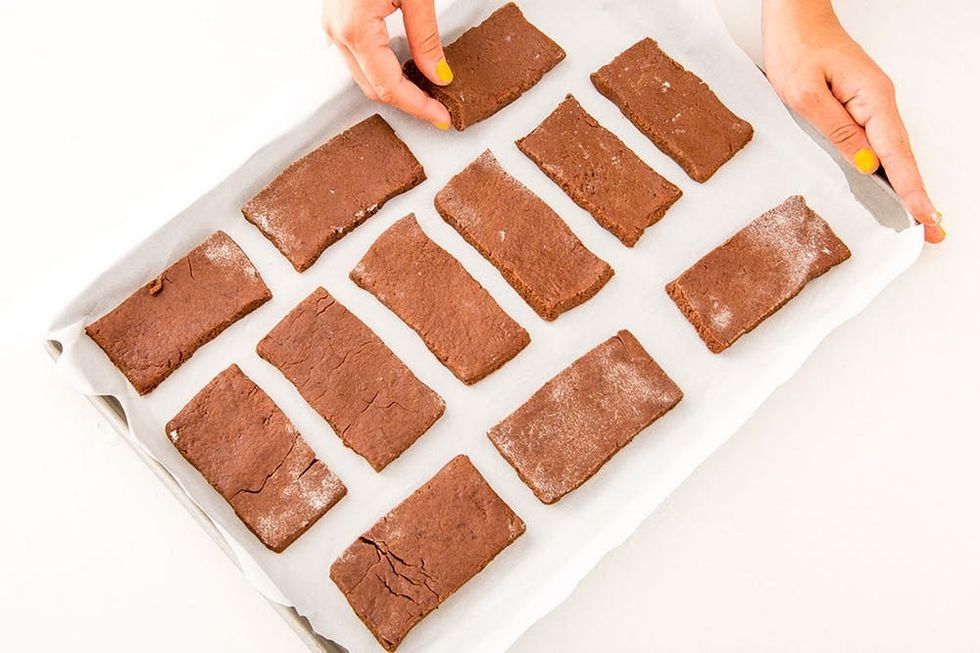 Place cookies on a baking tray lined with parchment paper and bake for eight minutes at 350 degrees Fahrenheit. Let cool and then place in the freezer for about two hours.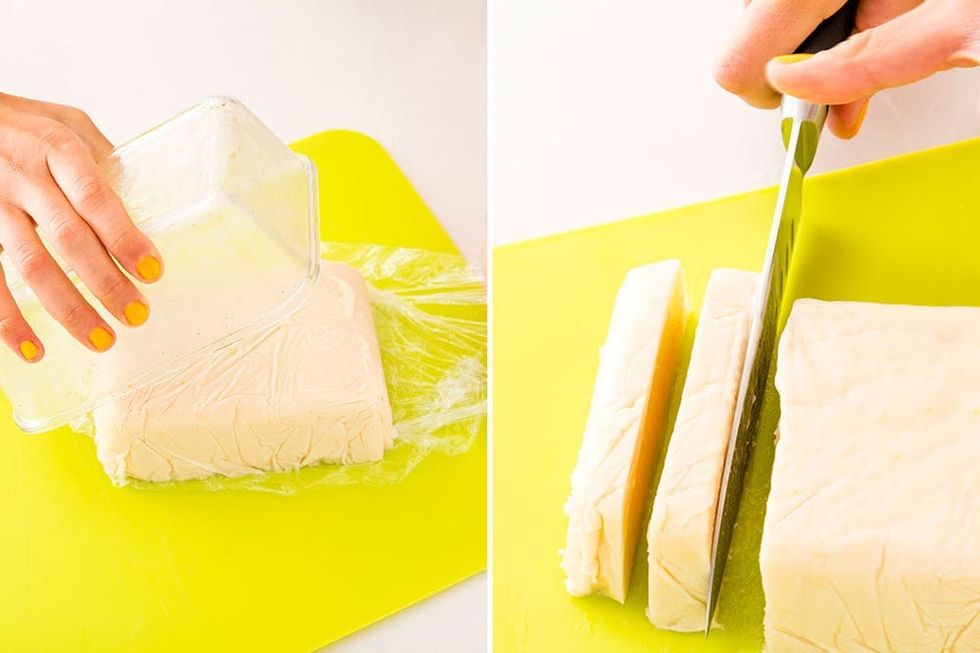 Once the cookies have frozen, remove the boozy froyo and start assembling your sandwiches. Remove the froyo from the container and cut into 1/2-inch slices.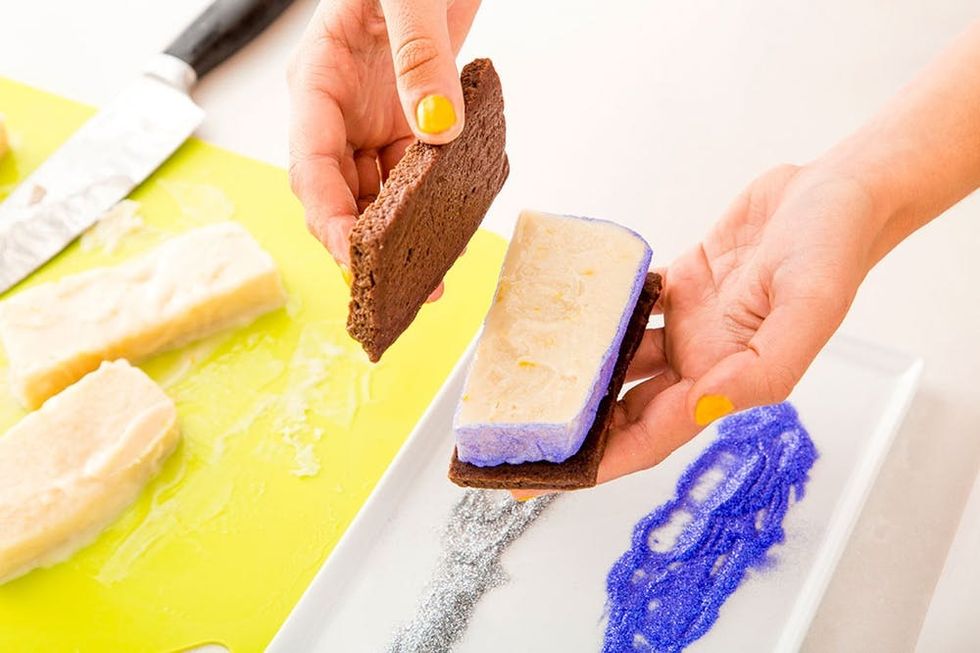 Quickly dip the edges of the froyo into edible glitter and then place inside two chocolatey cookies. Place back in the freezer for about two hours before eating.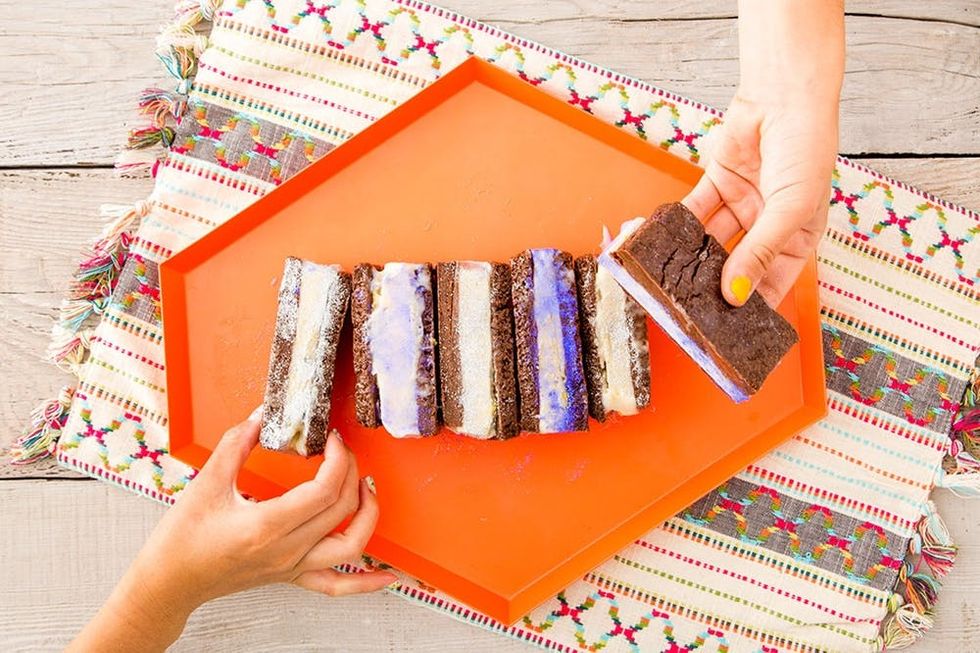 Set them out on a platter and watch how quickly they go!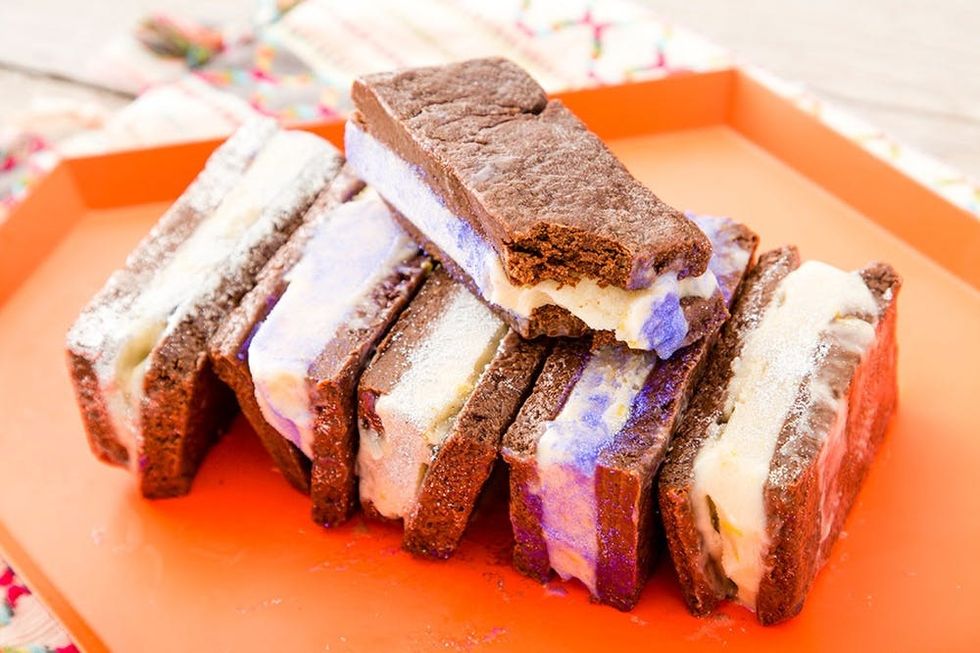 Show us your project by tagging us on Instagram + using the hashtag #iamcreative!
DIY Production and Styling: Kelly Bryden
Photography: Chris Andre
Brit + Co may at times use affiliate links to promote products sold by others, but always offers genuine editorial recommendations.
Kelly Bryden
Kelly Bryden, an east coast native, is stoked to be a part of the Brit + Co team. Design, DIY, and fashion are her passions. If she isn't crafting you can catch her on the dance floor or wrapped up in aerial silks.