16 Classy and Colorful Clutches
Dec 19, 2013
Whenever formal attire is required, there's really only one way to carry around your necessities in style: and that's with a killer clutch. While it's super easy to pump up a plain ol' clutch you already own, we can understand if all that holiday gift wrapping has drained your DIY spirit. So we found these 16 cute and colorful clutches fit for high-class soirees that you can buy with minimal effort—just a few clicks ;) Act now and you'll have a boss evening bag in your hands in time to count down to midnight on New Year's Eve!
---
1. Joan Clutch ($98): Of course we'd start of this roundup with a color block clutch. The pops of patent leather hot pink and teal make this tote totally party-ready.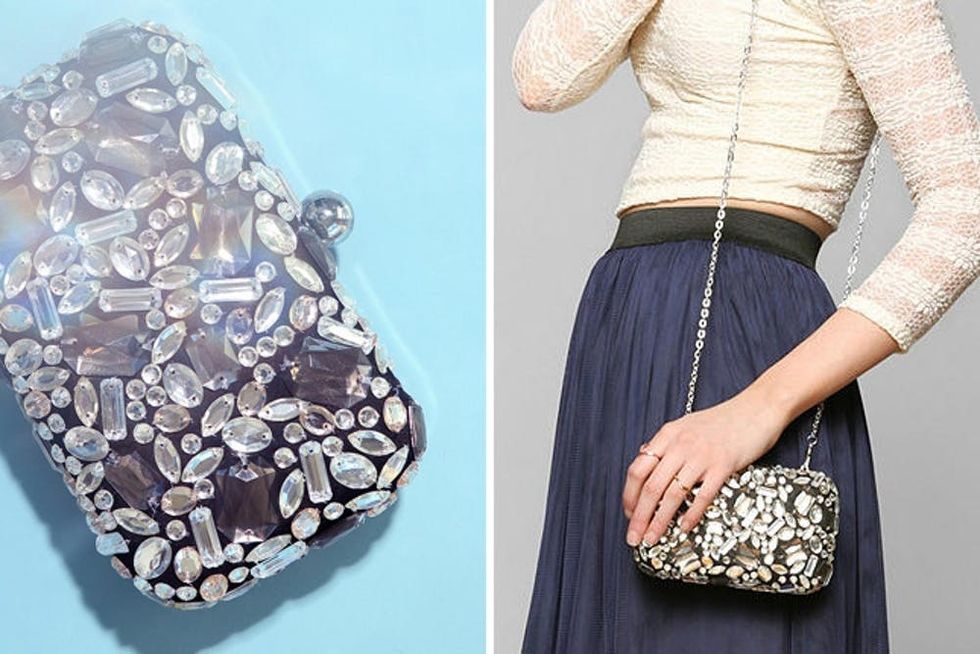 2. Kimchi Blue Gem-Encrusted Hard-Case Clutch ($49): If you haven't noticed, bedazzling is back in style and since we geek-out at all things '90s, we're totally cool with it.The elegant colors on this jewel encrusted clutch keep things classy.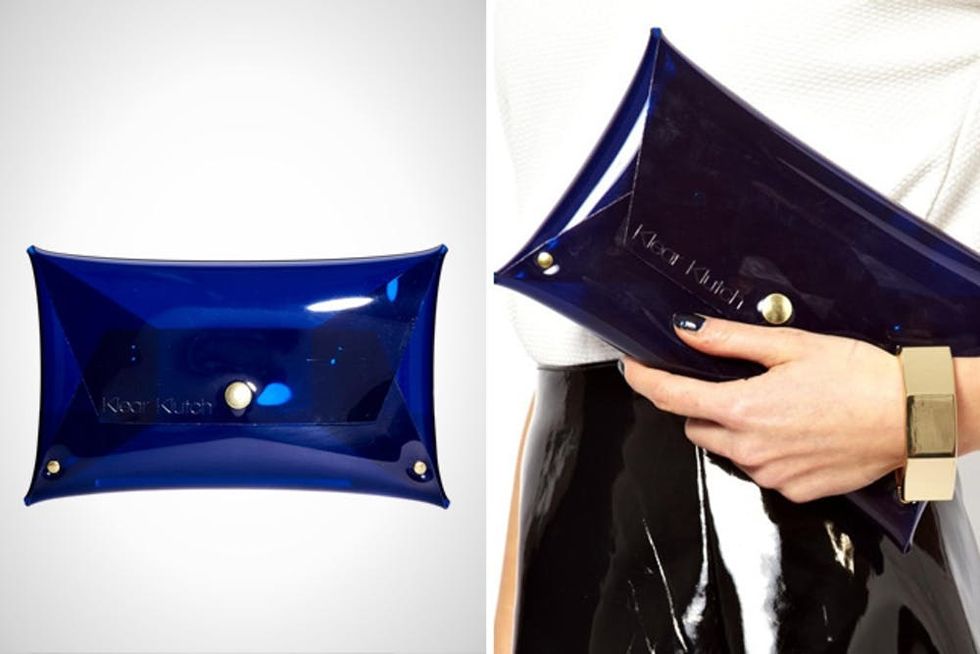 3. Klear Klutch Small Navy Clutch Bag ($73): Maybe a see-through clutch isn't the most effortless way to mask your essentials, but if we rocked this trend, we'd choose a darker tinted bag like this navy envelope number. Since it's made of plastic, it's got a sleek natural sheen.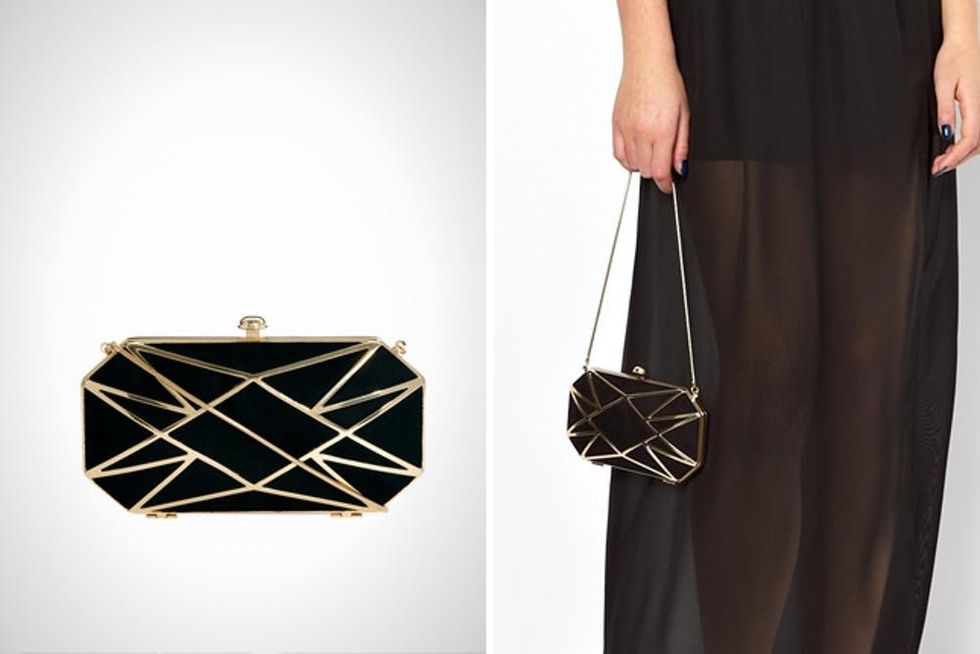 4. Coast Diamonds Clutch ($100): If you're geo-obsessed like us, then you're gonna freak out over this luxe clutch. It's the perfect way to add a touch of Gatsby glitz to your get up.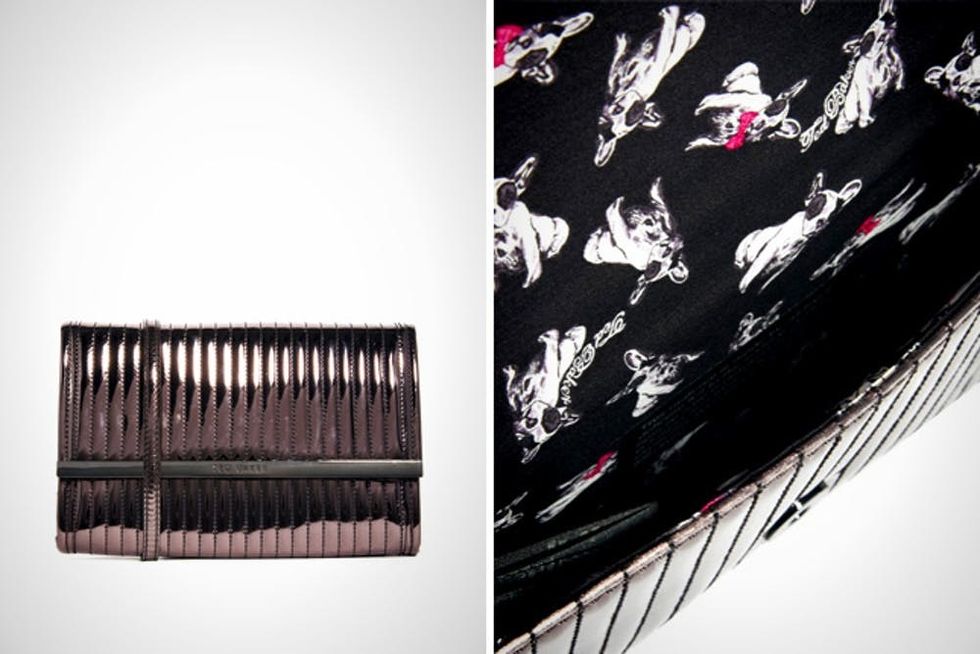 5. Ted Baker Novia iPad Quilted Clutch ($125): This quilted clutch isn't just awesome on the outside (we're nuts about that high gloss finish): you're met by the most adorable bow tie clad terriers every time you open it up. So freakin' cute.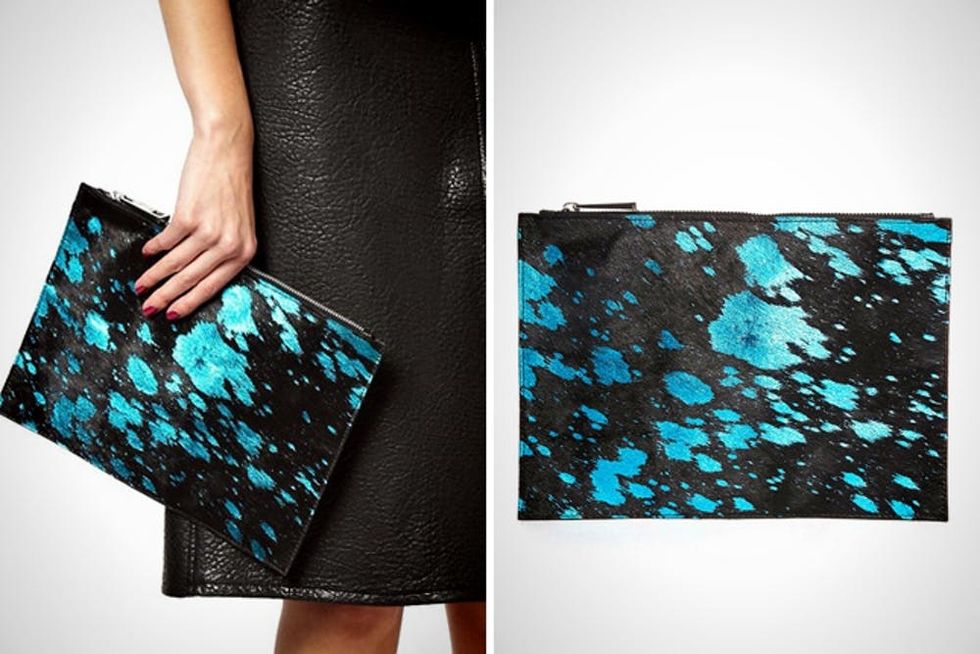 6. Asos Leather Clutch Bag in Pony Paint Splatter ($64): You were just thinking you could use another neon accessory is your wardrobe, weren't you? We're diggin' the '80s vibe of this electric blue pony hair bag.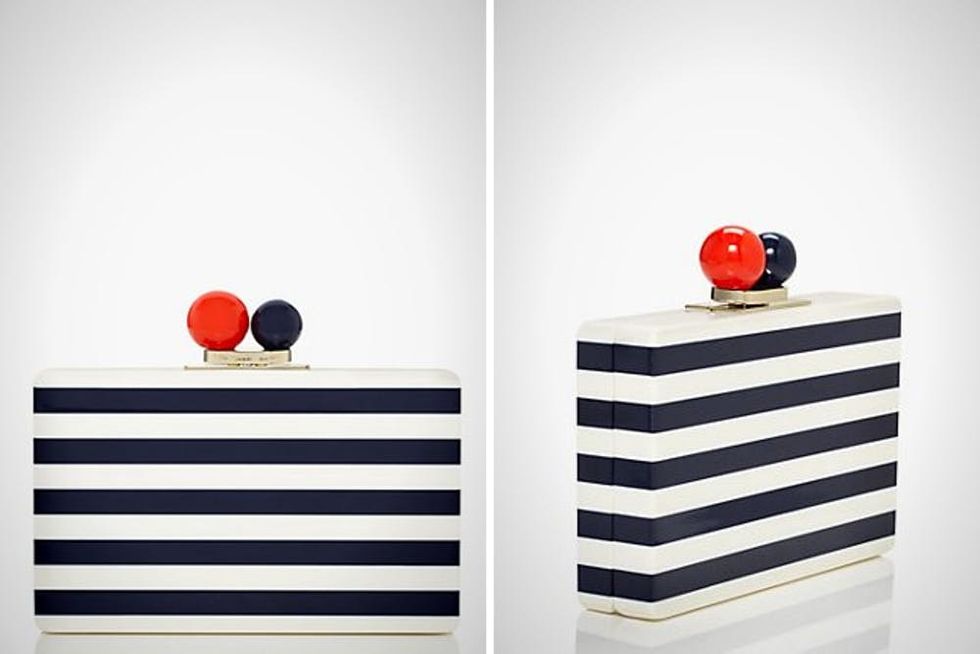 7. Get Out of Town Rita Clutch ($298): There's something so modern about this nautical-inspired clutch. From the super clean navy stripes to the two-toned bauble closure, it's sure to pop against black cocktail dress.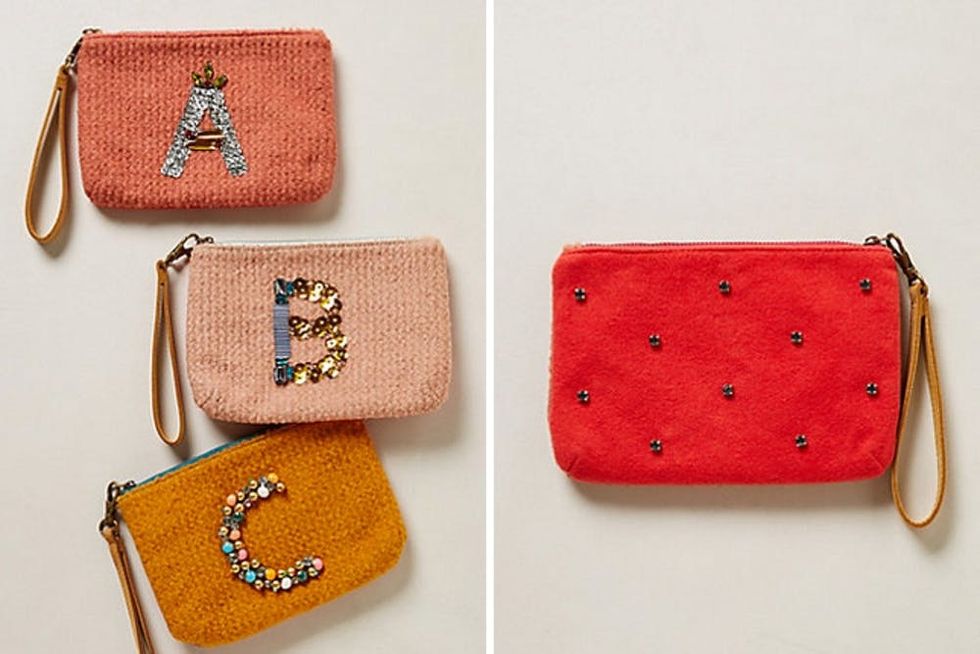 8. Gem Monogrammed Wristlet ($28): These wristlets are monogrammed with beads and sequins. That's about all you need to know.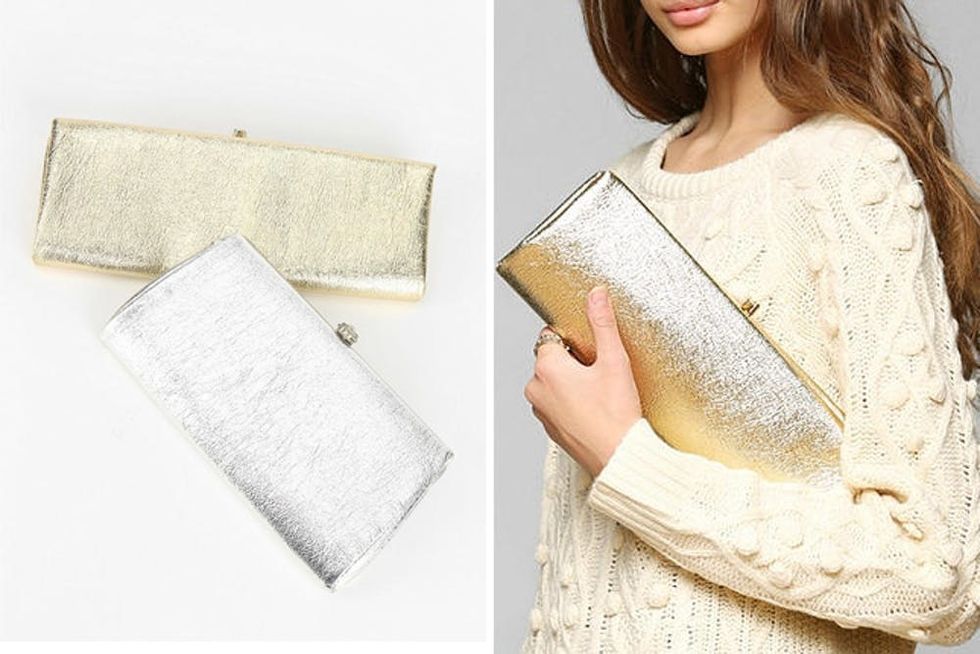 9. Urban Renewal Vintage Metallic Clutch ($34): You can't ever go wrong with a metallic clutch. We love the basic design of these vintage deadstock finds—they feel extremely elegant.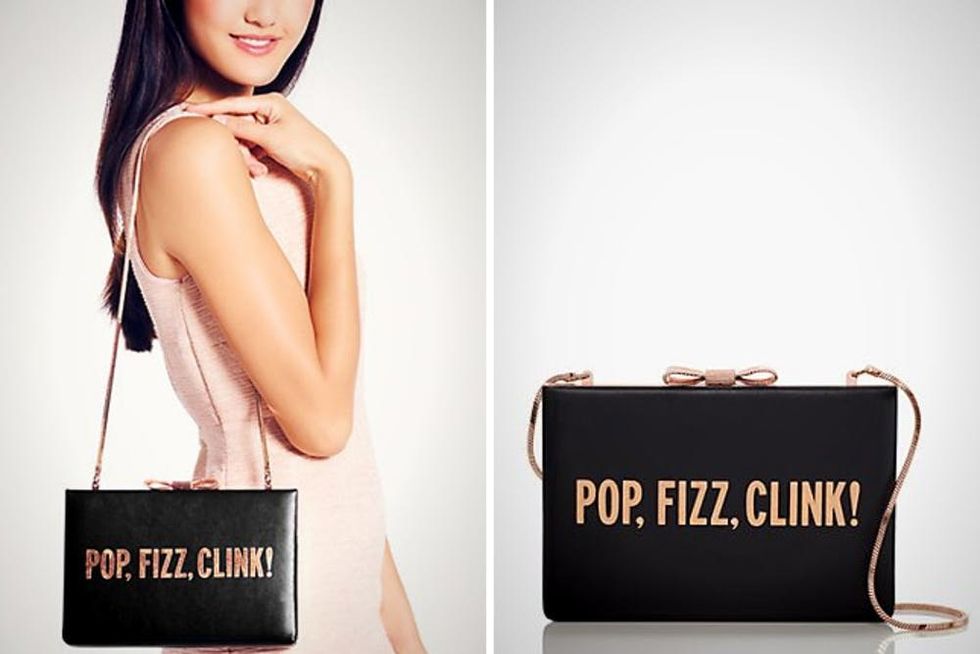 10. All That Glitters Emanuelle ($328): Kate Spade is killing it with its champagne party-themed offerings like this necklace, bangle, and of course this amazing statement clutch. It's a must-have for New Year's Eve!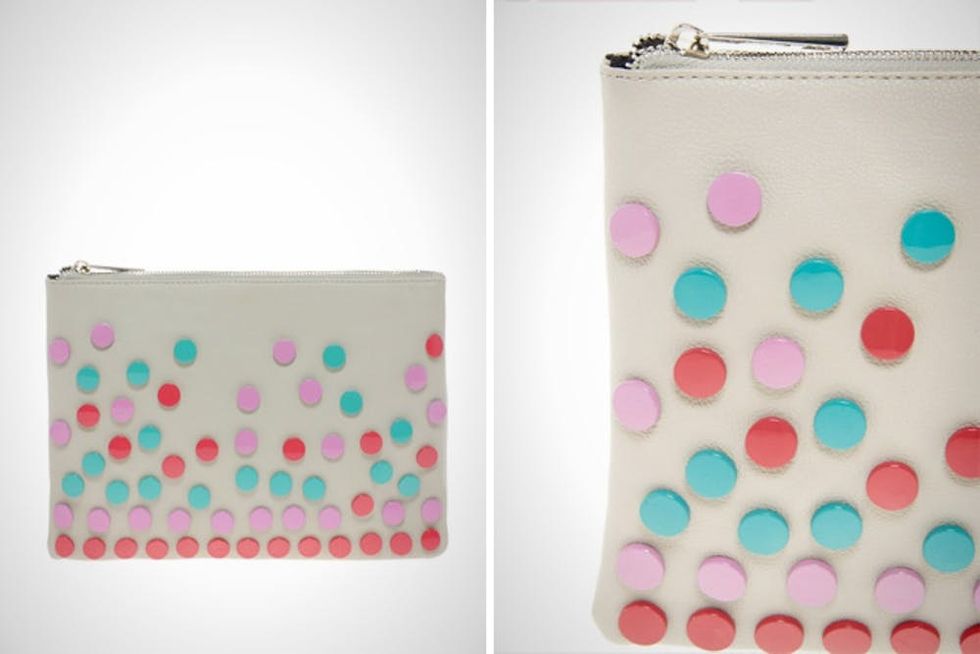 11. Asos Clutch Bag With Enamel Studs ($30): This pastel studded bag might be one of the most versatile on the list: it can easily be taken to the banquet table and the dive bar. We're smitten with the fun, confetti style pattern.
12. Vega Beaded Pouch ($68): Go all-out glam with this eye-popping patterned clutch. The contrast stripes really take it up a notch, but we're all about that big beaded tassel.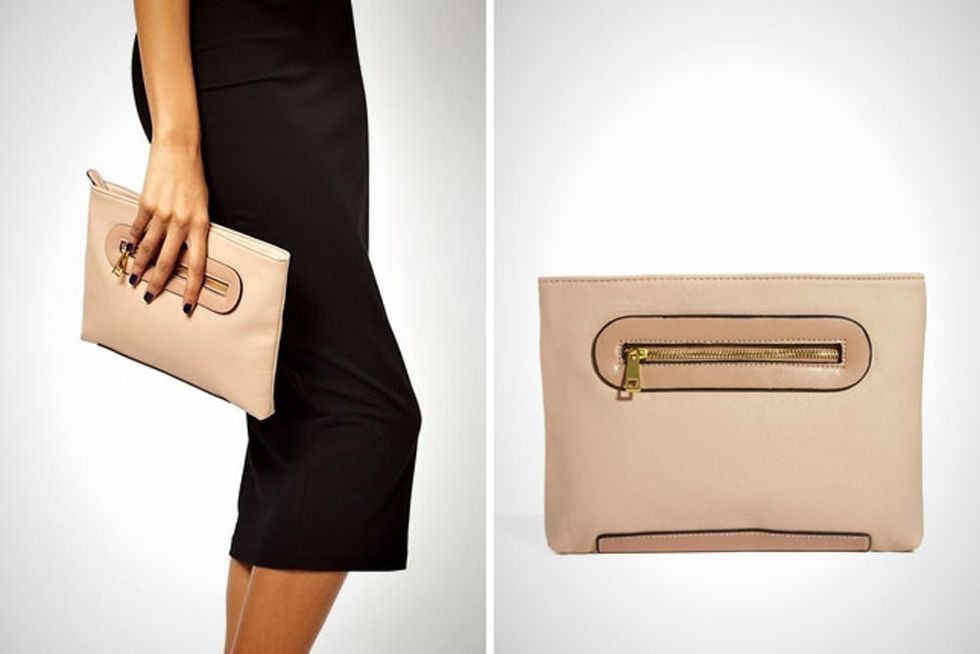 13. Asos Zip Detail Clutch Bag ($22): If you're looking for a more classic clutch look, then this nude number is the bag for you. Its fluid, black trimmed details make the clutch feel sleek and seamless.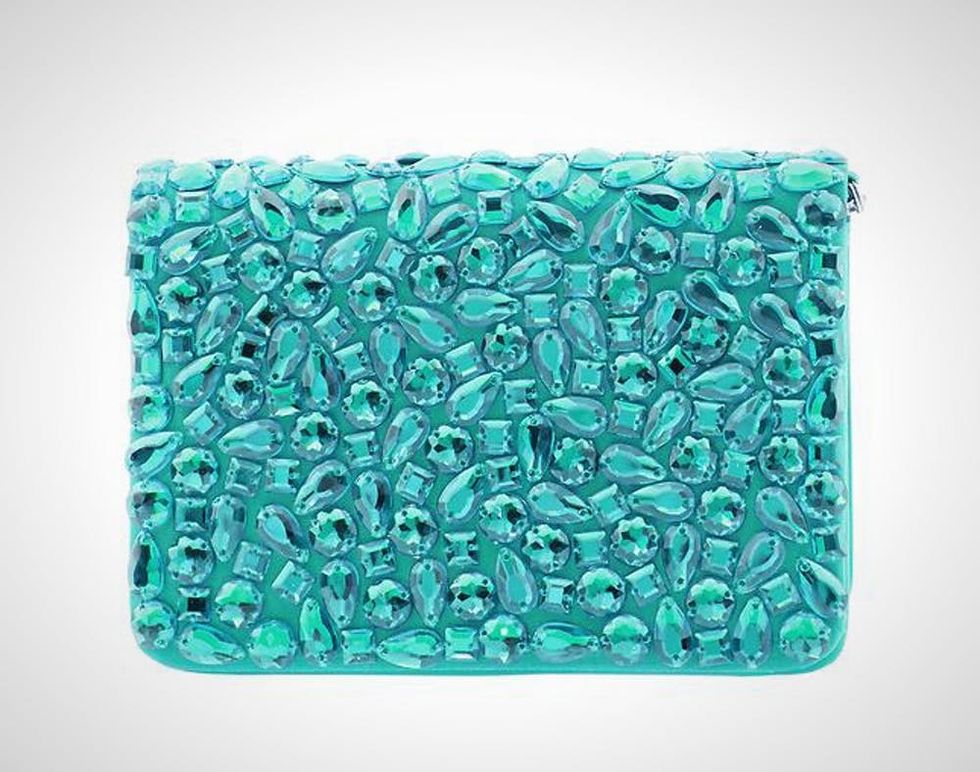 14. Annie Beaded Crossbody ($98): Clear crystal gems give this teal bag a cool monochrome look that's right on trend. This clutch was kind of made for us.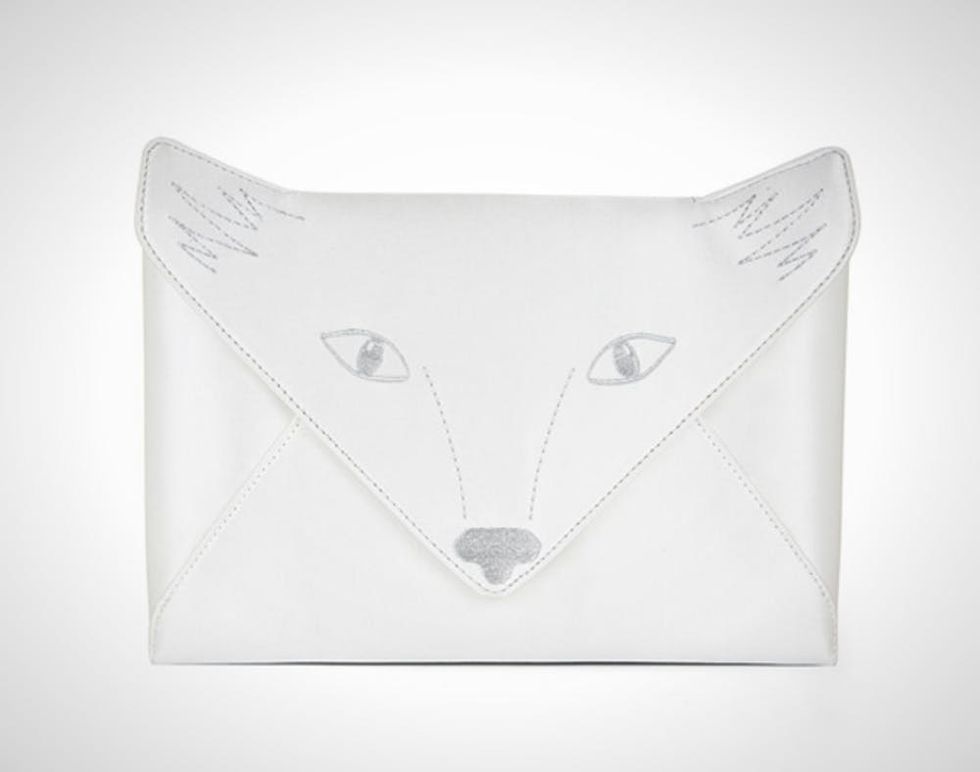 15. Foxy Embroidered Satin Envelope Clutch ($77): We have to say it: this clutch is super foxy. We love that such a high end accessory can also be super playful.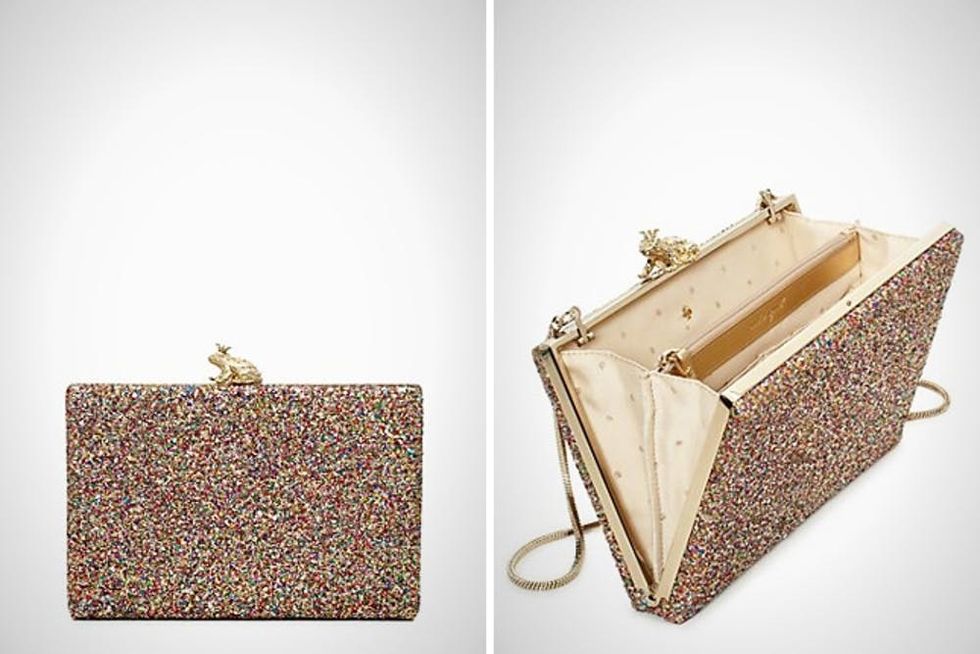 16. I Kissed a Frog Multi Clutch ($328): Samsies for this amazing glitter clutch. The frog prince bauble closure adds another level of fantasy to this charmingly whimsical bag.
What other bold accessories do you rock with formal attire? Tell us in the comments below!