These 'Broad City' Halloween Costumes Will Unleash Your Inner KWEEN
Sep 16, 2017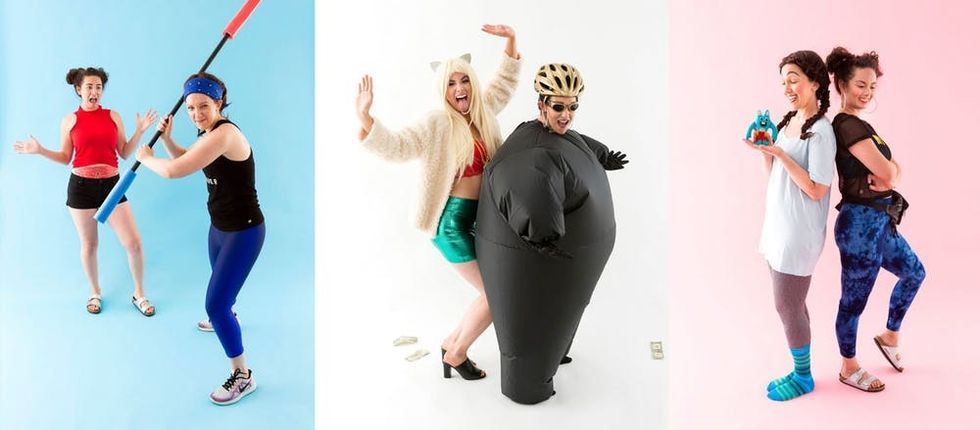 If you're like us and love Broad City — to the point where you daydream non-stop about BFF-ing it up with BB&B-obsessed BBs Abbi and Ilana and have been psyched for season four since the minute season three ended — chances are, you're probs planning on rocking one of their many looks this Halloween. Or maybe you already slay that outrageous BC style every day. No judgment here. Either way, click through for six of our fave get-ups that are totally DIY-able and sure to make you (and all your girls) scream, "Yas Queen!"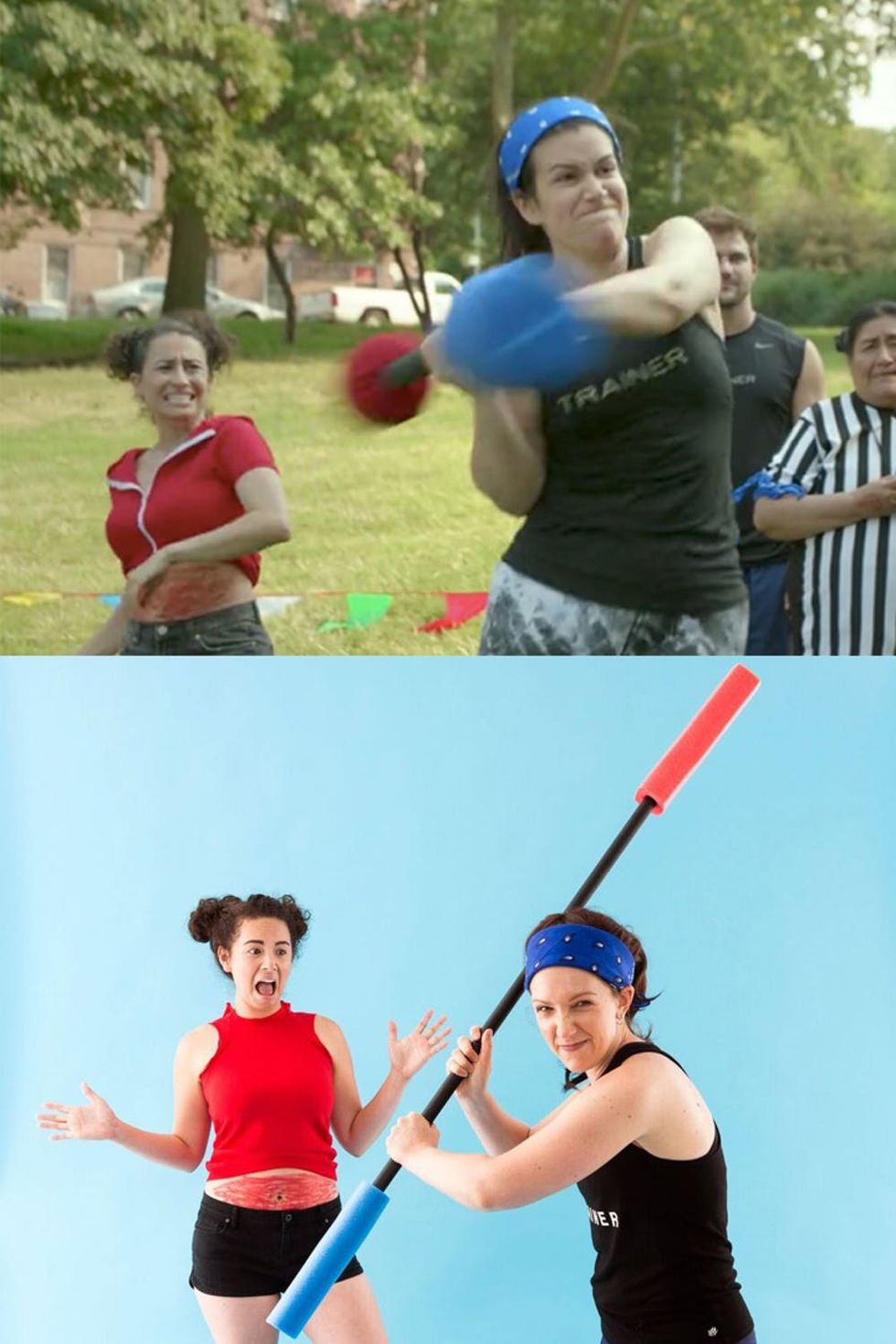 All Caps Abbi + Dog Hoody Ilana: From season three's "Game Over" episode where Abbi competes in the Soulstice Games and Ilana loses her job at Deals! Deals! Deals!, this costume pairing just might be two of the show's most iconic looks. We think B+C's dynamic design duo Rebecca and Emily really nailed it.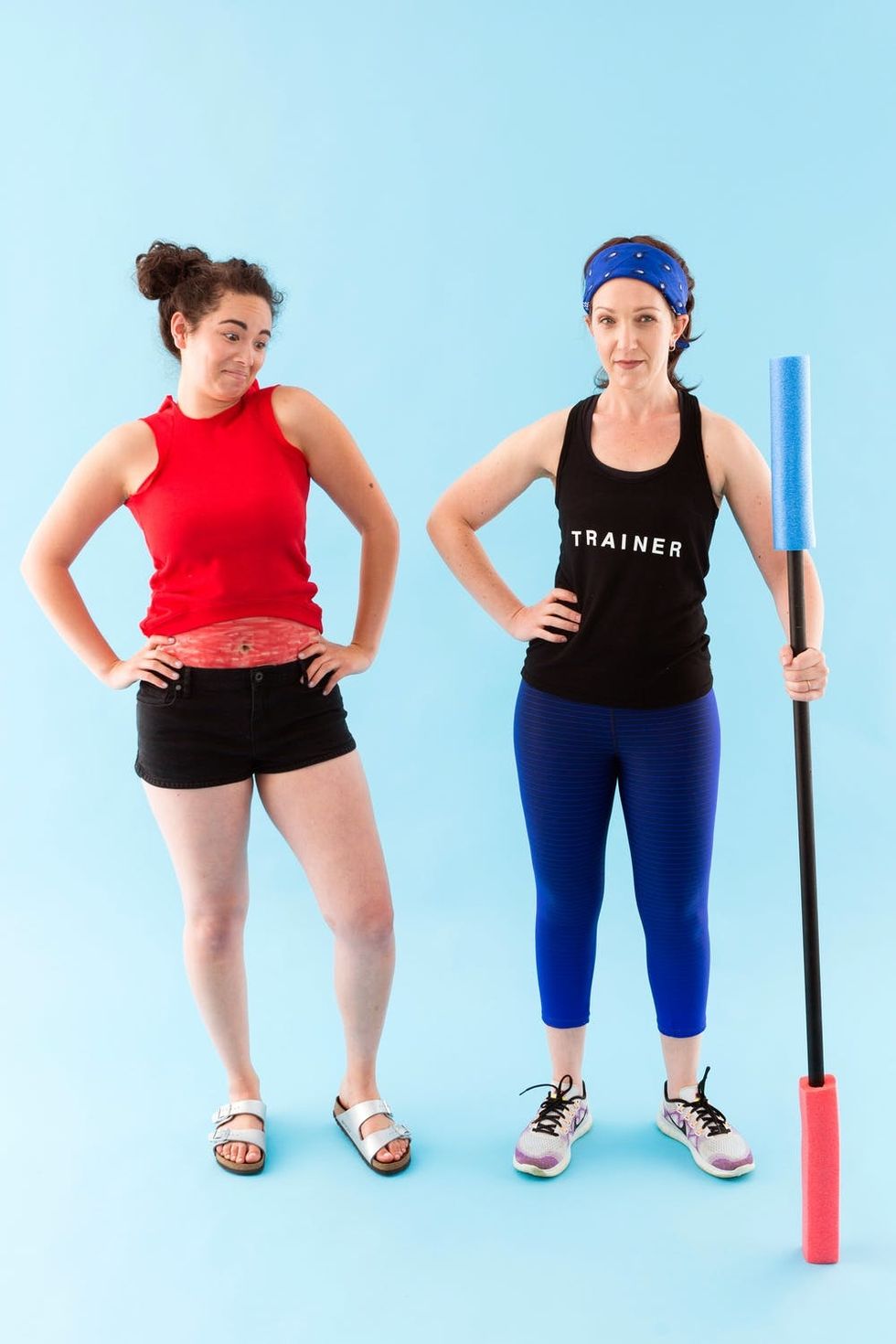 In this episode, Abbi unleashes her inner (and aggressive AF) competitor and eventually gives her Soulstice coworker a bloody nose. Meanwhile, Ilana's boss calls her out for showing too much skin at work after she is unknowingly rocking a dog hoody (yes, there is a leash and earholes). She uses a red Sharpie as a quick solve but then gets fired anyway after she tweets some v. inappropriate material via the company Twitter account.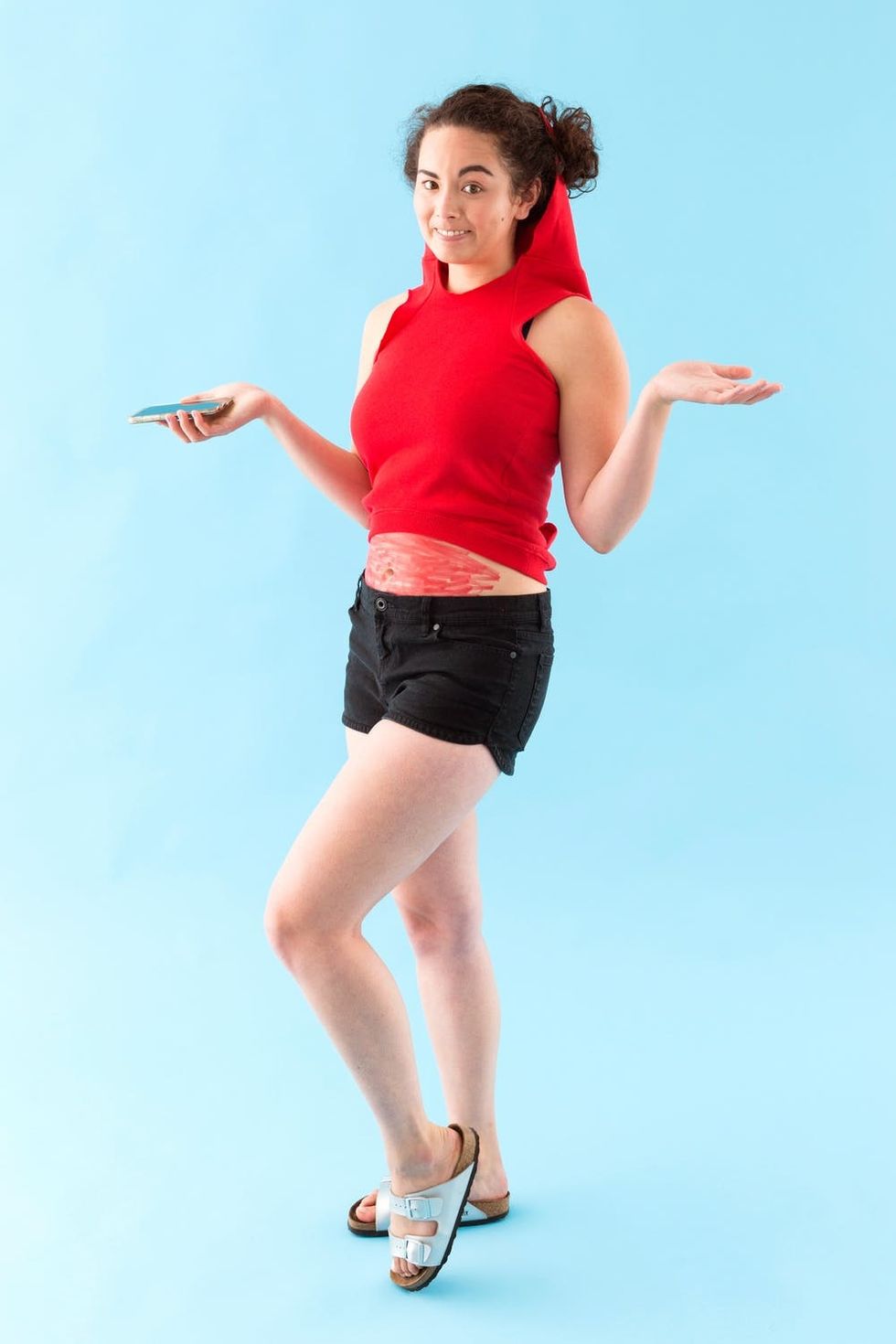 To get Ilana's look we recommend getting an actual dog hoody. We found this XL/XXL Basic Dog Hoody ($12) on Amazon and cut it up a bit to make it fit. Pair with any ol' shorts, a fat red Sharpie, and some comfy shoes to keep you dancin' like a kween all night long. Her makeup is super subtle and her hair is styled into Ilana's signature pigtail buns.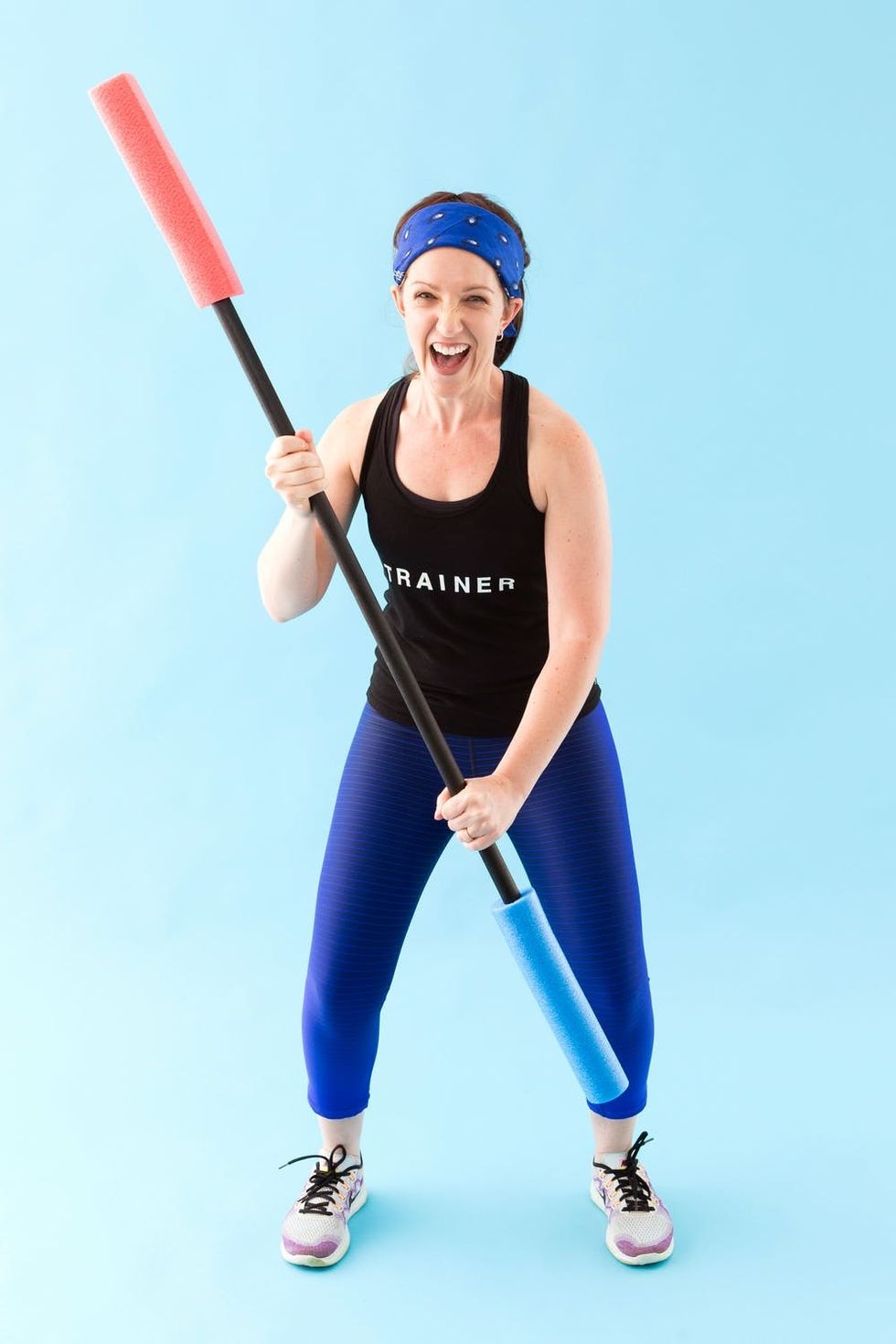 Copy Abbi's hyper-competitive look by pretty much just using what you have in your closet. If they're not kicking around your house already, order a Blue Paisley Bandana ($6) and some Iron-On Letters ($8), both available on Amazon. If you're a blonde like Emily, then we recommend buying something to change that ish up. We found this Brown Curly Wig ($24) on Amazon, and our MUA magician Misty teased it into a ponytail. We think she looks pretty dang good as a brunette TBH.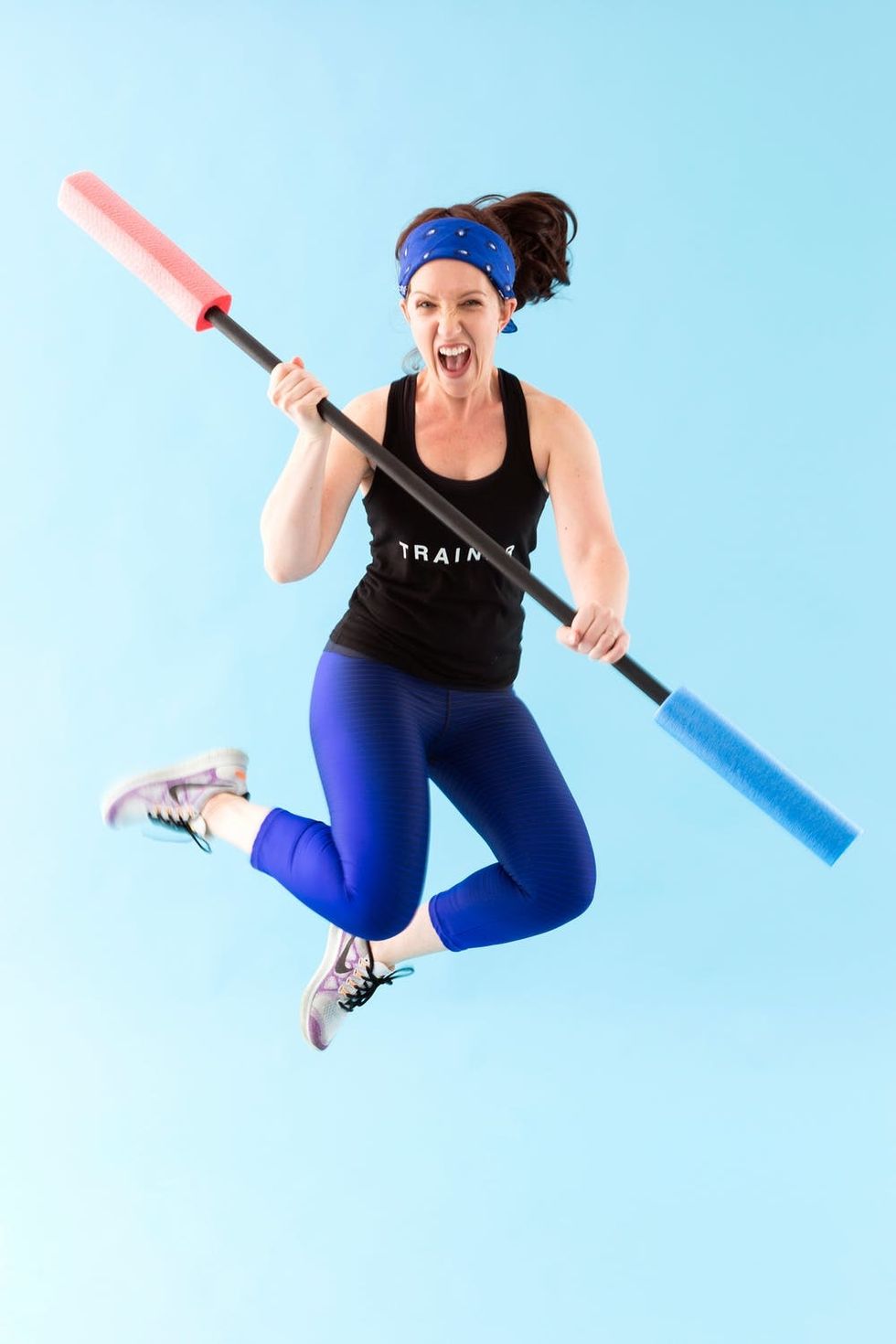 You can DIY Abbi's pugil stick (basically a padded jousting stick) by using a wooden rod (we spray painted this one black) or a piece of PVC pipe and then cutting blue and red pool noodles and affixing to both ends. As Trey would say (or Kirk Steele, depending on who you ask), "Cha-chinga!"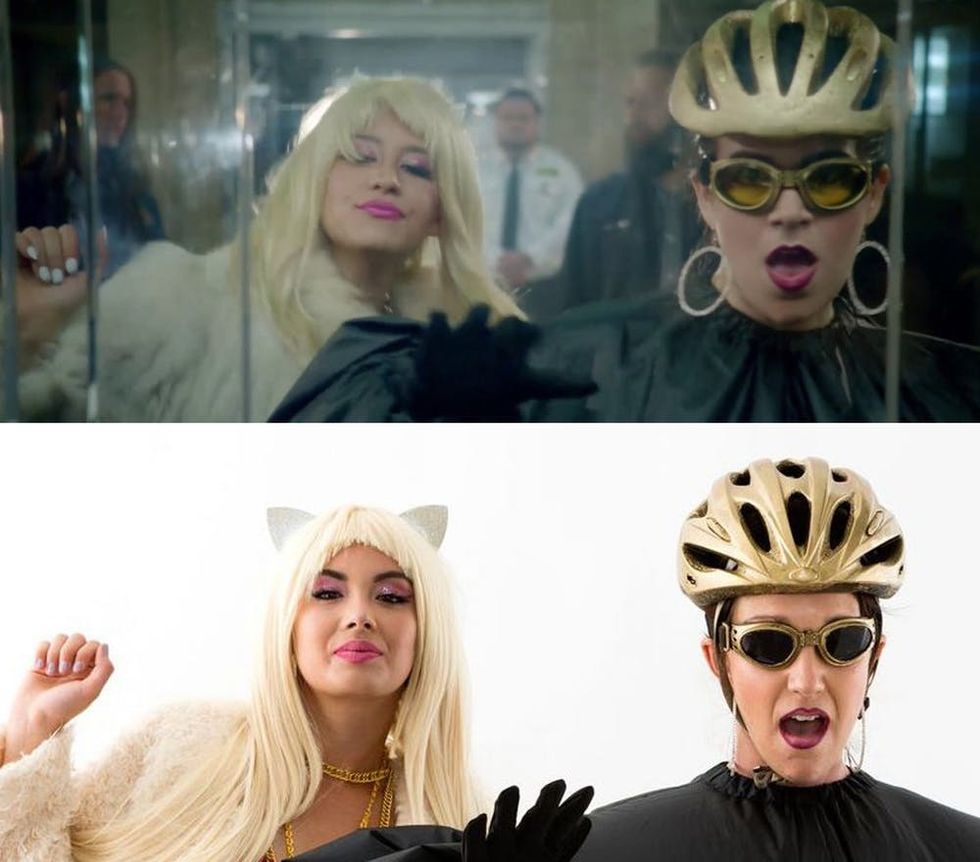 Started from the Bottom AKA Eight F**king Thousand Dollars: Possibly one of the most epic episode intros of all time, season one's "Apartment Hunters" begins with this music video short featuring a catchy banger from Drake, a blow-up suit, cat ears, and absolute hilarity.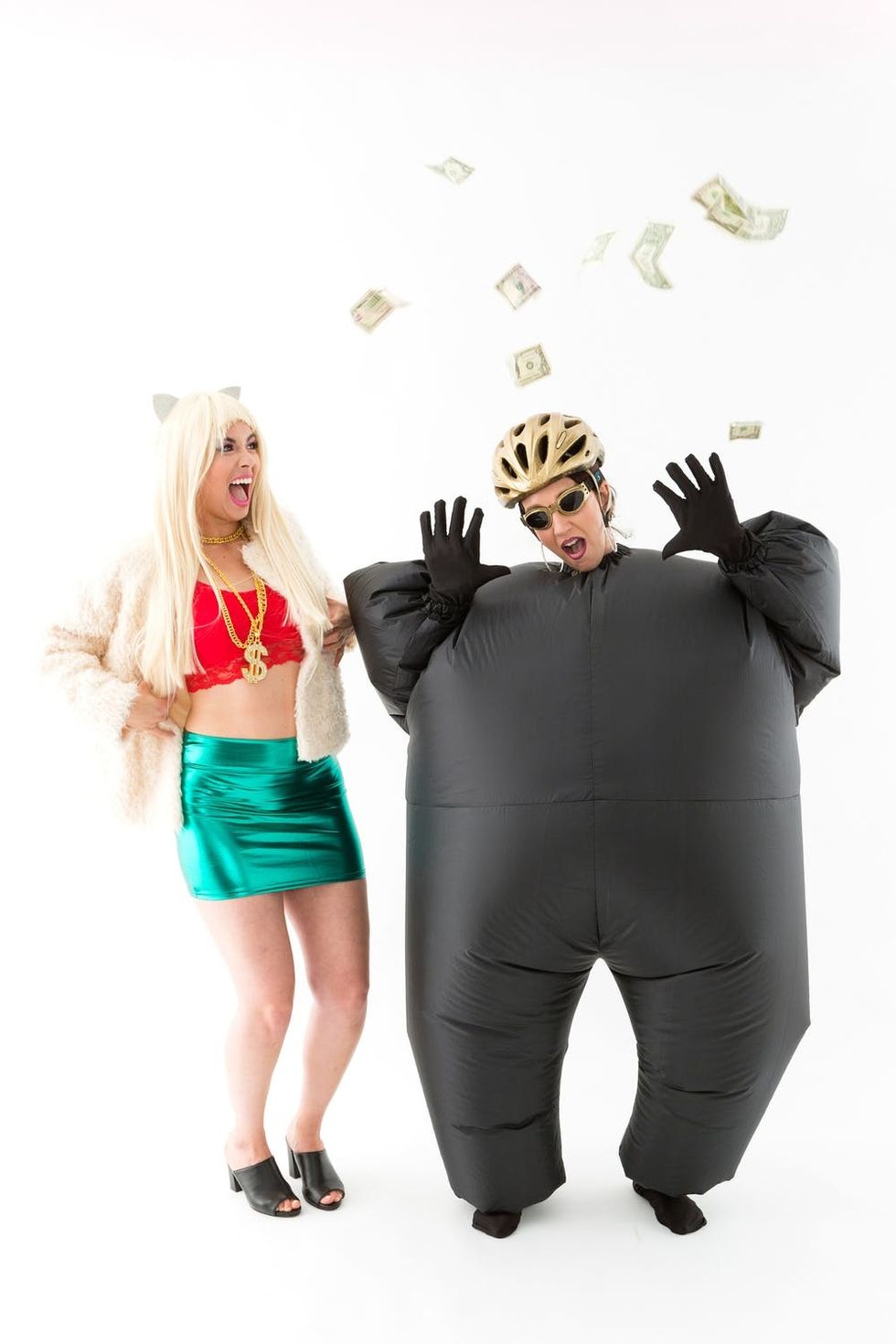 And once again, these two just slayed it!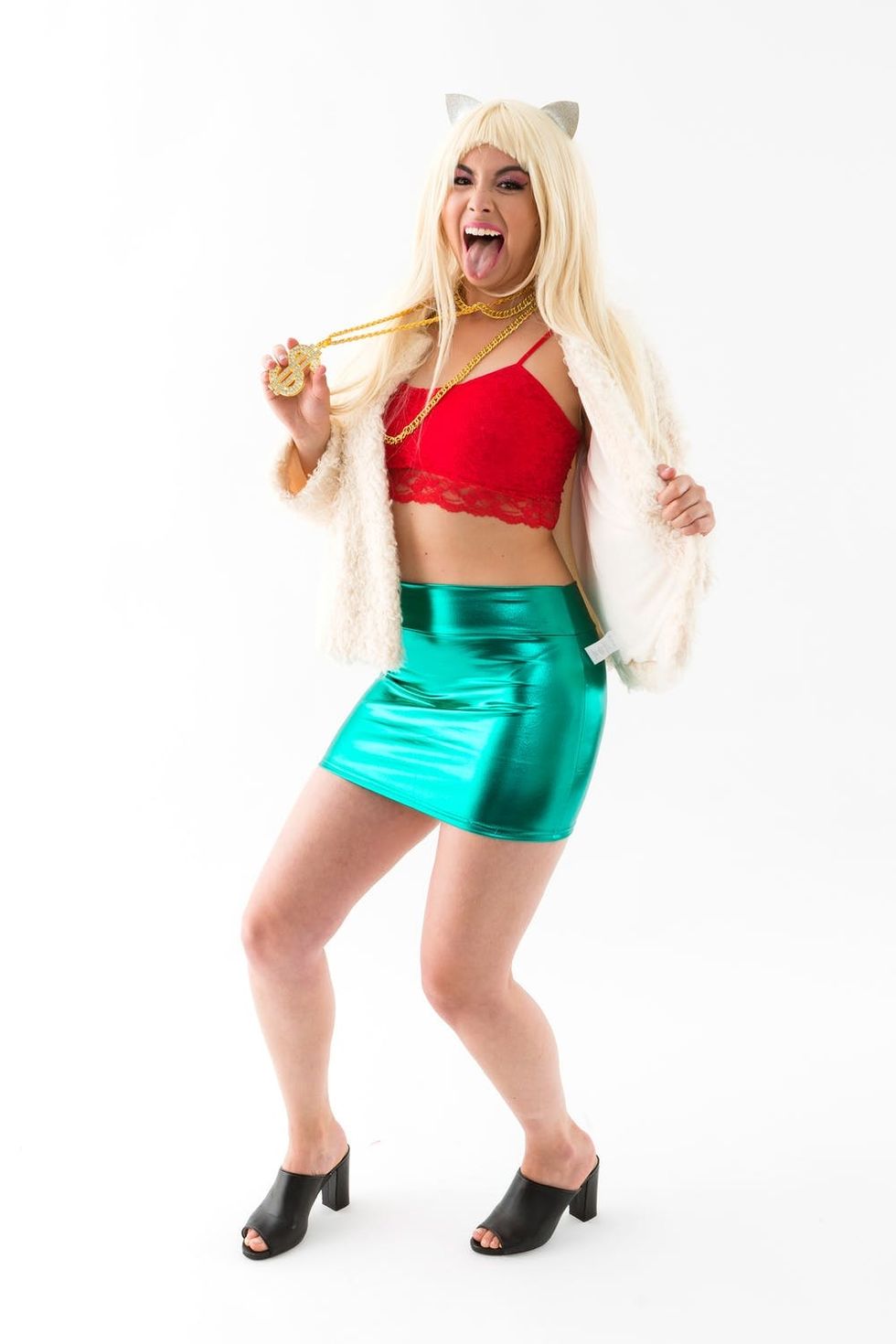 We found most of the items that make up Ilana's super hooch-tastic costume on Amazon. Her get-up consists of a red Bralette ($12), a green Stretchy Metallic Mini Skirt ($16), a Glitter Cat Ear Headband ($8), and plenty of *bling* — namely the Big Dollar Sign Necklace ($10) and a Big Gold Chain ($7) that we doubled to make into more of a statement. Rebecca is wearing her own shoes and we borrowed a white furry coat from a sweet coworker, but we recommend hitting up your local thrift store.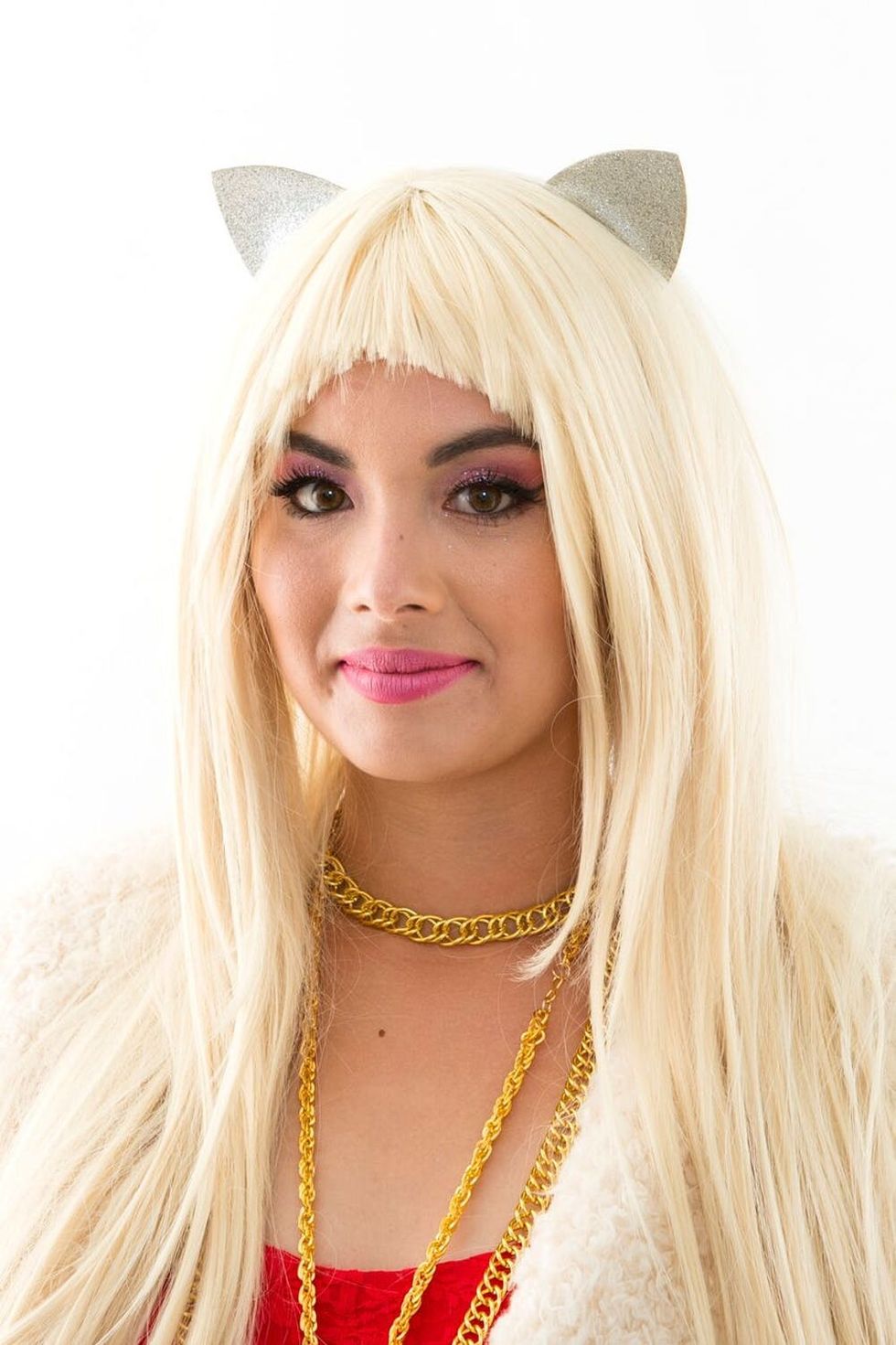 Misty gave this Platinum Blonde Wig ($16) a significant haircut and gave Rebecca lots of pink eye shadow and lipstick to really nail Ilana's Nicki Minaj-inspired look.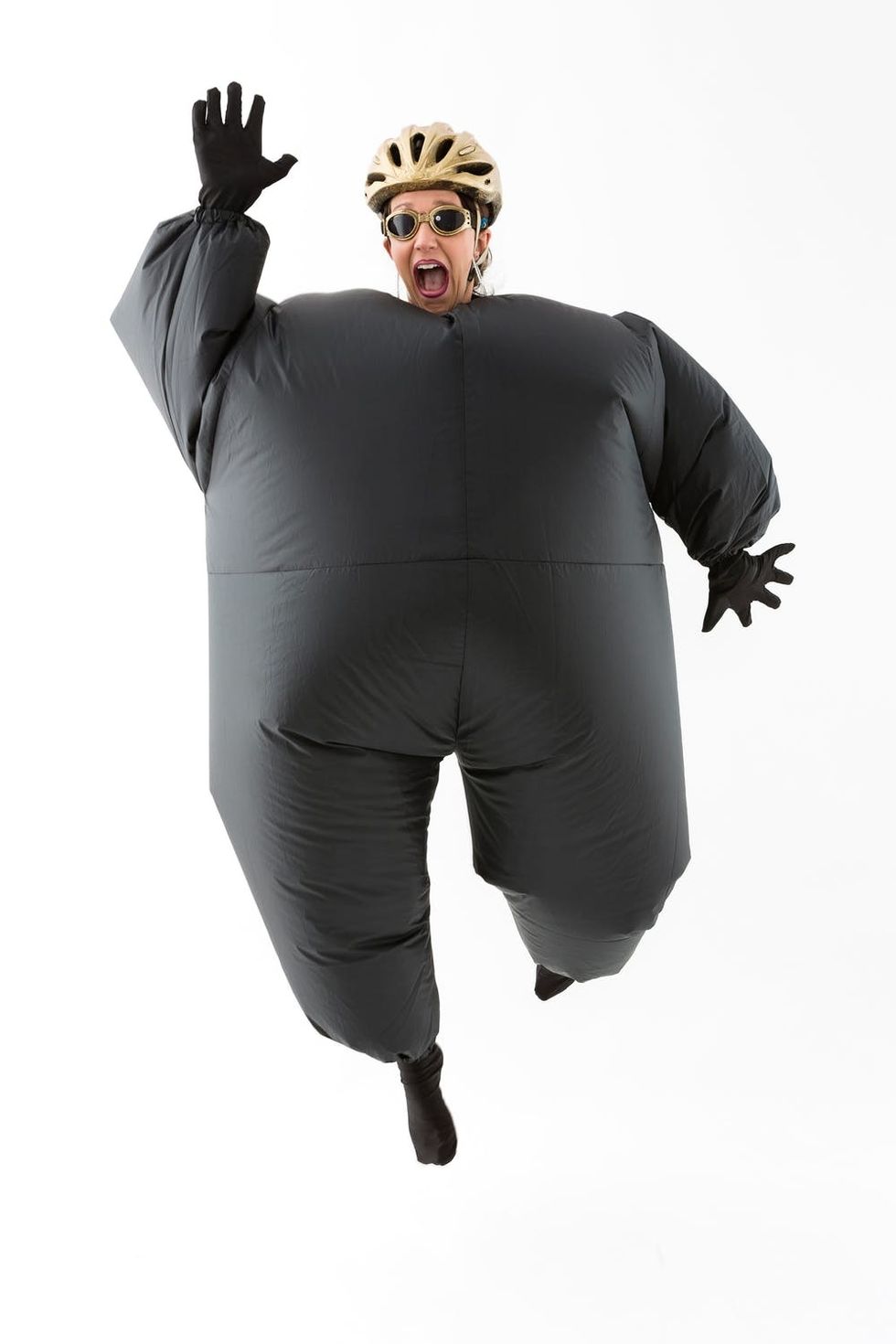 And now for Ab-a-dab. We know, how did we *even* with that suit!? Major shout-out to in-house DIY supastar Kelly who found this Inflatable Blimpz Costume ($40) (which, may, in fact, be the one they used on the show) at Spirit Halloween. We ordered Dog Sunglasses ($15) and Rhinestone Hoops ($8) from Amazon. Maddie, another B+C kween, gifted us an old bike helmet, which we promptly spray painted gold along with the dog sunglasses. Misty stepped in and added some serious magenta lips, and voila!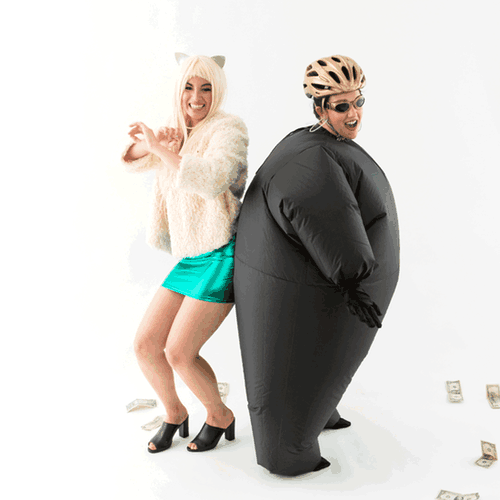 "Started from the bottom now we here. Started from the bottom now our whole team f**ckin' here."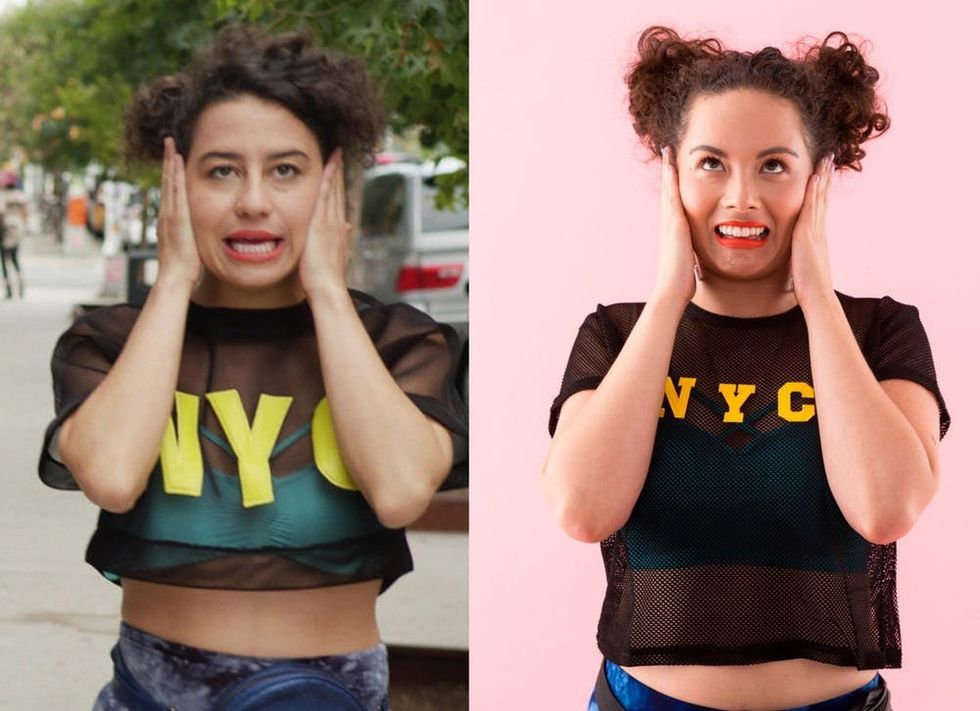 Co-Op Ilana: We decided to pair up two different characters in this next costume combo, starting with season three's "Co-Op," where Ilana dresses up Abbi and coaches her to impersonate Ilana in order to log volunteer hours at her local co-op.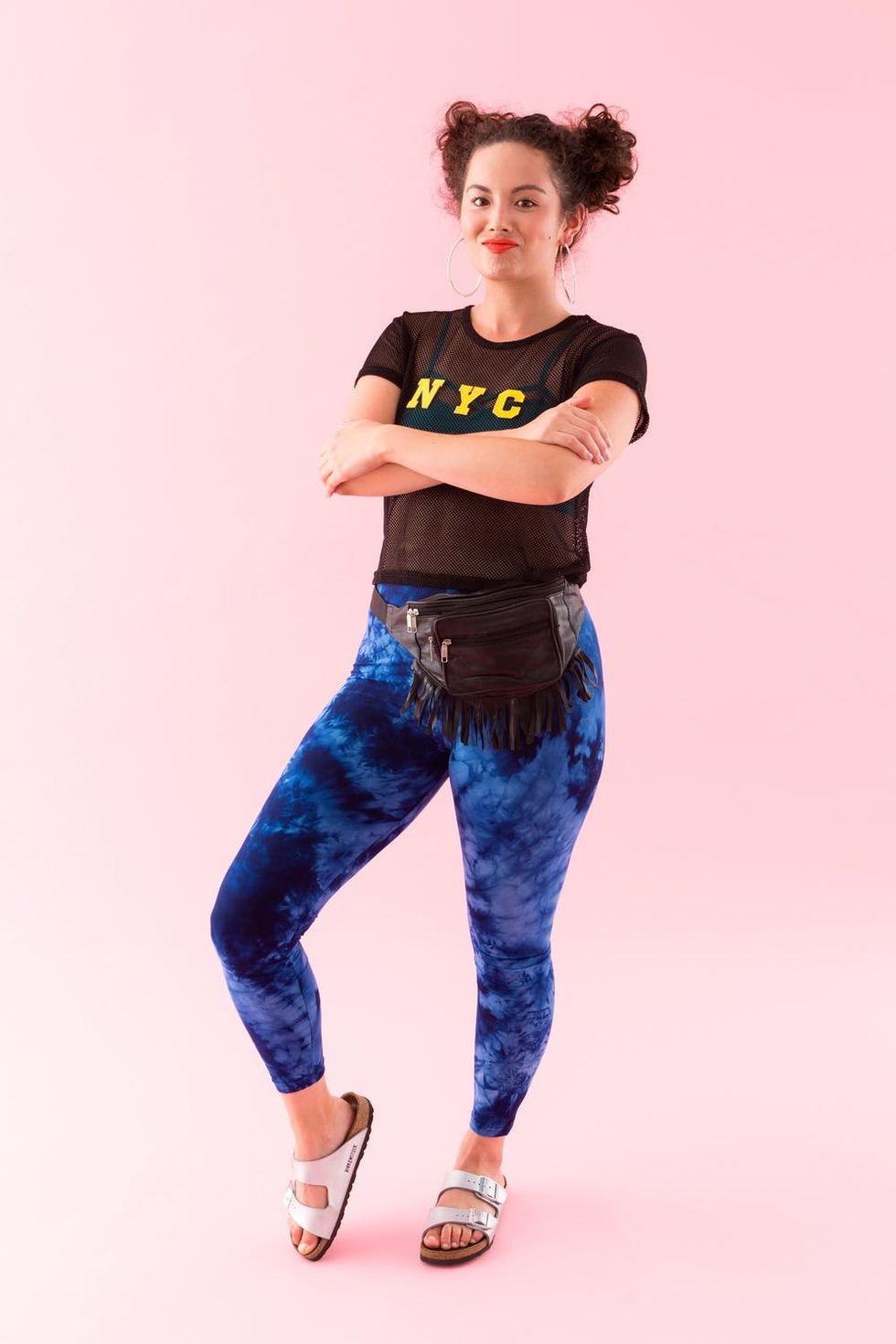 Ilana's co-op costume was once again procured from Amazon (Prime FTW) where we found Tie Dye Leggings ($13), a Fishnet Crop Top ($12), a Cut-Out Bralette ($11), a Fringed Fanny Pack ($15), and some Sew-On Letter Patches ($7 each) that we fabric glued instead. We reused the Rhinestone Hoops ($8), and Misty sealed the deal with some bold red lipstick and Ilana's signature pig-buns.

Wisdom Teeth Abbi: Season two's "Wisdom Teeth" episode might be one of the best ever. After Abbi gets her wisdom teeth pulled by Lincoln (a dentist, and Ilana's casual bae), she takes too much pain medication combined with a ganja-infused smoothie and passes out. Ilana then decides to lit *paint* her face with makeup. When Abbi wakes up, she hallucinates a giant version of Bingo Bronson (Ilana's stuffed animal), who takes her on a v. expensive shopping trip to Whole Foods.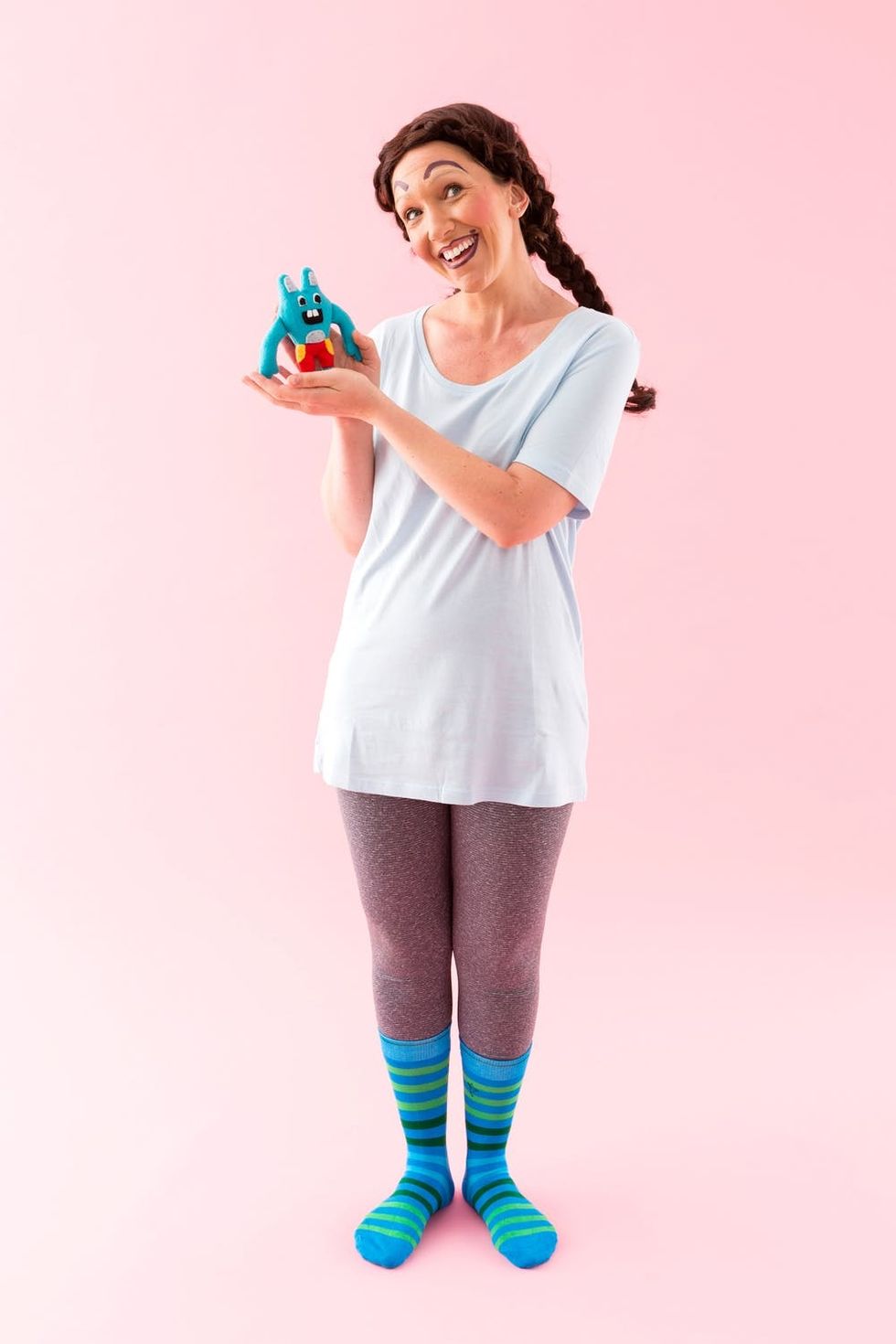 The toughest part of this 'fit is the makeup, wethinks. Emily donned her own leggings and we borrowed an oversized tee and some brightly patterned socks.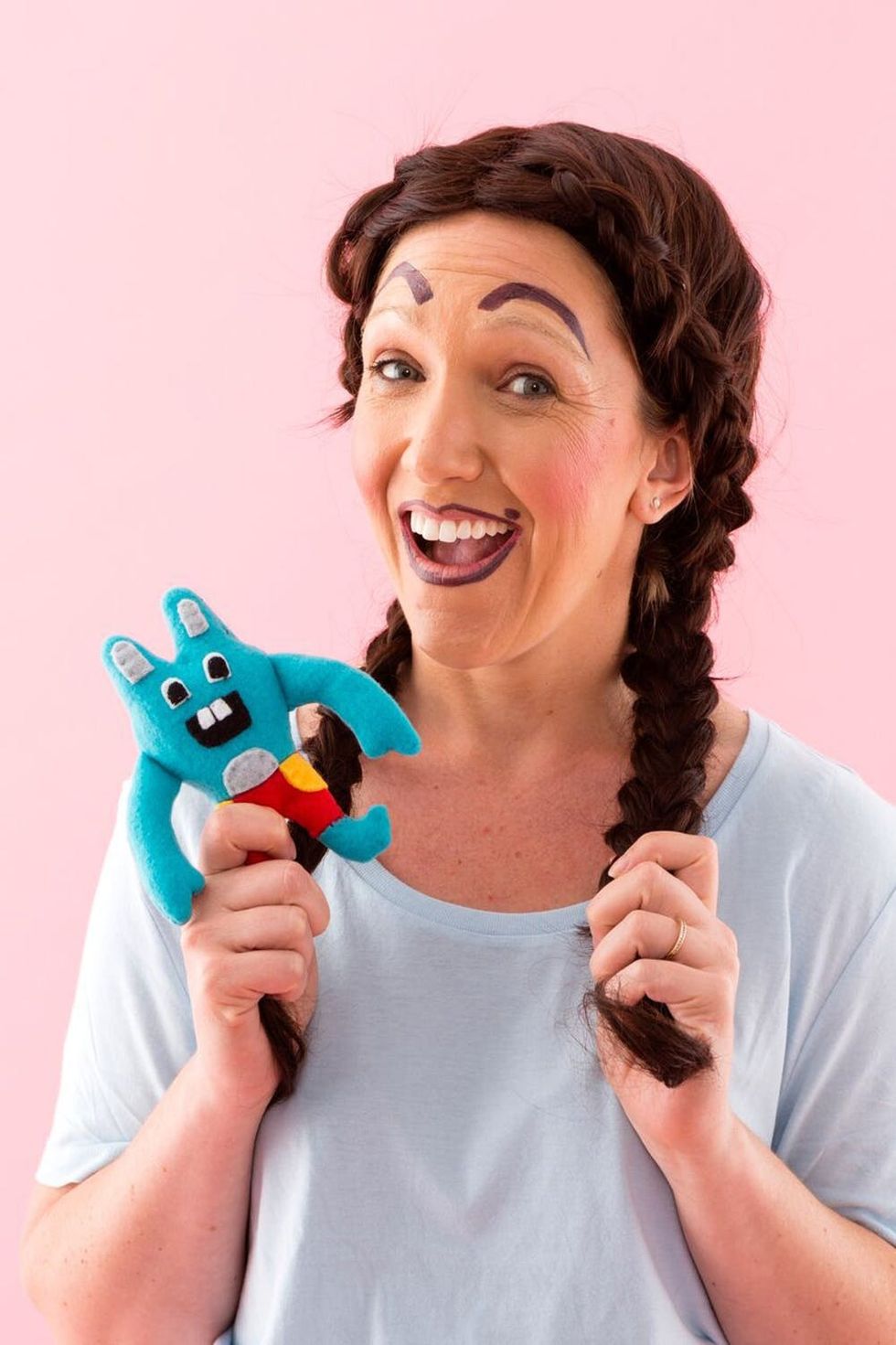 Then Misty braided up the wig and worked her makeup magic, HARD. The key here was dark lip liner and a total brow cover-up combined with drawn-on ones. This costume just wouldn't be complete without a Pocket-Sized Bingo Bronson ($20) from Etsy.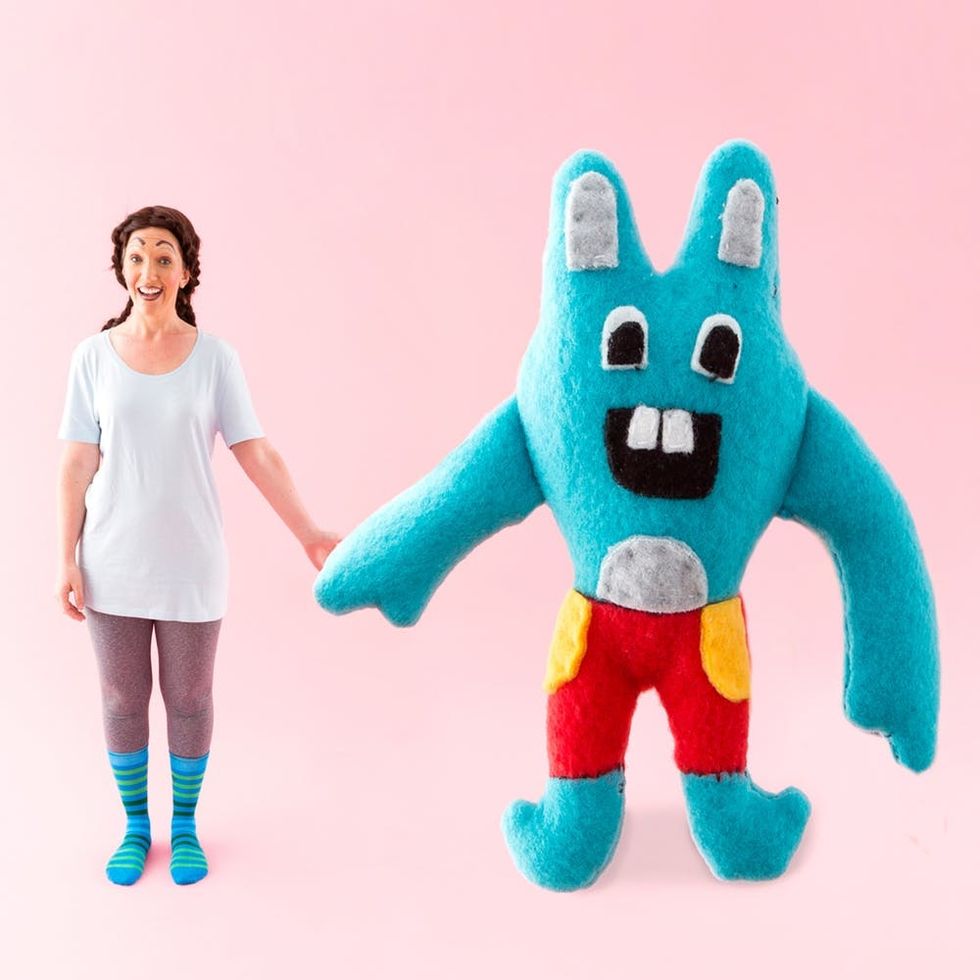 Or a giant sized version if you can find one! Our photog worked his Photoshop magic and blew up our li'l Bingo Bronson. We love this, big time.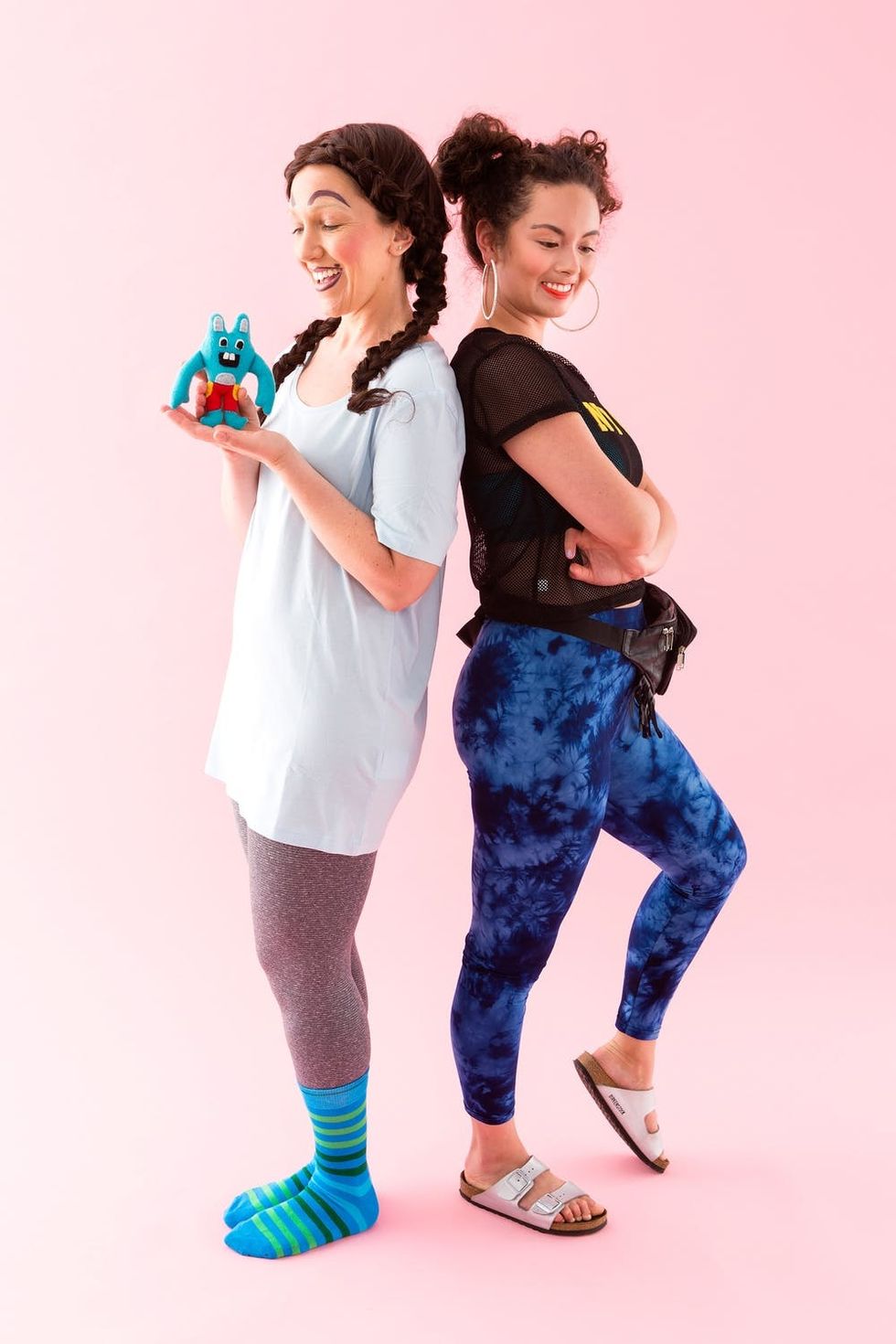 Even though these two aren't technically in the same ep, we think they make a perfect pair!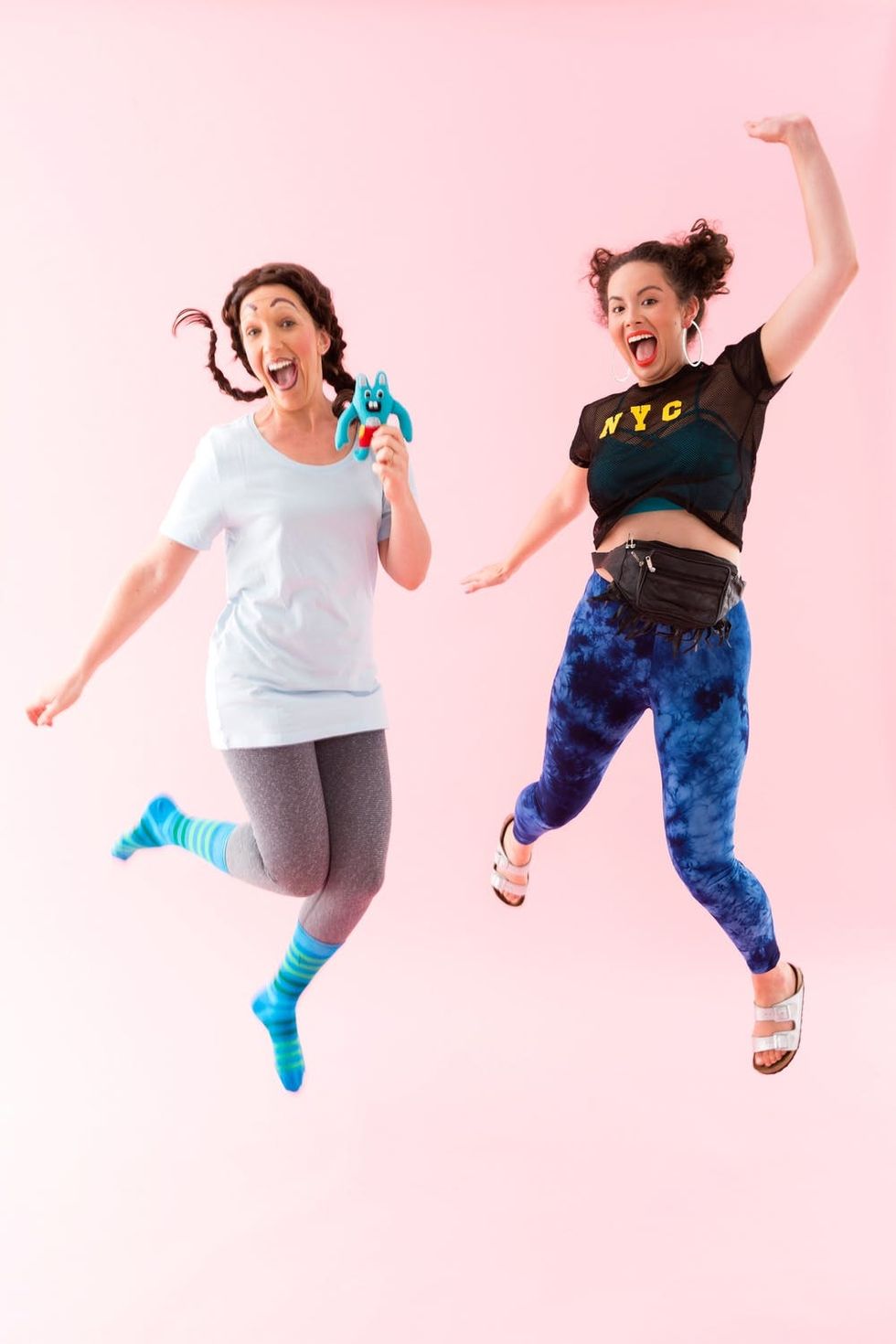 YQY!!
____________________________________________________________________________
Is Halloween your fave? Follow us on Facebook for more DIY costume inspo!
DIY Production and Styling: Lindsey Graham-Jones
Hair + Makeup: Misty Spinney
Models: Emily Dubin and Rebecca Fong
Photography: Kurt Andre
Brit + Co may at times use affiliate links to promote products sold by others, but always offers genuine editorial recommendations.
Lindsey Graham-Jones
Lindsey is a lover of all things animal print, a surfer of knee-high waves, and a seeker of sunshine.