6 Genius DIY Mom and Baby Halloween Costumes
Oct 19, 2014
A special shoutout to all our fellow new mamas! It is almost time to get your Halloween costume game face on and decide what ooh-and-ahh-worthy outfits you will pull together this year. Let's be real, at this stage our littles have not hit that way-too-cool "I am NOT wearing that!" stage just yet, so it's time to have some fun.
---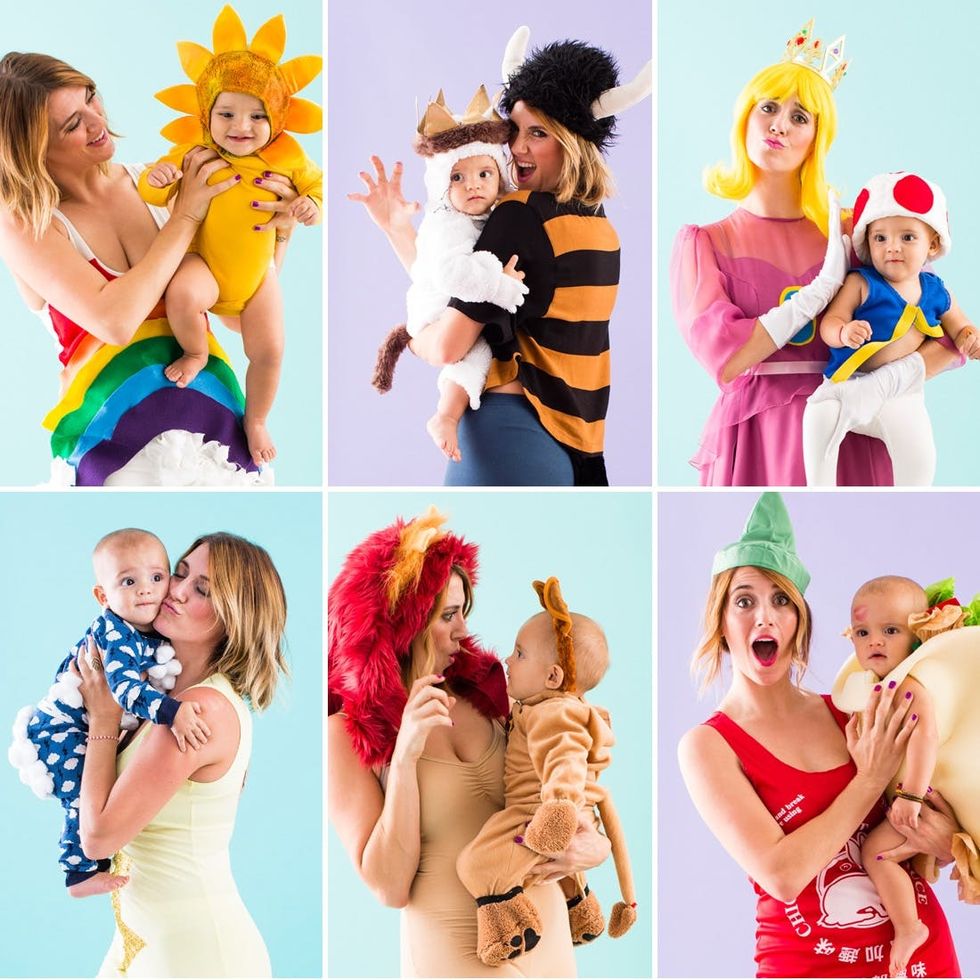 Here are six DIY costume ideas for you and your baby to rock this Halloween!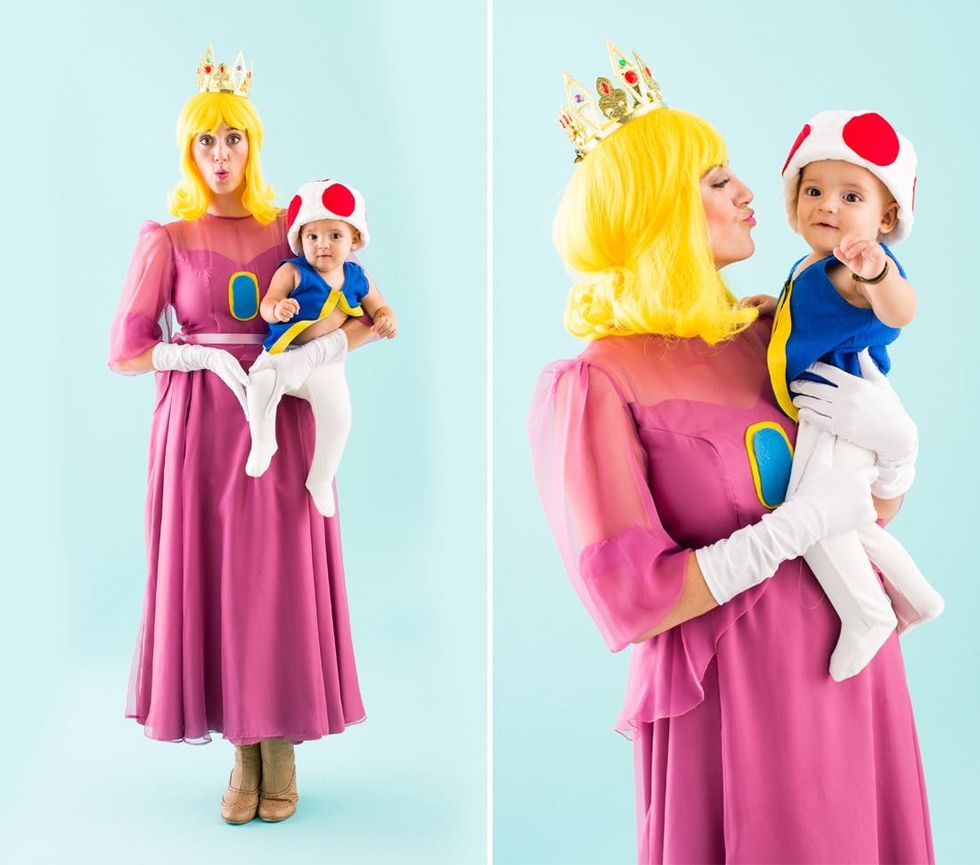 Aside from being the best two characters to play with in Mario Kart, Princess Peach and Toad are classics in the world of video games and '80s childhoods. And since a good number of recent mamas were probably born in the '80s, this is a great throwback to bring out this year.
1. PRINCESS PEACH AND TOAD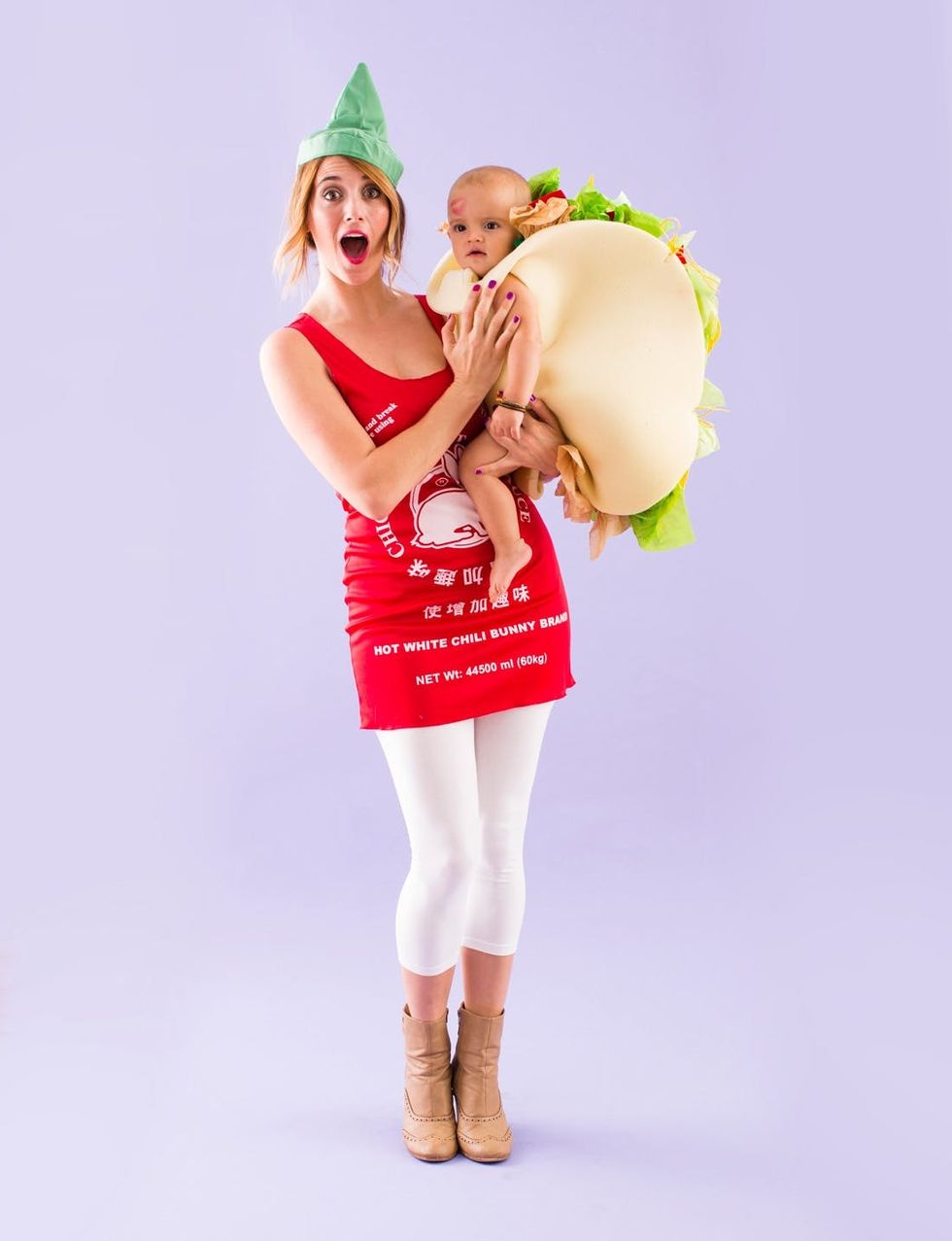 What you need:
– pink princess-style dress
– felt (blue, red, yellow)
– white gloves
– yellow wig
– gold crown
– white baby beanie
– blue tank top or onesie for your baby
– white baby pants
The dress was a TOTAL score at the Goodwill, and the rest you can find at your local craft or Halloween store. For baby, finding a tiny blue vest with yellow trim was not a task that was happening, but the Gap had the perfect blue tank top onesie that I simply cut down the center, adding yellow trim. The hat? I know — it's so good. Simply glue giant red felt dots to a white beanie with hot glue and the creation is too cute to handle.
This one is a show-stopper! The trending hot sauce has finally given me an excuse to turn my mini into a teeny tiny taco!
2. SRIRACHA AND TACO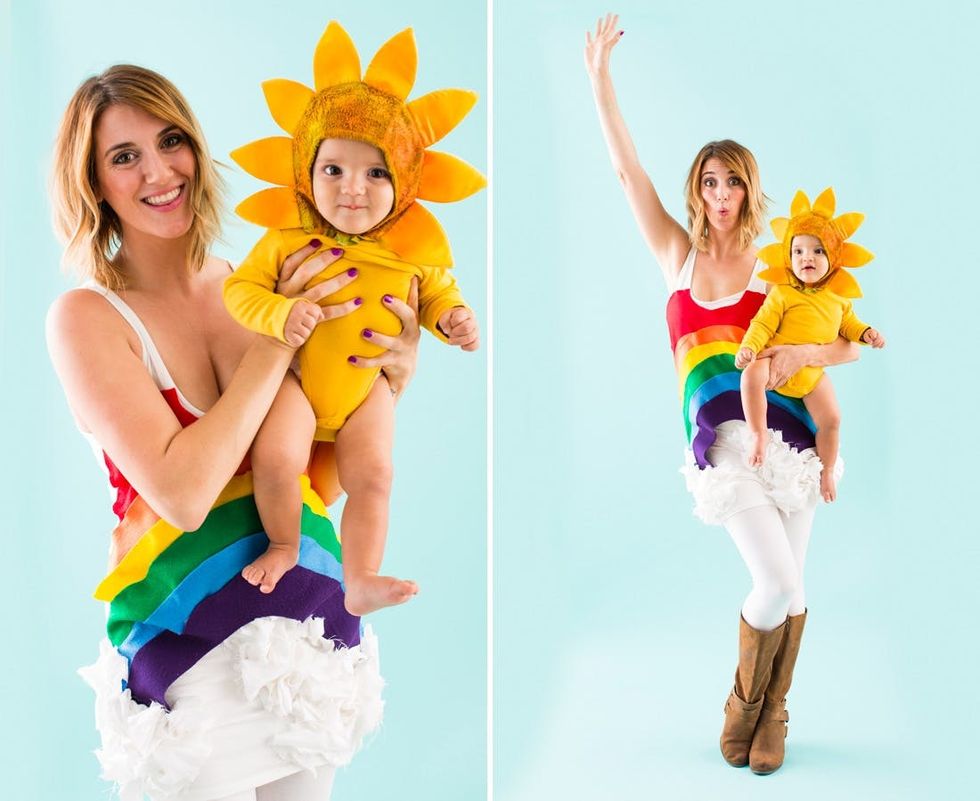 What you need:
– sriracha dress
– green hat
– white leggings
– foam
– tissue paper (green and brown)
– felt (red and yellow)
– string
Using foam and tissue paper lined with felt, this costume left little Elijah still able to crawl and play despite all the ridiculousness happening on his backside. For mama, I could not pass up this Sriracha Dress on Amazon for $20. I am convinced he knew I wanted to just eat him up by the look on his face in these images!
You know how the song goes, and your little one really is your sunshine, your only sunshine, he makes you happy, when skies are grey. Any mama can attest to this — what better way to honor your little sunshine by pairing up as your mini's rainbow?!
3. RAINBOW AND SUNSHINE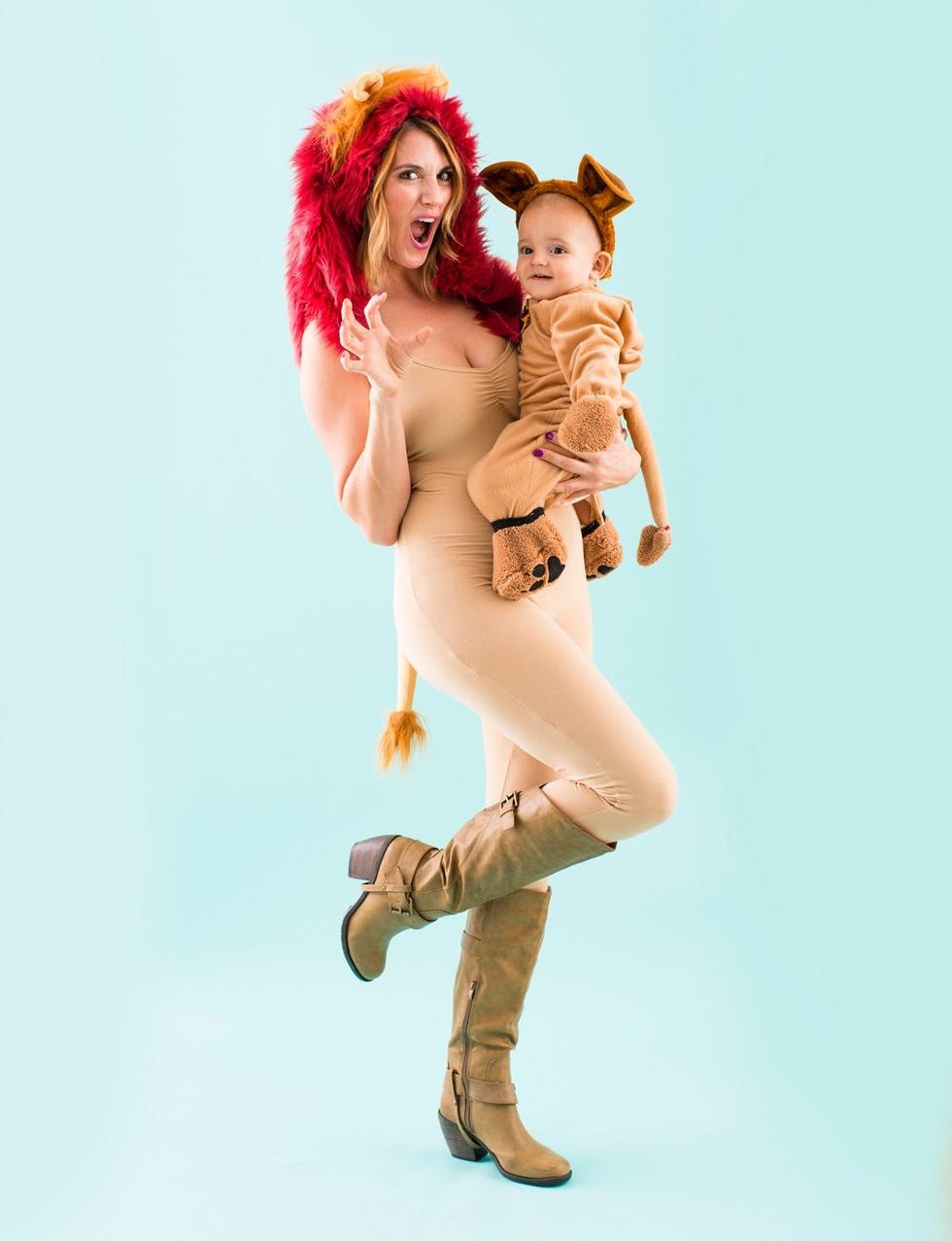 What you need:
– little white dress
– white leggings
– felt (red, orange, yellow, green, blue, purple)
– white cotton fabric
– yellow baby onesie
– sunshine hat
This dress literally took 20 minutes to make. Simply cut out the colors of the rainbow in an arch and glue in order using hot glue. For the clouds, bunch some white cotton fabric like a sheet or pillowcase onto the base of the rainbow with hot glue. For baby, a yellow onesie is clutch for starters. This sunshine head piece was actually from a baby flower costume that I just cut off and added some orange paint to for more of a sunburst effect.
"Remember who you are. You are my son, and the one true king." Yep, we just quoted Mufasa speaking to his cub Simba. And now, time to channel your inner Mama Mufasa!
4. MUFASA AND SIMBA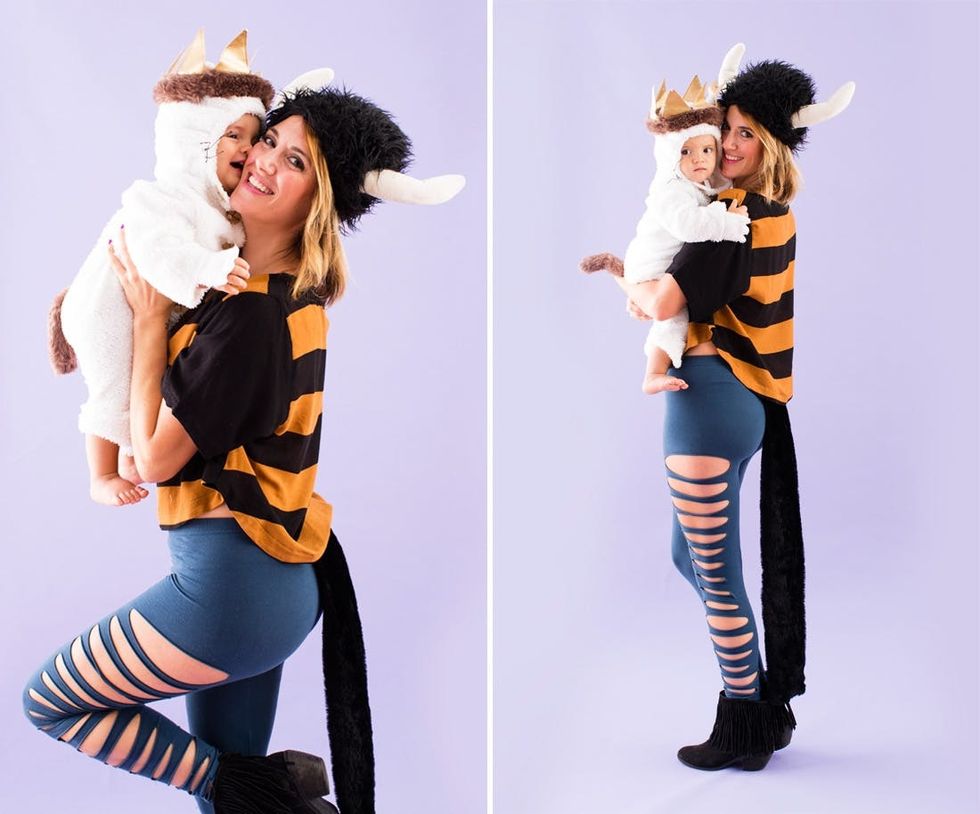 What you need:
– nude body suit
– red faux fur
– lion ears + tail
– baby lion ears
– baby lion suit
If the nude onesie is a little too revealing, you can always go with something a little looser, but we have to tell you that these onesie jumpsuits from American Apparel are no joke. They might as well be referred to as giant spanx because they are thick and hold everything where it should be! Grab a pair of lion ears and tail and add red faux fur with hot glue for Mufasa's signature mane. For your mini, you can find a ton of baby lion costumes on Amazon. Bonus, this costume is SUPER comfortable and warm.
When I think of classic books from childhood, my go-to always has been and always will be Where the Wild Things Are.
5. MAX AND A WILD THING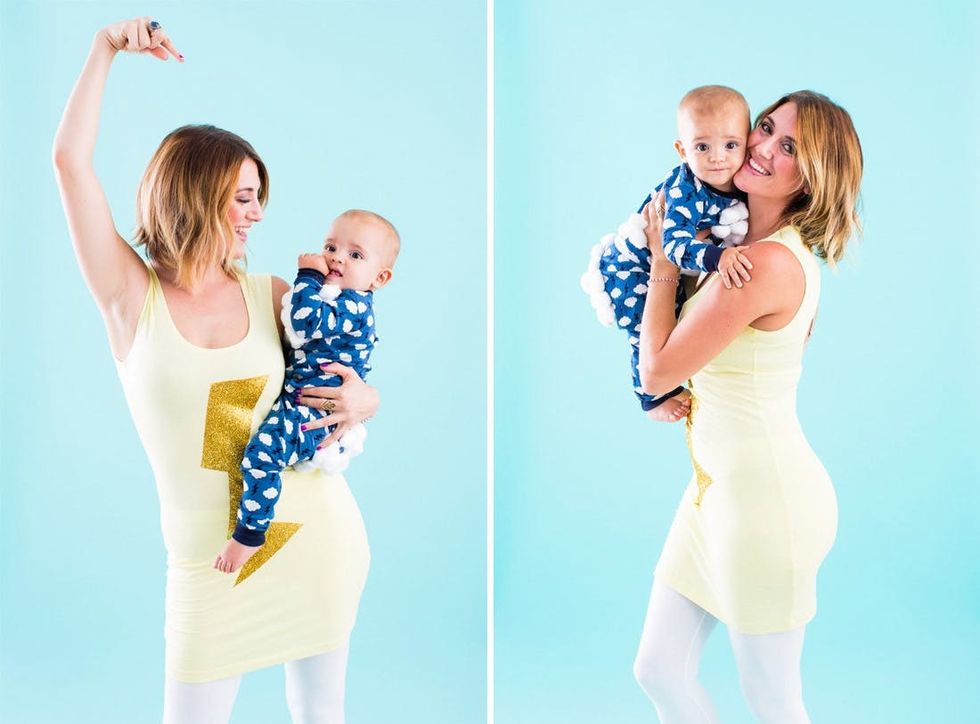 What you need:
– dark blue/gray/black leggings
– striped shirt
– viking style hat
– Max Costume for baby
While you could make your little babe's outfit, it is so easy and inexpensive to order on Amazon! This one here is SO soft and ridiculously perfect, I recommend buying it for sure. For mom, I actually found this shirt at H+M and paired it with leggings already sliced down the sides for an instantly wild look. Top the whole thing off with a viking style hat and you're good to go.
You may have caught this clever DIY costume last week on Brit.co as part of a partnership with Cotton. It's another genius way to get cozy with your little one, and is a cinch to create.
6. LIGHTNING AND THUNDER
Misty Spinney
Misty Spinney is a hair stylist, makeup artist, and fashion stylist with a strong background in design and deep passion for creativity.
Halloween Costumes
More From Halloween Costumes
Still haven't taken up that new creative skills you swore you'd learn this year? Or ready to take your design skills to the next level? Let's say so long to the weirdest year ever by checking those big learn-something-new goals off our perpetual to-do lists.
We've teamed up with Clorox to give you the gift of unlimited creativity now through the end of the year. Once you sign up, you can take as many of our 120+ classes as you want for FREE for one whole month!
Here's how it works:

Head to brit.co/learn and sign up for the "All Access Pass."
Use the code "CLOROXCARES" at checkout to redeem your free month of classes.
You will be automagically signed up for Clorox's email list once you redeem your free all access pass. (It's the #1 Choice for Disinfection!)
Your pass lasts one month from when you checkout. This means you have unlimited access to all the classes during that month.
This offer is valid now through December 27, 2020.
Browse our catalog to find the right class for you, tell a friend and take the class together over Zoom, or organize a 'cocktails + crafts' night with a friend in your bubble so you can learn something new together.
What are you waiting for? Time to start learning all the things!

Thanks to Clorox for making this happen! When it counts, trust Clorox.
Lifestyle