How to DIY the Perfect Summer Cocktail Bar
Jun 02, 2015
IFRAME EMBED /IFRAME EMBED
---
Can you smell that? It's the mesquite scent of a grill. What goes perfect with a barbecue on a hot summer night? A DIY cocktail bar filled with summery garnishes and SKYY® Barcraft Watermelon Fresca.
What we love about SKYY® Vodka's new line of premium cocktail-inspired flavored vodka is how easy it is to mix up a totally fancy drink. Just last week we shared 3 Fast + Fruity Ways to Dress Up Your Drinks, and this time it's all about creating and styling the prettiest bar ever for your next soiree.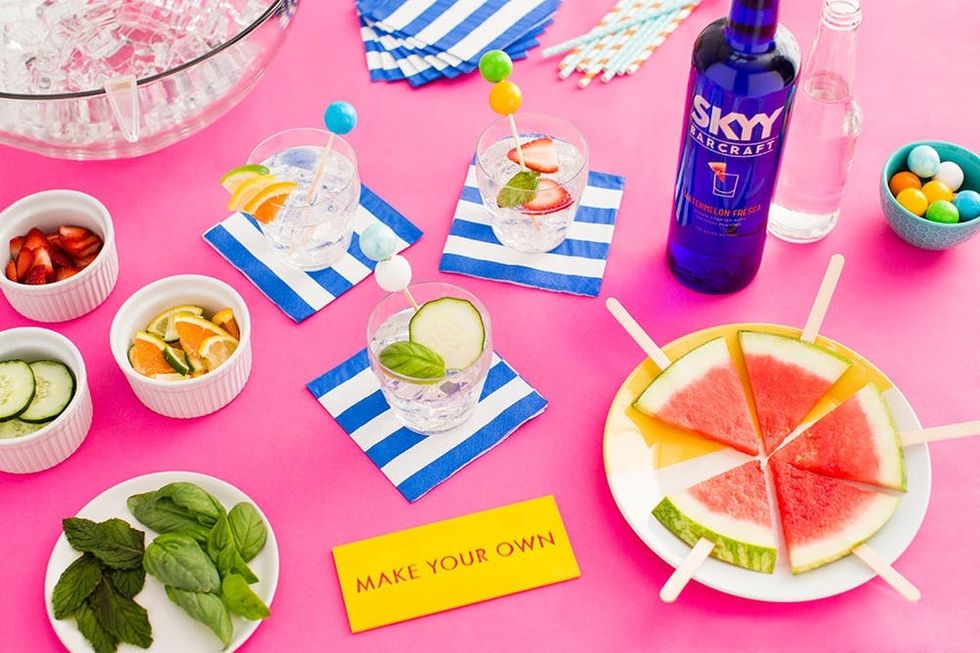 1. Colorful Napkins: patterned or brightly colored napkins add a bit of color to your table or bar.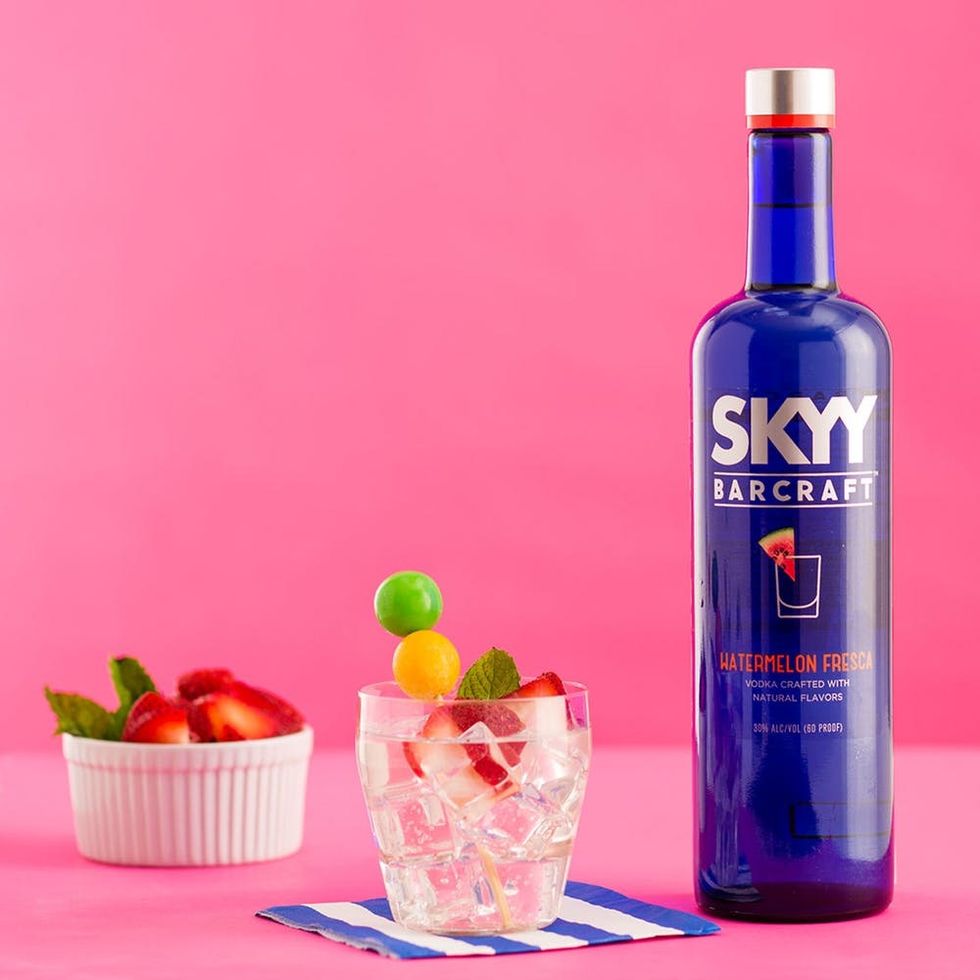 2. Ice Bucket: Make sure your drinks don't get warm by providing ample ice. There are so many fun ice cube trays on the market. Either get some fun shapes or perfect large cubes.
3. Stir Sticks: Pop a gum ball on a skewer to add some gaiety to your drinks.
4. Small Bowls of Garnish: Your bar will look enticing with plates and bowls of delicious garnishes like fruit, herbs and sugar or salt for the rims of your glasses.
5. Signage: It's always a good idea to let your guests know what to expect. A "Make Your Own" sign will clear up any questions about who is making the drinks.
Add your custom garnish to one part SKYY® Barcraft Watermelon Fresca and two parts soda for a beautiful, personalized cocktail. We've got three combos to share with you.
A great fruit and herb combo, we are loving the SKYY® Barcraft Watermelon Fresca blend with a few slices of strawberry and a mint leaf. This drink would go great with a mozzarella and heirloom tomato salad.
Strawberry and Mint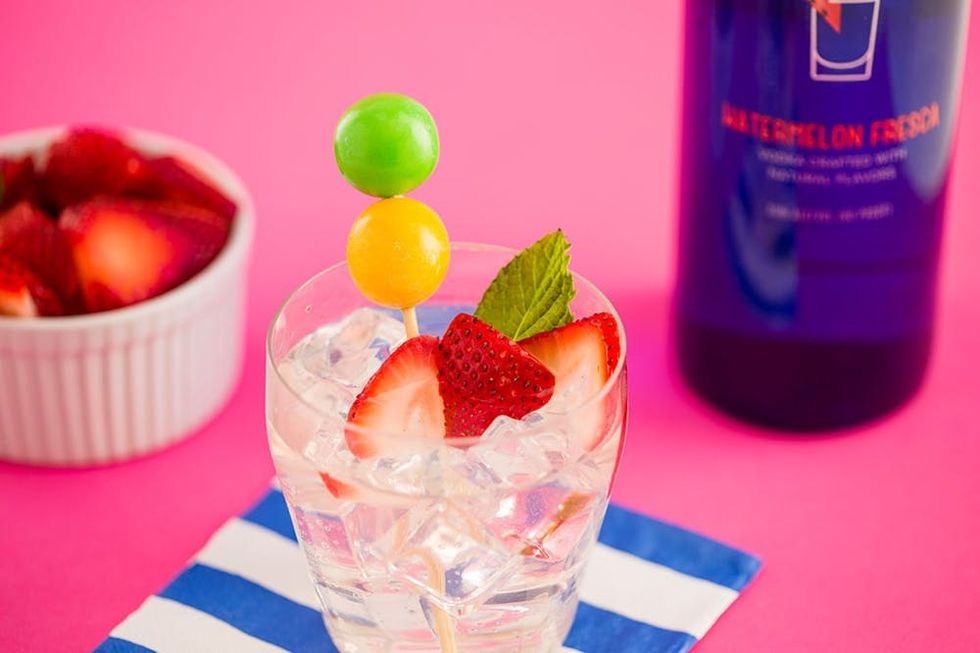 The addition of mint adds a vibrant pop of color.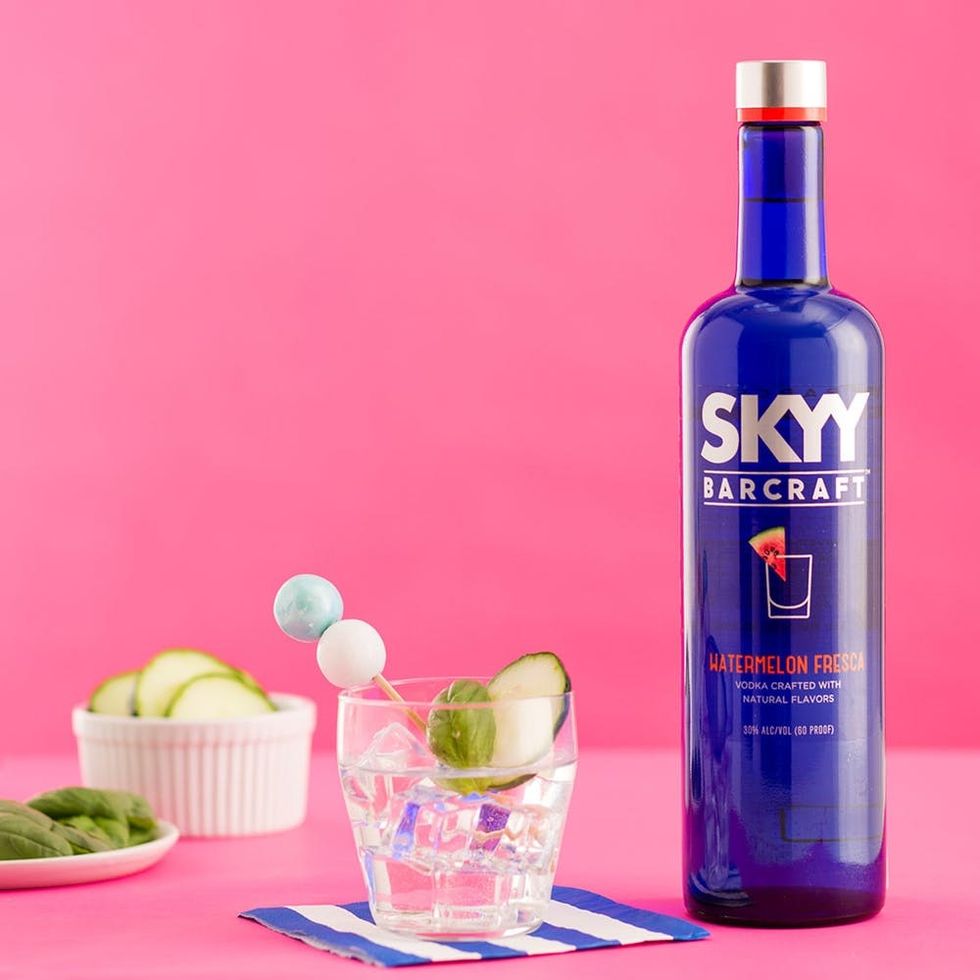 A classic combination, cucumber and basil with SKYY® Barcraft Watermelon Fresca will transport your taste buds to a relaxing spa.
Fill a bowl with thinly sliced cucumbers and few sprigs of basil. Your guests can add a slice and a leaf to their SKYY® Barcraft Watermelon Fresca for a yummy cocktail. There's something about this combo that instantly melts your body into relaxation mode.
Cucumber and Basil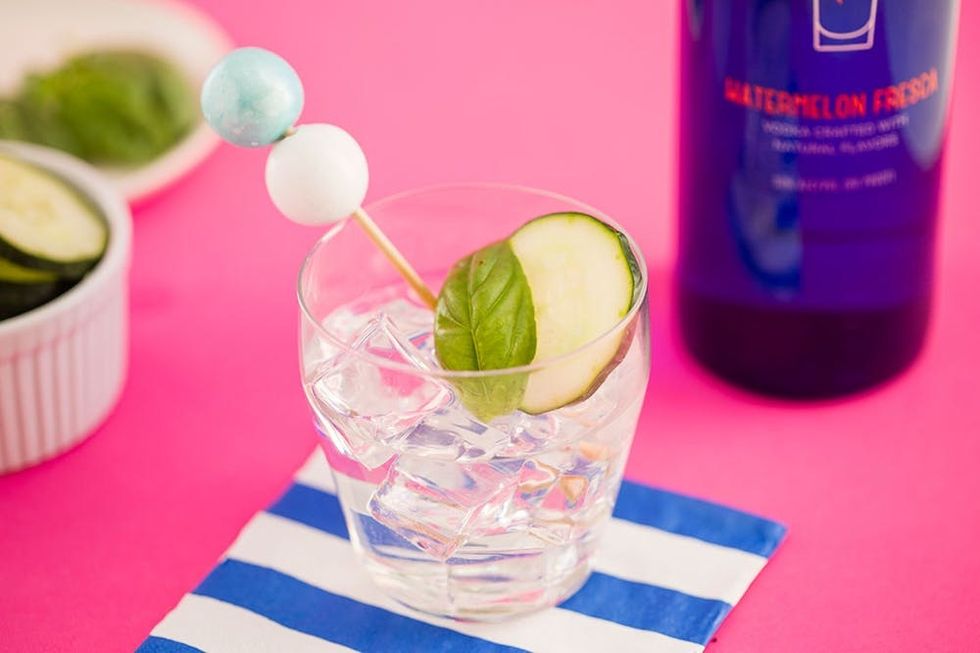 This flavor combo would be great served with a mixed greens salad tossed with olive oil and lemon juice.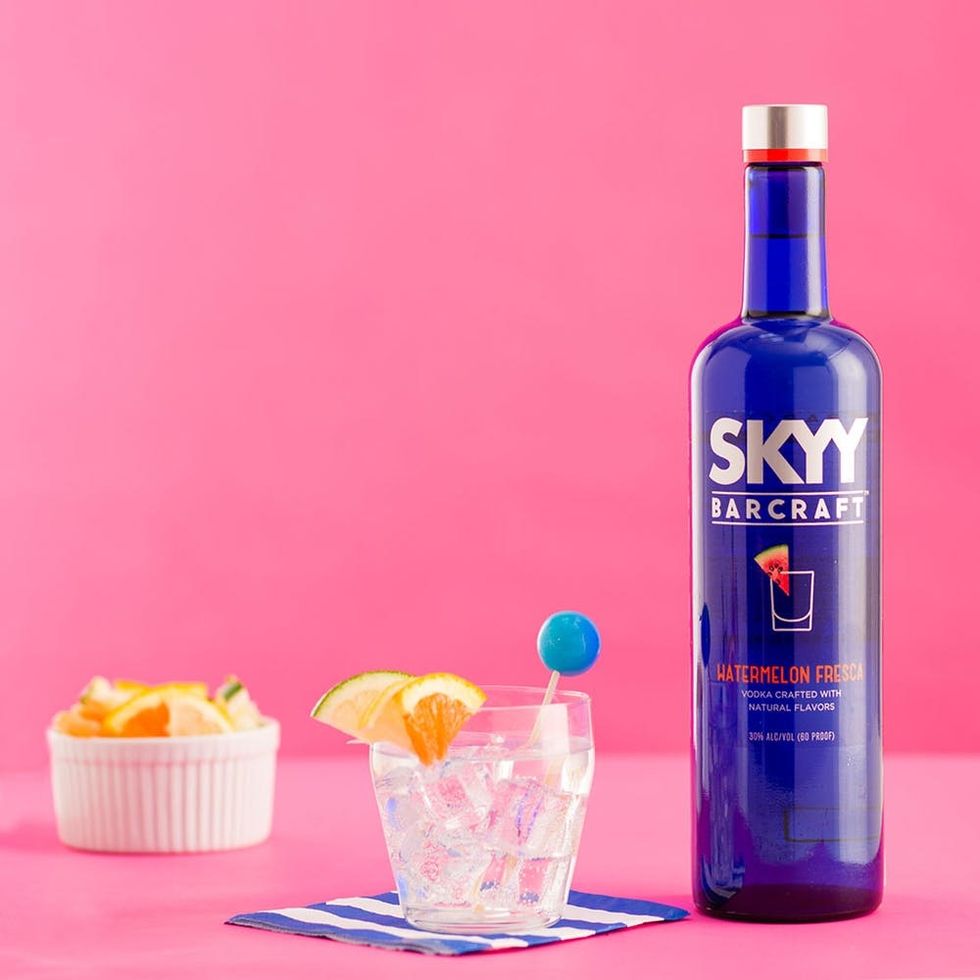 Watermelon is undoubtedly sweet. Citrus, while sometimes sweet, more often falls into the sour category. Put the two together and you've got a sweet and sour liberty. All you need is a salty rim for a serious sensory explosion.
For this drink, we are adding lemon, lime and orange to our glass of SKYY® Barcraft Watermelon Fresca. This medley of citrus is packed with flavor and changes the impact of the sweet watermelon.
Citrus Trifecta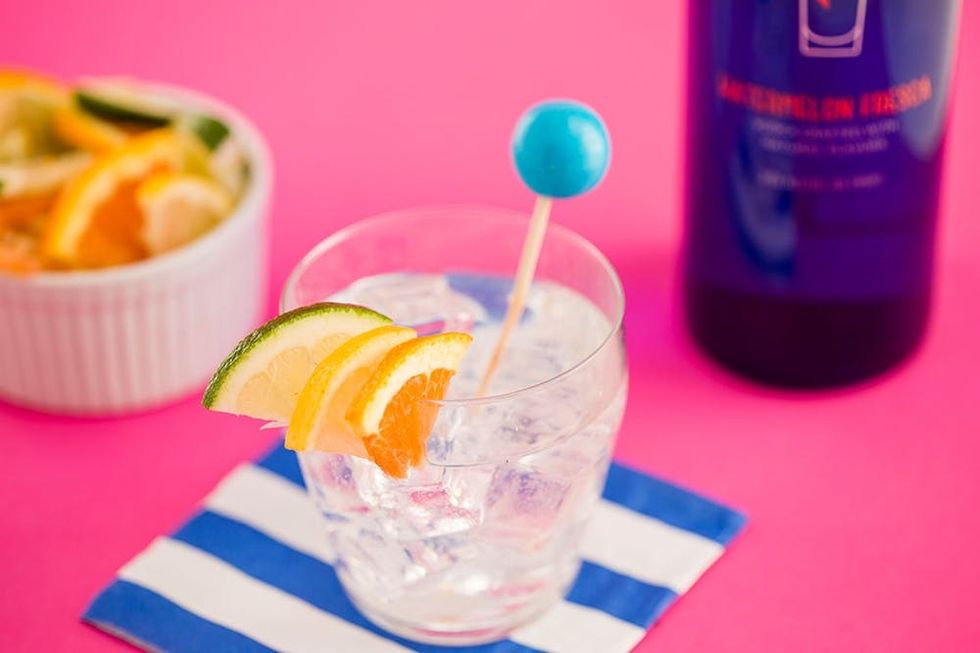 Try this concoction alongside a bitter arugula salad with parmesan, lemon juice, salt and pepper and you'll hit every taste category there is!
Anjelika Temple
As Chief Creative Officer and Founding Partner at Brit + Co, Anjelika Temple brings her voracious consumption of all things creative and colorful to DIY projects, geeky gadgetry finds and more. When she's not DIY-ing her heart out, you'll find her throwing dinner parties with friends or adventuring with her husband David, their daughter Anokhi, and their silly dog Turkey.