Fitmob Will Bring Working Out Wherever You Are — Even Work!
Apr 07, 2014
Ever notice how packed the gym is right after January 1st… and how it thins out (no, not like that) by mid-February? New fitness startup fitmob wants to change that by squeezing some more fun into your routine and getting you to keep your goals going. They'll even show up at your office to make it happen if they have to, which is less of a threat than it is a part of their business plan.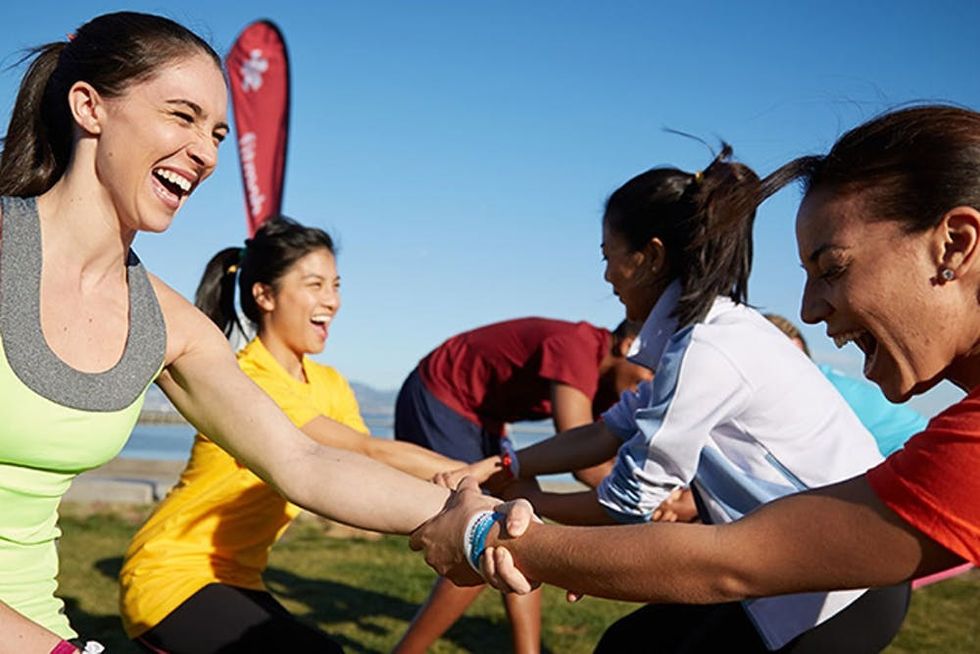 ---
Fitmob's mission is to get people working out again — not just signing up for the gym but actually getting their heart rate up while inspiring others to get fit along with them. Their model is simple: You sign up online and they connect you with trainers that teach fun group workouts (like "Babes and Burpees" or "Drop It Like It's Squat") in outdoor and indoor locales around your city.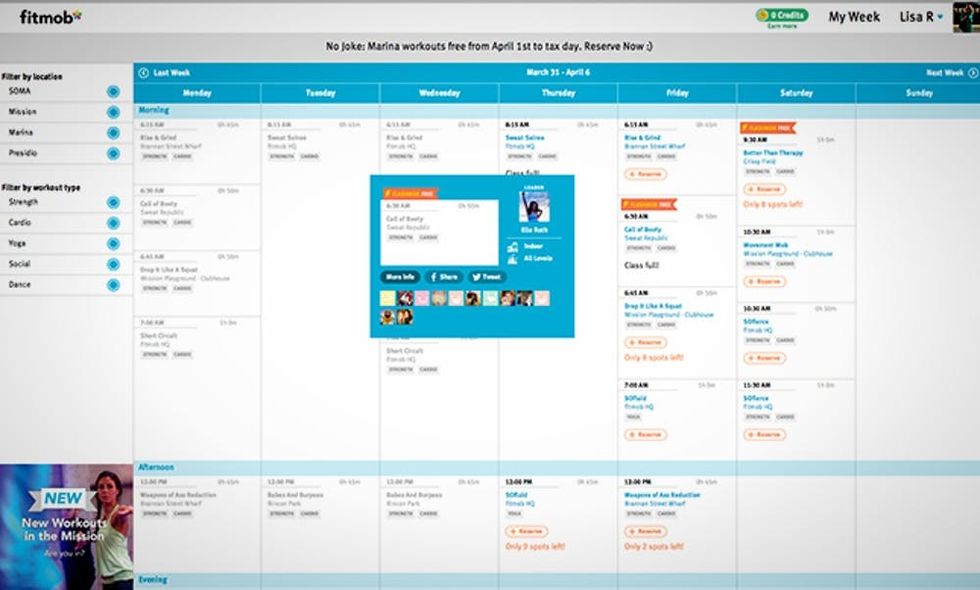 They want to solve the minor/major issue of self-motivation, while making fitness cheaper. Post-spinning froyo is on you, but fitmob will reward you with a different kind of treat — pricing that drops the more you participate. If you workout three or more times a week, you pay $5 for each session that week, if you workout twice it's $10 every time and if you can only make it once, you're dropping a still-reasonable $15. There's no fee to sign up and no monthly commitment, commitment-phobes. Fans of freebies, take note: You score a free first week of unlimited workouts and should keep an eye on the schedule for frequent "Flashmob Free" workouts around town. Cha-ching, fitness ain't a thing.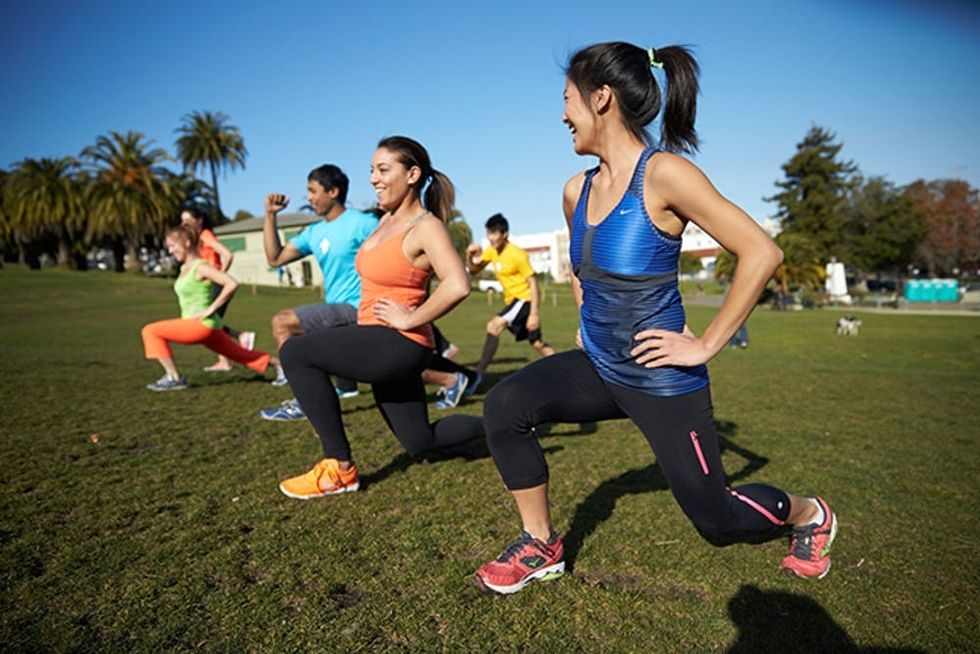 If you spend most of your day chained to your computer, there's even hope for you and your fellow keyboard crunchers to turn lunch hour into power hour with fitmob's new program fitOffice. It's sort of in beta mode at the moment, but SF-based bizs can fight for a chance to test it out — um, we totally know one! Lucky startups who score a trial will have a fitmob trainer drop by to whip your workplace into a sweatin' session in-office or at a nearby park. If fitOffice is anywhere near as cheap as the personal workouts run, this is an idea you should jog on over to your HR department ASAP. They might file it along with your standing desk request, but it's worth a shot.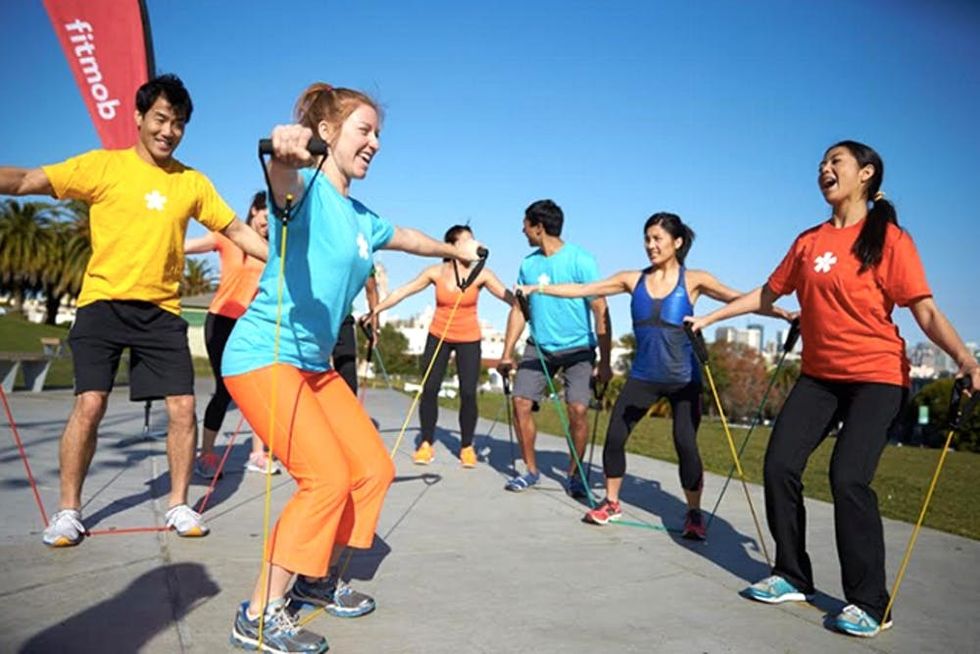 Forget New Year's Resolutions, we want fitmob to help us make some serious Present Year's Strides in our health and happiness. We know you've heard it before — we have too and, maybe if you're "that friend," you've said it in order to seduce gym buddies who would rather be hitting up happy hour, but somehow we believe them when they say their workouts are fun. Getting friends or coworkers in on it will help encourage you to keep at it. Hey, positive peer pressure is a powerful tool and if you need to add a post-workout happy hour to score the skeptics, that works too.
Right now fitmob is based in San Francisco (sorry we're not sorry :( but has plans to expand. An affordable option like this could let those who haven't had success with a gym build a fitness plan that works for them. It also encourages you to explore and become a part of your community. We could keep listing ways why fitmob sounds so awesome, but we gotta go now — have to answer the Call of Booty.
Do you want to see fitmob or a similar service in your city? What's your key to keeping workouts fun?
Lisa Raphael
In her past professional lives, Lisa has served the masses as the Editorial Director at Brit + Co, Bieber Whisperer at J-14, Golden Girls Fan Club Prez at Lifetime and Talk Show Host Understudy to Katie Couric. Now, she's taking on the sports world at
The Relish
, teaching Hairography 101 in her spare time and will forever be trying to fill the hole Zayn Malik left in her heart.