6 Ways to DIY Celeb-Inspired Looks for Coachella
Apr 07, 2015
Listen up: Coachella is in a matter of days. Whether you're making a boho pilgrimage to Indio or not, festival style is in full swing all across the country, and manages to still be on trend even without the musical mayhem. Coachella itself happens to be a hotbed of stylish celebrities as well. From super hipster looks to flower power hippie vibes, celebs definitely know how to bring it in terms of festival-wear.
We teamed up with UNIQLO to show all y'all how to DIY six of our favorite celeb looks from Coachellas past! We've got Julianne Hough rocking all denim and fringe, Kate Bosworth with patterned cutouts and scarf-wrapped sandals, Vanessa Hudgens with a sparkly top and bleach-dyed skirt, Solange rocking cocktail-ready attire, Kendall Jenner repping grunge in a major way and Emma Roberts bringing prep back like what. Read on to learn how to get each one of these looks, complete with one DIY element per style muse.
---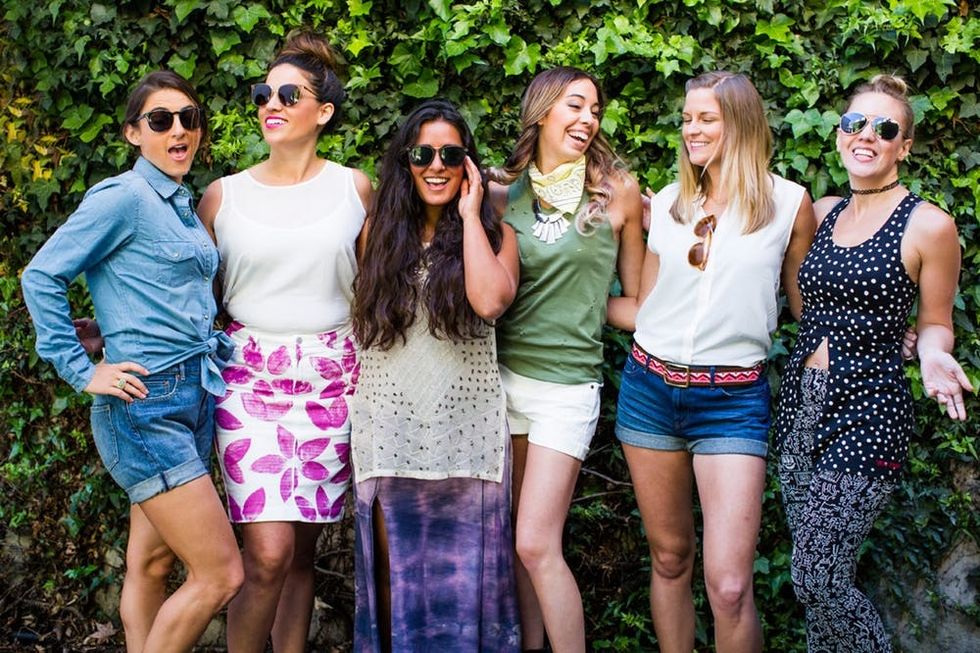 In the desert heat of Indio, California, it's important to make sure your outfit keeps you cool. We layered UNIQLO's Airism tank tops underneath a few of these looks to help combat the heat. Their Airism line is designed to absorb moisture to keep skin dry, release heat from your body to keep your overall body temp comfortable and cool, stretch to fit snugly without any bagginess and minimize and neutralize any body odor. Now, let's get our Coachella style ON! :) (photo credit: Vogue UK, Coachella Festival 2014)
Emma Roberts // DIY Embroidered Belt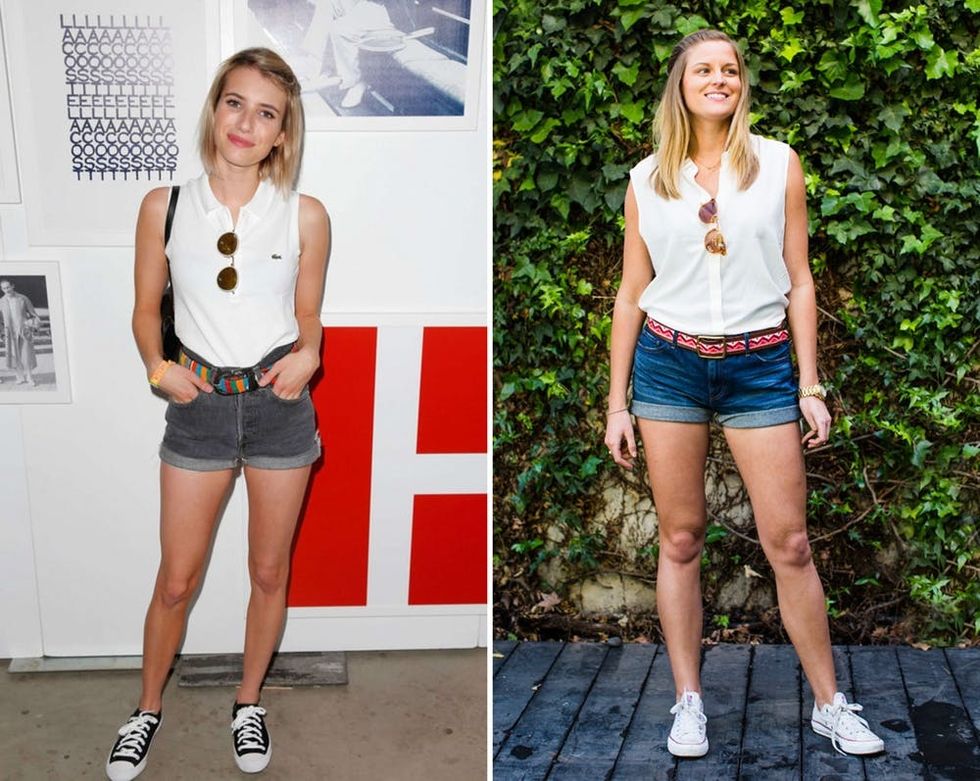 Emma is going for some serious prep in this pic, but with a summery feel. The elements of this outfit are fairly basic, but it's that embroidered belt that elevates the ensemble. Merchandiser extraordinaire Alicia Goad really brought out her inner starlet for this look! :)
Here's how to get the look:
– White Collared Tank
– Airism Camisole in White
– High-Waisted or Mid Rise Denim Shorts
– Sneakers
– Embroidered Belt
Follow along to see how to hack your own embroidered belt in a matter of minutes — no embroidery required!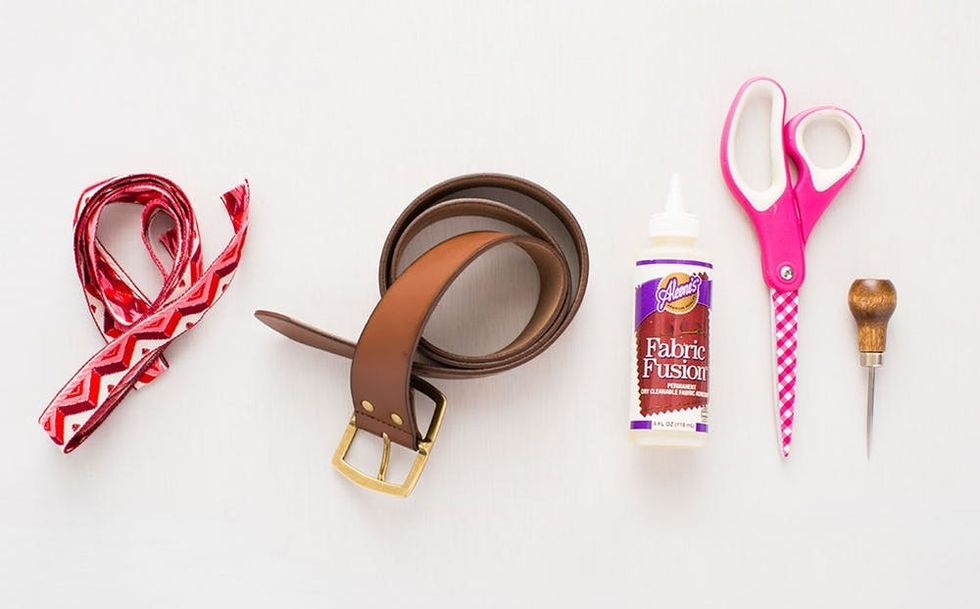 Materials:
– leather belt
– ribbon
– fabric glue
Tools:
– scissors
– leather awl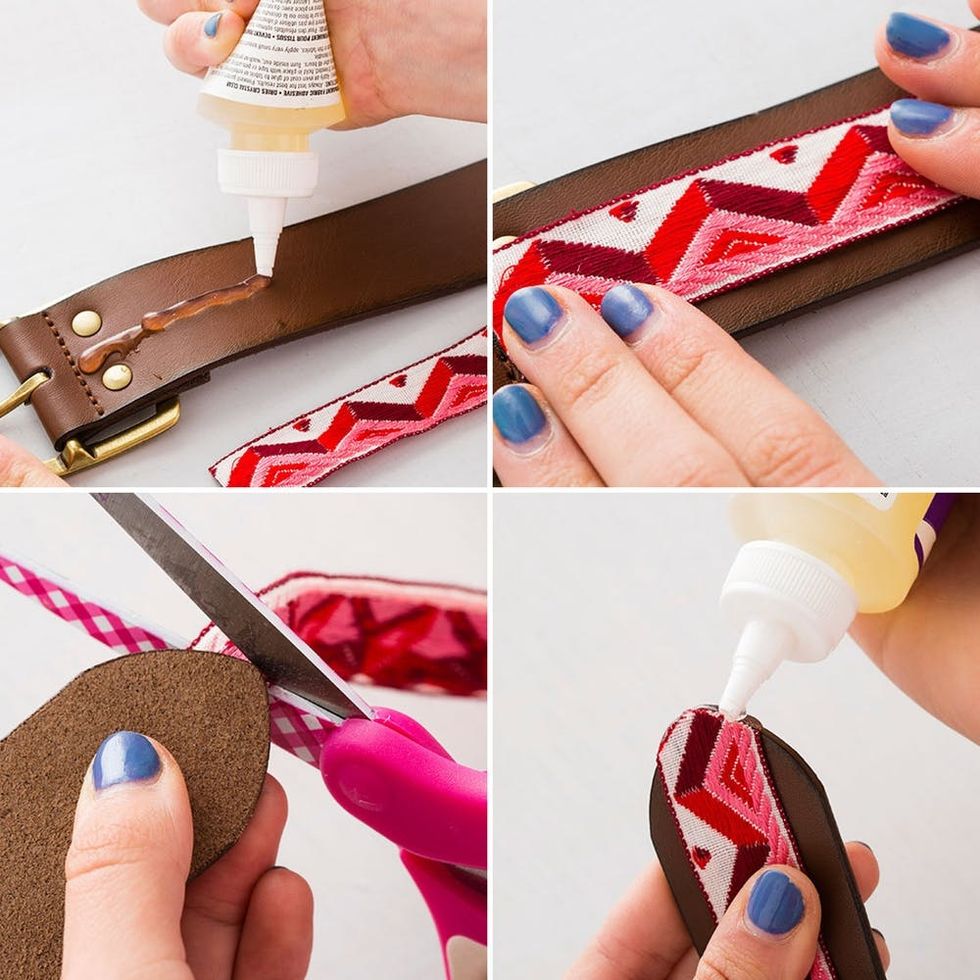 Glue the ribbon in the center of the leather belt. Trim the end and apply glue so the ribbon doesn't fray.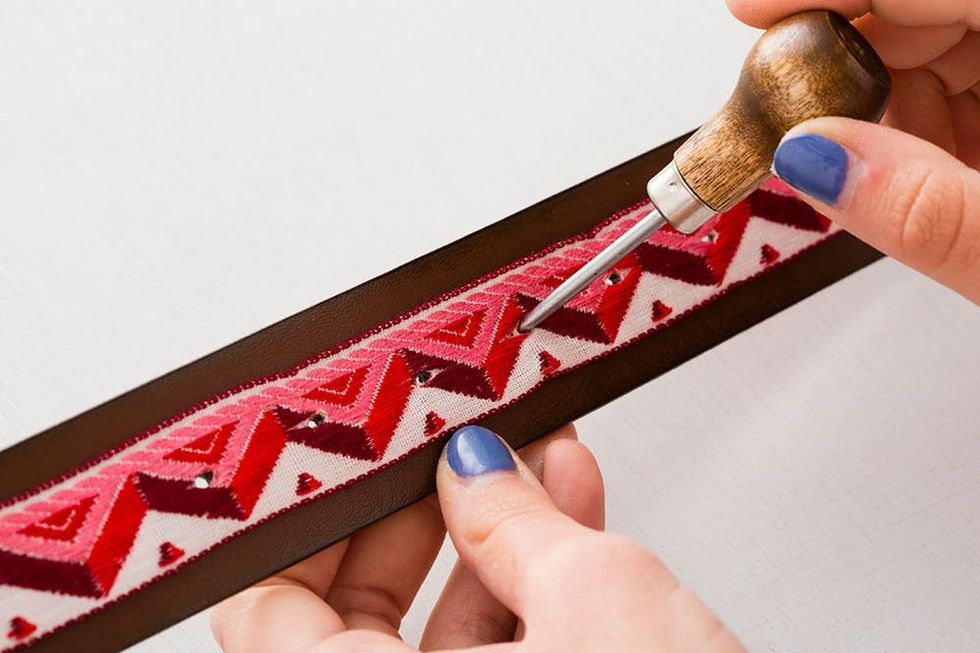 Use the awl to poke through the holes on the belt.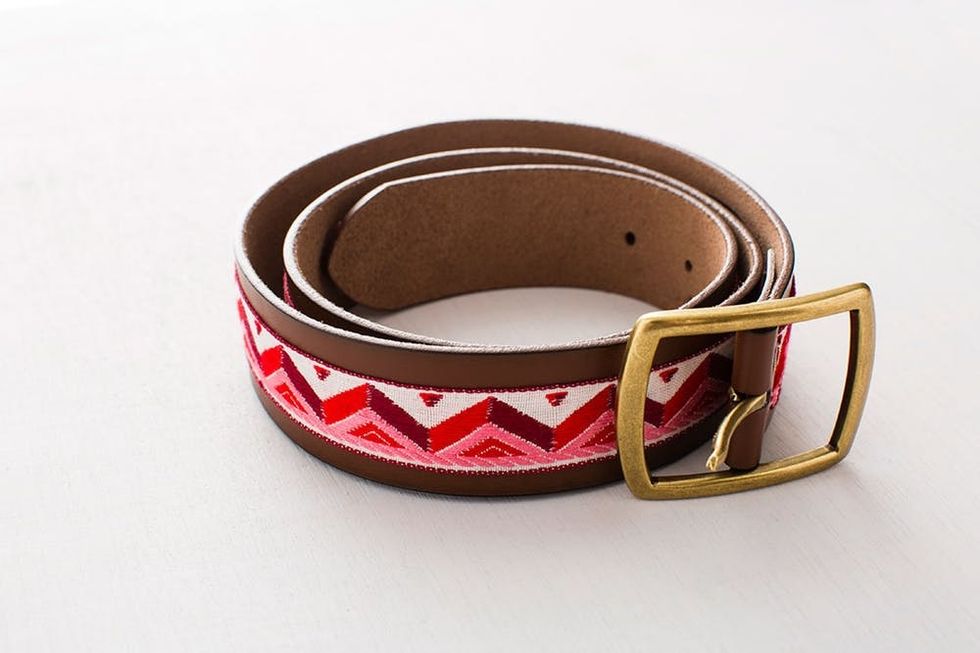 Let it dry for about 30 minutes and then it's ready to wear!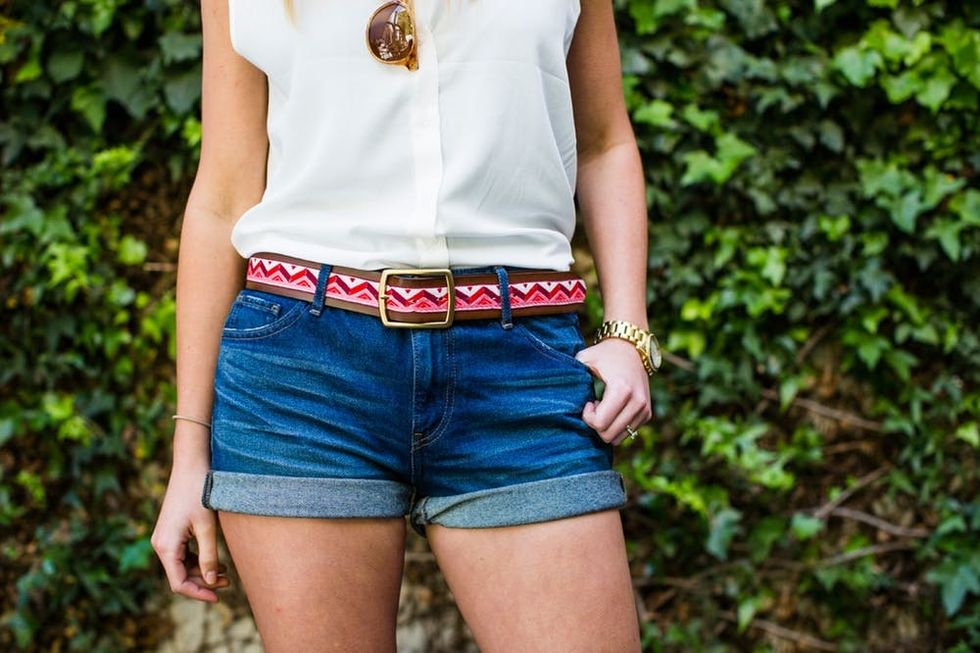 Prepster meets boho, coming right up.
Kate Bosworth // DIY Scarf Sandals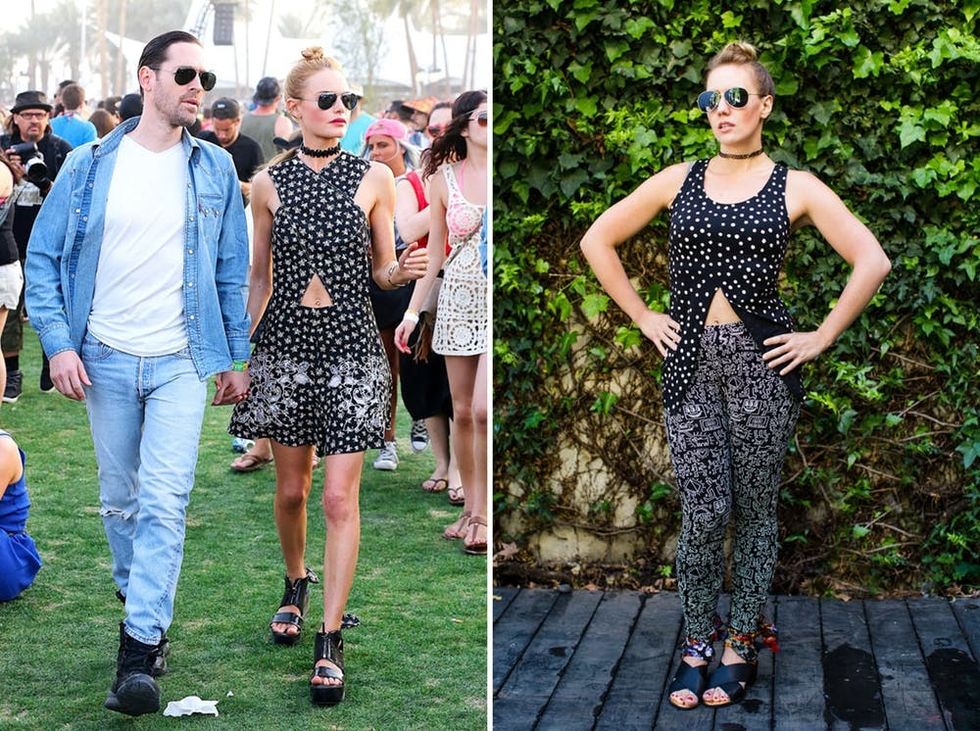 When it comes to channeling Kate Bosworth, Editorial Director Lisa Raphael totally (blue) crushed it. Patterns are king when it comes to mimicking this ensemble, but we recommend a less boxy number for maximum style points. (photo credit: Sharpshooter Images / Splash/Splash News/Corbis)
Here's how to get the look:
– Sprz NY Yayoi Kusami Polka Dot Tank Top
– Sprz Keith Haring Leggings
– Top Knot 'do on FLEEK
– Aviator Sunnies
– '90s Neck-Tattoo-Style Choker
– Scarf Sandals
Read on to see how to turn a black pair of mid-heel sandals into scarf wrapped beauties.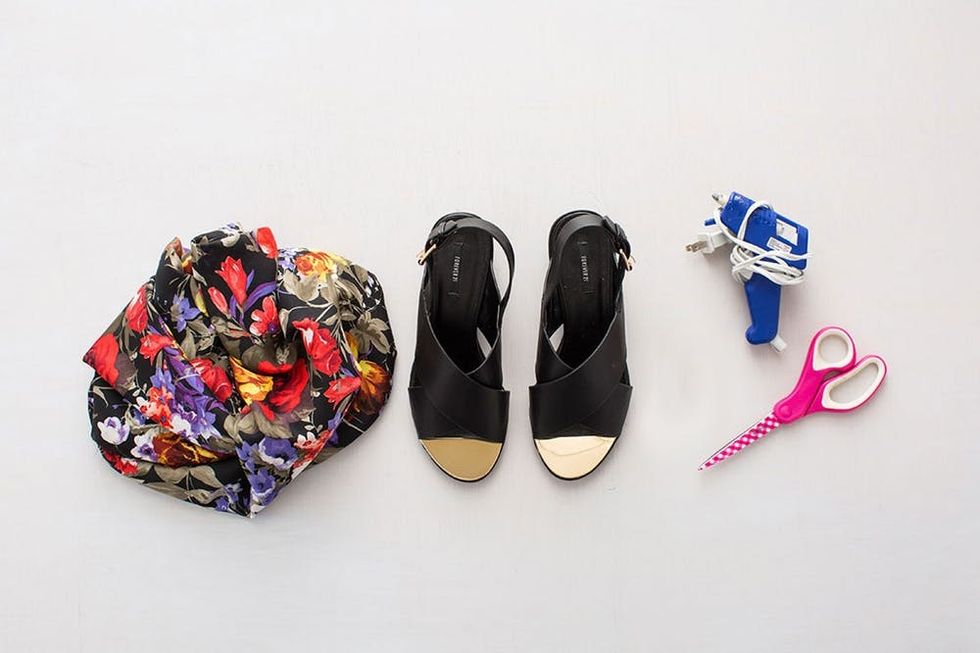 Materials:
– scarf
– sandals
– hot glue
Tools:
– scissors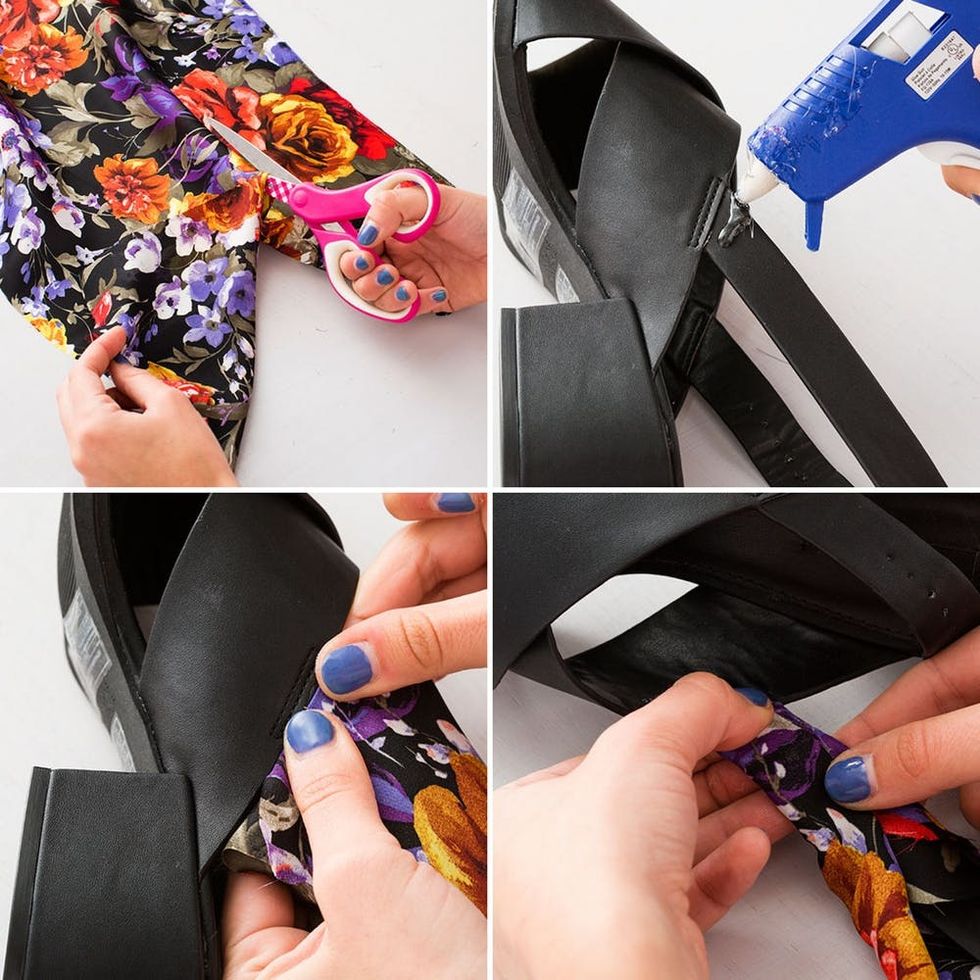 Cut the scarf into four long strips. Wrap the scarf around the strap on the shoe and attach with hot glue.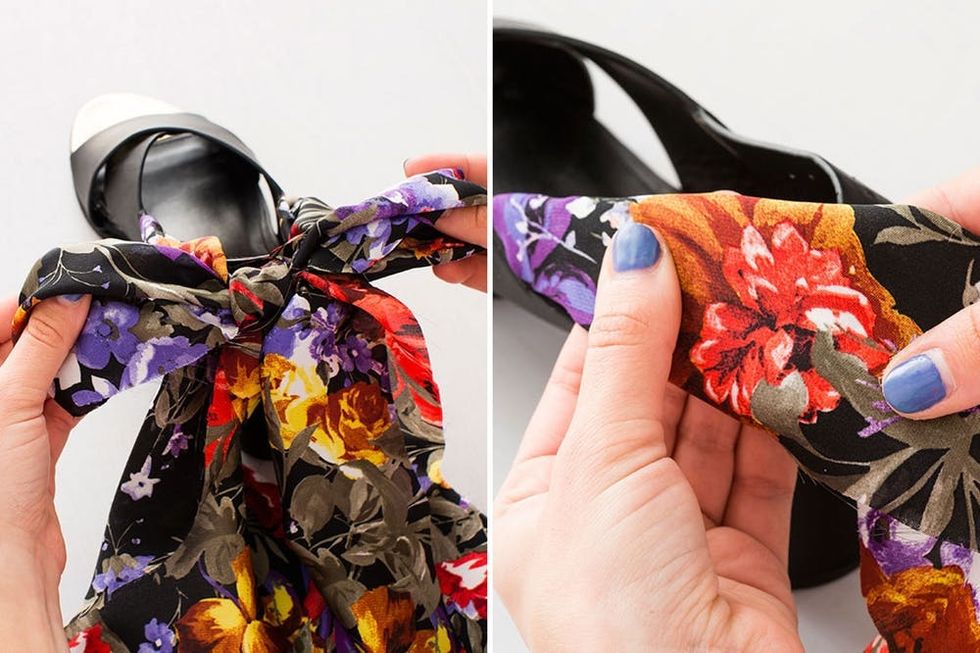 Add a little more glue to the strap to better attach the scarf. If your sandal has a buckle, make sure you leave the holes accessible. Tie in a bow and trim the extra fabric.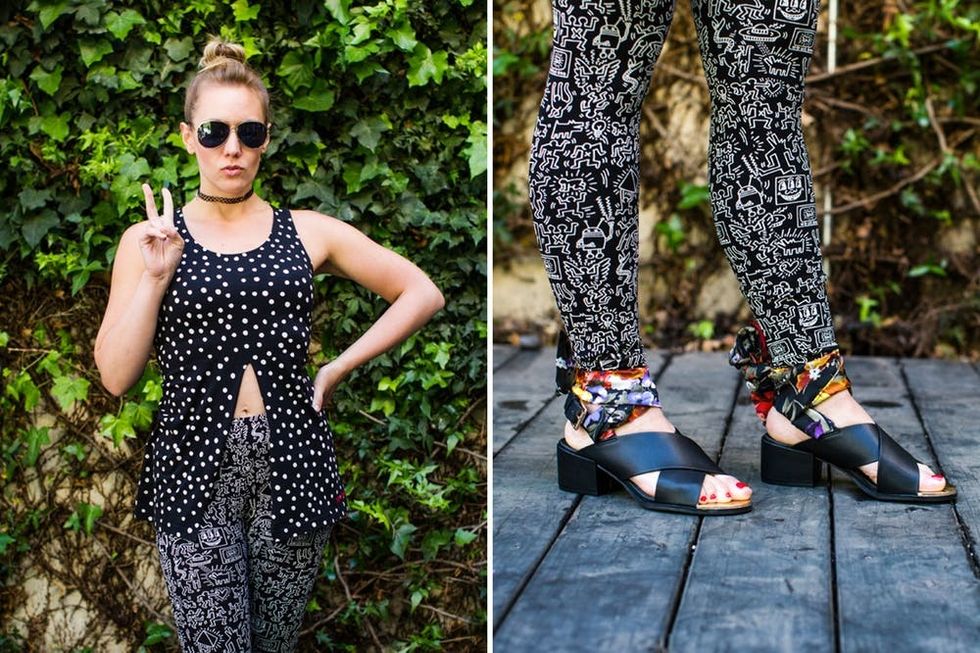 Done and done.
Julianne Hough // DIY Leather Fringe Bag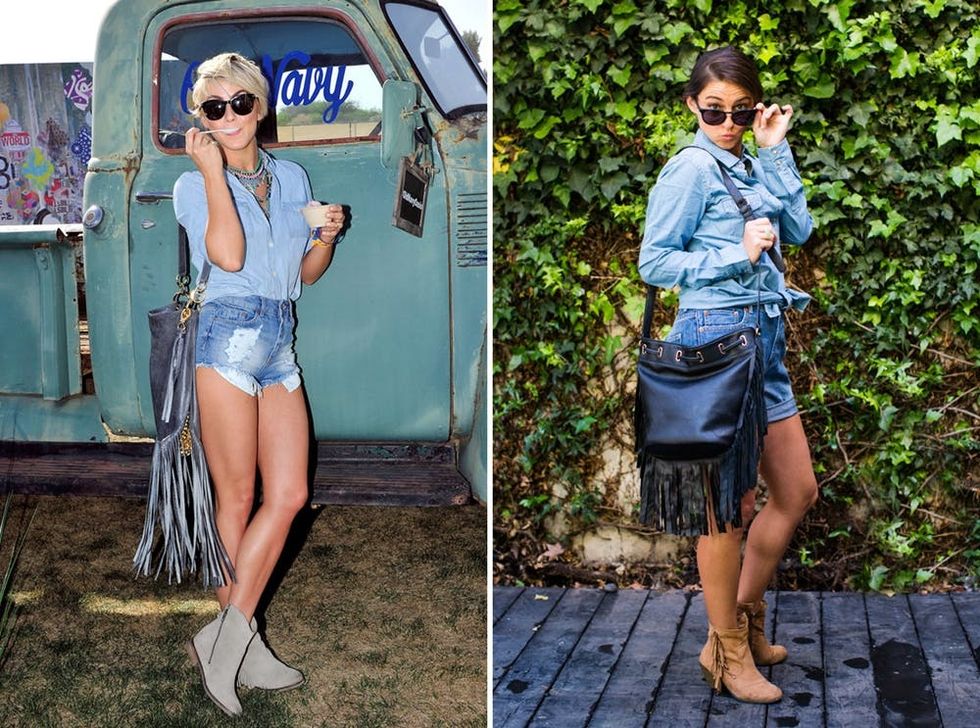 Next up we've got Julianne Hough rocking all denim alongside a seriously statement-worthy fringe bag. Brit + Co'er Ashley Perlman definitely brought it in the denim department. (photo credit: Michael Simon for US Weekly)
Here's how to get the look:
– Denim Designed Long Sleeve Shirt
– Airism Camisole in Blue
– Pure Blue Japan Denim Shorts
– Tan Booties
– Leather Fringe Bag
Now, how's about we hack ourselves a fringed leather bag!
Materials:
– bag
– leather
– studs
– hot glue
Tools:
– fabric scissors
– pliers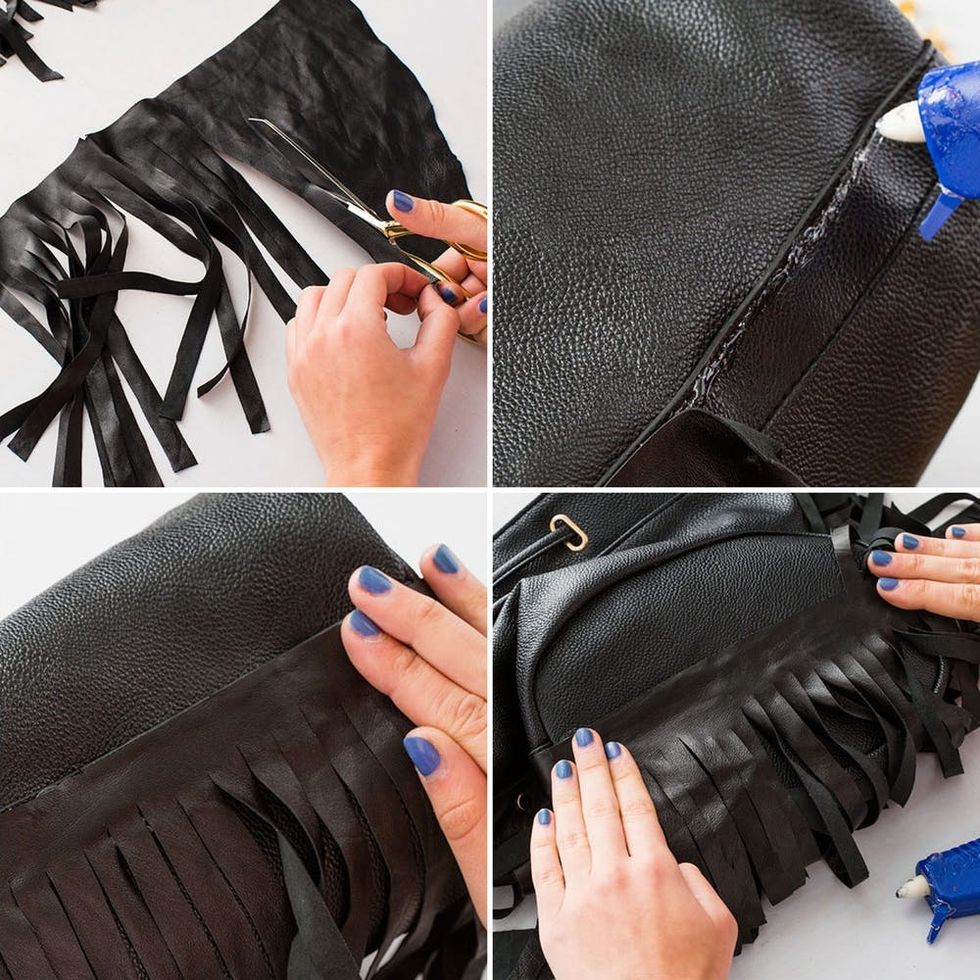 Fringe up that leather! We cut three rectangles to cover the sides and bottom seams of the bag. Fringe to your desired length. Use hot glue to attach to your bag. We placed the hot glue along the sewn seams. Don't forget to attach fringe to the bottom of the bag!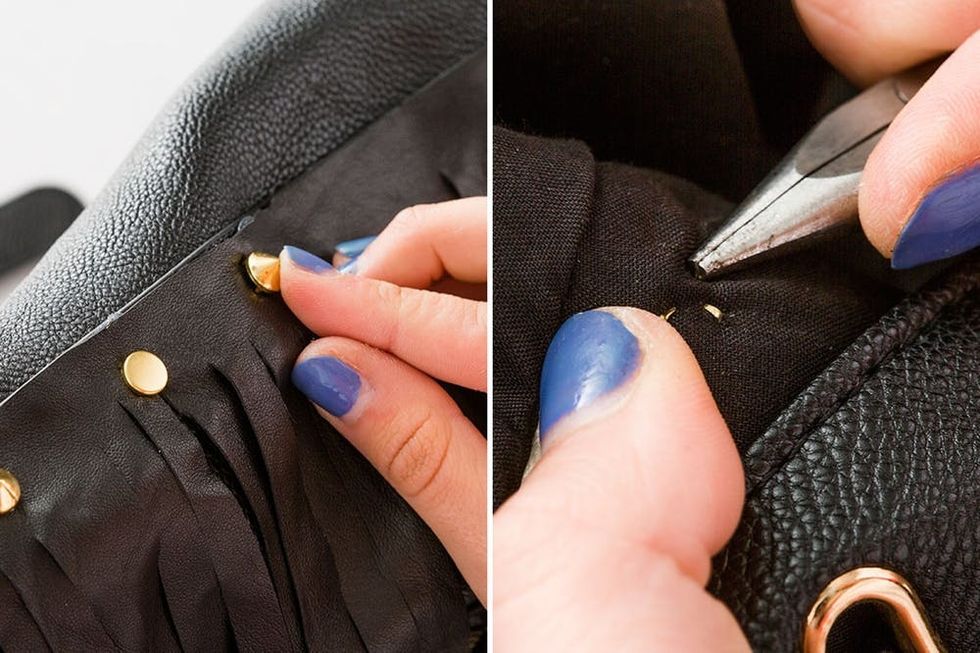 Puncture that tote with your favorite studs. *Pro tip: Keeping the glue on the sides makes it easier to attach the studs in the center.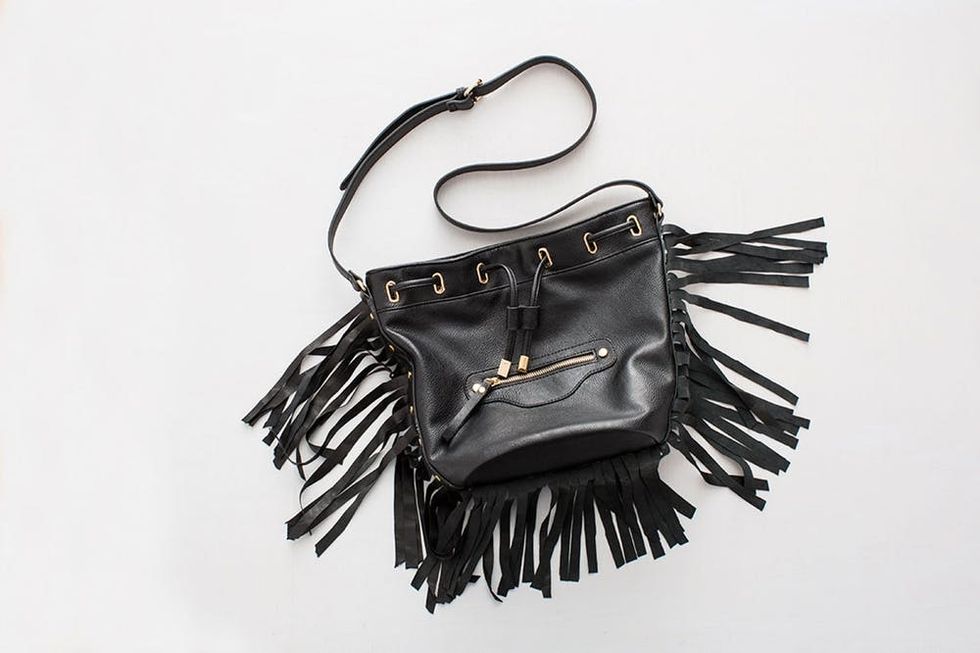 Hold the bag up and trim the fringe to make sure it falls in an even shape.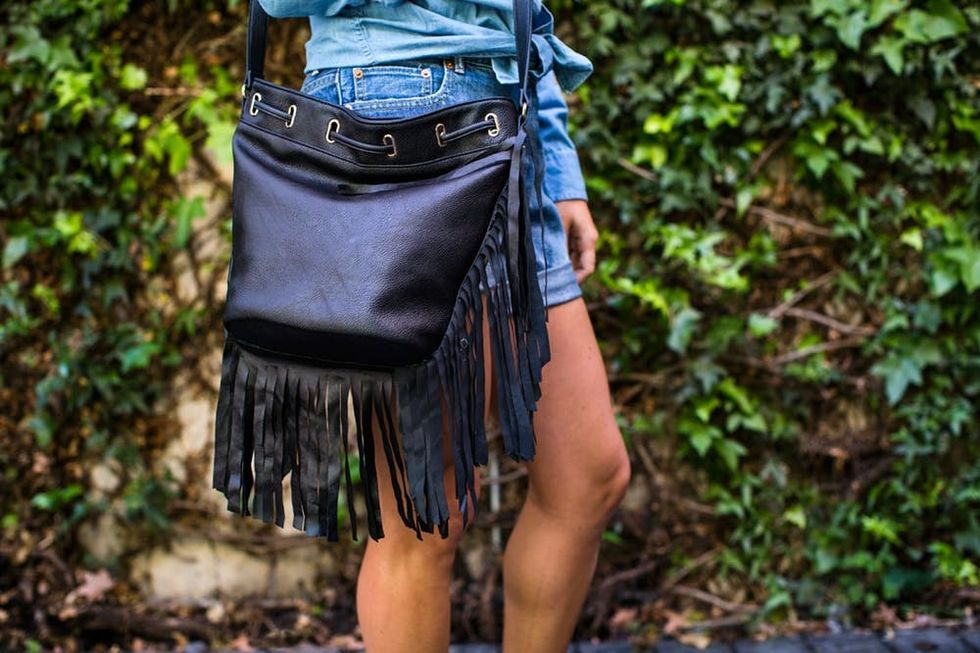 Looking goooood.
Vanessa Hudgens // DIY Bleach-Dyed Maxi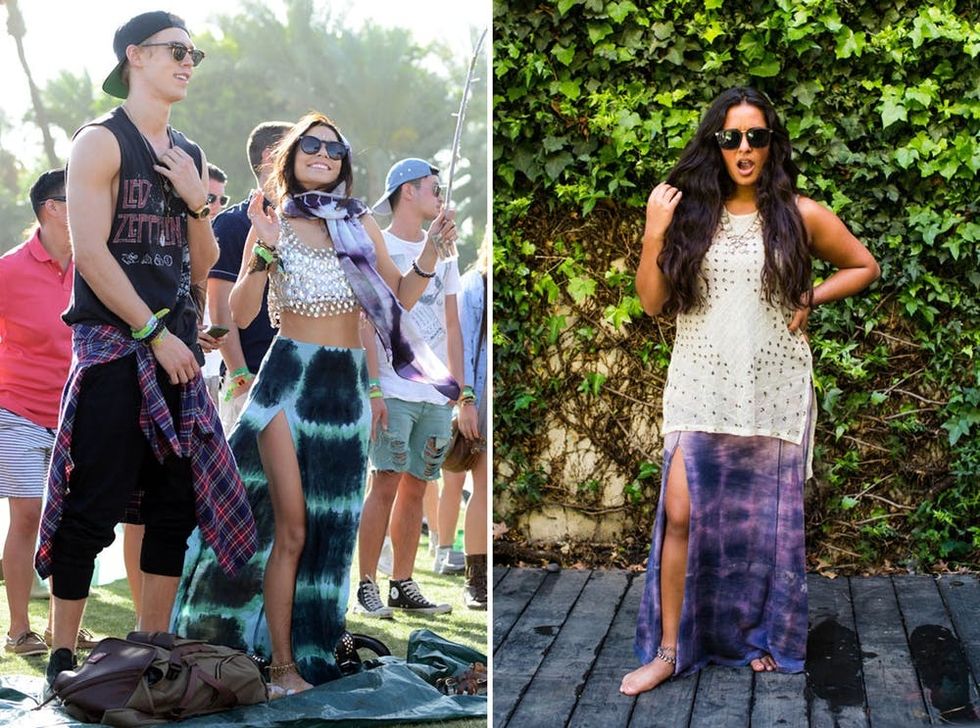 Vanessa Hudgens is quintessential Coachella, with a combo of glitz and boho that only she can rock. For our take on this look, I went for a long bejeweled top instead of the cropped number, but feel free to crop it like it's hot. (photo credit: infusla-253/INFphoto.com/Corbis)
Here's how to get the look:
– Tons of Sparkly Necklaces
– Sequined or Bejeweled Top
– Bleach-Dyed Maxi Skirt (we used this Navy Skirt from UNIQLO)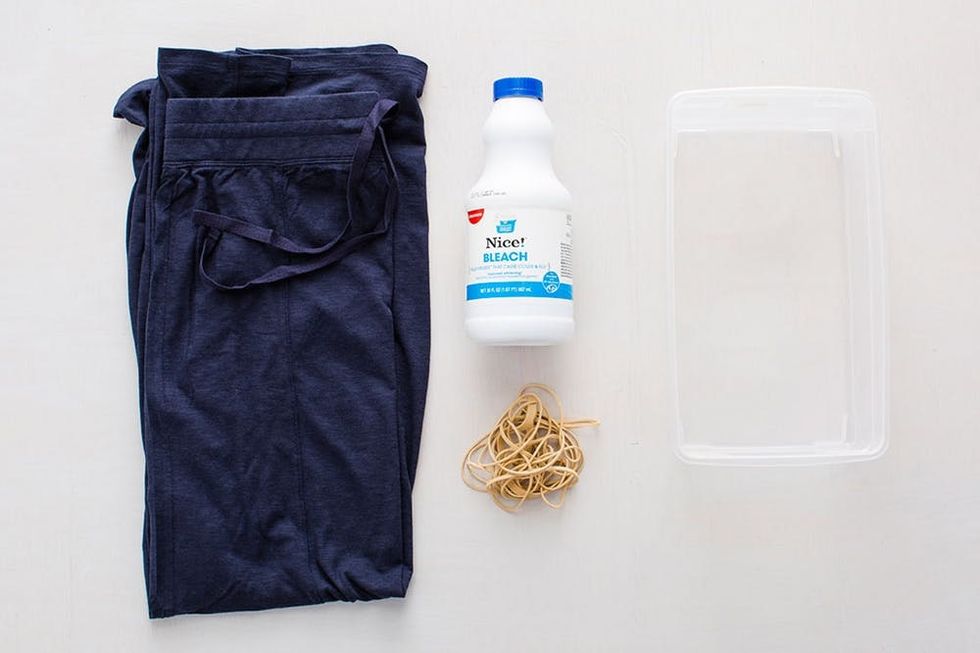 Materials:
– maxi skirt
– bleach
– rubber bands
Tools:
– bucket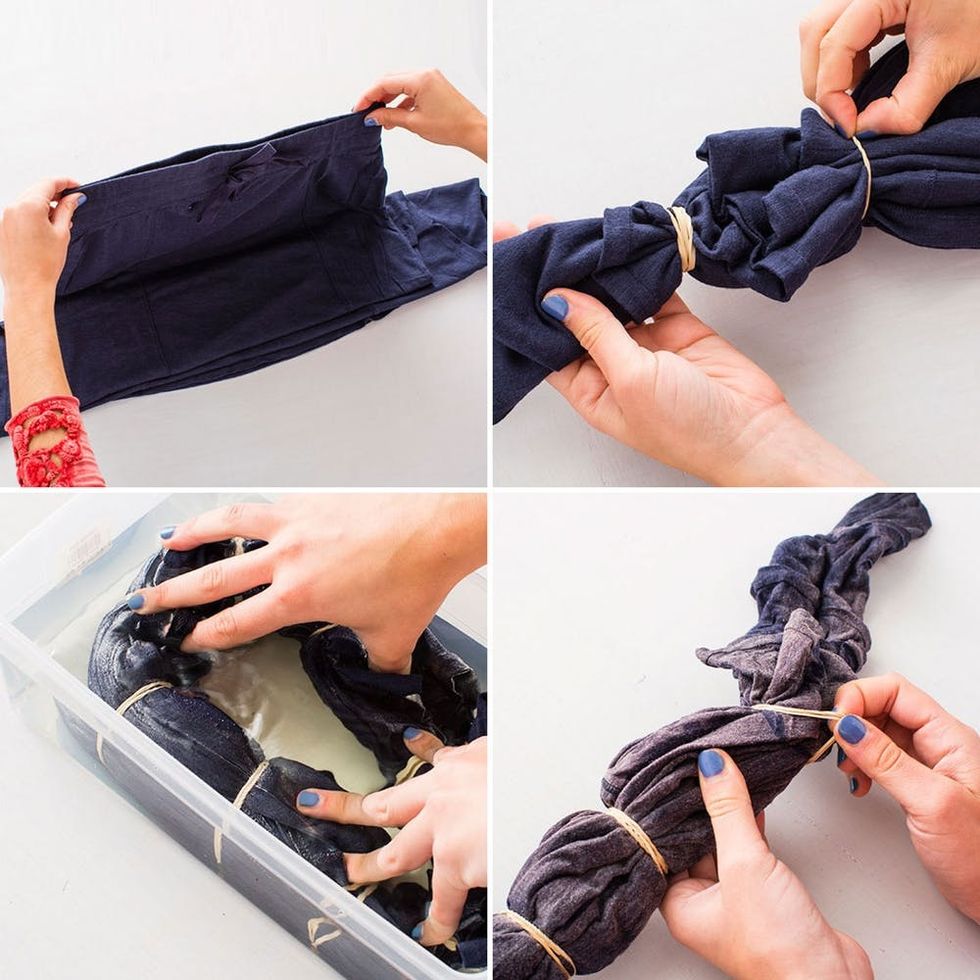 Accordion-fold the skirt and then section off with rubber bands. The more rubber bands you add, the smaller the pattern will be. Create a concoction of half bleach, half water and dunk in your skirt. Let it sit for about 20 minutes. Remove from the bleachy bath and take off the rubber bands.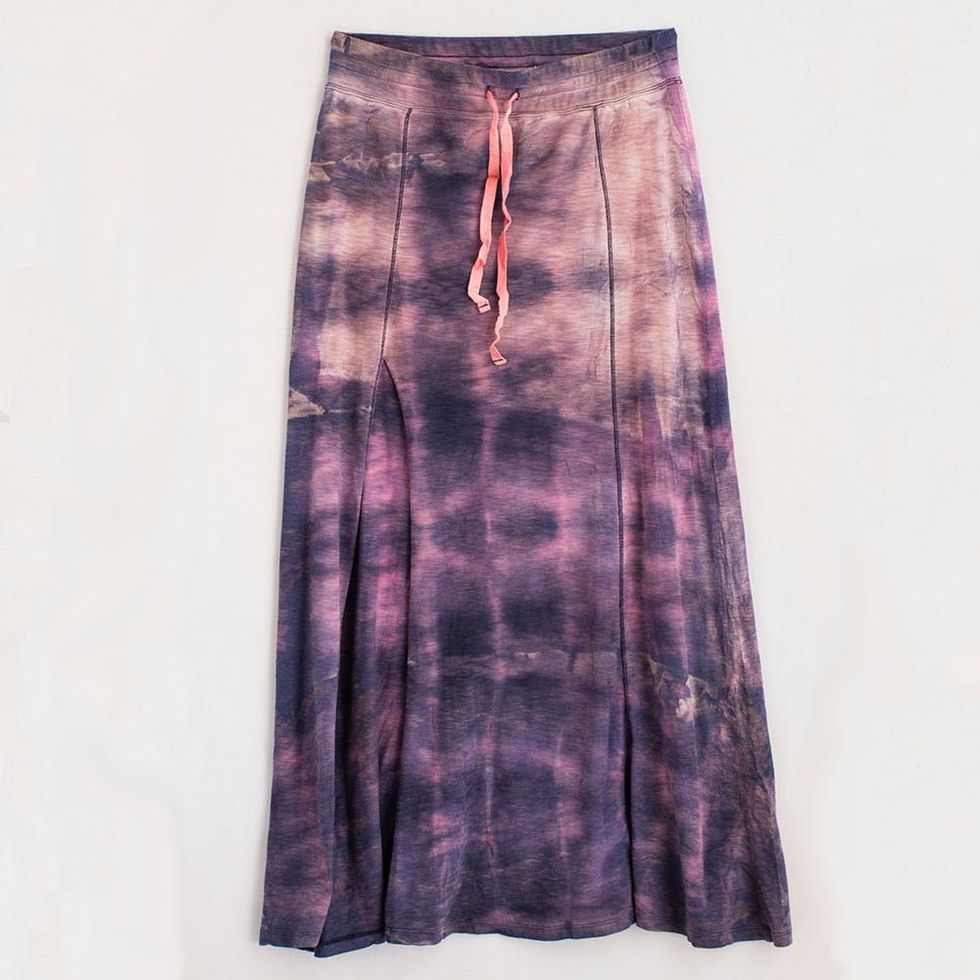 Wash and dry your maxi to reveal the bleached design. To add some summertime skin, use scissors to cut a slit along the front side seam. Ooh baby!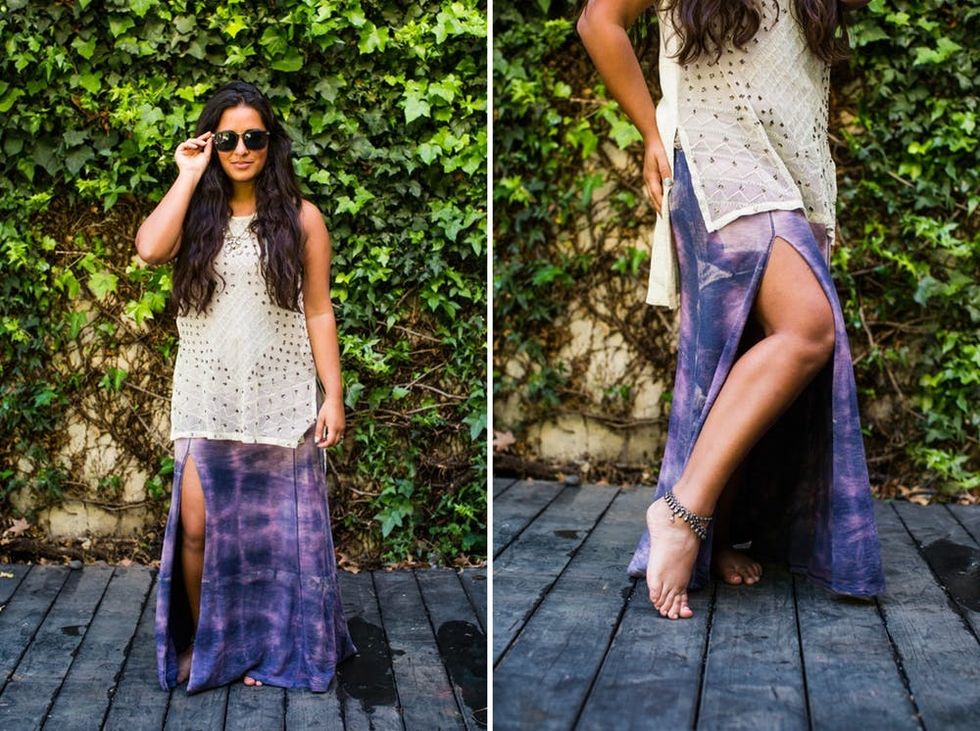 To add some summertime skin, use scissors to cut a slit along the front side seam. Ooh baby!
Kendall Jenner // DIY Bandana Statement Necklace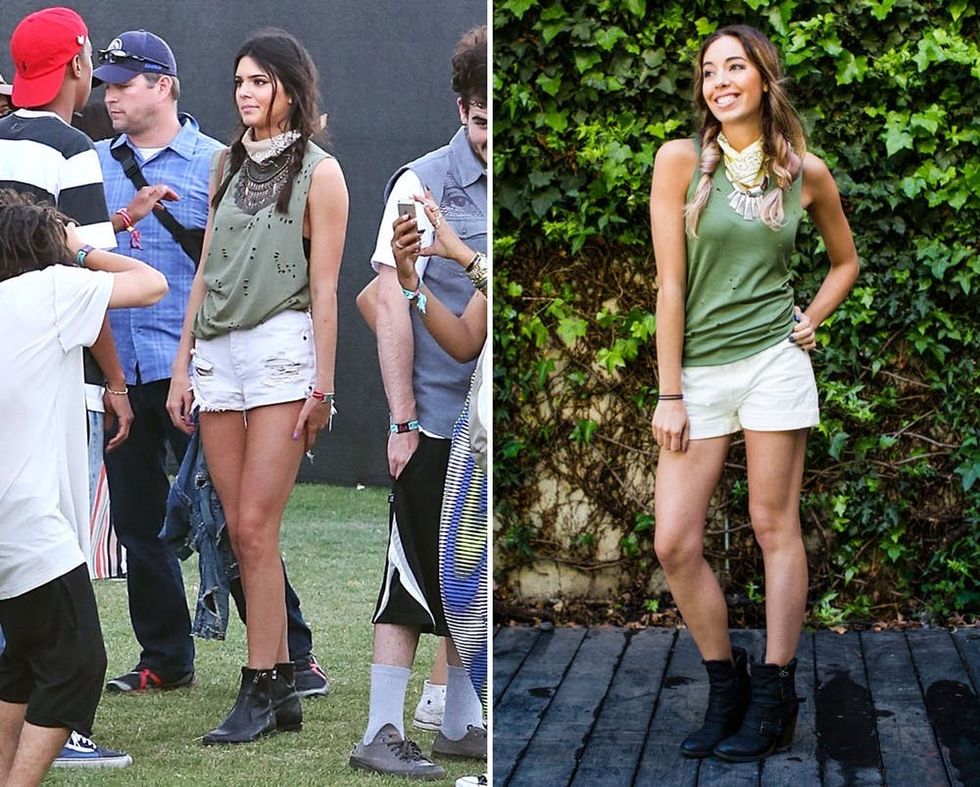 And on to a Kardashian, because how could we not? DIY star Kelly Bryden knows how to work a Kendall-inspired runway… or deck! (photo credit: Splash News/Corbis)
Here's how to get the look:
– Supima Cotton Crew Neck Tee in Green (cut off the sleeves and nick it up to create the distressed aesthetic)
– Boyfriend Fit White Jean Shorts
– Black Boots
– Bandana Statement Necklace
Though Kendall seems to just be layering it up, we decided to turn her look into a brand new statement necklace.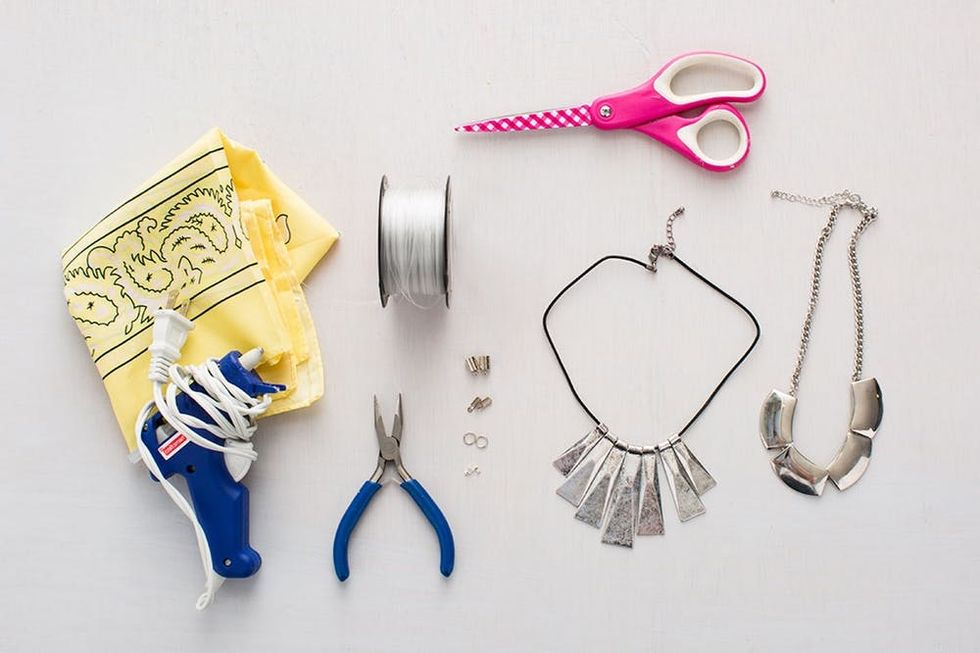 Materials:
– silver-plated necklaces
– bandana
– fishing line
– cord ends
– jump rings
– crimp beads
– hot glue gun
Tools:
– scissors
– pliers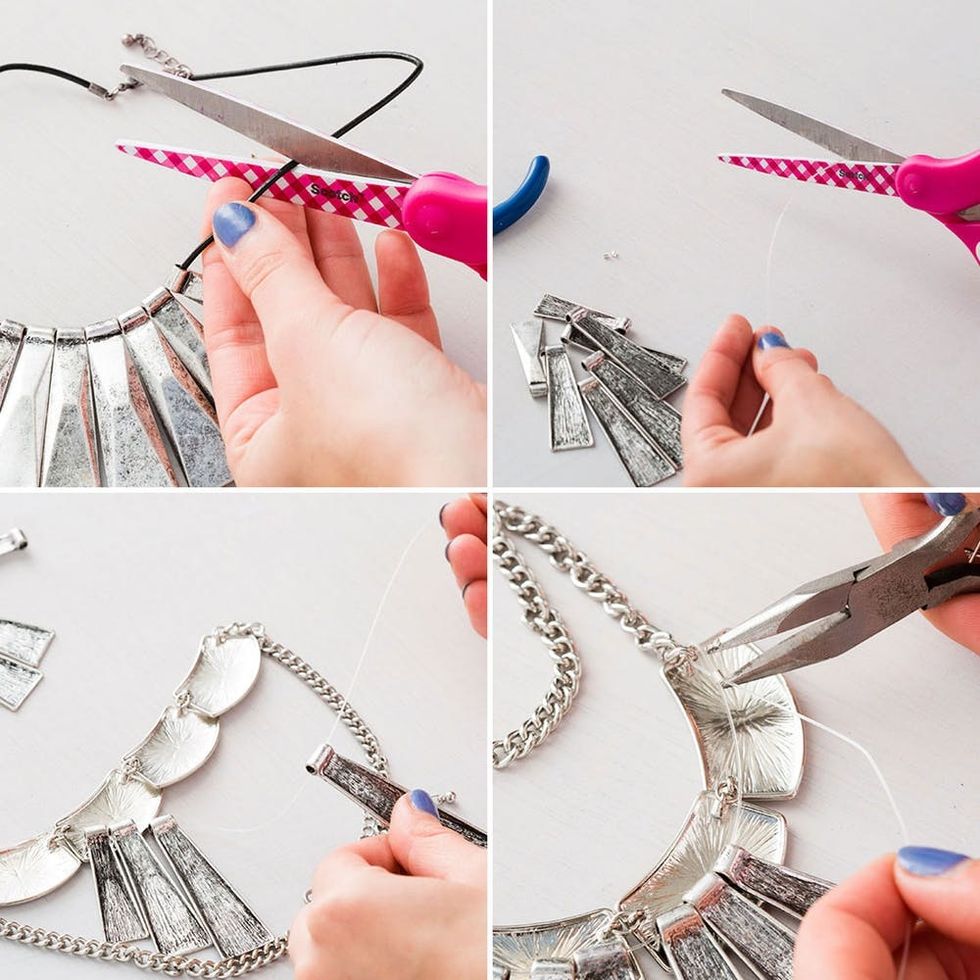 We found two necklaces that we loved, but knew we would love them even more as one necklace. Use the crimp bead to attach the fishing line to the first necklace. String on the plated beads and crimp at the other end.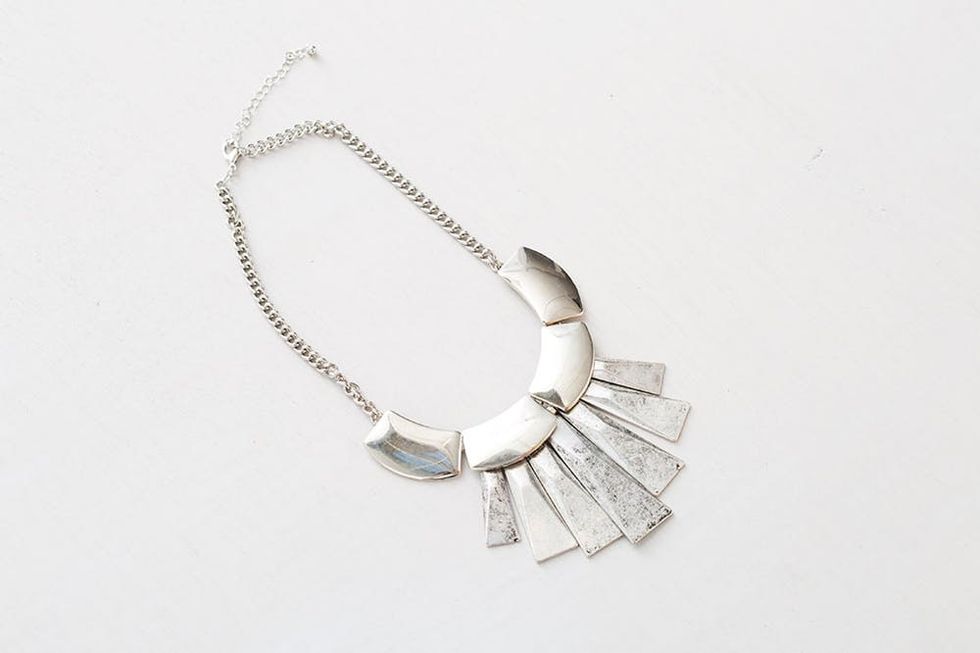 Yes! Statement necklaces FTW.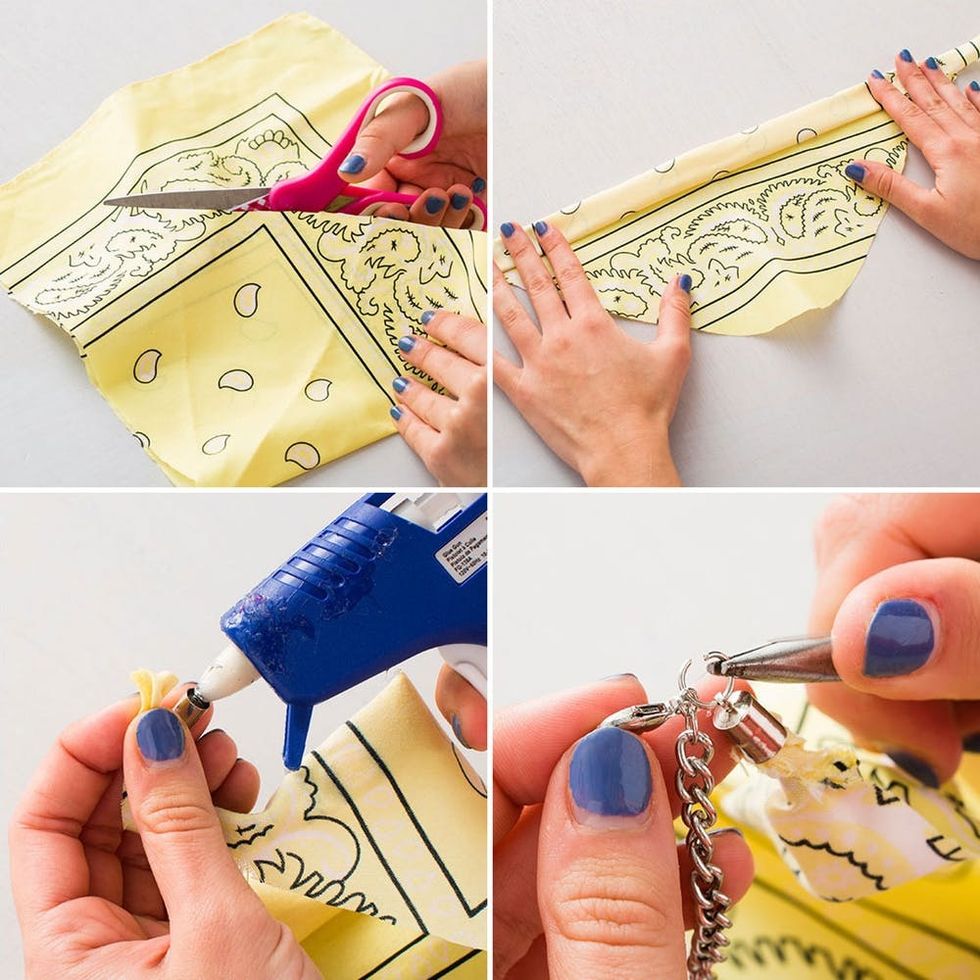 Cut your bandana into a triangle shape. We only used half of the bandana, but if you want more thickness then go for the whole thing.
Fold the top of the bandana over to create a clean line. Hot glue the fold in place, as well as the tips of the bandana into the cord ends. Use the jump rings to attach the bandana to the necklace.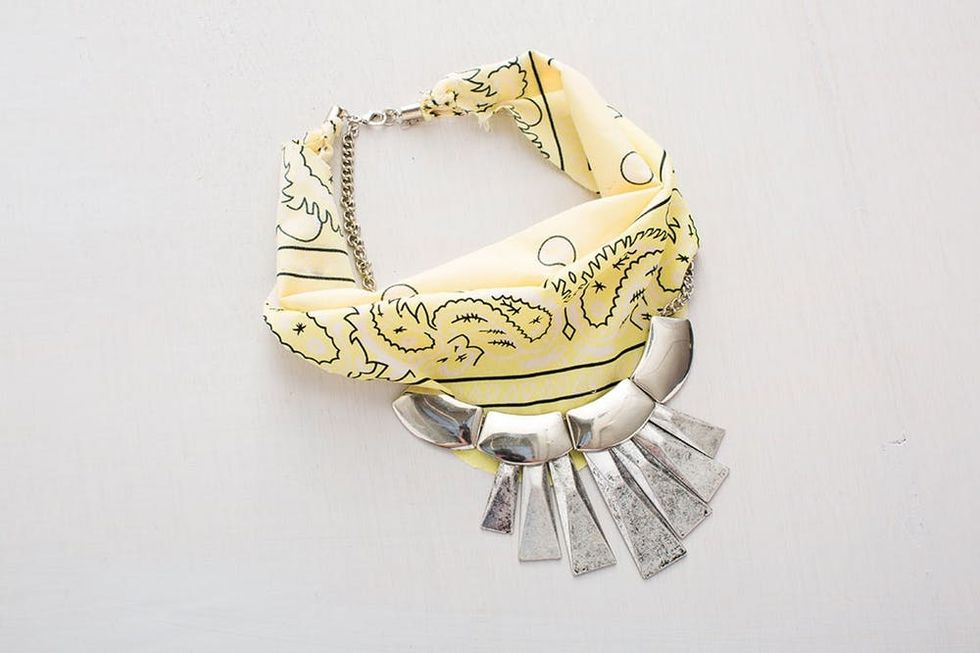 The bandana is especially great for those hot dusty days.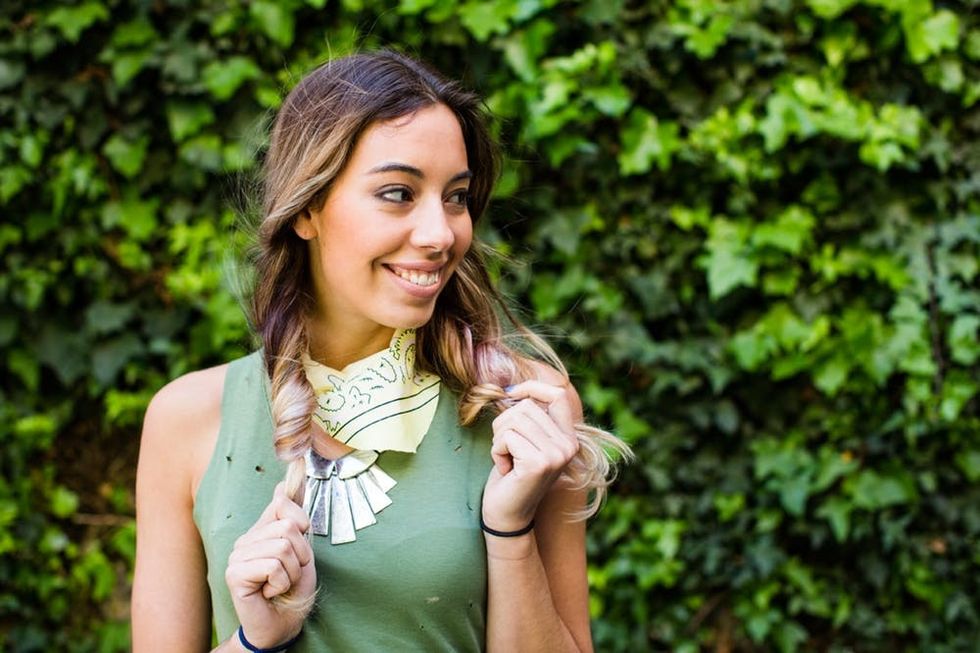 We love the multi-layered look here.
Solange // DIY Block Print Patterned Skirt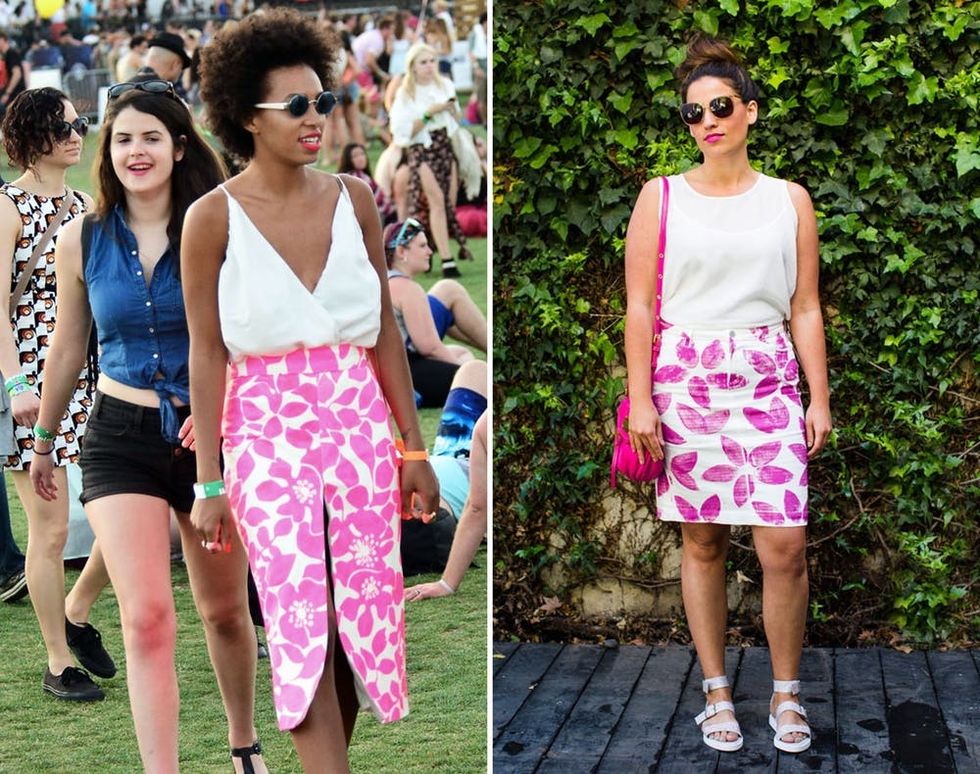 Finally, Ashley Fischer is channeling her inner songstress in this copycat look inspired by Solange. She captures that effortlessly cool vibe perfectly. (photo credit: London Entertainment / Splash/ /Splash News/Corbis)
Here's how to to get the look:
– Hot Pink Lipstick
– Hot Pink or Orange Purse
– White or Gray Sandals (we rocked our DIY Confetti ones!)
– Floral Print Skirt (we used this White Denim number as our base)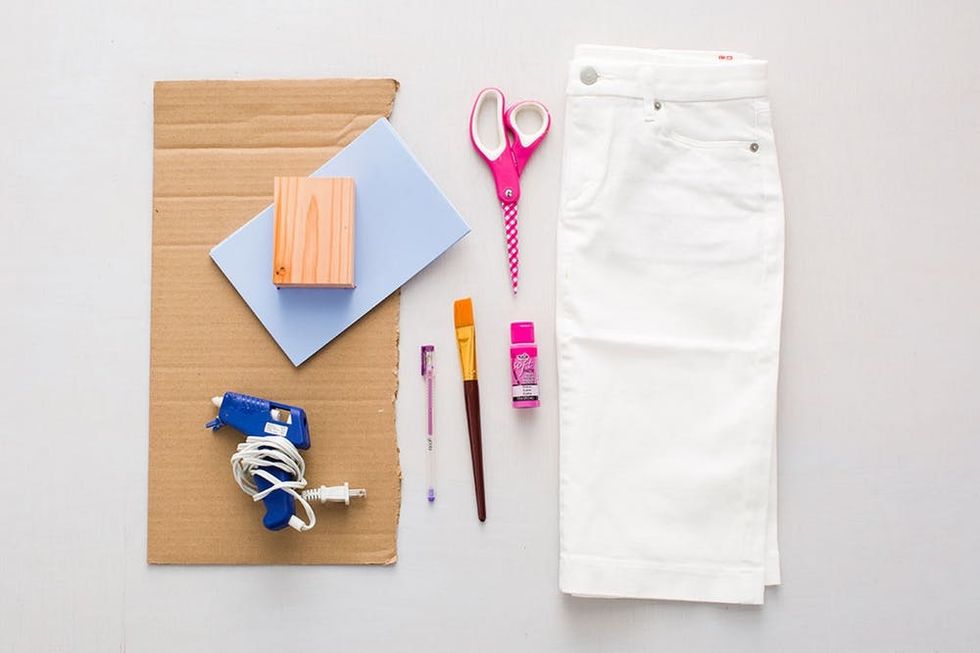 Materials:
– skirt
– cardboard
– wood block
– craft foam
– fabric paint
– hot glue gun
Tools:
– paint brush
– pen
– scissors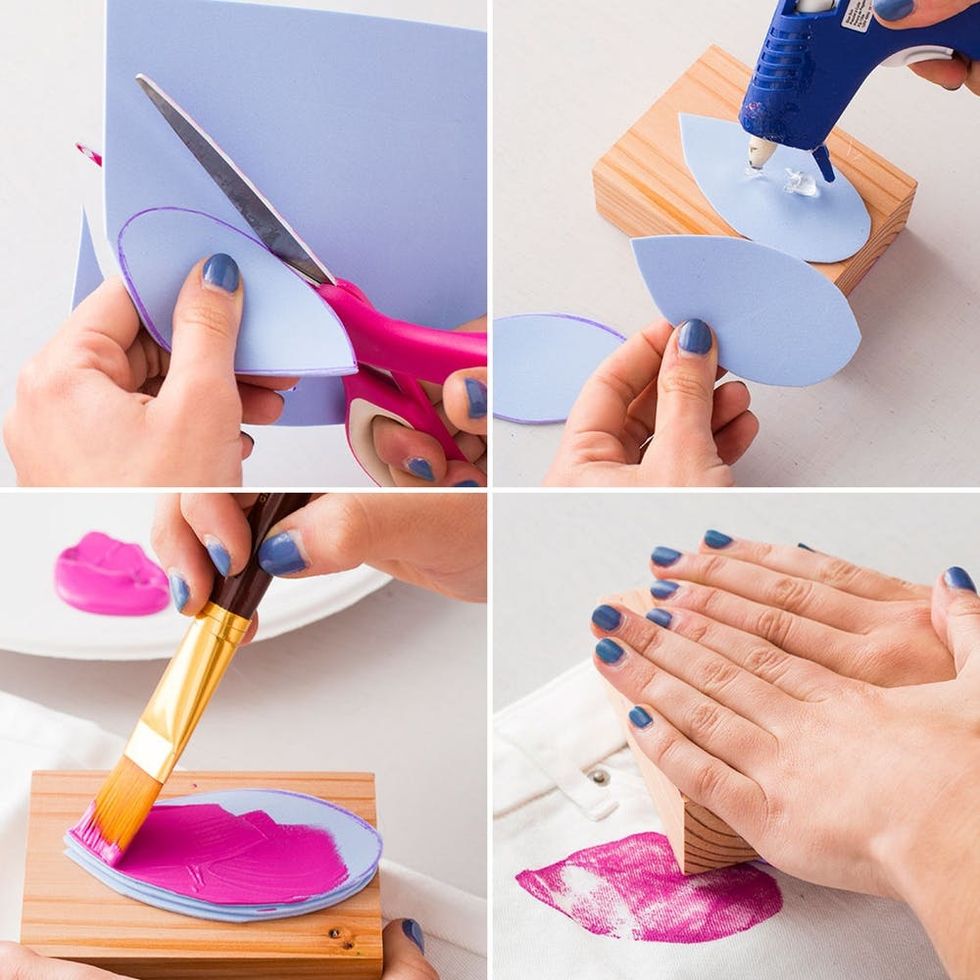 Draw and cut out a leaf shape. Hot glue three of them onto a wooden block. *Pro tip: The more layers of foam you add, the cleaner your print will turn out. Make sure you stick the cardboard between the skirt so the paint doesn't bleed to the other side.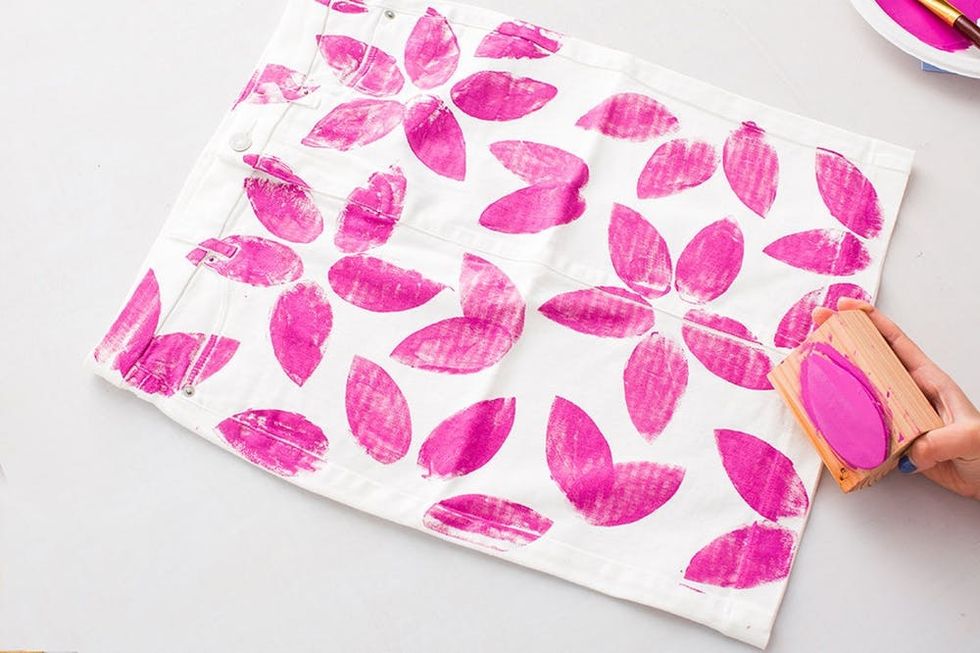 Check it out! We are loving the way this leaf shape turns into a flower and petals.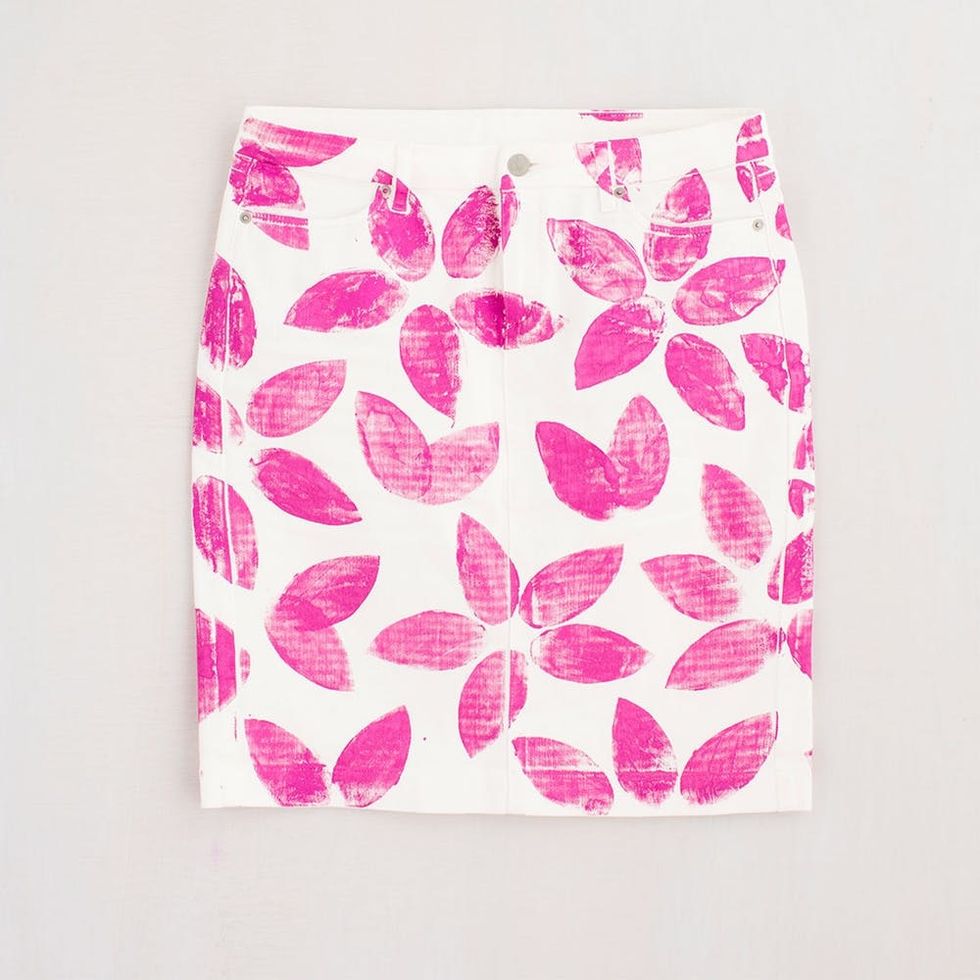 The paint will take about 20 minutes to dry. Then turn it on its sides to make sure you cover the whole skirt.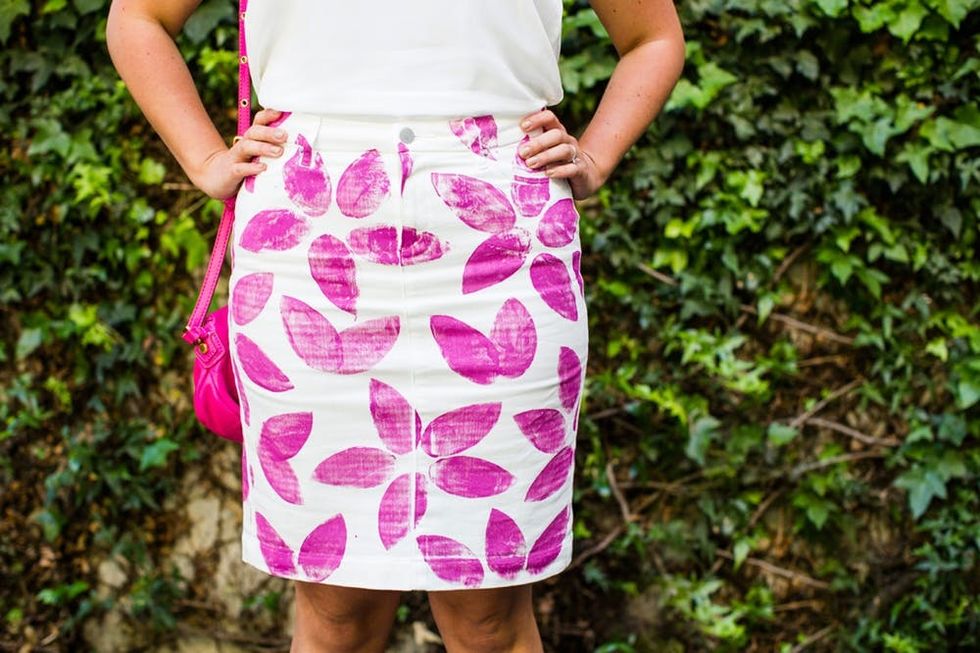 We're digging those flowers, yo!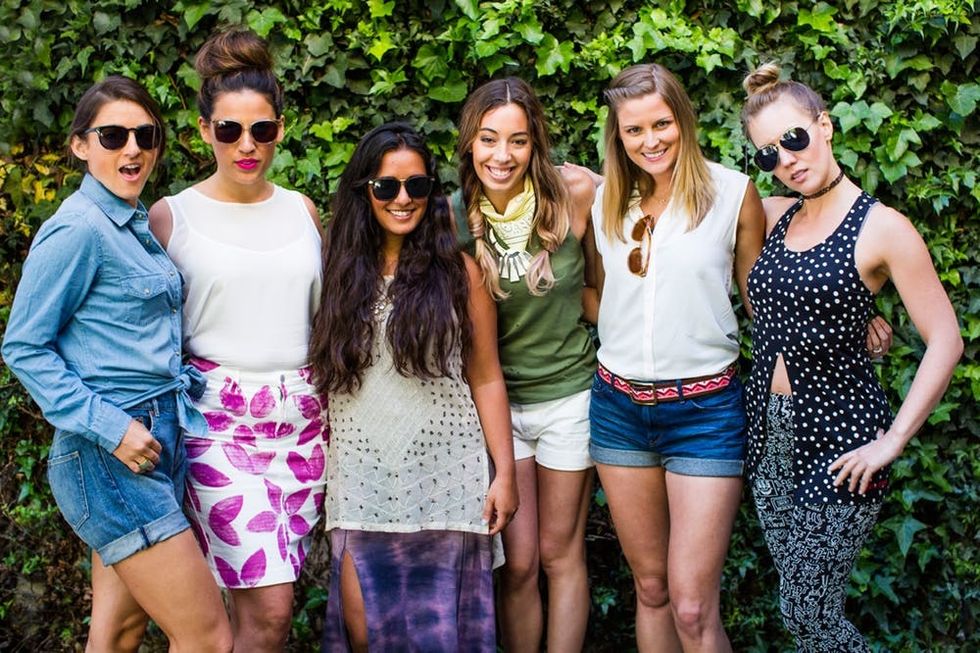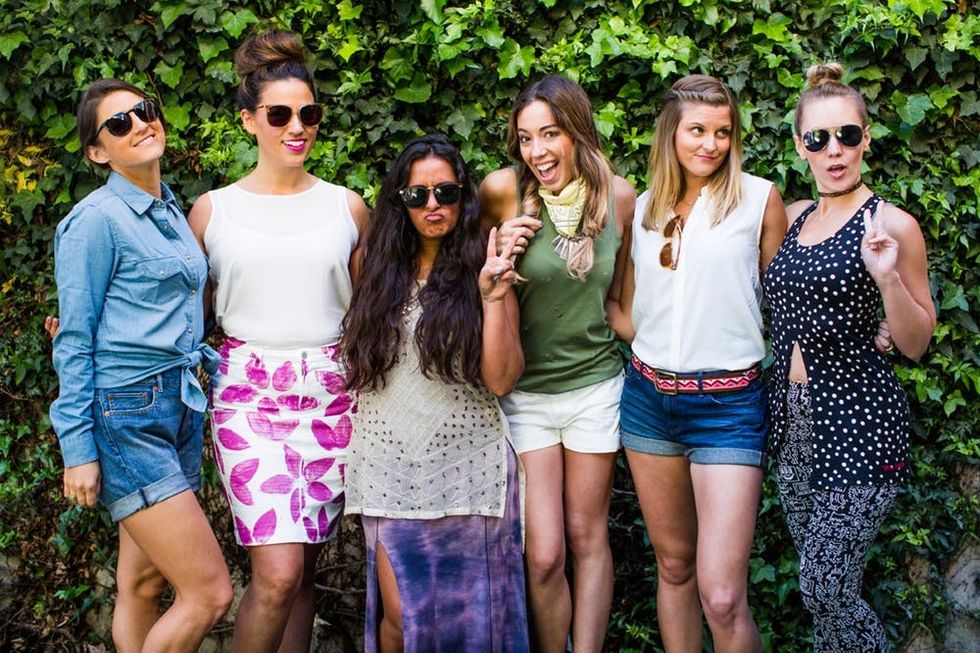 And there you have it! Six awesome DIY ways to get your favorite celeb-inspired looks for festival season.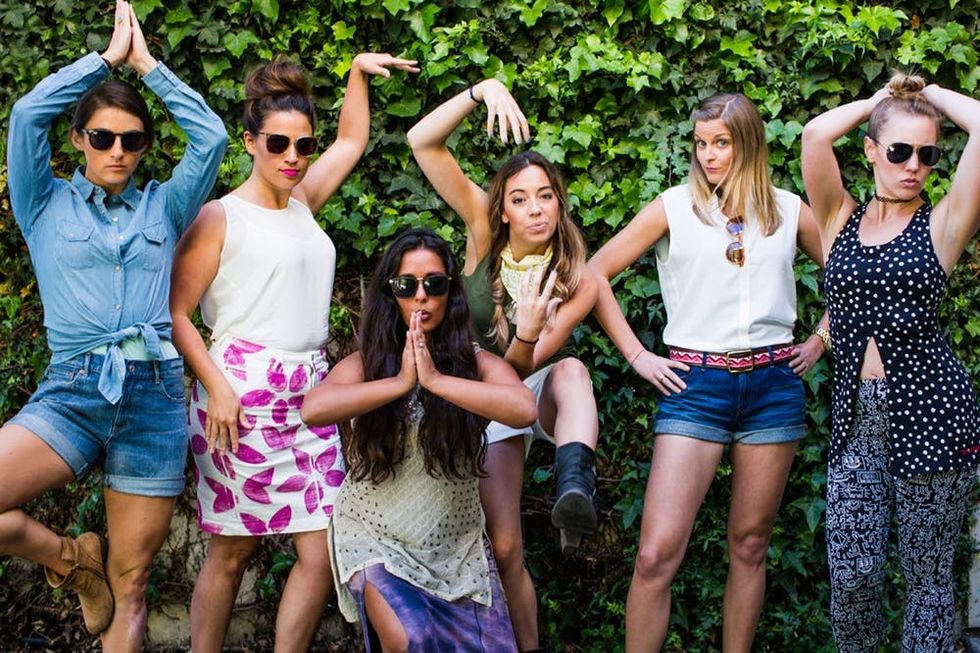 Strike a pose. Bring on the summer music festivals!
This post is a collaboration with UNIQLO.
Anjelika Temple
As Chief Creative Officer and Founding Partner at Brit + Co, Anjelika Temple brings her voracious consumption of all things creative and colorful to DIY projects, geeky gadgetry finds and more. When she's not DIY-ing her heart out, you'll find her throwing dinner parties with friends or adventuring with her husband David, their daughter Anokhi, and their silly dog Turkey.
DIY Style