Giada De Laurentiis' Trick for Foolproof Risotto
Sep 27, 2018

Welcome to our new food series called Eat It Up, where we share the kitchen gadgets and foods that we can't cook without.
---
If you've ever tried to cook risotto at home, you know the struggle. The constant stirring, the hand cramps, the essential undivided attention that, if broken, can turn your creamy, savory, melt-in-your-mouth rice dish into a hot, chewy mess. It doesn't have to be this way. Giada De Laurentiis and Lagostina just launched a Signature 4-Quart Stainless Steel Dutch Oven ($100) that makes cooking risotto that much easier.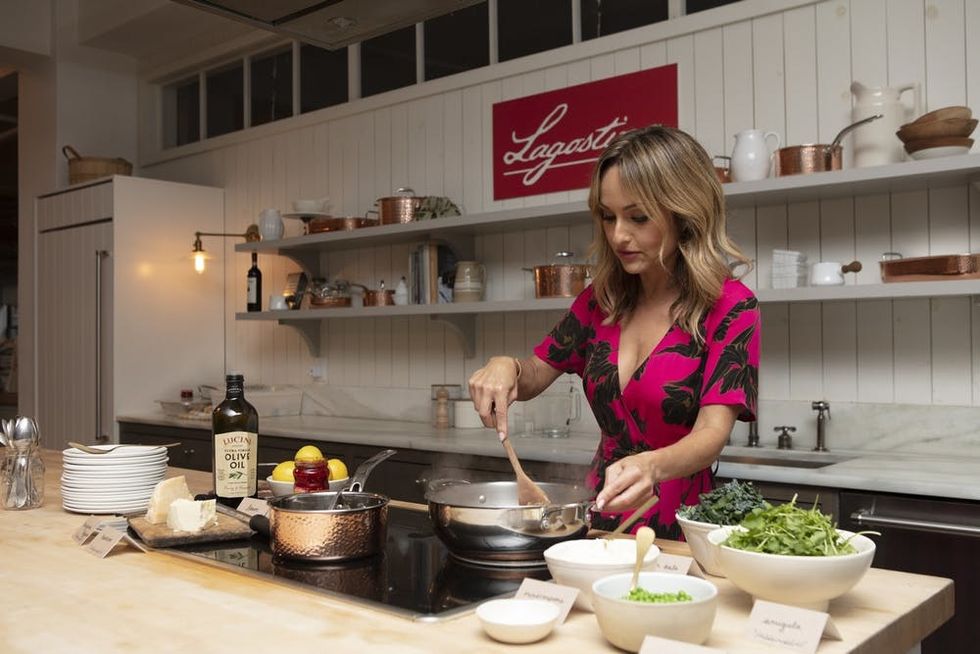 This Dutch oven looks different than the ones you are used to. Instead of cast iron with an enamel finish, the base is made of a copper core that's finished with polished stainless. "Copper is a great conductor of heat to cook [food] perfectly, slowly, and evenly. And the copper lid helps the heat stay in," De Laurentiis tells Brit + Co.
We love that you can put this Dutch oven in the actual oven; it withstands temperatures up to 500°F. The dish works on a gas or electric range as well as induction stovetops. Since its stainless steel handles remain cool to touch, you can ditch the oven mitt. If you need to transfer leftovers to sealed containers, the Dutch oven has flared edges for mess-free pouring. The only downside, really, is you have to hand-wash it since the copper could tarnish or scratch in a dishwasher.
Traditionally, Dutch ovens are used for soups, stews, and larger pieces of meat, though De Laurentiis had other ideas for her Langostina pot. She tells us, "Of course you can braise and bake in it. You can stir-fry and sauté in it… I designed [the Dutch oven] to make risotto. I made the sides of the pan rounded and higher so when you cook the rice, the rice doesn't stick to the corners of the pan so you can't get it out… You don't have to stir it as much."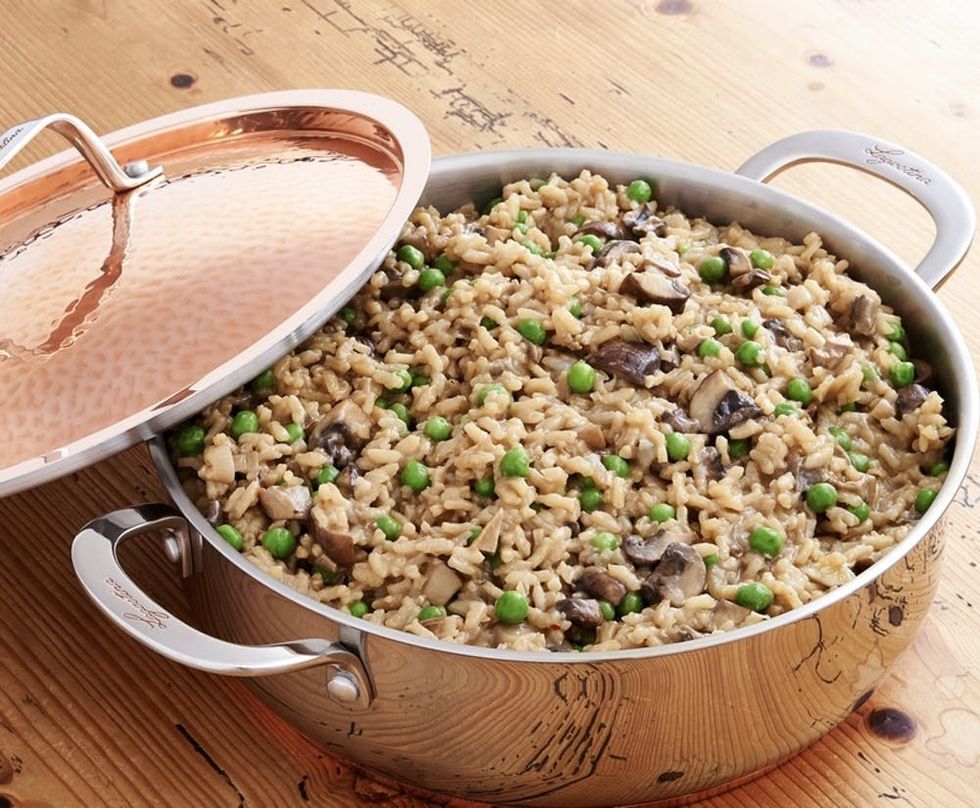 For a fast dinner, De Laurentiis reveals that risotto has become the go-to meal she makes her family. "I make risotto a lot, because it's a one-pot meal," she says. "I can dump all my leftovers from my fridge into a risotto and create a whole new meal in 20 minutes or sometimes less." Though she recommends frozen peas and mushrooms, as shown in her favorite risotto recipe below, these are all optional ingredients, of course. You can always sub in whatever veg you have around.
GIADA'S MUSHROOM RISOTTO WITH PEAS
(Serves 6)
Ingredients:
5 cups low-salt chicken broth
1/2 ounce dried porcini mushrooms
1/4 cup unsalted butter
2 shallots, chopped
10 ounces cremini mushrooms, roughly chopped
1 1/4 teaspoon kosher salt
1 1/2 cups arborio rice
1 cup dry white wine
2 cups grated Parmesan cheese
1 cup frozen peas, thawed
1. Bring the broth to a simmer in a heavy medium saucepan. Add the porcini mushrooms. Cover and set aside until the mushrooms are tender about 5 minutes.
2. Using a slotted spoon, transfer the mushrooms to a plate. Finely chop the mushrooms.
3. Cover the broth and keep warm over very low heat.
4. Melt the butter in a heavy 4-quart pan over medium heat. Add the shallots and sauté until fragrant, about 2 minutes.
5. Add the mushrooms and 1/2 teaspoon salt and cook until the mushrooms are tender, the juices evaporate, and the mushrooms are beginning to brown, about 10 minutes.
6. Stir in the porcini mushrooms and rice and cook, stirring often for another minute.
7. Add the wine; cook until the liquid is absorbed, stirring often, about 2 minutes.
8. Add 1 cup of hot broth; simmer over medium-low heat until the liquid is absorbed, stirring often, about 3 minutes.
9. Continue to cook until the rice is just tender and the mixture is creamy, adding more broth by the cup and stirring often about 28 minutes total.
10. Stir in the Parmesan cheese and peas and serve.
Follow Brit +Co on Facebook for more tasty food discoveries.
(Photos via Amanda Picotte and Lagostina)
Gabi Conti
Gabi Conti has two passions in life: food, and dating. She went on 10K hours of dates in her 20s and is sharing her knowledge in her first book 20 Guys You Date In Your 20s, which drops with Chronicle in the spring of 2020. Gabi is a writer and host, who currently hosts and writes a weekly entertainment show Hollywire Vlogs, she wrote and hosted 423 episodes the Elite Daily Show for Verison's go90 and Elite Daily. She has contributed dating and wellness articles to Cosmopolitan, Hello Giggles, POPSUGAR, mindbodygreen, and Elite Daily. You can follow her on Instagram @ItsGabiConti.
Kitchen Tools and Gadgets