Mary Tyler Moore Has Passed Away and Hollywood's Reaction Is Beautifully Heartfelt
Jan 25, 2017
We haven't even made it a full month into the new year, and already, we have the type of devastating news out of Hollywood that seemed to plague much of 2016, with an iconic celebrity death. Mary Tyler Moore, a well-loved actress and women's rights activist, has died at the age of 80. Her show, The Mary Tyler Moore Show, was the very first to depict a single woman in the workforce, and it propelled the careers of not just Mary, but many of the most beloved actors of all time, including Betty White, who just celebrated her 95th birthday.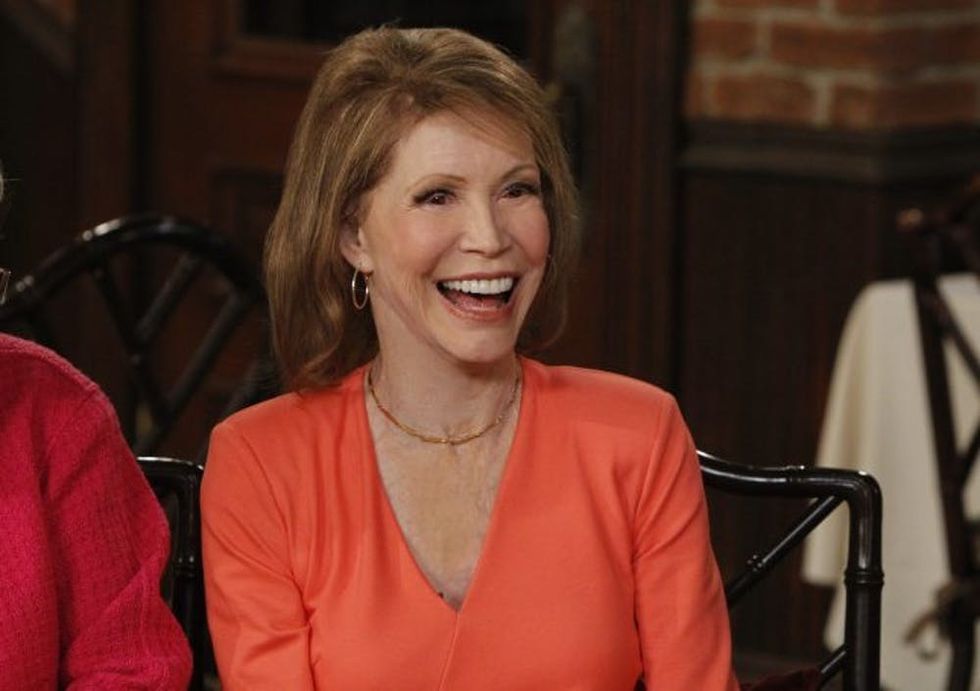 ---
Though women still aren't exactly "equal" (we're struggling with potentially huge wage gaps depending on which state we live in, for instance), we still owe a lot to Mary Tyler Moore and her strong depiction of working women. We aren't the only ones who will miss MTM and be grateful for all she's done for women, either. Hollywood is mourning the loss of this wonderful women's rights icon, and their tributes are beautiful.
Some simply stated their love and support for the icon…
"Who can turn the world on with her smile…" #MaryTylerMoore may she rest.

— Uzo Aduba (@UzoAduba) January 25, 2017
Mary Tyler Moore changed the world for all women. I send my love to her family.

— Ellen DeGeneres (@TheEllenShow) January 25, 2017
…While others focused on her achievements as a groundbreaking woman both on and off screen.
Mary Tyler Moore's work as an actor and producer was astonishing! I grew up with her shows and her brilliant example as an artist! RIP

— Gates McFadden (@gates_mcfadden) January 25, 2017
RIP Ms. Mary Tyler Moore. One of the pioneers of televised Girl-Power. https://t.co/wjVYU6q29B

— Ana Navarro (@ananavarro) January 25, 2017
mary tyler moore was the 1st woman on a sitcom to wear pants. sponsors were so mad, writers limited her to "one pants scene per episode." pic.twitter.com/3Lpvn3tUNc

— meddlesome as always (@nicolecieux) January 25, 2017
(Could you imagine? No pants on TV?)
Others offered pictorial tributes via Instagram…
Including one Miss Britney Spears, who wrote, "So strong, so courageous and so beautiful. Rest in peace, Mary Tyler Moore."
Diane Guerrero of Orange Is the New Black shared a sweet personal story, saying, "When I was a little girl, I would watch re-runs of Mary Tyler Moore and this image has been forever ingrained my memory. I thought, 'hmm, maybe I too can throw my hat up in the air like that one day.' She then included lyrics to the theme song, writing, 'Love is all around no need to waste it. You can never tell, why do't you take it, you're gonna make it after all…"
Many news anchors recalled that it was this show, and Mary in particular, that gave them the dream to go into broadcasting (representation DOES matters).
I agree w/ Oprah #MaryTylerMoore influenced my career more than any other tv role model. She indeed turned on the world with her smile

— Andrea Mitchell (@mitchellreports) January 25, 2017
I throw my hat up in the air for you, Mary Tyler Moore. Loved her and her spirit. Rest in peace.

— Savannah Guthrie (@SavannahGuthrie) January 25, 2017
Even Oprah thought of her as a hero!
Mary Tyler Moore surprising Oprah will always be a favourite moment pic.twitter.com/JWrOav1XgB

— Jordan (@JordanApps) January 25, 2017
We're eternally grateful to Mary Tyler Moore for giving us the drive to be whatever we want to be.
RIP, Mary — you'll be missed!
What was your dream job growing up? Tell us @BritandCo!
(Featured photo via Rick Rowell + Andy Kropa/Getty)
Kat Armstrong
Kat has been a writer, social media maven and mom for longer than she's willing to admit. She's also spent time in front of and behind the camera, interviewing celebs, politicians and acting as a producer for fashion and artistic photography shoots. When she isn't writing for various orgs and publications, she's hanging with her kids, husband and French Bulldog, Peter, in Toronto, Canada.
Entertainment