4 Ways to Actually Unplug During Your Next Vacation
Jun 29, 2017
You've been working hard and racking up plenty of PTO, and it's finally time to cash in. Hooray! Whether you're headed to an off-season hotspot or a popular place you've been dying to see, unplugging is totally essential for achieving a relaxed state. Unfortunately, some people come back from vacay as stressed as they were when they left; and new data from security software company McAfee suggests that our digital devices might be to blame.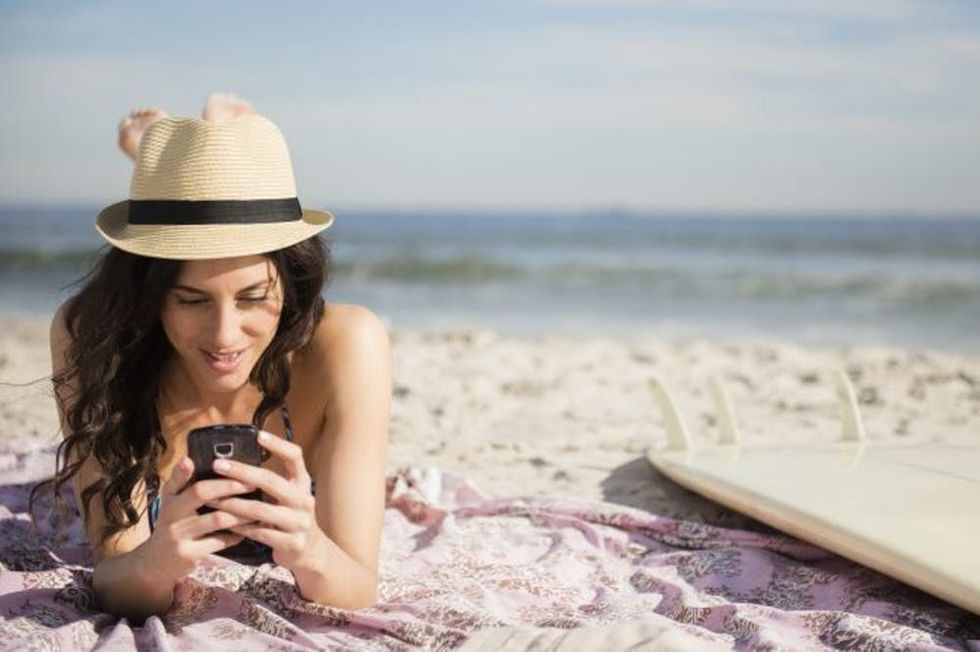 ---
data proves People Don't Actually Unplug on Vacay
According to the research, which surveyed 2,003 American participants between ages 18-55, people stay plugged in while on vacation. While 43 percent of vacationers traveled with hopes of taking a digital detox, sharing "being in the moment" and "stress relief" as reasons why, 57 percent of these people found that they actually couldn't avoid using digital devices once their break began. Even more, 54 percent of people surveyed say they couldn't last just a full day without their devices, while 52 percent of people said they spent at least a full hour each day on the internet during vacation.
When it came to measuring how vacationers use devices during their time off, McAfee found that 38 percent of people checked work or personal email, while 37 percent checked social media. More than 54 percent texted at least once, while 27 percent checked their email consistently all day long. Many people say work is to blame: 57 percent shared that they'd love to unplug if professional communications weren't a factor. Younger generations appear to be most affected by a pressure to be constantly available, with a whopping 69 percent of workers in their 20s and 30s sharing that they'd want a full disconnect, compared to about half of those in their 40s. Younger people also reported more anxiety as an effect of their attempt to step away from technology, with more than half citing it is a symptom. Yikes.
How to Pull off a Legit Digital Disconnect
Successfully disconnecting from your fave devices, apps, and tech is a healthy way to fully enjoy your time off — and you deserve it! Though it can be seriously tough to do, unplugging isn't impossible. Here are four tips we swear by:
1. Plan in advance. Plan your getaway as far in advance as you can so it's well-timed with anything your team, boss, or company has on the calendar. Though you can't always please everyone and deserve to take your hard-earned time off whenever you want, the people you work with will definitely appreciate your intentions and thoughtfulness.
2. Put in the prep work. Do the prep work before you leave. Make sure you've responded to important email chains, left your colleagues or clients with the right resources, answered your employees' or managers' questions, and have clearly filled folks in on your plan to totally disconnect during your downtime. Next, set up an email vacation auto-responder so teammates, partners, or clients are fully aware that you won't be able to respond as quickly as you usually do. Then, update your voicemail to match.
3. Set boundaries. It's possible that your job will require some check-ins, so be realistic with yourself to draw lines that'll let you relax as much as possible. Can you plan to check email for an hour each day and completely give up using apps, browsing the internet, and social media? Can you leave your phone or fitness tracker behind while you venture to the beach? Ditch any devices you won't need by leaving them at home and you'll already be well on your way.
4. Stick it out. Taking a break from all things digital can cause you to feel anxiety and a sense of FOMO. To pull off your digital detox, enlist the help of your traveling companions. Ask your S.O. or friends to encourage you to stay the course. Make it fun by challenging everyone to try time without a smartphone; post #latergrams at the end of each day or, even better, when you're back to the daily grind. Take notes about why you love being present. It'll all be worth it when you feel totally rejuvenated after your trip!
Have you tried a digital detox to unplug on vacation? Tell us how it went on Twitter @BritandCo!
(Photo via Getty)
Krista Gray
Krista Gray is a web producer and freelance writer who lives in San Francisco. When she's not working with clients through her company GoldSquare, she loves reading, traveling, and learning new things.
Travel