The Do's and Don'ts of Using a Hair Diffuser
Aug 02, 2017
If you have curly hair, a diffuser extension is a beauty essential. This odd-looking little device hooks onto the nozzle of your blow dryer and disperses air to your wet locks without disturbing your natural wave patterns or creating frizz. Consider this an absolute miracle product for those of us blessed with bends, waves, coils, and twists. Yet, despite its MVP status, knowing the best way to tackle the styling staple can be boggling. Keep reading for three do's and two don'ts on using a diffuser.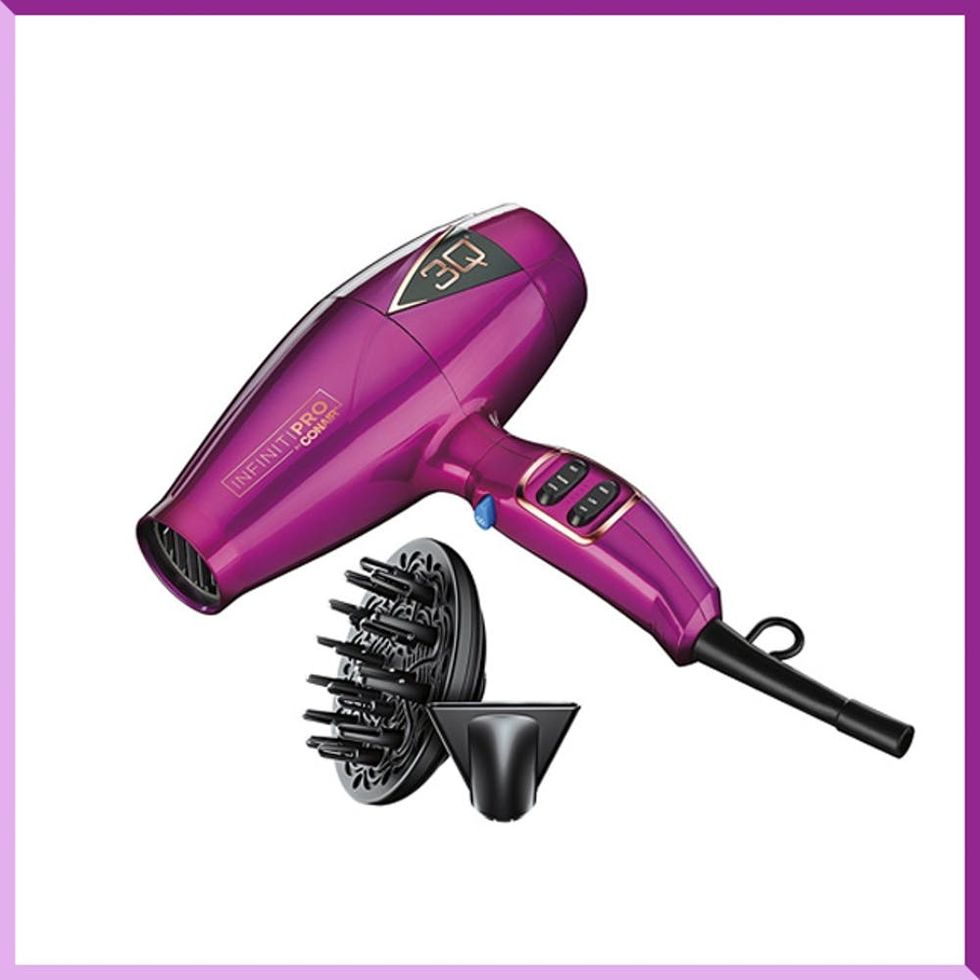 ---
DO use a diffuser on a cold setting. Blasting your mane with hot hair can cause your curls to lose their shape. "When hair is hot, it is elastic and the wave or curl can drop," explains Conair hairstylist Michael Dueñas. "Use the diffuser with cold air to lock in your style without disturbing it."
DON'T move the diffuser around a lot. While it might seem smart to work the tool through your hair, Dueñas has a totally different approach. "Don't bounce a diffuser around because you will cause more frizz," he warns. It's all about patience. "Hold it in one spot until the hair is completely dry, and then move to the next spot."
DO use a diffuser with a big dish for a speedy style. The larger the tool and its "fingers" are, the faster the blowout process will go. Simply put: You'll be able to cover more surface area in less time. Dueñas recommends the Conair Infiniti Pro 3QMS Compact Brushless Motor Styling Dryer (above $80).
DON'T use a diffuser as a comb. A diffuser and a comb are two separate, totally different hair tools for a reason! "Raking a diffuser through your hair like a comb will cause frizz and break apart your style," he says. Use a wide-toothed comb on wet curls in the shower and leave the diffuser for blowout purposes only.
DO turn to your diffuser to hack volume. Instead of reaching for a volumizing hair product, fire up your dryer. "Use a diffuser on dry hair with your head upside down," Dueñas explains. "It can evenly heat and cool your roots, so when you flip your head back over, you have a lot more volume."
Follow us on Pinterest for more beauty inspo and info.
Brit + Co may at times use affiliate links to promote products sold by others, but always offers genuine editorial recommendations.
Beth Wischnia
You can typically find this Texan writing, trying on a new lipstick, gabbing with her identical twin sister or volunteering at the local animal shelter. She finds inspiration from rosé, beauty products, Tex-Mex and cats.
Hair
We all have a million dollar business idea (or 2...or 3…) that we think *someone* should do. Why not you? Part of the motivation for Brit + Co's new interactive business course Selfmade is to help women develop their business idea into an actual living/breathing/thriving business. But it's also a way to figure out what that idea is. Maybe you have a few ideas, or need to refine a really good one, or maybe you have something with potential but just need to brush up on the business side of things. Well you're in luck. Thanks to Office Depot, we're here to share a quick recap on how we're helping our students figure out how to pick an idea and run with it. Feeling a little Selfmade fomo? Check out these tips for knowing if your idea is fully baked.
<p><strong>Know your audience:</strong> Who are they? Where are they? And what pain point are you trying to solve for them? "How would you define who that audience is?," said Brit Morin during this week's session. She goes on to suggest you develop a persona of your core customer: What's her name? Does she have children? Have visuals of who she is and what her day looks like and what she thinks about every day. "A lot of times I see businesses fail to scale because they're just trying to serve everybody and are very generic," adds Brit.</p><p><strong>Understand your market:</strong> How big is the market you're targeting? Is it growing? You can find market reports online for anything from weddings to babies. Does your business have potential for repeat business? For example, a wedding client will likely (hopefully!) only need you one time so how do you plan to grow? Will you target the same client or will you evolve your services to cater to that changing demographic? Martha Stewart is a business that evolved with her audience while most fashion mags stay focused specifically on 20- and 30-somethings for the long haul.</p><p><strong>Level up your business idea:</strong> What's your twist? Think about what differentiates you from your competitors. For example, if you're a photographer, maybe you focus on newborns and hook up with a maternity ward or sell seasonal packages. Brit talks about <a href="https://punkpost.com/stories/about-us" target="_blank">Punkpost</a>, created by Alexis Monson, a Brit + Co alumni who, instead of selling greeting cards in a dying snail mail market, she created an online marketplace for greeting card designers. How does your business stand out in your market's crowd?</p><p>Committing to an idea is hard, and SO exciting. Once you've figured out your direction, Office Depot OfficeMax can help turn your idea into a reality with a full suite of<a href="https://www.officedepot.com/cm/services/office-depot-services?cm_mmc=bl-_-aq-_-url-_-bc&amp;cm_mmca1=internal&amp;cm_mmca2=uf&amp;utm_source=blog&amp;utm_medium=social&amp;utm_campaign=bc_na_url_internal_uf_aq&amp;utm_content=tea_na&amp;utm_term=tea" target="_blank"> business services</a> &amp; solutions to help you &amp; your business succeed. From<a href="https://www.officedepot.com/cm/print-and-copy/print-services?cm_mmc=bl-_-aq-_-url-_-bc&amp;cm_mmca1=internal&amp;cm_mmca2=uf&amp;utm_source=blog&amp;utm_medium=social&amp;utm_campaign=bc_na_url_internal_uf_aq&amp;utm_content=tea_na&amp;utm_term=tea" target="_blank"> print &amp; copy services</a> to help build your brand to products to help you<a href="https://www.officedepot.com/cm/multi-category/work-from-home?cm_mmc=bl-_-aq-_-url-_-bc&amp;cm_mmca1=internal&amp;cm_mmca2=uf&amp;utm_source=blog&amp;utm_medium=social&amp;utm_campaign=bc_na_url_internal_uf_aq&amp;utm_content=tea_na&amp;utm_term=tea" target="_blank"> work from anywhere</a>, learn about all the ways they can help<a href="https://www.officedepot.com/cm/marketing/small-business?cm_mmc=bl-_-aq-_-url-_-bc&amp;cm_mmca1=internal&amp;cm_mmca2=uf&amp;utm_source=blog&amp;utm_medium=social&amp;utm_campaign=bc_na_url_internal_uf_aq&amp;utm_content=tea_na&amp;utm_term=tea" target="_blank"> businesses</a> like yours, accomplish more.</p>
Lifestyle