Leo Finally Won an Oscar! Here's How to Process That
Feb 29, 2016
So it finally happened. Leonardo DiCaprio won his first Oscar, and we took to the streets and rejoiced. We cried tears of happiness and yes — he and I are engaged now — but please nobody fact check this, or even ask him directly, because I'd rather tell him the news myself.
Which brings me to my next point: Now what? I mean, we know the world is finally Leo's oyster, and he can/will star in more movies that will usher in more trophies and accolades (even though I'm personally gunning for him to star in a sequel to You've Got Mail).
---
But what about us? What do we do, after 22 years spent hoping he'd win an Oscar? Do we sit down, scroll through Tumblr, and decide on a new person we can root for and meme-ify simultaneously? And what about all this energy? Some of us couldn't sleep last night, tortured by fantasies of helping Leo dress his Oscar up in tiny pants and a little blouse and debating the merits of adding a hat.
Well, don't worry. I've come up with the only guide you'll need to process his win appropriately.
 
1. Cry. Cry because he didn't. Cry because Kate did. Cry because that's a reasonable default reaction to a particularly emotional event. Cry because he didn't look into the camera and thank you directly.
 
2. Tweet. Now, remember: You have only 24 hours to do this before your followers begin to question why you're not focusing on Super Tuesday. So, with roughly 12 hours left to take to social media, tweet. Tweet like it will save you from a sinking ship (the Titanic). Tweet like you can prevent Juliet from waking up too late. Tweet like The Wolf of Wall Street never happened. Tweet like Leo's Man in the Iron Mask hair was just a fever dream. Tweet like you've never tweeted before. And then stop. Please.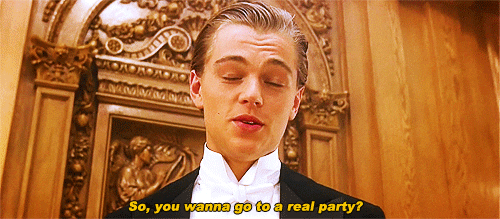 3. Re-watch the holy trinity of Leonardo DiCaprio films. If your boss doesn't understand why you'll be at work only in spirit for the next day or two, truly reconsider your choice to stay employed under their care. Especially since it's your patriotic (cinematic?) duty to blitz Romeo + Juliet, Titanic, and Catch Me If You Can respectively. Why? Because these movies contain peak Leonardo DiCaprio hair and in one case, Tom Hanks. And if Tom Hanks can't help you articulate feelings, then why are any of us even here.
 
4. Read every Leonardo DiCaprio article you can find — out loud. But not just that, preface his name with "Oscar winner" because you know that's exactly what's happening at his house right now. "Hi," he'll say on his new outgoing voicemail message. "You've reached Oscar winner, Leonardo DiCaprio." And then he'll look up and wink at his reflection in the mirror because stars are just like us, and I do this every day.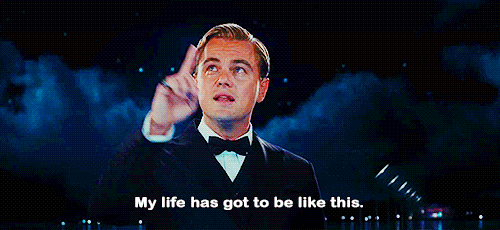 5. Acknowledge the void you still feel in your heart. It's weird, isn't it? Technically, we should rejoice over Leo's Oscar win. Technically, all we wanted has finally come to pass. But alas, the void isn't filled yet. Alas, there is another void. A Best Director void. A Best Supporting Actor void. A Best Picture void. Yes, inside the Oscar-shaped void is actually 100 smaller, less monumental Oscar-shaped voids. So like Leo, we must recognize that this Oscar didn't fix everything. He's still a man. We're all still people. This Oscar was merely the wardrobe door on which to float. But we still need a lifeboat. He's only 41 — this isn't it. It can't be. He ate bison liver for a tiny golden man.
 

 6. Embrace exhaustion. And you thought we were done. You thought that after this Oscar, that'd be it — that we'd never have to witness a campaign like this again because the trophy's been won; the golden man finally has a firm grasp on his legs. But, no. We know Leo will do more. He has to — he doesn't have a choice. There will be no rom-coms. He will not star in a buddy comedy. There won't be a break. Which means we will also not get a break. Going forward, we will wait with bated breath to see just how many Oscars he can win — how many Oscars he will win. Because if we know anything about Oscar winner, Leonardo DiCaprio (or more specifically his Revenant character), he doesn't give up.
 
7. Finally: vape. Just kidding. No one do this.
How do YOU plan on processing Leo's win? Tell us @BritandCo!
(Featured photo via Pascal Le Segretain/Getty)
Anne T. Donahue
Anne T. Donahue is a writer and person from Cambridge, Ontario (Canada!) who writes for websites and magazines. Sometimes she also talks on-camera.
Pop Culture