Get the Look: This Artist's Modern Melbourne Home
Aug 13, 2014
Australian artist Miranda Skoczek's modernist folk paintings are, in a word, stunning. So, it should come as no surprise that her Melbourne home is equally visually amazing. Skoczek says she finds inspiration for her paintings from tribal art, ancient cultures and modern architecture, and those inspirations spill over into her home decorating (in fact, she cites Charles and Ray Eames as two of her favorite designers!). Needless to say, we're smitten kittens and figured you all would be too, which is why we have a way for you to DIY Miranda's home style. You're welcome.
---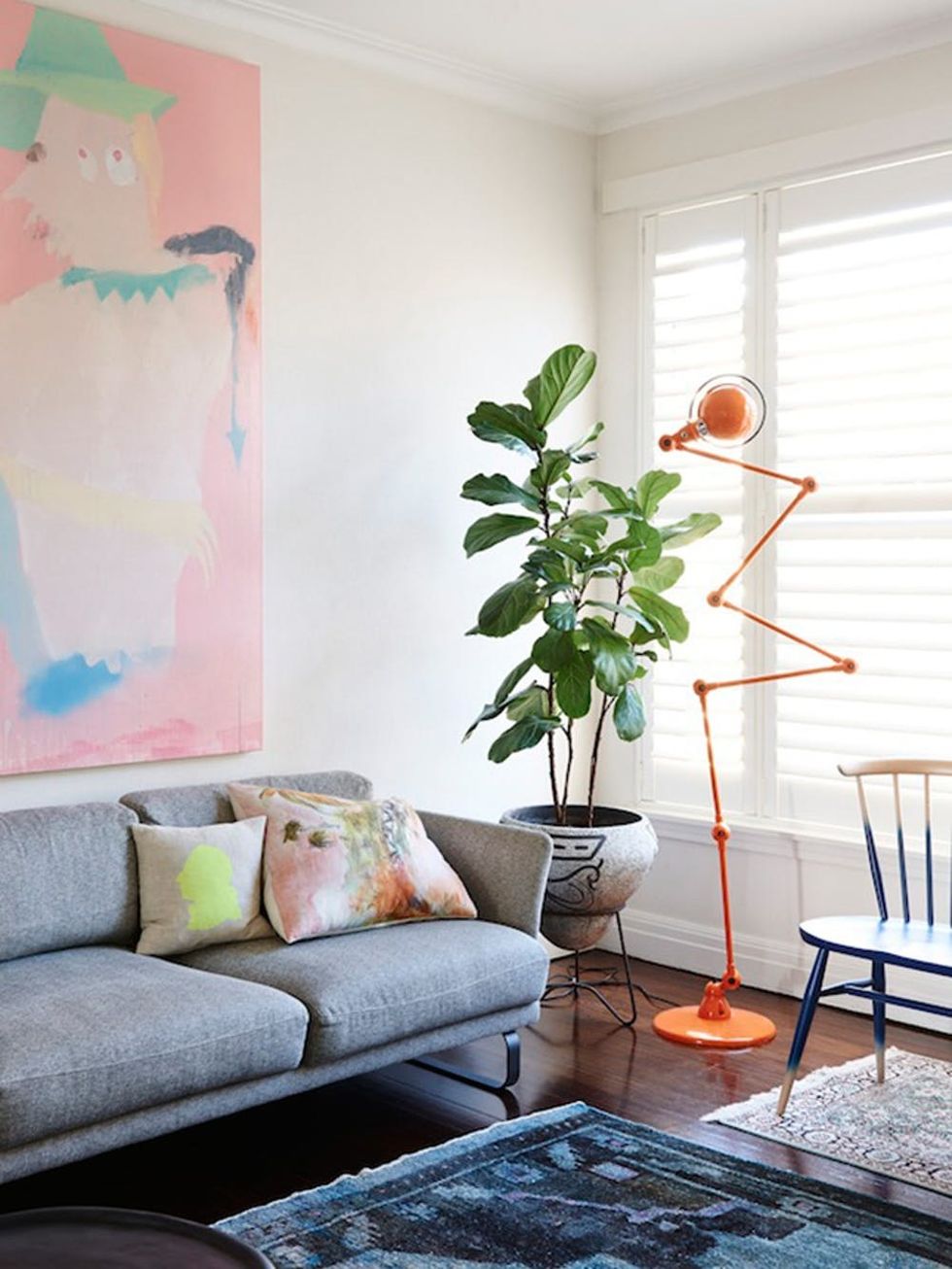 When it comes to Miranda's couch styling, it's all about the throw pillows. You can pick up a bunch from our very own store.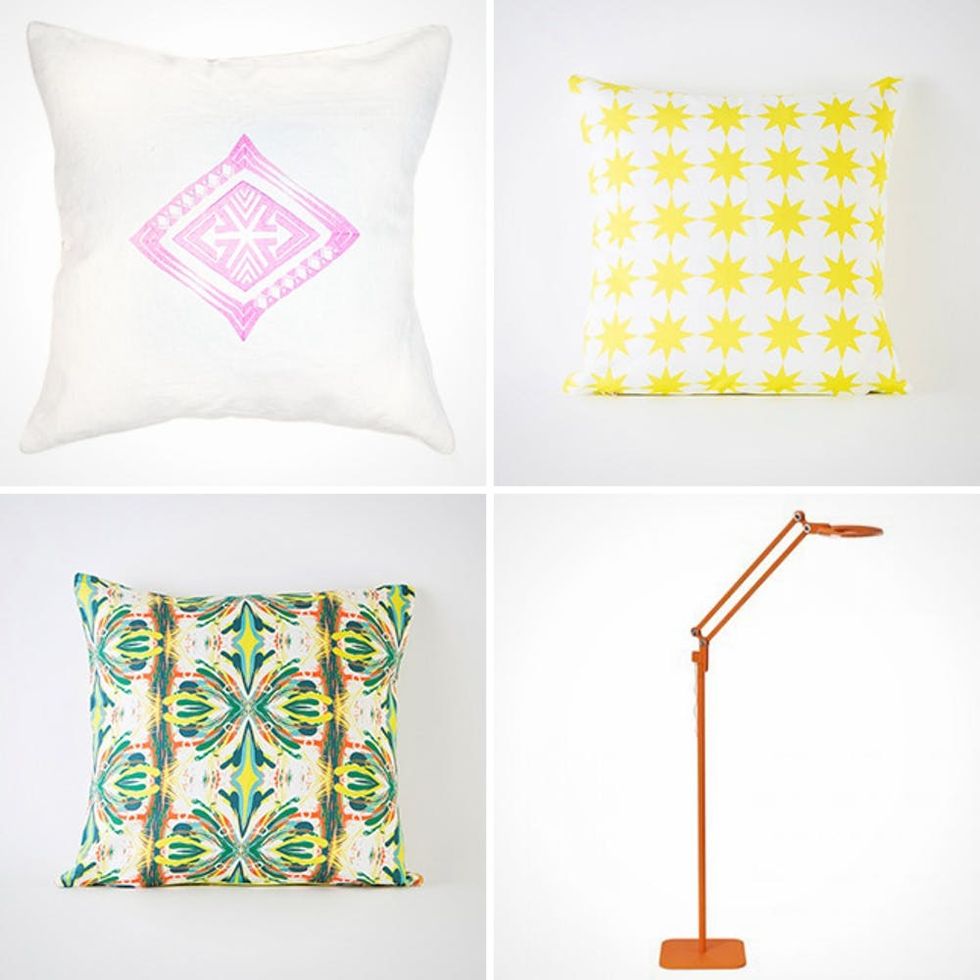 Some of our faves of the moment are Casa Pino's Star No. 1 ($125), Indego Africa's Hand Embroidered Diamond ($240) and Casa Pino's Graffiti Stanhope ($125). And better throw in that a bright orange floor lamp ($420) for good measure.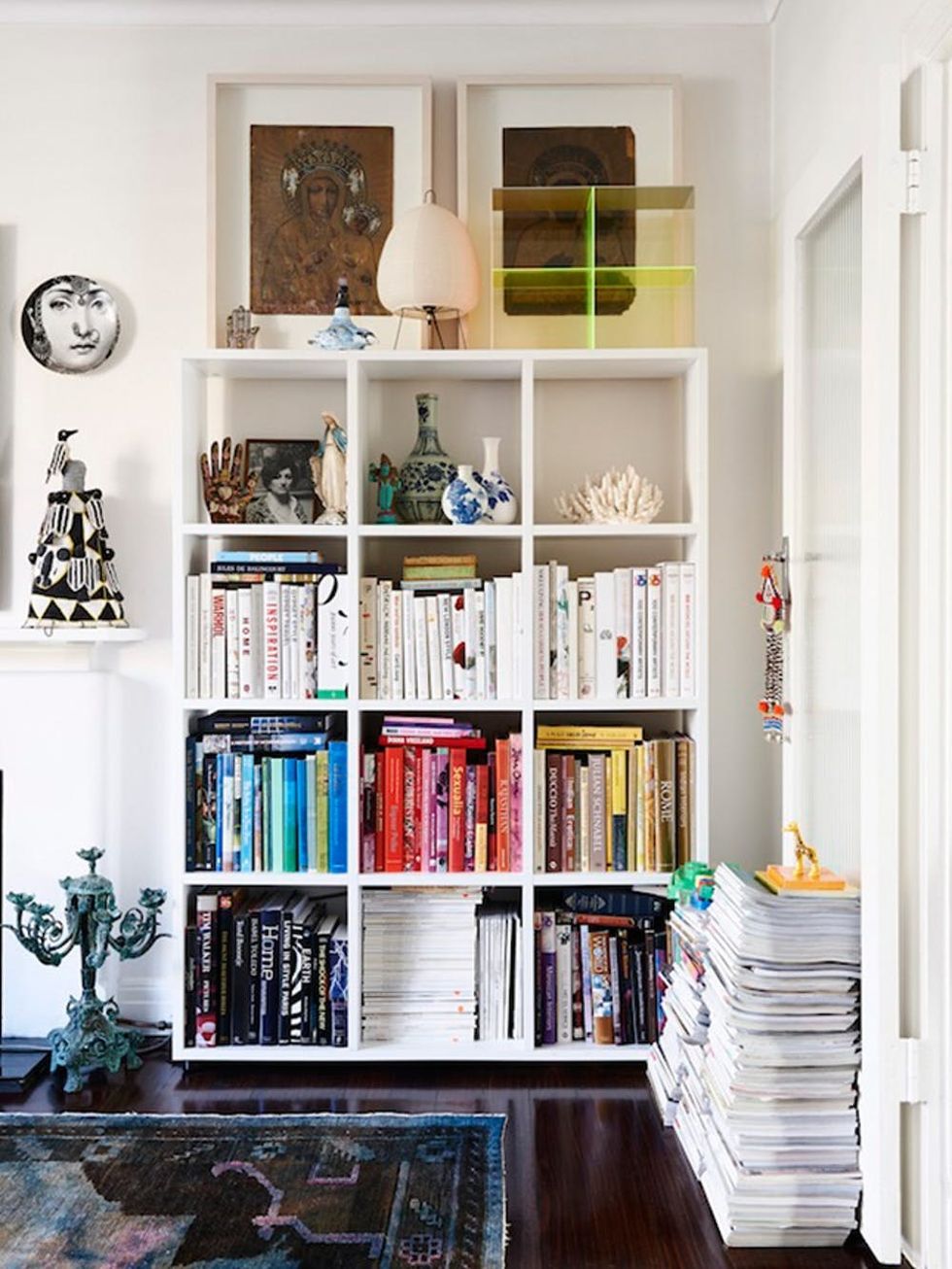 We fully endorse Miranda's arranged-by-color bookshelf. We just wish that IKEA's Expedit shelves were still around. Luckily, the Kallax ($139) has got our back when it comes to getting this look. You can get Noguchi's exact same light sculpture to adorn your shelves for $105. Those totally we-need-them-right-NOW! neon acrylic box shelves are by fellow Melbourne artist Andy Mckenzie. And we're dying to know where we can get them in the U.S. Please drop us a line, Mr. Mckenzie.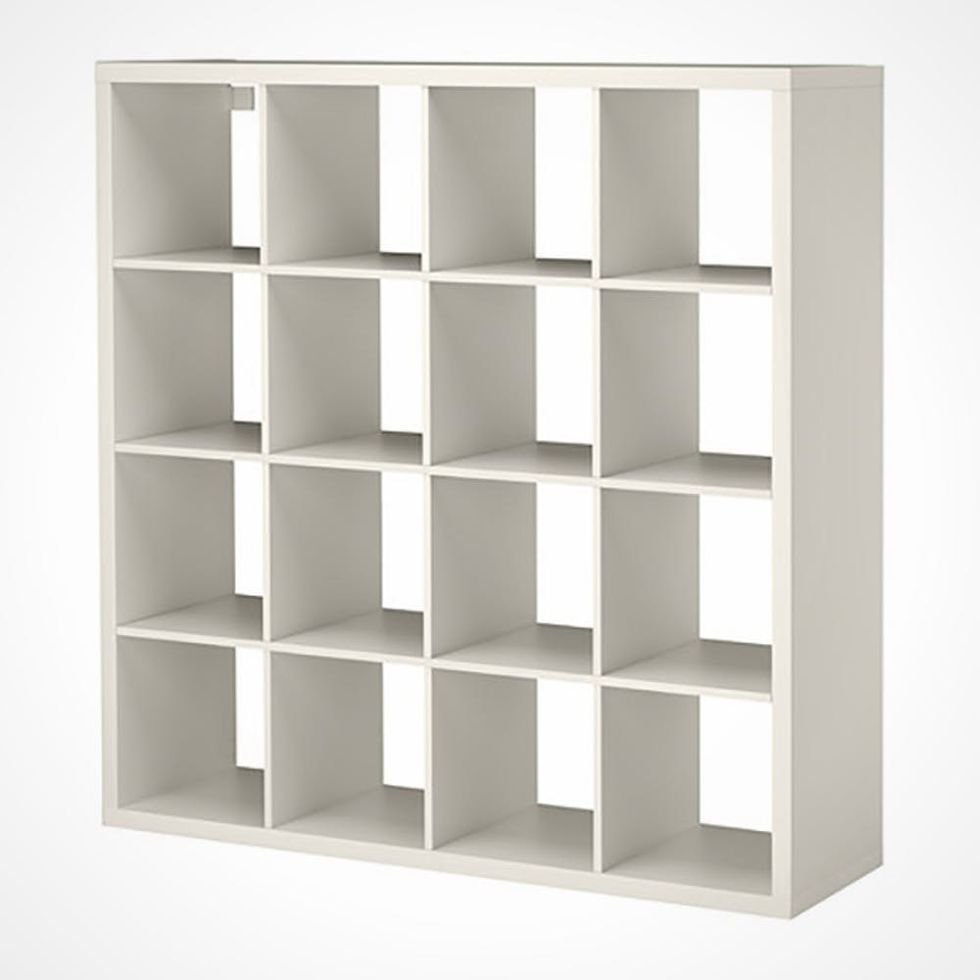 Master Bedroom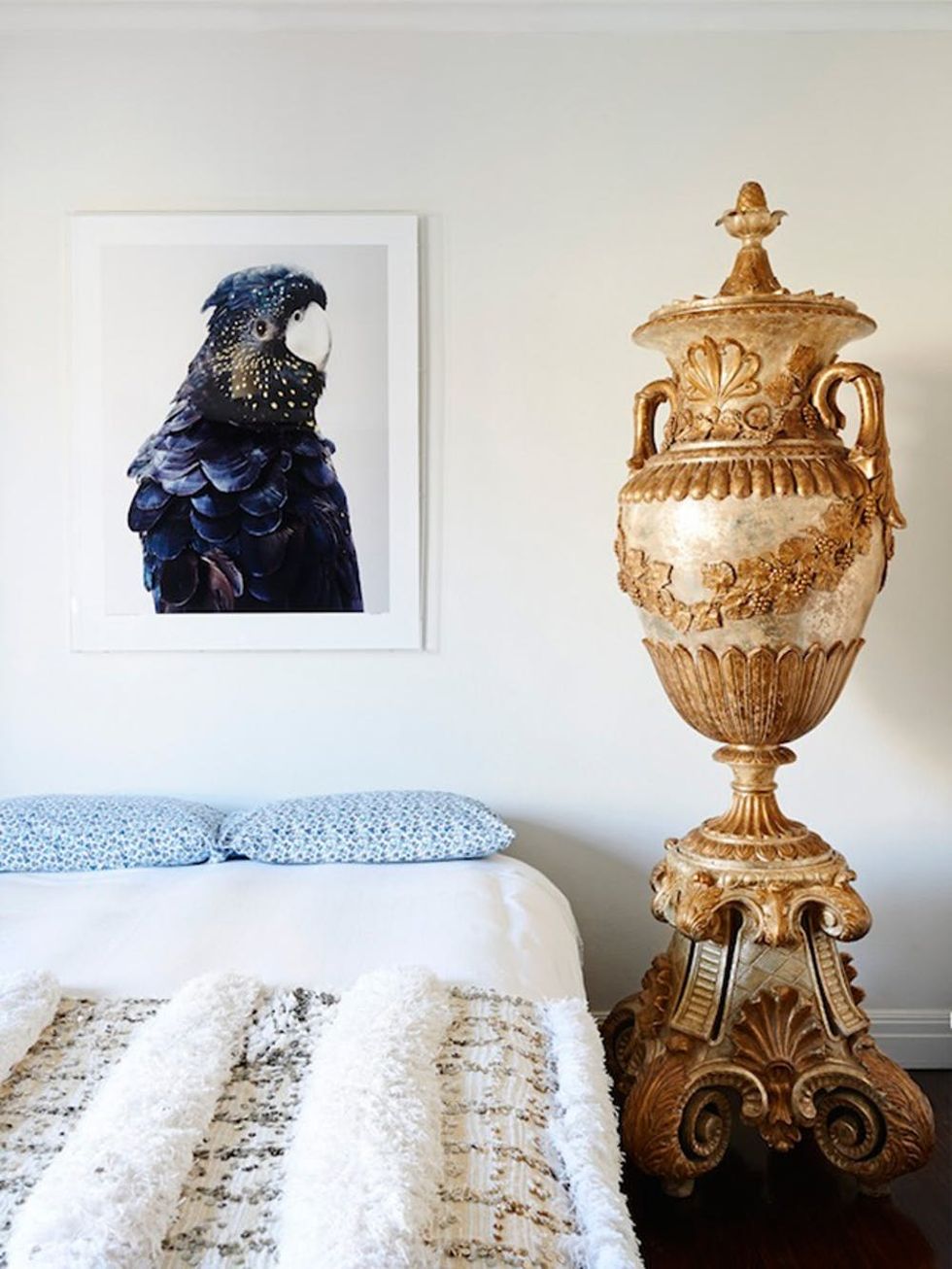 Miranda's bedroom sports all the elements we love in a room — a little bit of sparkle, a whole lot of gold and a touch of feathers. That giant gold urn might be hard to come by unless you're willing to make like Miranda and skip grocery shopping for the next few weeks. Sounds like something you'd do?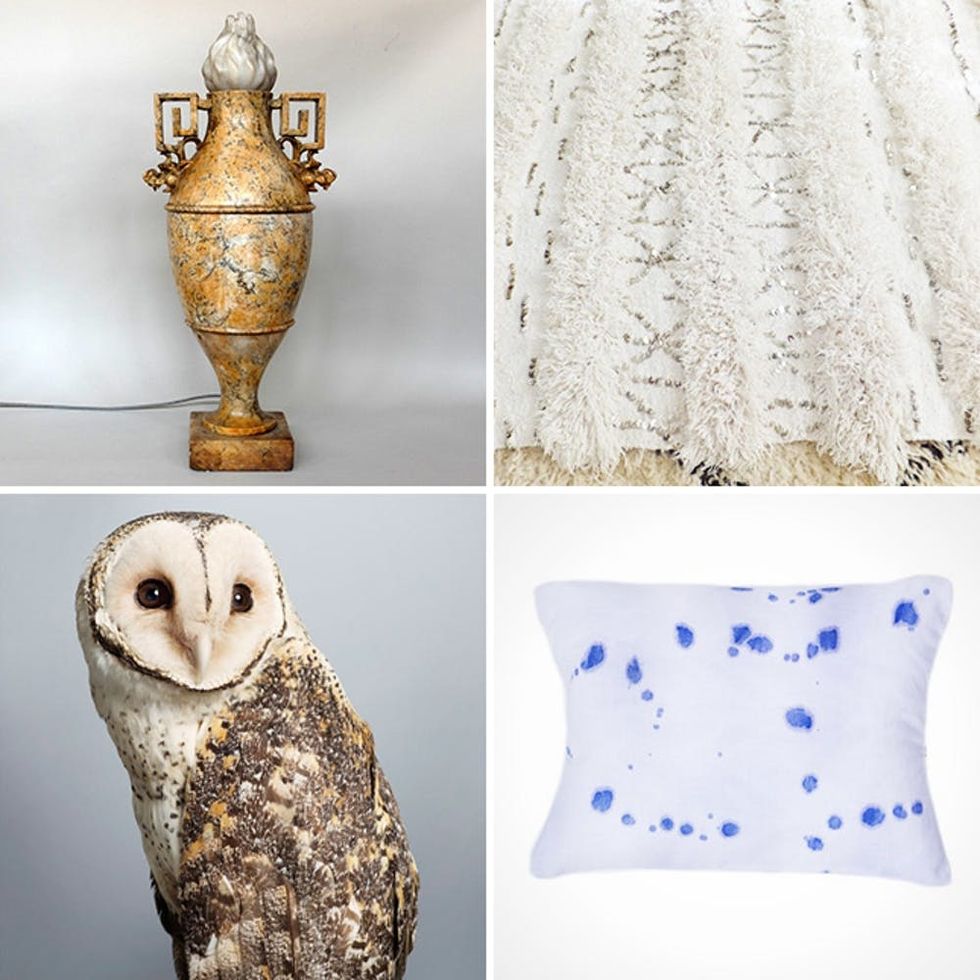 Get your own urn at the same place she got hers, Tarlo + Graham. It will set you back a whopping $2,400. But hey! It doubles as a lamp! For a similar bed cover, head over to Etsy where you can find treasures like a vintage Moroccan wedding blanket for $515. The bird photography that hangs above her bed is from Leila Jeffreys, and if you're a fan, you can go over to her site and score your own. And let's throw a touch of color into this equation with a few Ukore pillows for $95 each.
Harper's Room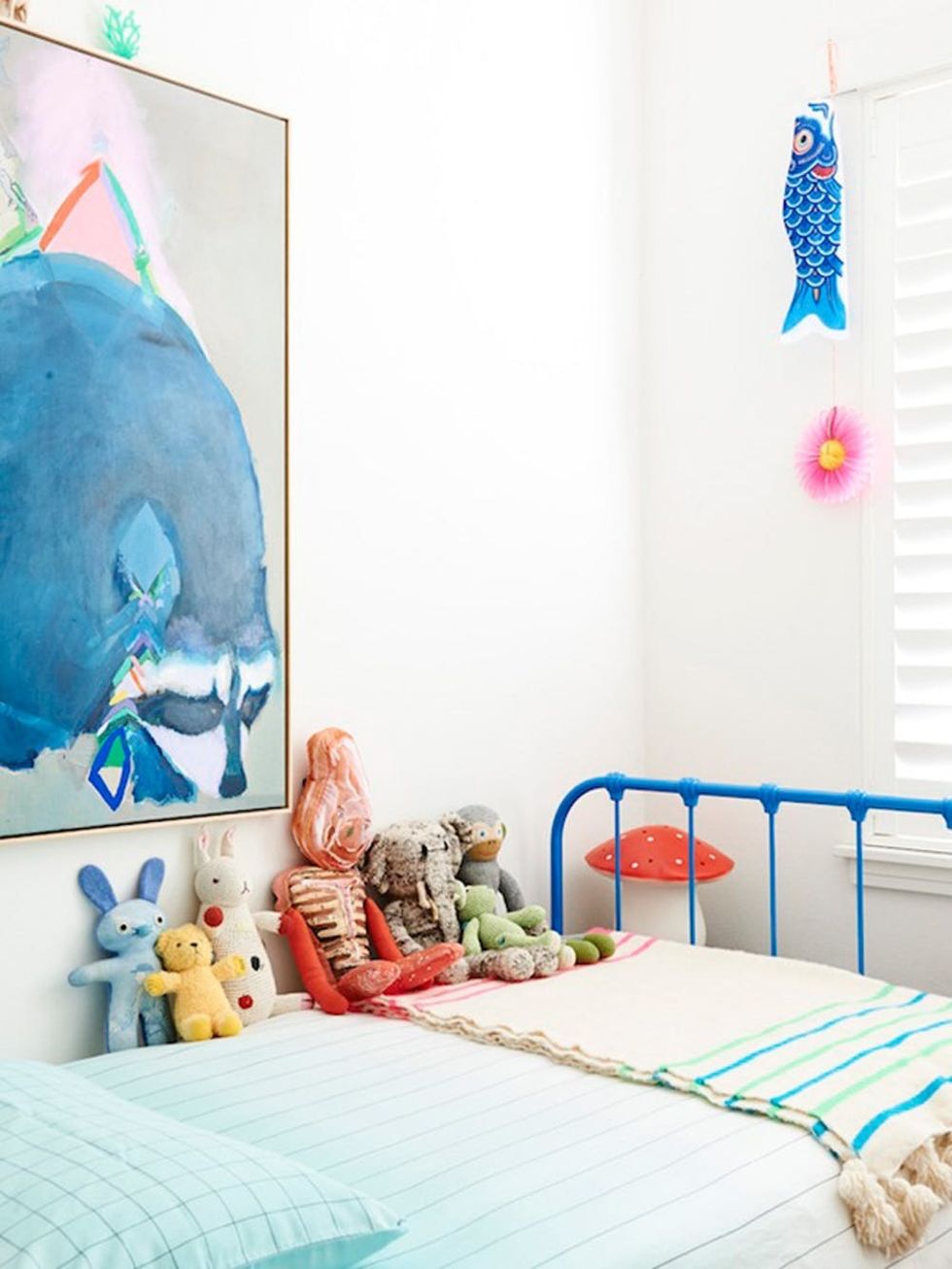 What really has us swooning is her son Harper's room. The very same brightly colored bed can only be had if you live in Australia.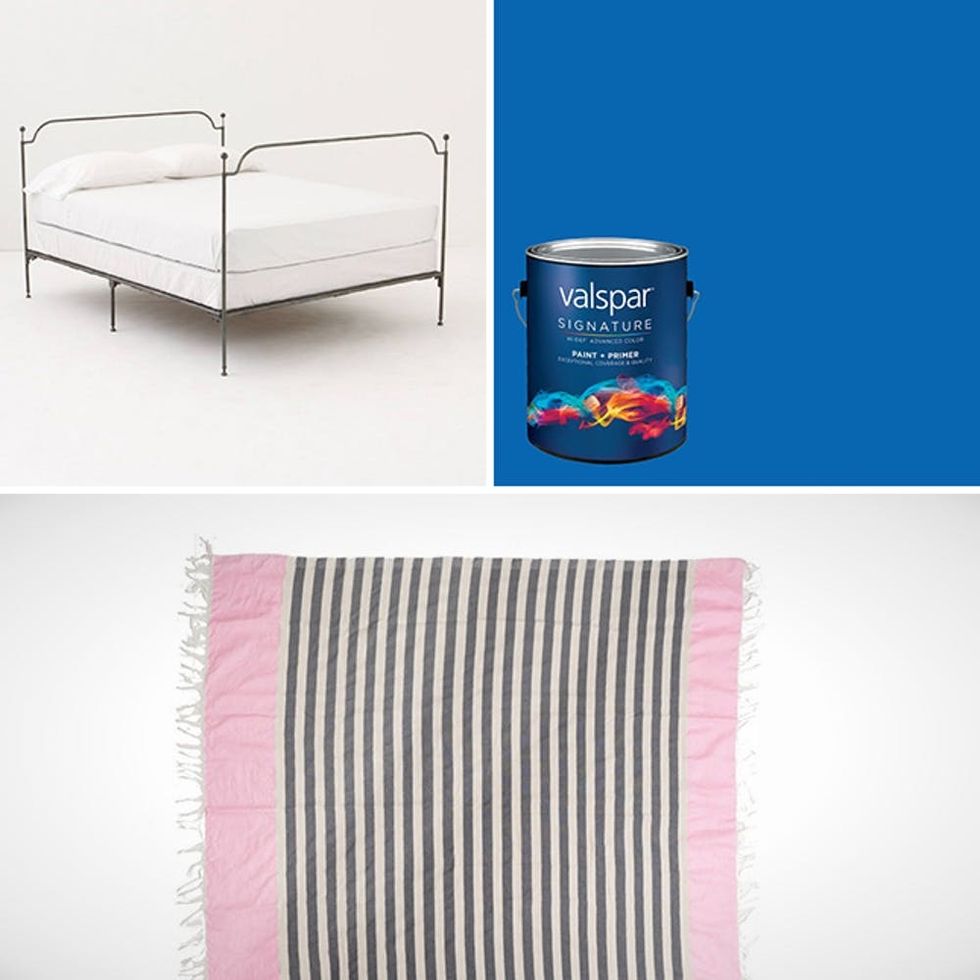 For those of us not lucky enough to come from a land down under there is Anthropologie's Italian Campaign Canopy Bed ($1, 698) and a can of bright blue paint ($33). You can grab a pretty Moroccan throw blanket ($220) to finish off the look. And of course when you're mom is an awesome artist, you get to have some awesome art hanging above your bed.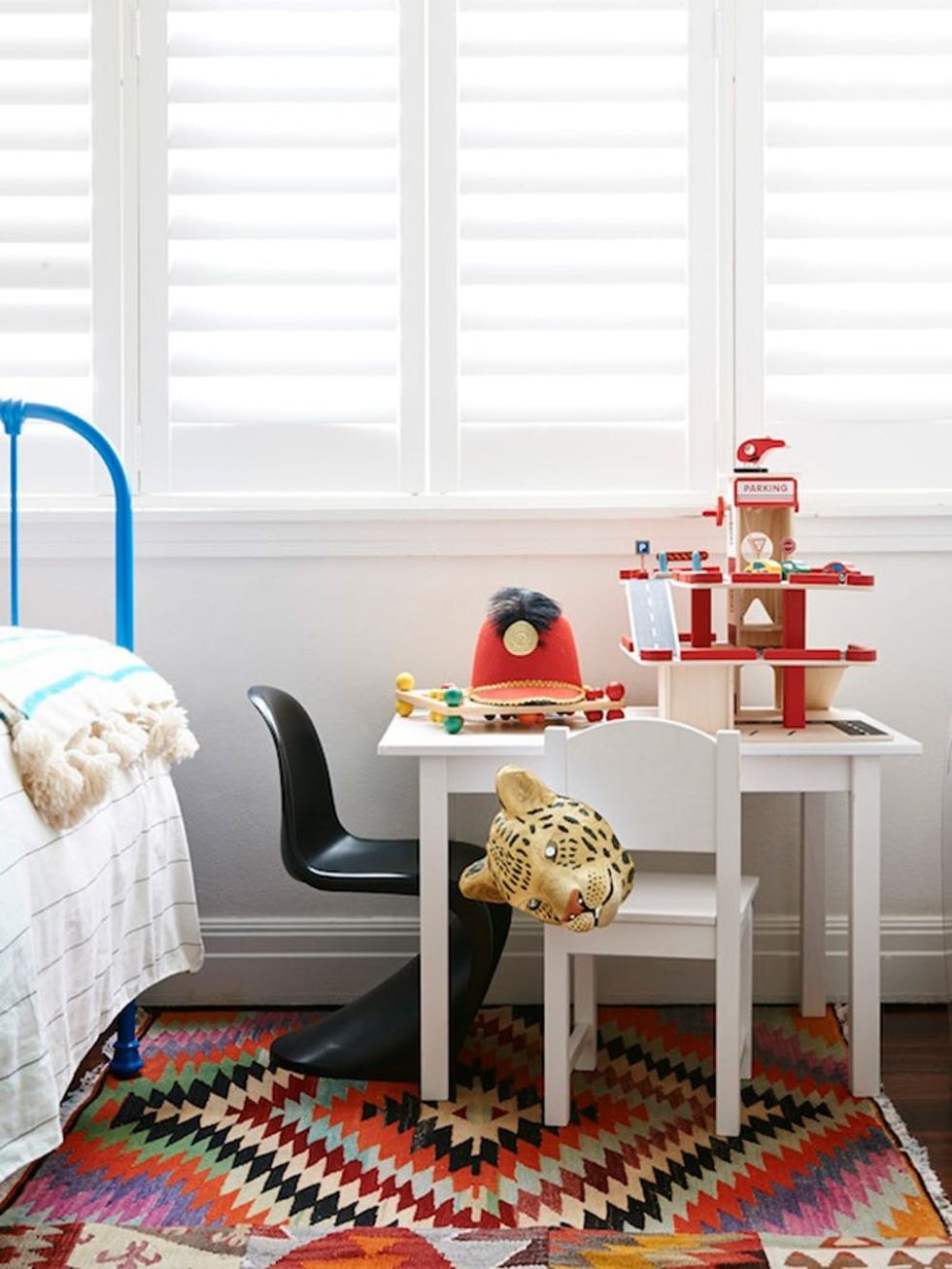 Harper's play area consists of an IKEA desk ($60) and chair ($2o) and a Vitra Pantron Junior chair ($150). You can score the exact same goodies by following the links. If you're like us, you probably believe that there can never be enough kilim in your life, get your rug from Tabletonic for $1,199.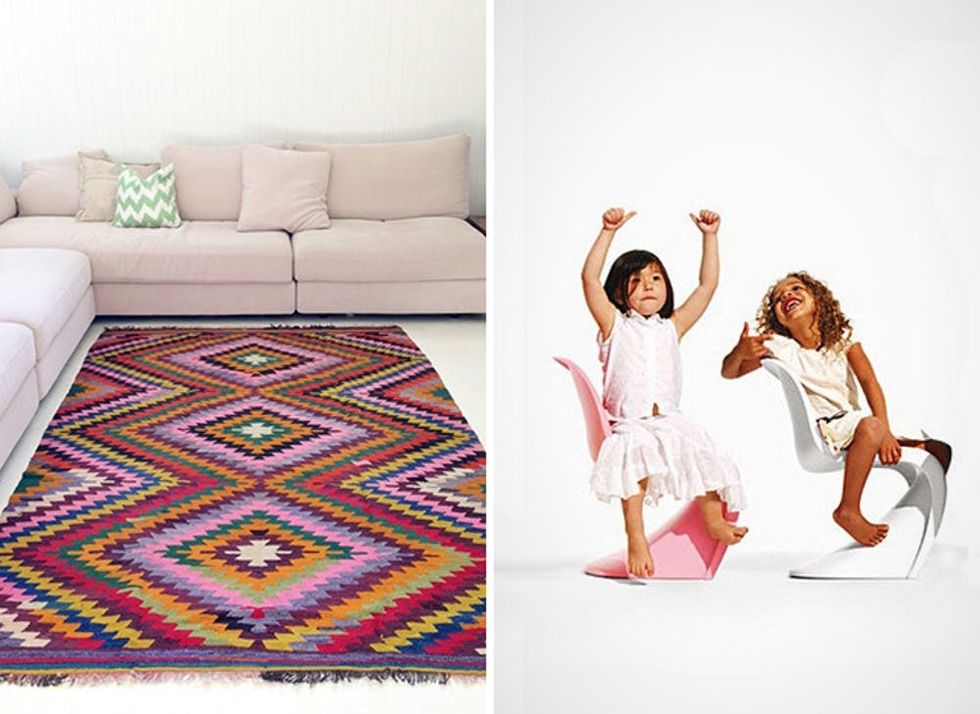 Eating Nook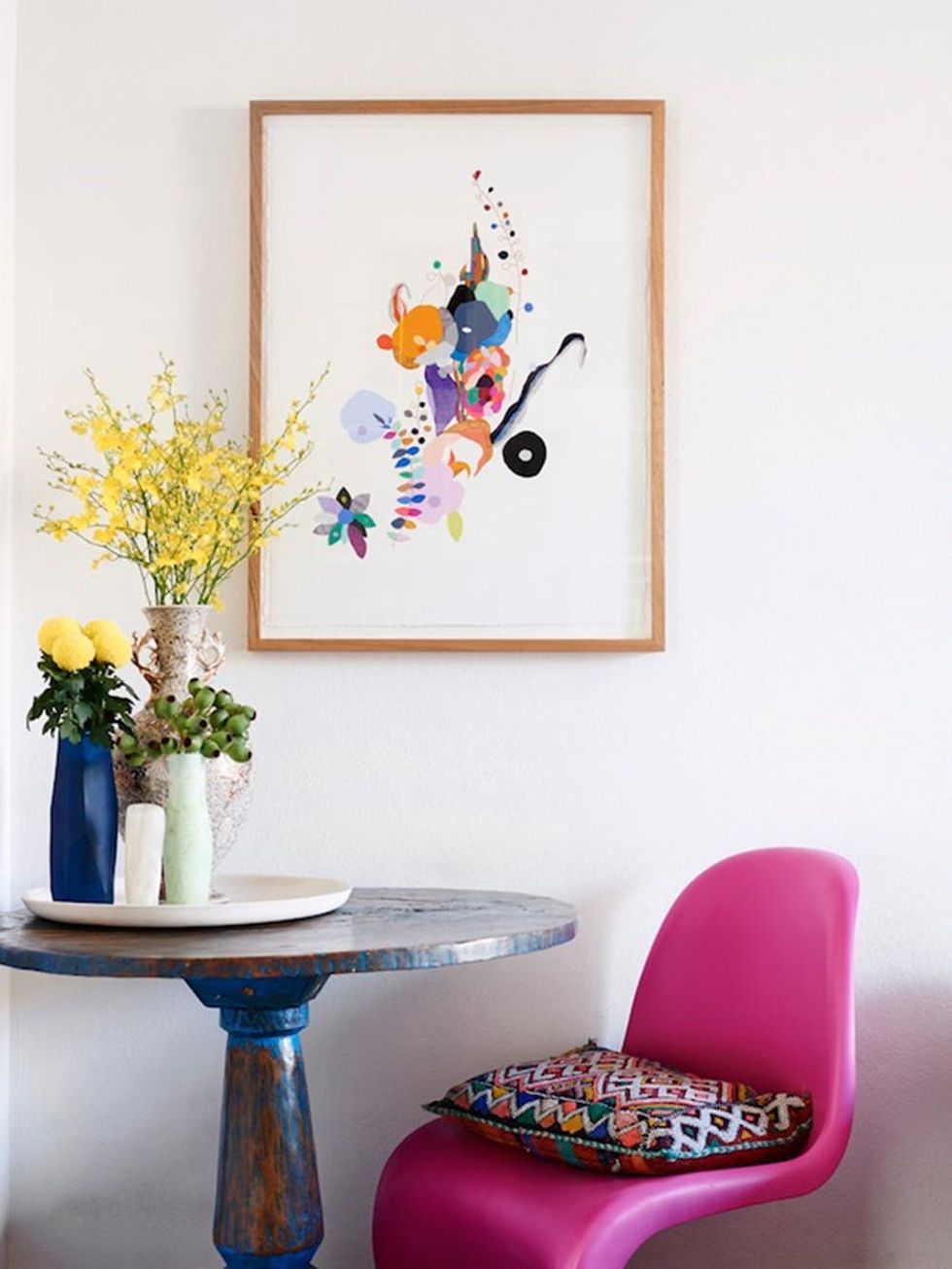 Like Harper's bedroom, Miranda's breakfast nook is sporting a Panton chair in a limited edition color, which is basically the best color in the world. And while she could easily put her art everywhere in her house (it's really that awesome), she decided to feature another of her favorite Australian born artists, Kirra Jamison here. If you're a fan of Miranda's work, we suggest checking out Kirra's as well. COLOR OVERLOAD!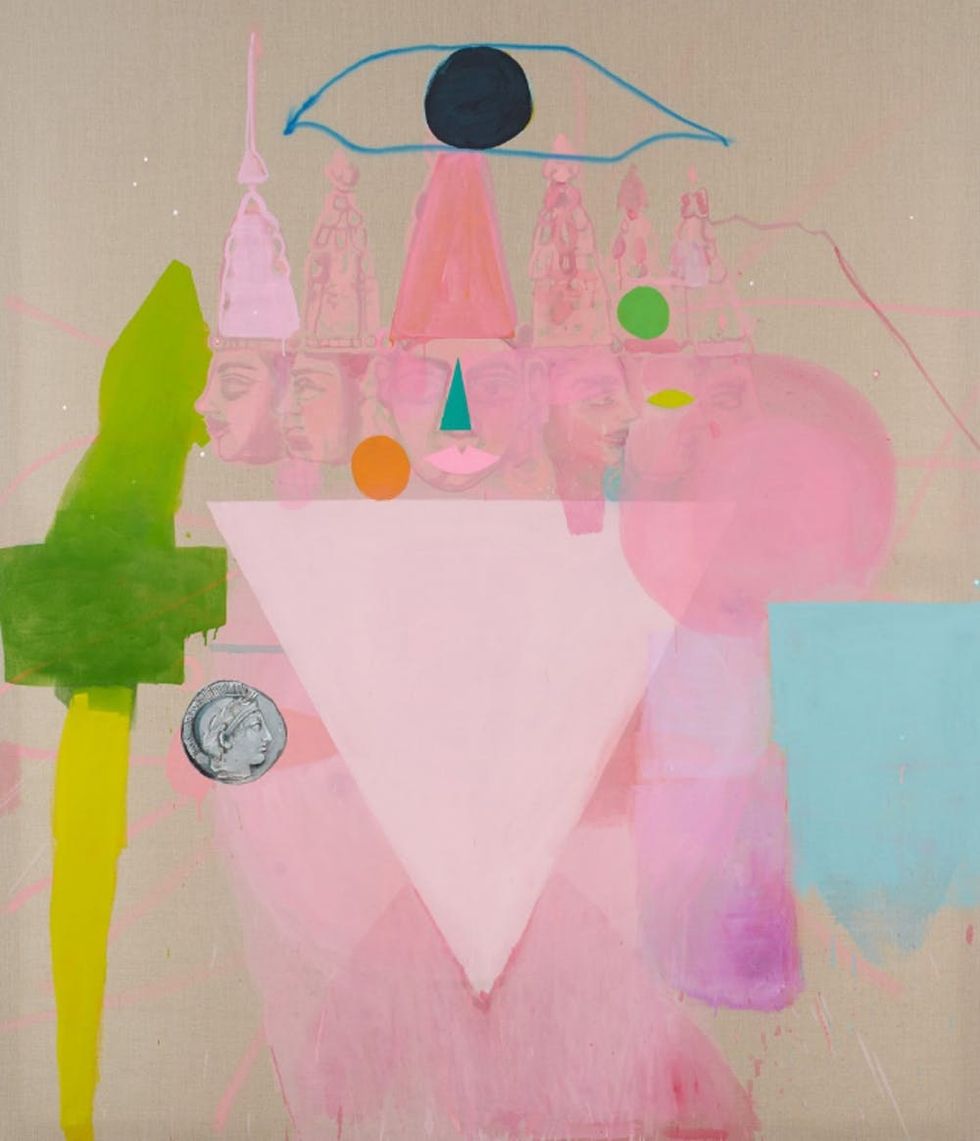 Of course, if you want to decorate your home like Skoczek's you should include one of her paintings! If you're in Melbourne, she is on showcase at the Edwina Corlette Gallery. Her site is currently under construction. If you can find somewhere online to buy these prints, please leave a tip in the comments!
What do you think of this modern-folk hybrid art? Let us know in the comments!
(h/t The Design Files)