3 New Reads About Waiting, Walking, and Moving Forward
Feb 26, 2017
Sometimes you have to be still, sometimes you have to stroll and sometimes you have to start a movement. The three books in this week's Brit + Co book club deal with all states of motion, and what they mean to us. Waiting is a social connector, walking is a social statement, and moving forward is a social necessity.
---
1. Passing Time: An Essay on Waiting by Andrea Köhler, translated by Michael Eskin ($18): In a recent article from TheChronicle of Higher Education that advocated for the study of theatre, one of the most often reported findings from professors was that, simply, their students did not know how to wait; how to pass time in a singular fashion without immediate distractions. Until they took the time to learn (in this case, through patience and acting lessons in stillness), students would fidget, seem distinctly uncomfortable, and even start toward phones that weren't there. Andrea Köhler, who won the 2003 Berlin Book Critics Prize and is currently cultural correspondent for Neue Züricher Zeitung, a Swiss daily newspaper, addresses what waiting means — and why it's important to our humanity.
Waiting is not necessarily just a liminal state, a time when we are absently in between two things. You can wait (even when it's not on your own terms) with purpose, even if the goal itself is waiting. Köhler writes that waiting is important because, among other things, it reminds us of our mortality and helps us slow down to appreciate the life we've got. She defines and classifies the types of waiting, anxiety being different from standstill, which itself is distinct from expectation and what we do when we wait for love. The book is a combination of autobiography and philosophy, and Köhler references a bunch of heavyweights, including Foucault, Nietzsche, and Camus on her journey. As Plato discovered in his dialogues, "Waiting inspires philosophy, and that philosophy in turn gives meaning to the wait."
Even the evolution of the word speaks volumes; Kohler reveals that the word originated, in the modern sense, in the 13th century, but only gained its overtones of agony in the 18th, when Romanticism reigned. Just like how we've defined and redefined the meaning of waiting, it defines us, in how we spend those moments in between. As those theatre students might learn, if you're going to put on a meaningful production of Waiting for Godot, you have to understand how and why to, well, wait.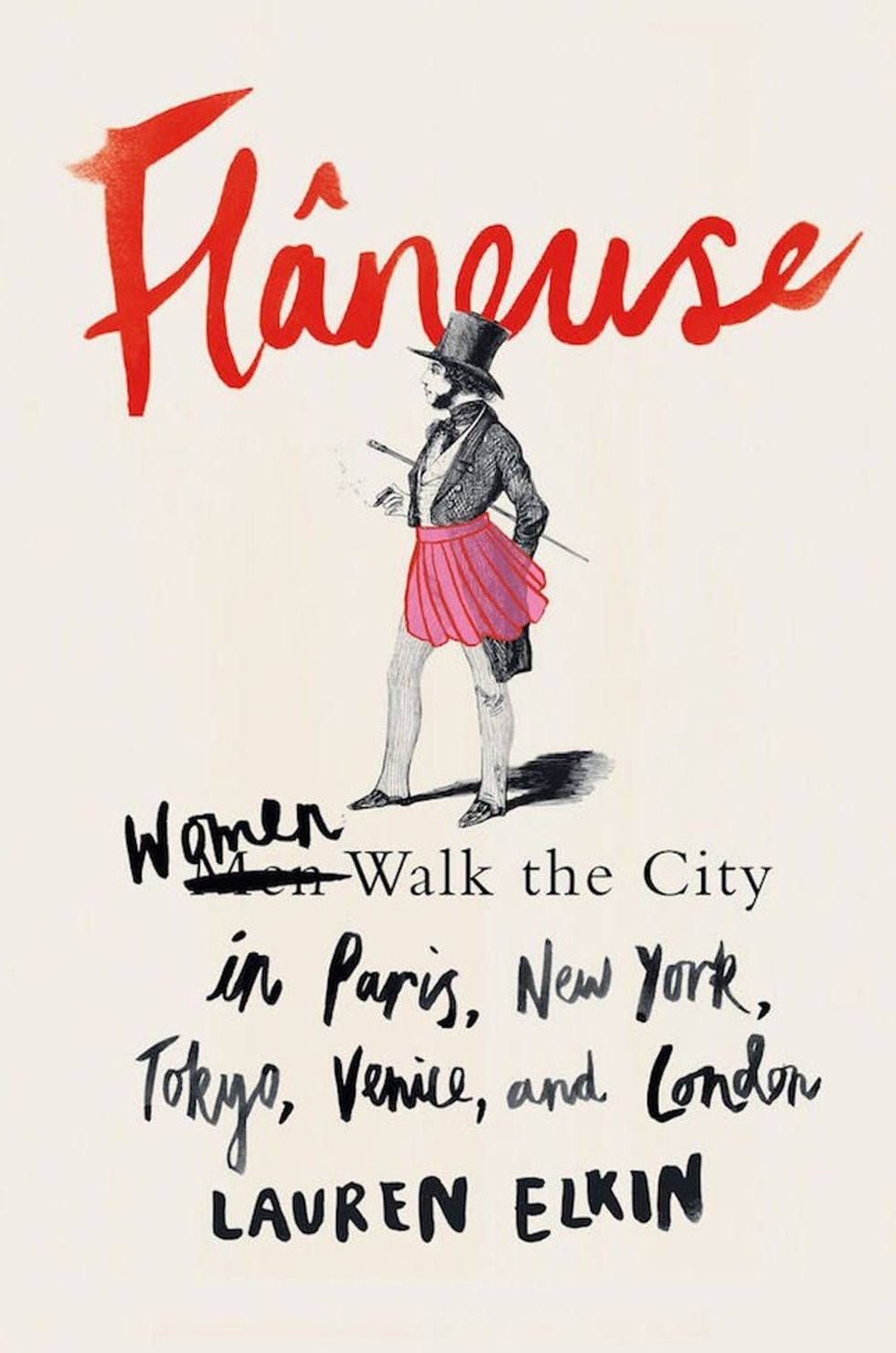 2. Flâneuse: Women Walk the City in Paris, New York, Tokyo, Venice, and London by Lauren Elkin ($27): One great way to wait is by going on a walk, whether or not it has a destination. Male, wealthy and uninhibited by prejudice, the flâneur (a term originating in the first half of the 19th century, meaning "one who wanders aimlessly") was able to spend his time strolling the streets of the world's capitals, looking for an education in leisure and beauty. Lauren Elkin has updated the privileged figure of the flâneur to encompass the flâneuse, a "determined, resourceful" woman, and looks at past and present treks through these urban oases.
Saying, "She is fleeting, passing, permanent," Elkin takes us through the paces of the world of the flâneuse at an easy stroll by using her personal experience as a world-walker, with all the titular cities being involved in some way. In her travels, Elkin found out a wonderful secret: With a great walk comes great power. Instead of coming with responsibility, that power was to have no responsibility in the least: "Every turn I made was a reminder that the day was mine and I didn't have to be anywhere I didn't want to be. I had an astonishing immunity to responsibility, because I had no ambitions at all beyond doing only that which I found interesting."
She also looks more philosophically into a culture of walking that's not as historically male as it might seem and full of some of the most interesting women you could possibly walk with. "These women came to the city… to pass unnoticed, but also to be free to do what they liked, as they liked." Historical flâneuses have included George Sand, Patti Smith, and Jean Rhys, but one thing they all have is the ability to stand out in the crowd despite social pressure to do anything but: "Do not advertise. And yet there she is… She shows herself. She shows up against the city." The Financial Times, The Guardian, and The New Statesman all named it as one of the best books of the year, so grab a copy and head out for a meander.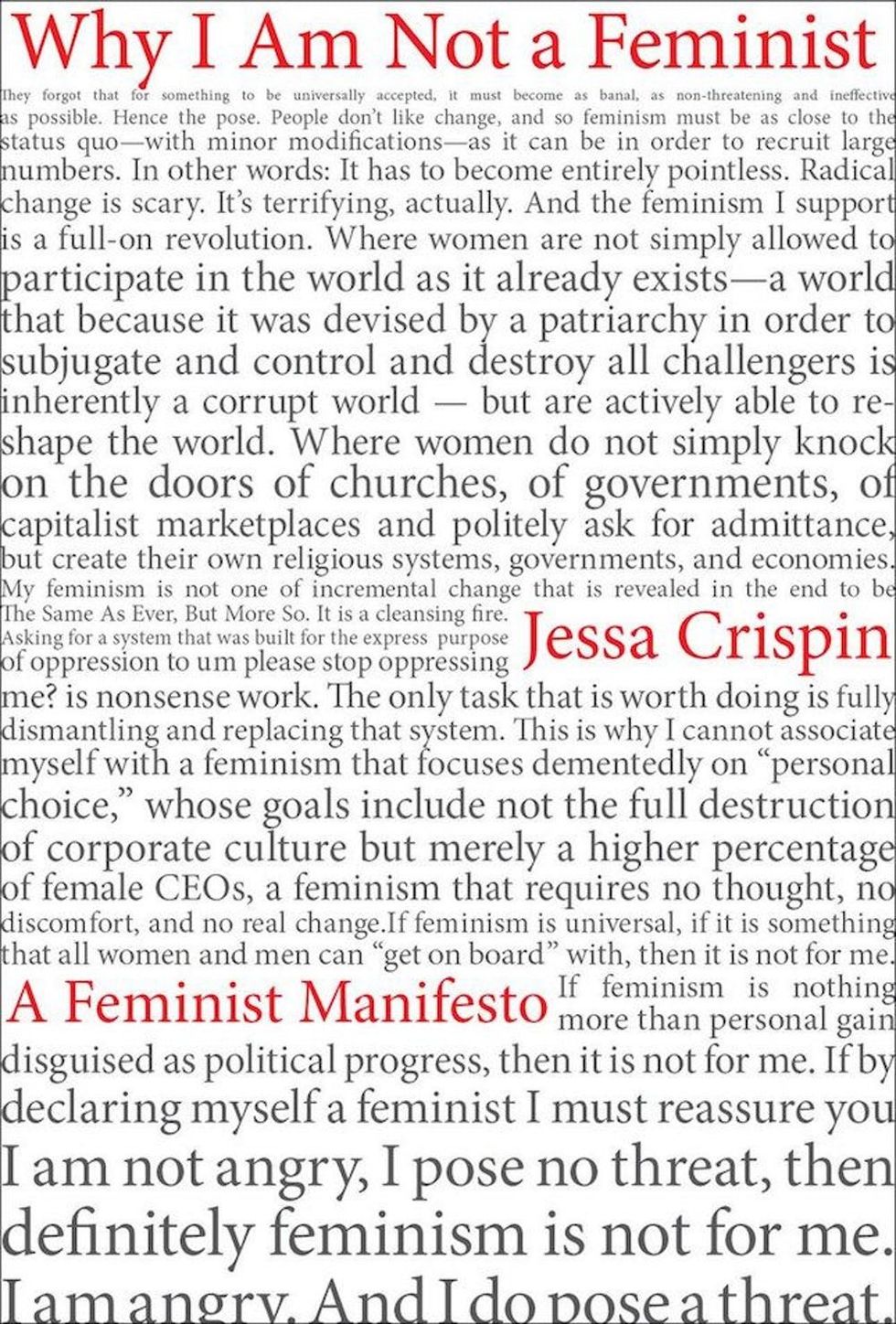 3. Why I Am Not a Feminist: A Feminist Manifesto by Jessa Crispin ($16): What if you're not willing to wait for it? To take a walk, you have to take a stand. To start a revolution, you have to move forward; you have to look back, and you have to redefine what came before you. Don't let the first part of Bookslut founder Jessa Crispin's title fool you; Crispin is very much a feminist. Her problem isn't feminism; it's how it's being co-opted as a branding mechanism rather than a genuine ethos, and that it can be less than inviting to women who aren't middle class or white.
Crispin vociferously defends the idea of the necessity of intersectionality in feminism, arguing that to truly be feminist, we need to look deeply at racism and unjust social structures, including capitalism, and reject messages that empowerment's goal is to be attractive to others (as Crazy Ex-Girlfriend satirically sang, "Put yourself first for him"), and that the fight for change can end with social media. Crispin writes that "toxic femininity" is just as possible as its male counterpart, and cautions against alienating allies who might have different goals, problems, or even genitals. Ironically, she opines, it's become a club that's too ready to shout down its potential friends while being overly polite to its enemies.
"Somewhere along the way toward female liberation, it was decided that the most effective method was for feminism to become universal. But instead of shaping a world and a philosophy that would become attractive to the masses, a world based on fairness and community and exchange, it was feminism itself that would have to be rebranded and remarketed for contemporary men and women," Crispin writes. "They forgot that for something to be universally accepted, it must become as banal, as non-threatening and ineffective as possible." Whether you agree or disagree with Crispin's stance, it's anything but banal; it's passionately articulated and a worthwhile read. Take it with you the next time you foresee a long wait ahead of you (and for a cause like feminism, that's practically a given).
What books are worth the wait? Tag us in your next moving read @BritandCo.
Brit + Co may at times use affiliate links to promote products sold by others, but always offers genuine editorial recommendations.
Ilana Lucas
Ilana is an English professor, theatre consultant and playwright based in Toronto, Canada. When she's not at the theatre or insisting that literary criticism can be fun, she's singing a cappella or Mozart, occasionally harmonizing with the symphony, or playing "Under Pressure" with her rock handbell group, Pavlov's Dogs.