We Found the Best Way to Serve Pizza as an App
Feb 08, 2019
You can whip up mini English muffin pizzas for nostalgia's sake and cloud bread pizzas for a low-carb version, but if you need a party-pleasing app for the masses, assemble these pepperoni pizza pinwheels that taste like a lightened up version of your favorite 'za. Though we kept it simple with classic pepperoni, you can experiment with some of your go-to toppings.
---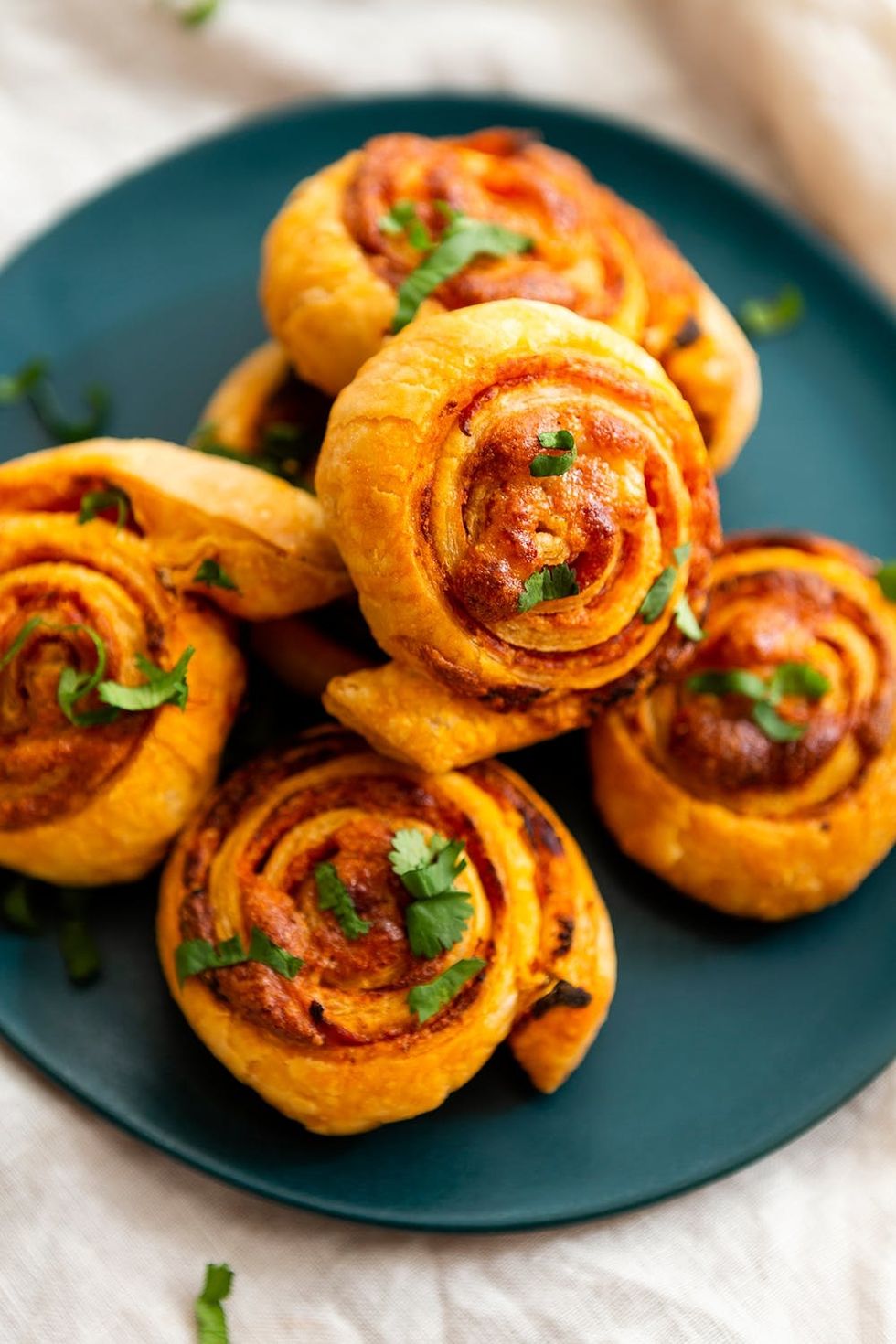 Pepperoni Pizza Pinwheels RECIPE
(Makes 10-20 pieces)
Recipe Notes: If you like heat, sprinkle on some chili flakes before you roll the puff pastry. And, though these are best hot, the rolls also taste good at room temp.
Ingredients:
all-purpose flour, for dusting
1 sheet refrigerated puff pastry, thawed
1 tablespoon tomato paste
1/2 bag (30 pieces) pepperoni slices
1 cup grated mozzarella cheese
salt, to taste
basil or parsley, chiffonade, to serve
Directions:
1. On a lightly floured surface, roll out the puff pastry until thin (roughly 15 inches wide).
2. Spread a light layer of tomato paste across the top of the puff pastry, leaving about a 1-inch border on all sides.
3. Top with pepperoni, and then sprinkle evenly with cheese in a light layer. Season with salt.
4. Starting with the end closest to you, carefully roll the puff pastry up tightly over the pepperoni and cheese to create a pinwheel.
5. Wrap with plastic wrap, and refrigerate for at least half an hour and up to 1 day.
6. Preheat the oven to 400°F. Line a baking sheet with parchment paper.
7. Remove the plastic wrap from the pinwheels, and slice with a serrated knife into 1/4-inch slices. Alternatively cut into 1/2-inch slices, as pictured in the video, for more of a puffy roll.
8. Place each slice on its side on the prepared baking sheet.
9. Bake for 25 minutes or until golden-brown.
Brit + Co's Pinterest page is your best bet for finding all your party inspo.
(Recipe via Anna Monette Roberts/Brit + Co; styling via Alonna Morrison/Brit + Co; photos via Brittany Griffin/Brit + Co)
Anna Monette Roberts
As Brit + Co's Food Editor, Anna Monette Roberts has an insatiable appetite for developing tasty dishes. When she's not dreaming about her next meal, she's . . . well, probably cooking up her creations. Her favorite foods include chewy chocolate chip cookies, Rosé Champagne, and gooey French cheeses — in no particular order.
DIY Recipes