27 Ways to Get into the Holiday Spirit at Disneyland This Season
Nov 24, 2018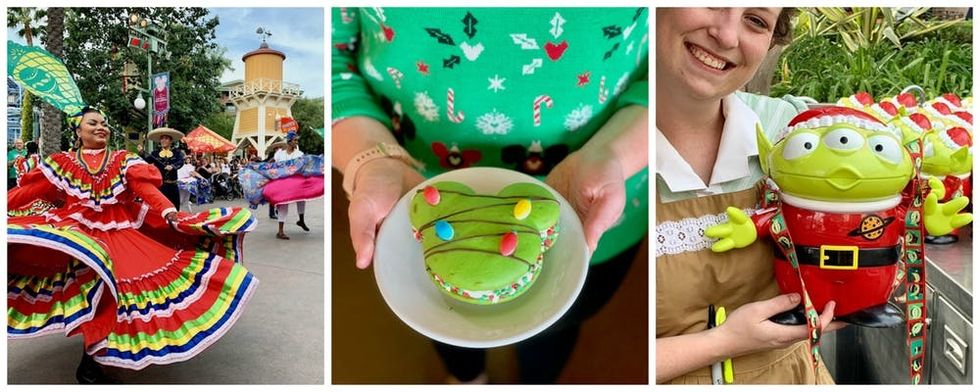 If you're already dreaming of sugar plums, humming carols, and craving candy canes — or if you're just looking for a boost to really get that holiday spirit flowing — there's one place that needs to top your list: the Disneyland Resort in Anaheim, CA. At every turn, Disneyland and California Adventure offers up irresistible holiday amusements from elaborate parades to adorable Minnie ears to even more seasonal churro options. From now until January 6, the merriment will be in full swing. Here's what not to miss.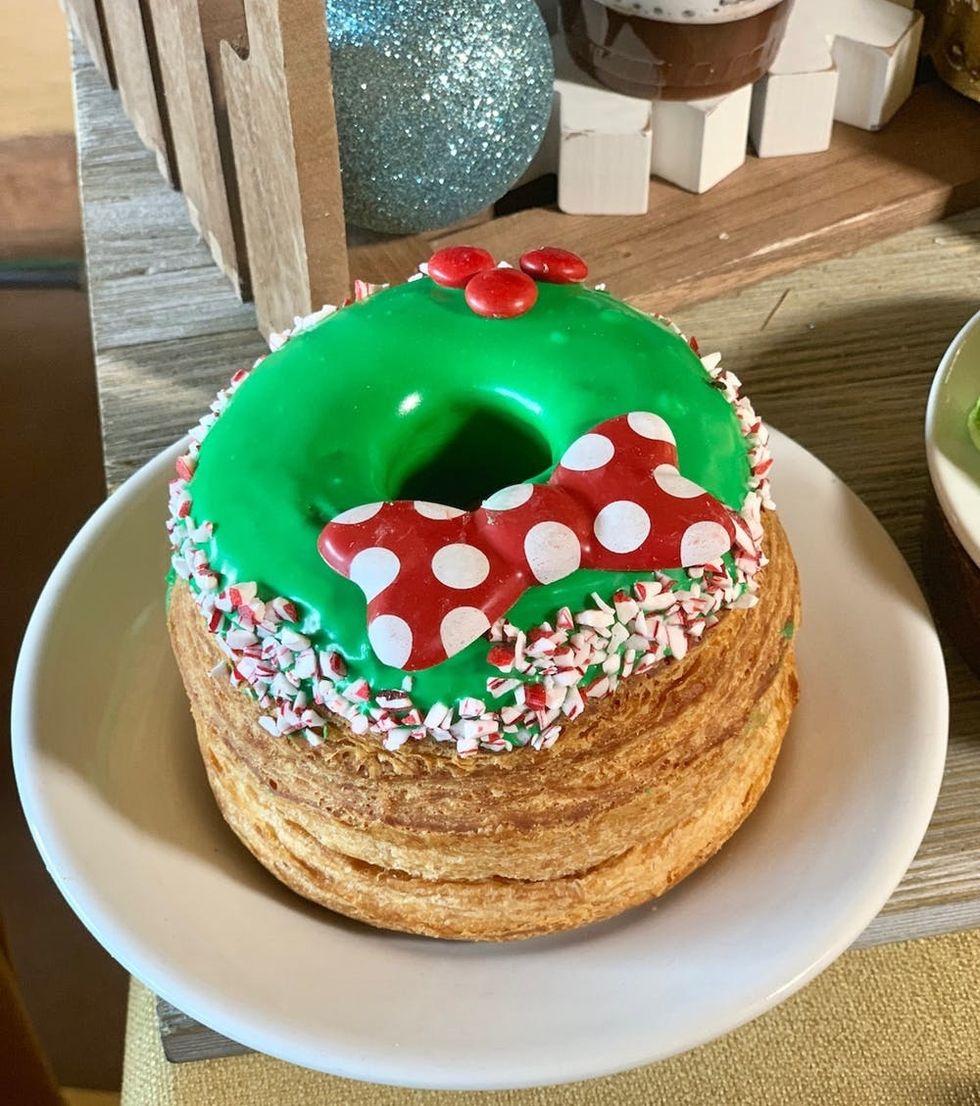 Calls dibs on these doughnuts. Schmoozies! in Disney California Adventure always offers up holiday goodies, and this year is no exception. Our pick is the Minnie Wreath Donut filled with a chocolate peppermint ganache. (Photo via Sunny Chanel)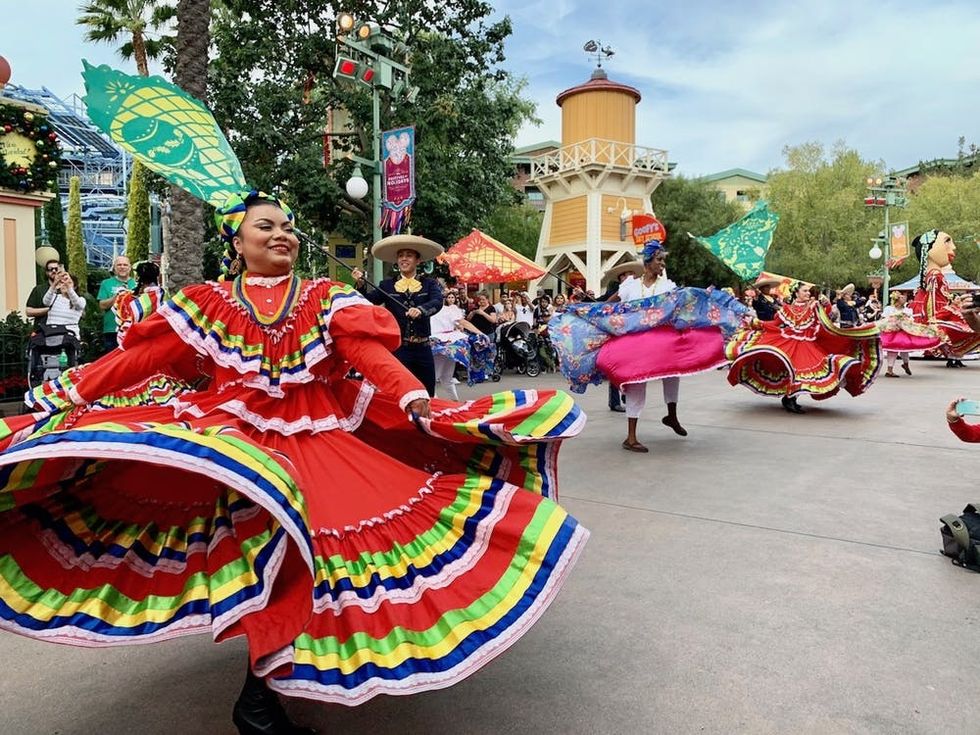 Dance along at the Viva Navidad Street Party. California Adventure comes alive with the Viva Navidad Street Party hosted by the Three Caballeros and featuring a cast of dancers celebrating a feliz navidad. (Photo via Sunny Chanel)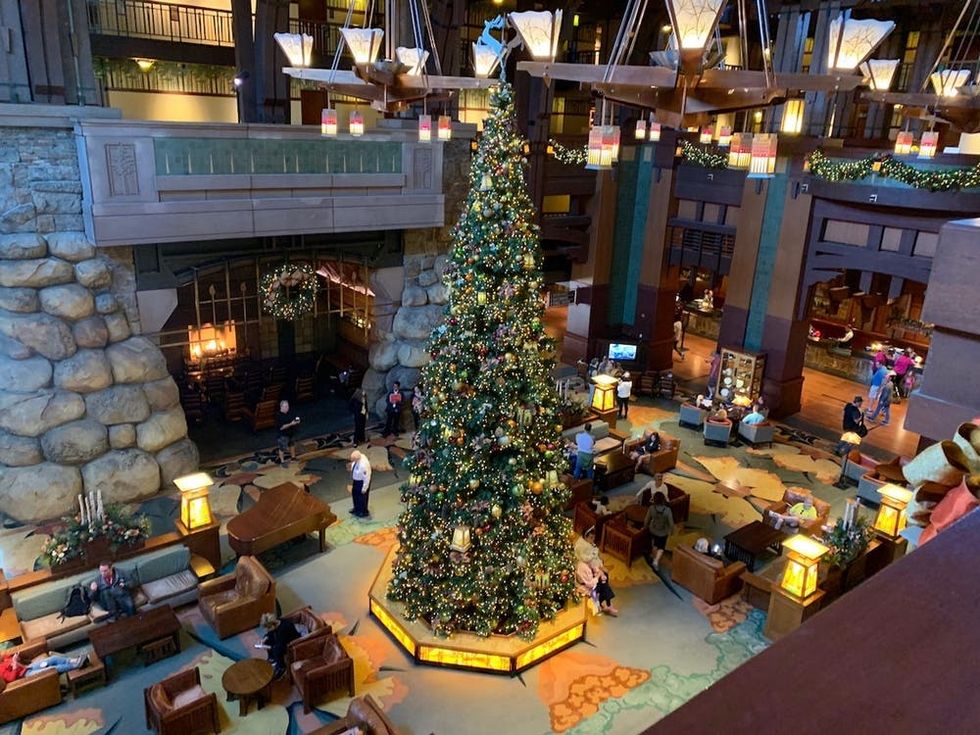 Speaking of trees, don't miss the HUGE one in the Grand Californian Hotel lobby. Along with the gigantic tree at the end of Main Street, this tree is an epic ode to the holidays. (Photo via Sunny Chanel)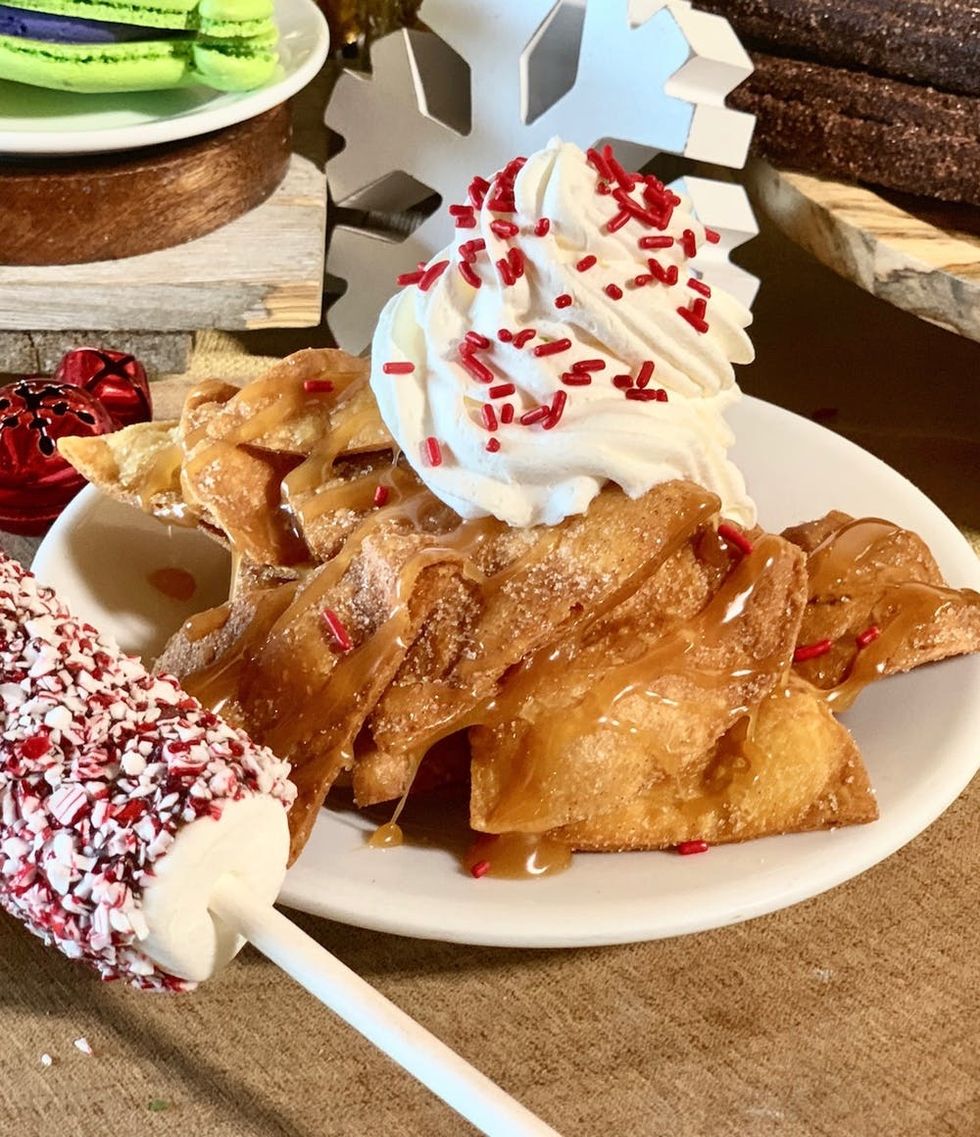 Dip into some dessert nachos. Forget the guac— indulge in this sweet spin on nachos covered in cinnamon and topped with apple filling, vanilla sauce, cajeta caramel, and whipped cream. (Photo via Sunny Chanel)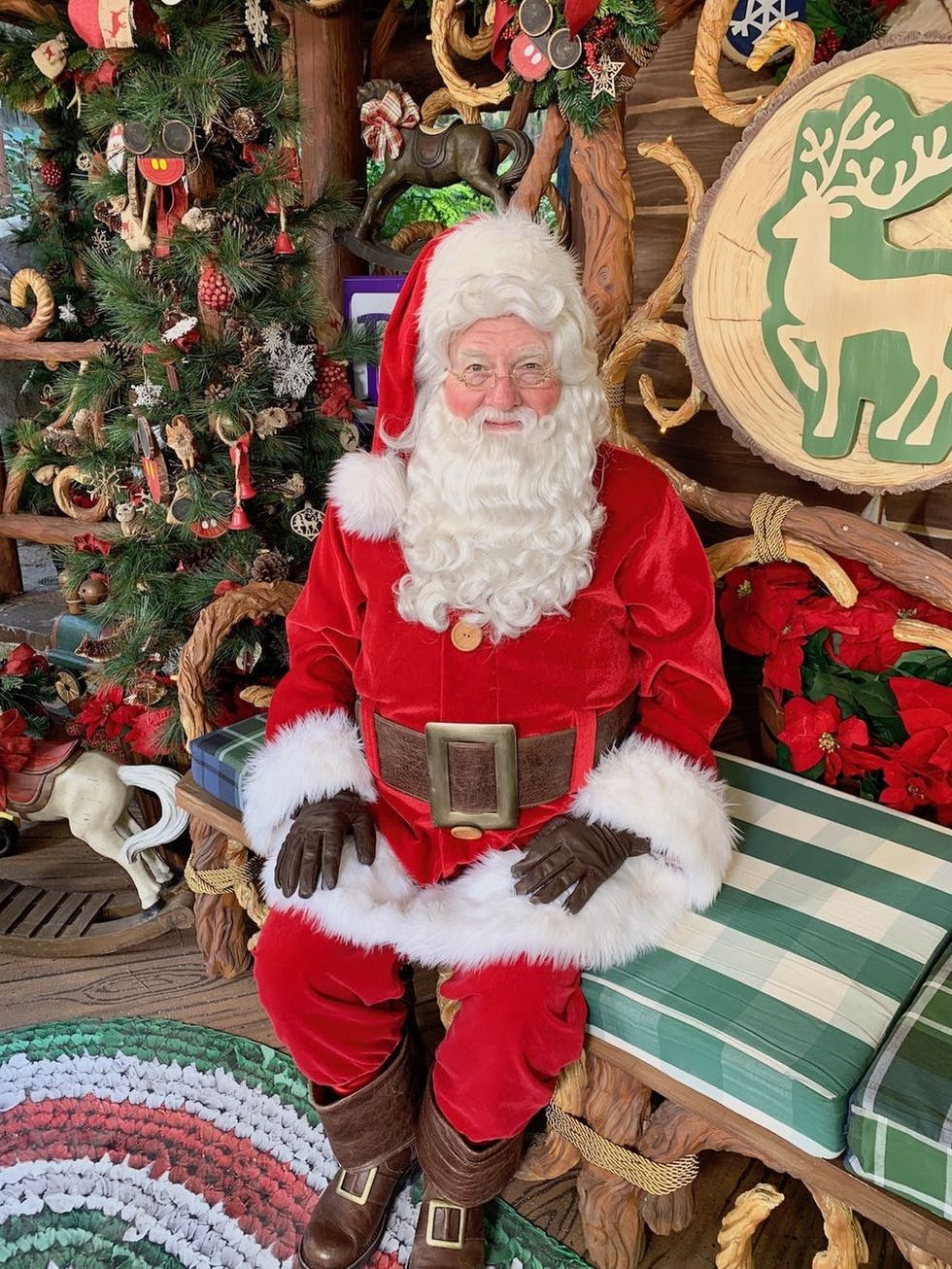 Meet Santa. Visit the Redwood Creek Challenge Trail and tell Mr. Claus what you really want for Christmas. (We predict a LOT of people asking for Star Wars goodies ahead of next year's debut of Galaxy's Edge). (Photo via Sunny Chanel)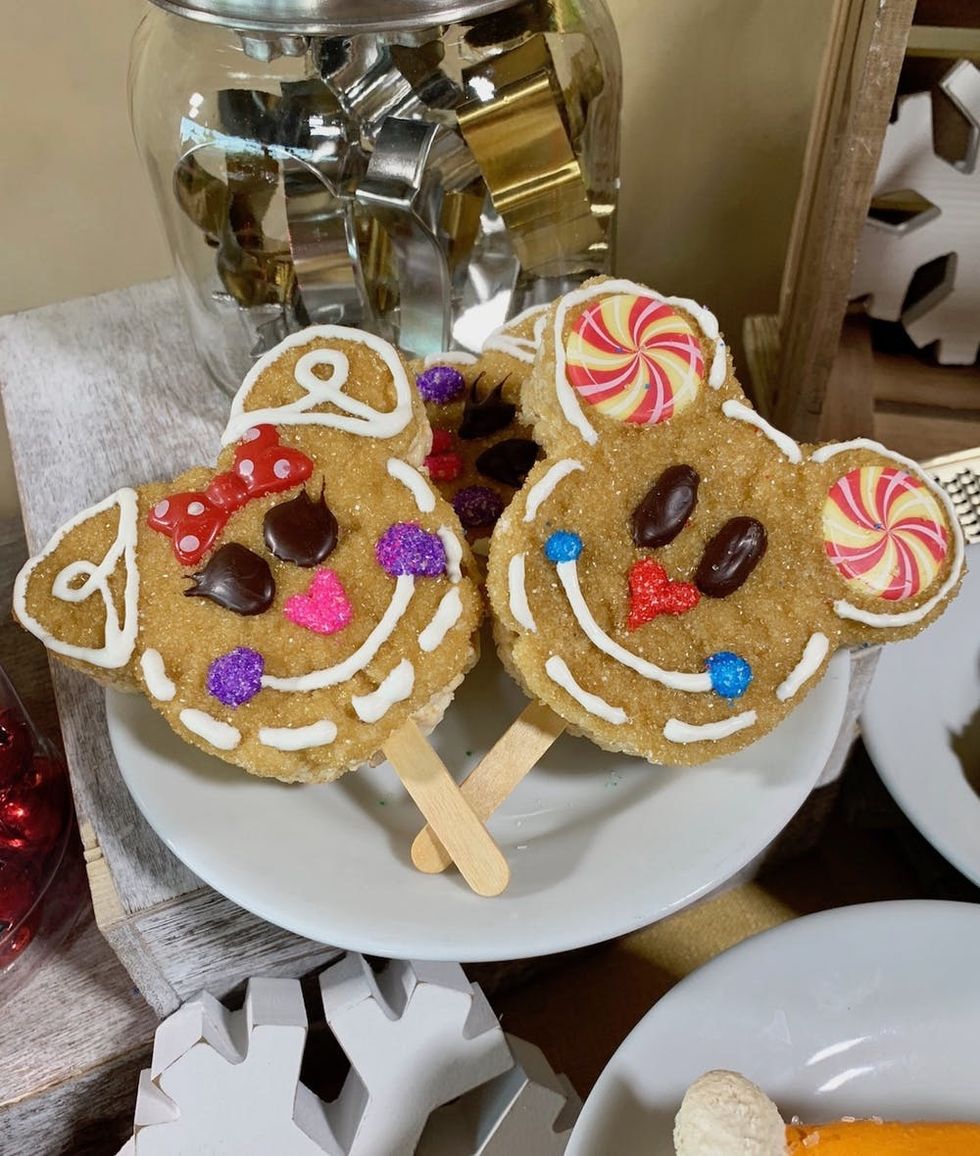 Eat a cookie on a stick. Minnie and Mickey get the cookie treatment, and it's (almost) too cute to eat. (Photo via Sunny Chanel)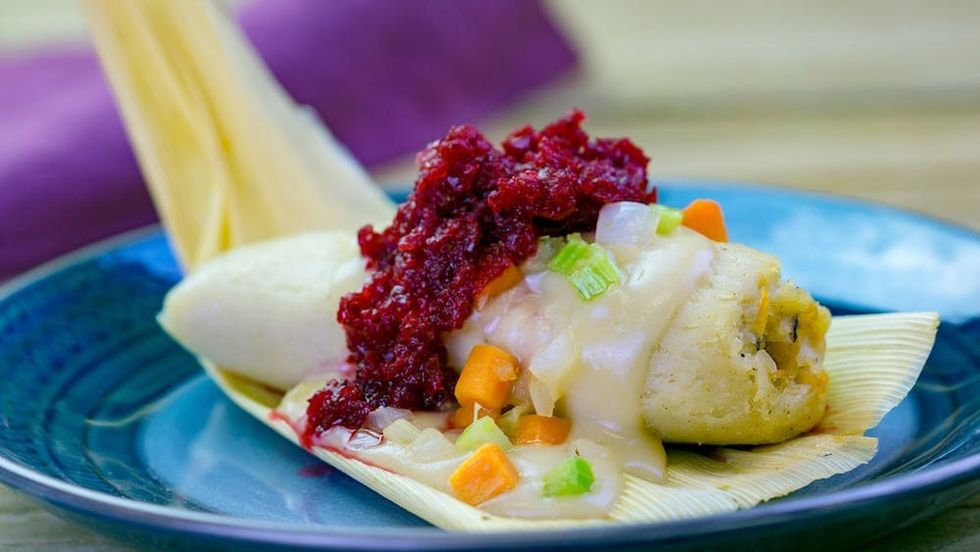 Feast at the Festive Foods Marketplace. The most delicious part of the Disney Festival of the Holidays is the Festival Food Marketplace where savory and sweet seasonal foods are cooked up. There are creative mash-ups like the Lox & Everything Bagel Nachos and the Turkey & Stuffing Tamale with Cranberry Relish (pictured above); and comfort foods like Candied Yams with Marshmallow Cream. (Photo via Disneyland Resort)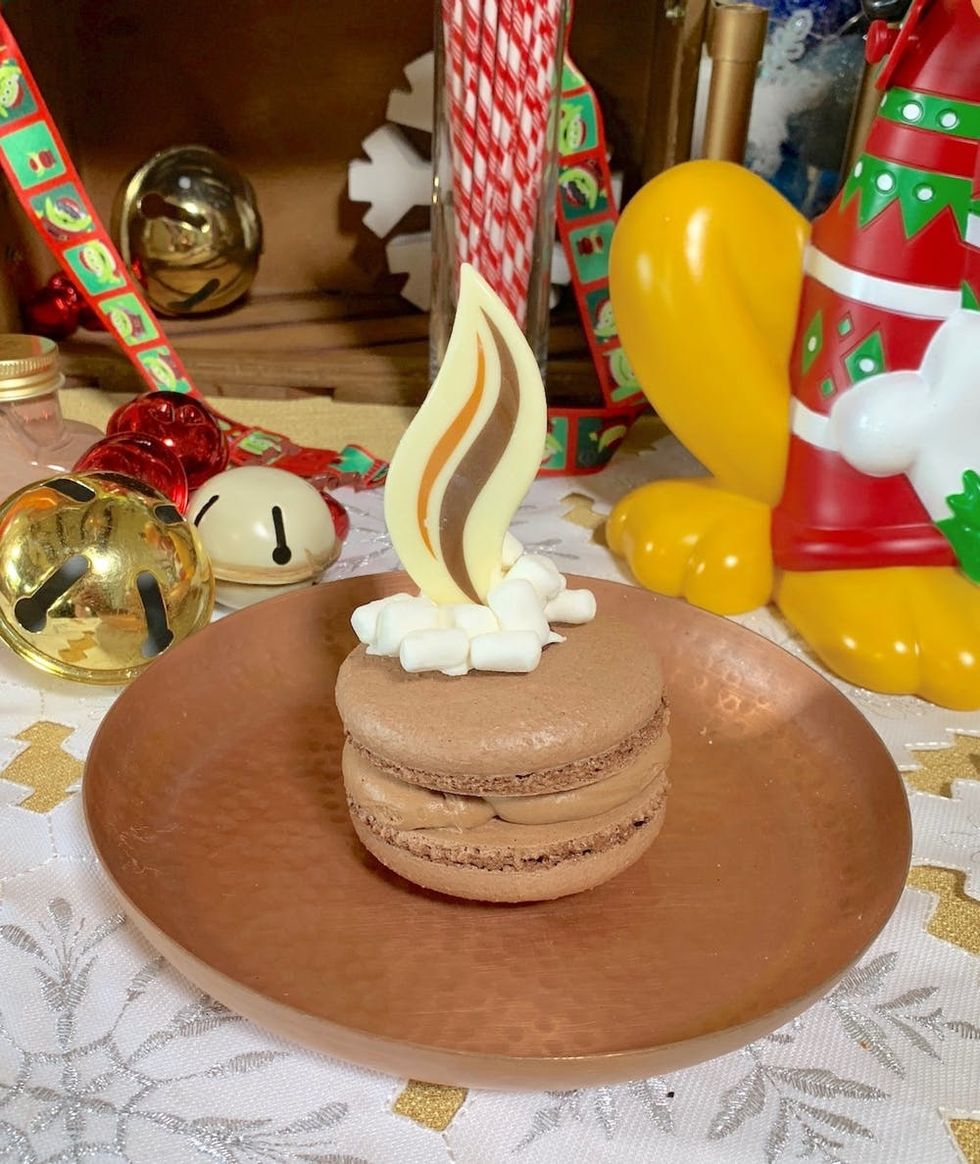 Taste-test the newest macaron. One of the best reasons to hit the Festival of the Holidays Festive Food Marketplace is to grab one of the Hot Cocoa Marshmallow Macarons. There may be a line to score one, but it's worth the wait. (Photo via Sunny Chanel)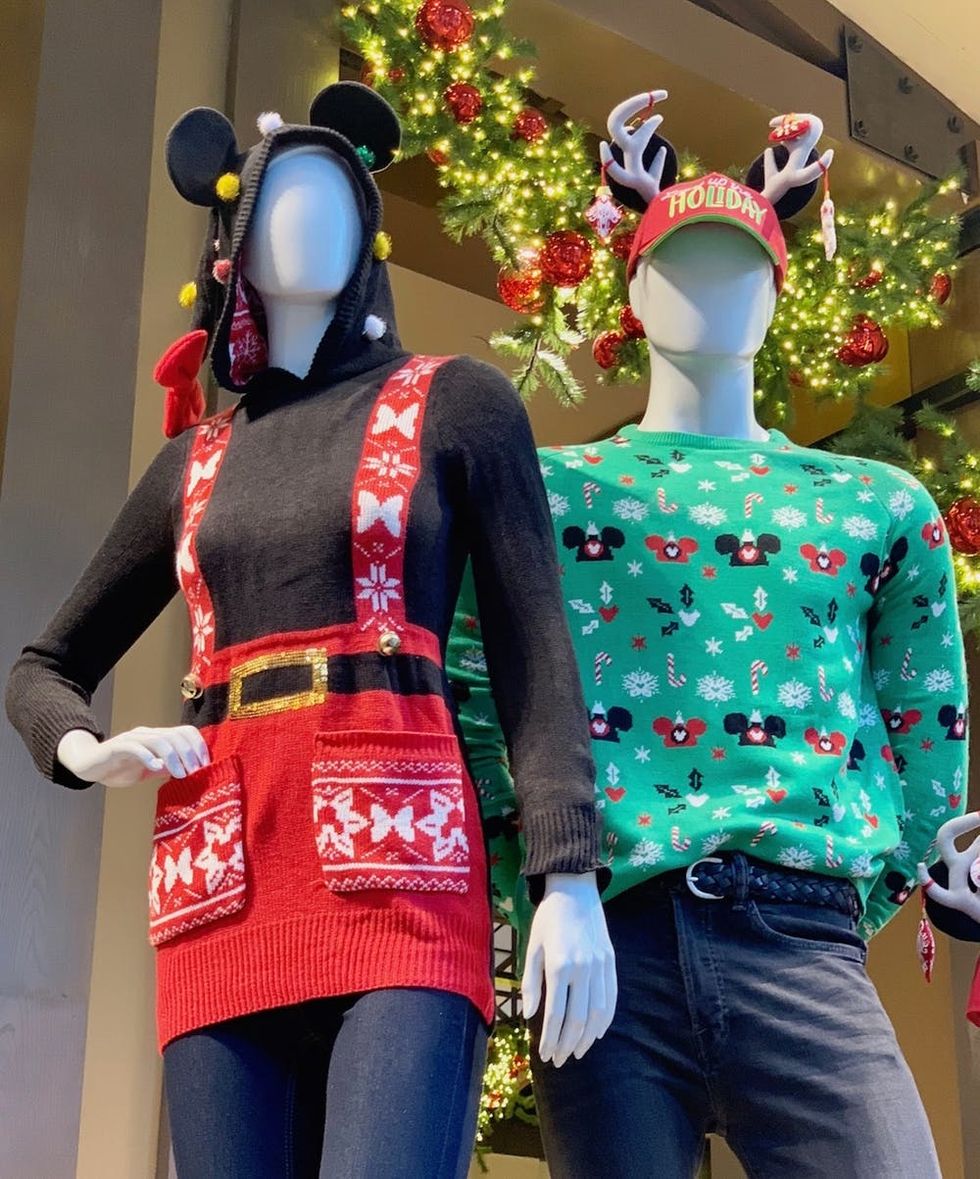 Keep warm with a Disney sweater. Check out Disney's take on the classic Christmas sweaters. Exactly what you need for your next Ugly Sweater party. (Photo via Sunny Chanel)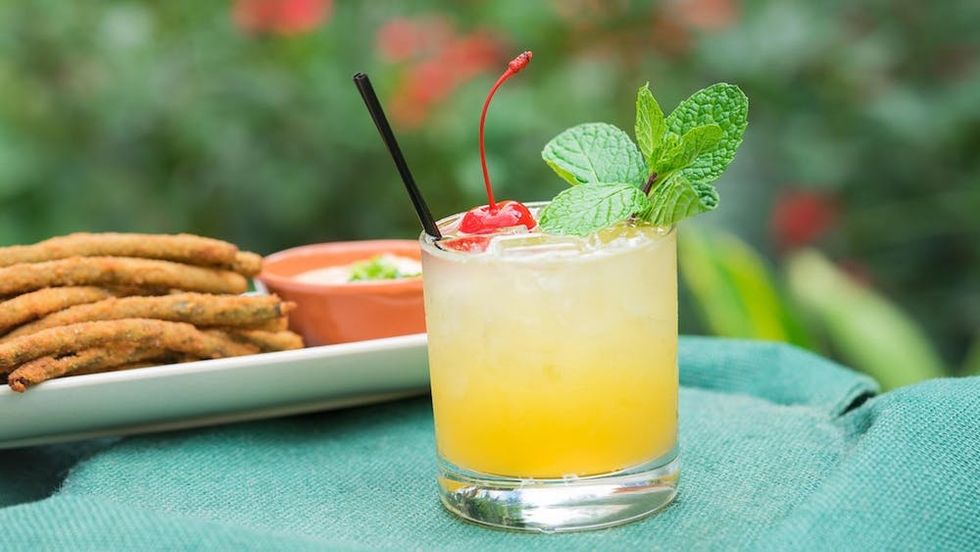 Sip on Sam's Slay Ride. Trader Sam's Enchanted Tiki Bar at the Disneyland Hotel gets into the holiday spirit with, you guessed it, spirits! Their Sam's Slay Ride is a concoction of honey-flavored whiskey, orange and ginger liqueurs, Sam's Gorilla Grog, lemon juice, and cinnamon syrup. Other boozy options include Rum Around the Christmas Tree and Under the Swizzletoe. (Photo via Disneyland Resort)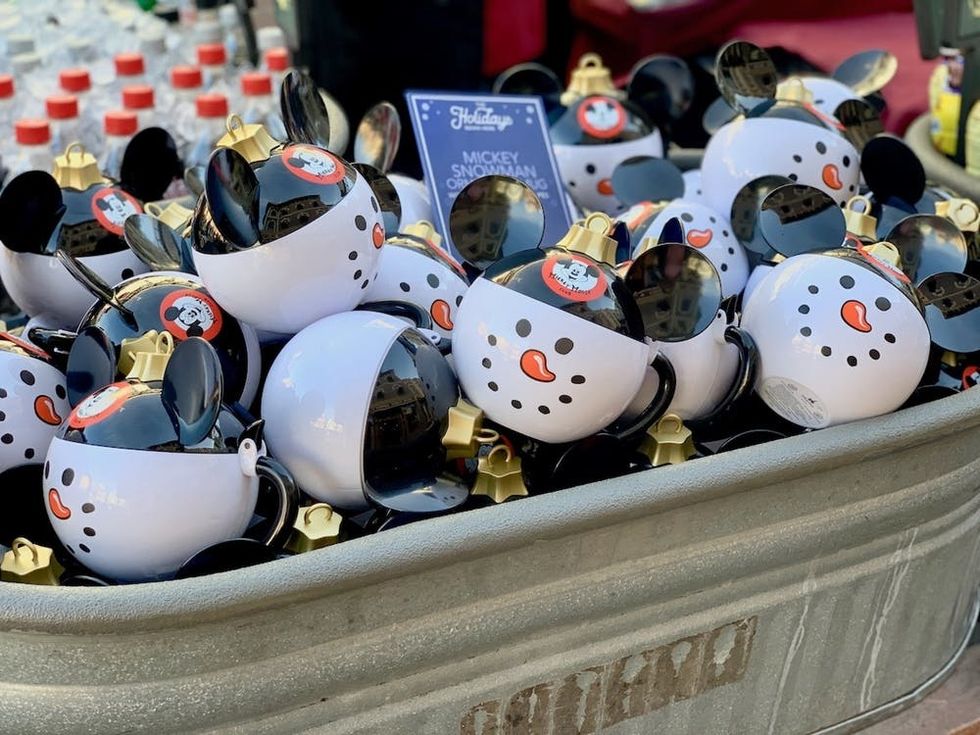 Quench your thirst. Why drink out of a regular old disposable cup when you can sip your beverage out of this sweet Mickey ornament sipper? (Photo via Sunny Chanel)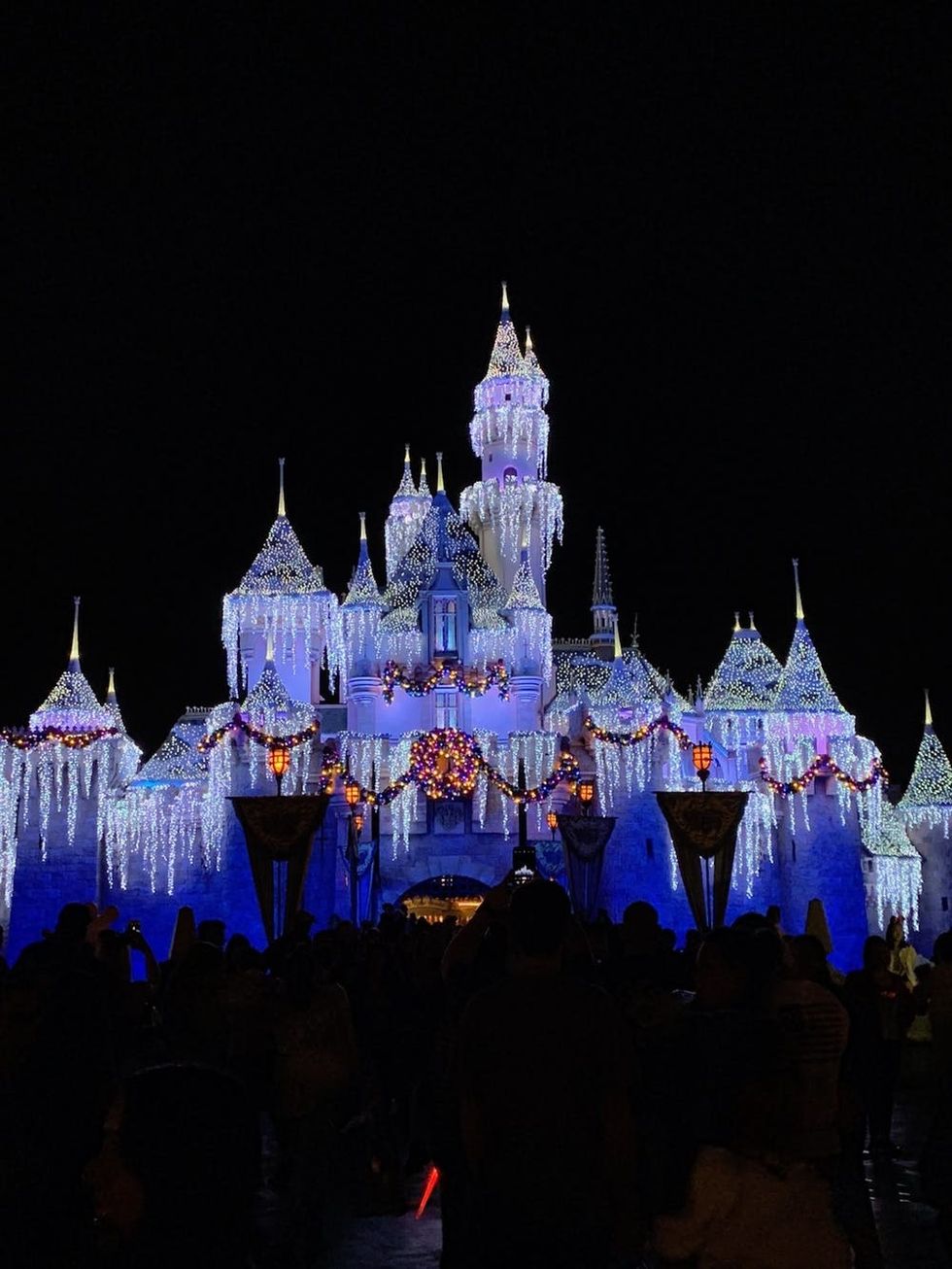 Bask in the glory of Sleeping Beauty's Castle. It's always stunning, but look how lovely it looks all decked out for the holidays. (Photo via Sunny Chanel)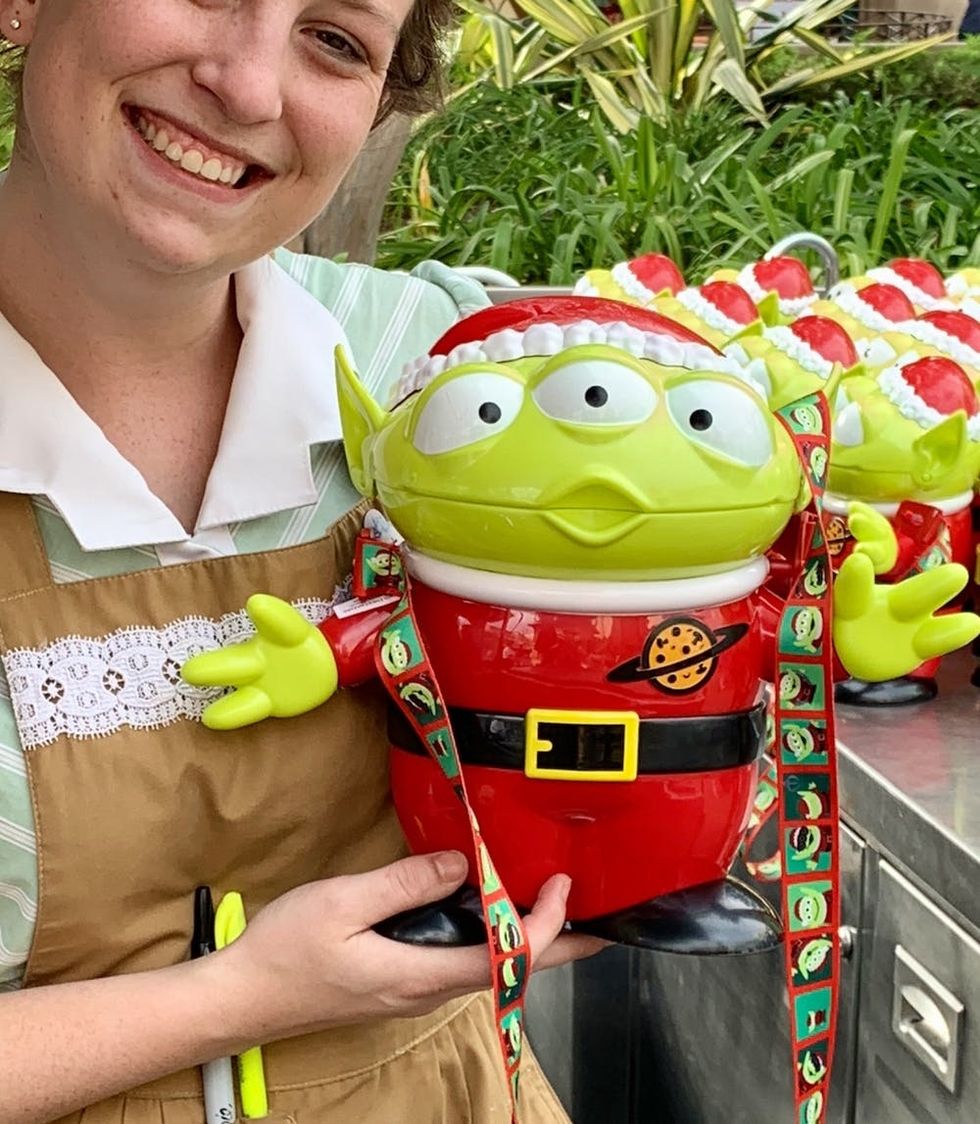 Adopt an alien. Every season, Disneyland creates a cute and quirky popcorn bucket that becomes a total collector's must. This holiday season, Disney is paying homage to Toy Story with this festive holiday alien. (Photo via Sunny Chanel)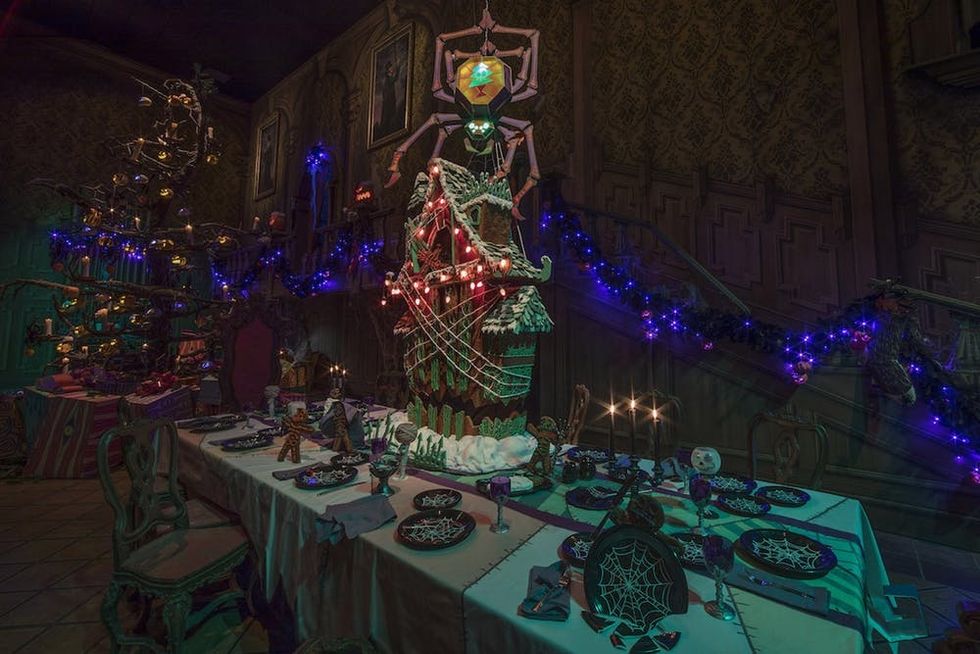 See the new gingerbread house in the Haunted Mansion. The pastry chefs at Disneyland get creative every year when they whip up the annual haunted gingerbread house for the midway point in the Tim Burton takeover of the Haunted Mansion. (Photo via Disneyland Resort)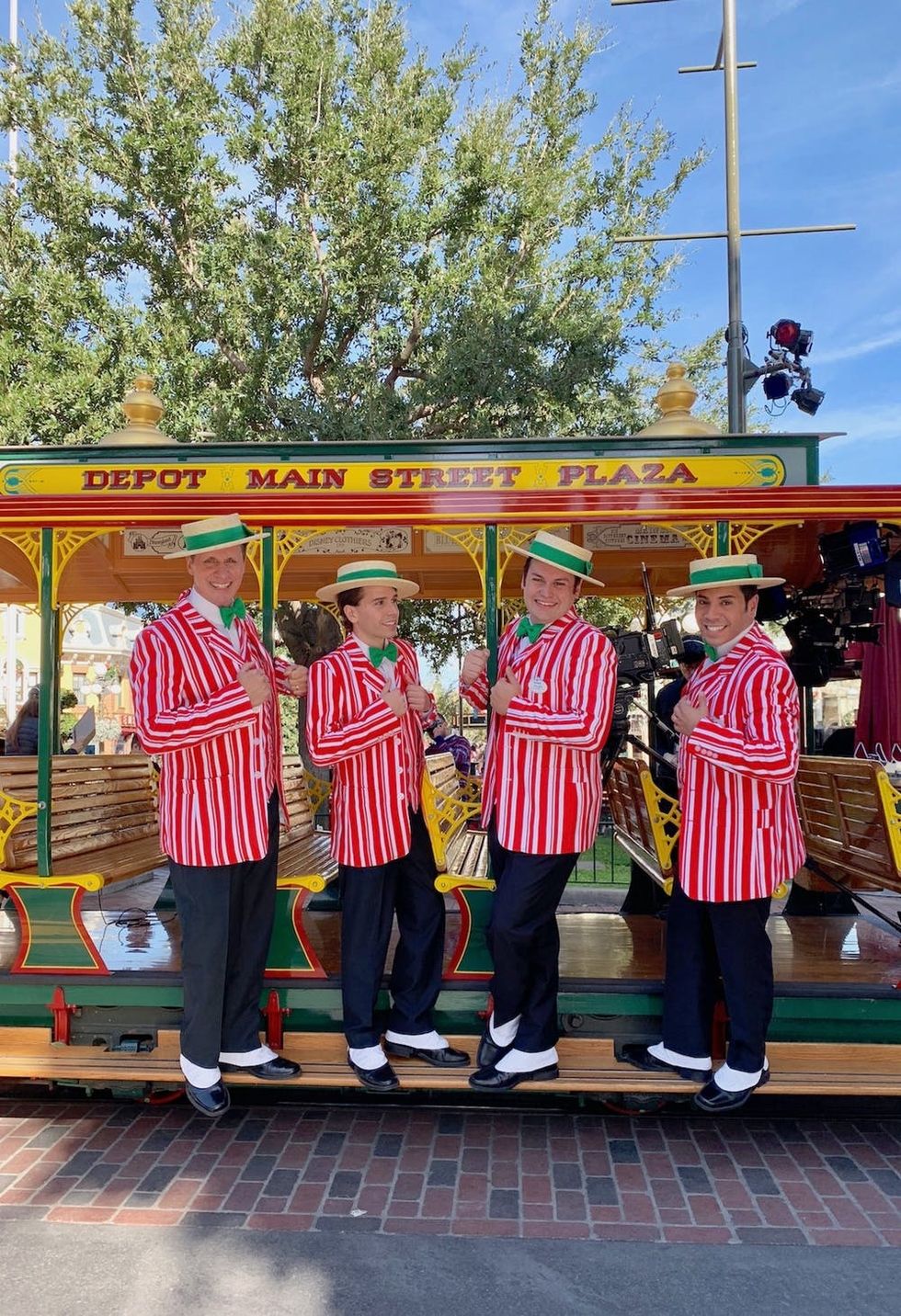 Listen to the Dapper Dans. The boys seranade Main Street with a tribute to the best of holiday hits. (Photo via Sunny Chanel)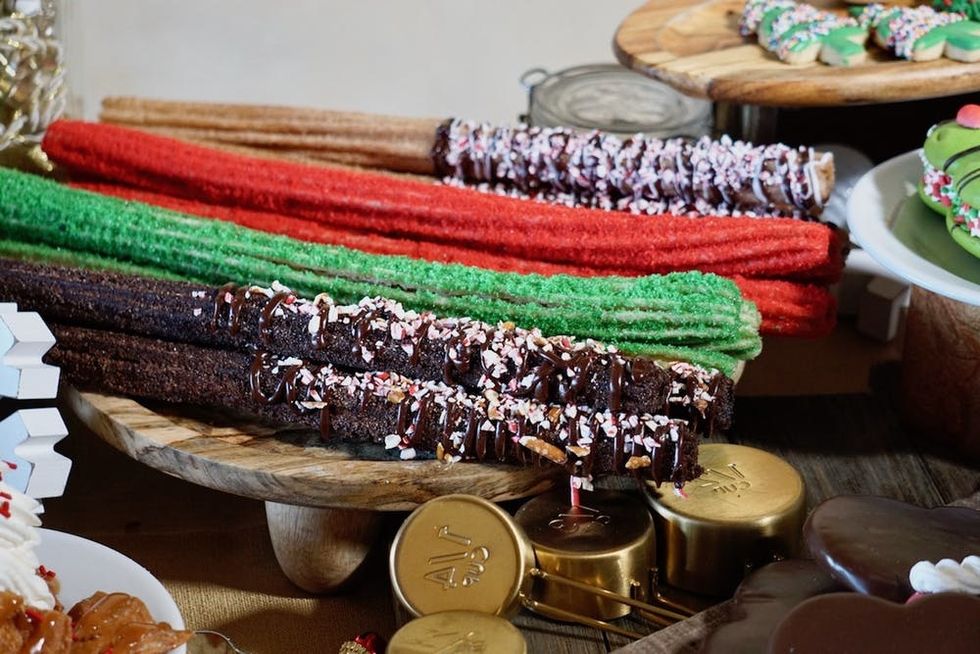 Try the new chocolate churro. For the first time, Disneyland is offering up an all-chocolate churro covered in chocolate sprinkles — get it in Frontierland. Other churro options this season include the Peppermint Churro, Gingersnap Churro, Pumpkin Spice Churro, Sour Apple Churro, a churro with crushed pretzels and peppermint, and a pair smothered in red and green sugar sprinkles. (Photo via Sunny Chanel)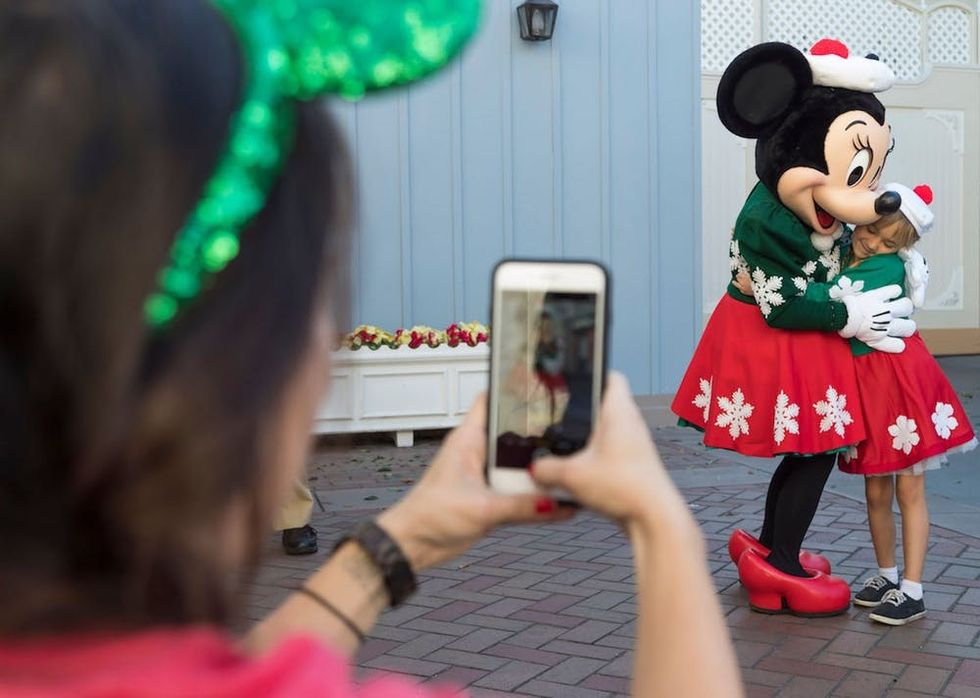 Get a photo with Mickey and Minnie. The fabulous couple and all their pals don their holiday ensembles for that Christmas-card-worthy photo. (Joshua Sudock/Disneyland Resort)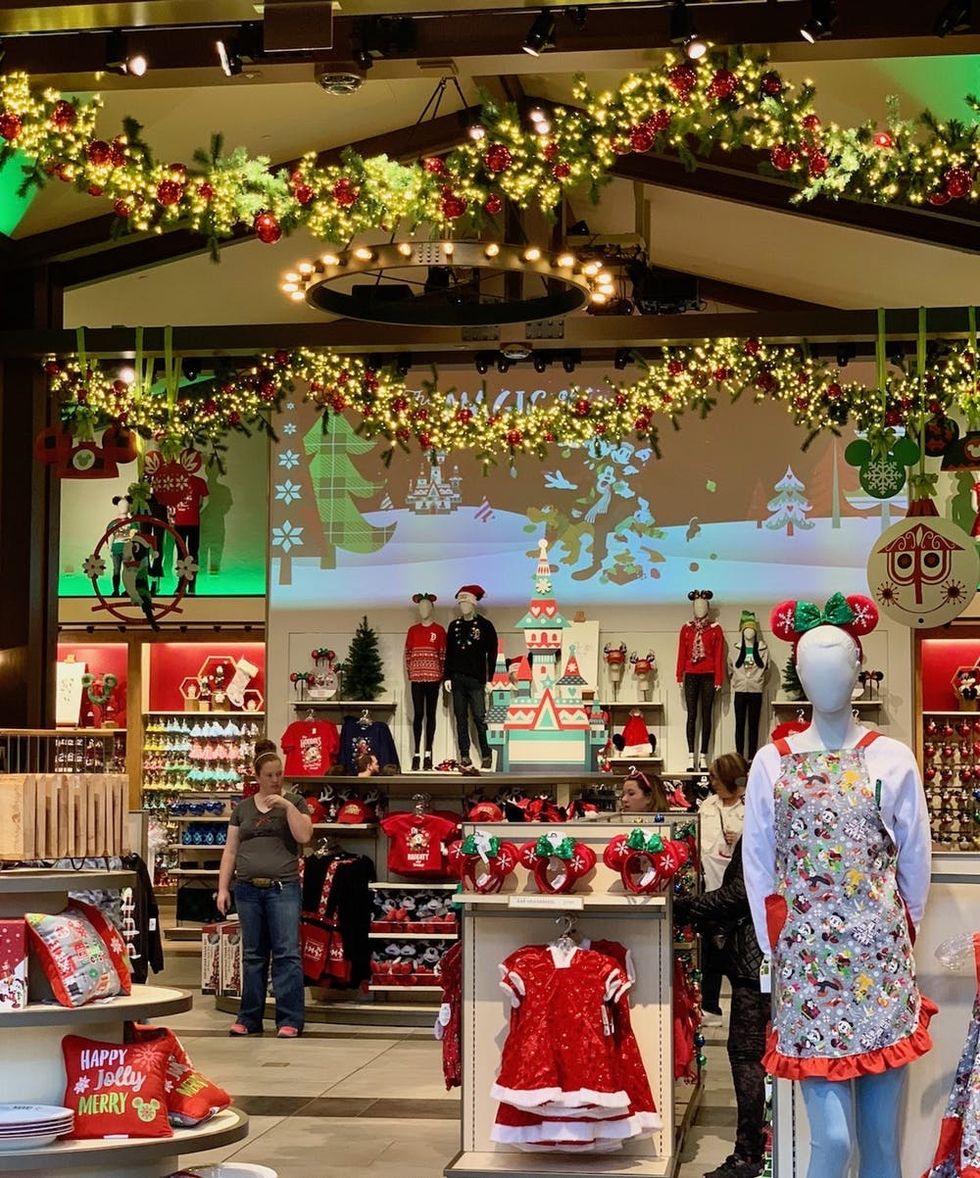 Go shopping. While there are shops everywhere in both parks, you'll want to swing by the newly remodeled World of Disney in Downtown Disney, which boasts a stellar holiday selection. You can pick up holiday PJs, whimsical ornaments, and even Disney dreidels for Hanukkah. (Photo via Sunny Chanel)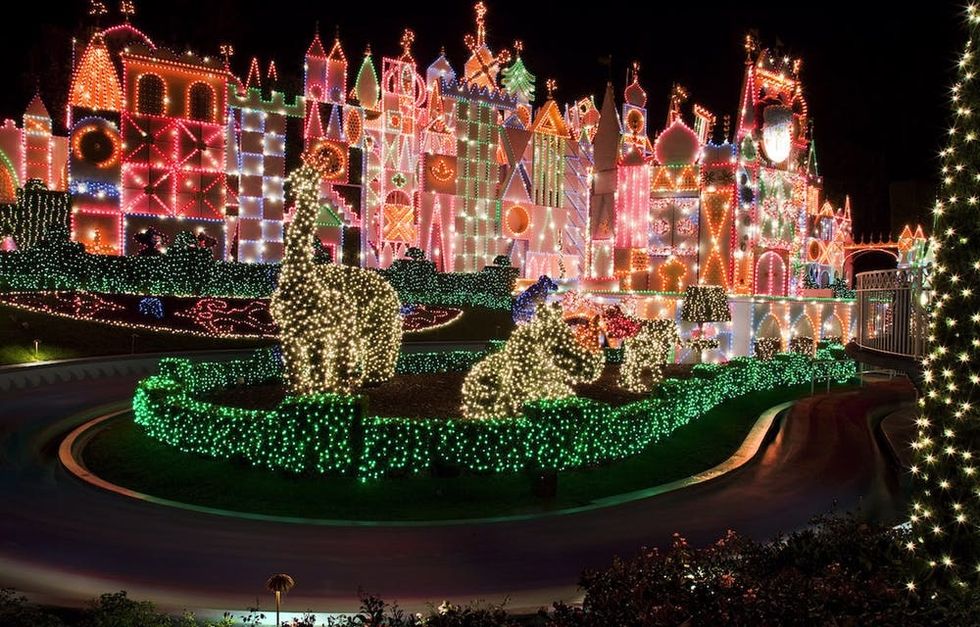 Get into the holiday spirit with the gang from It's a Small World. Going on the decked-out-for-the-holidays edition of It's a Small World is absolute must. Make sure to see visit the area at night when the entire facade is aglow. (Paul Hiffmeyer/Disneyland Resort)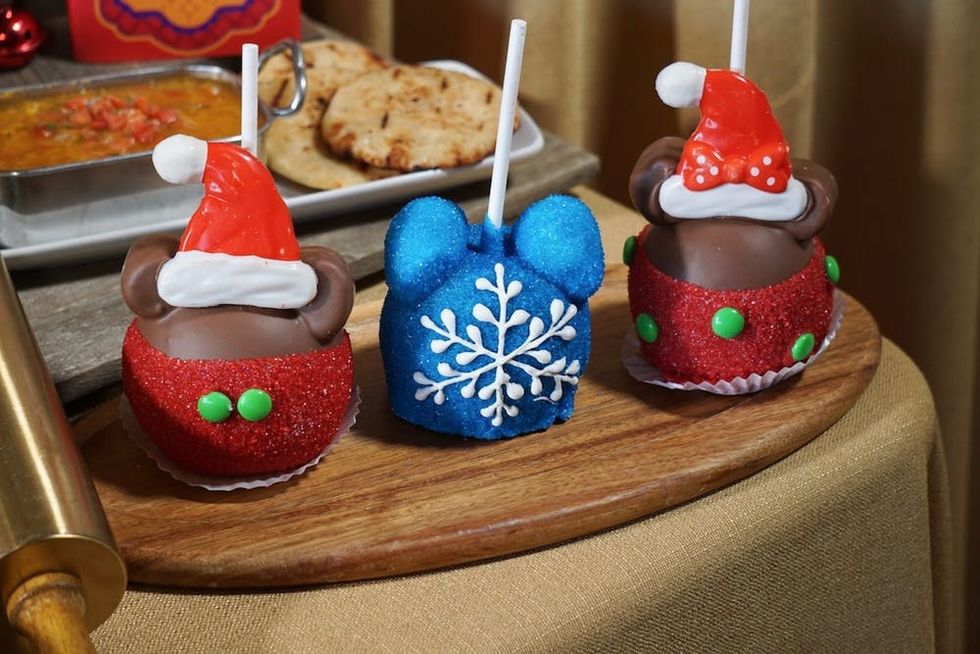 Bite into a classic. Disneyland kills it in creative candy apple concoctions and every season they up the apple ante. Look how cute and festive these are! (Photo via Sunny Chanel)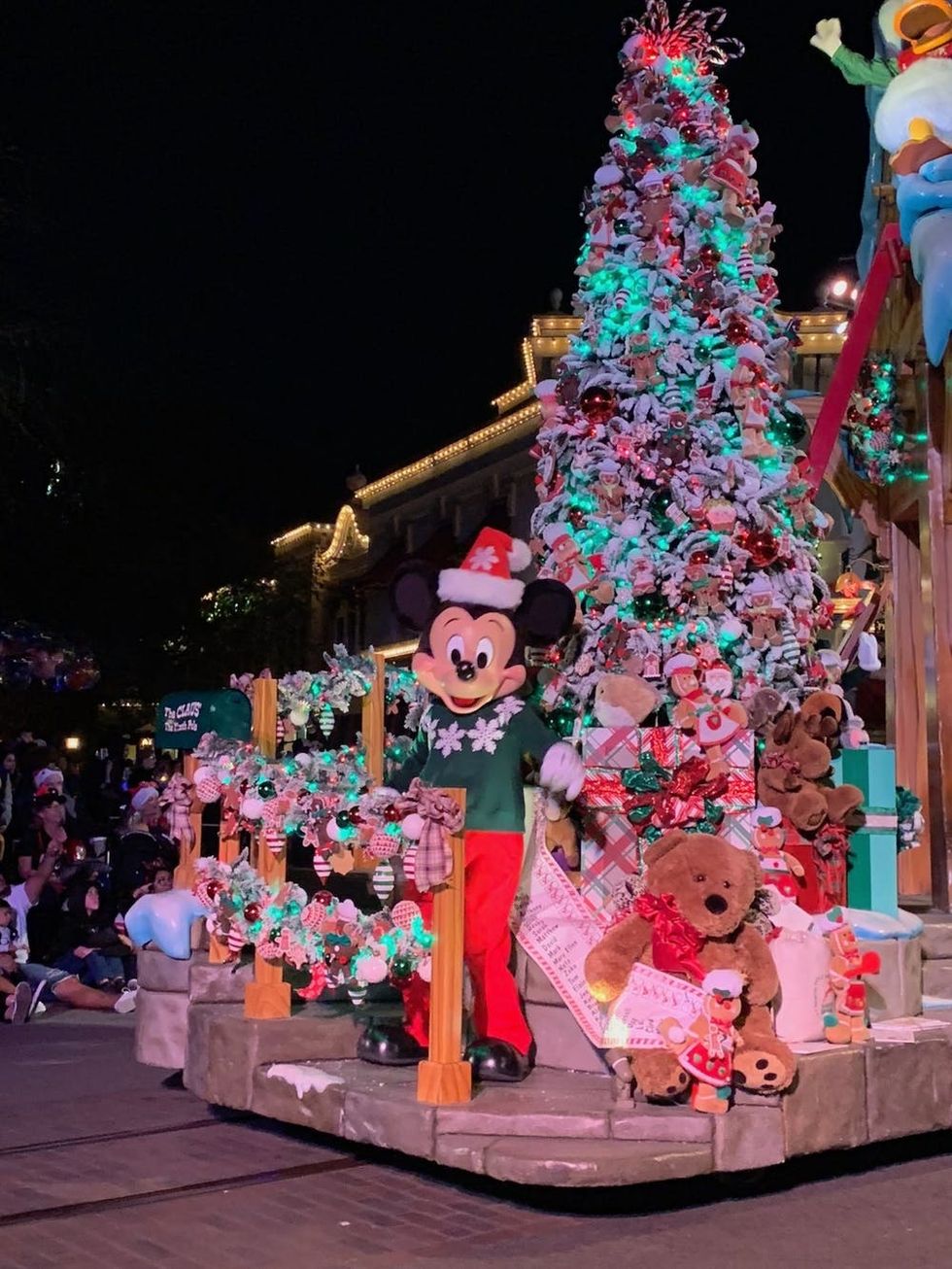 Witness a Christmas Fantasy Parade. Prancing reindeers, marching toy soldiers and dancing gingerbread cookies join Elsa, Anna, Mickey, Minnie, and a cast of other Disney characters during the heartwarming Christmas Fantasy Parade. (Photo via Sunny Chanel)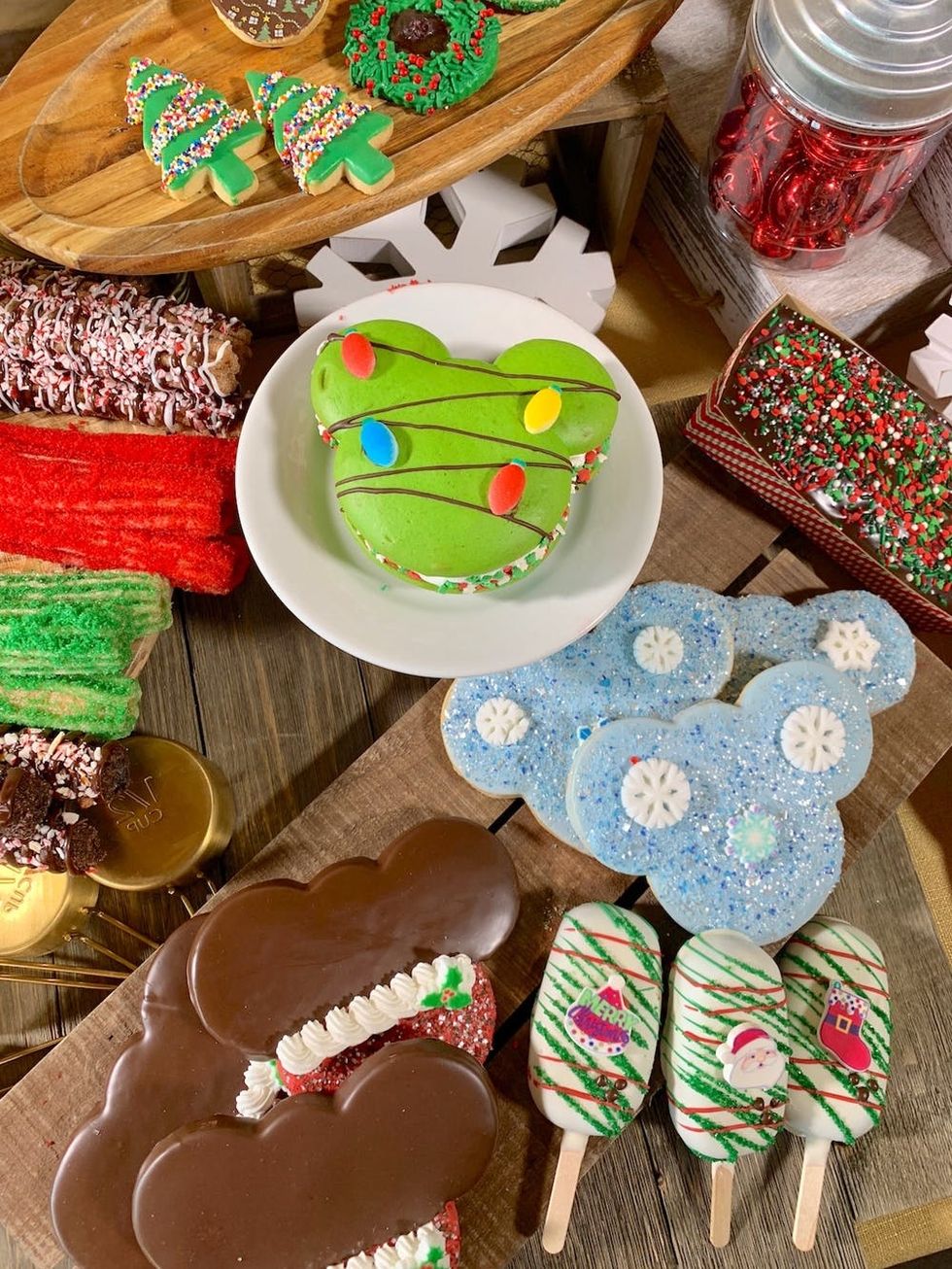 Nibble on holiday cookies. Disneyland has created a wide array of cookies that double as mini works of art, including the delicious Mickey Whoopie Pie. This yummy spread is available at the holiday cart in the lobby of the Disney's Grand Californian Hotel and Spa. Tip: Buy some cookies, grab a seat in the stunning hotel lobby, and order a Hot Chocolate with Peppermint Schnapps for some quality holiday cheer. (Photo via Sunny Chanel)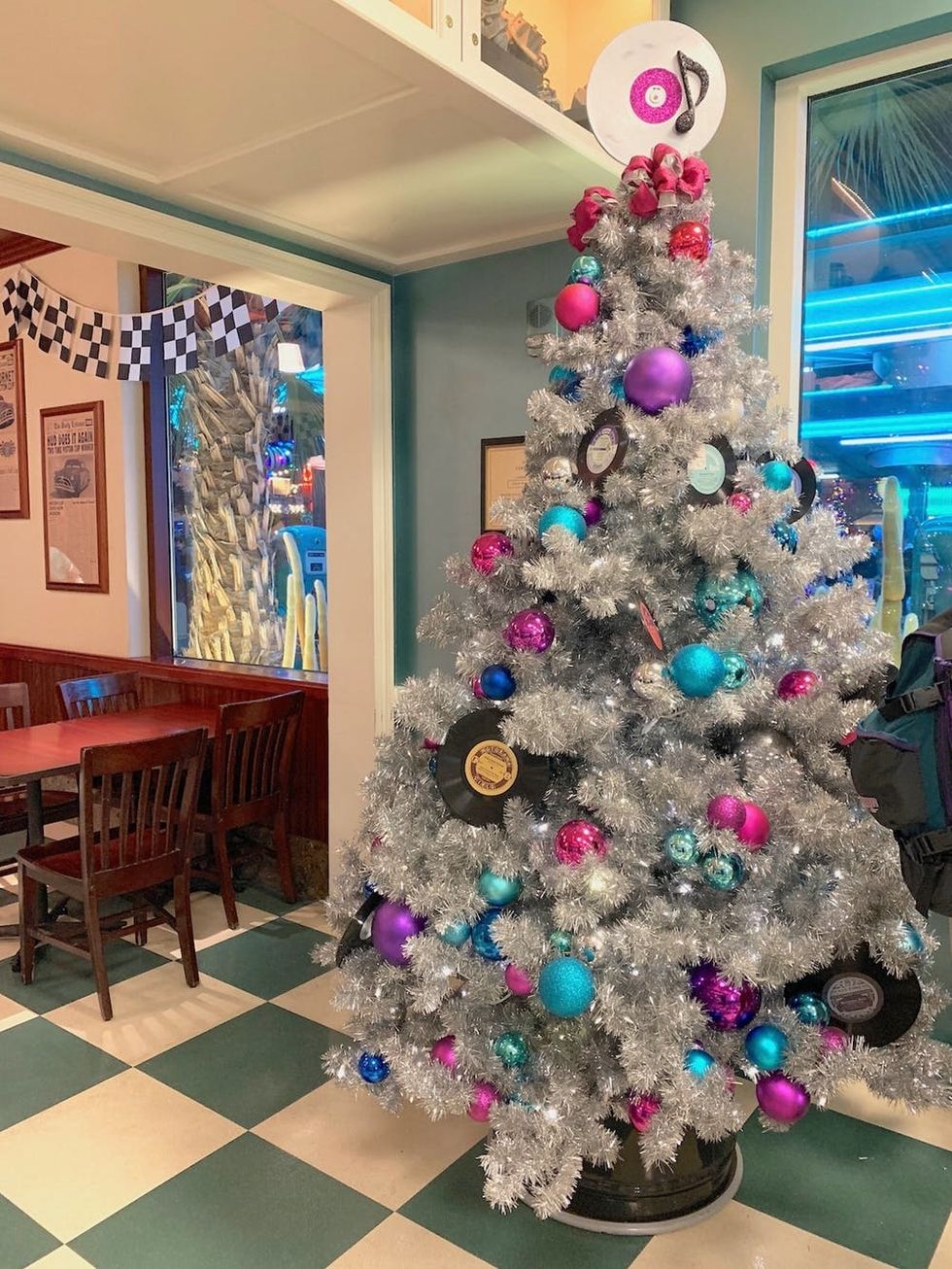 Spot all the different Christmas Trees. There are themed Christmas trees throughout the parks, like this record-decorated one at Flo's V8 Cafe in California Adventure. Total inspo for your own tree! (Photo via Sunny Chanel)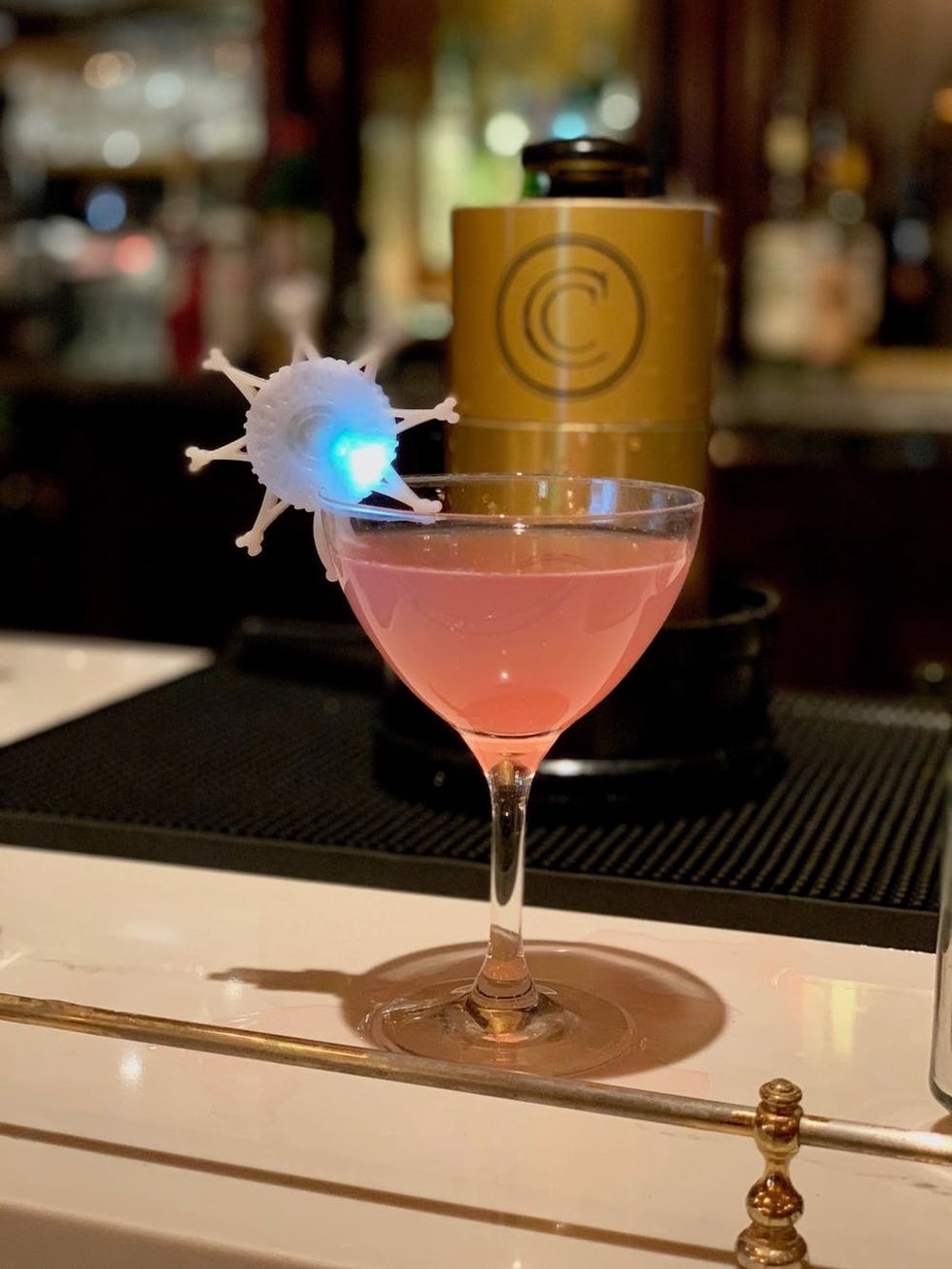 Go on a Sleigh Ride.This yummy holiday cocktail served up at the Carthay Circle Lounge combines gin, vermouth, and lime juice topped off with lavender liqueur. The big draw is that it comes with a limited-edition Mickey Snowflake Glowcube (which makes everything taste better, TBH). (Photo via Sunny Chanel)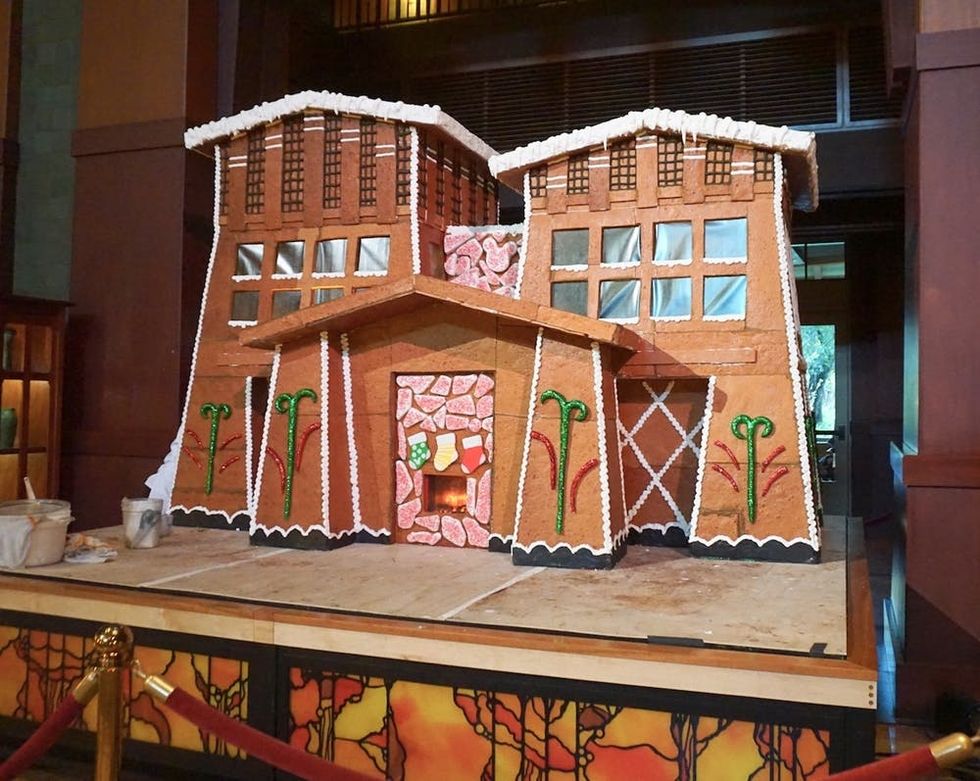 Marvel at the Gingerbread Houses. This beautifully decorated dwelling located in the lobby of the Grand Californian Hotel is almost as big as some studio apartments in San Francisco or New York City! (Photo via Sunny Chanel)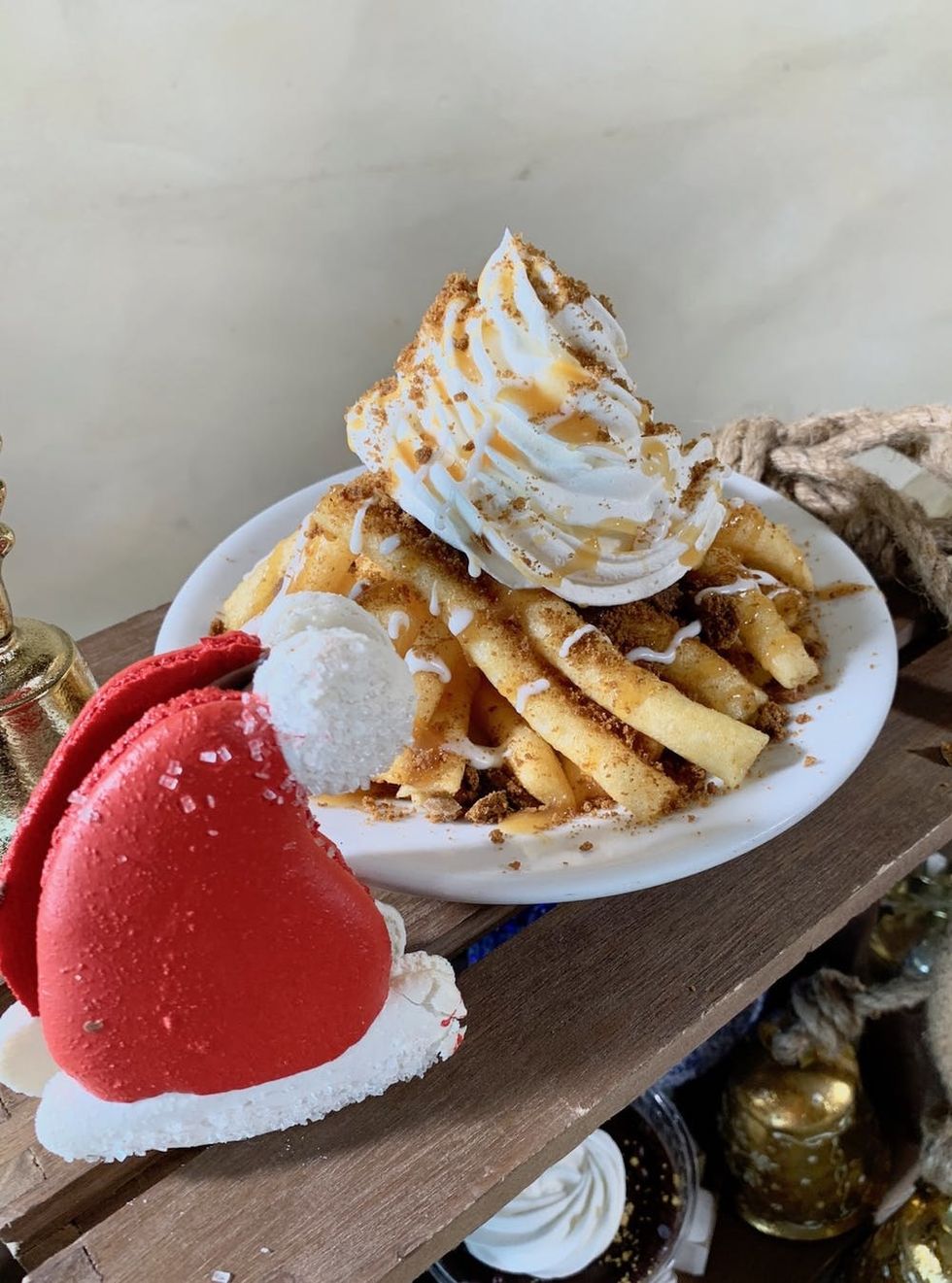 Get Into Gingerbread Funnel Cake Fries. These aren't your average fries. This sweet treat is made with churro funnel fries smothered in crumbled gingerbread, caramel, icing, and whipped cream. You can find these at Award Wieners in Disney California Adventure. (Photo via Sunny Chanel)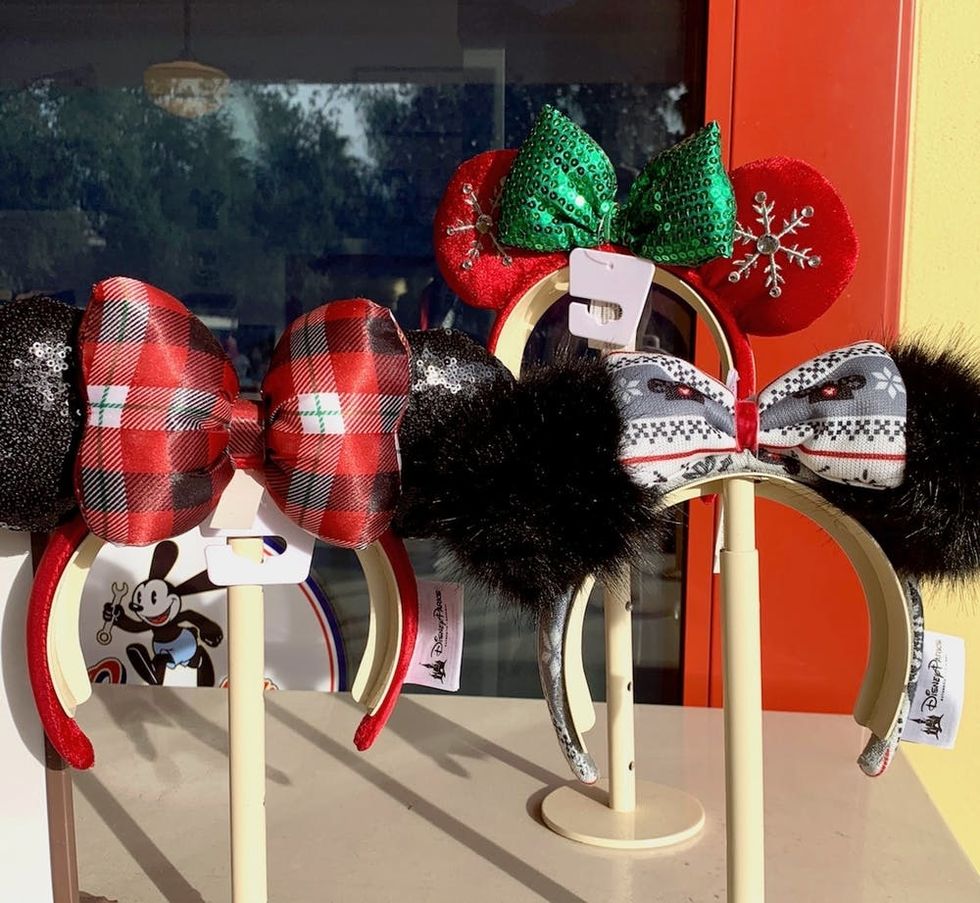 Buy some holiday Minnie ears. It's practically the law. (Photo via Sunny Chanel)
What's your favorite thing to do at Disney during the holidays? Tweet us @BritandCo.
Brit + Co may at times use affiliate links to promote products sold by others, but always offers genuine editorial recommendations.
Sunny Chanel
Sunny Chanel is a freelance writer as well as the founder of the whimsical site Wonder and Company. When this proud San Franciscan isn't writing, working on her fixer-upper or doing crafts, she is playing dress up with daughter and planning her next trip to Disneyland.