Disneyland's New Halloween Churros, Ranked from Best to Worst
Oct 01, 2018
Before you subject your tastebuds to the weird and wonderful new foods and drinks going viral on Instagram, check out Brit + Co's reviews on First Bite, our new series where we tell you if they are truly snack-tastic or totally terrible.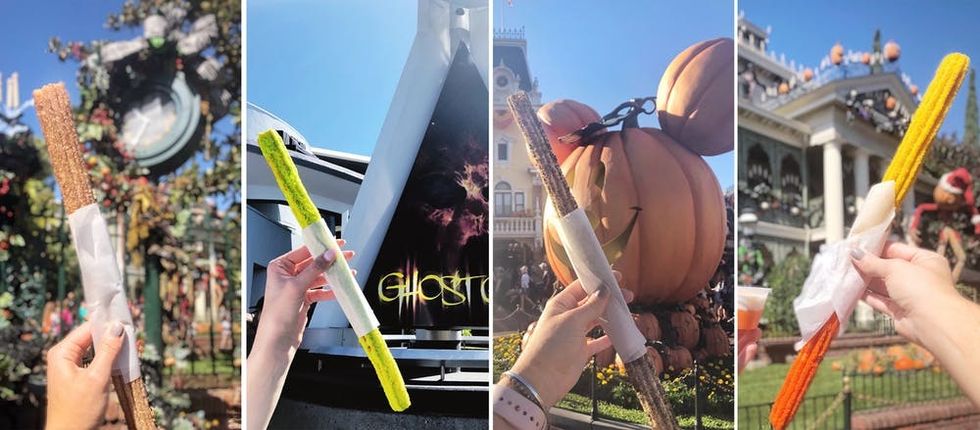 Get excited, churro fans — especially if you're obsessed with Halloween! Disneyland has released six new spooky takes on its famed fried cinnamon treat. With only so much stomach space, we're giving you a helping hand by ranking them from treat to trick (ahem, from best to worst). Fortunately, we think five out of six are fantastic.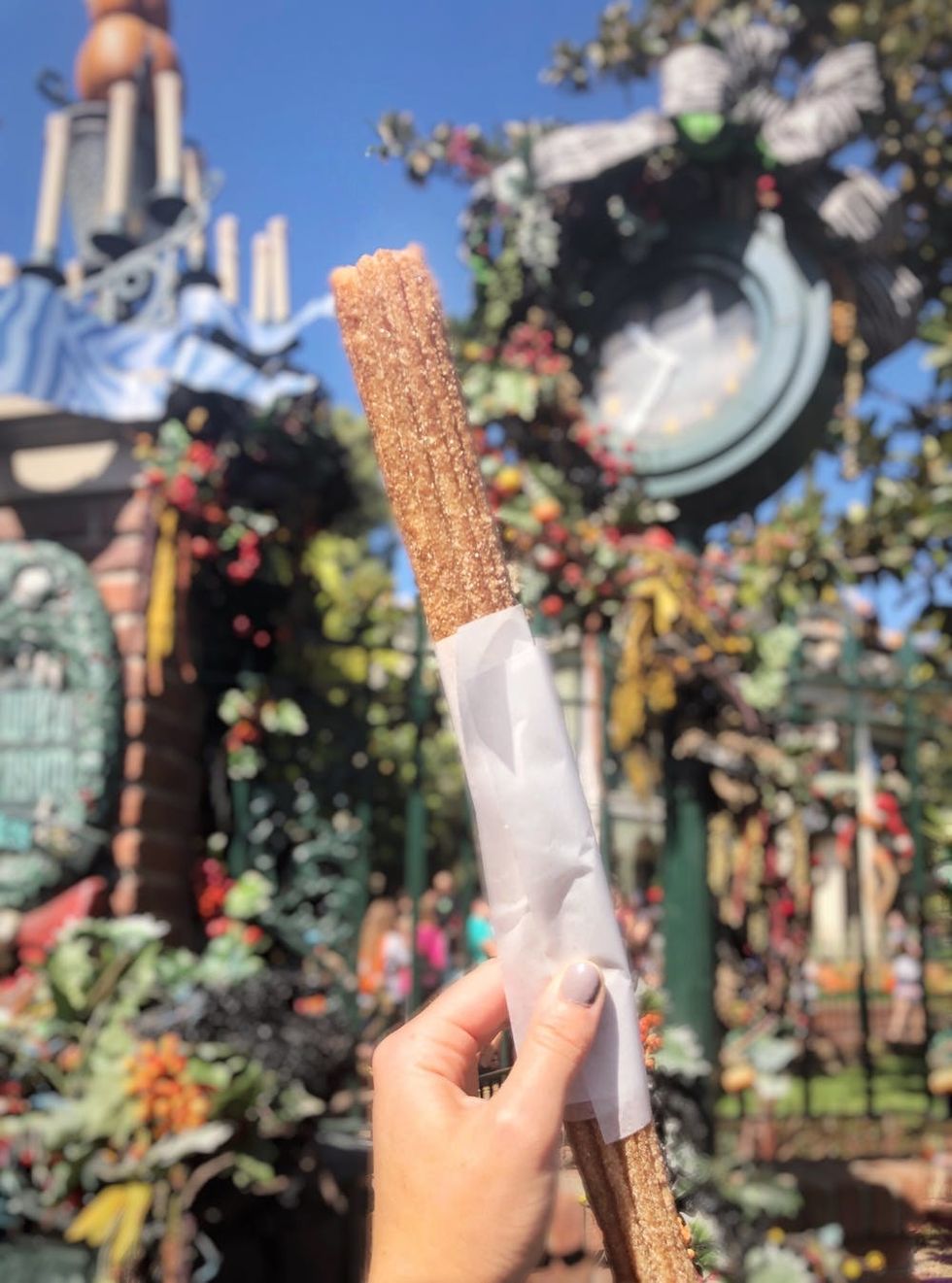 Pumpkin Spice Churro With Cream Cheese Icing ($6): Freakin' nailed it. If a pumpkin spice latte and a cinnamon roll had a baby (in the form of a cozy, warm, spiced churro), this would be it. The notes of clove, cinnamon, and nutmeg are delightfully present, and the pumpkin's subtle. The cream cheese icing seals the deal, making this an impeccable autumnal treat. — 10/10. Where to Find It: Right outside the Haunted Mansion.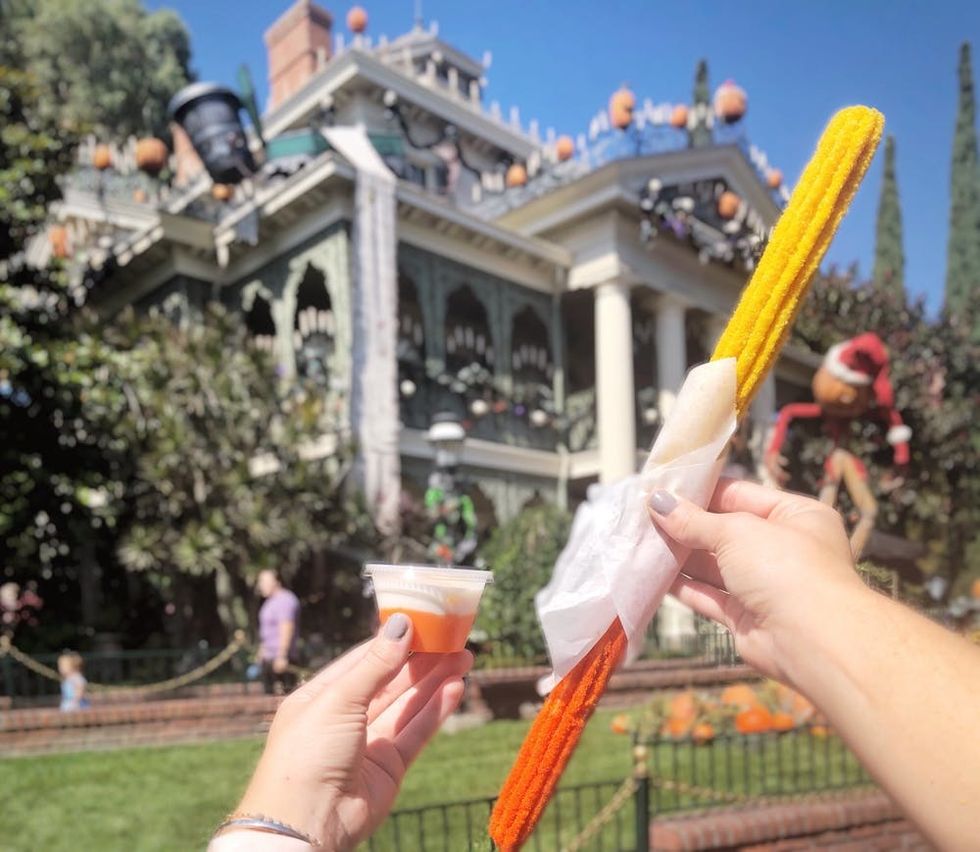 Candy Corn Churro With Marshmallow + Candy Corn Sauce ($6): What a surprise to discover that this is not as aggressively cloying and artificial as we anticipated. It's most like a sugar doughnut. The warm pastry base is rolled in colored sugar (with no cinnamon). Dunk it in the sweet dipping sauce, which combines marshmallow fluff and melted candy corn. We think this churro's the most "Halloween" in appearance, making it a must-try... and a must 'gram! — 9/10 Where to Find It: The churro cart in Frontierland.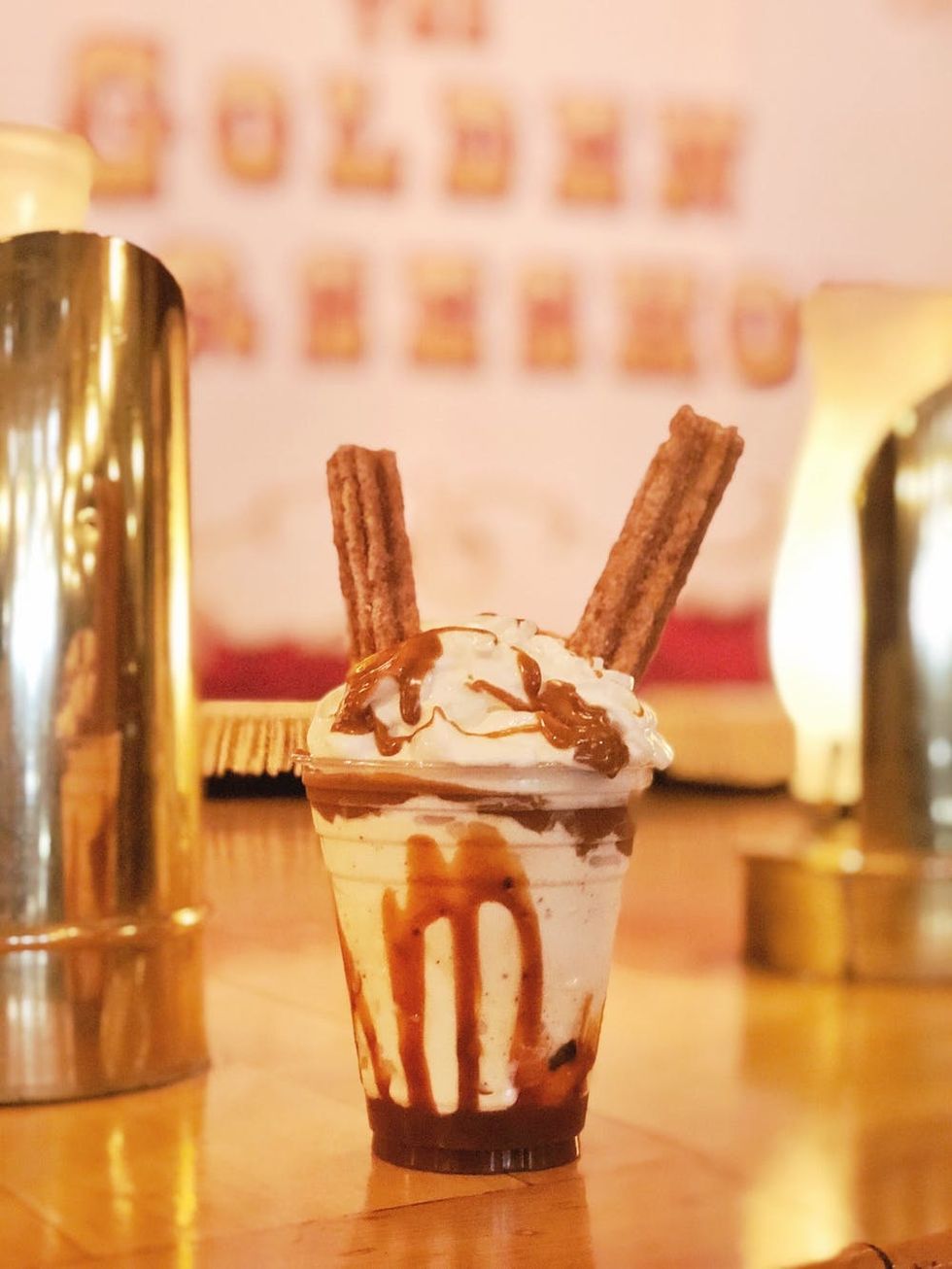 Cookie Butter Churro Sundae ($8): One churro with sauce isn't enough for you? Then let's talk about two cinnamon churros served with cookie dough ice cream and topped with cajeta caramel, whipped cream, and cookie butter sauce. The only reason this came in third is because you can't find it on a traditional churro cart like the others. — 8/10. Where to Find It: Inside The Golden Horseshoe.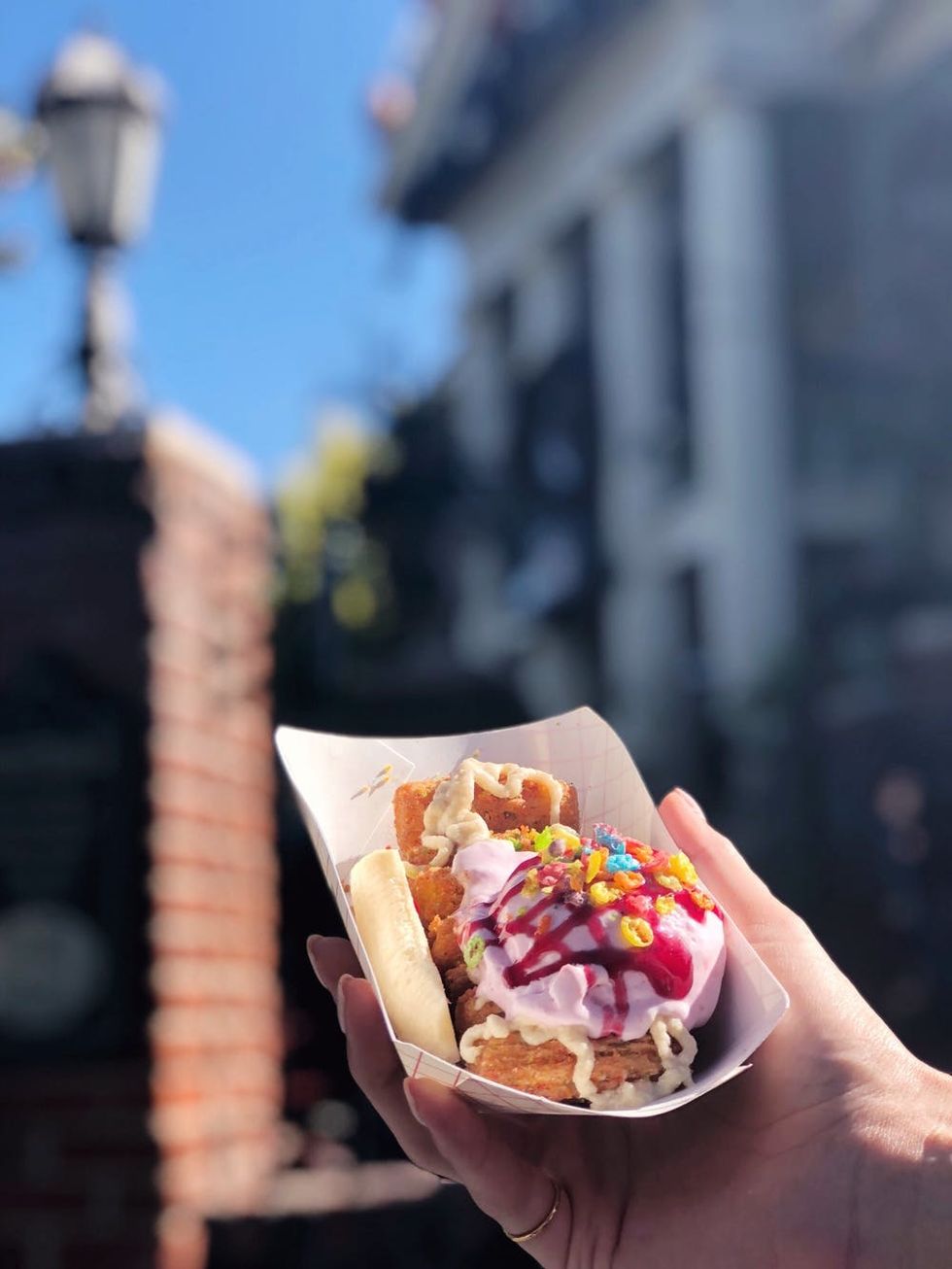 Cereal Bite Churro Sundae ($8): This combo is more delicious than its ranking lets on, but it loses points for being seasonally ambiguous. Nothing about strawberry ice cream and Fruity Pebbles cereal screams Halloween to us — unless perhaps you stretch it a bit and think of Trick-Or-Treat candy? Mini churros are rolled in fruity cereal (like Fruity Pebbles without the branding rights) and topped with some kind of cereal puree situation, delectable strawberry ice cream (light as air and almost mousse-like), and a raspberry sauce. — 7/10 for flavor, 4/10 for holiday appropriateness. Where to Find It: The Hungry Bear restaurant in Critter Country.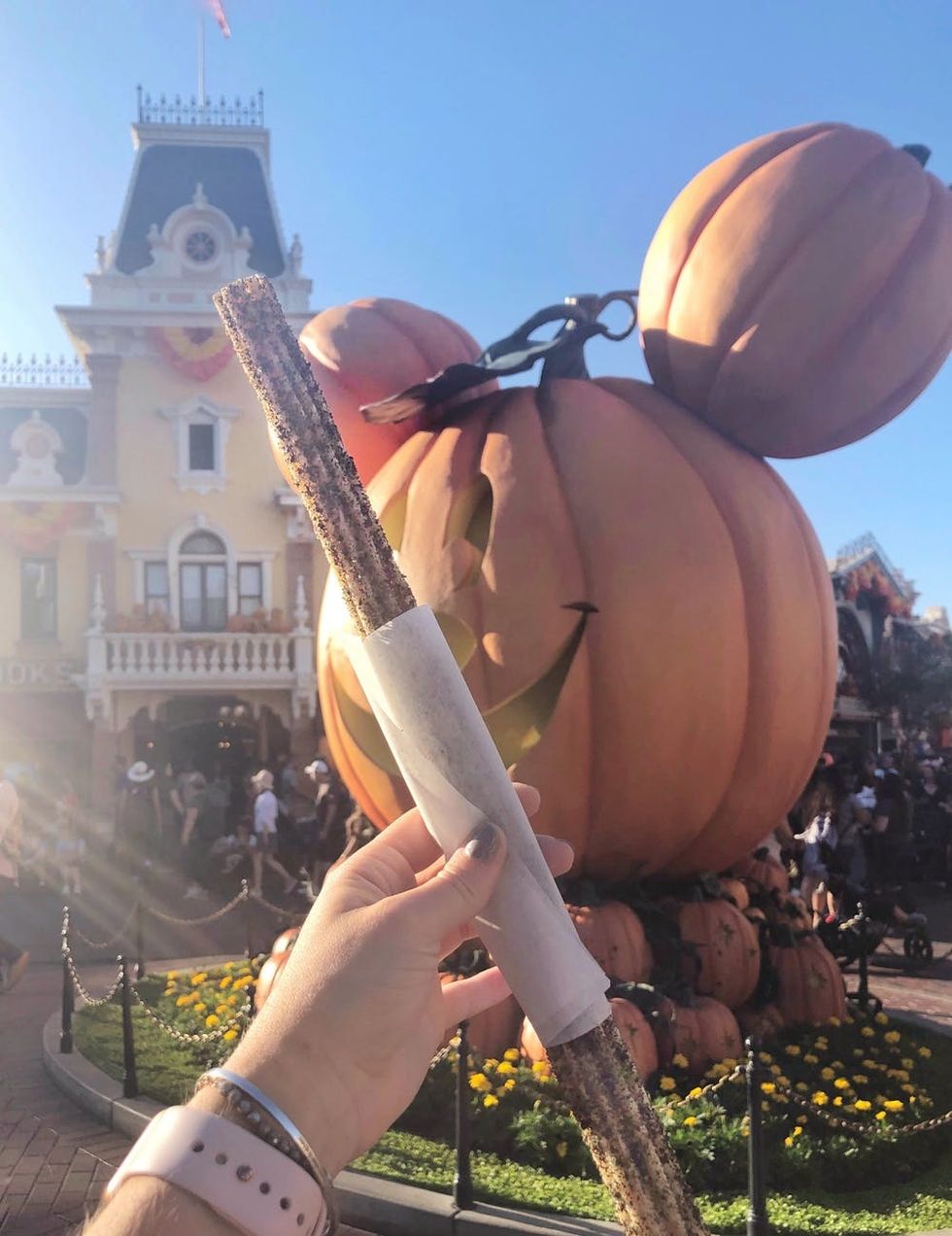 Maleficent Churro With Marshmallow Sauce ($6): This one isn't bad (in fact, it's pretty good), but it lacks the wow factor. Rolled in crushed Oreos and accompanied by a dipping sauce, the Maleficent tastes similar to s'more, though it gets holiday points for a cool villain color scheme. If you're really craving s'mores, though, we recommend getting the s'mores churro at California Adventure. — 6/10. Where to Find It: The entrance of Mainstreet USA.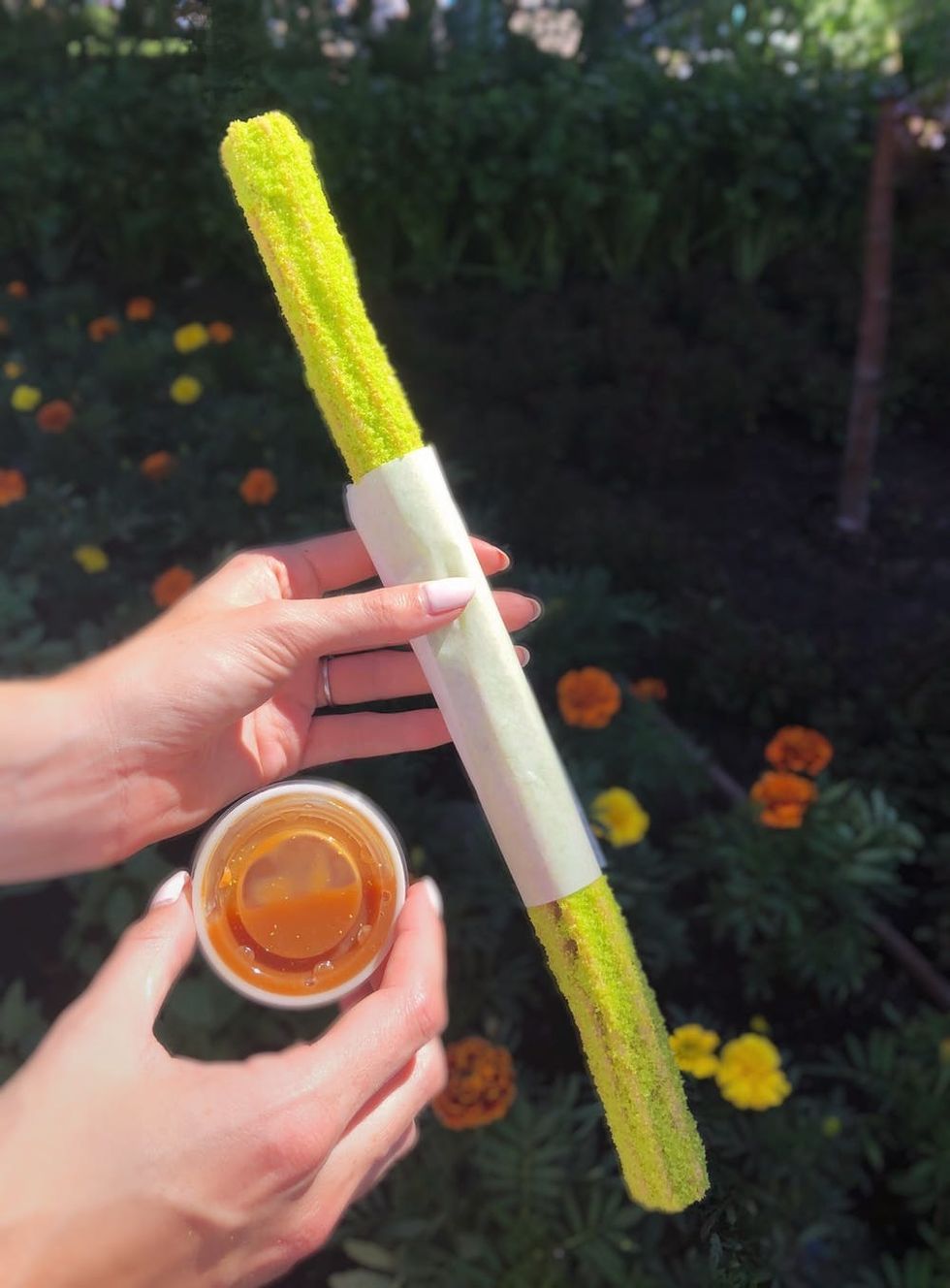 Sour Apple Churro With Caramel Sauce ($6): Pros: This is very Instagram-worthy and fluorescent. Also, the caramel sauce is wonderful. And you're right next to Space Mountain Ghost Galaxy, the Halloween version of the iconic roller coaster (highly recommend)! But the flavor was so off that we almost spit it out — 1/10 (point for the caramel). Where to Find It: The churro cart at Tomorrowland.
Which churro will you try? Tweet us @BritandCo!
(Photos via Dominique Astorino / Brit + Co)