17 Ideas for Throwing an Adorable Camping Themed Kids Birthday Party
Jul 24, 2016
If your little one is a fan of the great outdoors, why not consider incorporating their favorite pastime into their birthday party this summer? Complete with adorable tents, grab & go marshmallows and whimsical woodland decor, a modern camping-themed birthday bash will make your little one's party the best one on the block. All it takes is a little outdoors-inspired imagination and plenty of camping snacks (s'mores are a MUST!) to make it happen. If you are ready to take camping with kids to the next level, scroll on for 17 modern camping party ideas your kiddo and their friends will love. Happy camping/planning!
---
1. Animal Ears: Bring li'l animals out of the kids with pairs of animal ears you can buy or DIY. Festive and fun, these easy costumes can also double as photo booth props. (via Ashley Batz / 100 Layer Cake-let)
2. Camper: You can set up camp whether it's at the park or in your backyard. Complete the look with a couple of picnic blankets for an instant play area. (via Gabriel Ryan Photographers / Honest to Nod)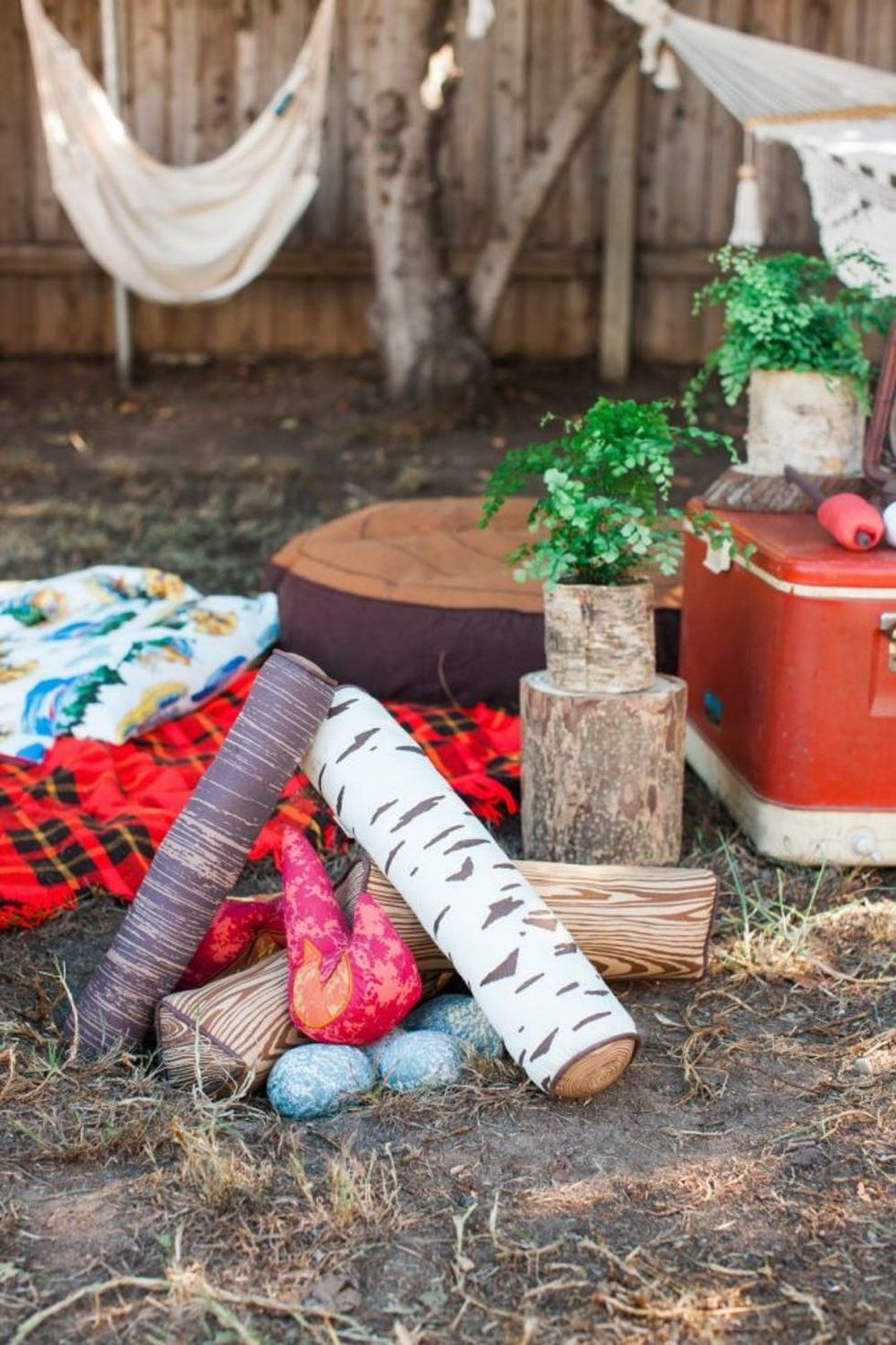 3. Faux Fire Pit: If having a real fire pit isn't an option, consider building a faux one complete with plush logs and fire. It'll give you all the cozy comfort of a real one without the potential risk of an accident. (via Gabriel Ryan Photographers / Honest to Nod)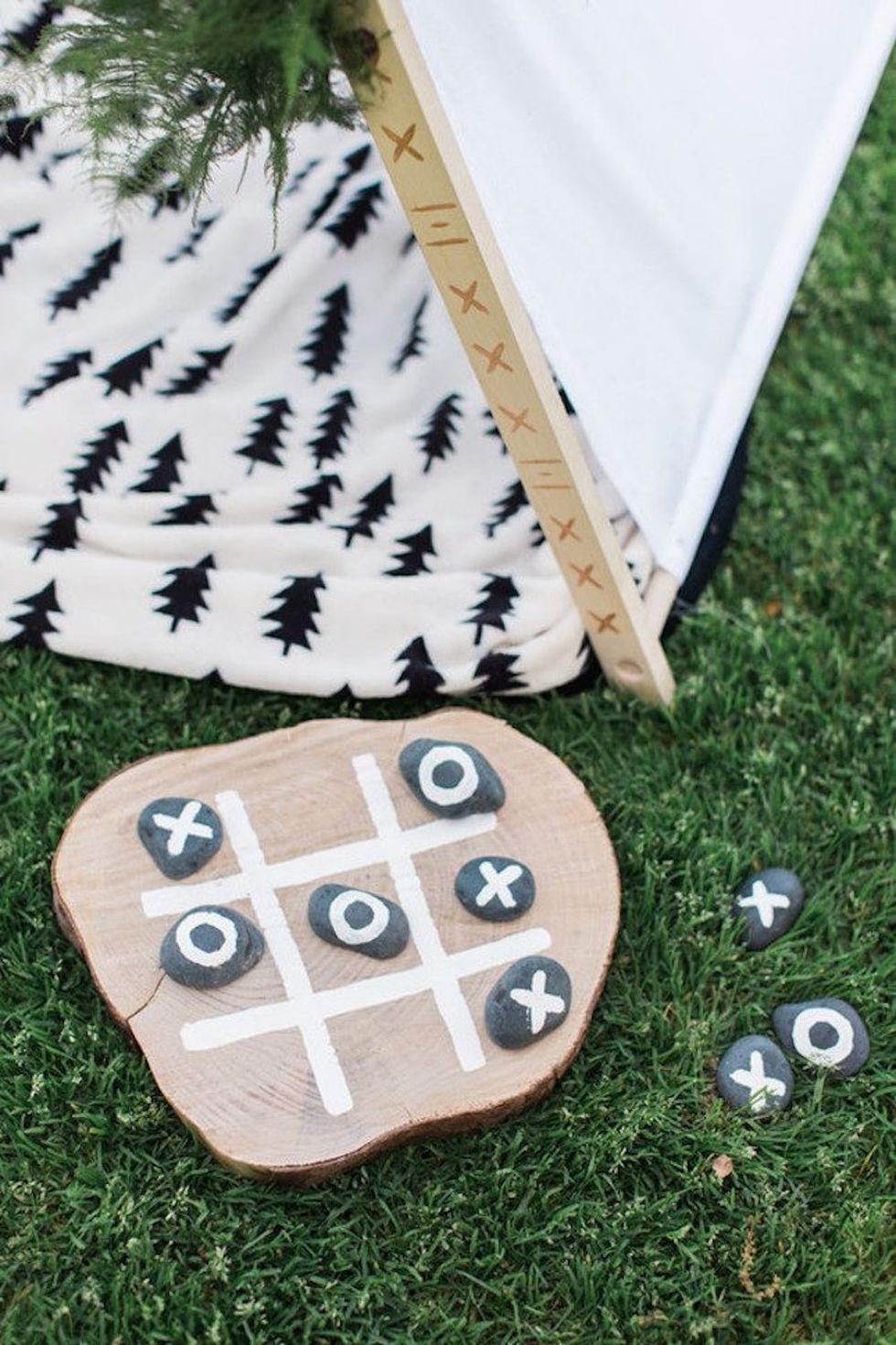 4. Tic-Tac-Toe: A proper birthday party should have plenty of activities and games. Make one of them this nature-inspired game of tic-tac-toe. To make, you'll need a wood slice, nine smooth rocks and paint. (via Nico Nelson Photo /100 Layer Cake)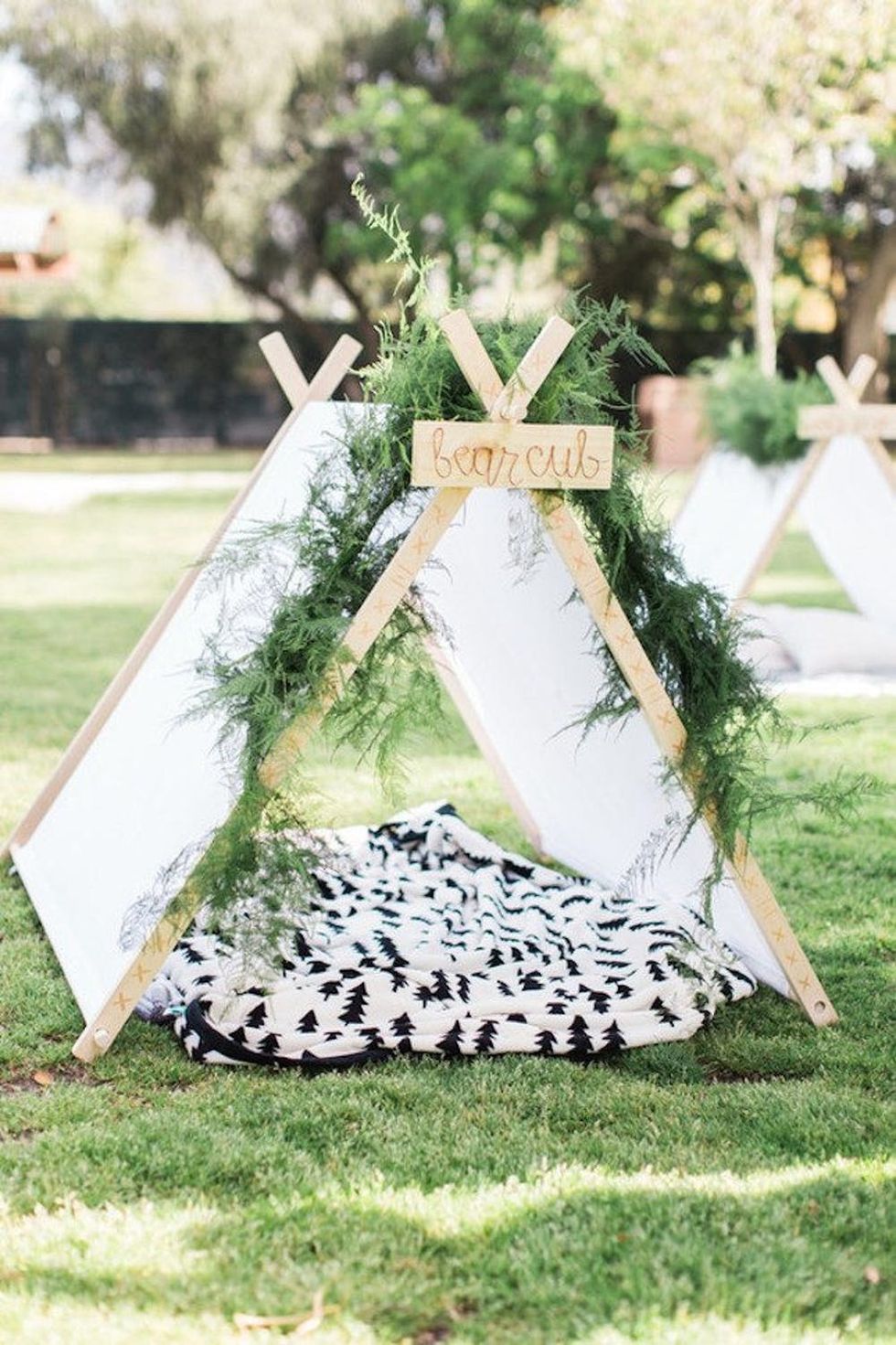 5. Modern Tent: Trade out traditional tents for modern ones you can DIY using plywood, canvas and a throw blanket. For a personalized touch, give each tent a unique name like the ones barracks traditionally have at summer camp. (via Nico Nelson Photo / 100 Layer Cake)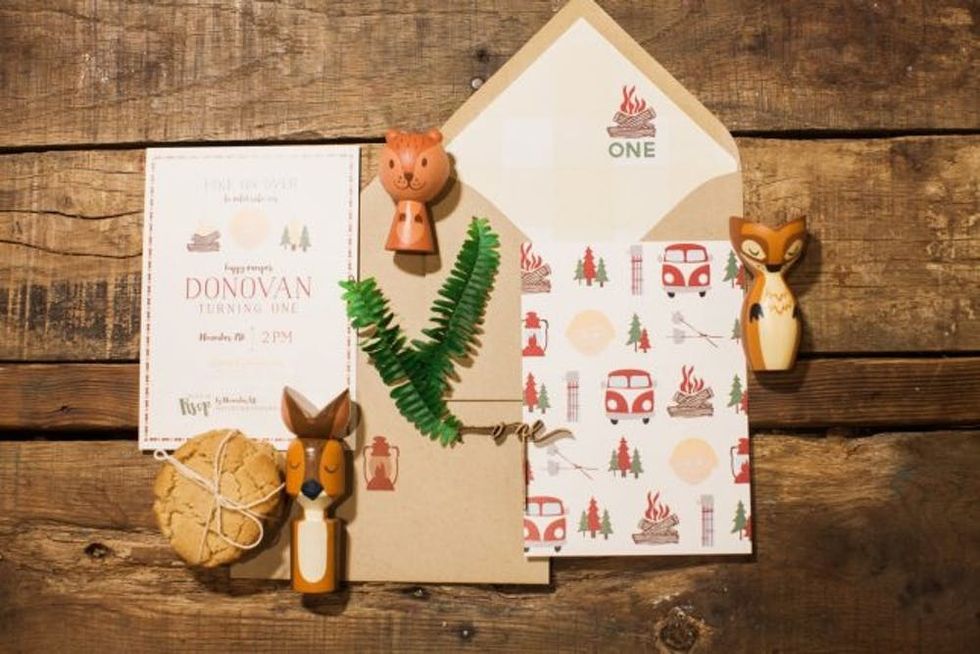 6. Woodland-Inspired Invites: Make sure your kiddo's friends know what to expect before the actual party by sending out festive camping-inspired birthday invitations. To get them *really* excited, throw in a little treat or knick-knack toy that fits with the theme. (via Gabriel Ryan Photographers / Honest to Nod)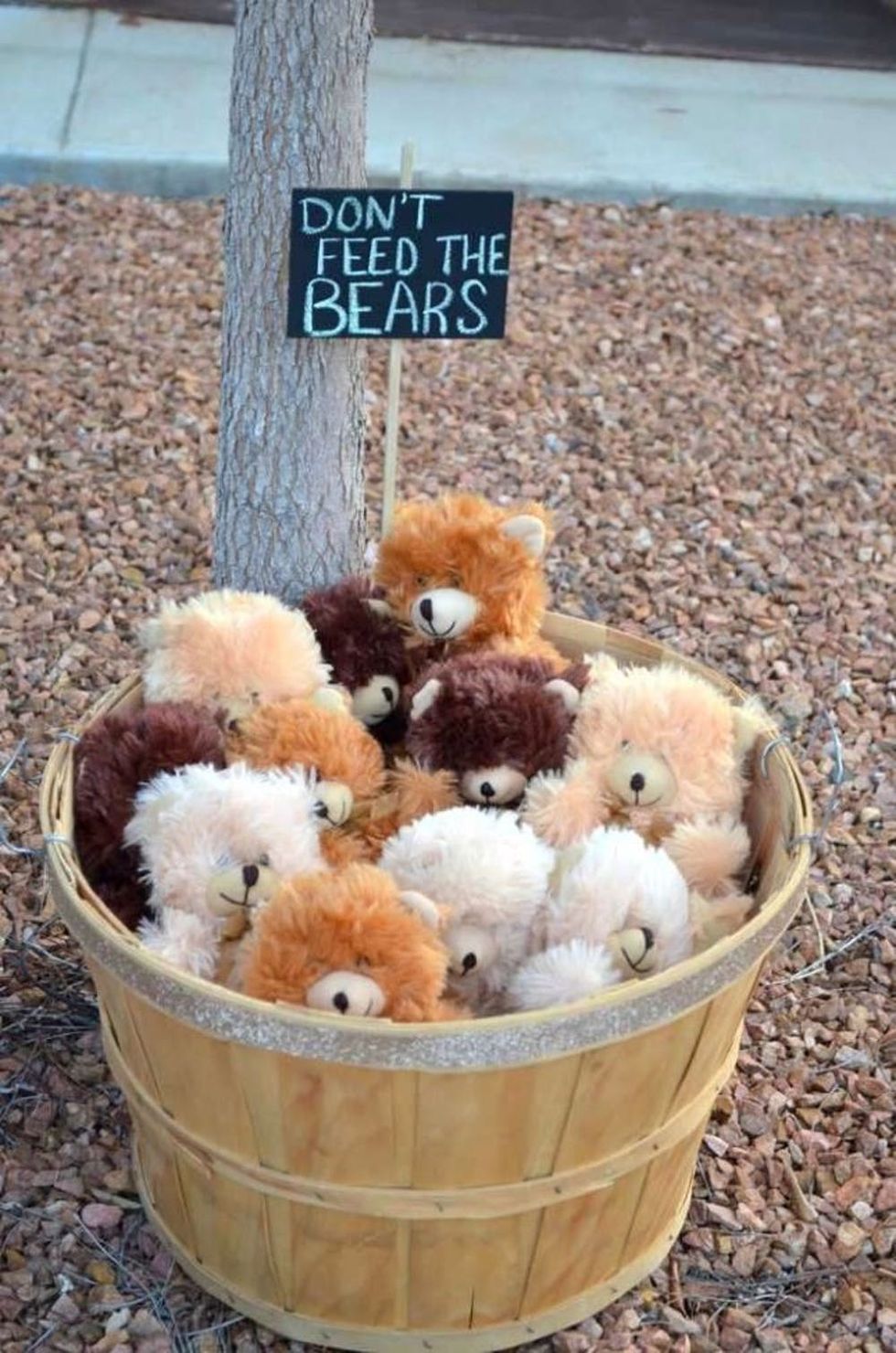 7. Bear Plush Toys: If your little one hasn't outgrown stuffed toys yet, consider giving out plush bear toys as favors for them and their friends. The plush bears fit right in with the theme and will provide all the kids with cuddly companions all party long. (via Catch My Party)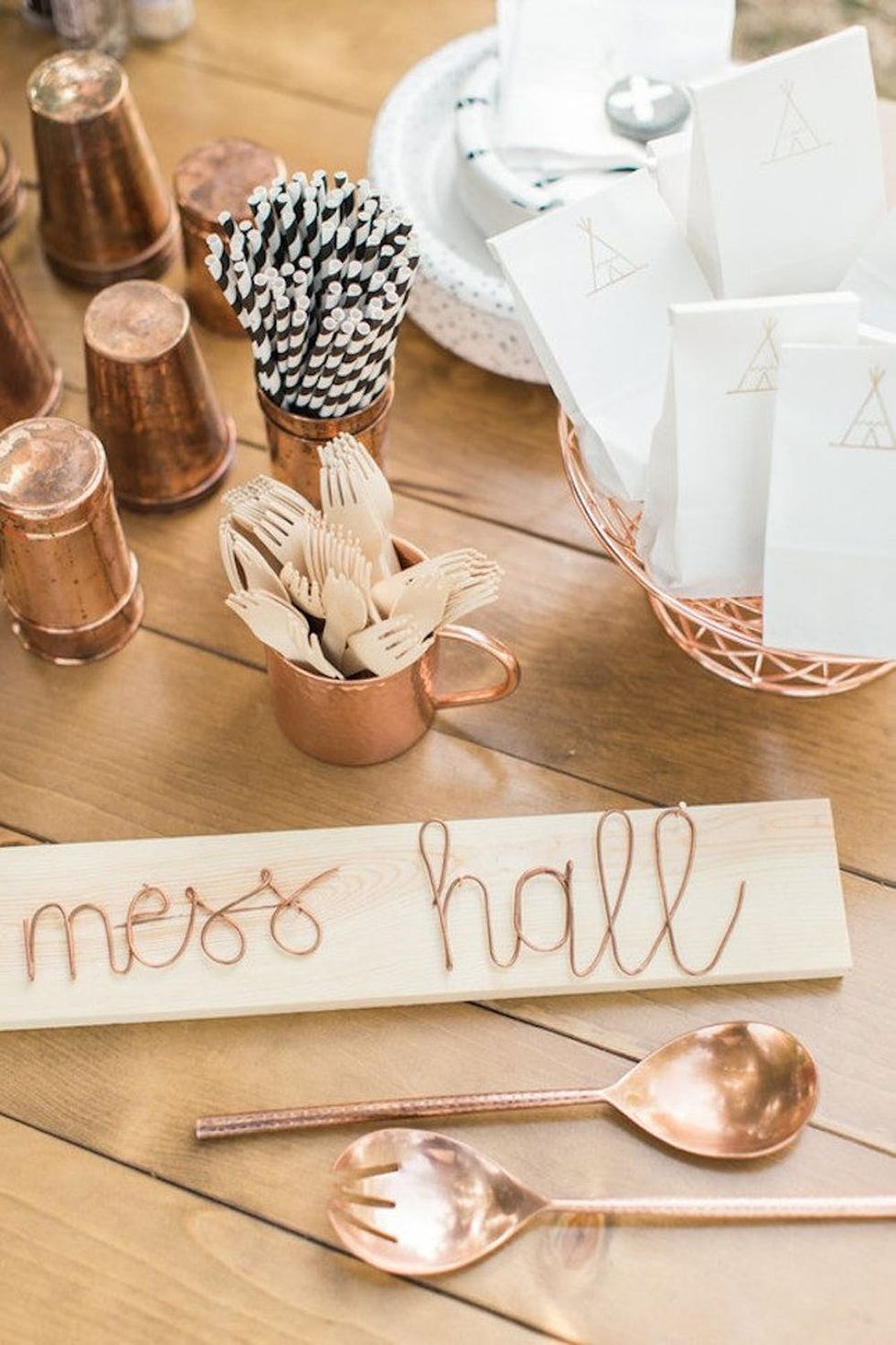 8. Mess Hall Sign: Channel true summer camp vibes by designating the lunch table as your party's mess hall. True to its name, the lunch table could get a little messy by the end of the day… so make sure to have plenty of wipes on hand! (via Nico Nelson Photo / 100 Layer Cake)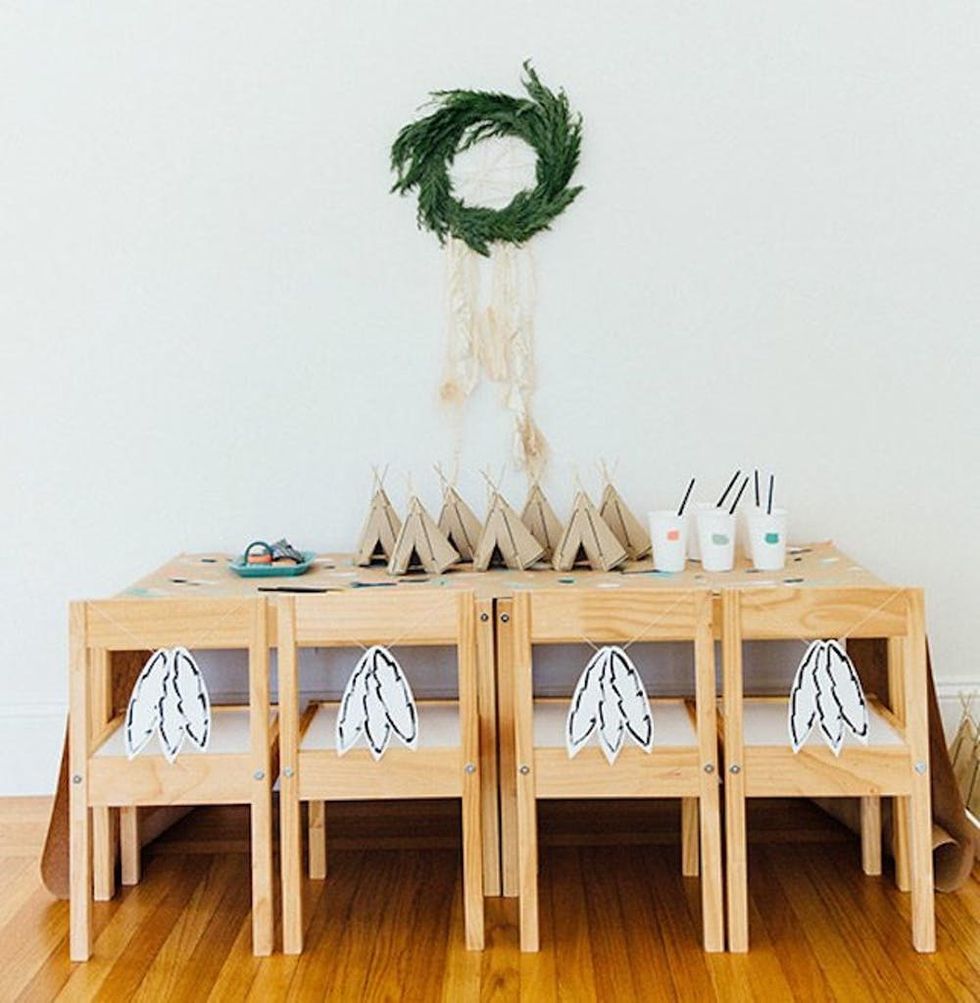 9. Festive Chair Decorations: Don't skimp out on the decorations when it comes to lunch table decor. If you're worried about tabletop clutter, opt for feather garlands you can hang from the backs of chairs for clutter-free but fun decor. (via Ashley Batz / 100 Layer Cake-let)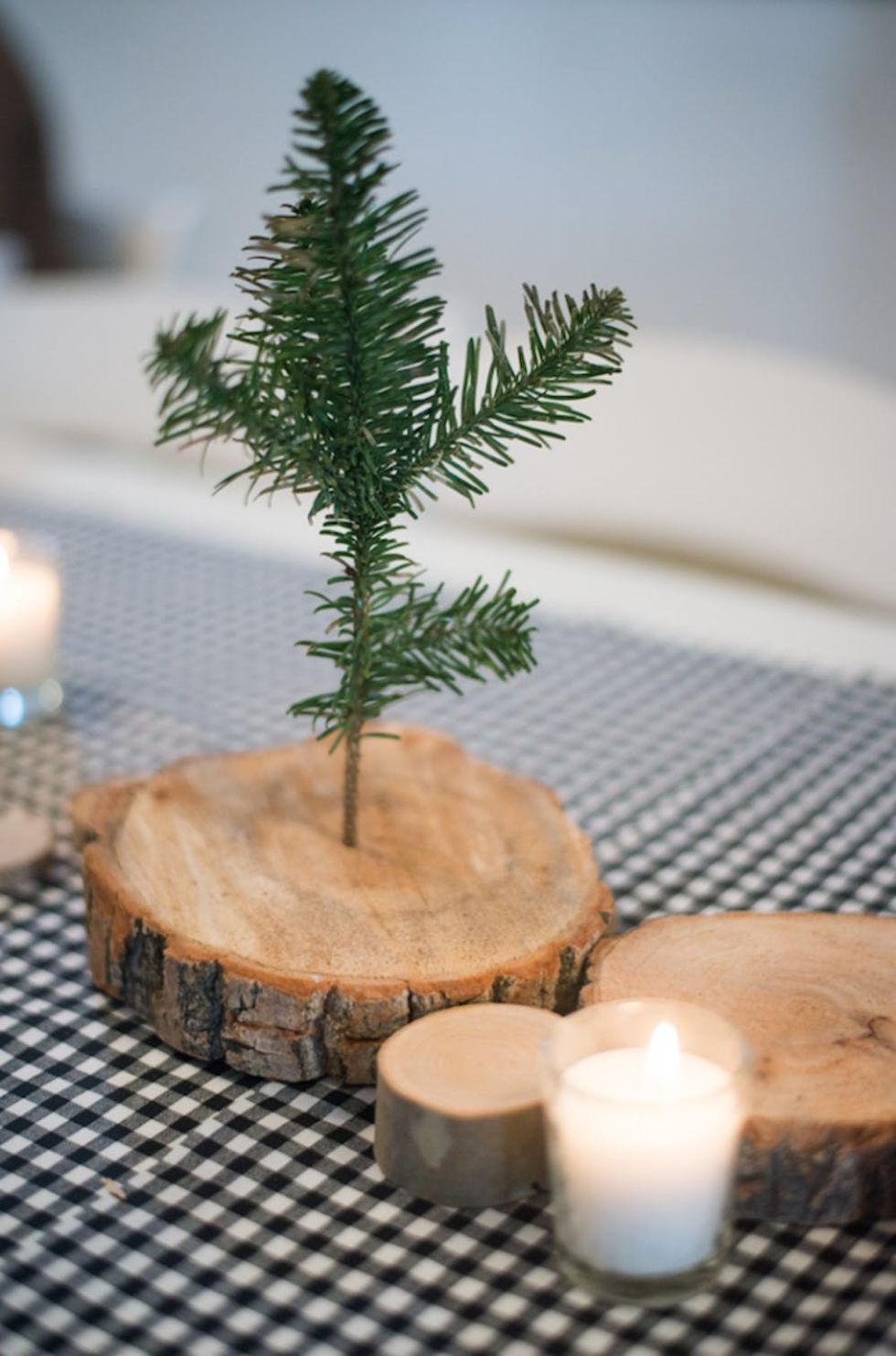 10. Mini Tree Centerpiece: On the other hand, if you prefer decorating the top of the table, consider this adorable tiny tree look. *Spruce* up the table with a mini spruce tree you can make by gluing a real or faux tree branch to a wood slice. (via Chantel Marie / The Alison Show)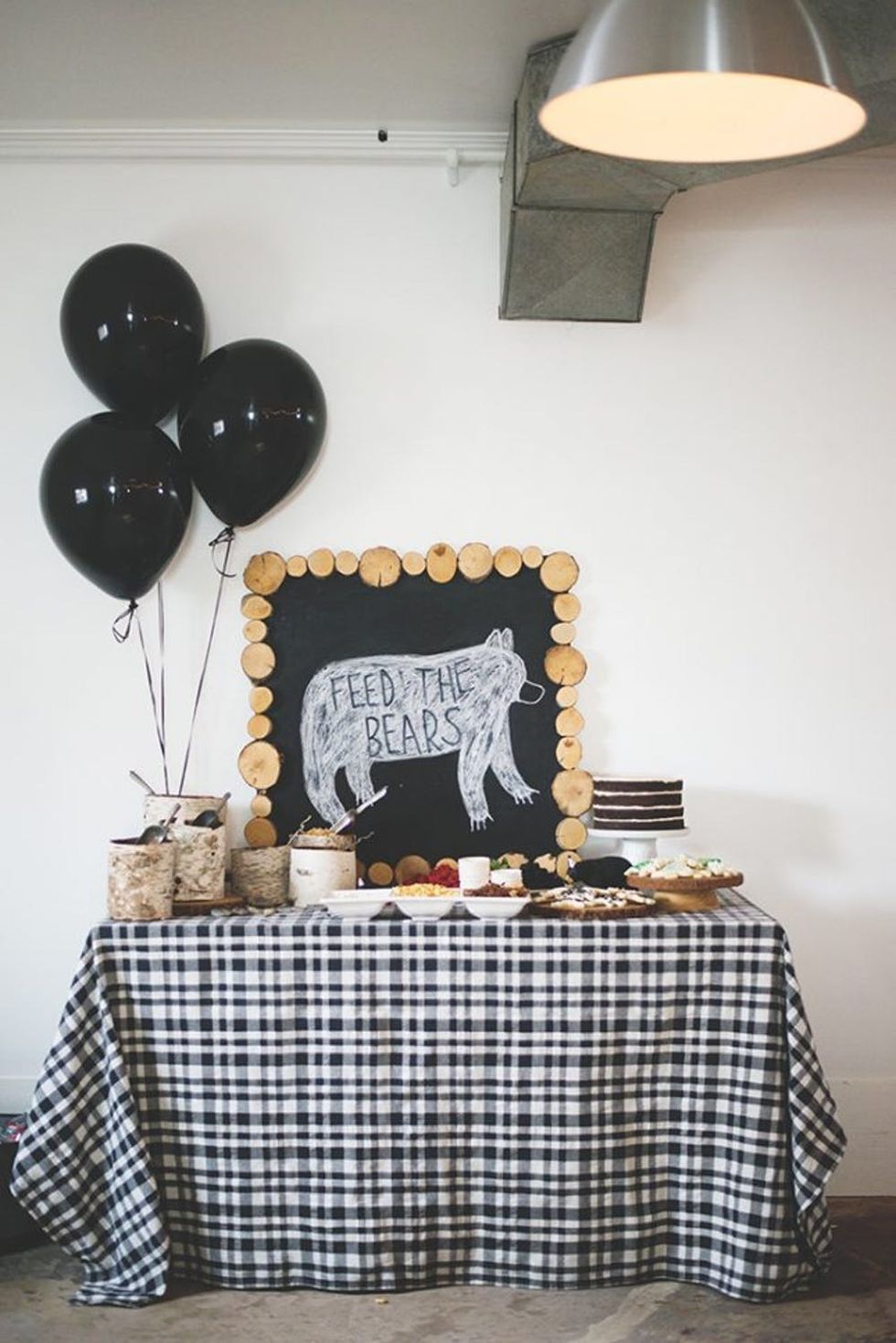 11. Food Table: Keep those li'l bears' stomachs from growling with a well-stocked table of camping-inspired food. Think: mac and cheese, french toast, s'mores, pizza. For more ideas, check out our list of camping foods! (via Chantel Marie / The Alison Show))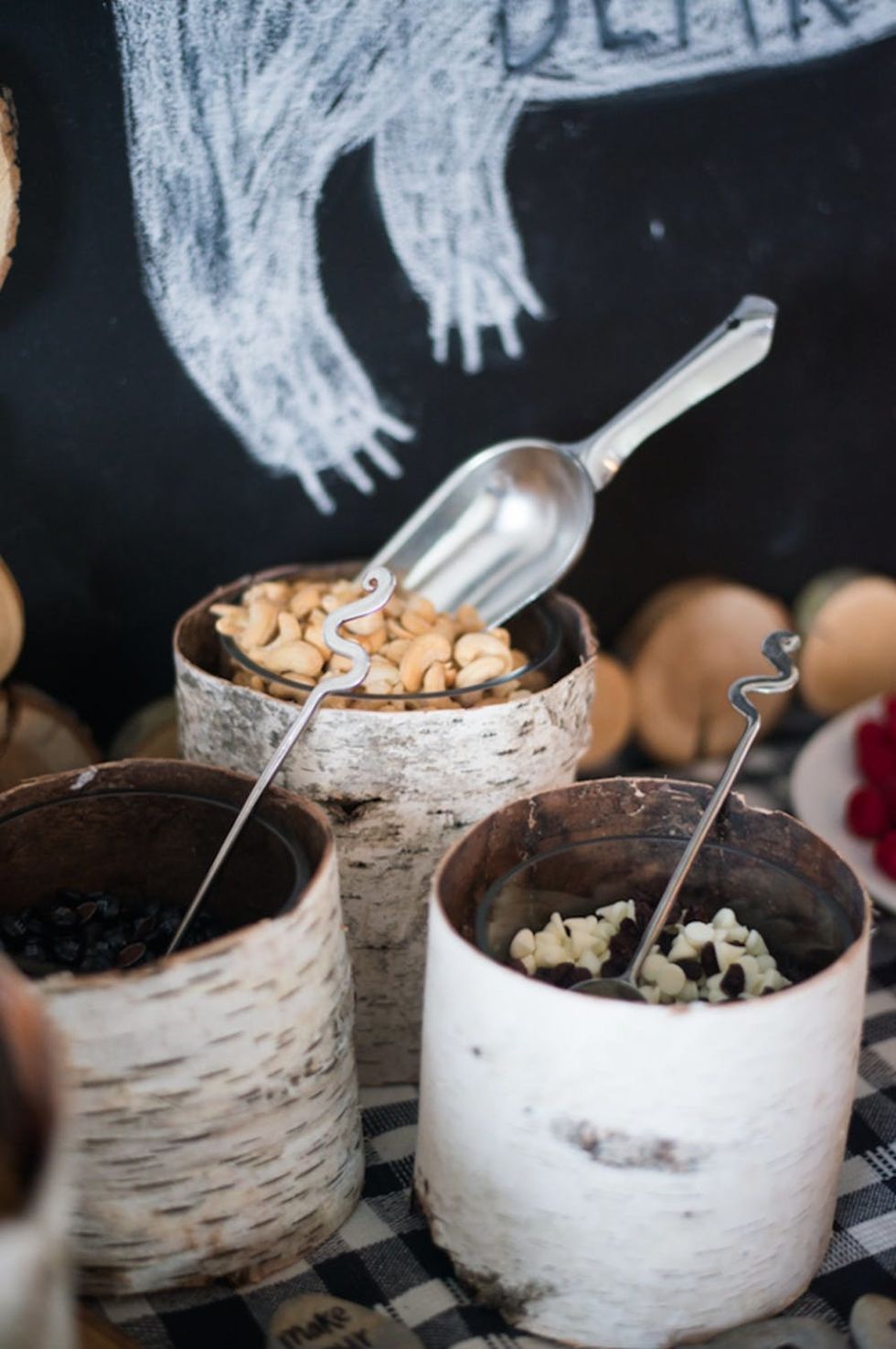 12. Trail Mix Bar: Of course, you can't forget about the classic trail mix. Set up a trail mix bar by providing various trail mix ingredients (nuts, chocolates, peanut butter chips, etc.) for the kids to create their own custom snack to munch on. (via Chantel Marie / The Alison Show)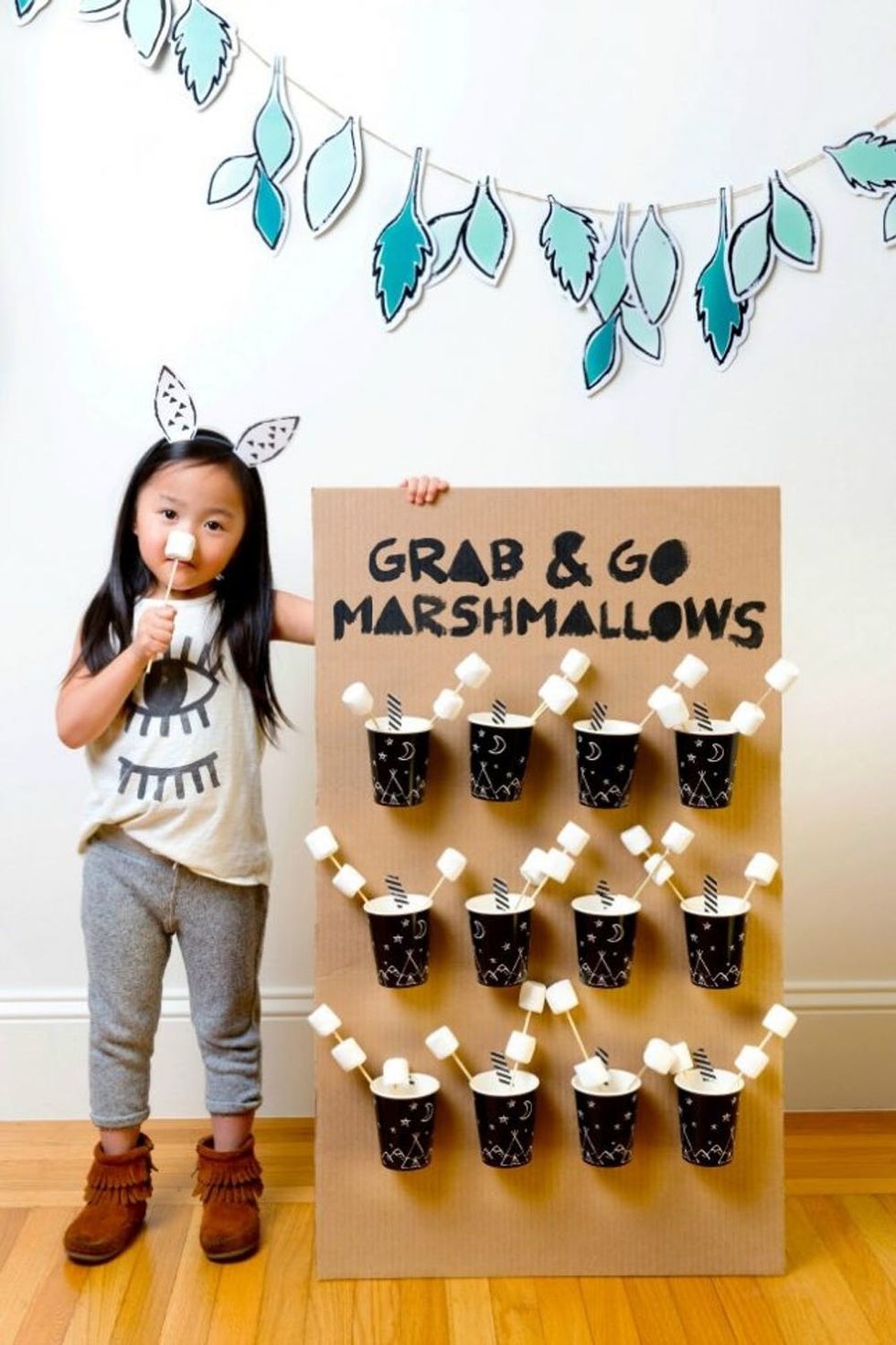 13. Grab & Go Marshmallows: You can bet the kids will be fans of these marshmallows on a stick as-is. However, if you are planning on turning them into s'mores, it might be a good idea to have parents roast the marshmallows for the youngins. (via Paul & Paula)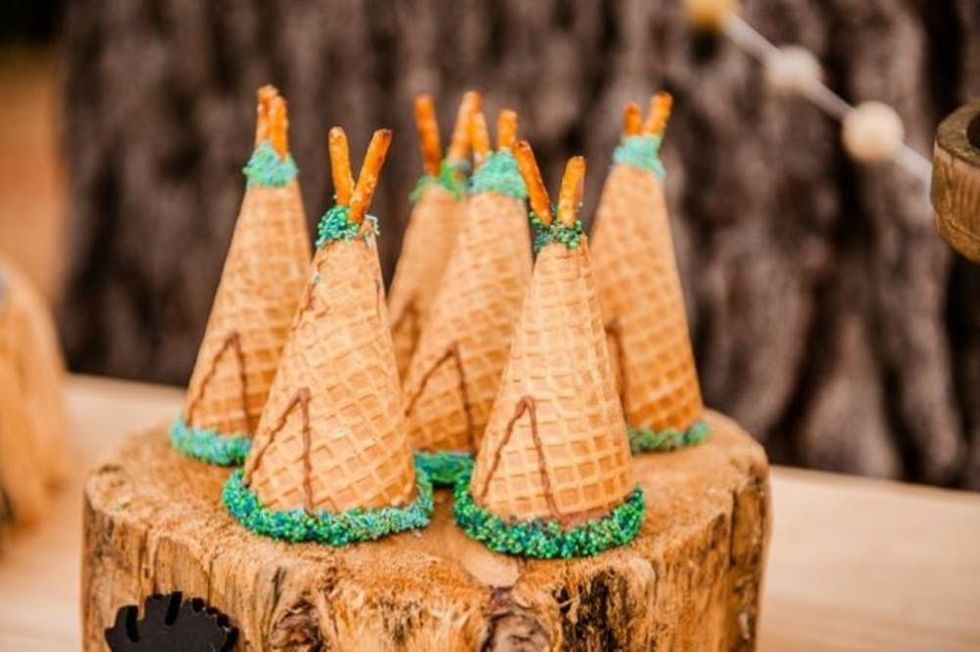 14. Tent-Shaped Cone Treats: Pretzel sticks, waffle cones and green sprinkles come together in this tasty little snack. Get the kids involved by turning this yummy treat into a craft they can make and take home to eat! (via Jos Studio / Spaceships and Laser Beams)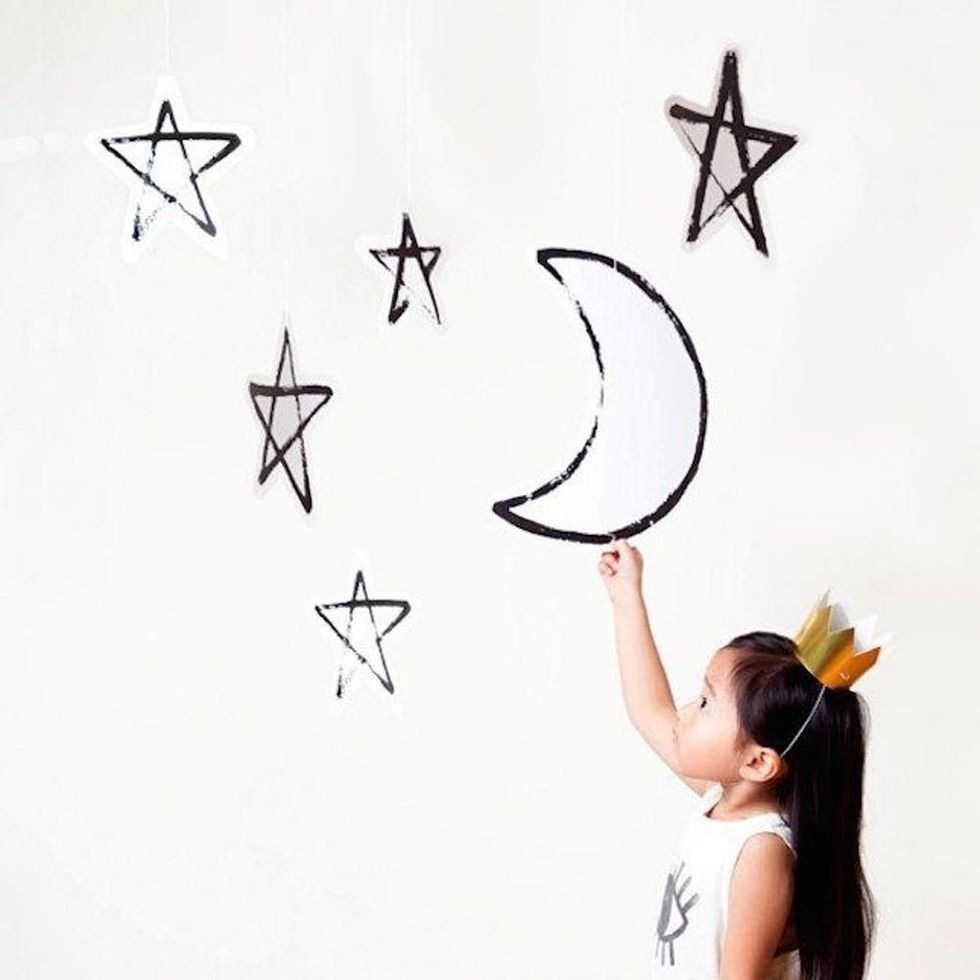 15. Harlow & Grey Moon & Stars Hanging Decor ($9): It doesn't take much to get your little one excited. Take these adorable hanging moon and stars for example. Once your kid takes a look at these cool decorations you can buy or DIY, they'll feel as if their indoor party's been transformed into the great outdoors.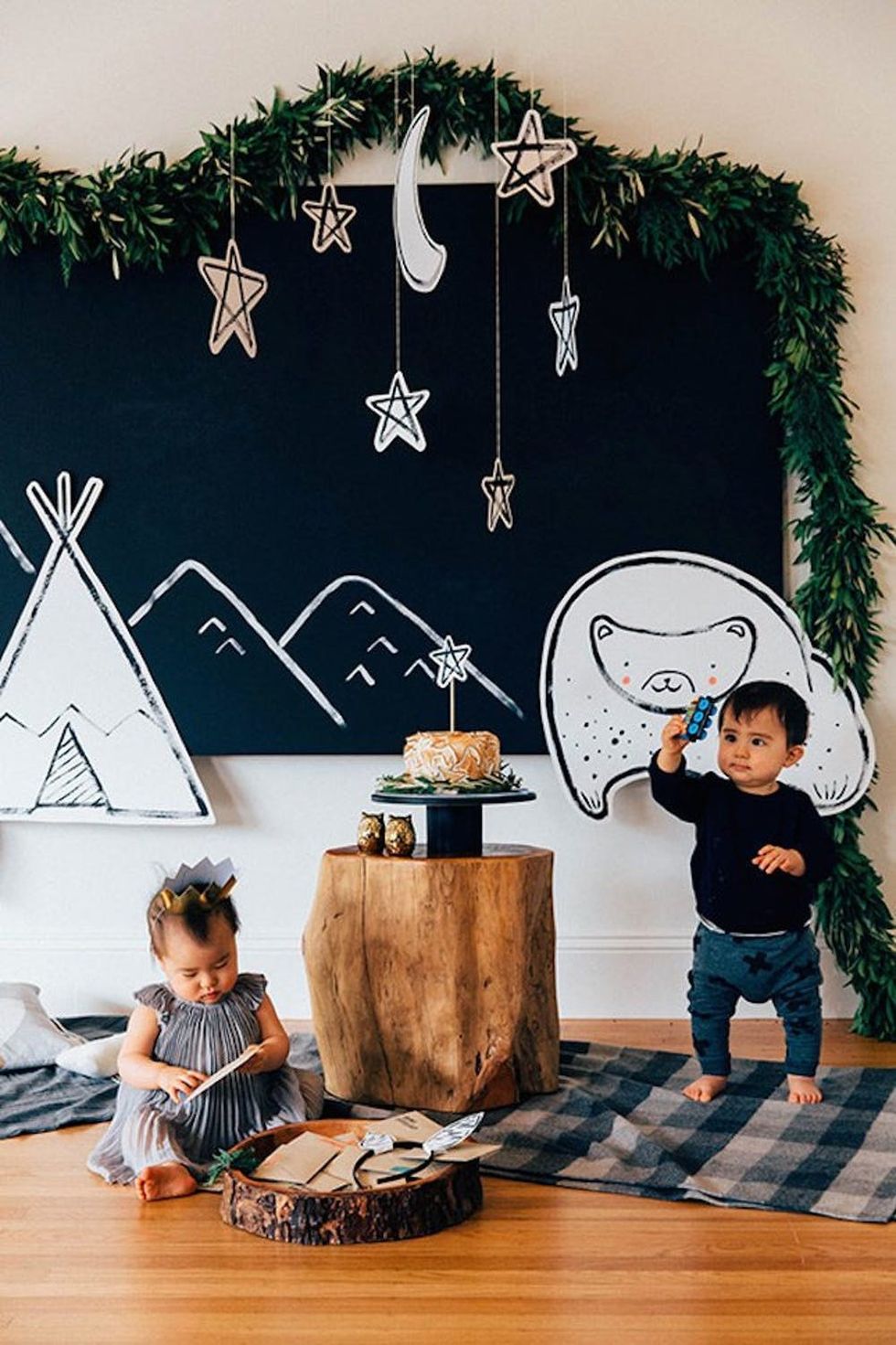 16. Backdrop: Make sure your kiddo's birthday bash looks its Insta-worthiest with an epic photo booth backdrop. If you're all about the minimalist aesthetic, opt for a black and white theme like the one pictured here. (via Ashley Batz / 100 Layer Cake-let)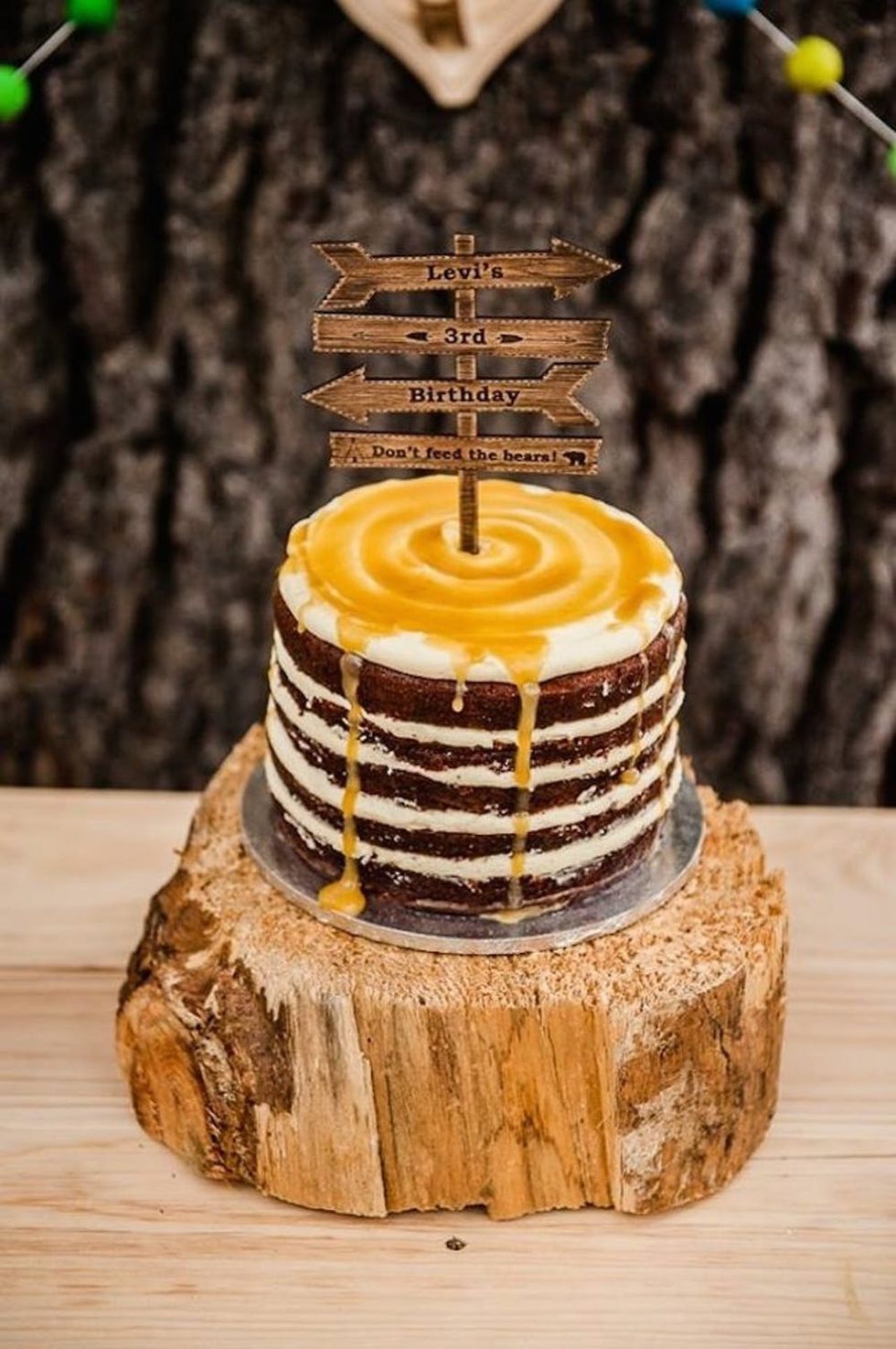 17. Naked Cake: If you're planning on getting a naked cake, dress yours up with a festive cake topper like this one did. It's the perfect balance of minimal and modern without overdoing it. (via Jos Studio / Spaceships and Laser Beams)
Will you throw your kiddo a camp-inspired birthday bash? For more creative party ideas, follow us on Pinterest!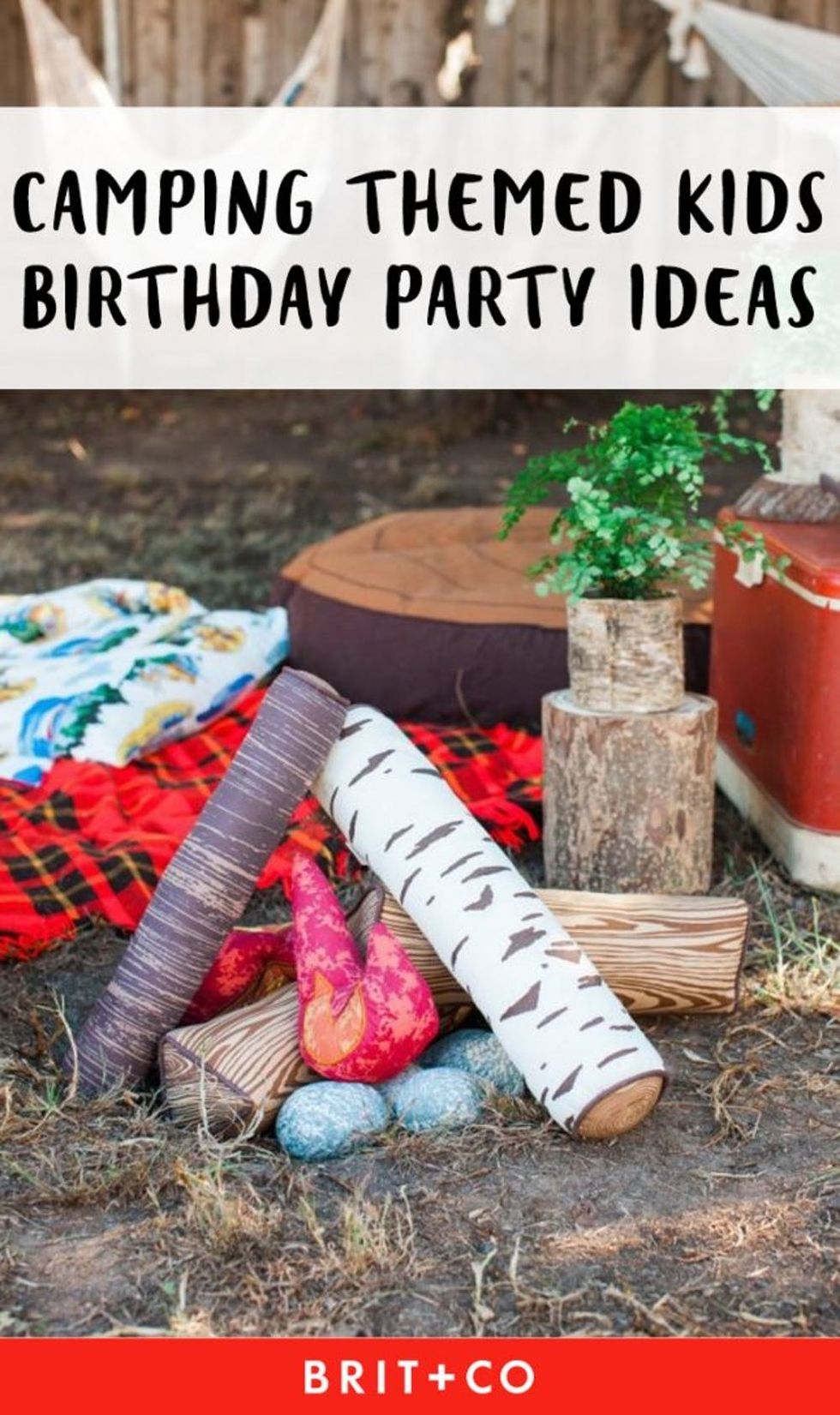 Brit + Co may at times use affiliate links to promote products sold by others, but always offers genuine editorial recommendations.