Why These Arthur + D.W. Memes Are Suddenly Taking Over the Internet
Aug 05, 2016
Unless you're new to the Internet, you've noticed that the cartoons of your childhood make up a good portion of the best memes. SpongeBob SquarePants, Rugrats and Arthur make up some of the biggest ones, with the latter especially having a current explosion of meme-ablity. Now, nearly 20 years after Arthur debuted on PBS, the anthropomorphic aardvark is all up in your Twitter timeline. Look familiar?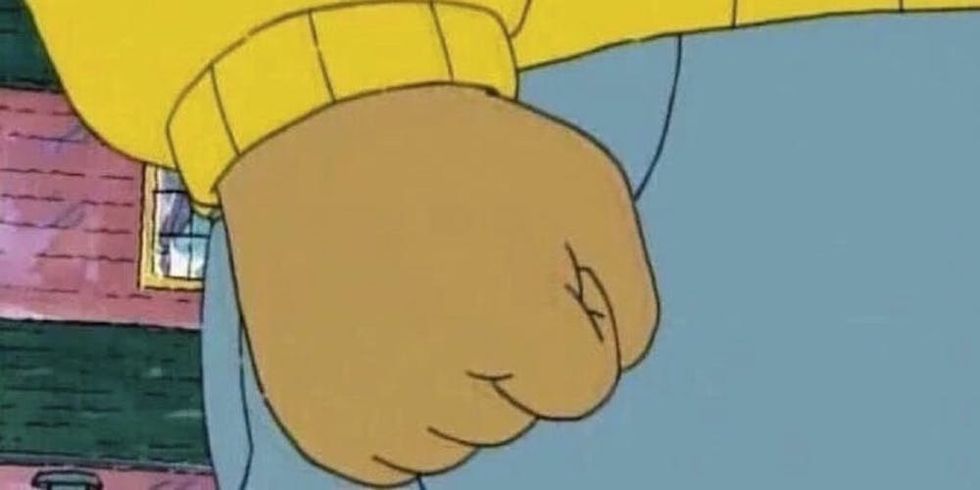 ---
The close up of Arthur's clenched fist is the newest — and maybe best — in an ongoing series of Arthur memes. It traces back to an episode of the show called "Arthur's Big Hit," in which Arthur clenches his fist before punching his little sister D.W. (who has also been a Tumblr fave for a long time) for breaking his model airplane. (Yikes.)
This episode spawned a meme of its own a few years back, resulting in dozens of weird mashup edits on YouTube. Then, last week, when Twitter user @AlmostJT tweeted (and since deleted) the famous fist screenshot with the caption, "This is just a pic of Arthur's fist but idk how I feel that it's just so relatable. So many emotions in one fist," it nailed why it's so funny. The #ArthurFist meme took on a life of its own, being used to convey everything from too-real everyday minutiae to current events, and hasn't slowed down since.
*mom yells my name*
me: yes??
*silence* pic.twitter.com/iUspSQ7jLR

— Kristiannn (@Kristianity_) July 28, 2016
"this email and password combination could not be found" pic.twitter.com/RefqffLF8A

— Ziwe (@ziwe) July 28, 2016
"Can you pass me my charger?"

"What percent you on?" pic.twitter.com/Rlba9y4SdW

— Peter Parker (@SniperDeuceZero) July 28, 2016
when you realize this meme is just a distraction by the government to make us forget about Harambe's death pic.twitter.com/6OGtBuA6H2

— Arthur Fist Meme (@MemeArthur) July 28, 2016
Waiter: "checks together or separate?"
Her: "together"
Me: pic.twitter.com/bPOKZOazLf

— Ted is 6'3 (@Teddybeaar_) July 28, 2016
— your future bae (@kbiiitcchh) July 28, 2016
When you offer someone food to be nice and they actually say yes pic.twitter.com/gu3K3cxTKV

— Arthur Hands (@Arthur__Hands) July 28, 2016
The Arthur takeover snowballed quickly from there, and D.W., Francine, Muffy and more started popping up as well (sometimes in some unnecessarily ~NSFW~ scenarios, which network WGBH has expressed disappointment over).
When you've scrolled all the way down to his 187th week on instagram & know every woman you should keep tabs on pic.twitter.com/cHao80Xm4b

— scottiebeam (@ScottieBeam) July 28, 2016
"Yeah Ima listen to your soundcloud bro I got you." pic.twitter.com/xRthLZnJef

— glory (@ifeelglorious) July 22, 2016
"Make sure you get the belt in the pic too" pic.twitter.com/2OMN0Bzi5Y

— Tiny from 81st (@TinyTiniTine) July 28, 2016
"All lives mat-" pic.twitter.com/vEv1S6Rk3K

— Safe (@YOUNGSAFE) July 28, 2016
*facebook users 6 months from now*

"have yall seen these funny arthur memes?" pic.twitter.com/EMwdbQzEGo

— Curtis Lepore (@curtislepore) July 28, 2016
It's been a week since the Arthur explosion, which in Internet years is basically a lifetime, so it's bound to burn out soon. We can't wait to see what floods our feeds next.
What's your favorite #ArthurFist meme? Tweet us @BritandCo!
(Featured image via PBS)
Nicole Villeneuve
Nicole is an entertainment and lifestyle writer covering pop culture, news, and cool women doing cool things. She likes yard sales, MTV's Teen Mom, and putting too many memes in the group chat. She lives in Toronto.
Pop Culture