Just because the summer blooms are fading doesn't mean you have to give up your bridal dream of a flower crown. Fall is full of gorgeous colors — reds, yellows and oranges. Get inspired by branches, jewel-colored flowers and anything that creates a bare woodland look. Think: soft light beaming through windswept hair, a bold lip and falling orange leaves. If you're starting to feel the romance of the autumn season, check out these examples of beautiful fall flower crowns.
---
1. Grassy Textures: Instead of going with bold flowers, this bride kept blooms white and chose to play more with the textures of the greenery. The simple color palette is perfect for her blonde hair and the grass field location of the wedding. (via Magnolia Rouge)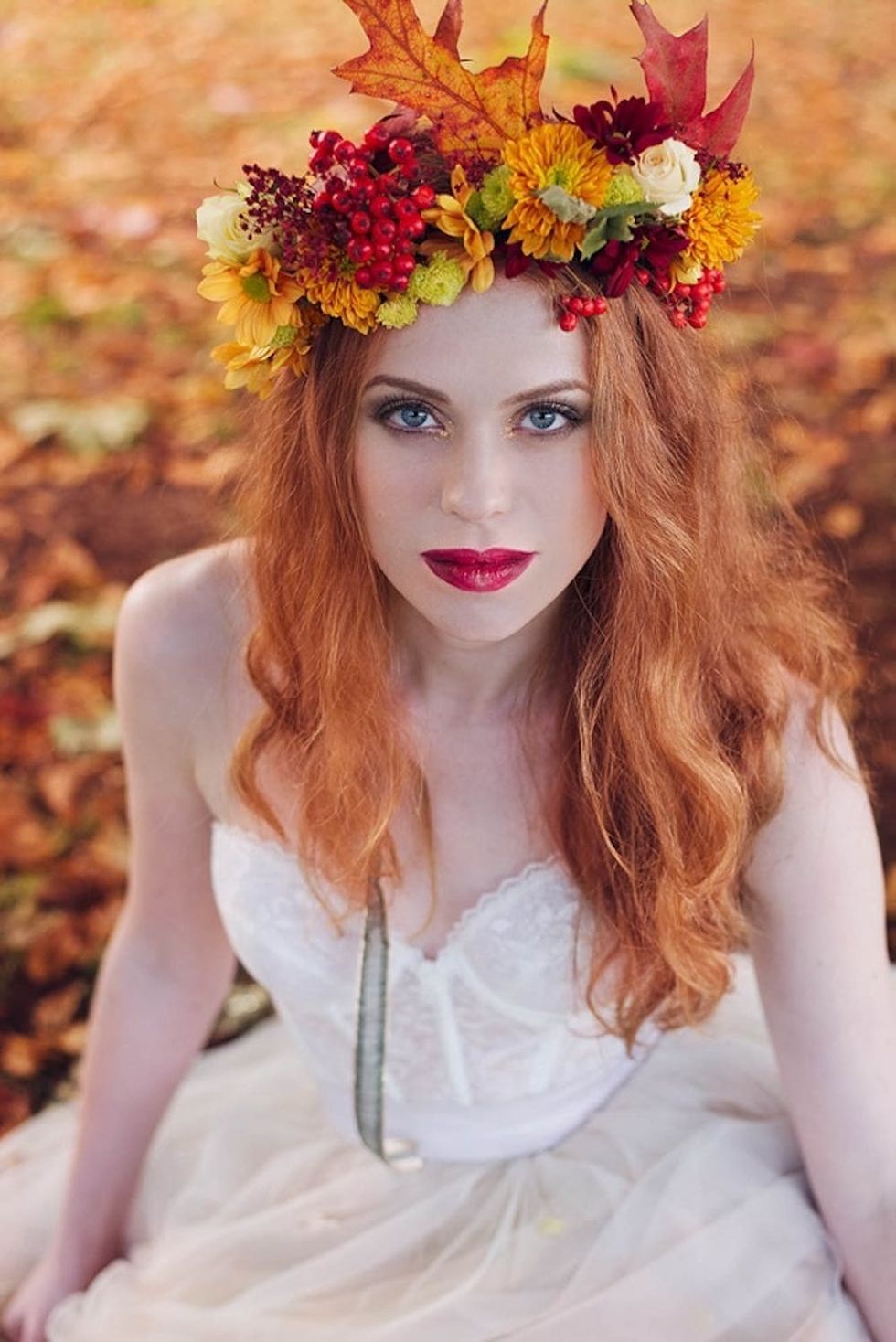 2. Autumn Wonderland: Complement your colorful headpiece with bold makeup touches like a red lip and gold eye makeup. The leaves and berries are a creative touch in this crown and add extra homage to the season. (via Love My Dress)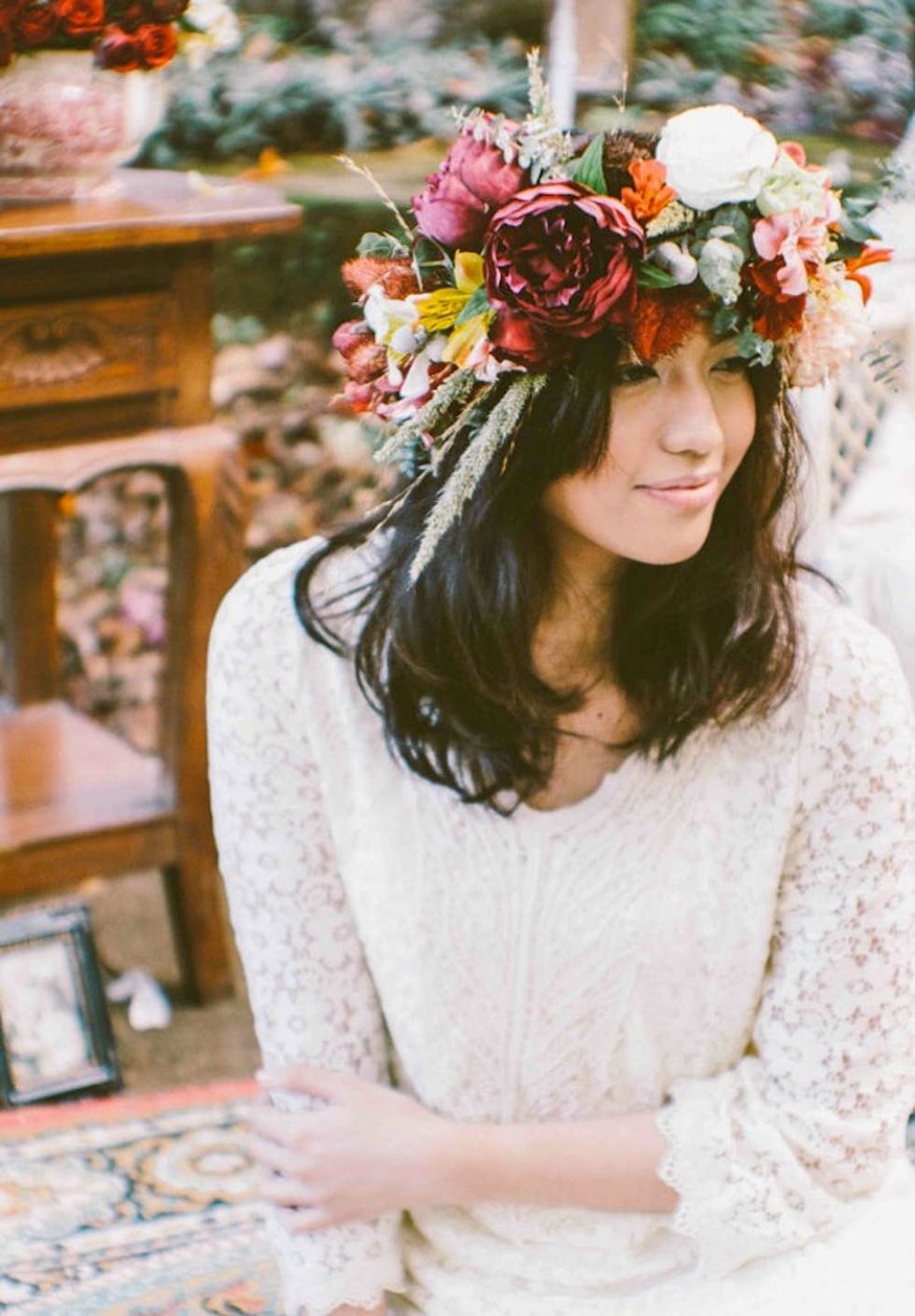 3. Jewel-Toned Poppies: The grass pieces add a variety of texture to this bold, floral headpiece, and the dusty red roses are perfect for the fall. (via Hello May)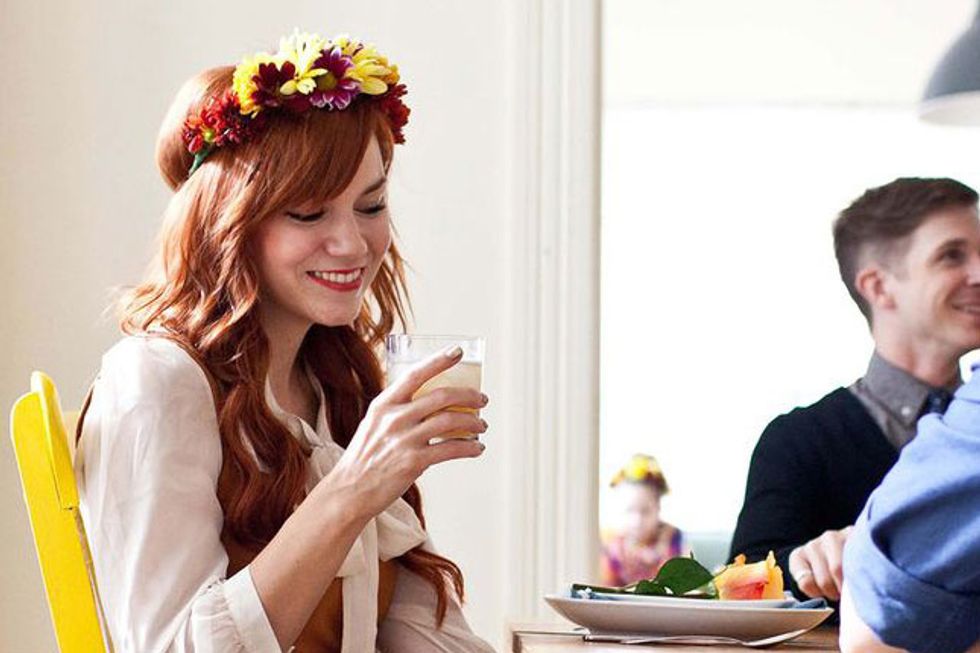 4. Fresh Fall Colors Crown: The warm hues of simple gerbera daisies are perfect for a casual wedding. (via A Beautiful Mess)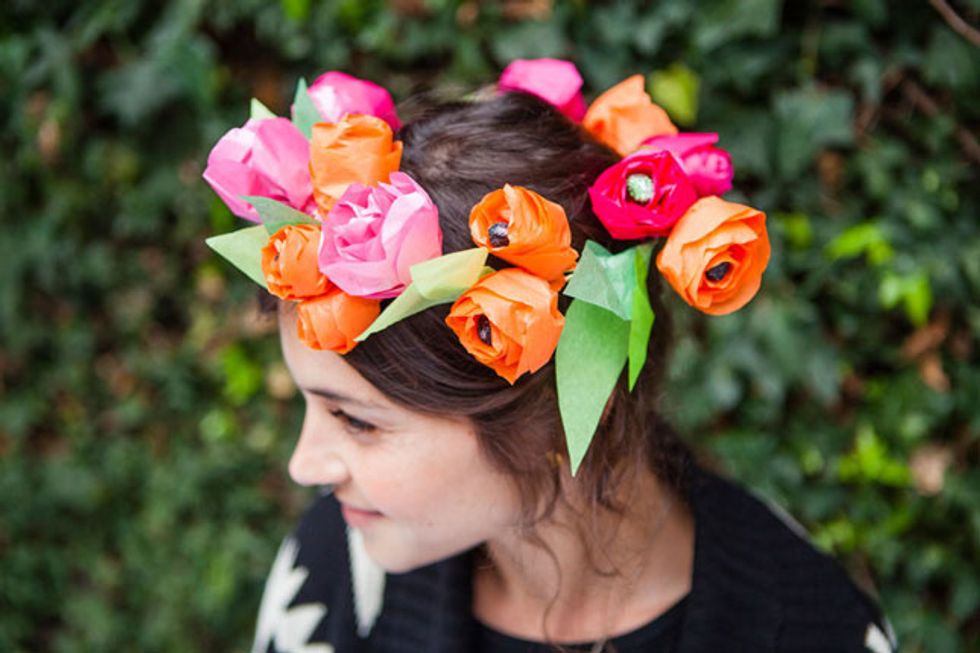 5. Tissue Paper Ranunculus Crown: Who needs real flowers when you can make a paper wreath as pretty as this? The best thing about paper flowers is that you can get the exact colors you want! (via Brit + Co)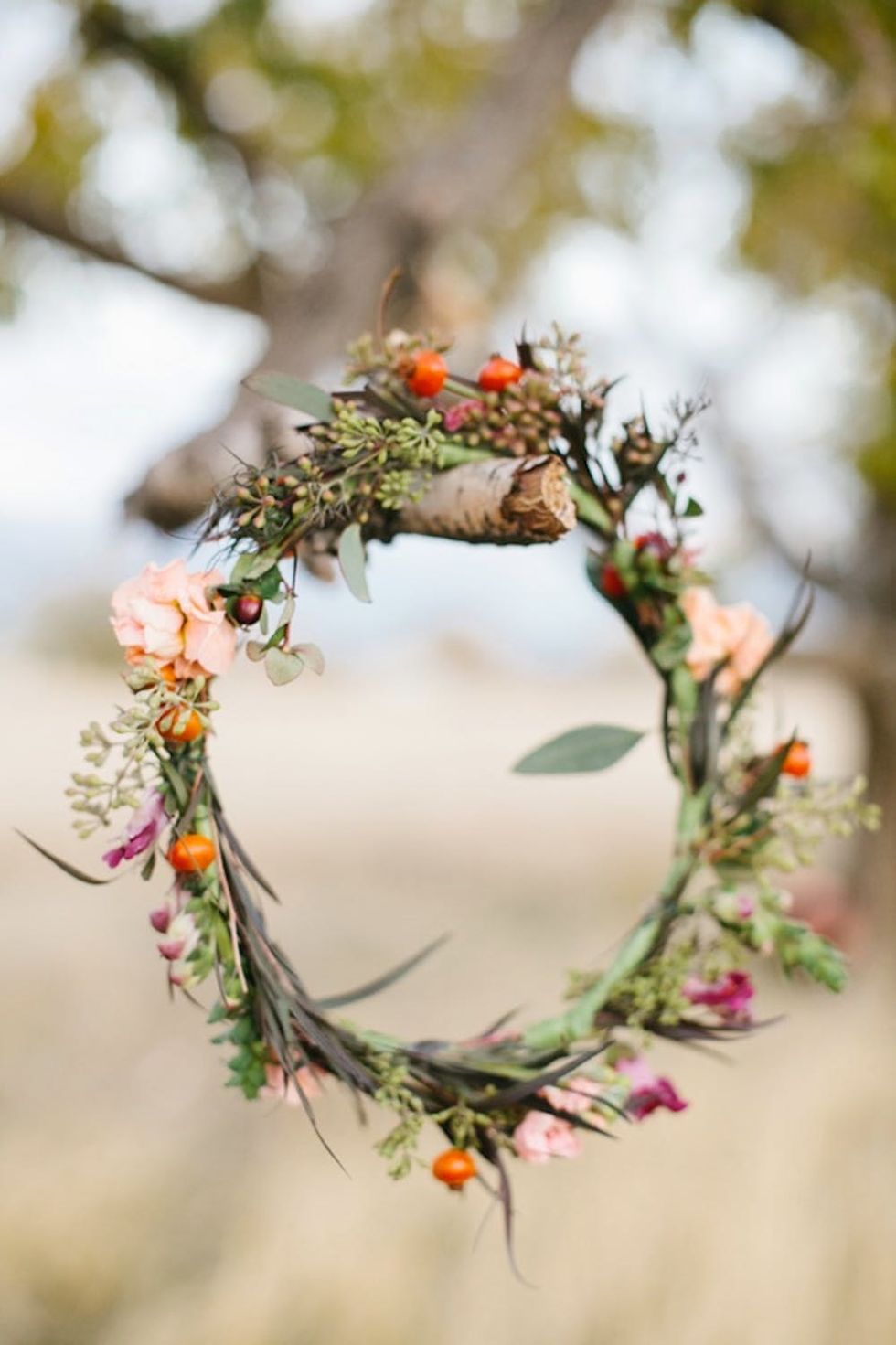 6. Simple Crown: If you're going to be wearing your hair down you might want something on the simpler side like this crown that features eucalyptus, orange berries and coral roses. (via Ruffled)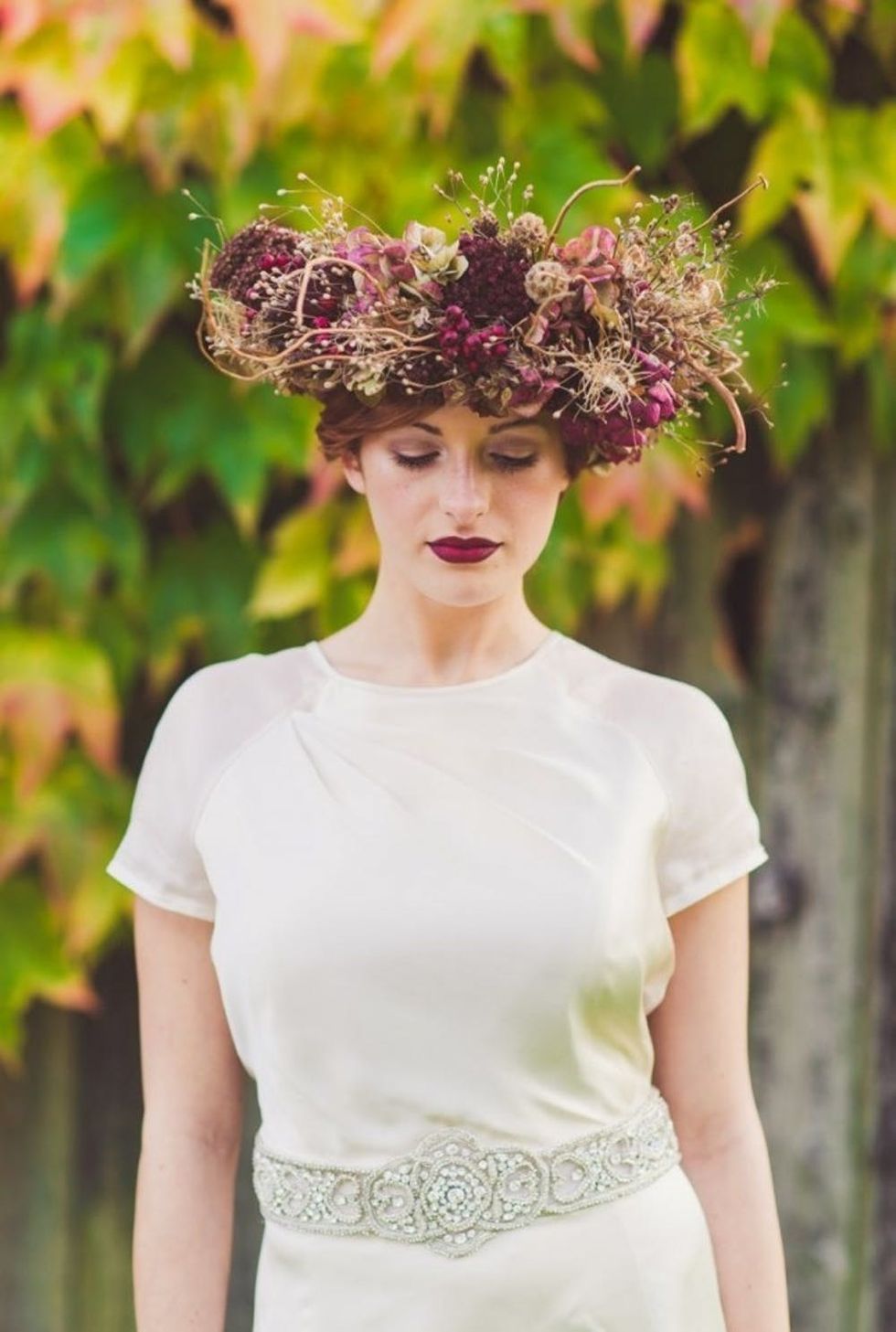 7. Red Romance: Truly looking like a woodland nymph, this bride actually has very few flowers in her floral piece. There are branches, buds, dried flowers and grasses in this regal crown. (via Rock My Wedding)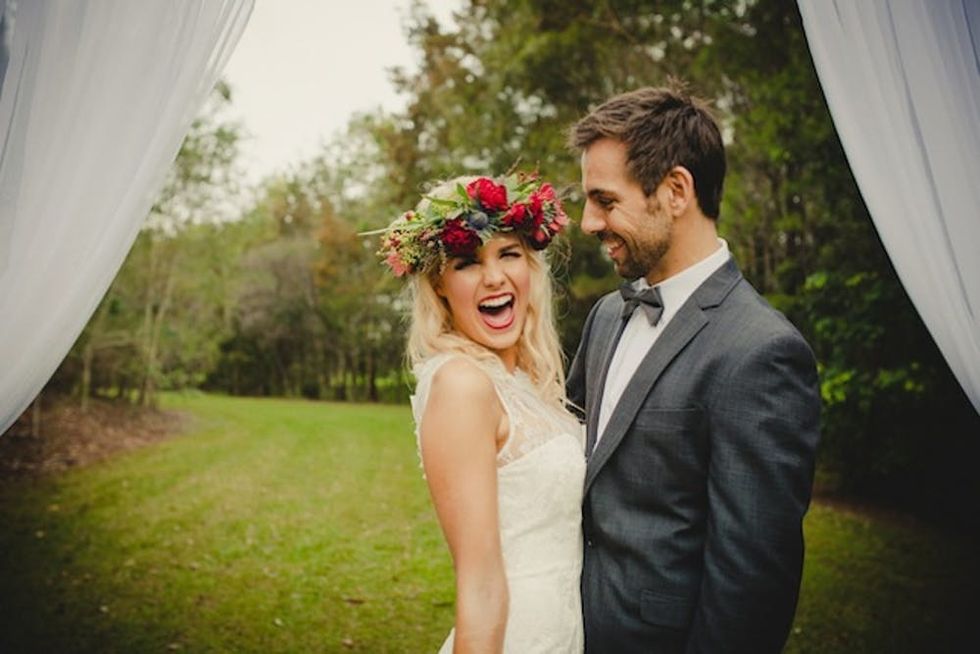 8. Red Glam: Instead of going with a lot of colors, this bride opted for just red flowers and a bright lip. (via Burnett's Boards)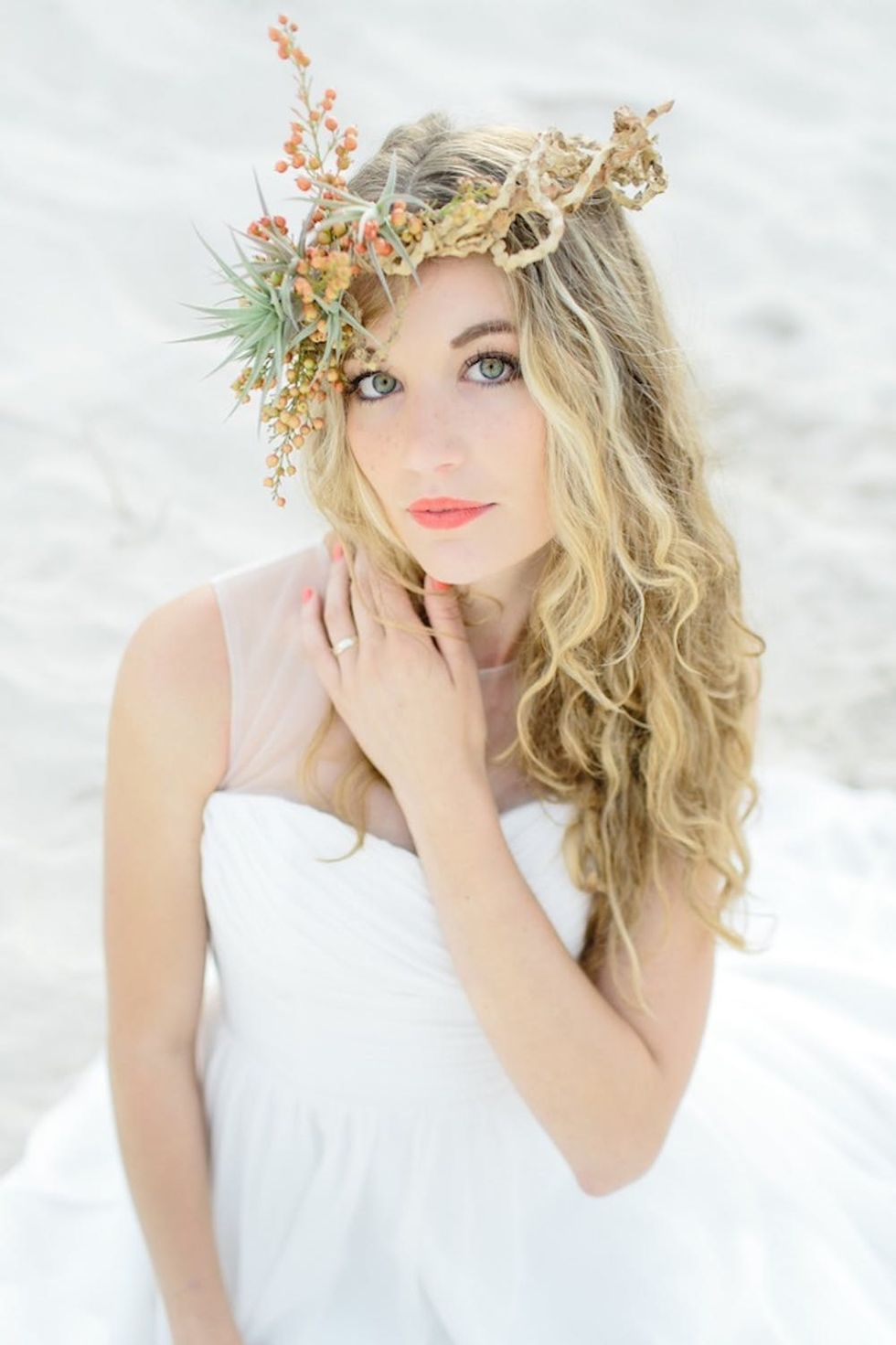 9. Air Plant Crown: You guys, she used air plants in her crown! These spiky little plants add a soft mint green color to the bouquet and the orange berries add a touch of autumn. (via Burnett's Boards)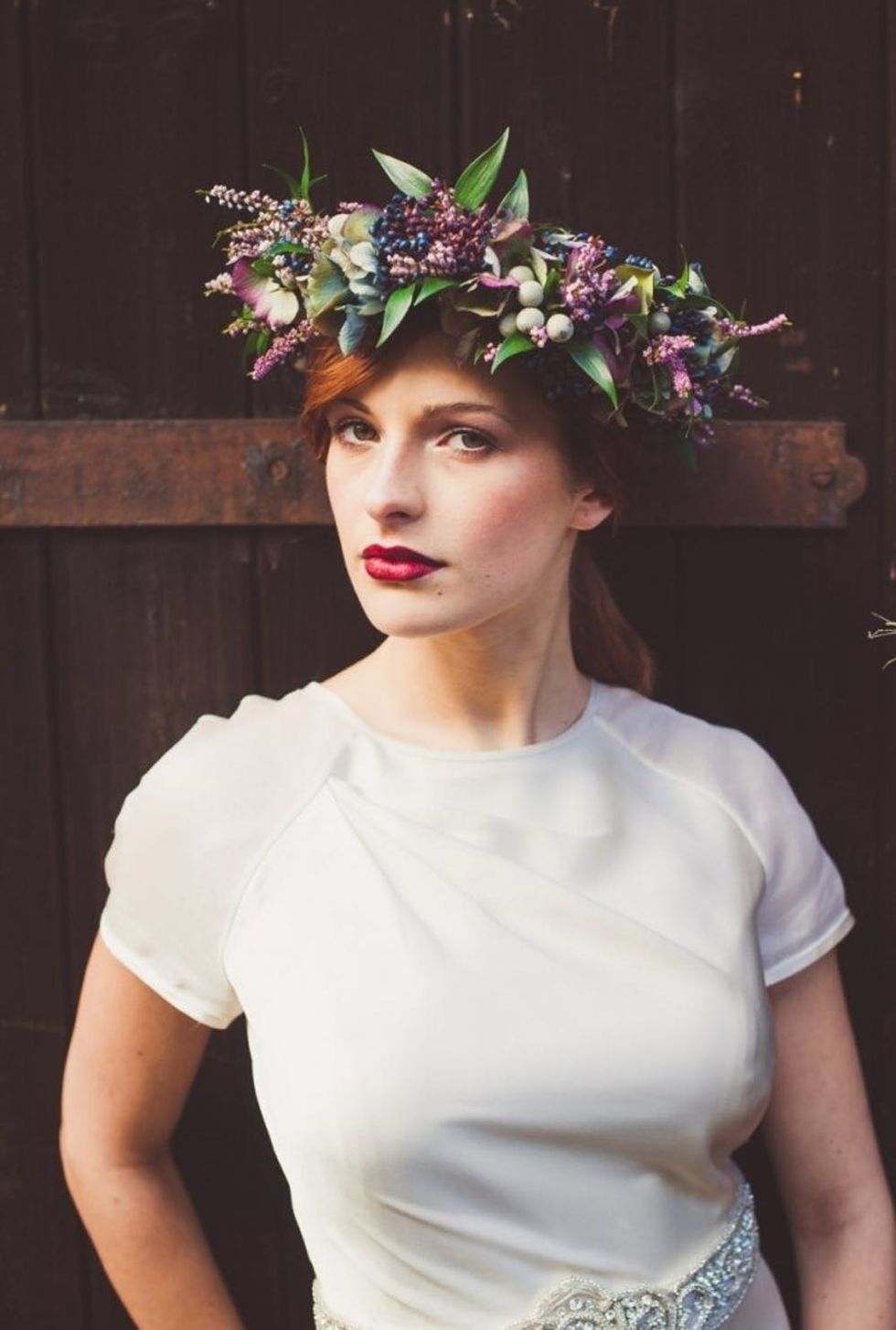 10. Purple Berries: Choosing to forgo flowers completely, this crown gets its color from berries, blossoms and big leaves. She decided to go with a rosy purple lip, which is a terrific look for the season. (via Rock My Wedding)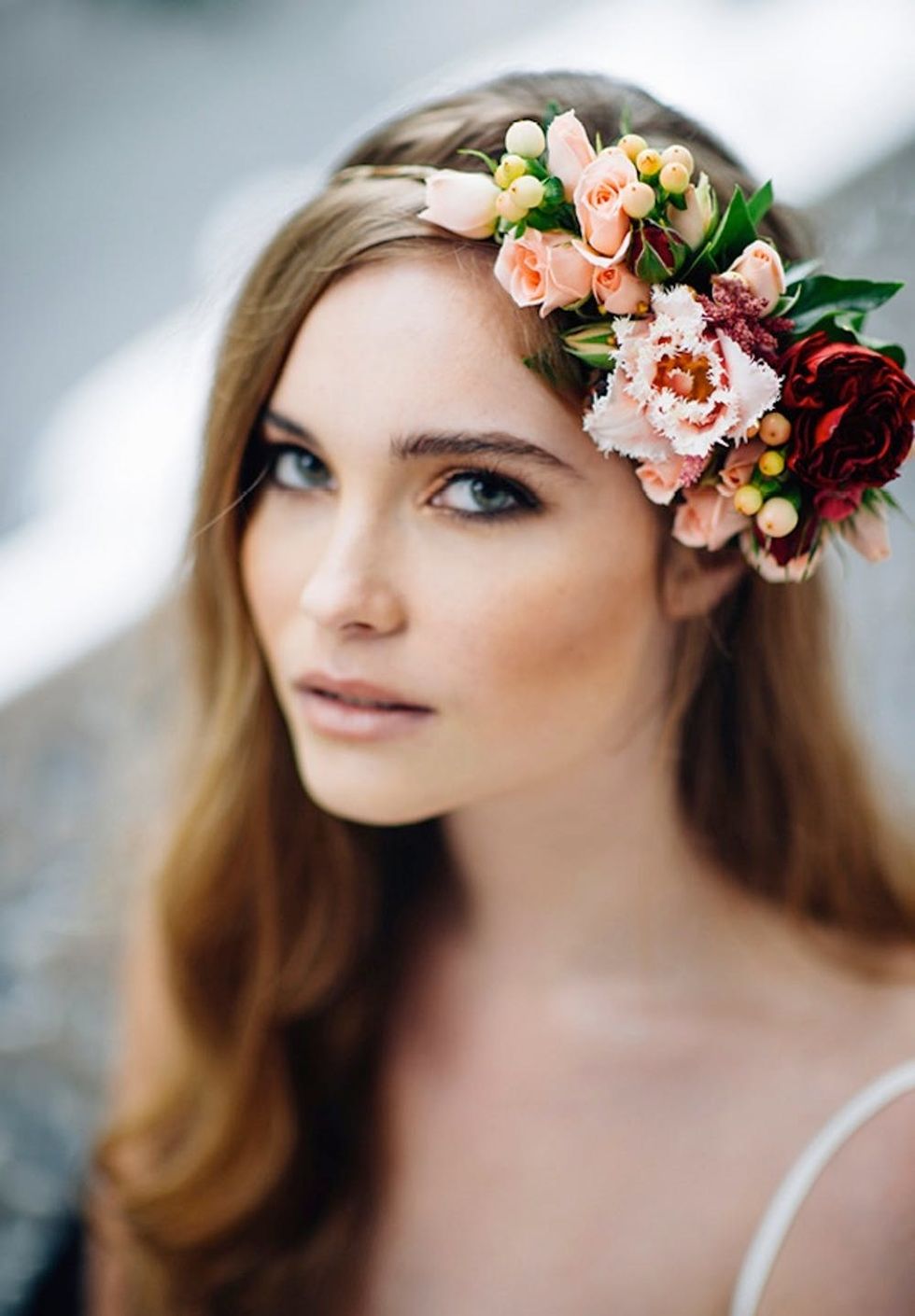 11. Partial Crown: The side crown is perfect if you don't want too much of the boho feel. You can use it to accent a glam updo, a side ponytail or attach it to a headband. (via Hello May)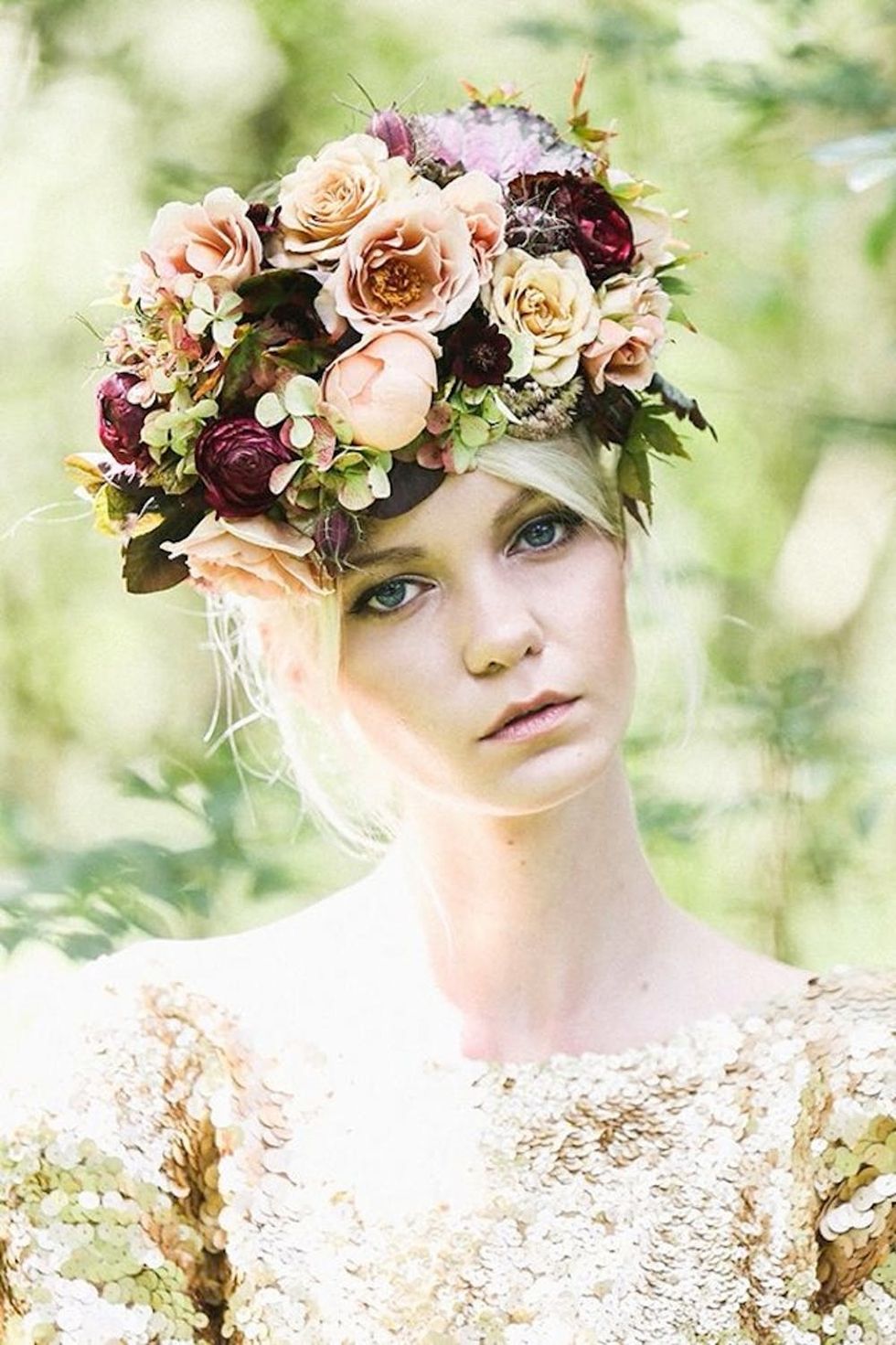 12. Floral Headpiece: Instead of a crown, this piece is worn more like a headband for a dramatic look. This crown has lots of ruffly flowers in dark and light purple for a very feminine accent. (via Swooned)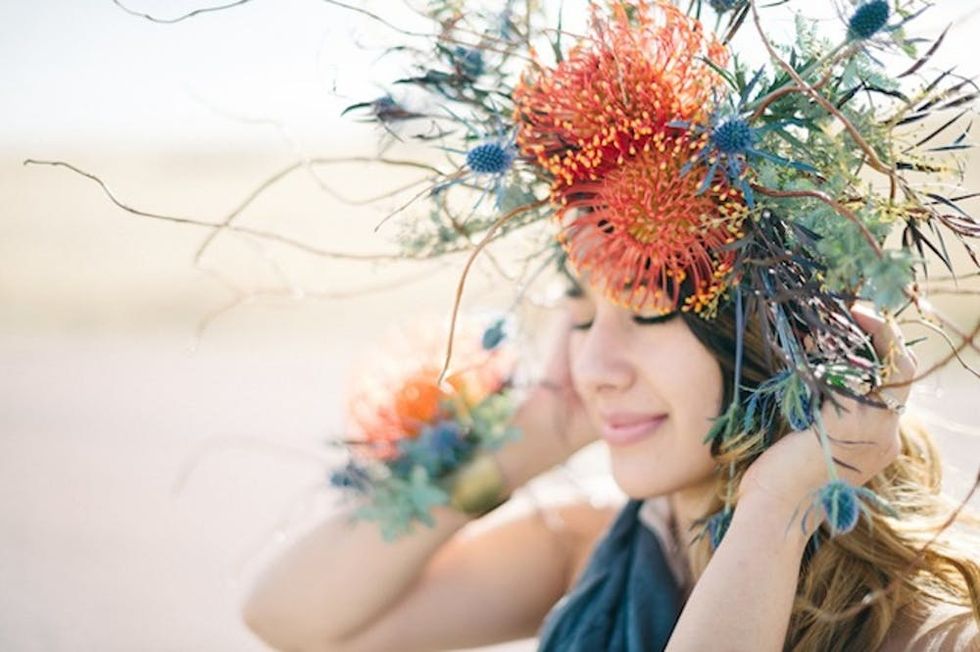 13. Touches of Blue: You wouldn't expect something so wild to look so elegant, but the cones add a structural element to this free-spirited headpiece that we can't resist. (via Burnett's Boards)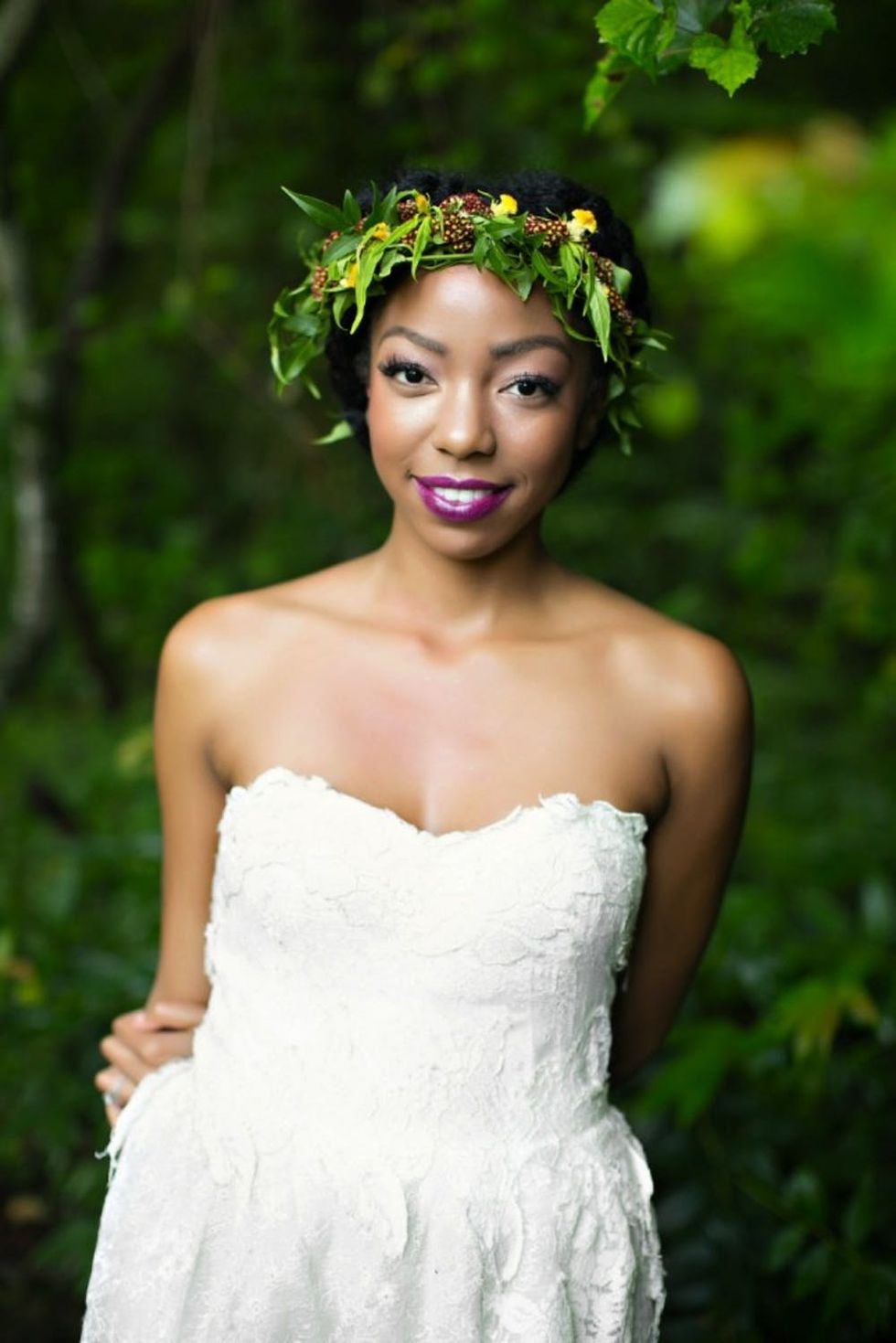 14. Crown of Greenery: We think the simplicity of this crown is quite elegant. There is just the faintest amount of color with the tiny red and yellow flowers, but the look is subtle enough to keep the attention on the dress or hair. (via Style Me Pretty)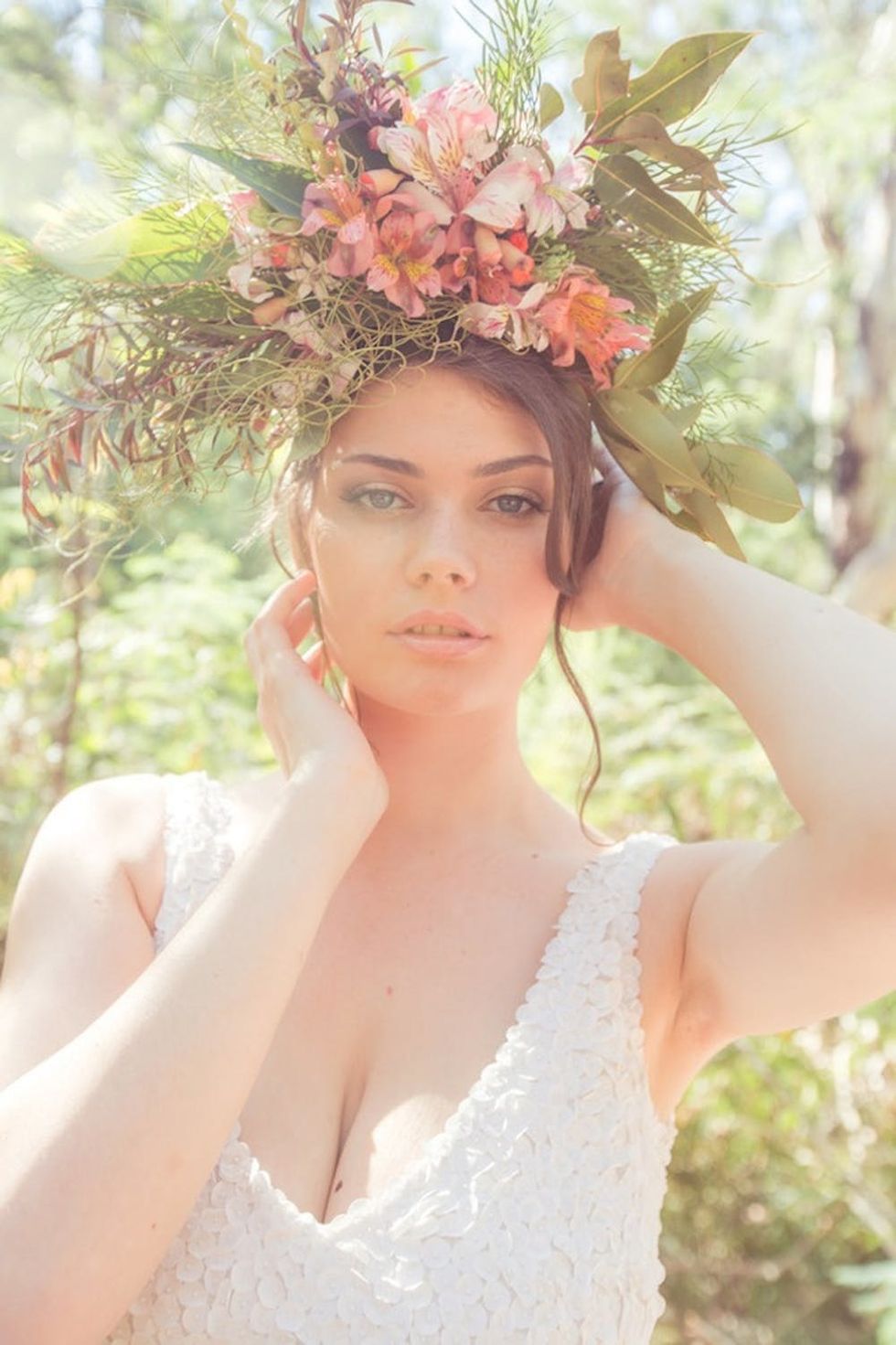 15. Woodland Theme: Lots of curly grass and big leaves make this crown a real showstopper. To keep it from looking too theatrical, the bride chose softer shades of orange and pink flowers. (via Burnett's Boards)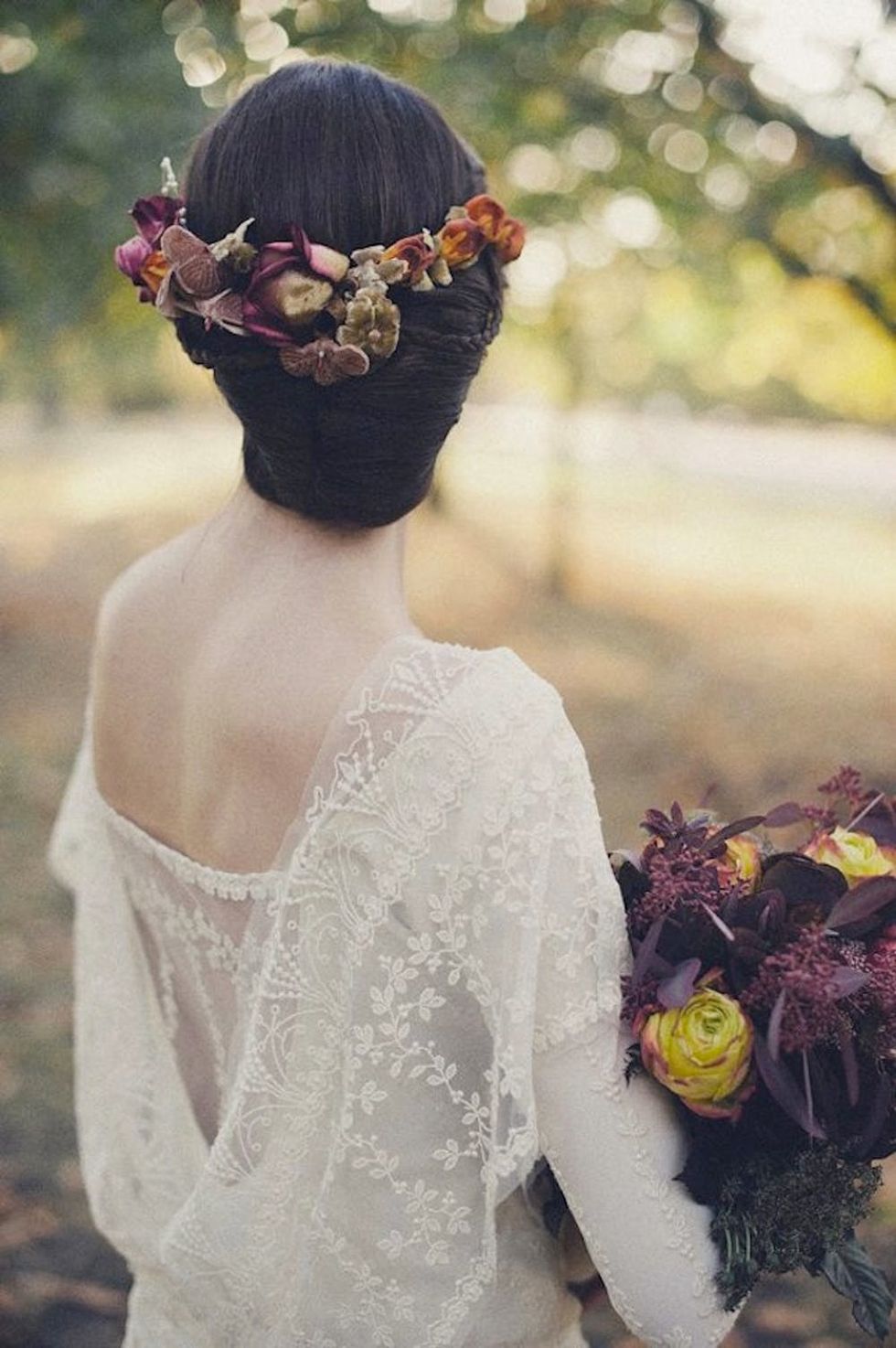 16. Dark and Dramatic: Instead of worrying about crushed and wilted flowers, this bride decided to go with a velvet flower headpiece. Not only will it last forever, but the dark velvet is an ideal color and texture for the season. (via Swooned)
What colors would you choose for an autumn wedding? Are you wearing a flower crown at your wedding? Talk to us in the comments below!