Hot Holiday Hair: 20 Party-Ready Updos
Dec 13, 2013
If it's not already totally apparent, we're shamelessly pumped to get glammed up this holiday. We've planned the perfect outfit—sequined from top to toe of course!—chosen our favorite shimmery makeup looks, and picked out festive and elegant nail art. Now all that's left to decide is what the heck to do with our hair, and since we're locked into that go-big-or-go-home mentality, we're zoning in on the updo.
---
Luckily, there's a trove of tutorials around to provide you with inspiration for putting your own spin on this dashing 'do, so you're covered whether you want to go for a more vintage-inspired look or stick with a modern style. Ready to put your hair up so you can party on? Check out these 20 party-ready updos to try this holiday.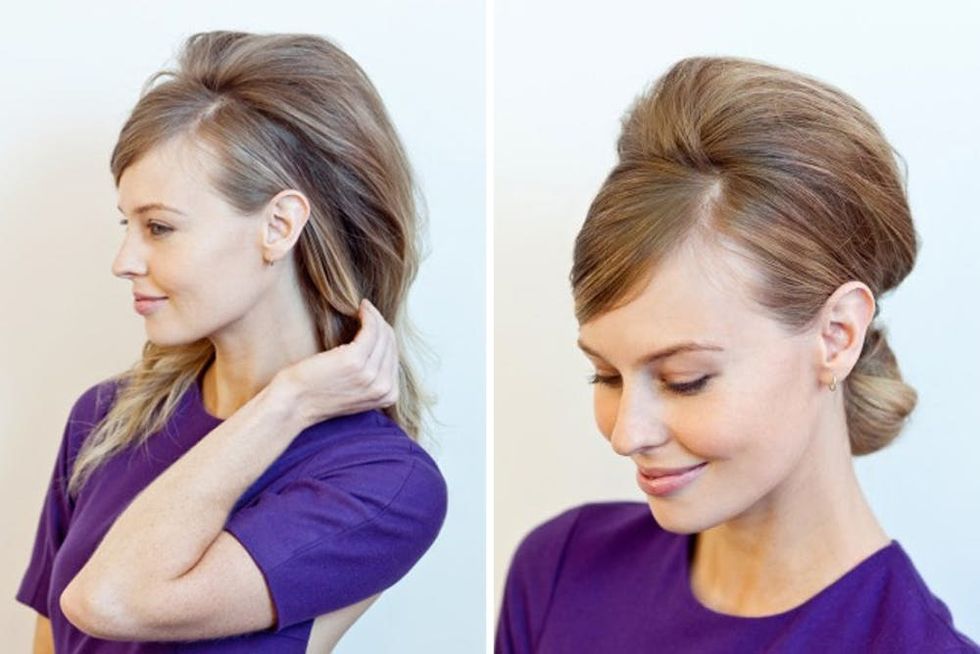 1. The Modern Bouffant: We'll kick off this roundup with a sleek, sky-high 'do. It's a playful, '60s-inspired look that would compliment a basic black maxi like a dream. (via Refinery29)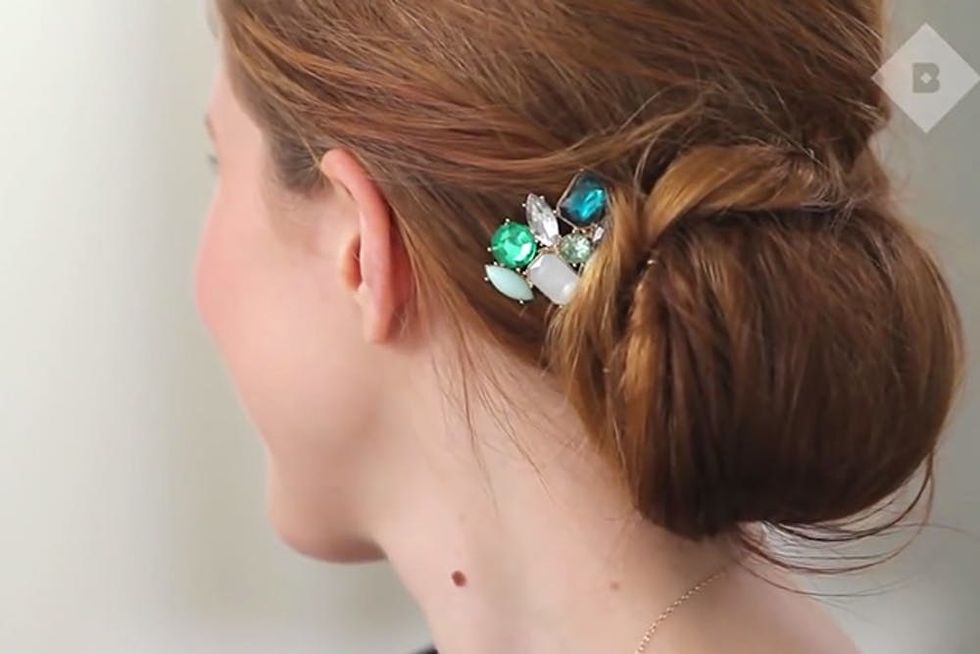 2. Elegant Holiday Updo: Amp up a classic updo with an elegant gemstone hairpin. This chic, yet slightly messy style is a great way to camouflage second day hair. (via InStyle)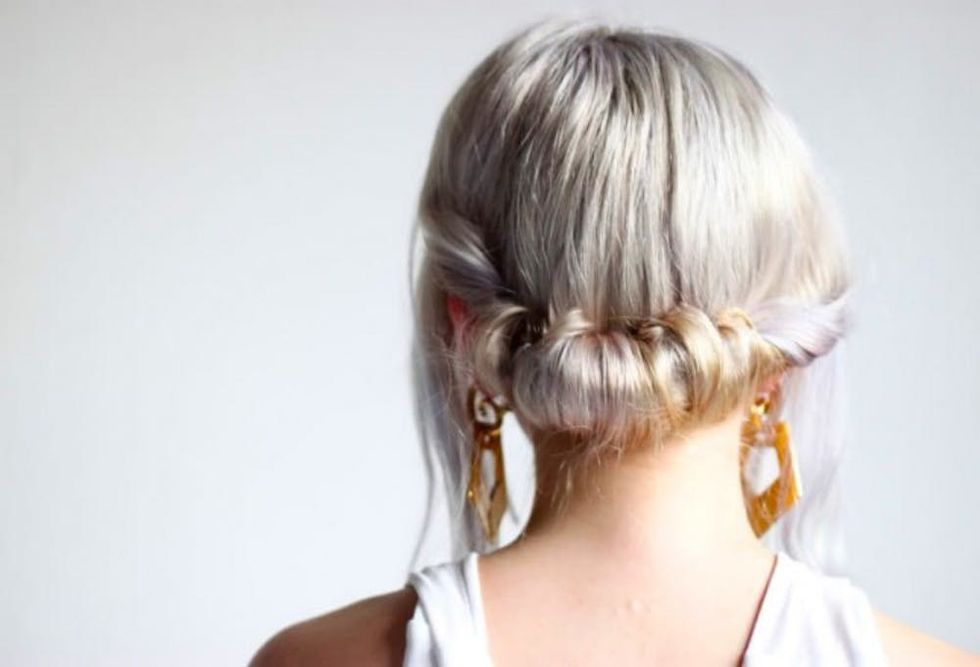 3. Quick Roll and Tuck Updo: This hair style really lives up to its name—the tease, roll, and tuck takes less than two minutes to do! We're labeling it a go-to last minute look. (via Love Aesthetics)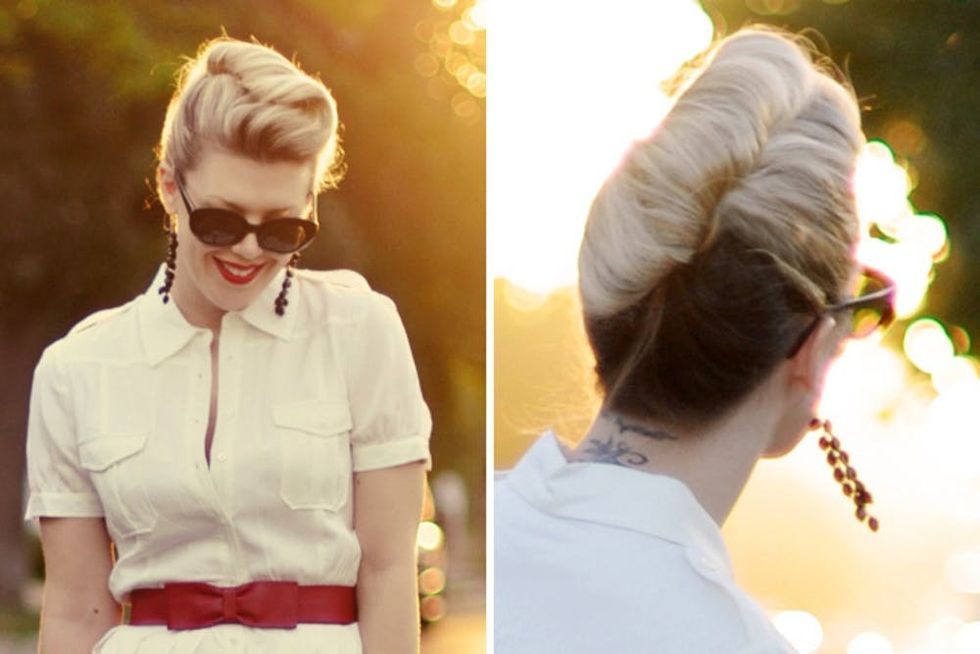 4. High French Twist Faux Hawk: Turn heads with this towering hairstyle. We're definitely picking up some rockabilly vibes here, which you can tone down with sparkly studs and an on-trend lip color like deep berry. (via …love Maegan)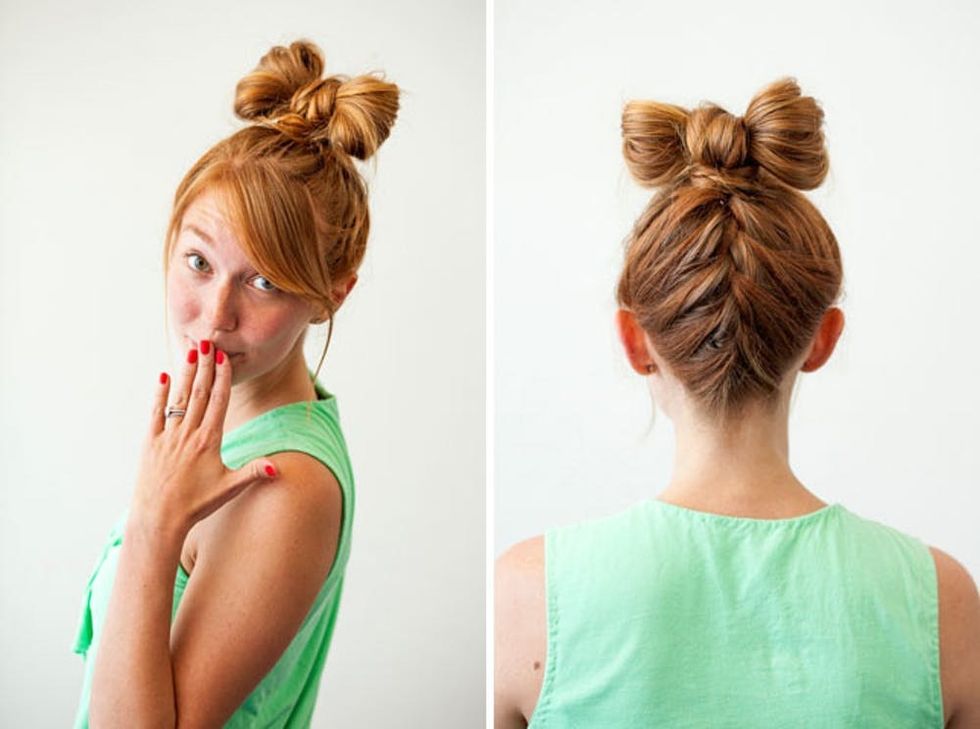 5. Braided Bow Bun: Why add embellishments to your hair when your locks can be the bow!? Now is the time to play around with this over-the-top look—we'd rock it to our holiday party with a modern jumpsuit. (via Brit + Co.)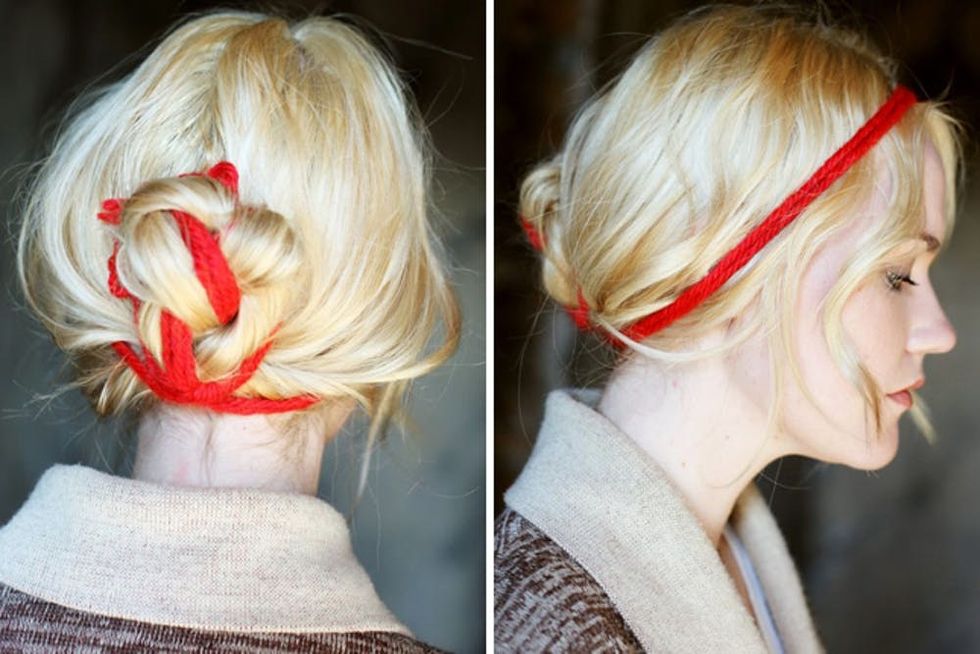 6. Yarn Messy Bun: We know yarn works wonders in the pom pom world, but never thought to incorporate it into a festive updo. This style totally works for the holiday season, adding a pop of Christmas color to a basic bun. (via A Beautiful Mess)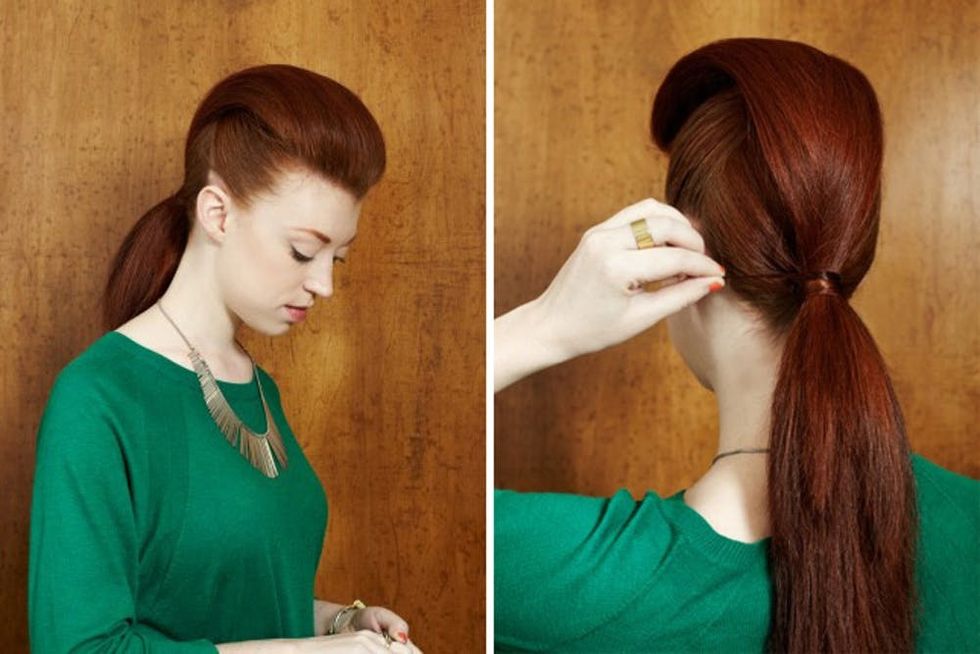 7. The Part-Happy Pony: We don't know what we like more, this super sleek take on a traditional ponytail, or this models insane auburn hair color. One thing's for sure, this look is precise—each level of this 'do is shockingly seamless. (via Refinery29)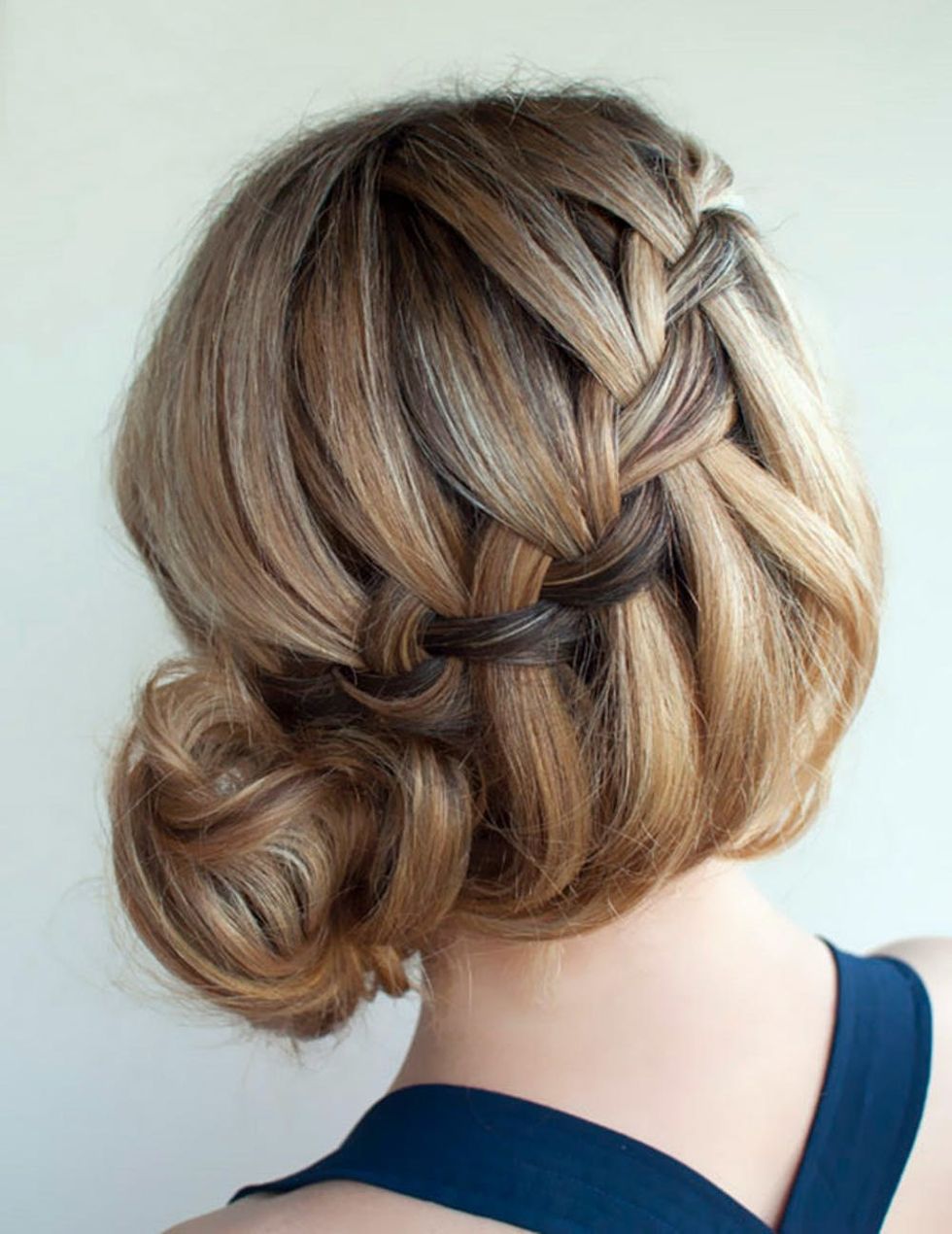 8. Waterfall Braided Bun: We usually would never toss sound advice from TLC by the wayside, but this is one waterfall we're definitely chasing after! ;) This cascading braid is so posh. (via Oh the Lovely Things)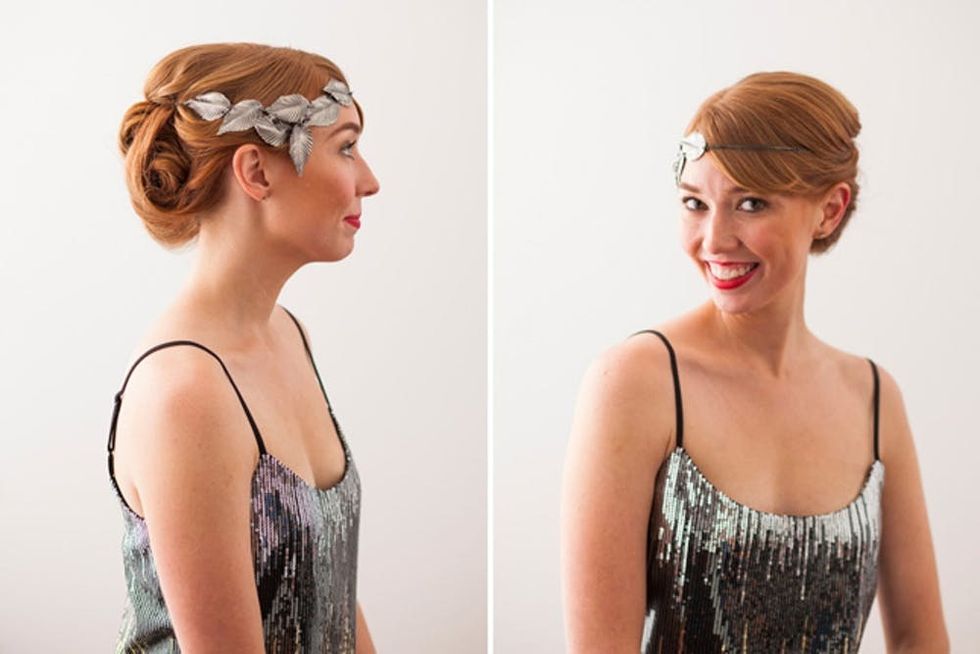 9. Classic Updo With Silver Leaves: Pin curls set the base for this vintage-inspired updo. The look is really lovely on its own, or take our lead and finish with a metallic headband. (via Brit + Co.)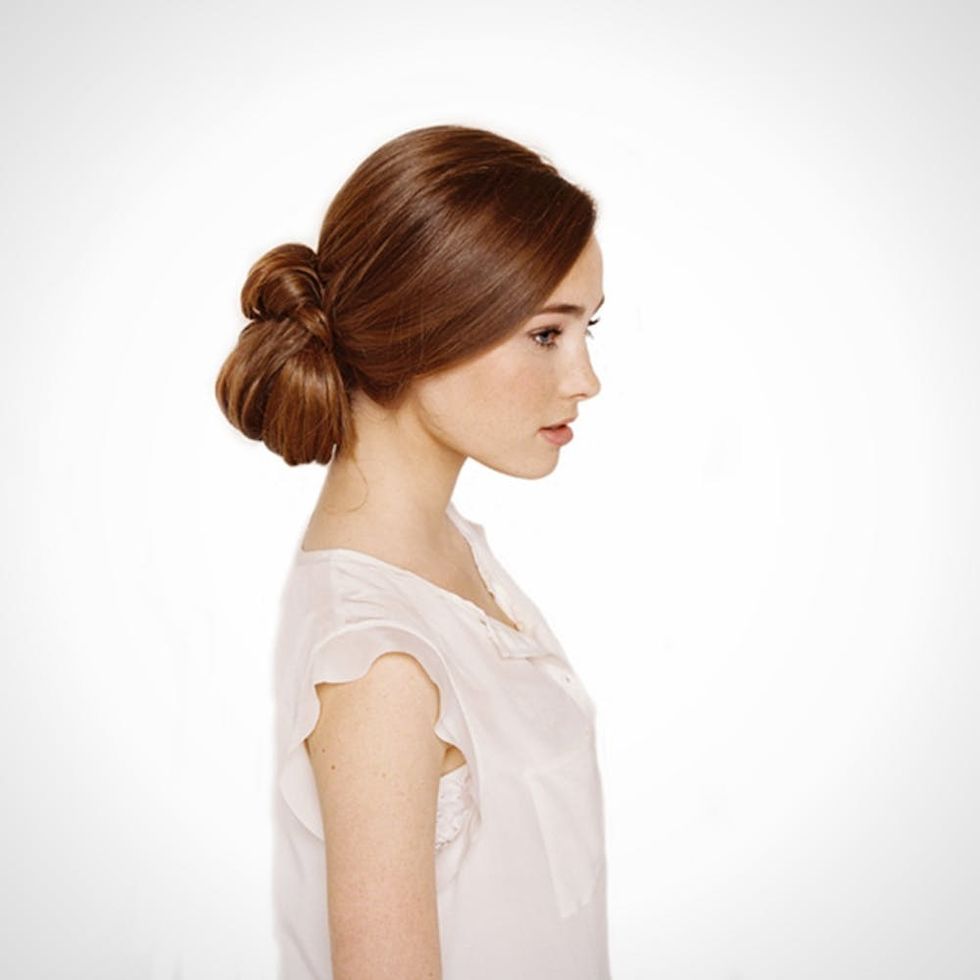 10. Knotted Chignon Tutorial: Before this tutorial, our general thought on the chignon was largely "meh." Now, we're nuts about this tiered and twisted version that strikes a balance between simple and sculptural. (via Once Wed)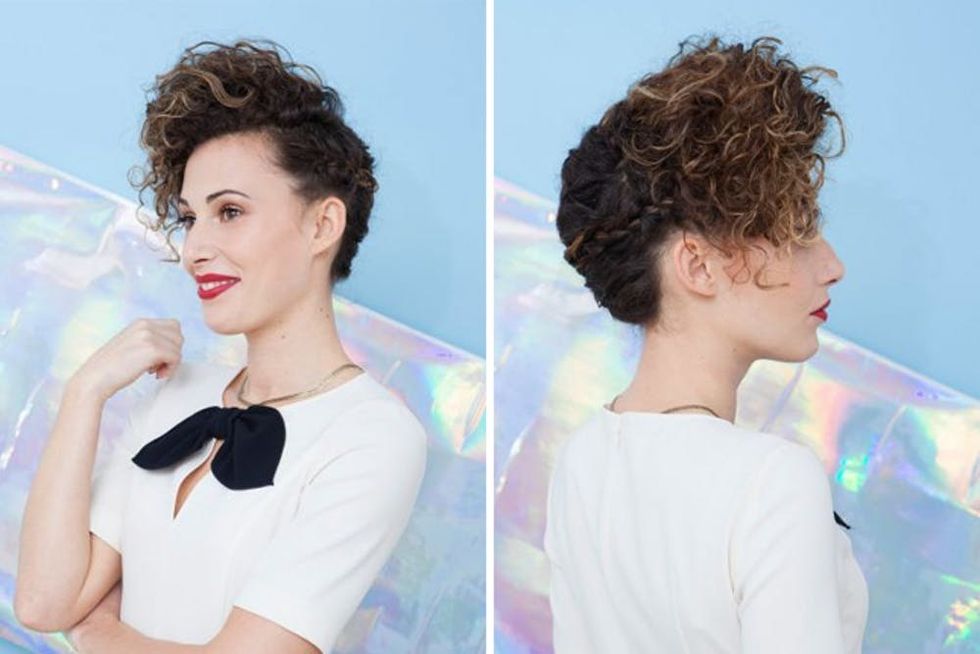 11. The Braided Bouffant: This updo goes out to all the curly haired ladies. We love the height you get from this tousled style—it's a hip way to show off those ombre locks! (via Refinery29)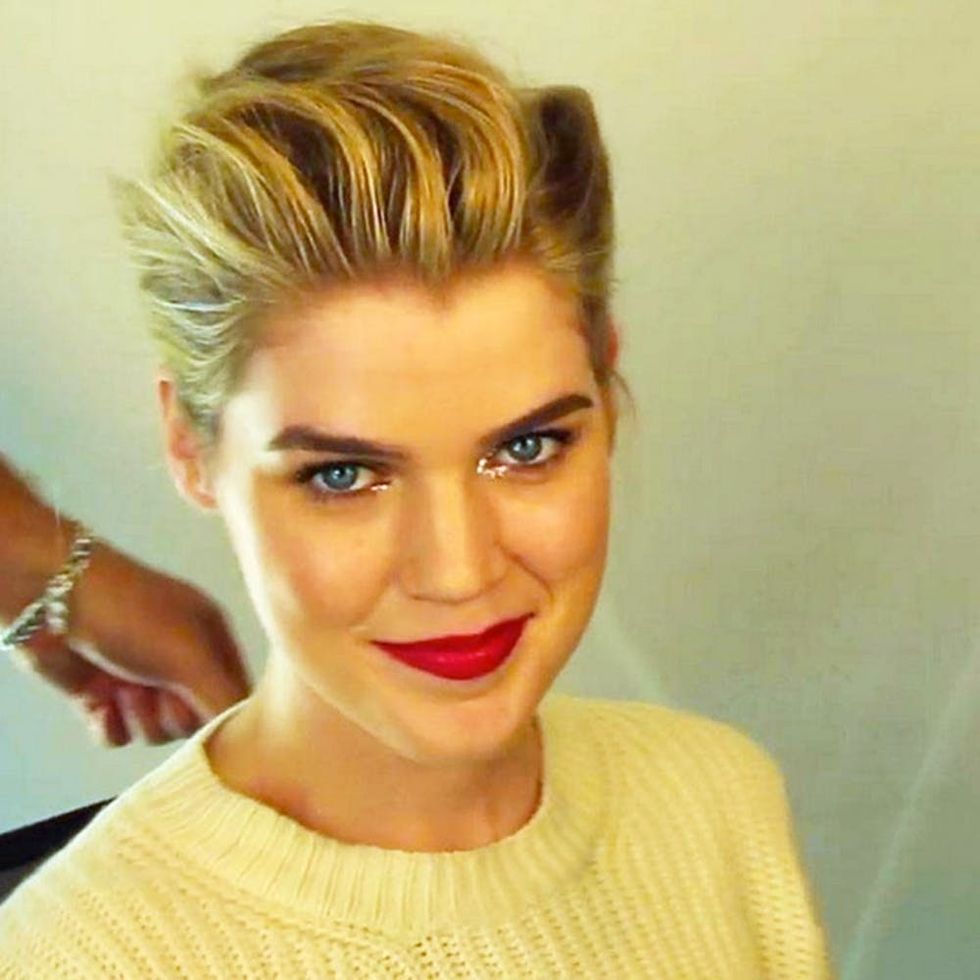 12. Mad Men-Inspired Updo: First off, who doesn't want to look like they stepped straight off the Mad Men set as you enter your bumpin' bash? Second, this tutorial is composed of GIFs. We'd like to thank the Internet for this perfect moment. (via The Cut)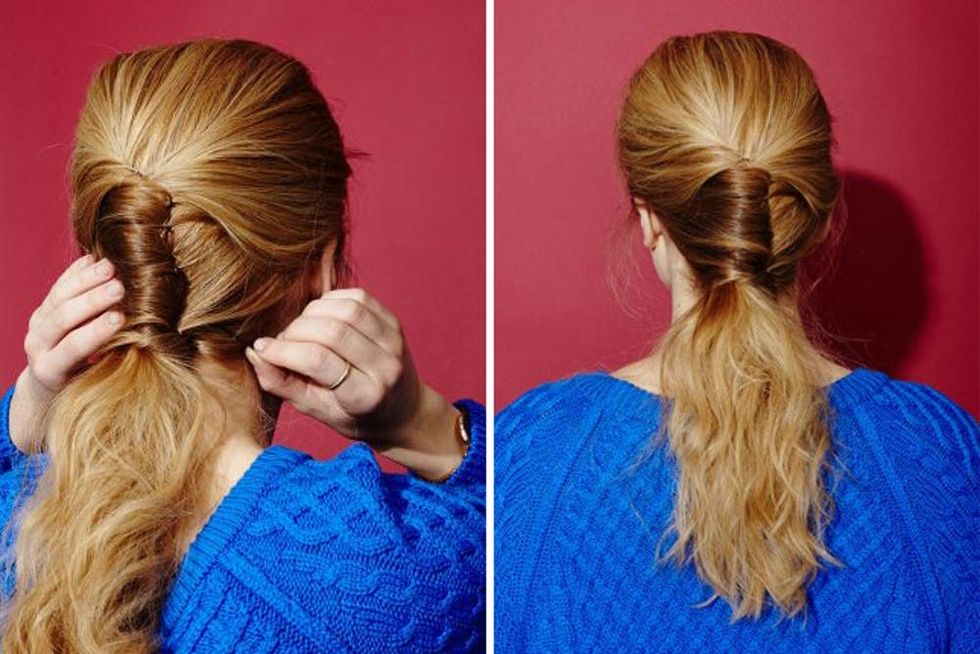 13. French Twist Ponytail: This 'do proves that you don't have to take it high to have a happening updo. The vertical twist adds an eye-catching element to this brushed back style that works great on second day hair. (via Refinery29)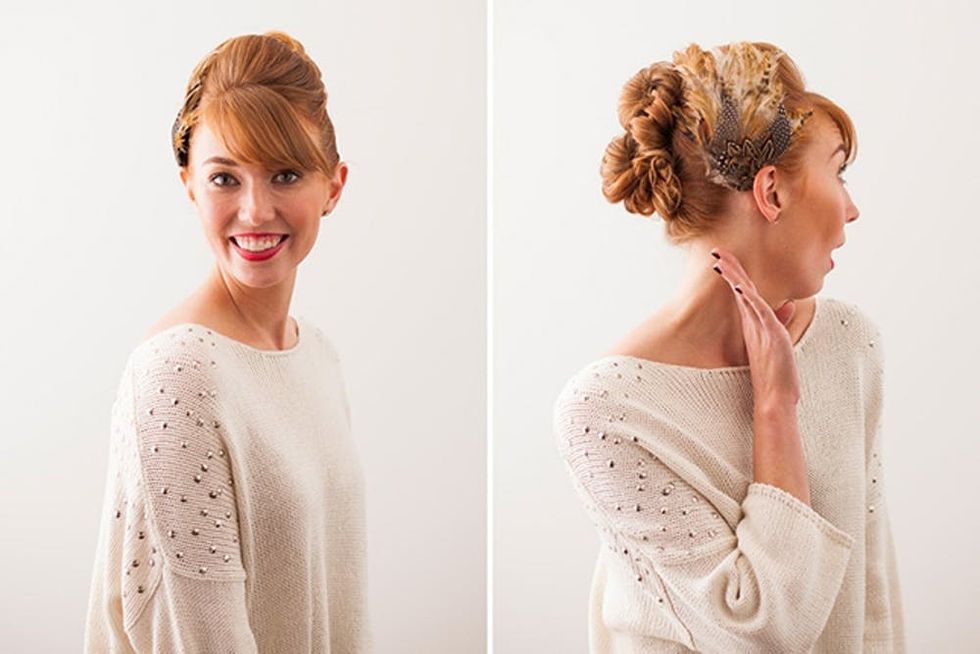 14. Feather Faux Hawk: This hybrid hairstyle features a trio of twisted buns that create a sort of faux hawk past the plump pompadour. The intrigue is undeniable, especially when coupled with a feather-filled hair pin. (via Brit + Co.)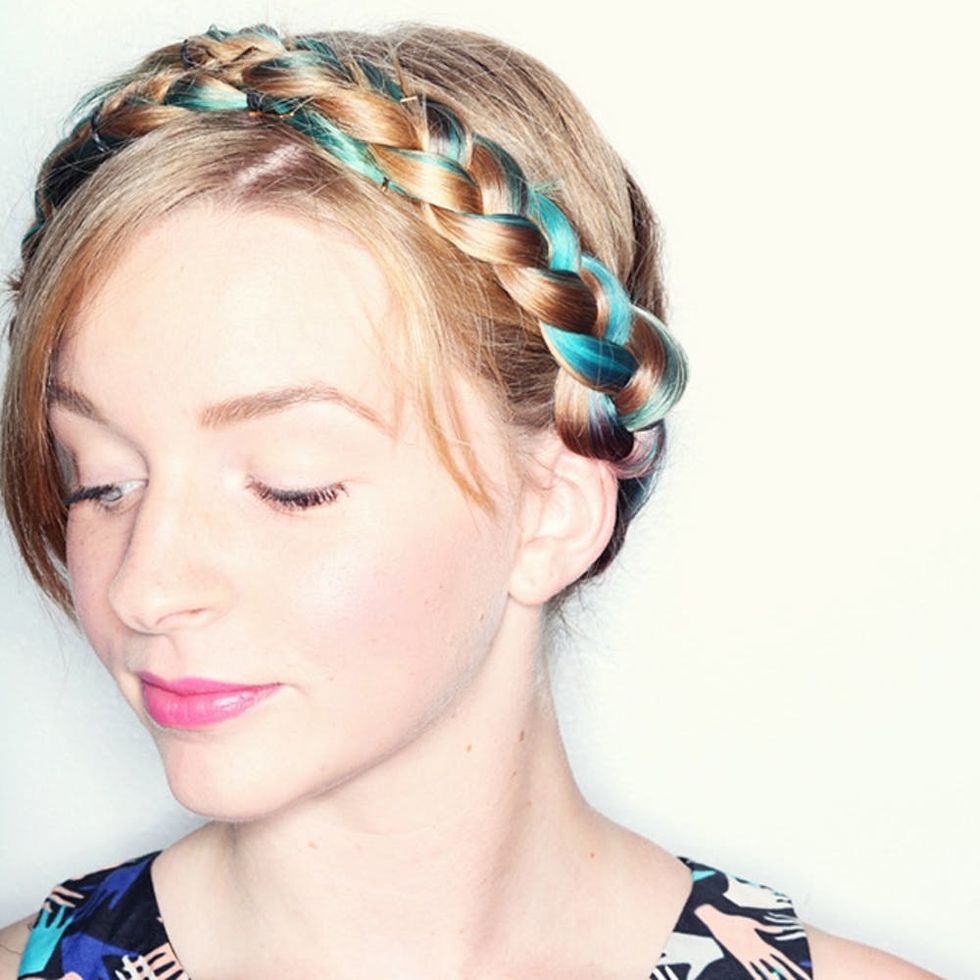 15. Milkmaid Braids: Yes, this is your standard milkmaid braid tutorial, but just take a look at how the 'do looks on a two-toned head of hair—it's pretty amazing, and we're itching to try it out! Thankfully, we have an ample supply of hair chalk to help facilitate a striking contrast color. (via Keiko Lynn)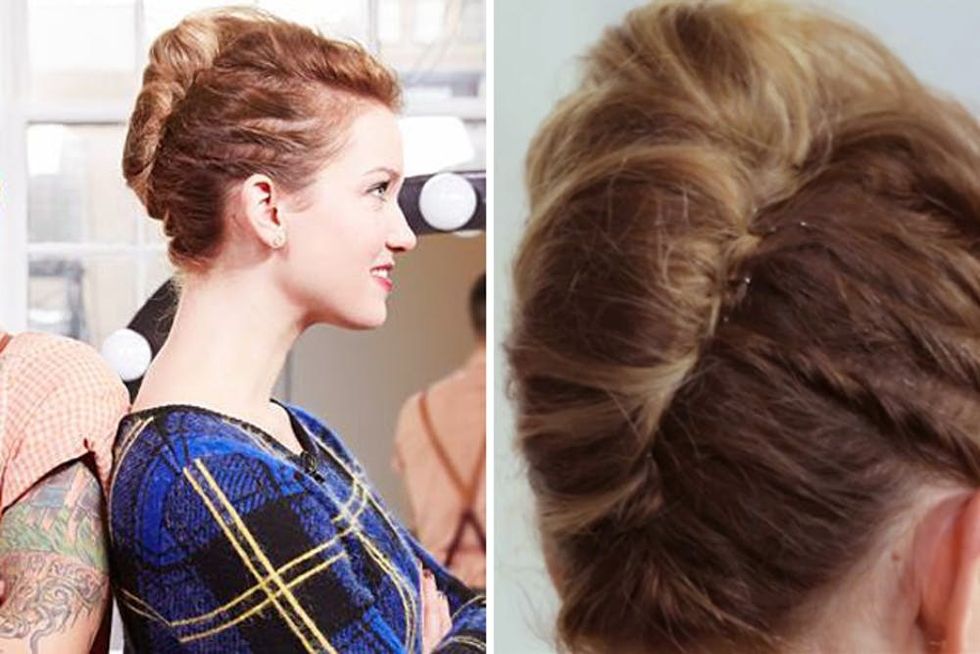 16. Not Your Mother's French Twist: Leave it to the beauty babes at Refinery29 to put a twist on the classic French twist and totally nail it. A tousled top adds dramatic volume to make this look party-ready. (via Refinery29)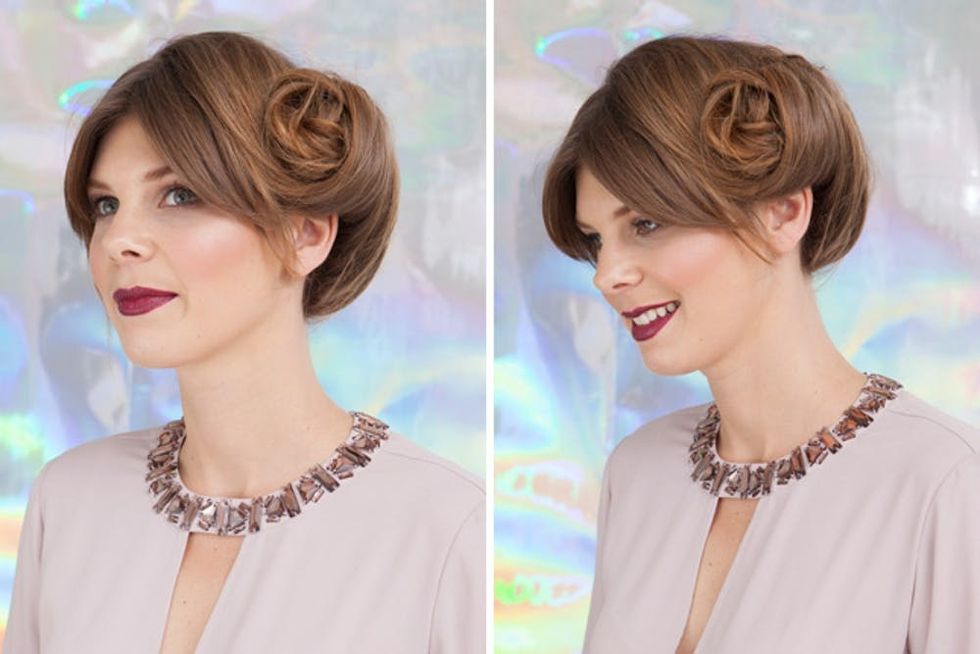 17. The Side Roll: This pinup-meets-modern-day updo is really something to behold—if you ask us, it's hands down the most elegant look on our roundup. To make this look long-lasting, insert bobby pins in a criss-cross shape to hold it securely in place. (via Refinery29)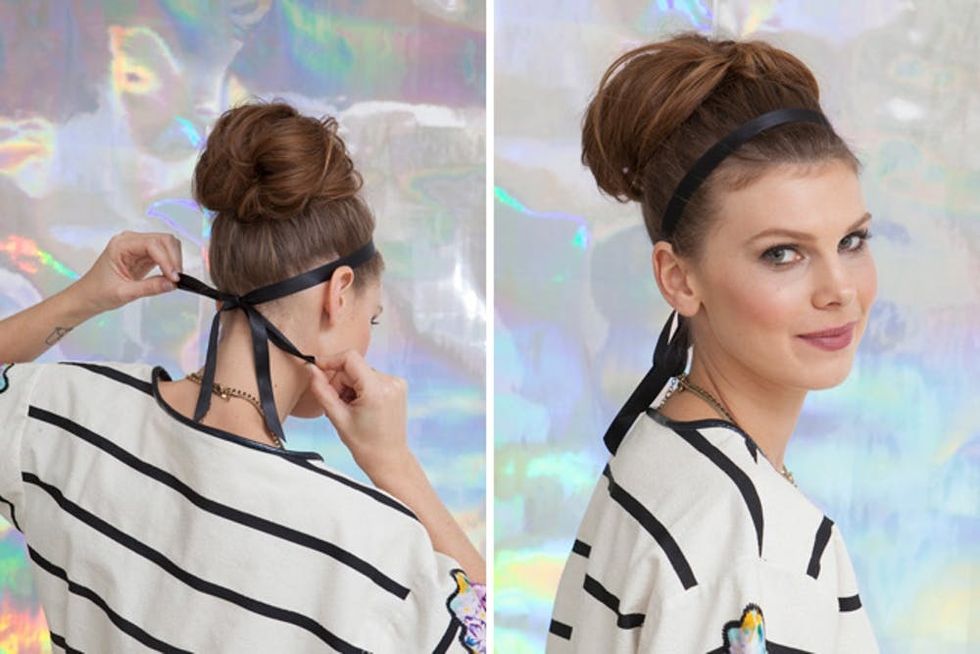 18. The Badass Catherine Deneuve: We'd never say no to a satin bow, not even in our hair! It adds such a polished touch to this loose, oversized bun. (via Refinery29)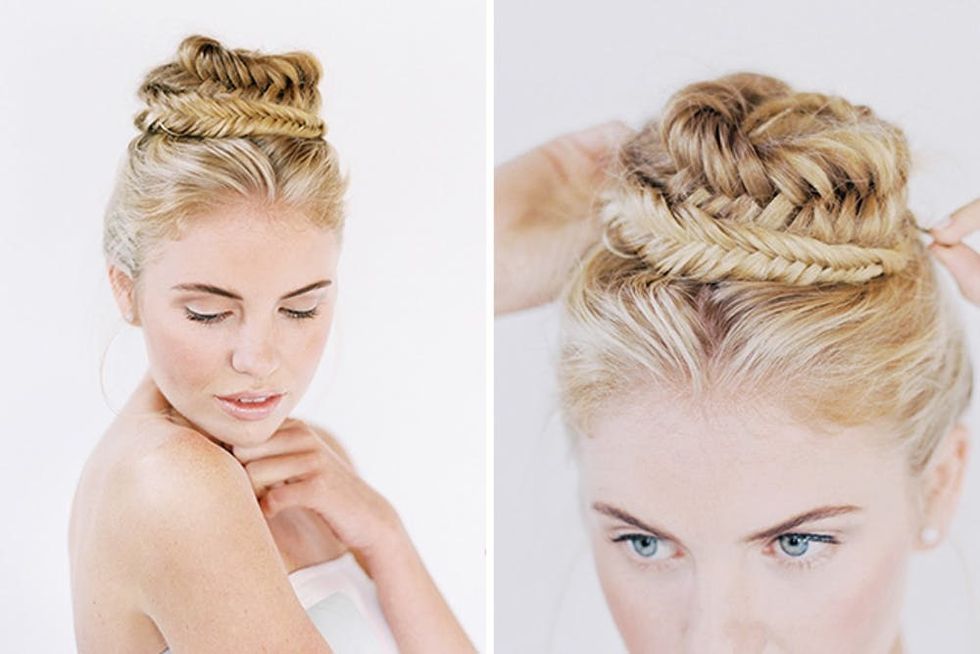 19. Fishtail Bun: Holy smokes. This is it. Love at first sight with this fishtail bun. This super chic hair hack has us hopelessly head over heels. (via Snippet & Ink)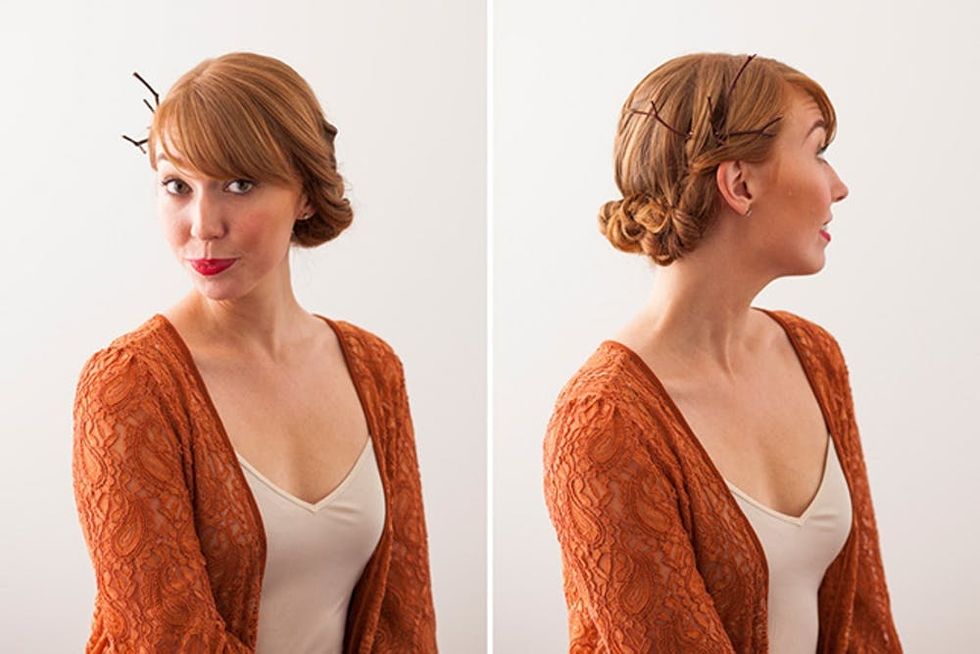 20. Braid, Twist, and Branch: We'll end this roundup with a romantic hairdo that's made up of three softly-twisted and braided buns. For extra festive flair, add in a gilded tree branch. (via Brit + Co.)
What are your party plans for your hair? Is an updo a no-brainer for a holiday bash? Talk to us about your holiday style in the comments below!