Everything You Need to Know About Wearing Glitter Makeup
Dec 25, 2015
A lot of times, our go-to makeup looks tend to be an all-natural, keep-it-simple vibe that can work for a number of occasions without much touch-up. But what about those moments when we want to spice it up a little, like on a GNO, at a summer festival or during the holiday season? That's where glitter comes in. The sparkle is beyond intriguing (ooooh!) and the instant glam of it all — you just can't get that with any other product. But glitter can be intimidating because of the mess that usually (okay, pretty much always) comes along with it. So here, I'm sharing all I know about glitter to better equip you to experiment with the sparkly stuff and get the looks out of it you really want. From the types of glitter to the right tools to best apply it with to how to make it last the longest while looking as vibrant as it can be, here are the basics you need to know about wearing glitter makeup: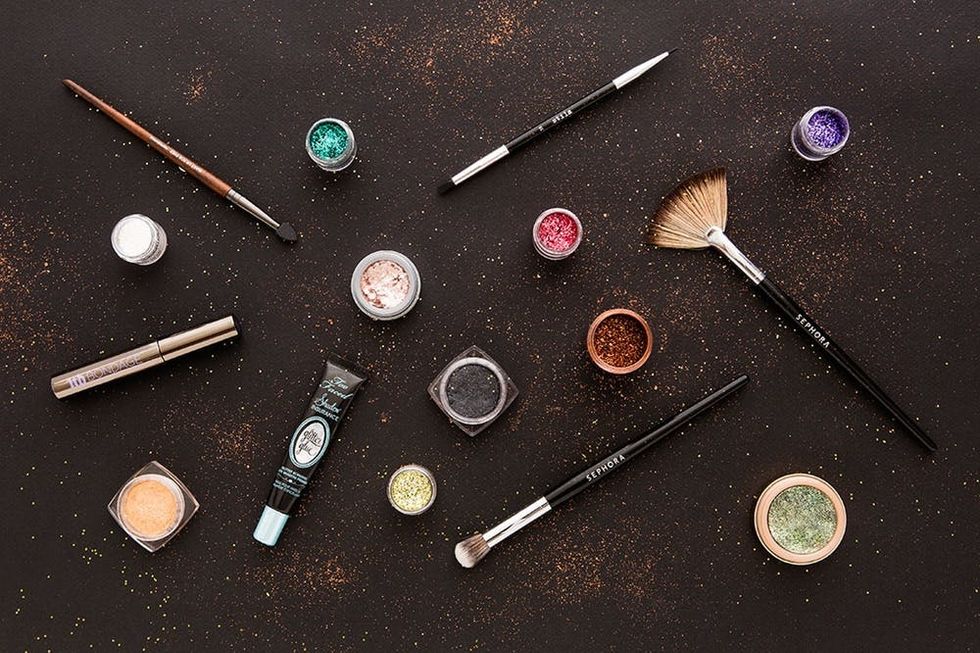 ---
Depending on the longevity, depth and overall vibe you're going for, you need to know the differences between the types of glitters, primers and tools you can use to get your desired look.
Types of Glitter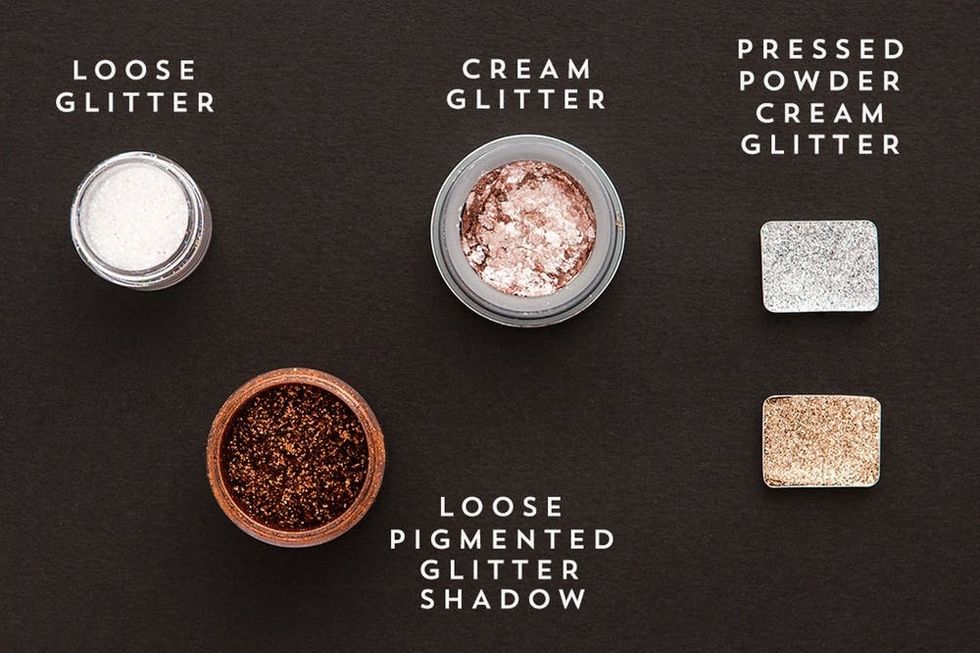 Loose Glitter: Loose glitter is just a vial of colored glitter that does not have any pigmented shadow mixed into it. This formula can work alone or be layered over an eyeshadow to enhance the vibrancy or color of the glitter specks. Even though this looks similar to the craft glitter you used in school, be aware that it is not the same thing. In fact, using glitter that is not approved as safe for your face, skin and eyes can be really dangerous and cause cuts on your skin and eyes — so don't do it!
Loose Pigmented Glitter Shadow: This is similar to the loose glitter except it also has an eyeshadow pigment mixed in with the glitter specks that will give more natural-looking hue.
Pressed Powder/Cream Glitter: Typically this is a hybrid of powder, cream and glitter.
Cream Glitter: This formula contains only a cream with glitter in it. While one may think that this is easier to use, it can get a little chunky if not applied properly.
Primer vs No Primer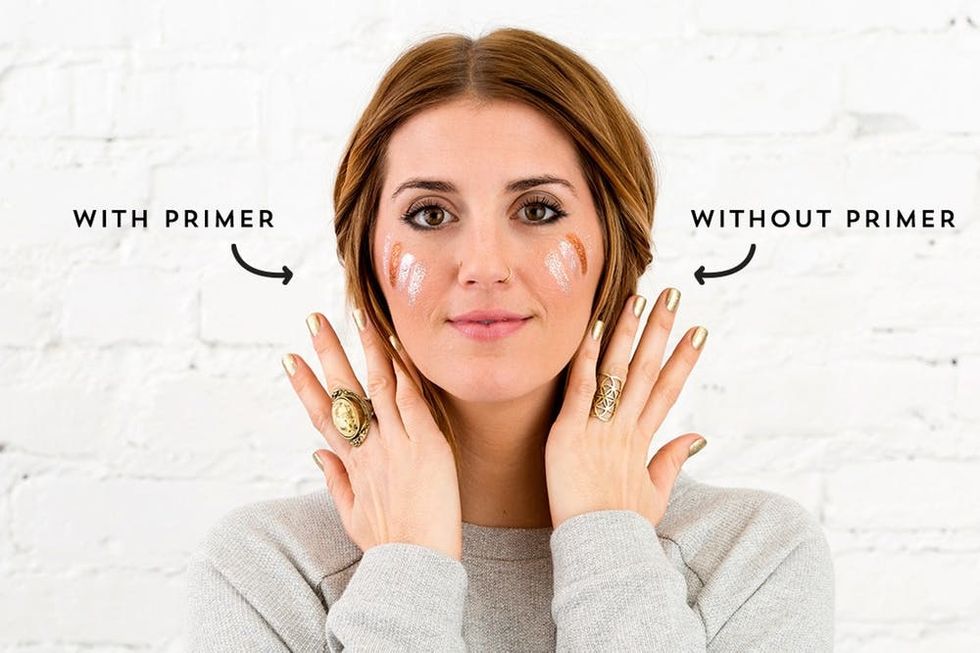 No Primer: You can apply glitter directly to your skin without anything underneath, but you may have a difficult time keeping it on. If you want a more random, very subtle look, then you can apply any of the glitter types mentioned above to your skin directly. If nothing else, you at least want to use your foundation or tinted moisturizer as a base for your glitter to adhere to. This will give you a step up from using no primer at all.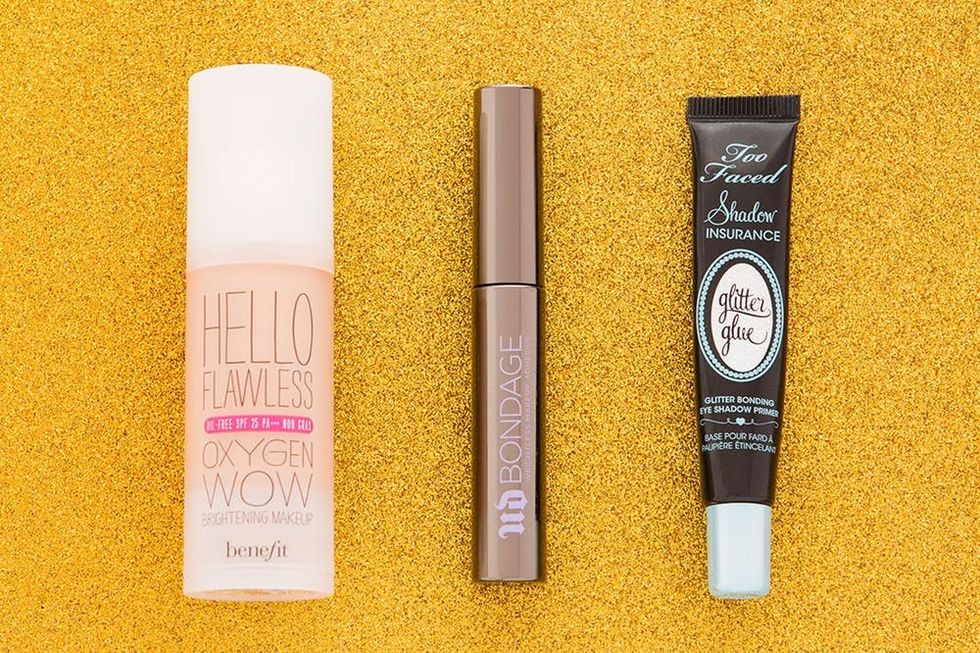 Primers: The two glitter primers that I swear by for different reasons are Too Faced Shadow Insurance Glitter Glue ($20) when you want a more general placement and Urban Decay Bondage Weightless Makeup Adhesive ($14) when dealing with a more focused look. These primers will not only hold the glitter in place, but will also help the pigment and depth of the glitter pop!
Glitter Application Tools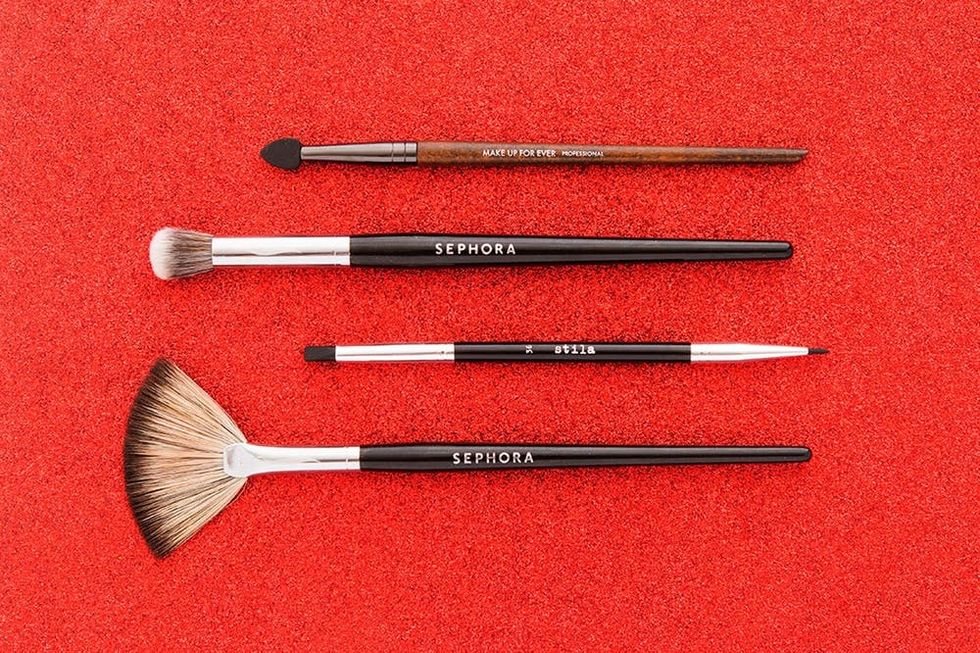 Your fingers are actually a really great way to apply all of these glitter formulas! It is challenging to get precise placement with your fingertips though, so you will want to look into these brushes if you decide to go for a more strategic look.
Stila Magnificent Metal Double-Ended Eyeliner Applicator #36 ($18): Even though this says that it's designed for a specific product, I can attest that it works well with cream glitter formulas. It is not as good to use when applying loose glitter or pigmented powder glitter.
Make Up Forever 224 Silicone Applicator ($16): The pointed silicone applicator is designed to catch any loose powder or glitter so it goes precisely where you want it without making a huge mess. This is great to use to stipple the loose powder or pressed powder glitter into place.
Make Up Forever 120 Medium Powder Brush ($25): Because this brush is fanned out and super light, it makes applying loose pigmented powder glitter and the loose glitter to your face and eyelids really easy.
Sephora Collection Pro Airbrush Concealer Brush #57 ($24): Don't be deceived by the name — this brush is great to use to pick up the pigment and loose glitter powders to tap onto a larger space like your eyelids when doing a smokey glitter eye.
Congrats! You just graduated glitter 101 and are ready to jump in and play! These simple tips and hacks will make playing with your makeup so much fun and more attainable. Have fun and don't be afraid to break the rules, or reinvent them rather.
Show us your favorite glitter products by tagging us on Instagram!
Misty Spinney
Misty Spinney is a hair stylist, makeup artist, and fashion stylist with a strong background in design and deep passion for creativity.