6 Authors Share How They Beat Writer's Block
Nov 26, 2017
You've already devoured the books on November's reading list, leaving you more determined than ever to write your own. But you're stuck, and you're not sure if it's the familiarity of your desk or the constant distraction of social media that's seemingly perpetually stunting your creativity. We're here to tell you that even the best of the best experience writer's block and that unmanageable ideas can still become a publishable piece of work. Six authors shared with us their solutions to this slump.
1. Walk it out. Gisela Hausmann cites Friedrich Nietzsche, who once said, "All truly great thoughts are conceived by walking." Hausmann, the woman behind The Little Blue Book for Authors, says a five-minute stroll is all she needs. Once ideas start flowing, she pulls out her smartphone to record herself as they appear.
---
2. Turn to technology. Crystal Henry, author of Naked Salsa, shares that the mindlessness of social media distracts her to the point of subconscious creativity: "My best writing ideas and creative thoughts come at night when I'm cruising Facebook or just about to doze off." Procrastination can perhaps be productive after all.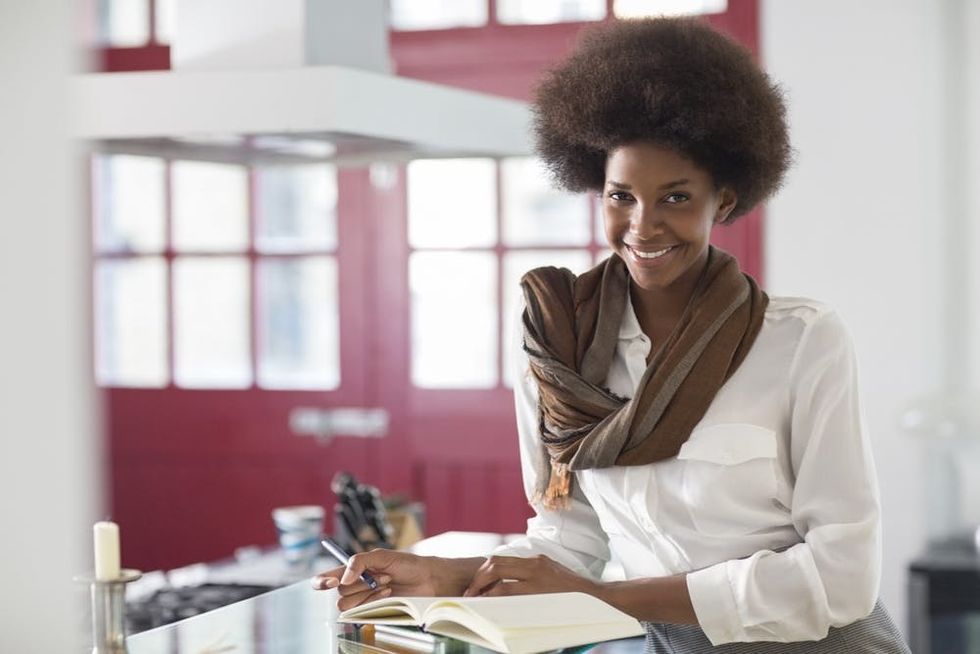 3. Turn off technology. Joy Jones, whose most recent book is Private Lessons, tries the opposite tactic to Henry's. She suggests avoiding going online, watching TV, and even reading (a scary thing for writers, we know!). "It's amazing how many useful thoughts you get when your brain is not occupied with other peoples' thoughts," she remarks.
4. Think happy thoughts. This one may be easier said than done, because as author Carrie Aulenbacher notes, we are all our own worst critics. When she's struggling, the writer of The Place Between Places and The Early Bird Cafe recites mantras to herself, such as, "I will finish writing this book," or, "I am good enough to write this book." As Aulenbacher explains, "When nobody else will tell me, I tell myself."
5. Pace yourself. Nancy Gaines, who contributed to Success from the Heart, writes in what she calls "sprints." This strategy involves writing continuously for 50 minutes and then taking a 10 minute break — regardless of how "in the flow" you are. By allotting time for breaks, you'll ensure you don't get burnt out.
6. Write anyway. Amber Fallon, writer of, most recently, TV Dinners from Hell, advises this tough-love approach. She will type up lists of her favorite foods, places she's lived, etc. just to keep her fingers moving until she can begin producing content for the project she's working on again. "Waiting around for 'the muse' is a sure way to never write a thing," she states.
Tweet us your suggestions for how you power through when your creativity is stuck in a rut @BritandCo.
Brit + Co may at times use affiliate links to promote products sold by others, but always offers genuine editorial recommendations.
(Photo via Getty)
Annamarie Higley
Annamarie is a Californian who's been plopped in the middle of Missouri for her undergraduate studies in magazine journalism. She's a hiker, an eater, a lover of words. In her opinion, nothing beats a well-made breakfast sammy or a well-crafted sentence.
Creativity
We all have a million dollar business idea (or 2...or 3…) that we think *someone* should do. Why not you? Part of the motivation for Brit + Co's new interactive business course Selfmade is to help women develop their business idea into an actual living/breathing/thriving business. But it's also a way to figure out what that idea is. Maybe you have a few ideas, or need to refine a really good one, or maybe you have something with potential but just need to brush up on the business side of things. Well you're in luck. Thanks to Office Depot, we're here to share a quick recap on how we're helping our students figure out how to pick an idea and run with it. Feeling a little Selfmade fomo? Check out these tips for knowing if your idea is fully baked.
<p><strong>Know your audience:</strong> Who are they? Where are they? And what pain point are you trying to solve for them? "How would you define who that audience is?," said Brit Morin during this week's session. She goes on to suggest you develop a persona of your core customer: What's her name? Does she have children? Have visuals of who she is and what her day looks like and what she thinks about every day. "A lot of times I see businesses fail to scale because they're just trying to serve everybody and are very generic," adds Brit.</p><p><strong>Understand your market:</strong> How big is the market you're targeting? Is it growing? You can find market reports online for anything from weddings to babies. Does your business have potential for repeat business? For example, a wedding client will likely (hopefully!) only need you one time so how do you plan to grow? Will you target the same client or will you evolve your services to cater to that changing demographic? Martha Stewart is a business that evolved with her audience while most fashion mags stay focused specifically on 20- and 30-somethings for the long haul.</p><p><strong>Level up your business idea:</strong> What's your twist? Think about what differentiates you from your competitors. For example, if you're a photographer, maybe you focus on newborns and hook up with a maternity ward or sell seasonal packages. Brit talks about <a href="https://punkpost.com/stories/about-us" target="_blank">Punkpost</a>, created by Alexis Monson, a Brit + Co alumni who, instead of selling greeting cards in a dying snail mail market, she created an online marketplace for greeting card designers. How does your business stand out in your market's crowd?</p><p>Committing to an idea is hard, and SO exciting. Once you've figured out your direction, Office Depot OfficeMax can help turn your idea into a reality with a full suite of<a href="https://www.officedepot.com/cm/services/office-depot-services?cm_mmc=bl-_-aq-_-url-_-bc&amp;cm_mmca1=internal&amp;cm_mmca2=uf&amp;utm_source=blog&amp;utm_medium=social&amp;utm_campaign=bc_na_url_internal_uf_aq&amp;utm_content=tea_na&amp;utm_term=tea" target="_blank"> business services</a> &amp; solutions to help you &amp; your business succeed. From<a href="https://www.officedepot.com/cm/print-and-copy/print-services?cm_mmc=bl-_-aq-_-url-_-bc&amp;cm_mmca1=internal&amp;cm_mmca2=uf&amp;utm_source=blog&amp;utm_medium=social&amp;utm_campaign=bc_na_url_internal_uf_aq&amp;utm_content=tea_na&amp;utm_term=tea" target="_blank"> print &amp; copy services</a> to help build your brand to products to help you<a href="https://www.officedepot.com/cm/multi-category/work-from-home?cm_mmc=bl-_-aq-_-url-_-bc&amp;cm_mmca1=internal&amp;cm_mmca2=uf&amp;utm_source=blog&amp;utm_medium=social&amp;utm_campaign=bc_na_url_internal_uf_aq&amp;utm_content=tea_na&amp;utm_term=tea" target="_blank"> work from anywhere</a>, learn about all the ways they can help<a href="https://www.officedepot.com/cm/marketing/small-business?cm_mmc=bl-_-aq-_-url-_-bc&amp;cm_mmca1=internal&amp;cm_mmca2=uf&amp;utm_source=blog&amp;utm_medium=social&amp;utm_campaign=bc_na_url_internal_uf_aq&amp;utm_content=tea_na&amp;utm_term=tea" target="_blank"> businesses</a> like yours, accomplish more.</p>
Lifestyle