Hidden Gems That Will Prove Iceland Truly Is a Magical Place
Jun 30, 2018

Iceland is a country of dramatic extremes and beautiful natural wonders — where else can you explore an ice cave and relax in a natural hot spring in the span of a few hours? It's no wonder the Land of Fire and Ice has topped many travel bucket lists given its built-in adventure, wellness retreats, and otherworldly landscapes.
---
If you've been itching to experience Iceland yourself, there's no better time to do it. Summer can bring 24 hours of daylight and hours-long sunsets, and affordable flights and stopover programs have made visiting the tiny island easier than ever. Icelandair's Stopover program, for instance, offers travelers on their way to Europe a free stop in Reykjavík for up to seven days with no additional airfare, ideal for piggybacking another vacation onto your existing one.
Beyond the popular and Instagram-worthy (read: touristy) Blue Lagoon and Game of Thrones filming locales, the country is full of hidden marvels just waiting to be discovered. Here are three seasoned travelers who share their best off-the-beaten-path tips.
For Adventure Seekers
Guadalupe Laiz is an Aspen-based photographer who first visited Iceland four years ago on a five-day stopover on her way to Paris, and she immediately became captivated by the island and the Icelandic horses that roam it. Eight trips later, she is now working on a coffee table book profiling the majestic animals, Horses of Iceland, along with the country's official organization (also named Horses of Iceland). She is also starting a photography workshop in Iceland in the fall, helping others capture awe-inspiring sights through a camera lens.
For Laiz, the appeal of Iceland is in its uniqueness. "The landscapes change everywhere you go. In a five-hour drive, you can see waterfalls, icebergs, volcanoes, glaciers, everything. I personally love the people there… They're very true to themselves. And they take pride in being Icelandic. It's something beautiful to see, and everyone helps each other there."
A five-day trip, says Laiz, is enough to just scratch the surface. To truly make the most of a vacation, she recommends spending more time and renting a good 4×4 vehicle to camp along the way and navigate the rough roads. Route 1, or the Ring Road, will take you all around the island, but off-roading inland will let you explore further. Prepare with GPS and apps like TripBucket. You'll need to drive slowly and be patient, but it's a tiny island, so "it's super-easy to get everywhere." Here are her four must-sees.
1. Visit Landmannalaugar. Landmannalaugar, also known as the People's Pools, is a mountainous area with an abundance of natural geothermal baths in the center of the island. "GPS will tell you 1.5 hours [to get there], but it will actually take you 2.5 because the roads are crazy," Laiz says. But once you've made it, you'll be rewarded with plenty of hiking opportunities and natural hot springs. Laiz calls it "the most insane place I've ever seen in my entire life," similar to Rainbow Mountain in Peru, where there are multi-colored peaks. Note to travelers: Landmannalaugar is a place that requires camping. "There are no hotels there; you have to go for an adventure," she says.
2. Walk the glaciers. There are a number of glaciers in Iceland, with Vatnajökull being the largest, covering eight percent of Iceland's landmass. Langjökull, the second largest, has a man-made tunnel that gives visitors the unique experience of exploring the inside of the glacier. Laiz cautions that no one should go without a tour guide, as glaciers can be extremely dangerous. To uplevel your experience, she recommends trying to learn a bit of ice climbing.
3. See the Icelandic horses. Naturally, Laiz is an advocate for visiting the infamous horses, which she says are charismatic, colorful, strong, and friendly. "They'll come to you; they want to be near people," says Laiz. Though they are shorter than most horses, they are still considered horses and not ponies. (The word "pony" does not exist in Iceland.) The best places to see the horses? "Everywhere." There are breeders throughout the country — high-end competition horses can cost up to 500K euros and are exported to Europe and the US — and there is a huge breeding farm called Selfoss in the South. Riders of all levels are welcome.
4.See an ice-filled beach.Jökulsárlón Glacial Lagoon, in the south of the island, is a lagoon formed by naturally melting glacier water. The nearby black-sand beach has giant ice chunks on the shore, which has earned it the nickname of Diamond Beach.
For Wellness Buffs
Tessa Torrente is a travel writer and photographer who is constantly looking forward to her next trip by asking, "Where to next?" In 2015, Torrente and her then-fiancée, now-husband decided to get creative with their wedding photos by incorporating their mutual love of travel. Carrying wedding outfits in backpacks, they scouted locations all over Europe and snapped some of the most incredible images you'll ever see. Torrente now writes about budget and solo travel and has traveled extensively all over the world.
1. Find the hidden hot pots. Due to the island's volcanic activity, hot pots, or geothermal hot springs, can be found all over the island. "The most famous of Iceland's hot pots is the Blue Lagoon, which has become overcrowded, 'touristy,' and expensive," says Torrente. "But there are many smaller and quieter pots dotted all around the country — most being right off the Ring Road. The best ones are strategically hidden by a boulder or natural cliff, so you have to know where you are going ahead of time. I used Hot Pot Iceland to find a ton of them while driving."
Torrente's favorite hot pot is Fosslaug, on the edge of Reykjafoss waterfall, near the town of Varmahlíð. It can be difficult to find, so she created a handy map. The hot pot is only 15 minutes off the main Ring Road, and then a short 10-minute hike from the parking lot. "Do be aware there is a gate you have to cross, but you are not trespassing. The gate is simply to separate the domestic horses owned by the nearby farm from the wild Icelandic horses that roam the countryside."
In addition to the stunning waterfall backdrop, Torrente says this hot pot is particularly cozy, especially on chilly days. "While most hot pots in Iceland range from fairly hot to lukewarm, this pot is an outlier. It is so hot that in one corner, the water literally bubbles from reaching boiling temperatures."
2. See the puffins. Iceland is the breeding ground for 60 percent of the world's Atlantic puffins. A bird enthusiast, Torrente found a spot to see puffins that is both free and away from the crowds. "Most travelers book (expensive) tours, which take you out on large boats to small islands surrounding Iceland. The sights are great but costly. Plus, some boats are so large they scare the birds away or you can't get too close to them. The spot I found — outside Egilsstaðir in East Iceland — is completely free (!!) and a natural nesting ground for puffins. The walkway was built into the land and does not disturb the birds, who make their nests on the cliffs. While I was there, I saw mothers feeding their babies from less than five feet away. Truly incredible. The actual puffin site is on a small island named Borgarfjarðarhöfn (again outside of Egilsstaðir), and you can view puffins there in June, July, and August."
3. Touch two different continents at once.Silfra is a fissure between the North American and Eurasian continents, caused by the shifting of the two tectonic plates, which are drifting apart at about two centimeters per year. Water from Langjökull glacier travels underground and is filtered through the lava fields into the crack, creating a crystal clear wonderland. Visibility through the icy blue water is over 300 feet, and incredible snorkeling and diving (wetsuit required) are possible year-round.
4. Take a nature-filled detour on West Iceland. Torrente also recommends heading to the Snæfellsnes Peninsula, which is off the main road but is worth the stop for the scenery. Highlights include Snæfellsjökull, a glacier-capped stratovolcano, which featured prominently in Jules Verne's classic sci-fi novel Journey to the Center of the Earth; the picturesque Kirkjufellsfoss, one of the most photographed waterfalls in Iceland; and Gatklettur, a naturally formed rock arch in the ocean.
For a Local Experience
Unnur Eir Arnardóttir is an Icelandair flight attendant who previously worked as a Stopover Buddy for the airline, a program that matched passengers with Icelandair staff to provide visitors a one-day local experience. Her hobbies include mountaineering, camping, cross-country skiing, and exploring the highlands of her native Iceland. She's also currently training to become a skydiving instructor.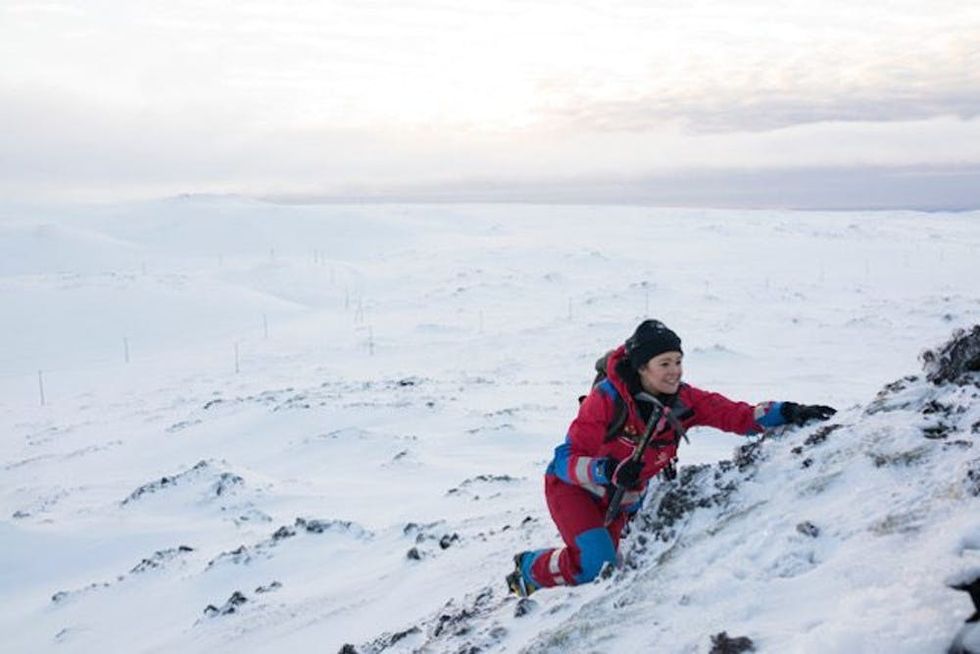 1. Start the day with a traditional breakfast. Arnardóttir recommends heading to the Mosfellsbakarí bakery in Reykjavík, a family business founded in 1982. The bakery is a favorite among locals and specializes in cakes, pastries, handmade Icelandic chocolates, and fresh coffee. (Photo via Icelandair)
2. Take advantage of the hiking right outside Reykjavík. You don't have to travel far from the capital to enjoy the great outdoors. Just 20 minutes outside of Reykjavík is Hengill, a volcano in the southwest area. The last eruption was about 2,000 years ago, but the volcano is still active, and the area that surrounds it has high geothermal activity. Near Hengill, you'll also find Þingvellir National Park, a UNESCO World Heritage Site (Silfra is located there) and where the world's first democratic parliament was established by the Vikings in AD 930.
Hikers can also head to Mount Esja, which dominates Reykjavík's skyline and is close enough for a day trip. The mountain is at almost 3,000 feet in height and provides amazing views from the peak.
3. Enjoy some seaside dining. In the Snæfellsnes Peninsula in the West, Hellnar is an old fishing village with a rocky beach; Valasnös, a freestanding rock formation; and the Baðstofa cave refracts light in a way to create a colorful interior. Fjöruhúsid Cafe is a tiny cafe located near the old harbor with homemade dishes like fish soup, fresh bread, pastries, and cakes. It's also an hour walk from the popular fishing village of Arnarstapi.
4. Do as the locals do. Arnardóttir says to address a local, always refer to them by their first name. "Icelandic people do not have a family name system like the rest of the world, so the first name is what we use both formal and informal. The last name is a combination of the father's first name (or less common, the mother's first name) with the ending -son for boys and -dottir for girls."
Her other tip is to avoid buying plastic water bottles. The tap water is naturally clean; "it has been filtered in the lava for decades," says Arnardóttir. "Icelandic people are very environmentally friendly, and most wouldn't ever be caught with a plastic bottle!"
What destinations are on your bucket list? Tag us in your travels on Instagram @BritandCo.
(Featured photo via @travel_wheretonext)
Lesley Chen
Lesley Chen is a California native who writes about travel, health/fitness, and other lifestyle topics. She has a serious case of RBF and exercises mainly to balance out an aggressive candy addiction.
Travel
Artist Dev Heyrana On How Bravery, Resilience and Sunshine Influence Her Work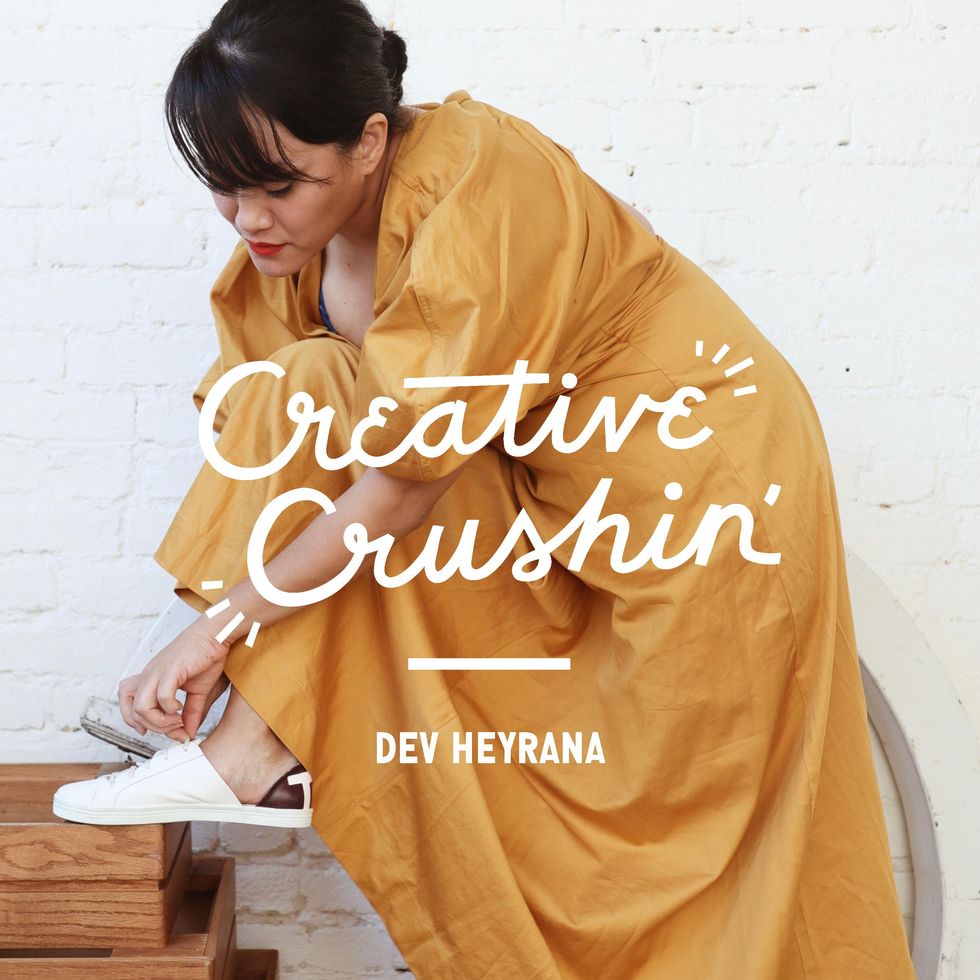 Ever meet someone who you feel immediate kinship with on a deep almost spiritual level? That is legit every person's experience upon meeting Dev Heyrana, the star of this edition of Creative Crushin'. A fine artist, hip hop dance teacher and constant collaborator, Dev's particular brand of creativity is one-of-a-kind. She manages to be warm, welcoming and woke, with a focus on inclusivity, social justice and motherhood that comes through in every piece of art she creates.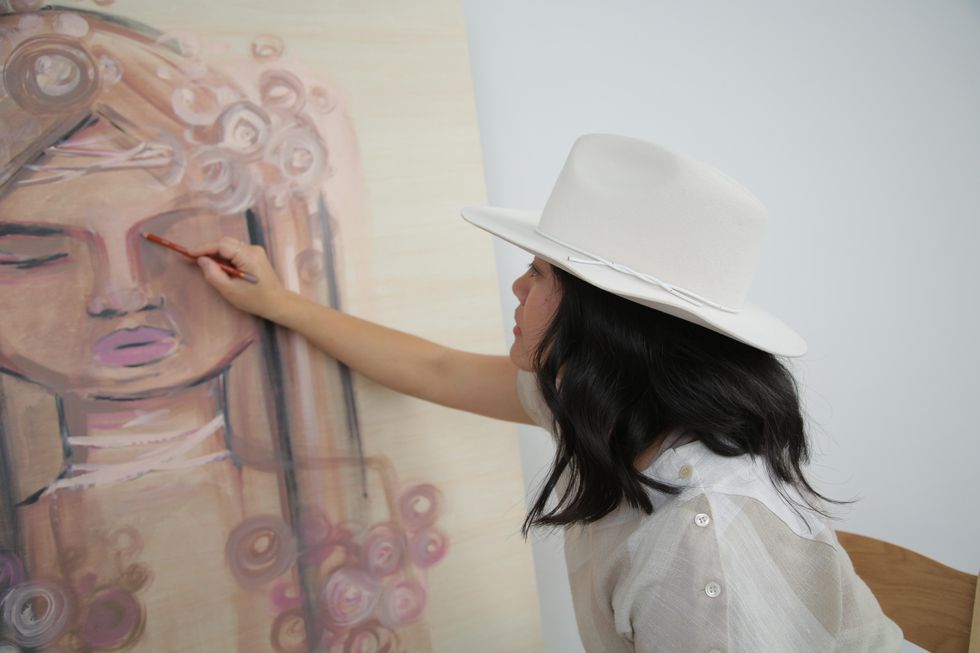 Anjelika Temple here, co-founder of Brit + Co and one of many humans who has benefitted from Dev's boundless generosity and kindness. We first connected at a launch event, then I asked her if she and her family would like to model for a B+C shoot (they did!), then months later, I asked the IG universe if anyone would be down to co-parent with me for a day so I could speak at a conference. Dev said yes! And for those that know her, none of these serendipitous moments are surprising.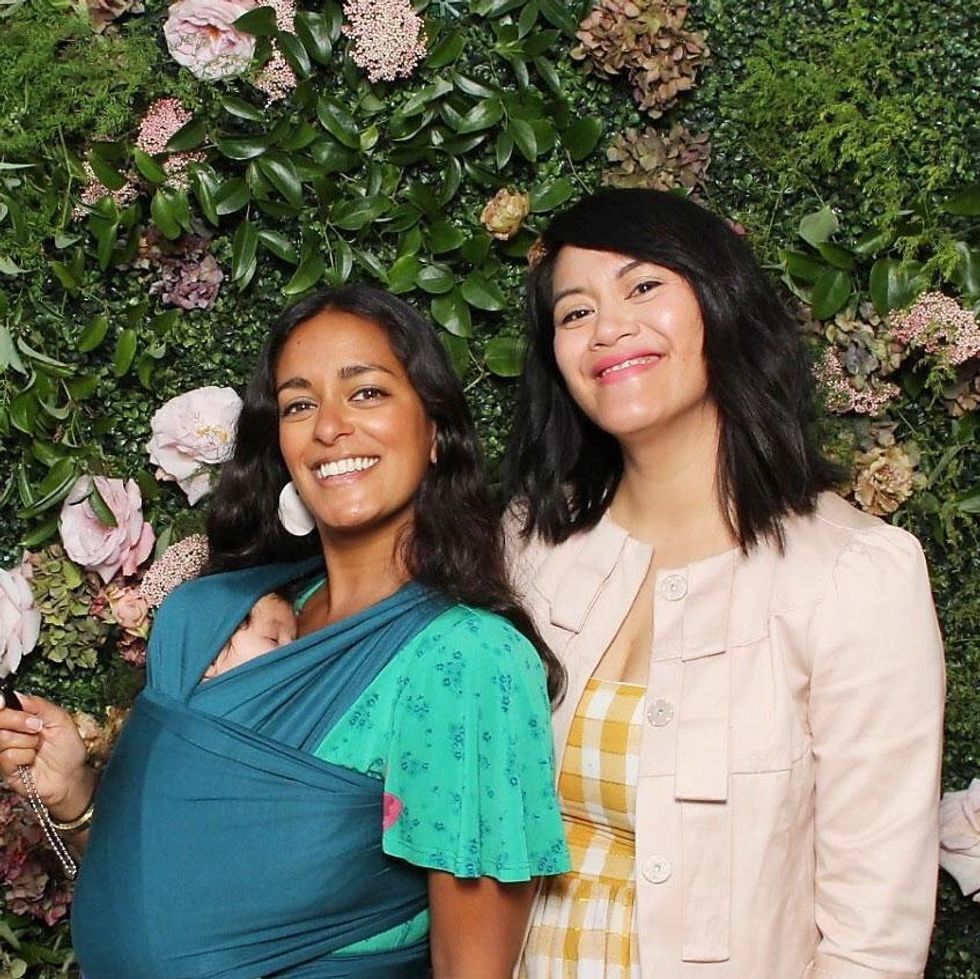 Now it's time to delve more into Dev's story, her creative inspiration, her thoughtful approach to parenting and what makes her more passionate than ever about bringing her point of view and artistic voice into the universe.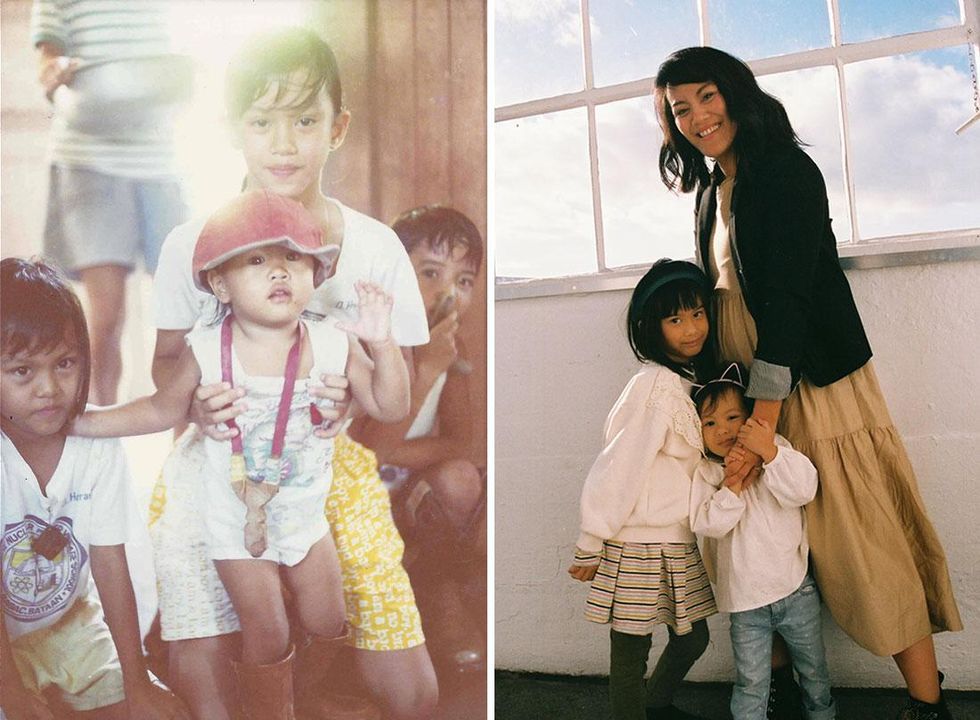 Anjelika Temple: First, foundations. Where did you grow up? What is your heritage? What did you study in school? Where do you live now?
Dev Heyrana: Born in The Philippines and immigrated to the U.S. when I was 9 years old. Me and my family are from the island of Cebu and I'm a proud Cebuana. My childhood in the Philippines felt like freedom. I had my swimsuit in my backpack for whenever we decided to swim and I biked everywhere.
Immigrating here at 9 yrs old was a transition, to say the least. My parents had big dreams but the move was heavy on them. It wasn't easy. I had to grow up fast. I took care of my sisters while my parents worked night shifts. By the age of 12 I would cook dinner and get my sisters ready for bed. Something I didn't realize was that kids my age didn't do those things until I got older. We would play these make-believe games to make, in hindsight, our hard situation brighter.
I think this is really when art played a big role in my life. It was something I could escape in and always felt healing.
I witnessed racism towards my family and didn't know how to make sense of it. These events left a mark. I was a quiet kid and observed everything and everyone around me. I think about my grandparents, Lolo Jose and Lola Rita, a lot as I walk through life. When I make decisions. As hard as it feels, you have two choices, do you let it take you down or take it one step at a time forward. I kept going and it really shaped me as to why I am the way I am today.
I studied Fine Arts at The Corcoran in DC. I owe that decision to my art teacher, Mr Giles, in High School. He was retiring and wore a Hawaiian shirt every day during my senior year. He was a curmudgeon and I felt incredibly special since out of everyone in the school he really believed in me. As grumpy as he seemed to the class, he would tell me things like "Go into the other studio and break some glass, then put it on a canvas." He's the reason why my abstract pieces have elements like clay and sand in them.
I've had incredible mentors and all were teachers. Mr. Giles in High School and Christine George in College. Christine was the one who told me to go either to New York or San Francisco because "D.C. is no place for an artist like you." She told me to not listen to anyone, how I can still paint, be a graphic designer, and, if I choose to, have a family. I've never had anyone tell me anything like that before.
I took a chance because of her. Moved and went to Design School in 2006 and I've stayed in the Bay Area ever since, raising two girls with the love of my life.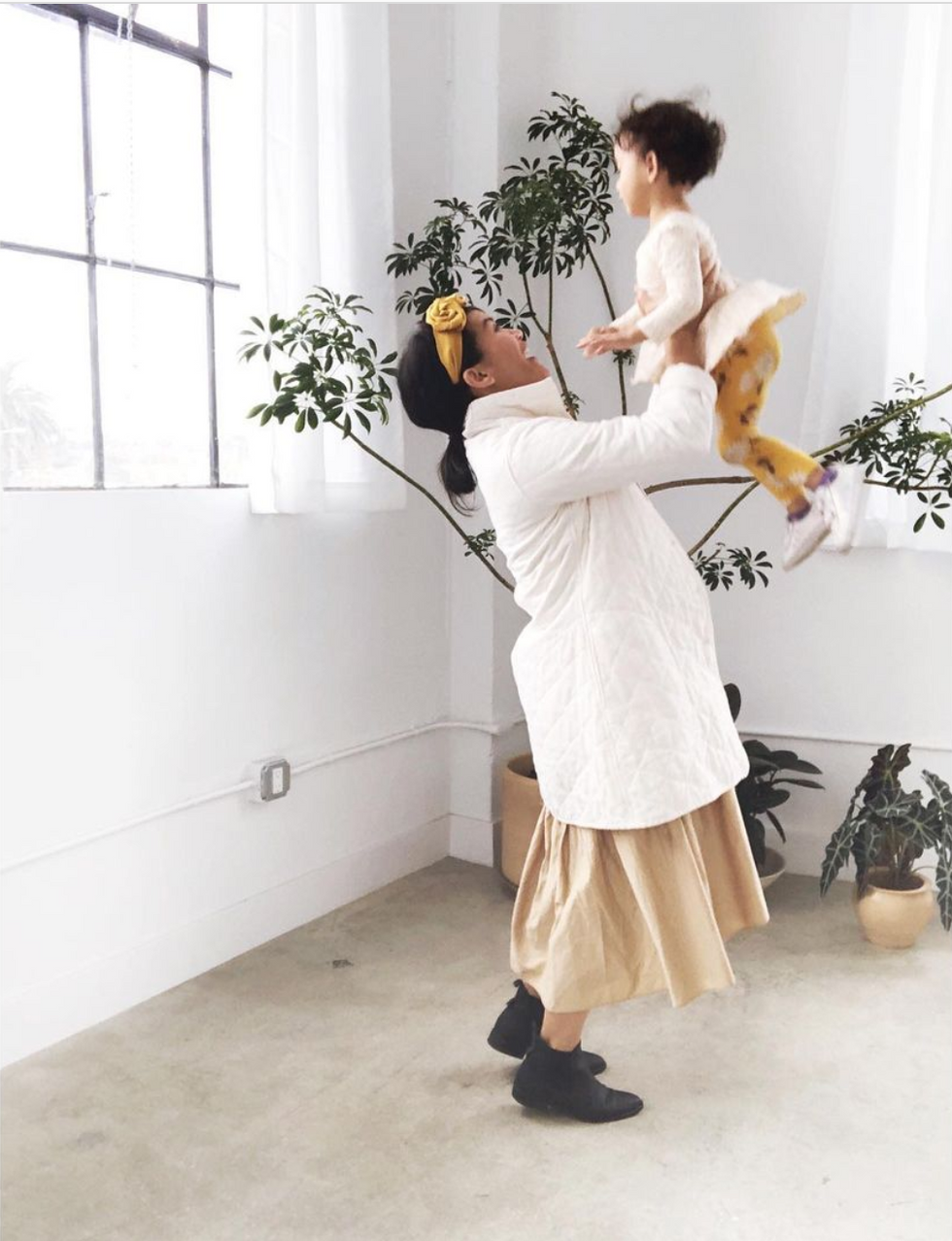 Anj: You are one of those magical human beings that has figured out how to be a full-time artist. What was your career path like before you were able to dive fully into your creative passions?
Dev: The most radical thing I could have done in my family, I did, I went to college for Fine Arts. A mix of being so young and having to do it on my own, I went with the school that gave me more scholarships. Even then I worked three jobs to be able to get through it. Hard work is ingrained in me.
With my sculpture background, I fell in love with Print and Packaging and why I came out here to San Francisco. I appreciated the security of having a career in Graphic Design. I also learned how to work with clients and the business side of things. Even then, I never stopped painting.
A few years ago I went through a pretty hard time with my health. I dealt with six surgeries in one year and I still have to do some follow-up ones. That experience almost broke me and what got me through was my family and painting in bed while I recovered.
When I finally got back on my feet, my heart just wasn't in Graphic Design anymore. So I made a two year plan. With a toddler and a mortgage, I wanted to make sure my steps were thought out. I put myself out there as an Artist while I still worked in Design. After a year I worked part time as a Graphic Designer and stepped down from my Creative Director position. I loved it, to be creative as an Artist and as a Designer. I looked at 2018 as my year to make the jump. If my work as an Artist balances out with my salary then I would quit in the Summer of 2019. And so here we are. I also am sharing a studio with my good friend, Naomi PQ, and I feel like my creative drive is just beginning.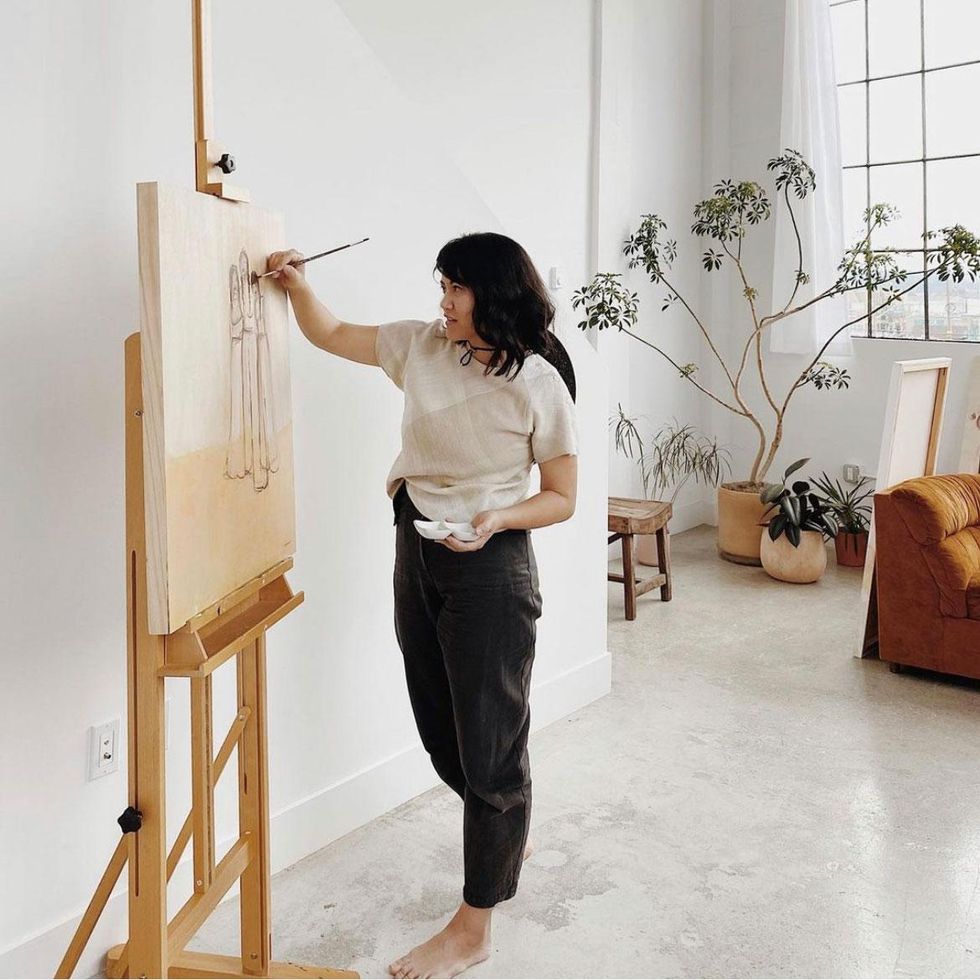 Anj: What do you love about painting? How do you feel when you're in a creative flow state?
Dev: Like every part of me is free. Free to express myself through the stroke of my hand. How all of it leads back to my heart. These elements I use to paint have a mind of their own and how I need to respect the process.
It centers me and reminds me that the process is just like the life we lead. I know I still have so much more to learn but while I'm painting no matter how it's going, I'll embrace this moment.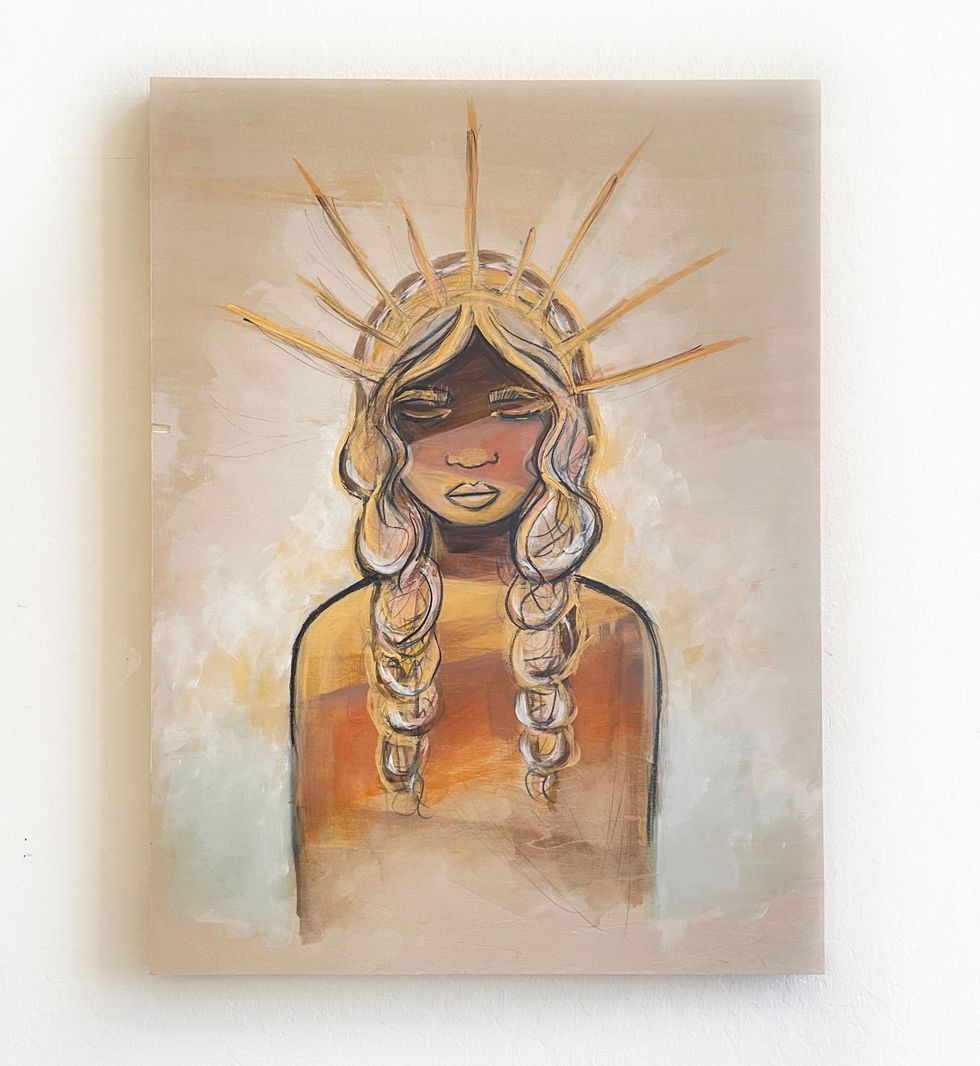 Anj: You reference your roots quite a bit in your work. Talk to me more about how your roots inspire your work.
Dev: One of my earliest memories is of my Lolo Jose teaching me how to water mango saplings. He converted to Buddhism when my mother was young, so he viewed the world with love and kindness. I didn't realize it then but watering those mango trees were life lessons. We need to take the time to nurture, practice patience, and respect all living things. I still imagine him walking beside me often, carrying his teachings as I find my way in this world.
Nature and the Sun drive my pieces. My abstract works are fragments of moments. Like the sunset I grew up with when I was seven years old in the Philippines, like how I saw the water in Cebu when I dove in as a young adult, and like when I saw the redwoods with my children for the first time.
I see earth in our skin and especially when I paint people. How our mango trees grew and blossomed because the dark earth was rich with nutrients. I imagine the Sun piercing through these women I depict. I paint their love and bravery because their resilience cannot be contained. I want to celebrate all of it.
This is the beauty of Art, I am able to paint exactly how I see it.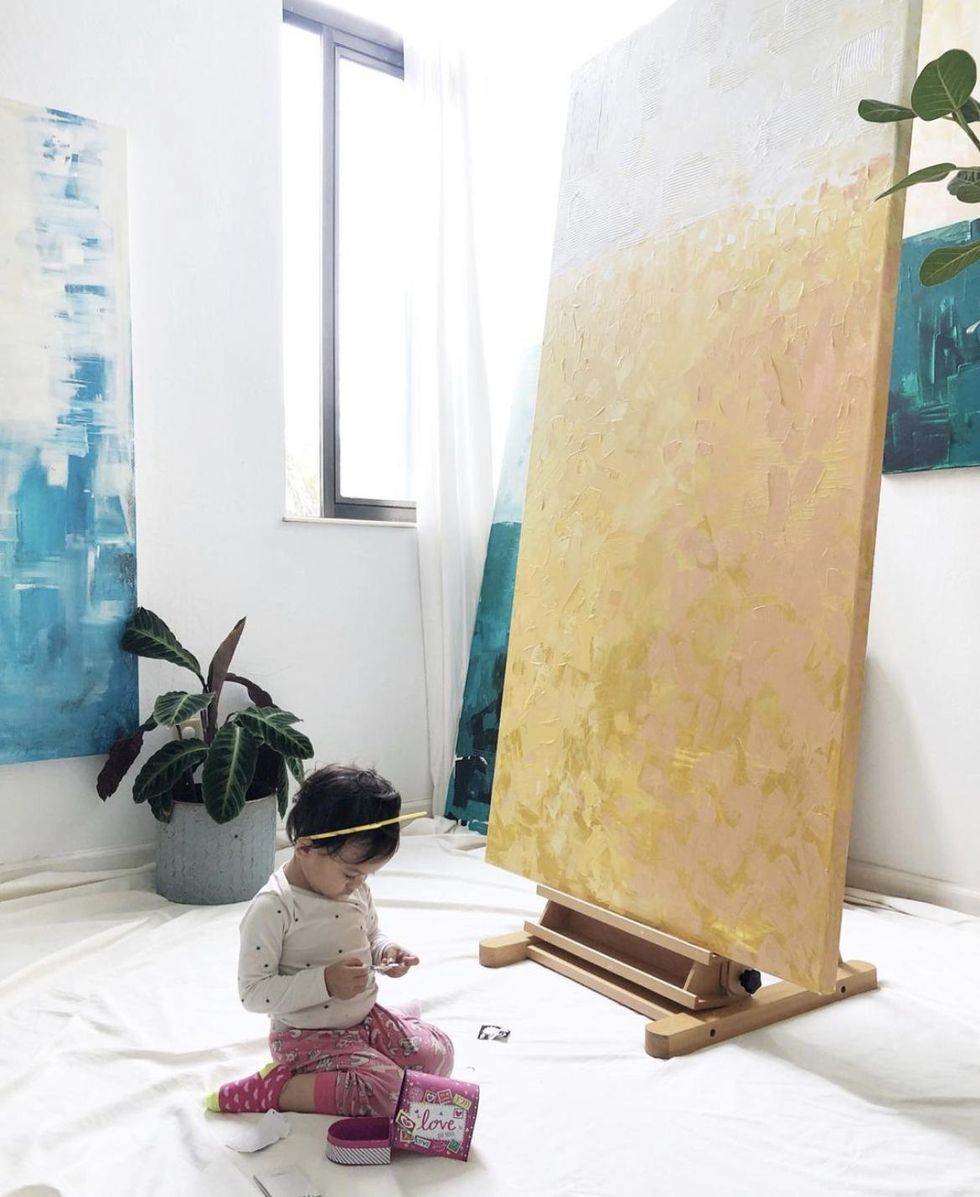 Anj: Motherhood and your daughters are also central themes in your work. How has motherhood changed your approach to creating artwork?
Dev: Everything. I was still deep in my Design Career and I would paint at home. One day Quinn, who was 3 years old at the time introduced me at the park to a mom. "This is my mom, she's an Artist." It struck me that my toddler knew who I was more than I knew myself. That's really when I really owned it. I am more fearless because of my girls.
I own my body, I thank people when they compliment me, and I am selective but fearless when I use my voice. I am more in tune how I speak about myself because of them. When I paint these women I want to celebrate them. I notice how I embrace myself is translated in my paintings.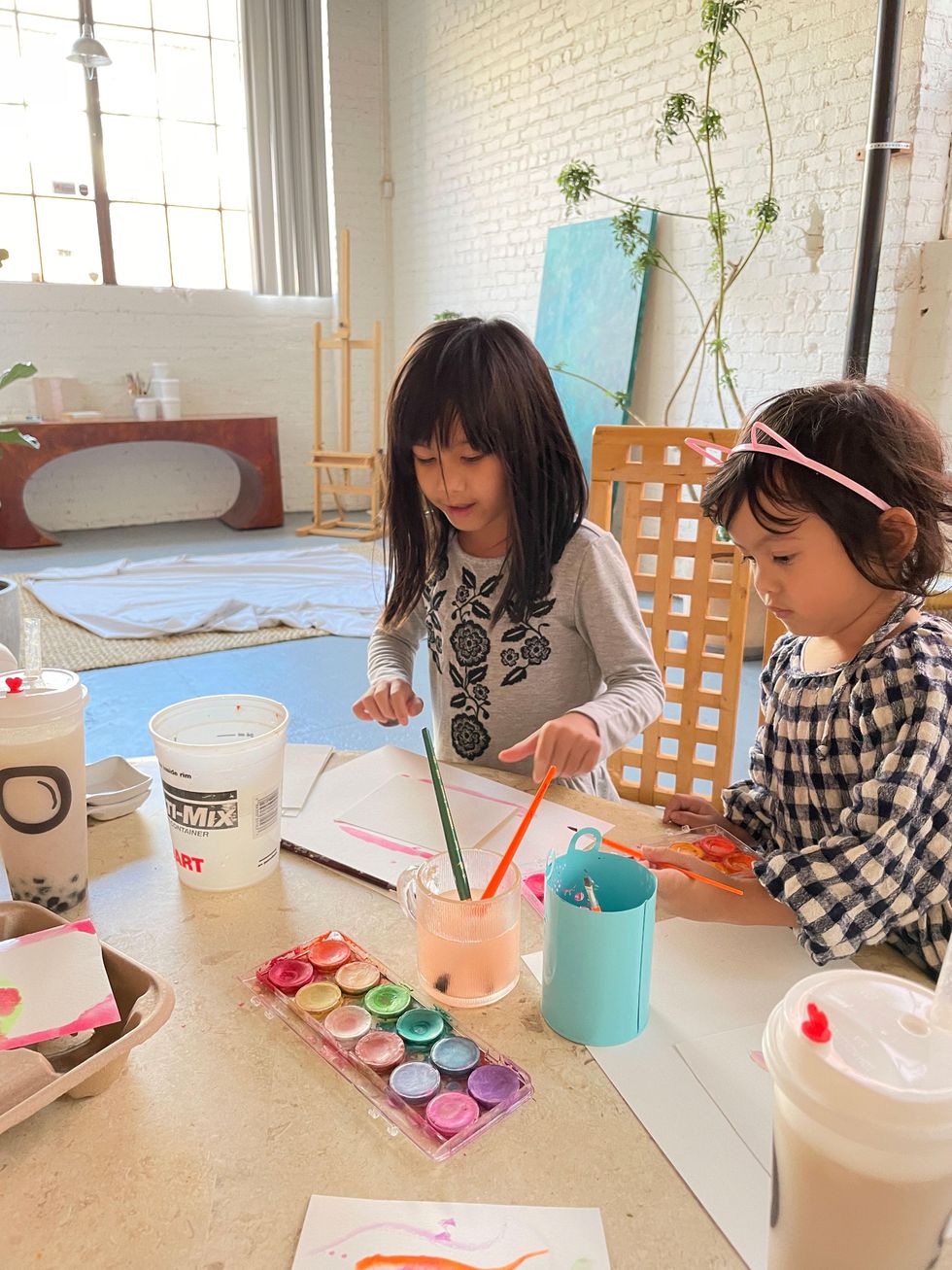 Anj: What advice can you give to parents who are trying to tap into their kiddos' innate creativity?
Dev: I don't have a lot of guidelines set up. I'll say "Let's draw the biggest fish we can draw" or "how many silly lines can we make" and I let them lead me. They ask me questions, show me things, and I sit there with my coffee watching their eyes wide with excitement. Watching them in their creative process is pure joy for me. Those silly lines can turn into a dragon or waves and next thing we know, we're drawing a big beach scene. My advice would be that you can suggest something to start it off but be open to how they take it. It is such a beautiful window into their minds.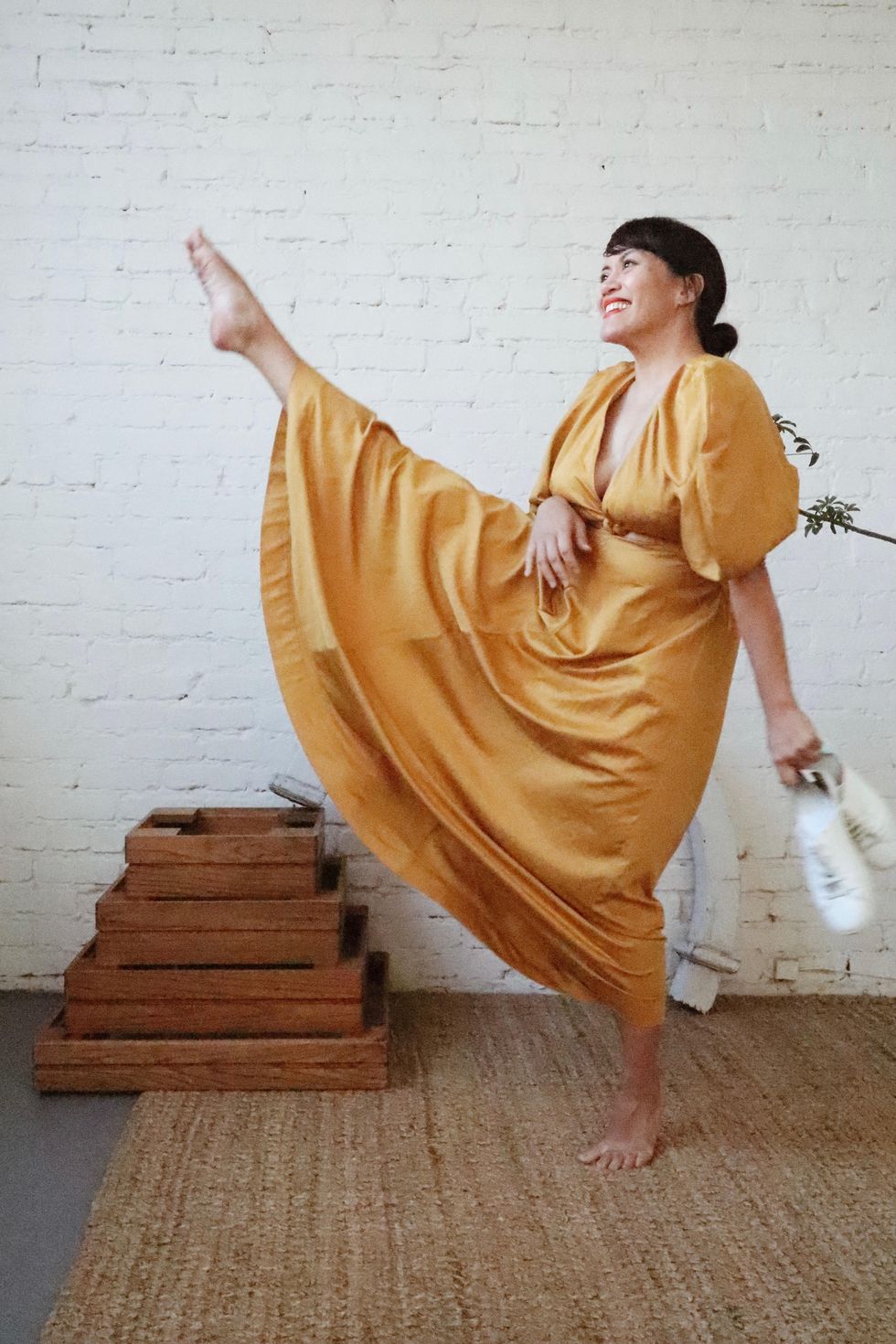 Anj: Shifting gears to HIP HOP DANCE! Talk to us about his component of your creative expression.
Dev: I loved the Hip Hop scene in DC and discovered how much fun the clubs were in college. My friends told me about this Hip Hop Crew I should try out for, I was so scared because I've never taken a dance class in my life. I got in and it was like having another family. We competed all over the East Coast, it was a blast!
I found hipline when I started my first Design Job and needed an outlet. It was exactly what I needed and one of the owners asked if I was interested to teach. I've been teaching there since 2009 and am still going strong. It's a wonderful community of women. Now we're virtual and reaching clients all over.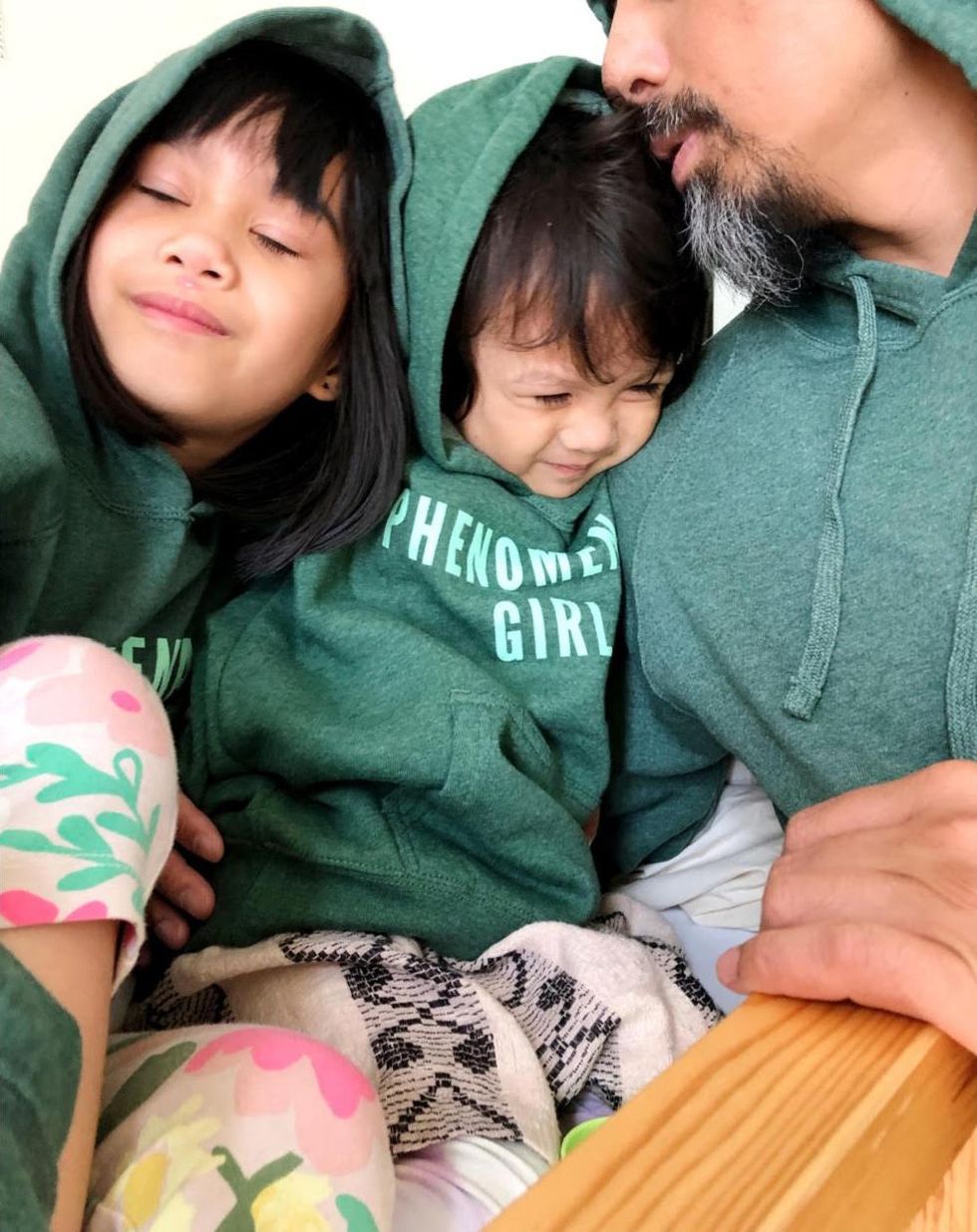 Anj: What does a typical [pandemic] day look like for you? How does it differ from your rhythm before COVID?
Dev: I've been practicing being kinder to myself lately. Both me and my husband work full time and so having the girls at home is a challenge. Some days we are amazed by how smooth it went and then there are others where if the girls are clean and bellies are full, it's a total win.
Now that we're on month 8 our rhythm before covid felt more chaotic to be honest. I felt like we were always rushing out the door while carrying so many bags. Now my husband and I try to have coffee together, if he has a break from his meeting, and we sit with Quinn before school to see what she has to do for the day. Rowan's preschool closed down but we were able to find a wonderful speech therapist for her and she has an Adventure Pod we go to two times a week.
The one thing we really try to do is go outside once a day. Have some magic in their childhood no matter how small. It could be just going up for a hike by our home and picking up leaves, riding our bikes, or watching the sunset from our window. Seeing how the girls' react to these adventures we have is pure magic.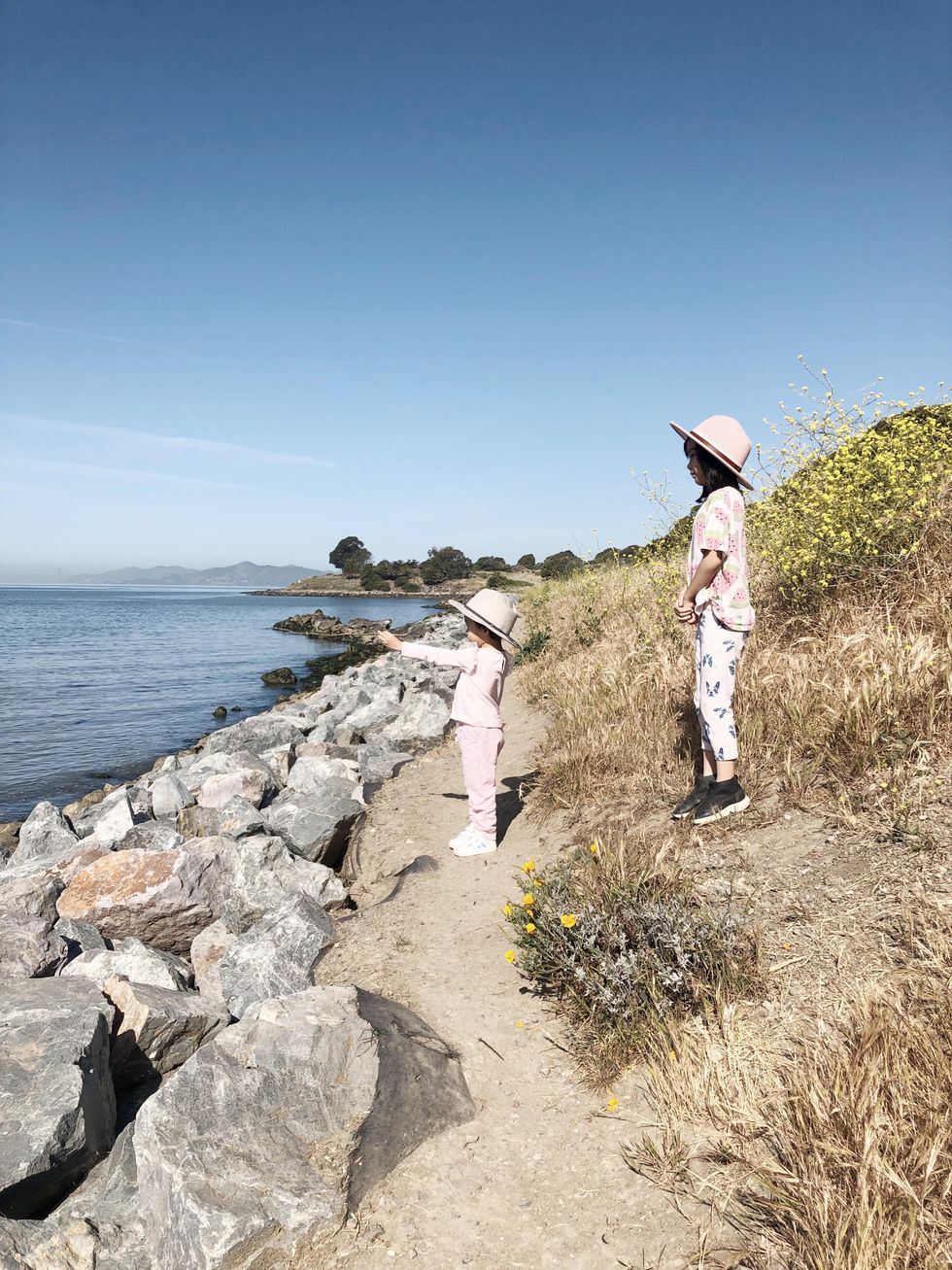 Anj: When you get creatively blocked or burnt out, how do you reset? Do you have tips you can share?
Dev: I go outside. I go out for a hike or go to the beach. Even if it's 15 minutes, something about grounding yourself in Nature is really healing. I also do exercise where I doodle for two minutes because it feels doable. Judgment-free doodles, always opens the doorway to more.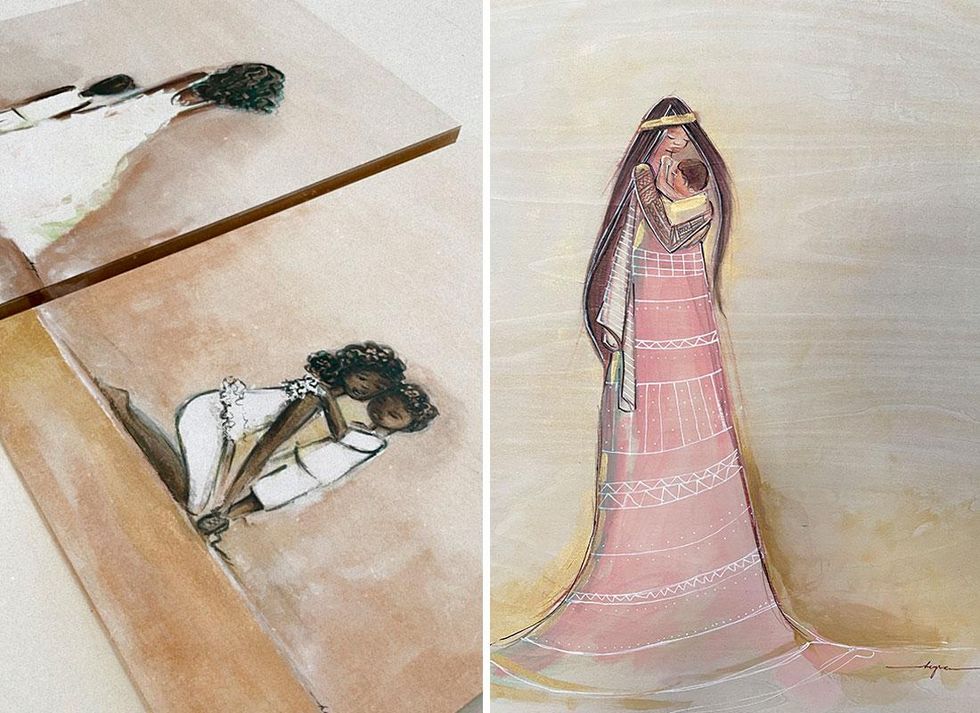 Anj: I know firsthand that community-building is huge for you. Tell us more about what your support system and creative community looks like.
Dev: I feel a lot of love and strength when I think of my community. My relationship with my sister led the way what women supporting women looks like. It's listening, asking questions, remembering, cheering for all the wins, being there even if it's hard, and taking time to invest in them. The way me and my sister show up for each other is why I have these amazing women in my life. I can talk to them about my family, motherhood, and we're all trying to balance it all while sharing my most recent project. I feel really blessed especially looking back in my college years where I don't know where Art would take me.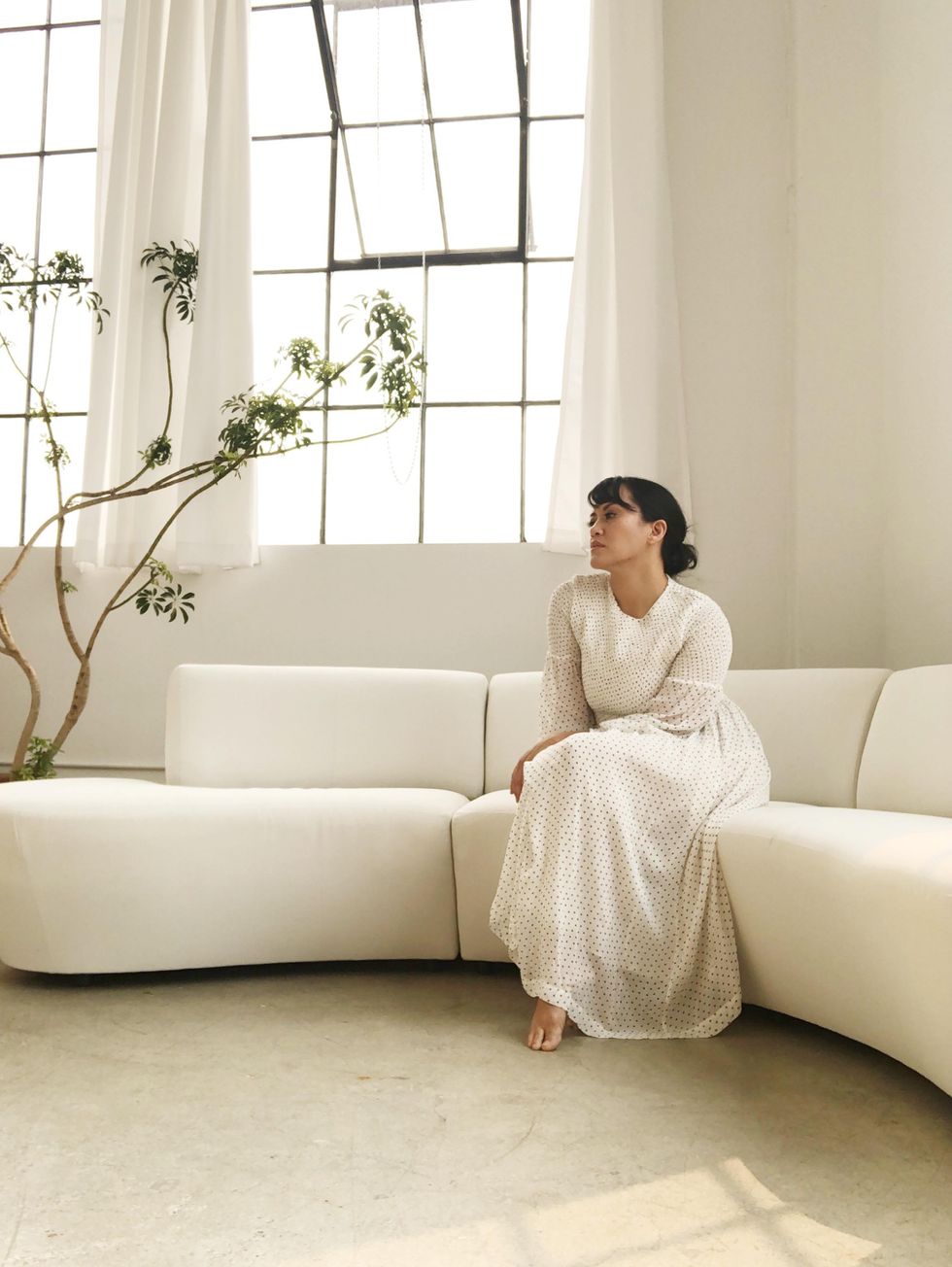 Anj: When you need to give yourself a pep talk, what does it sound like?
Dev: I usually take a deep breath then say or think "One step forward". Most of the time, I'm scared (as shit) but the thought of not trying scares me more. That one step forward can be hard as hell and maybe even heartbreaking, but I have to try.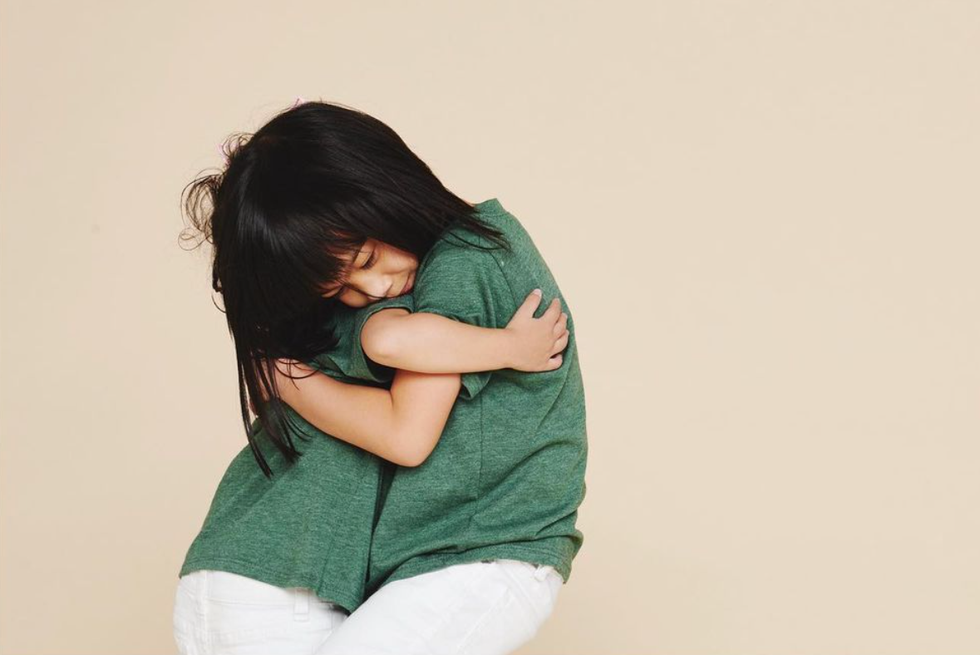 For more on this brilliant artist, mother and friend, follow Dev @_heyrana on Instagram and check out (and buy!) her artwork here.
Lifestyle