#FBF: The 10 Top Celebs of 2003, THE Year Kim K Hit the Scene
Mar 11, 2016
Earlier this week, the one and only Kim Kardashian reminded us that she's been a hot topic of pop culture since circa 2003, which was also when her home girls Paris Hilton and Nicole Richie premiered reality show The Simple Life. Let that sink in: 2003. As in 13 years ago — crazy, right? In honor of the year of Mrs. Kardashian-West's Hollywood coming out, here are some of the celebrities that were most popular in 2003.
---
Jennifer Aniston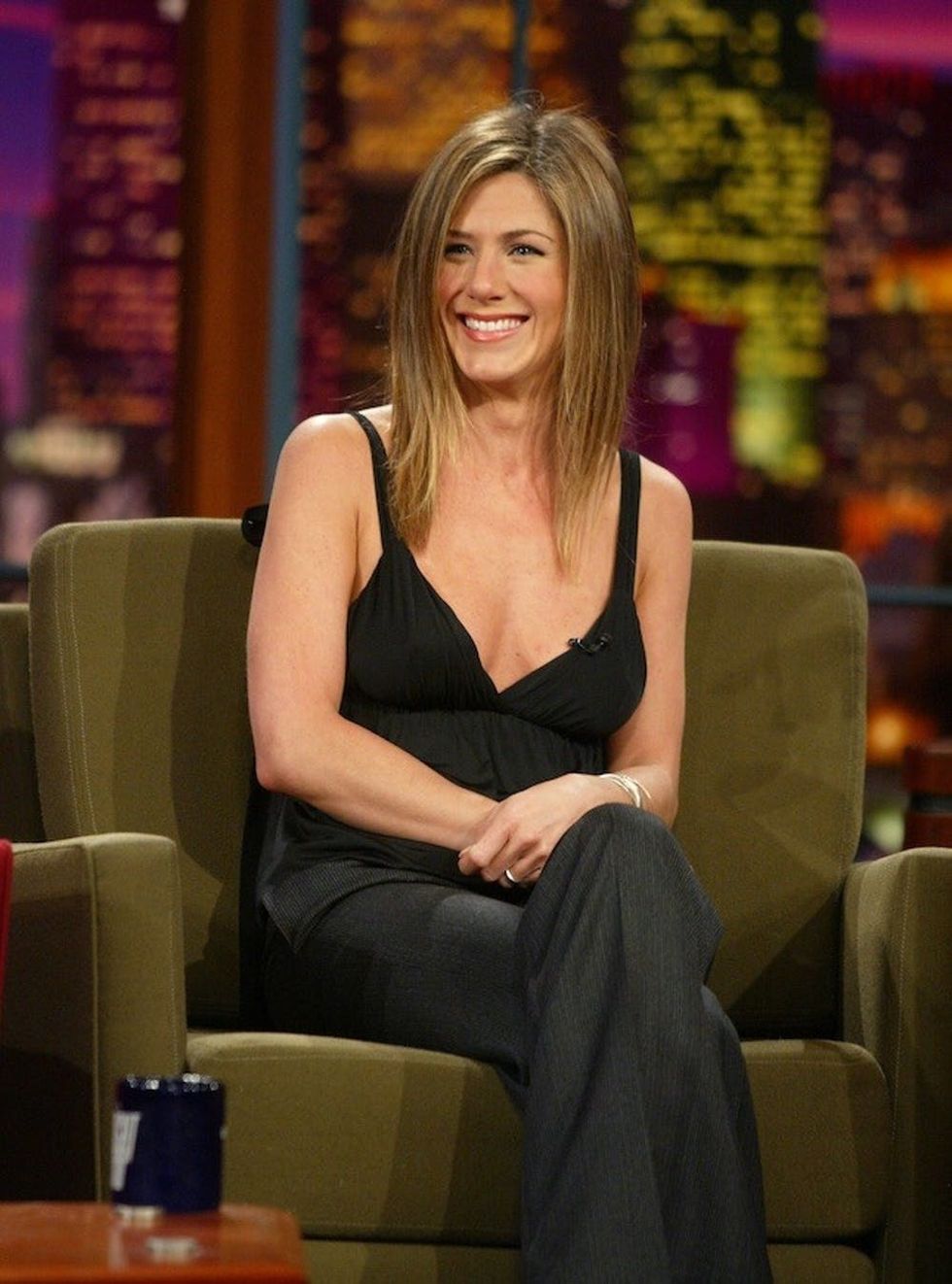 First off, does this woman age? Ever? She looks virtually the same as she did 13 years ago. Jen was majorly famous back then, thanks to her role in the film
Bruce Almighty
and, y'know, a little show called
Friends
(she also won a Best Actress Golden Globe that year for her work on the sitcom). She was actually the top of Forbes' Celebrity 100 List that year as well. And if you're wondering where it all stood back then on the Brad and Jen/ Brangelina spectrum, Jen and Brad were still married back then and wouldn't get divorced for another two years. (Image via Kevin Winter/Getty)
Oprah Winfrey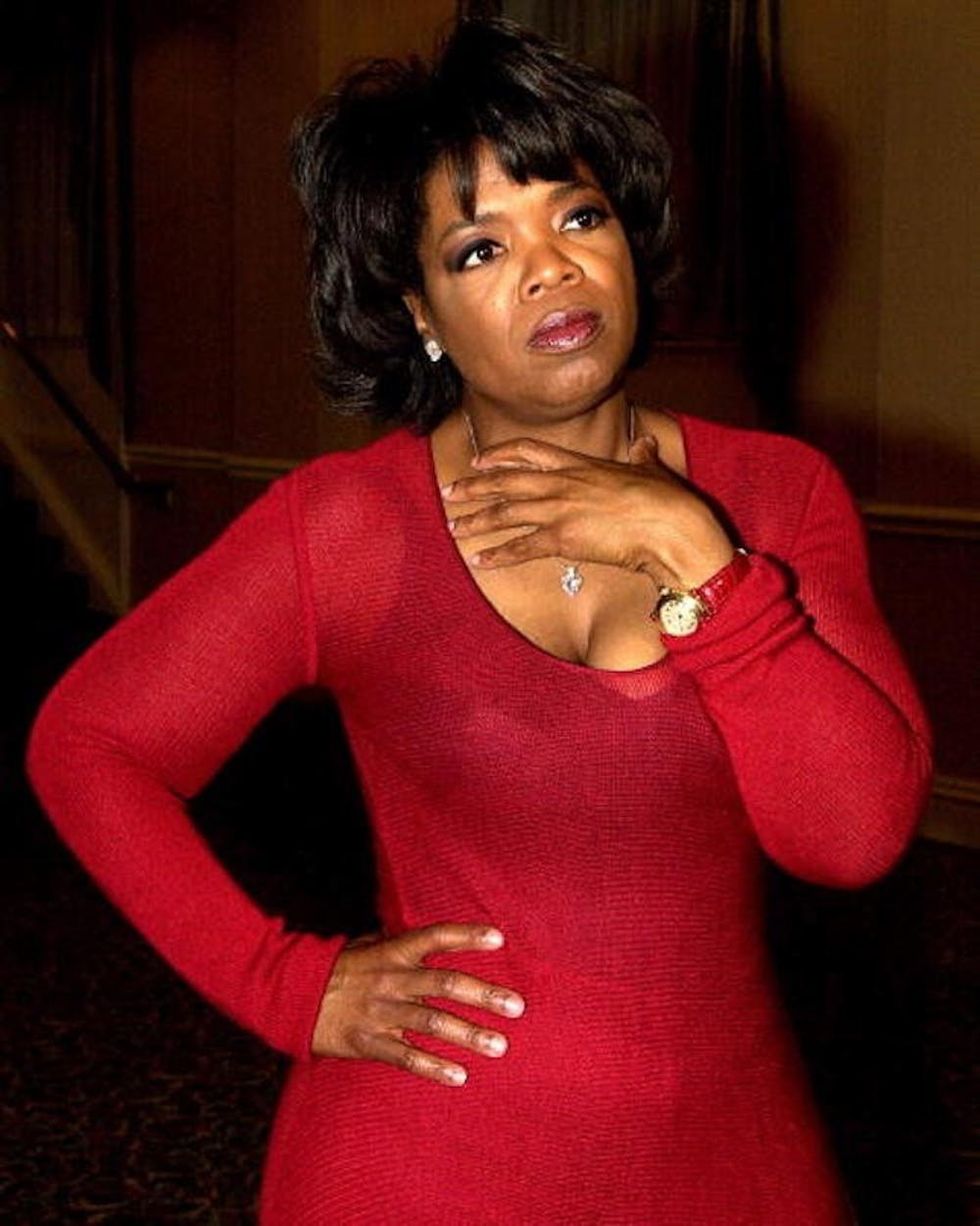 It shouldn't be a surprise that one of the most famous women ever was still famous in 2003. Even though sources cite that her show was on the decline then, she still had about 7 million viewers tuning in daily to see what she had to say on a variety of topics. She's since splintered off into her own network (aptly named OWN, ha!) and still appears on the cover of her magazine,
O.
These days, Oprah continues to build on her successes as a philanthropist through her Angel Network and other avenues — it's reported that she's given away almost $400 million dollars. (Image via Stefan Zaklin/Getty)
Uma Thurman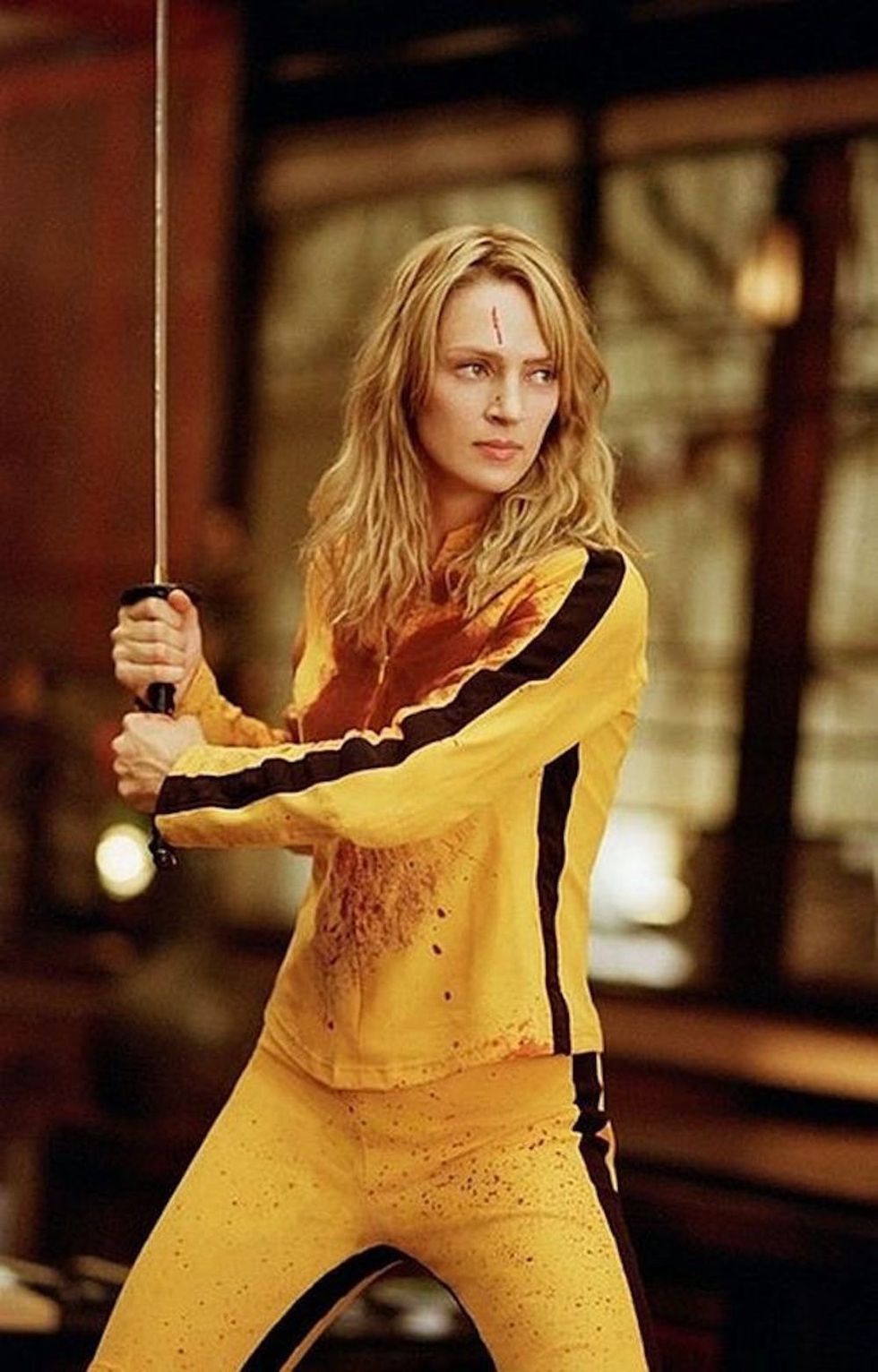 Quentin Tarantino's
Kill BillVol.1
came out in the back half of 2003, and his undeniable star of the girl power gore-fest was Uma Thurman. Uma wasn't unknown at this point; she had a ton of success in
Pulp Fiction
and other movies in the late '90s and early 2000s, but had laid relatively low until her return to stardom in
Kill Bill
, playing an iconic role that Tarantino says was written specifically for her. (Image via Miramax Films)
Eminem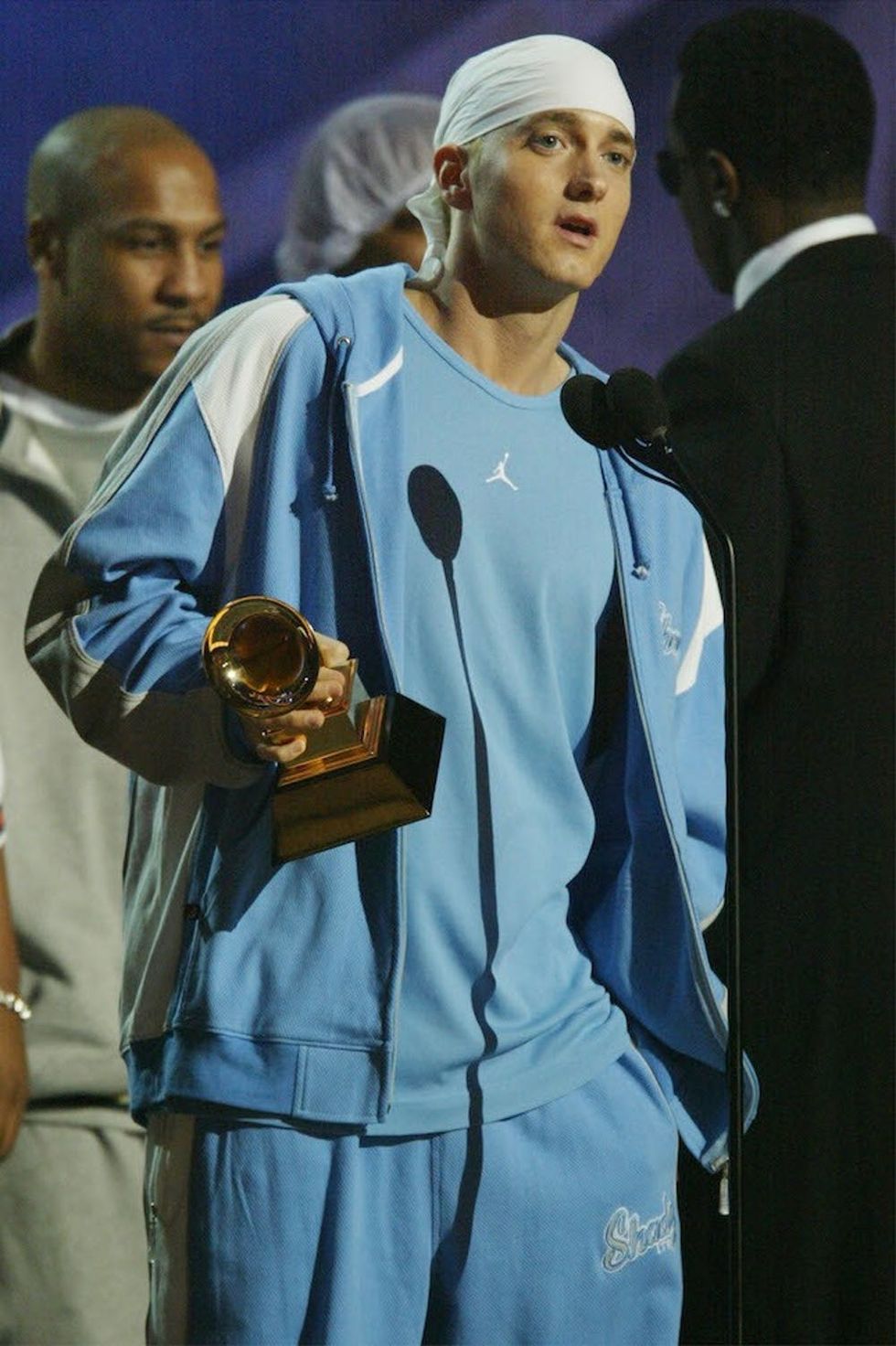 Flashback to
8 Mile
folks, because it was b-i-g back then. The rapper even won an Oscar for "Lose Yourself" as the Best Song (which also became one of the biggest, longest running hip hop singles ever). Eminem and Dr. Dre also collaborated this year with 50 Cent on his
Get Rich or Die Tryin'
album, which brought us the timeless hit "In da Club." (Try getting that song out of your head now!) (Image via Frank Micelotta/Getty)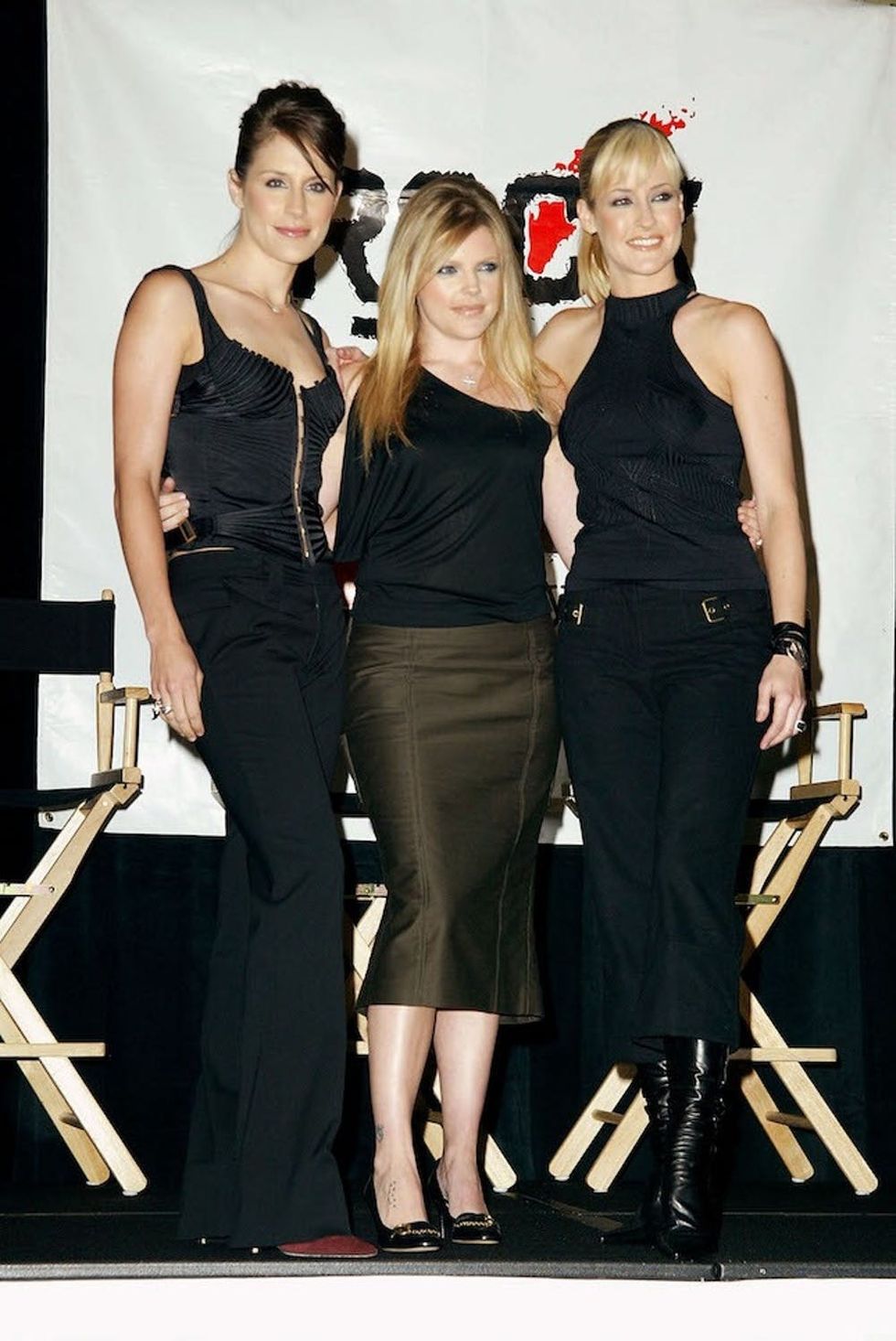 5. The Dixie Chicks: This was the year it all kind of came unraveled for the Dixie Chicks. Their front woman, Natalie Maines, publicly denounced President George W. Bush at a London concert days before the US entered Iraq. They've stayed relatively quiet since then, having sold 30.5 million albums to date. That number's about to go up: The trio is returning to the stage this year for a new tour, hitting up 40 US and Canadian cities starting this summer. Get ready to run to an arena near you! (Image via Chris Hatcher/Getty)
Rebecca Romijn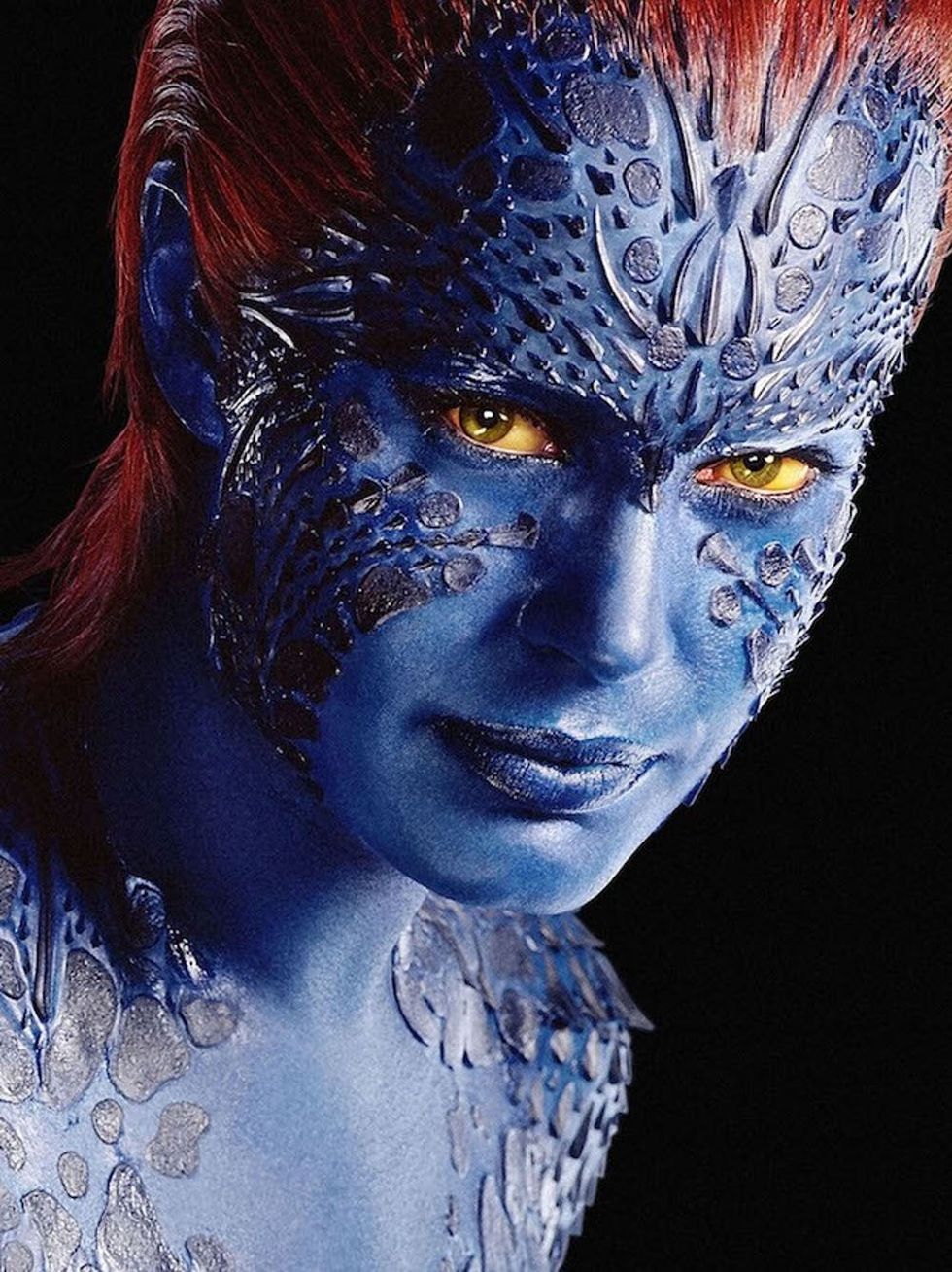 This model-turned-actress cut her teeth as a Sports Illustrated girl and a Victoria's Secret gal before becoming a host on
House of Style
and making regular appearances on
Just Shoot Me.
X-Men was one of the top franchises in 2003, and Rebecca Romijn had a starring role as Mystique (now played by Jennifer Lawrence). Remember that iconic blue bodysuit that left very little to the imagination? Bet her then-husband, John Stamos, definitely does. While the couple divorced in 2005 and Rebecca went on to marry Jerry O'Connell, she'll always be remembered for being the one that stole Uncle Jesse's heart. (Image via 20th Century Fox)
Elisha Cuthbert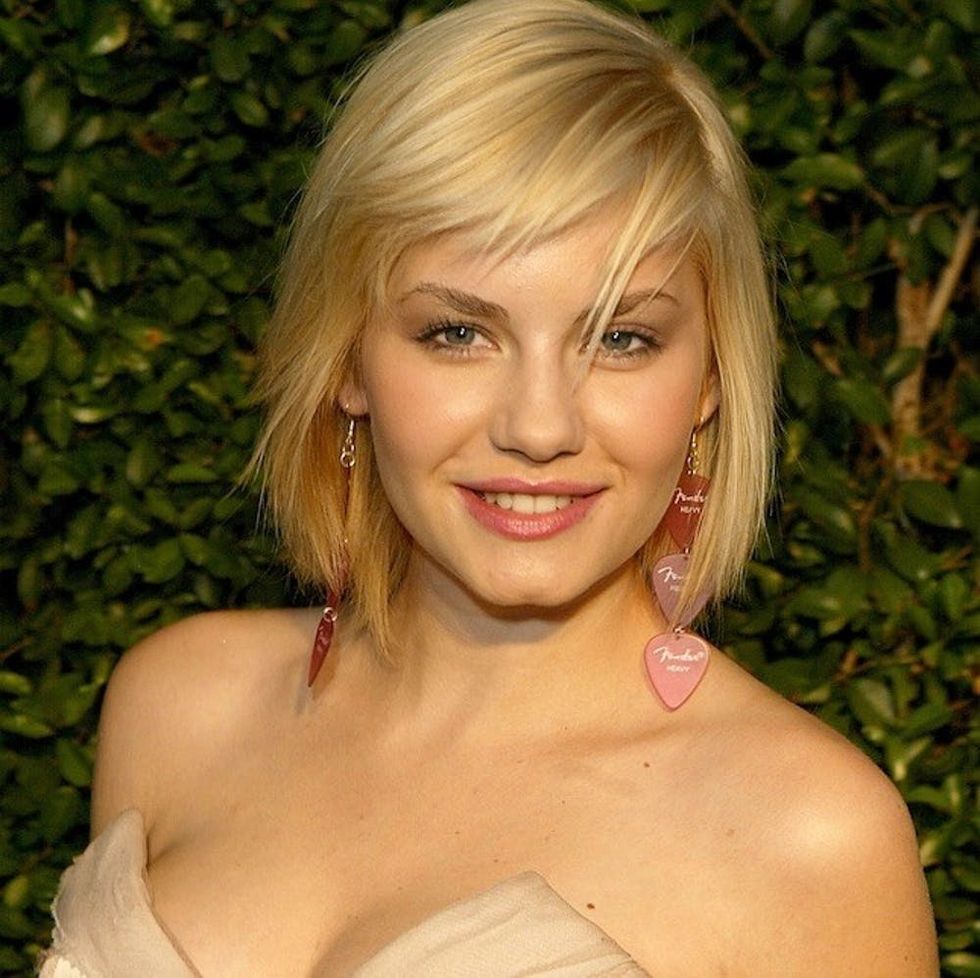 This Canadian actress was hot-hot-hot in 2003 as Jack Bauer's daughter Kim in
24
. She also appeared in
Old School
this year. While 2004 is widely noted as her breakout year for her work in
Girl Next Door
, she really hit her stride in 2003 and was a household name. A fan favorite, however, is
Happy Endings,
where she played the delightfully ditzy Alex. Here's to hoping to see more of her work soon! (Image via Carlo Allegri/Getty)
Mandy Moore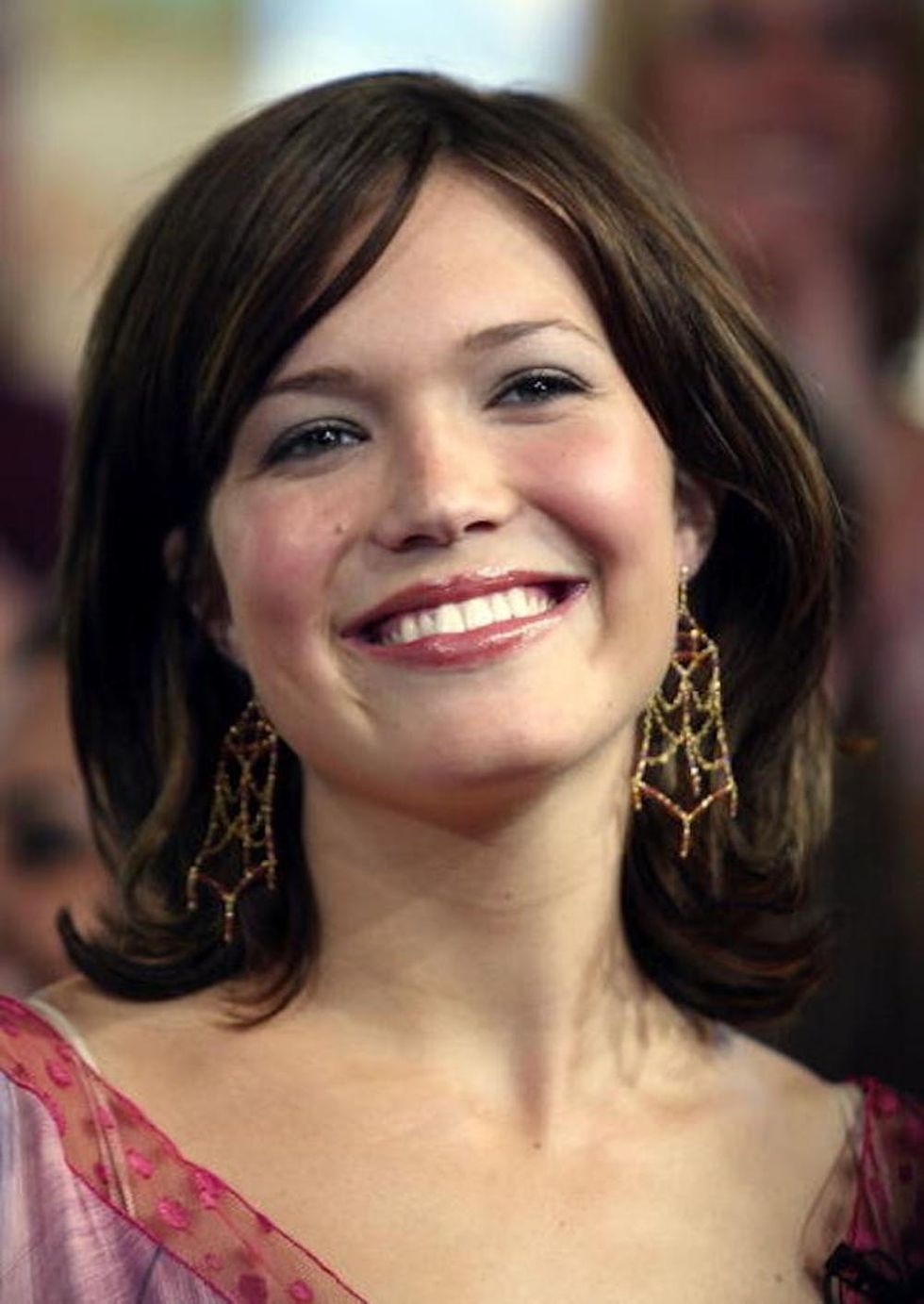 While
I Wanna Be with You
was a hit in 2000, Mandy Moore's best, most-critically acclaimed album was her 2003
Coverage,
where she covered songs from the '70s. She was also at the height of her acting career then, starring in hits such as
A Walk to Remember
,
Saved!
and
Chasing Liberty
. She's one of the best representations of the mindset of the early aughts, and it's refreshing to see that she's come into her own as a modern, single woman. (Moore sadly divorced from crooner hubby Ryan Adams last year). (Image via Getty)
Tiger Woods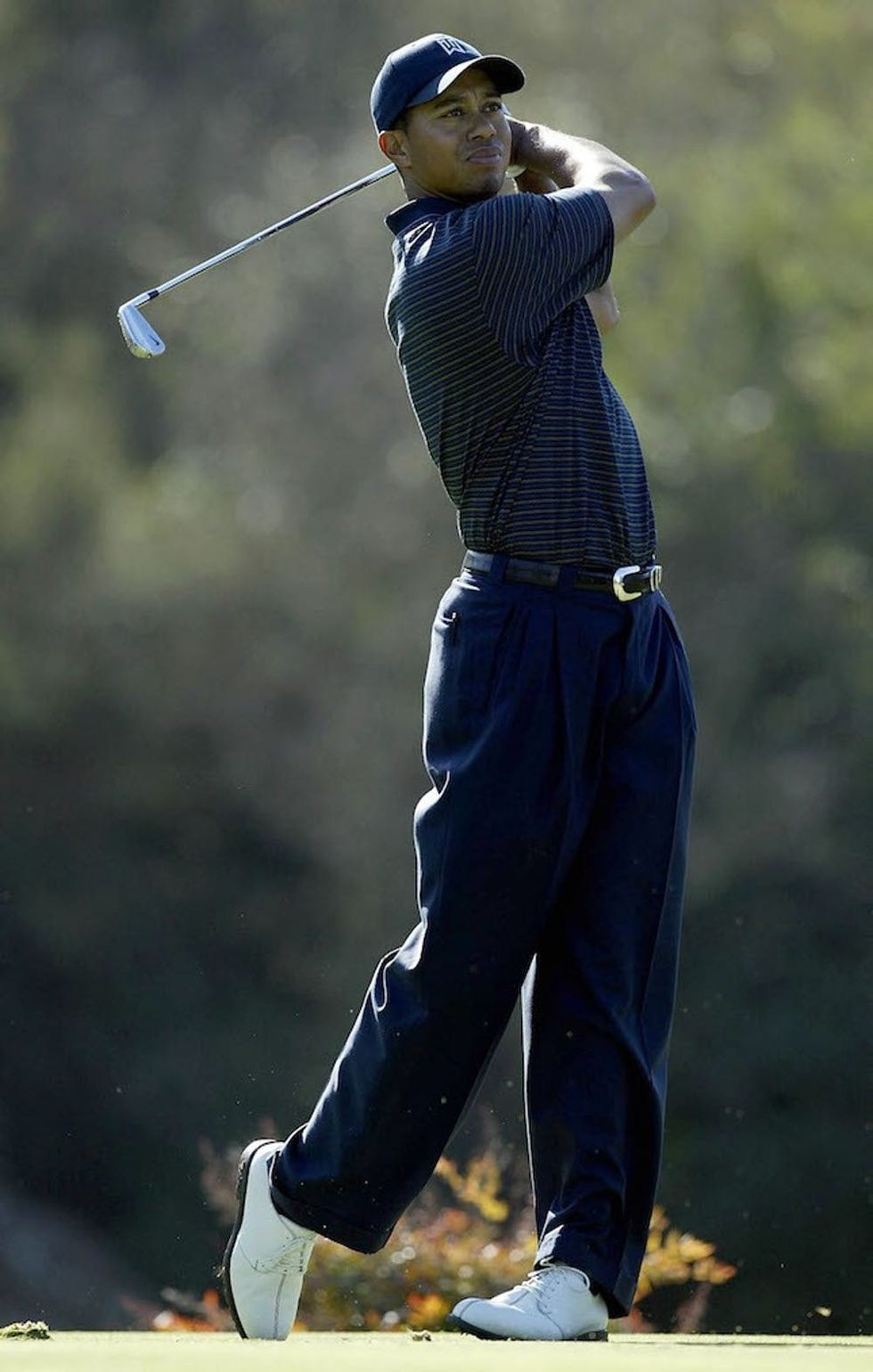 Sometimes it's really hard to remember a time when Tiger Woods wasn't in the world, but that might have been especially true in 2003. He was the highest paid athlete that year, and he married Elin then, too. (Although it's sad how all
that
ended). But if you'll excuse the pun, he was on a major upswing in 2003. (Image via Jeff Gross/Getty)
Ben Affleck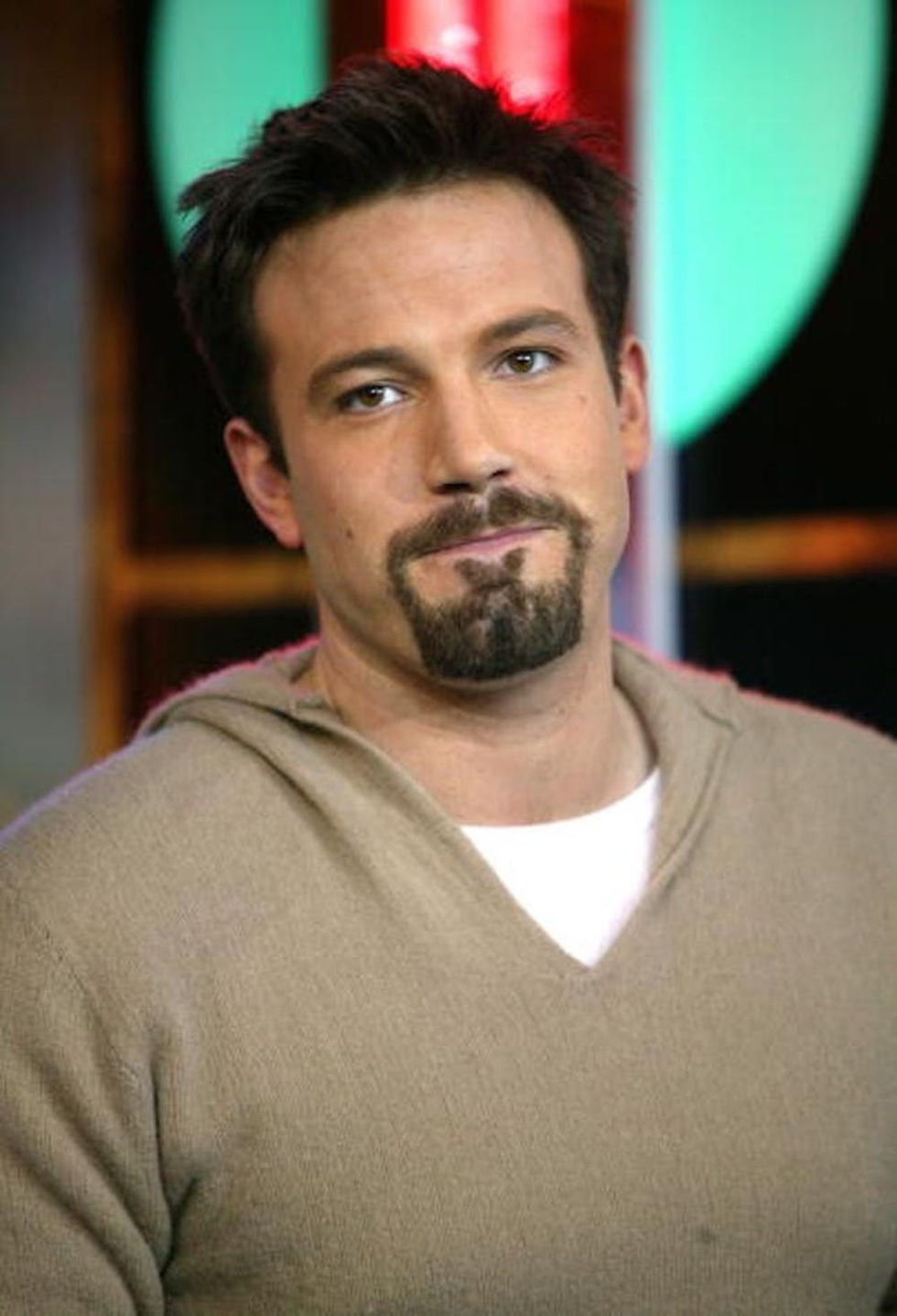 Part of us wanted to put Ben Affleck on here just because of this crazy facial hair situation, but it's also relevant because he was extremely popular this year. Here's the setting:
Daredevil
was a huge hit at the box office, and he was dating the one and only J.Lo back then. Could 2003 — starting with Bennifer — be the origin of the celebrity two-headed name monster? They were the top celebrity couple in the world back then. These days, Ben's taking his turn at directing. It's refreshing to see all the goodness he's doing with his career, and how he and Jen are keeping it real for the sake of their kids. (Image via Scott Gries/Getty)
Lauren Finney
Drawing on years of experience in both fast and luxury fashion, Lauren brings her editorial eye to any project she's working on, from fashion writing, photo shoots, market work, social media, styling, blogging, public relations, and events. She currently resides in Nashville, Tennessee.
Pop Culture