Cool Off With This Refreshing La Croix Gin Fizz
Jul 28, 2018
These days it seems we can't stop sipping on La Croix either at work, at home, and everywhere in between. But it's not just for alcohol-free occasions; we figured out a way to incorporate La Croix Pamplemousse into our gin cocktail evening routine. Because, obviously.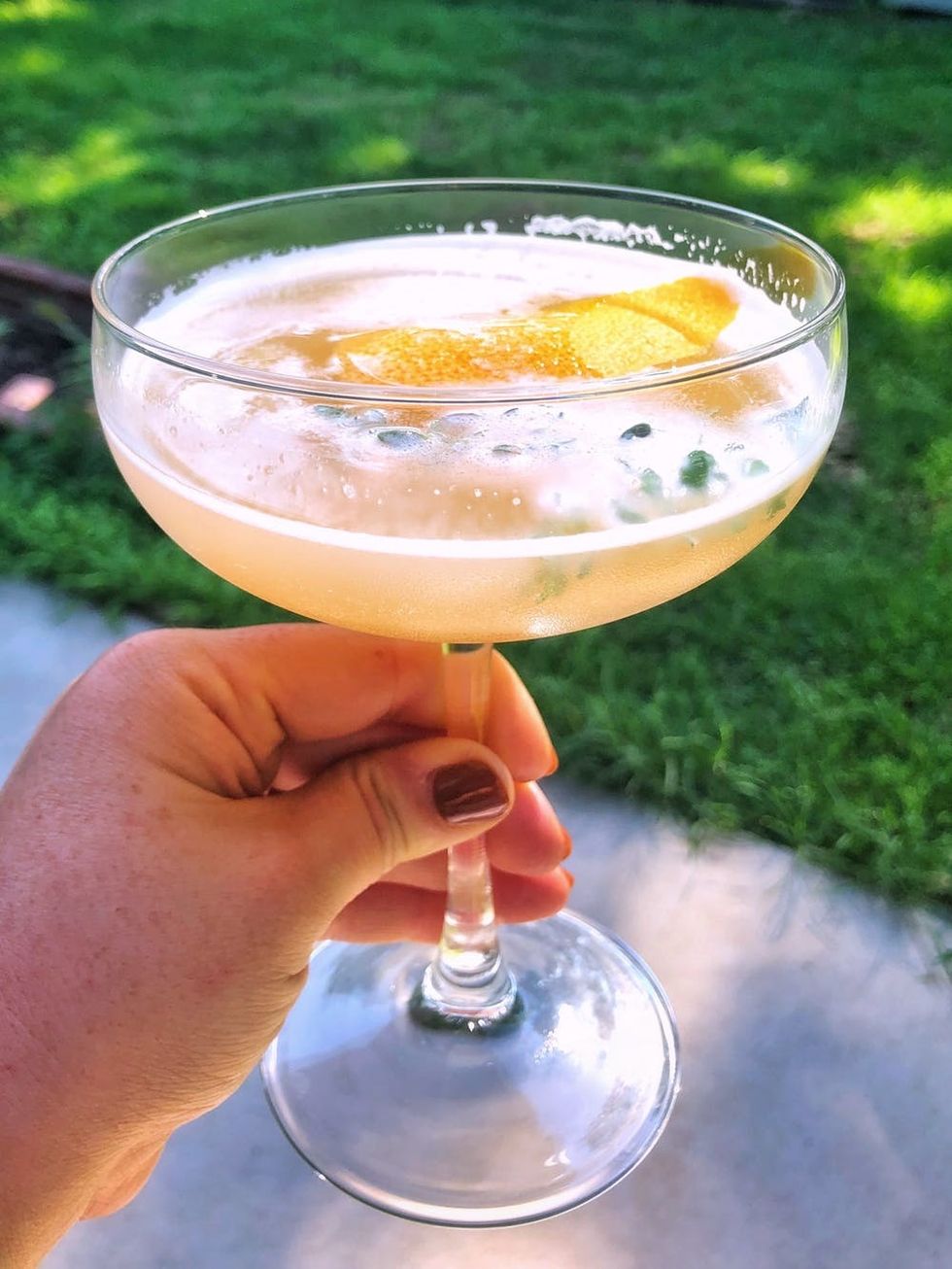 ---
The flavored simple syrup you make from scratch will give you plenty of bragging rights. You can even replace the thyme with rosemary, sage, or any other hearty herb for a different flavor profile. Store the leftover syrup in an airtight container in the refrigerator for up to two weeks.
The recipe below is written as one serving and meant for a cocktail shaker, but batch it up by changing the ounces to cups in the cocktail recipe and serving in a pitcher for all your partays.
Grapefruit-Thyme Simple Syrup
(Makes about 1 cup)
Ingredients:
1 cup sugar
1 cup water
1 grapefruit, zest only (removed with a vegetable peeler)
1 bunch (1/3 – 1/2 cup, loosely packed) thyme, stems and leaves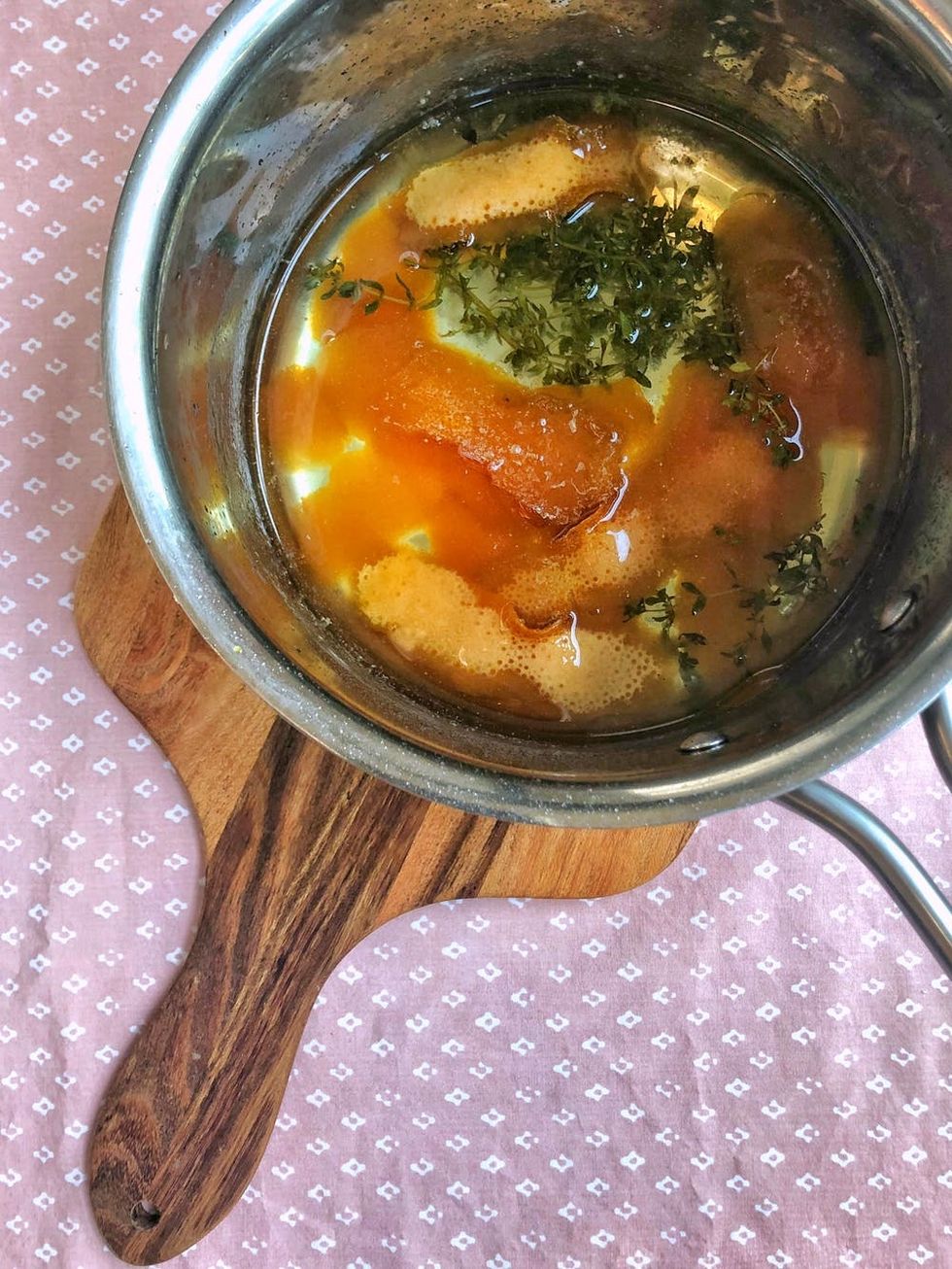 Instructions:
Combine all of the ingredients in a small saucepan.
Bring syrup to a boil over high heat, stirring constantly.
Once sugar has dissolved, turn off the heat and let thyme and grapefruit zest steep in syrup for at least 20 minutes or until syrup cools completely.
Strain syrup of solids and store in an airtight container.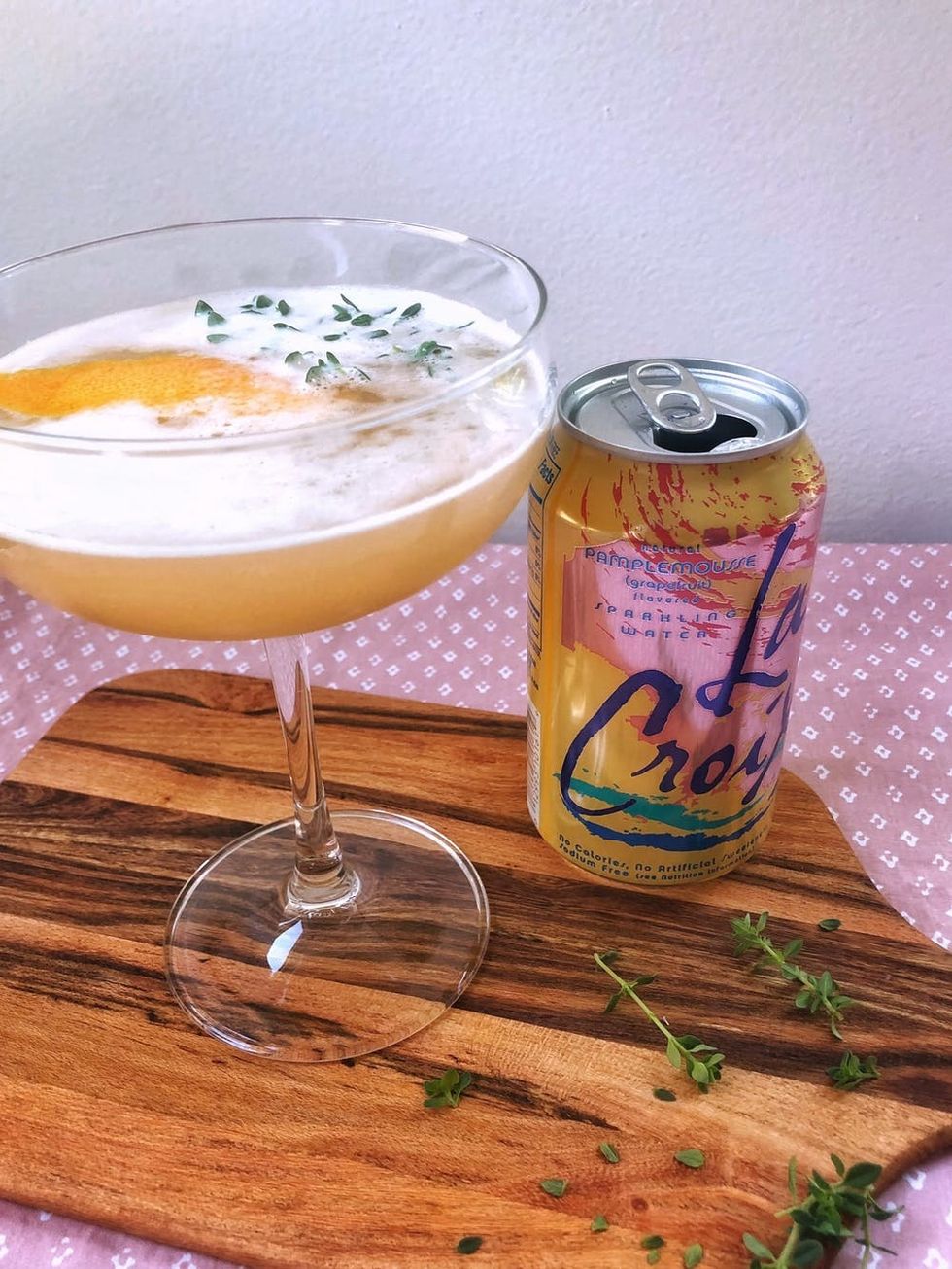 Grapefruit-Thyme gin fizz
(Makes 1 cocktail)
Ingredients:
1 1/2 ounces of gin
1/2 ounce grapefruit-thyme simple syrup
1 ounce grapefruit juice
1 ounce lemon juice
~1 cup ice cubes
~1 ounce La Croix Pamplemousse, preferably cold
thyme sprigs and grapefruit peel, for garnish (optional)
Instructions:
Place the gin, simple syrup, and juices in the cocktail shaker.
Add the ice, close shaker firmly, and shake for about 20-30 seconds.
Strain cocktail into a coupe or rocks glass (over ice if you use this type of glass), then top with cold La Croix Pamplemousse. Garnish with sprigs and a grapefruit peel, if you desire.
Show us your version of this cocktail by tagging us on Instagram @BritandCo.
(Recipe and photos via Ashley Bare / Brit + Co)
Ashley Bare
Ashley primarily works as a nomadic private chef happily serving her international clientele all over the world. She also does freelance recipe R&D, having recently worked with cookbook authors Mads Refslund, James Peterson, Candice Kumai, Tama Matsuoko, and Alison Cayne. In her former NYC life, she was a culinary instructor. Teaching people how to cook with confidence remains her professional passion. She hopes to open a cooking school in the next couple years. In addition to building a food and cooking empire, Ashley also obsesses over travel (see @cendrenue), learning languages, interior design, dance cardio, and amaro liqueurs.
Cocktails
Still haven't taken up that new creative skills you swore you'd learn this year? Or ready to take your design skills to the next level? Let's say so long to the weirdest year ever by checking those big learn-something-new goals off our perpetual to-do lists.
We've teamed up with Clorox to give you the gift of unlimited creativity now through the end of the year. Once you sign up, you can take as many of our 120+ classes as you want for FREE for one whole month!
Here's how it works:

Head to brit.co/learn and sign up for the "All Access Pass."
Use the code "CLOROXCARES" at checkout to redeem your free month of classes.
You will be automagically signed up for Clorox's email list once you redeem your free all access pass. (It's the #1 Choice for Disinfection!)
Your pass lasts one month from when you checkout. This means you have unlimited access to all the classes during that month.
This offer is valid now through December 27, 2020.
Browse our catalog to find the right class for you, tell a friend and take the class together over Zoom, or organize a 'cocktails + crafts' night with a friend in your bubble so you can learn something new together.
What are you waiting for? Time to start learning all the things!

Thanks to Clorox for making this happen! When it counts, trust Clorox.
Lifestyle