It's Bastille Day, and we can't think of a better way to celebrate le français than with some French fries. Of course, we know that the golden fried pieces of potato wedge aren't actually French — but it's nice to dream, isn't it? The truth of the matter is that we don't need a special day to celebrate the glorious French fry. Whether they are served on the side of hot dogs with lots of toppings at a summer BBQ or are your go-to afternoon snack, there are many ways to praise this worthy side dish. You can go for easy peasy baked French fries, but we know what you REALLY want is to pile your plate high with loaded French fries. In fact, whether you're looking for something spicy, extra cheesy or just plain inventive, these 14 crazy and loaded pomme frites are simply perfect to serve all year long.
---
1. Vietnamese Loaded Fries: If you're a fan of Asian flavors and American ingenuity, then look no further than this Vietnamese-inspired French fry feast. From the three different sauces to the nutty finish, nobody will be able to keep their hands off. (via Little Spice Jar)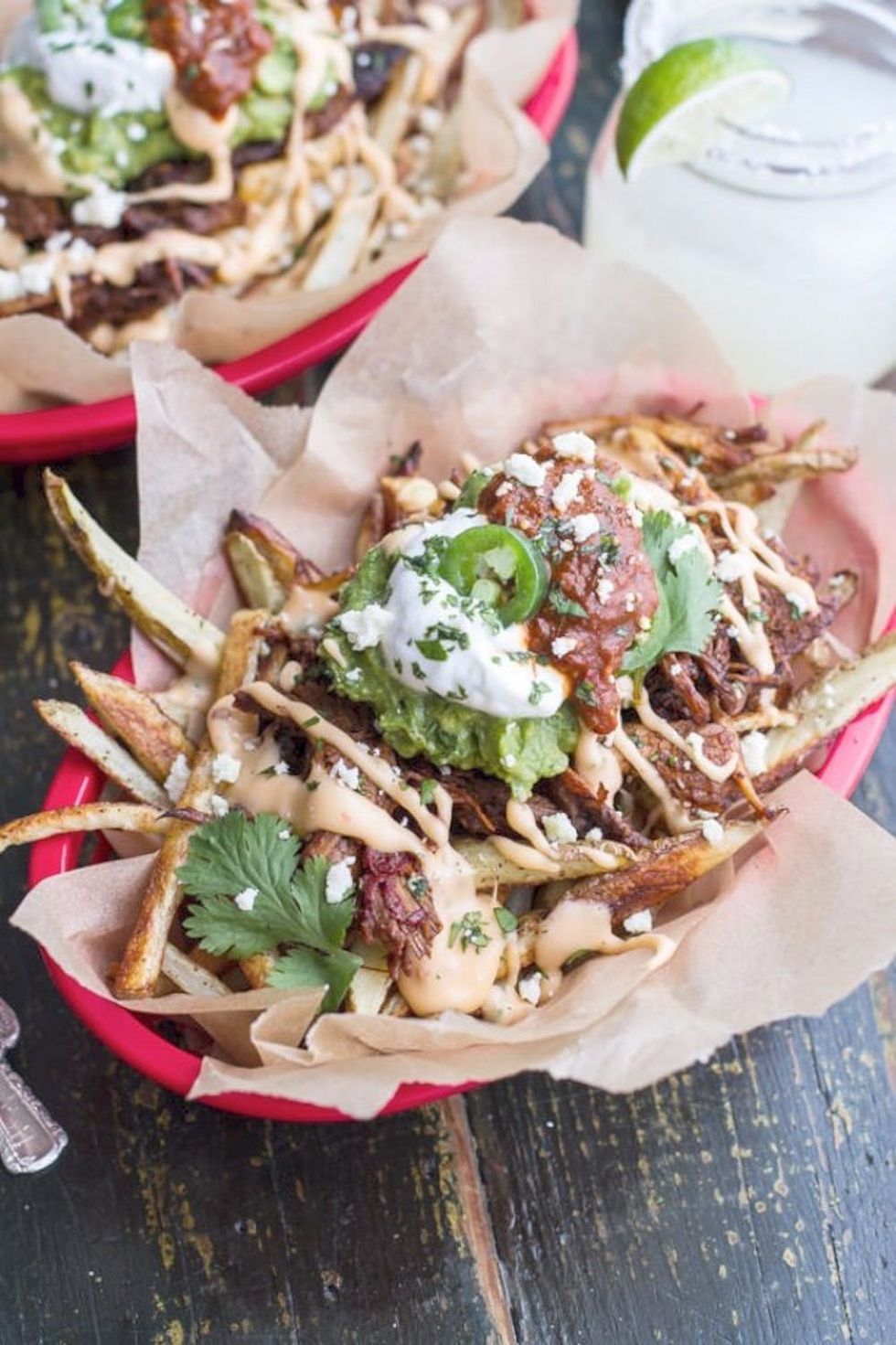 2. Tijuana Street Fries: If you can't make it south of the border during the year, we bet your taste buds can! Load them up with double meat for your carnivore bae, and don't forget the big spoonful of guac on top. (via Half Baked Harvest)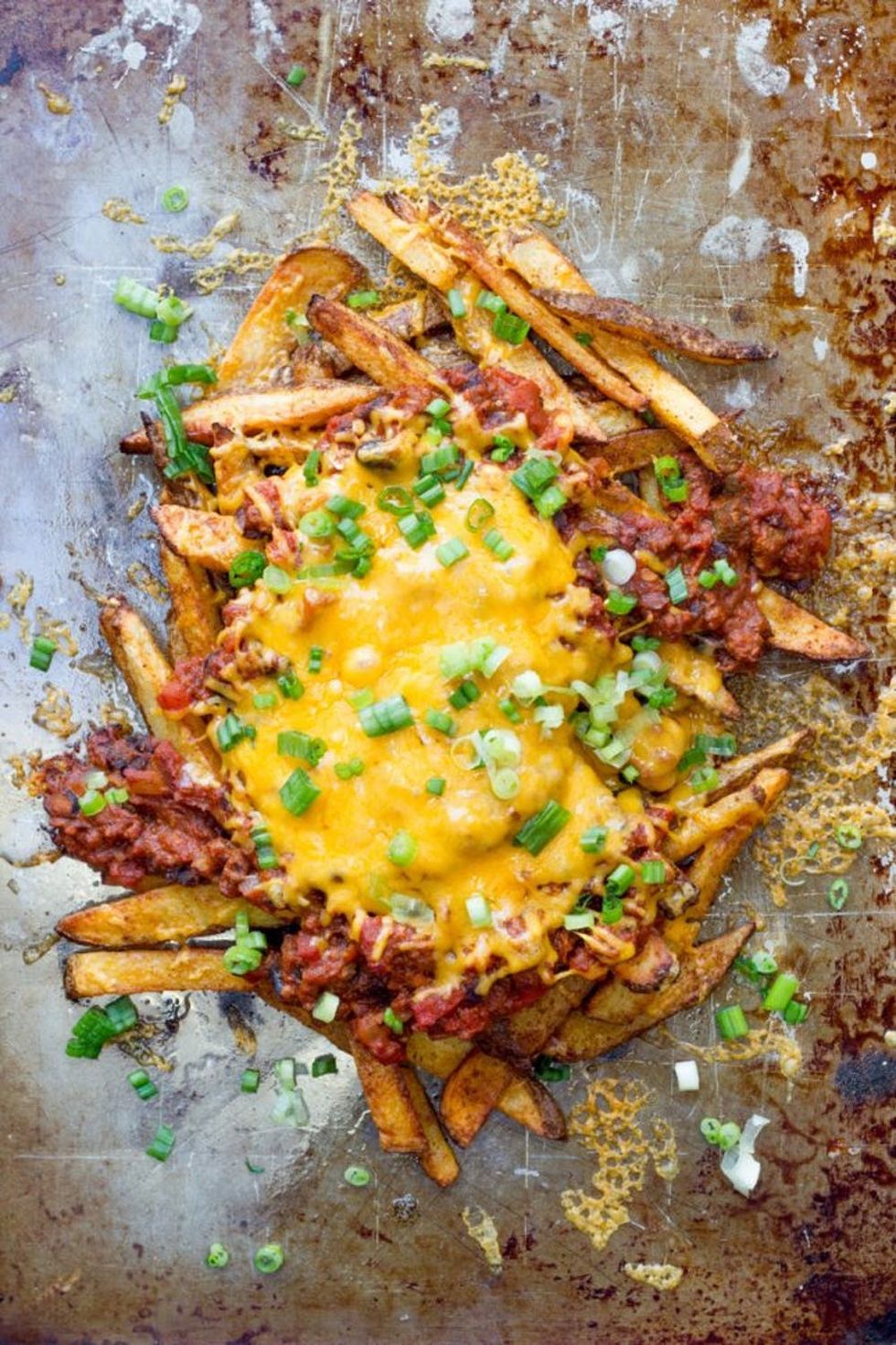 3. Beer-Soaked Chili Cheese Fries: Chili cheese fries are a classic, but nobody said they had to be the same old boring thing you've eaten at countless fast food counters. Instead, soak them in beer for an extra special addition to any fry. (via Back to Her Roots)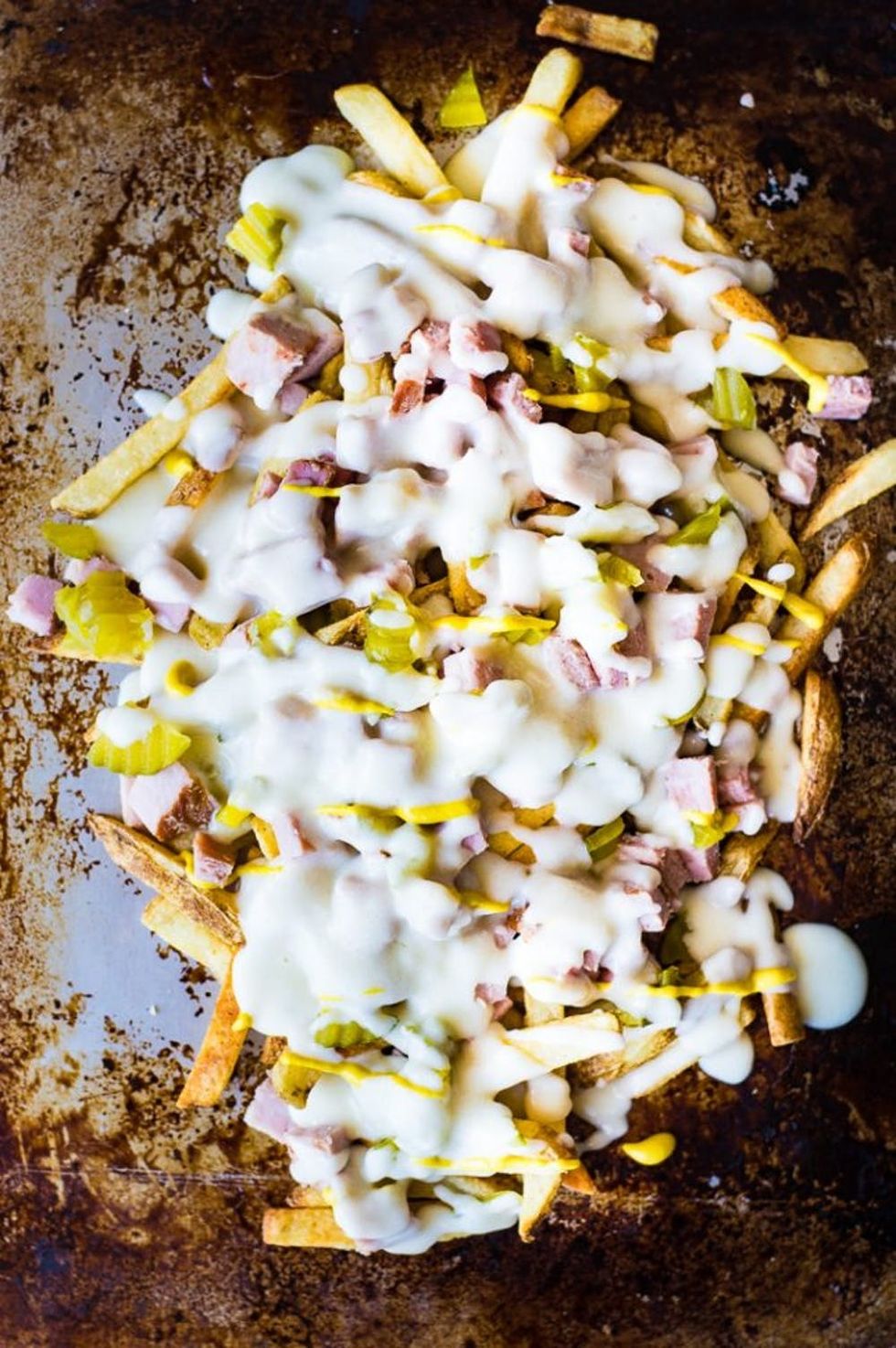 4. Cuban Fries: A Cubano sandwich is a feast for the senses, and these Cuban-inspired fries are no different. The toppings may sound funky, but the flavors are delicious. (via House of Yumm)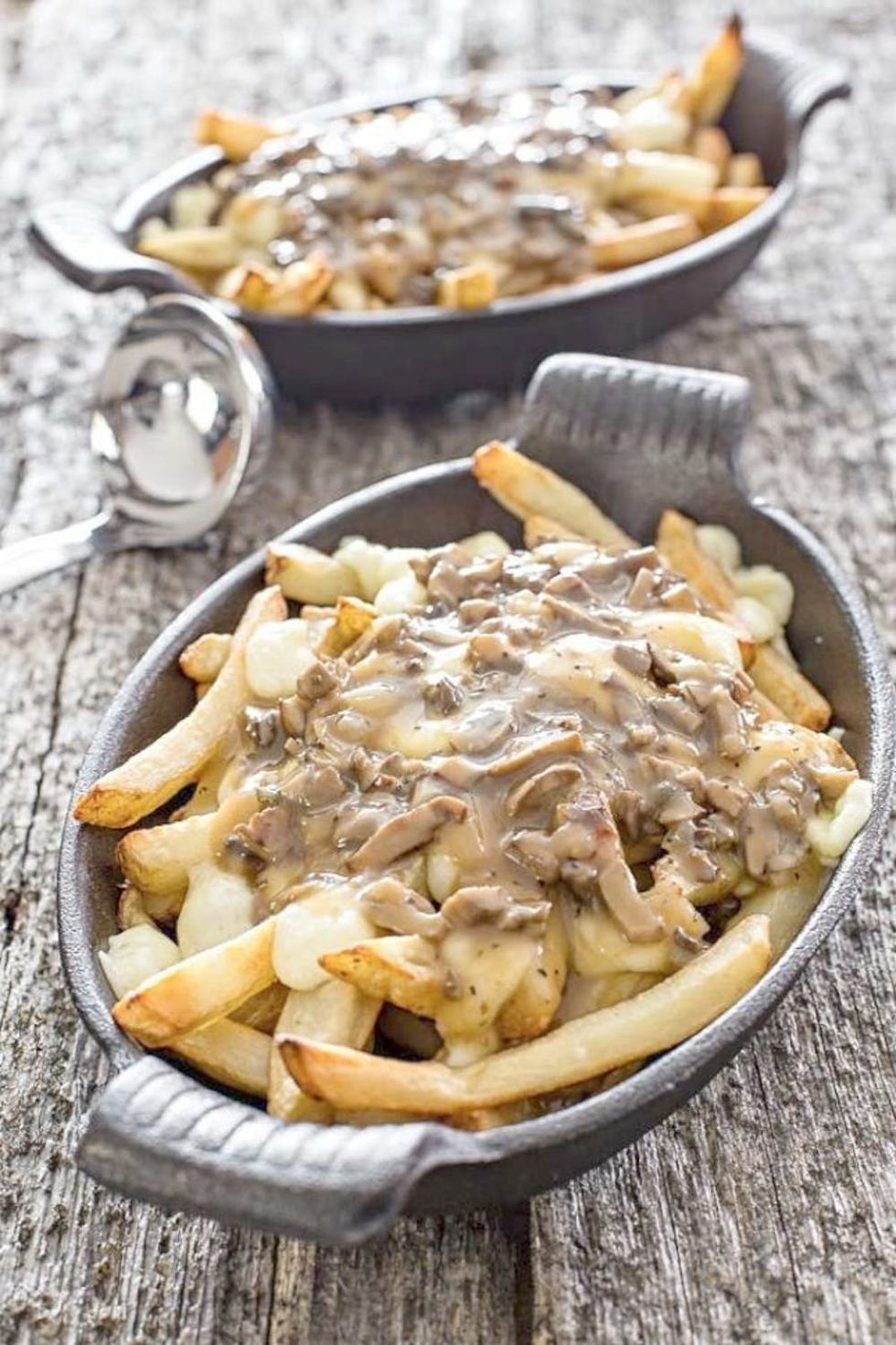 5. Canadian Poutine Fries With Mushroom Gravy: The Canadians may have very well invented the ultimate loaded French fries with the poutine fry, but nobody's the wiser when you make this version with mushroom gravy. Watch out, though. These are NOT for the faint of heart (or stomach). (via Cooking Glory)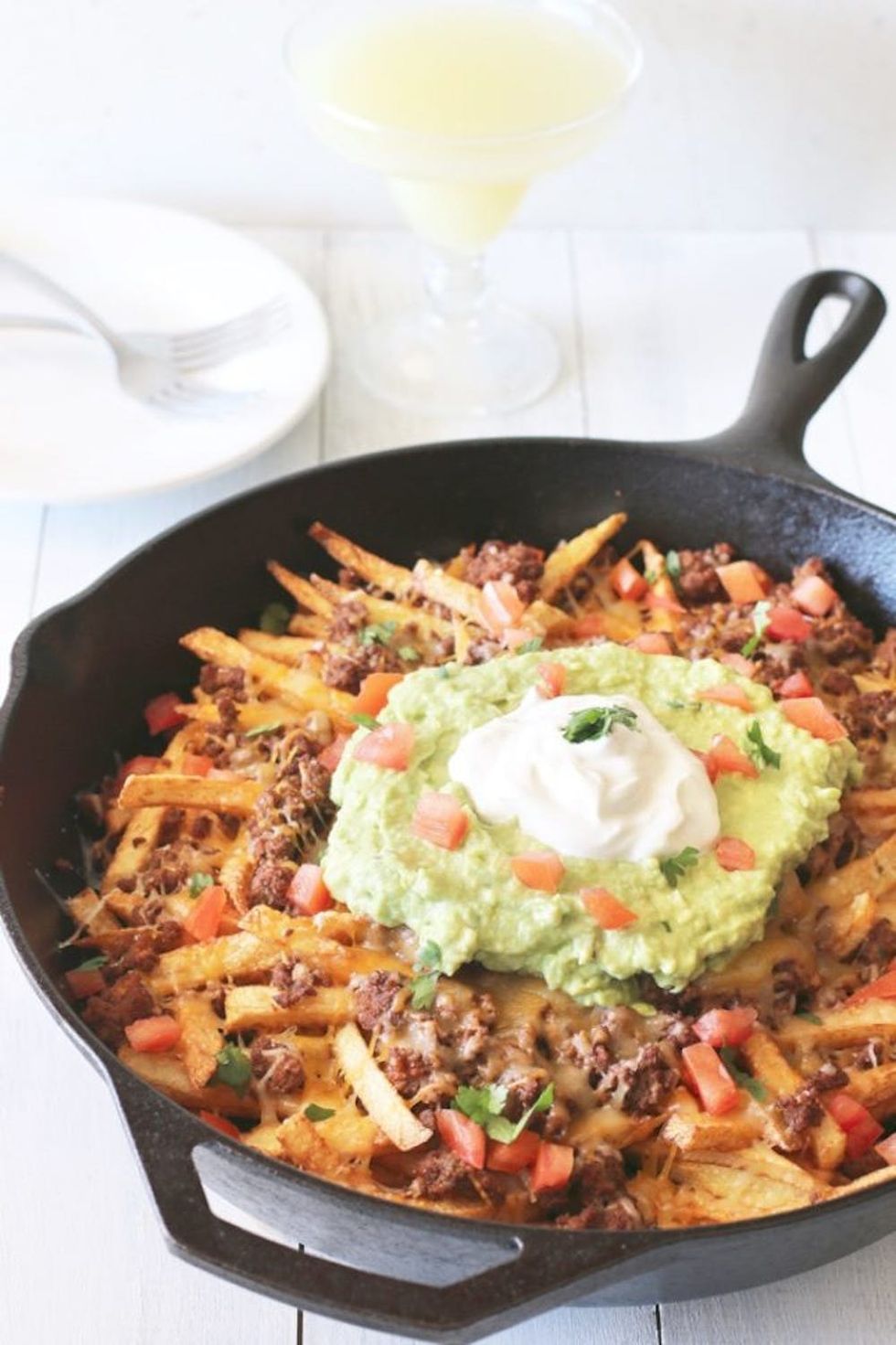 6. French Fry Nachos: Loaded nachos are a thing. Loaded French fries are a thing. So why not put the two together for the ultimate snack on game day, your next BBQ party or just a random Thursday afternoon? You're welcome. (via Cake N Knife)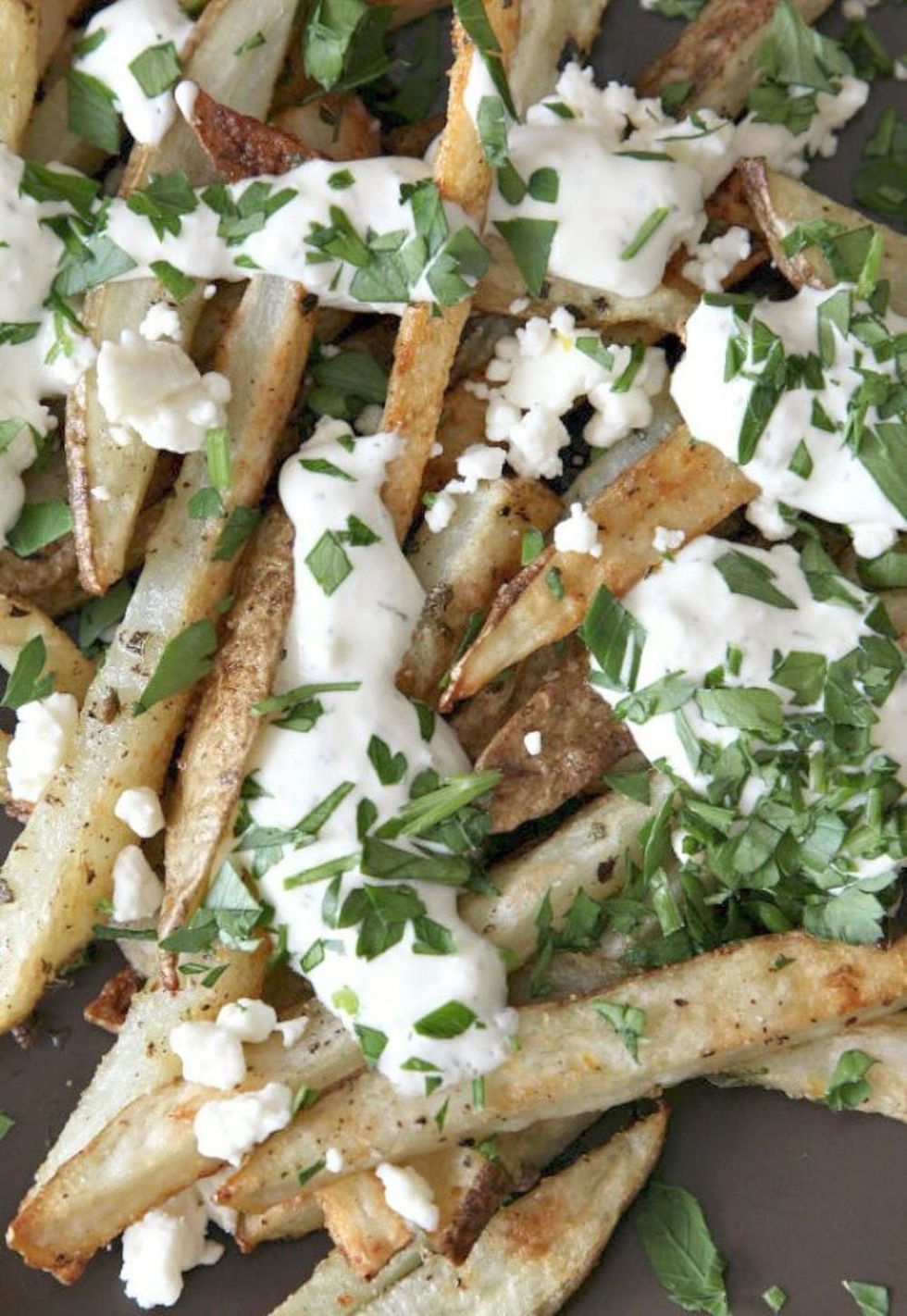 7. Baked Greek French Fries: If you've never tried feta cheese on your fries, then you are seriously missing out. The naturally low-fat cheese is sure to shine when you pair it with traditional Greek flavors like Tzatziki sauce and fresh parsley. (via Snappy Gourmet)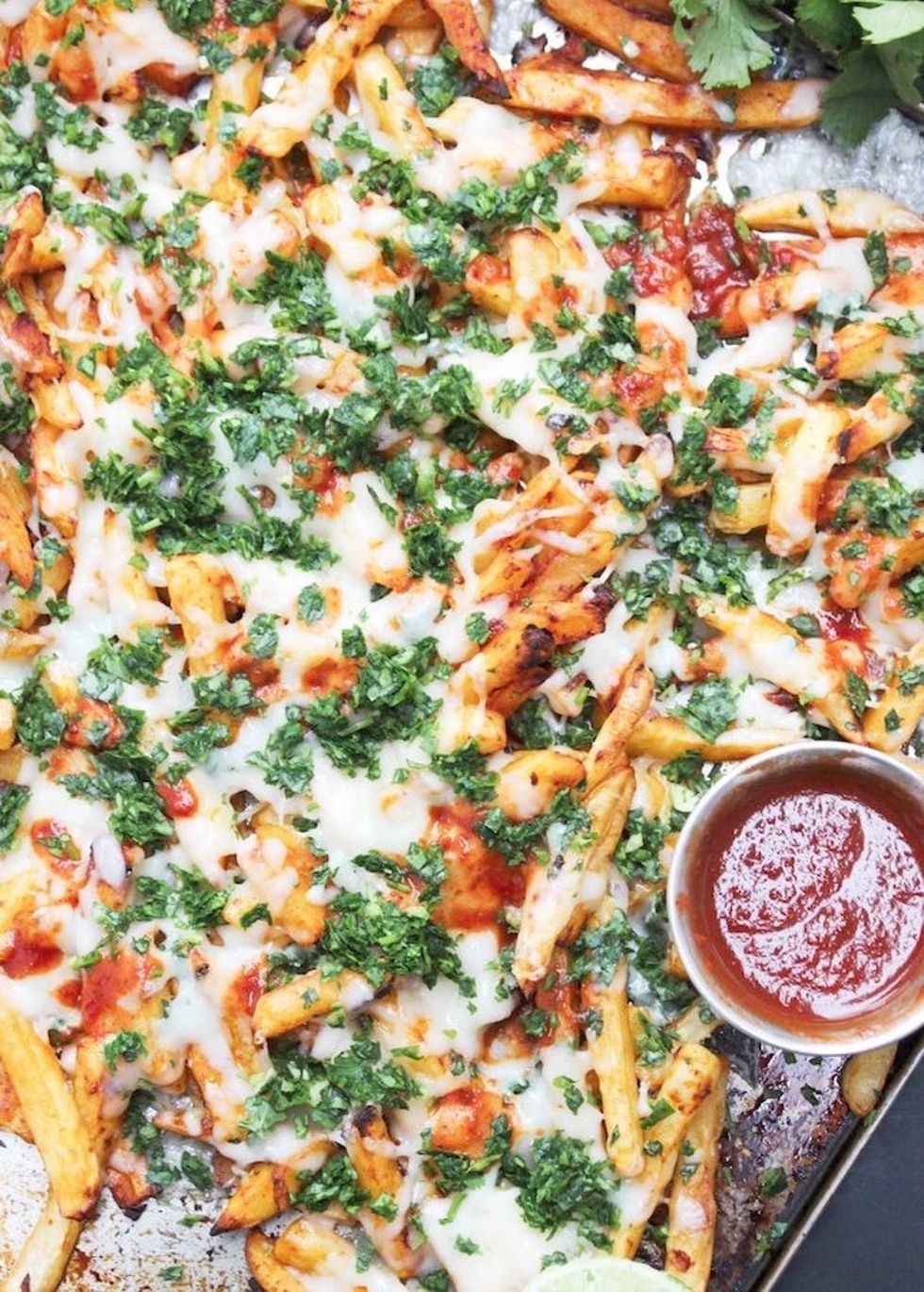 8. Chipotle Fries: We all have that friend that just can't stop eating ALL of the spicy food. In fact, that friend may very well be you. Which is why you'll want to make a double (or triple?) serving of these. You won't be sorry. (via A Dash of Sanity)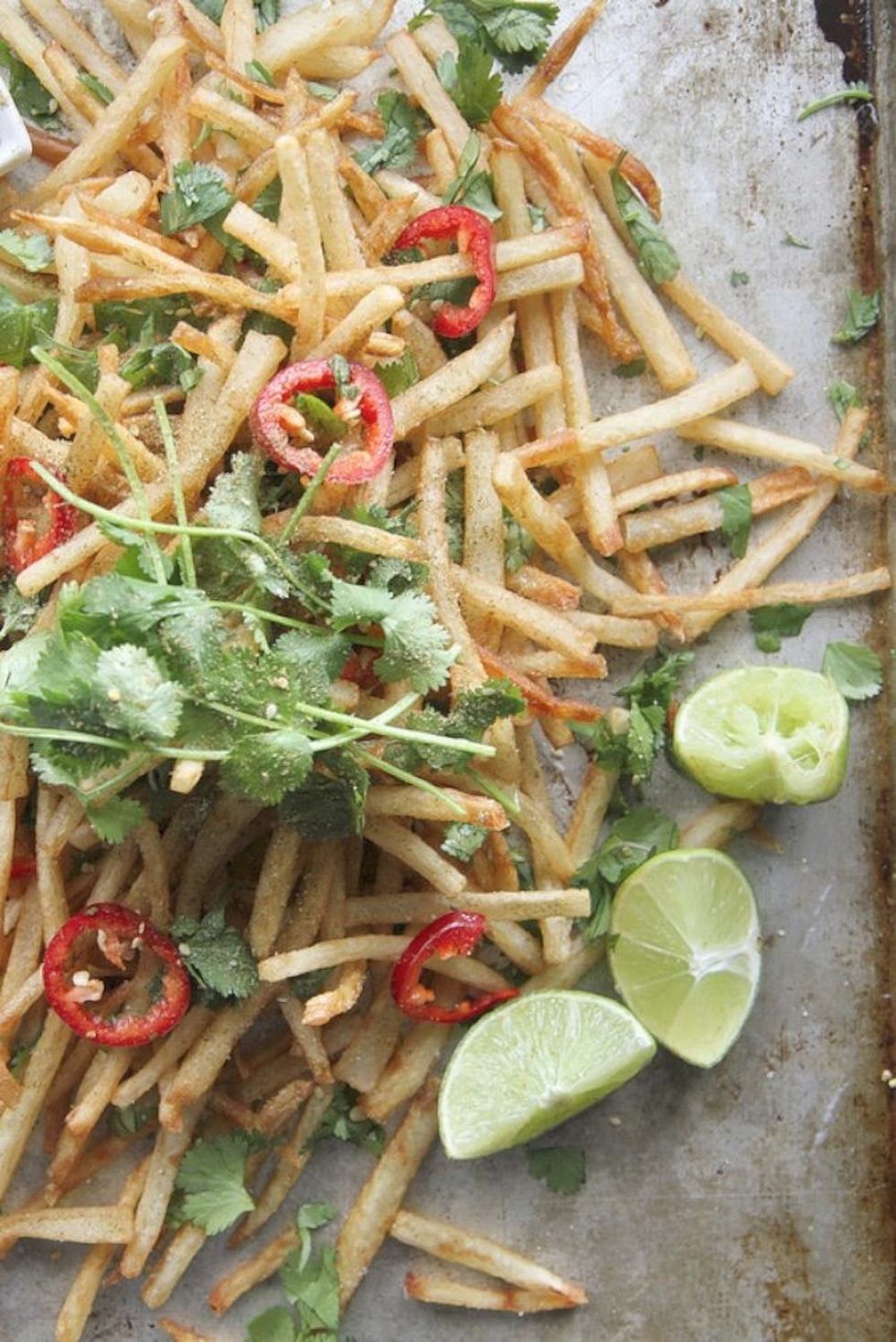 9. Lebanese Spiced French Fries: To surprise guests, serve a traditional dish like French fries with a very untraditional spice. Guests will be amazed by the way the za'atar makes these crispy fries shine, and will beg you for the recipe afterward. (via Heather Christo)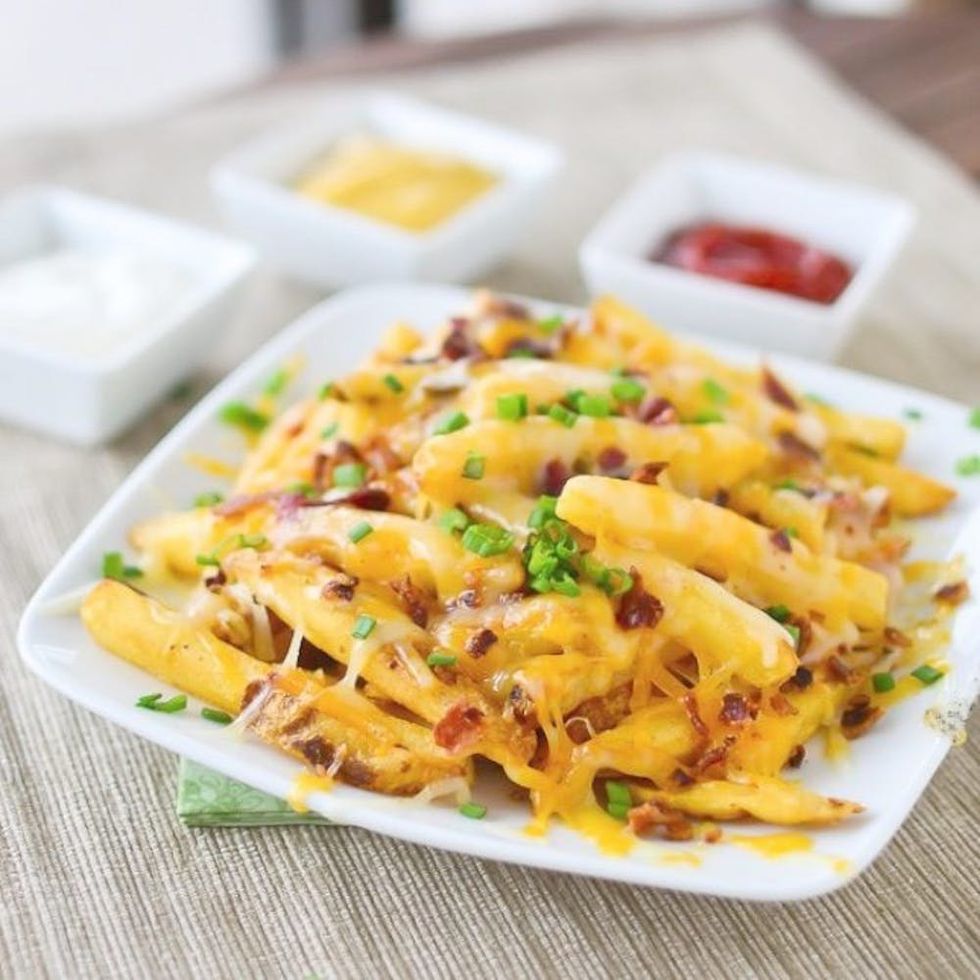 10. Bacon Cheese Fries: Bacon and cheese go together like… Well, bacon and just about anything. Is it any wonder that it tops these fries so beautifully? We'll understand if you don't want to share this one. (via Just Putzing Around the Kitchen)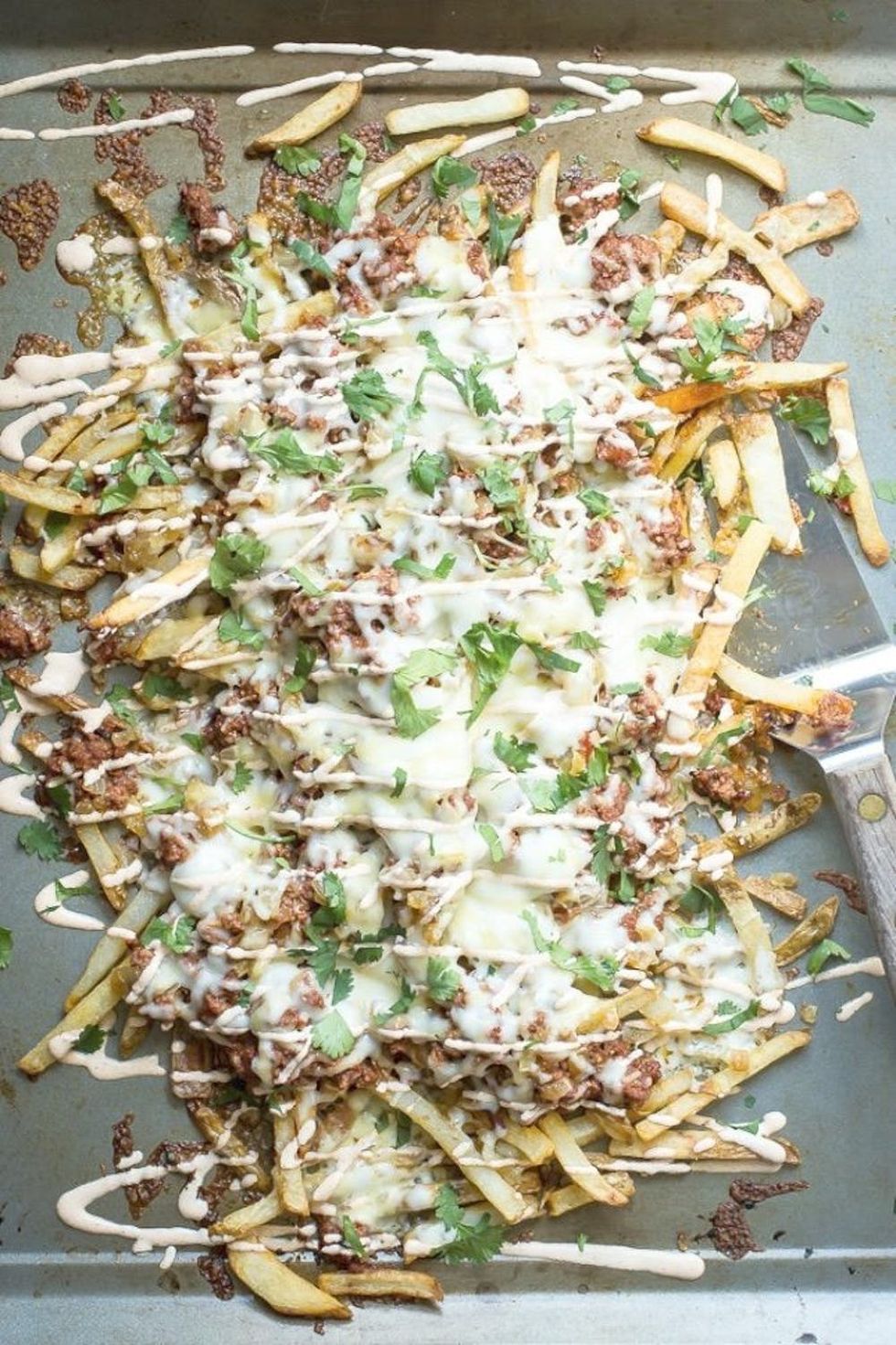 11. Chorizo French Fry Nachos: The tender meat of chorizo topping these French fries is enough to make our mouths start watering just by mere sight. The melted cheese and spicy crema are inspiration to recreate them IRL pronto. (via Foodness Gracious)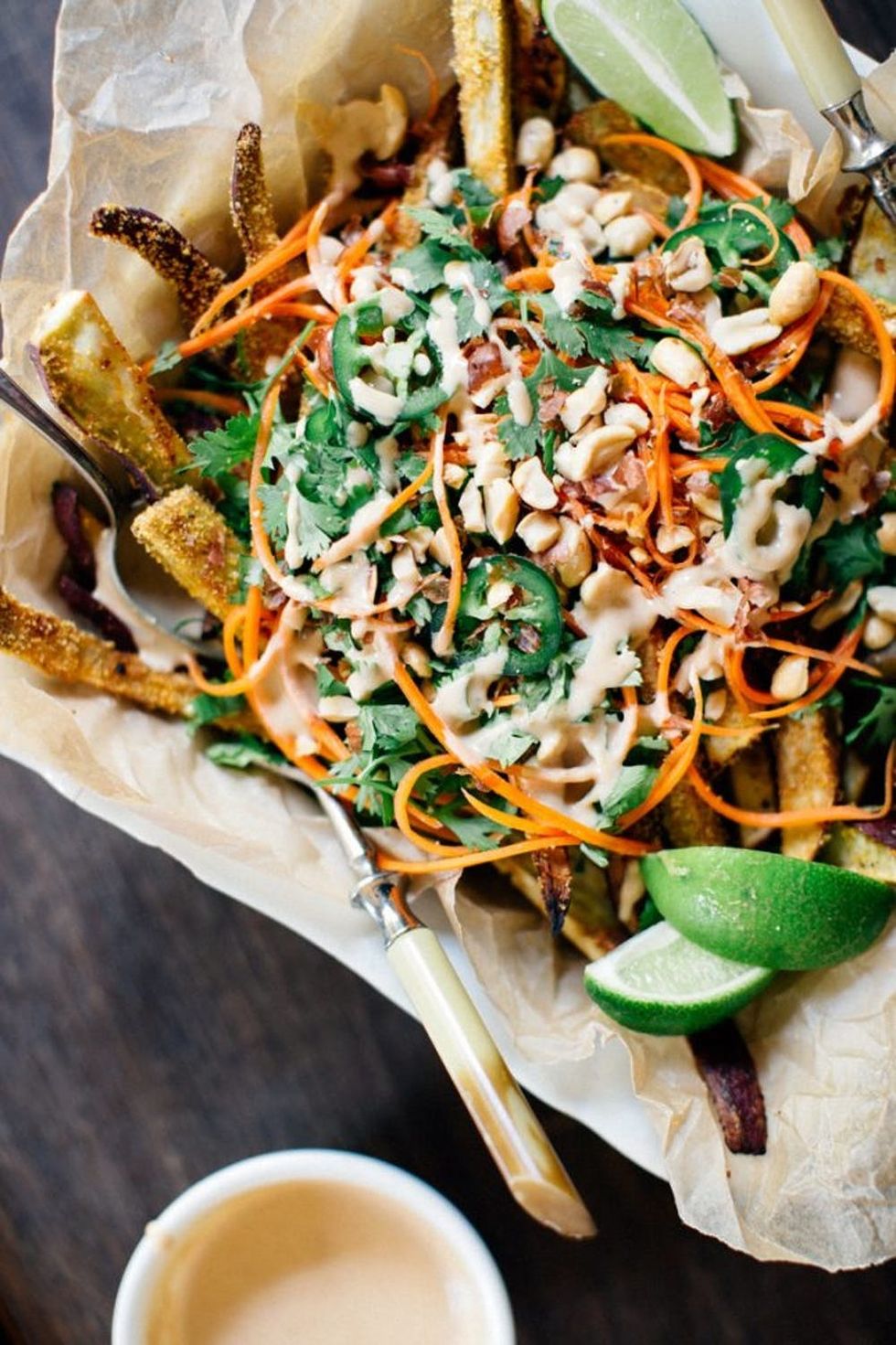 12. Loaded Bánh mì Sweet Potato Fries: If you want a sandwich, you can get a sandwich. But if you want crazy impressive fries, then you want these loaded Bánh mì-inspired lovelies. The fact that they're made from sweet potatoes only adds the WOW factor to the dish. (via Earthy Feast)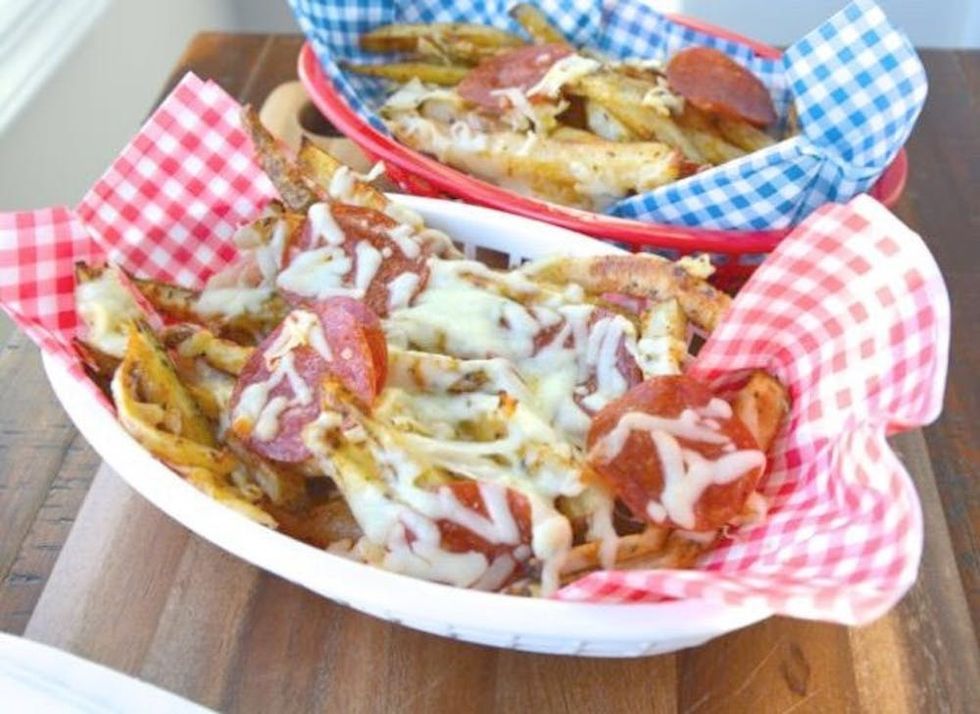 13. Simple Baked Pizza Fries: There's no argument that pizza is one of the seven wonders of the culinary world in that it's… well, simply wonderful. When you top your fries with classic mozzarella and pepperoni, then you're sure to go to foodie paradise. (via Hungry Happens)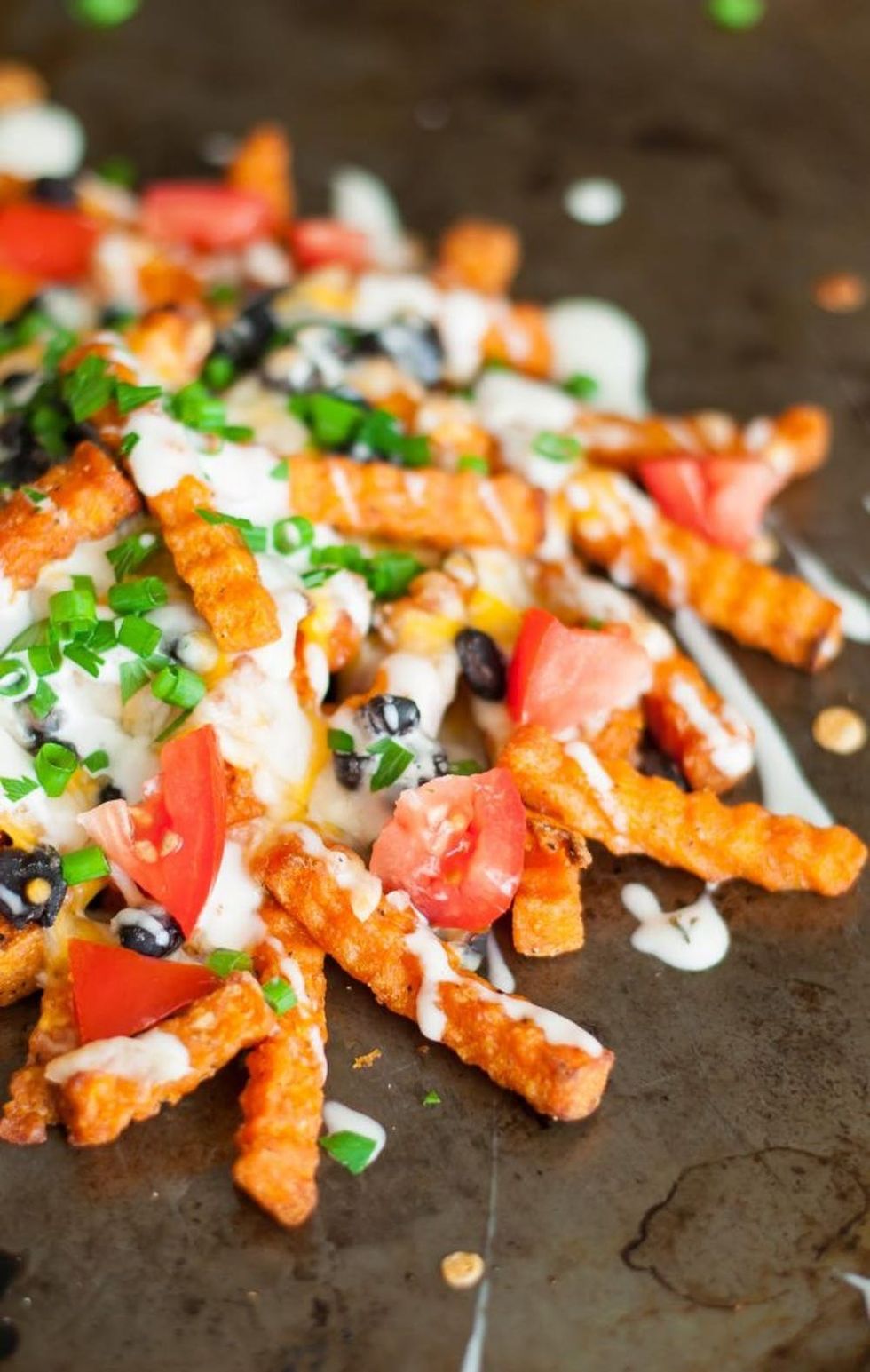 14. Loaded Mexican Sweet Potato Cheese Fries: Bring some extra flavor to that bag of freezer-ready French fries by topping them with some oh-so-special Mexican flavors. These make a perfect snack for you, your girls or your little one… or, as we said, just you. (via Peas & Crayons)
Want more delicious recipes every day? Follow us on Pinterest!