14 Crazy Unique Hot Dog Toppings You Can't Get at a Ball Park
Jul 13, 2016
When you dream of your favorite hot dog recipes, you're probably thinking about the last dog you had at the ballpark or neighborhood baseball party. Seriously, is there anything more quintessentially summer than baseball and a fully-loaded hot dog? The good news is that you can *easily* make your own gourmet dogs at home that you won't find in any baseball stadium. If we could order Caesar salad dogs or Buffalo dogs at Yankee Stadium, we honestly would never leave. Instead of living in a tent in front of a hot dog stand, keep reading for 14 ways you can take an everyday hot dog to new levels.
---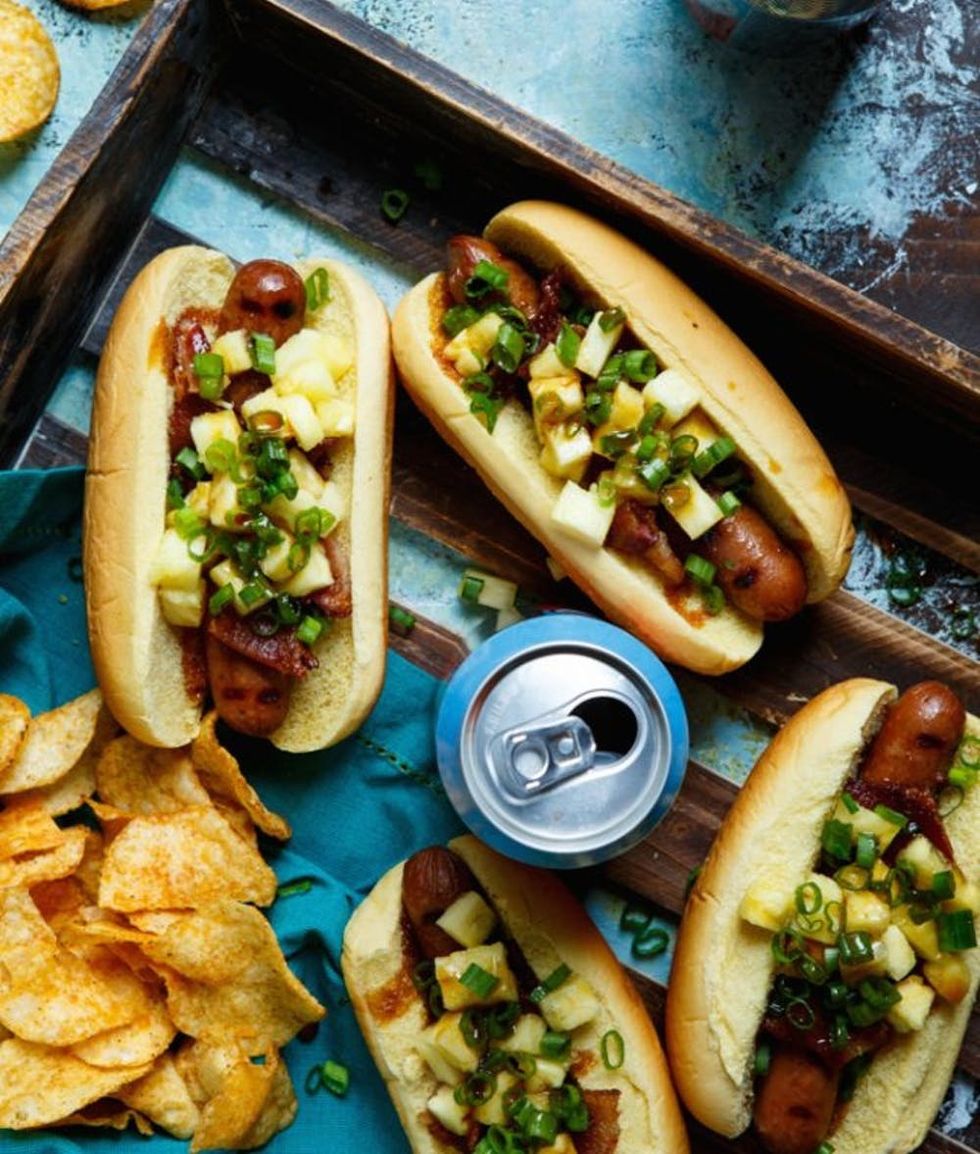 1. Pineapple, Bacon, and Teriyaki Hot Dogs: Putting fruit on your hot dog may not be a basic instinct, but it's one we should all develop. Pineapple is a great choice, especially when paired with bacon, scallions and teriyaki sauce. (via Shared Appetite)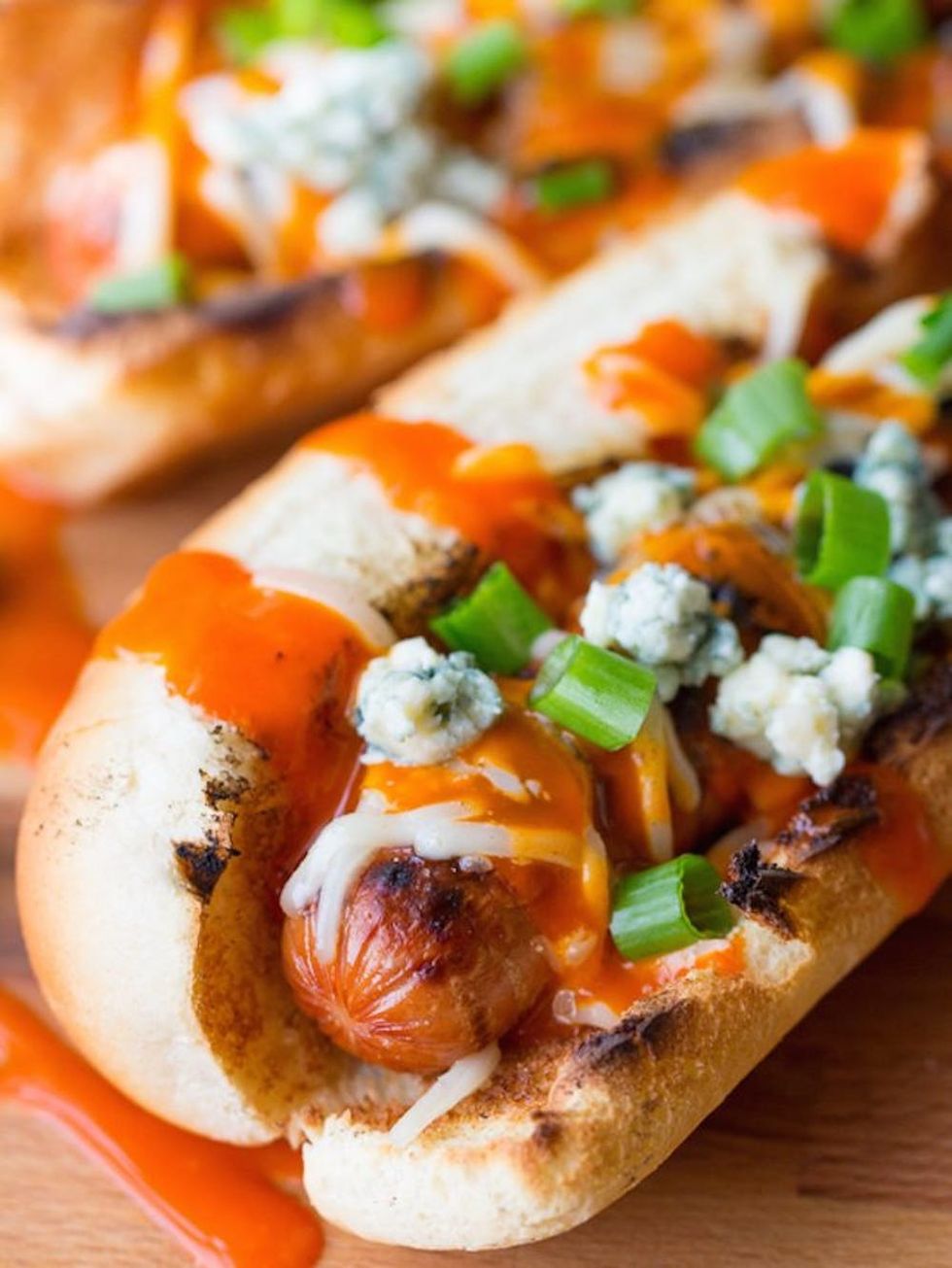 2. Loaded Buffalo Hot Dogs: Blue cheese, hot sauce and mozzarella, oh my! If there was ever anything more perfect than combining classic Buffalo and hot dogs, we don't know what it is. These have to be on your menu for the next game day. (via That Oven Feelin')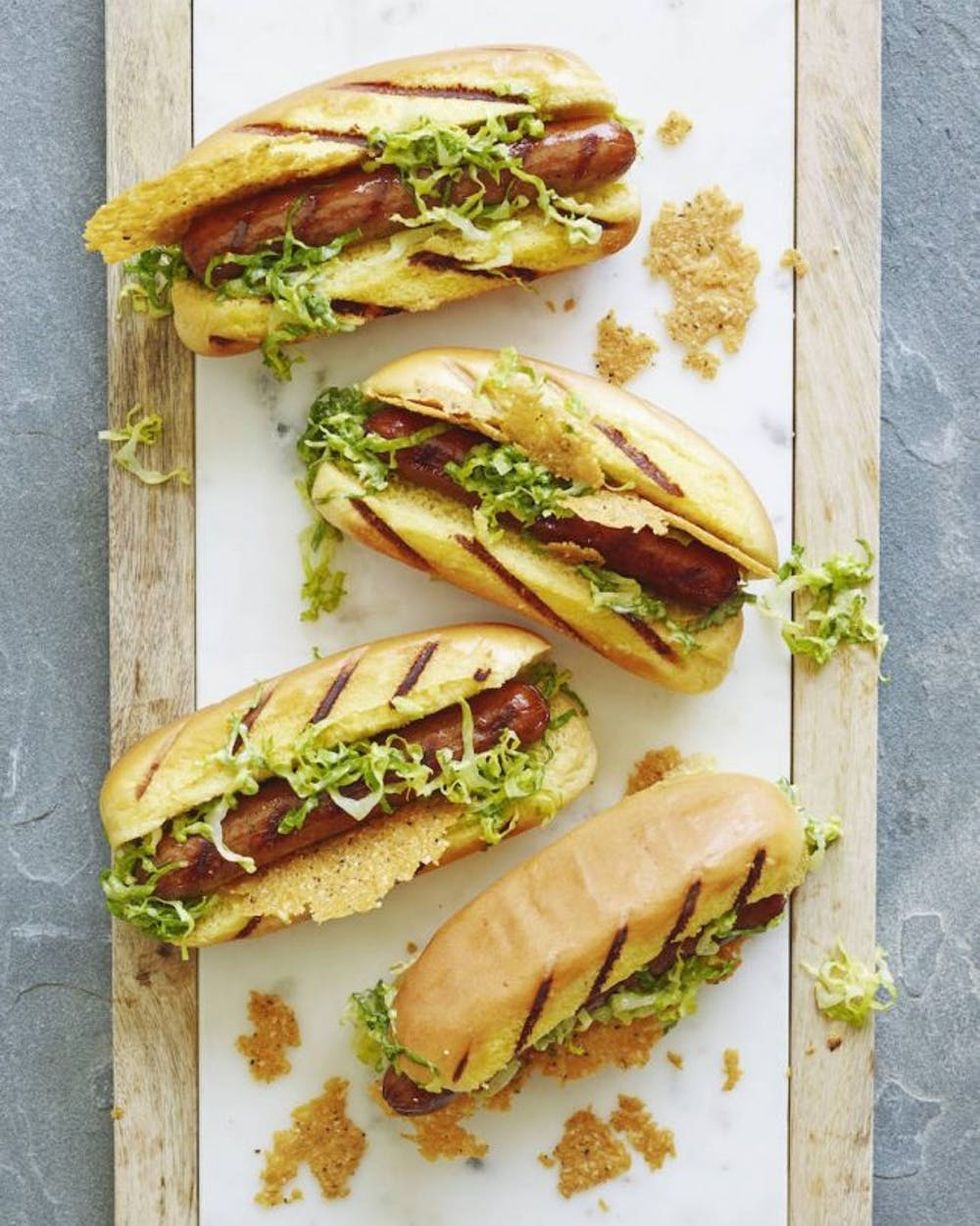 3. Caesar Salad Hot Dogs: We know what you're thinking: Why would you want to ruin your perfectly good beefy hot dog with a salad? Hear us out! The lettuce is minimal, the flavor is huge AND there are Parmesan crisps. Yep, you're convinced. (via What's Gaby Cooking)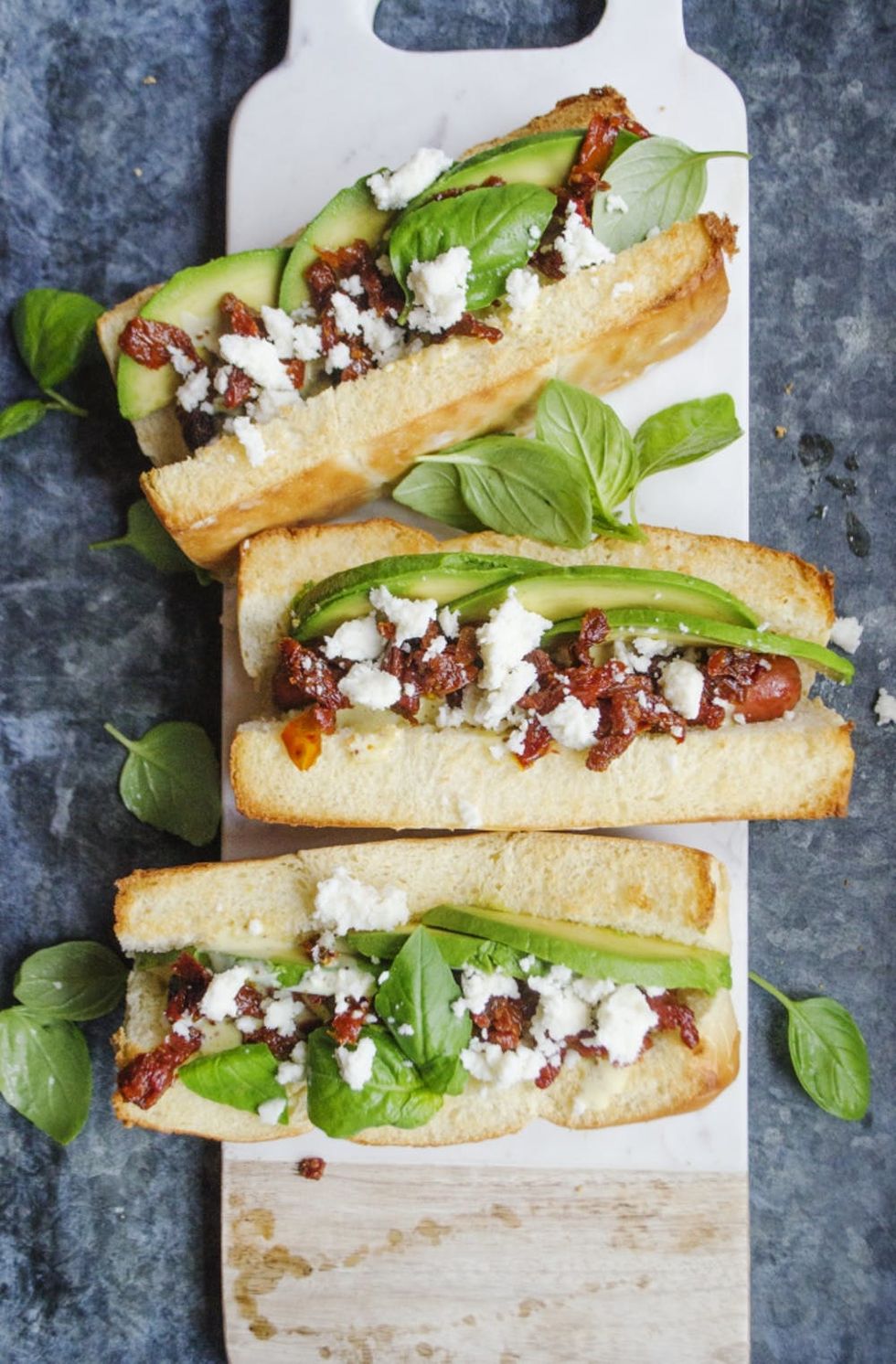 4. California Hot Dogs: Californians can't have just any old hot dogs. They have to be filled with fresh ingredients and artisanal toppings. Try sun-dried tomatoes, goat cheese and avocados to start with. (via Little Scratch Kitchen)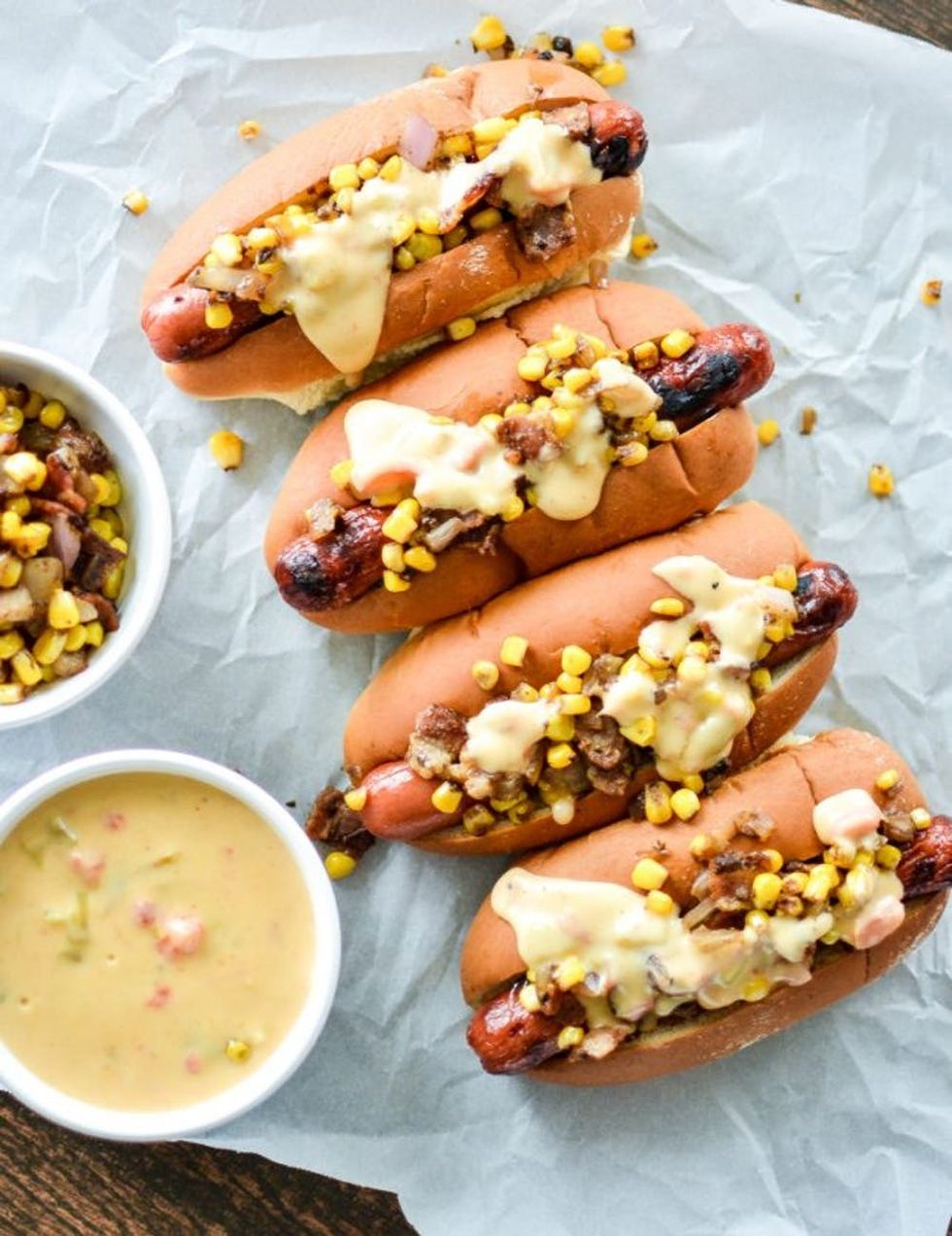 5. Hot Dogs With Chipotle Cheese Sauce and Bacon-Corn Relish: Say *hello* to summer on a hot dog. Between the chipotle cheese sauce and bacon-corn relish, these hot dogs are going to be on your cookout menu all season long. (via Cooking and Beer)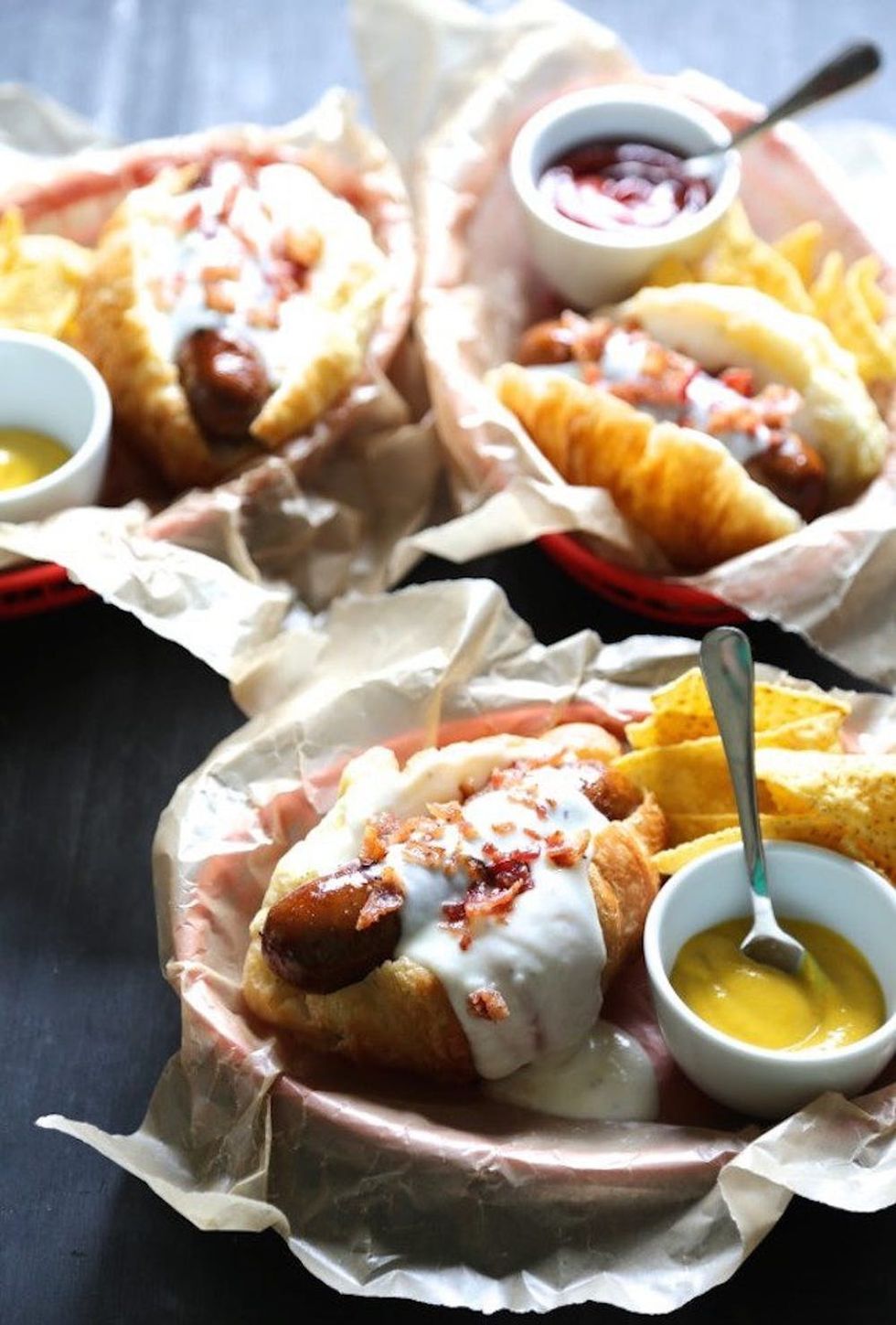 6. French Croissant Hot Dogs With Crispy Bacon: An easy way to transform your hot dog quickly is to think outside of the bun. Using something like a croissant will add interesting texture and flavor that it otherwise wouldn't have. (via Climbing Grier Mountain)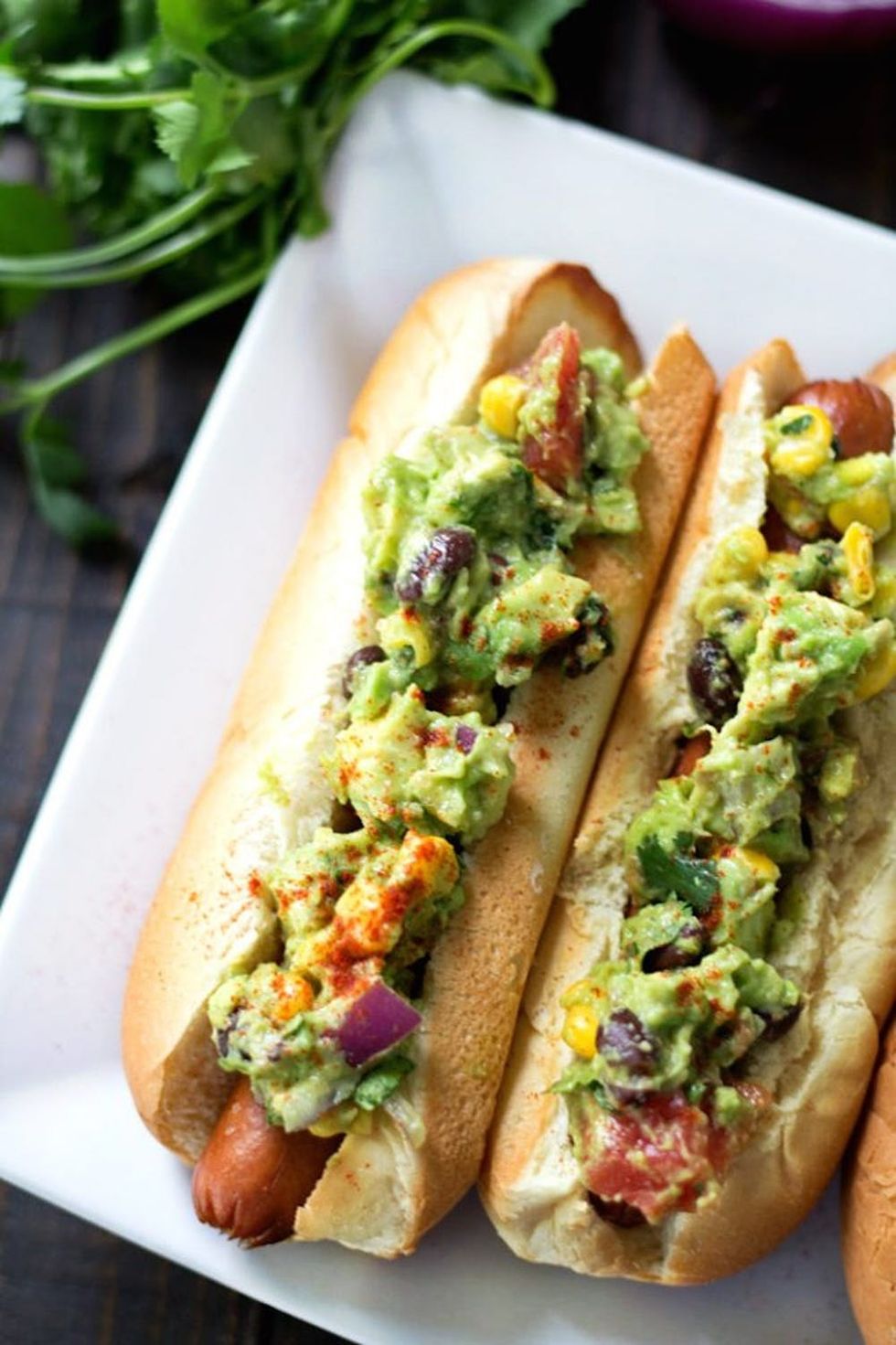 7. Southwestern Guacamole Hot Dogs: We know that guac is amazing on everything, but it's exceptionally good on a juicy hot dog. Adding black beans to your usual recipe bumps up the nutritional factor and totally justifies eating hot dogs as a full meal. (via Kim's Cravings)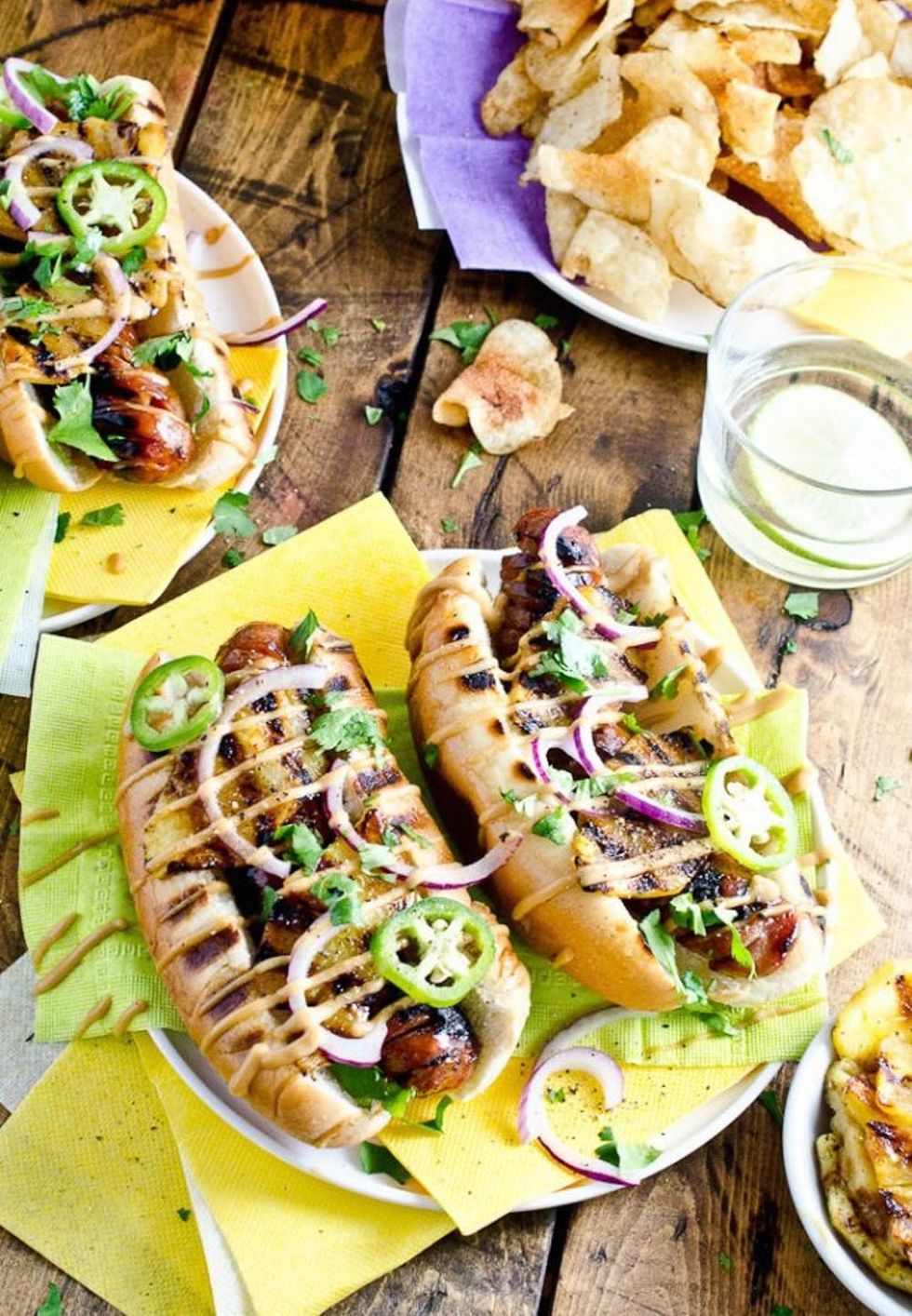 8. Hawaiian Hot Dogs With Grilled Pineapple and Teriyaki Mayo: Grilling pineapple along with your hot dogs gives them a smoky flavor and makes them even sweeter. If you like things spicy, top with fresh or pickled jalapeños after drizzling with teriyaki mayo. (via The Endless Meal)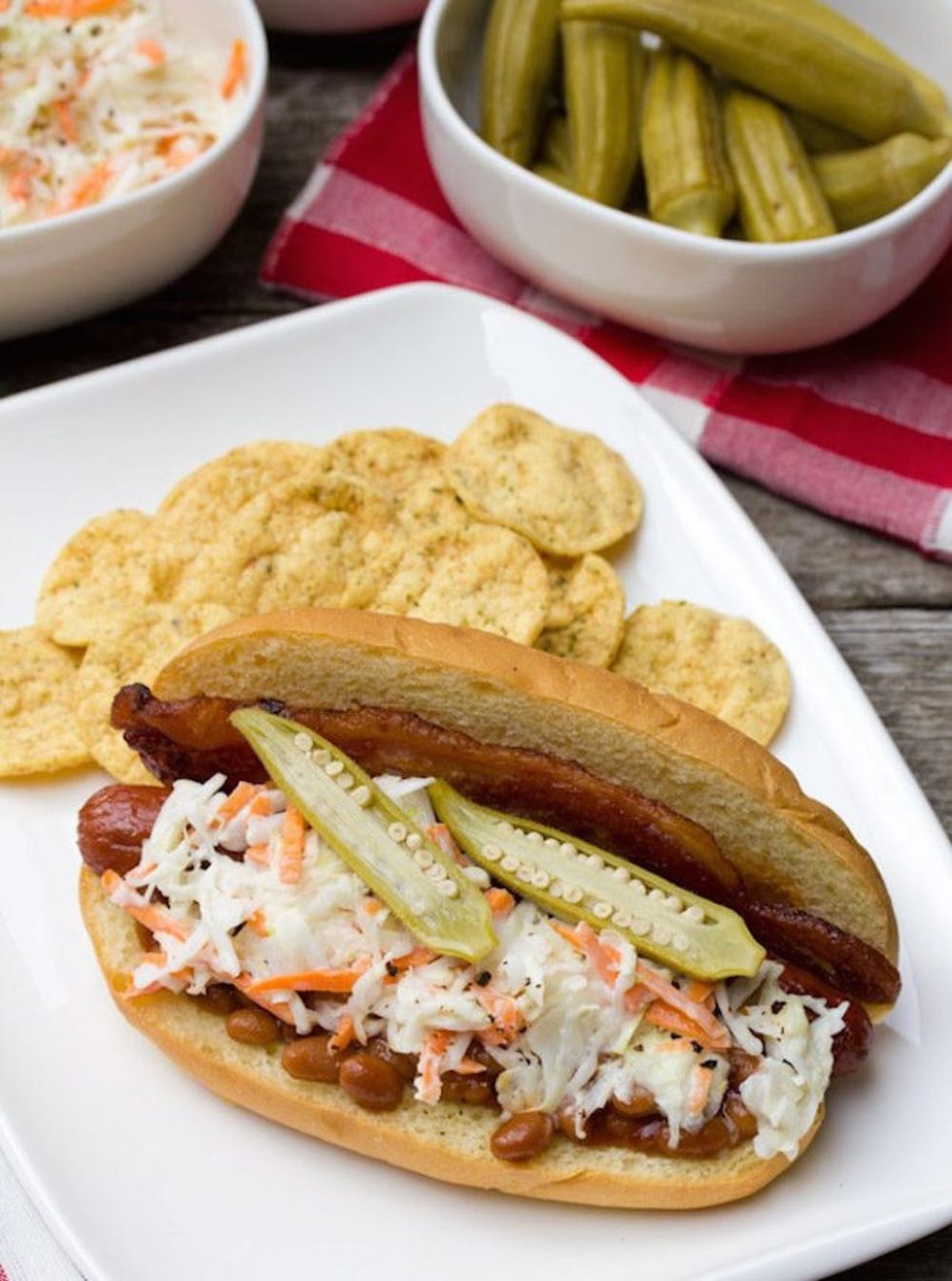 9. Southern Comfort Hot Dog With Bacon, Baked Beans and Slaw: There's no need to waste valuable real estate on your paper plate when you can just pile everything on your hot dog. Save room for pasta salad and add your baked beans and slaw to your dog… You *won't* be disappointed. (via A Spicy Perspective)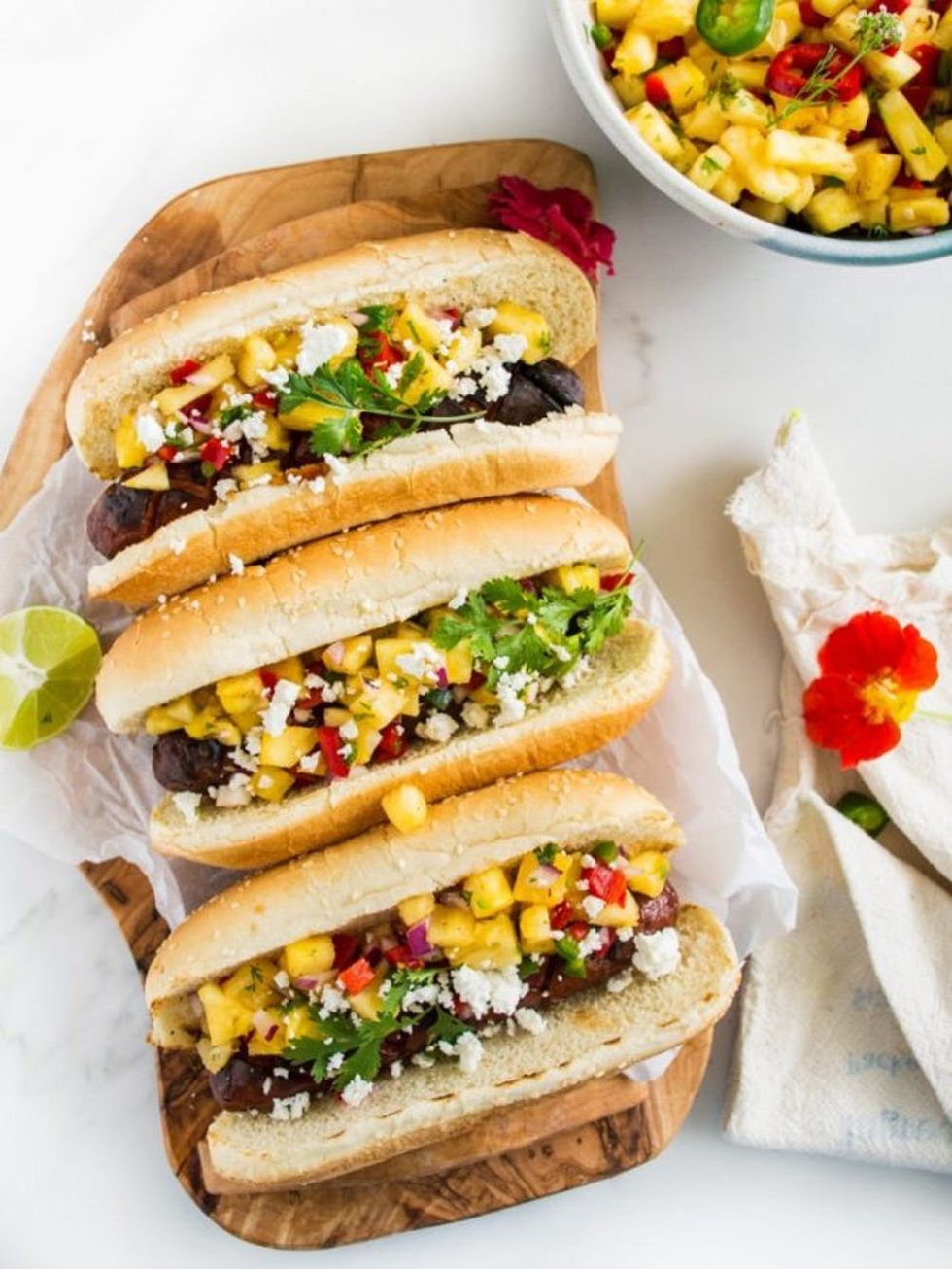 10. Hoisin Glazed Hot Dogs With Fresh Pineapple Salsa: When you've charred your hot dogs beyond repair, a fresh salsa can do wonders to bring them back to life. Sprinkle with feta cheese and a bit of parsley and you've completely transformed your damaged goods. (via Port and Fin)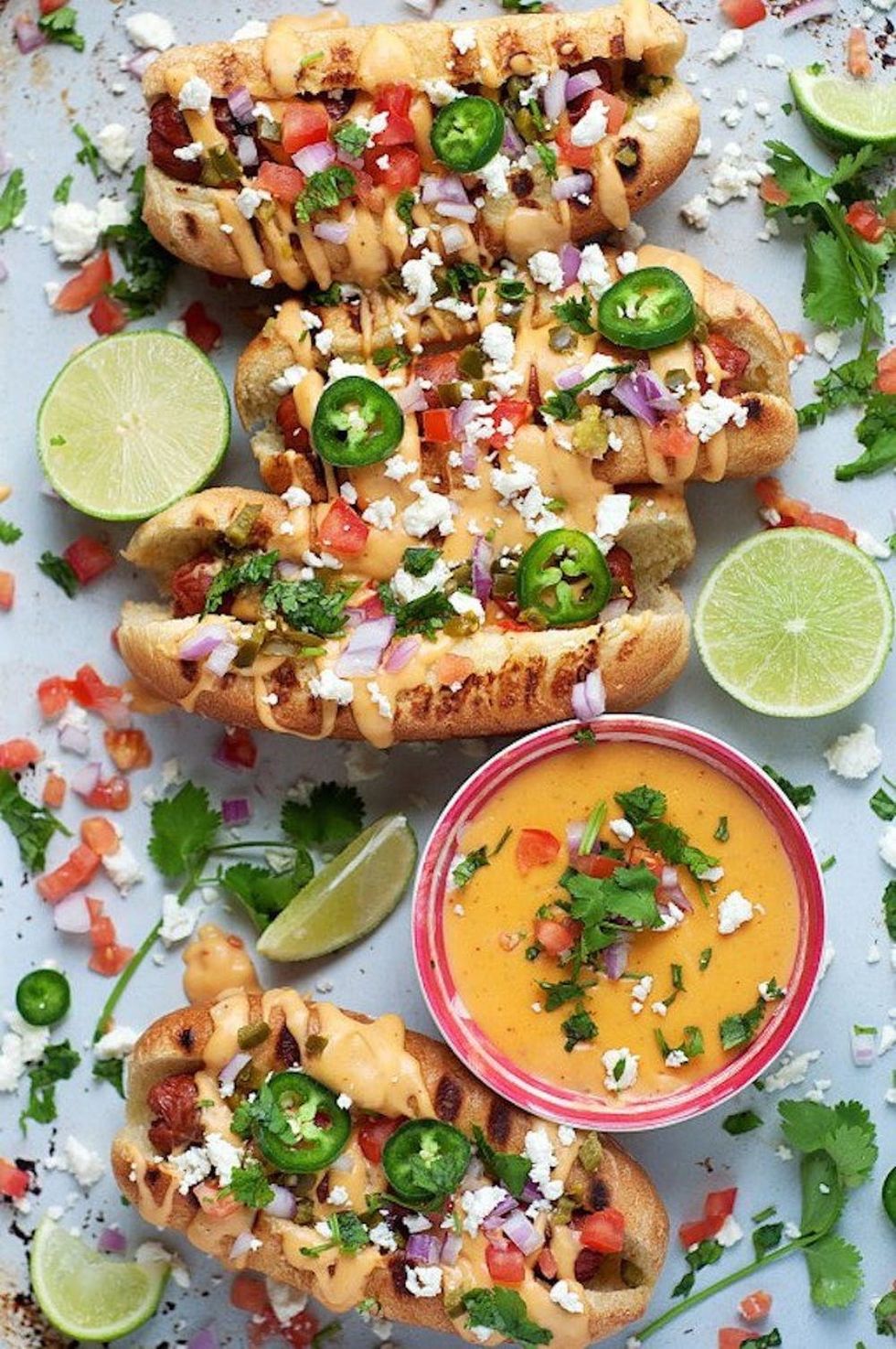 11. Queso Cheese Hot Dogs: Most of us would probably eat a shoe as long as it's covered in queso. Thankfully, this time the queso is covering a tasty all-beef hot dog and is topped with classic Mexican garnish. (via Little Kitchen Big World)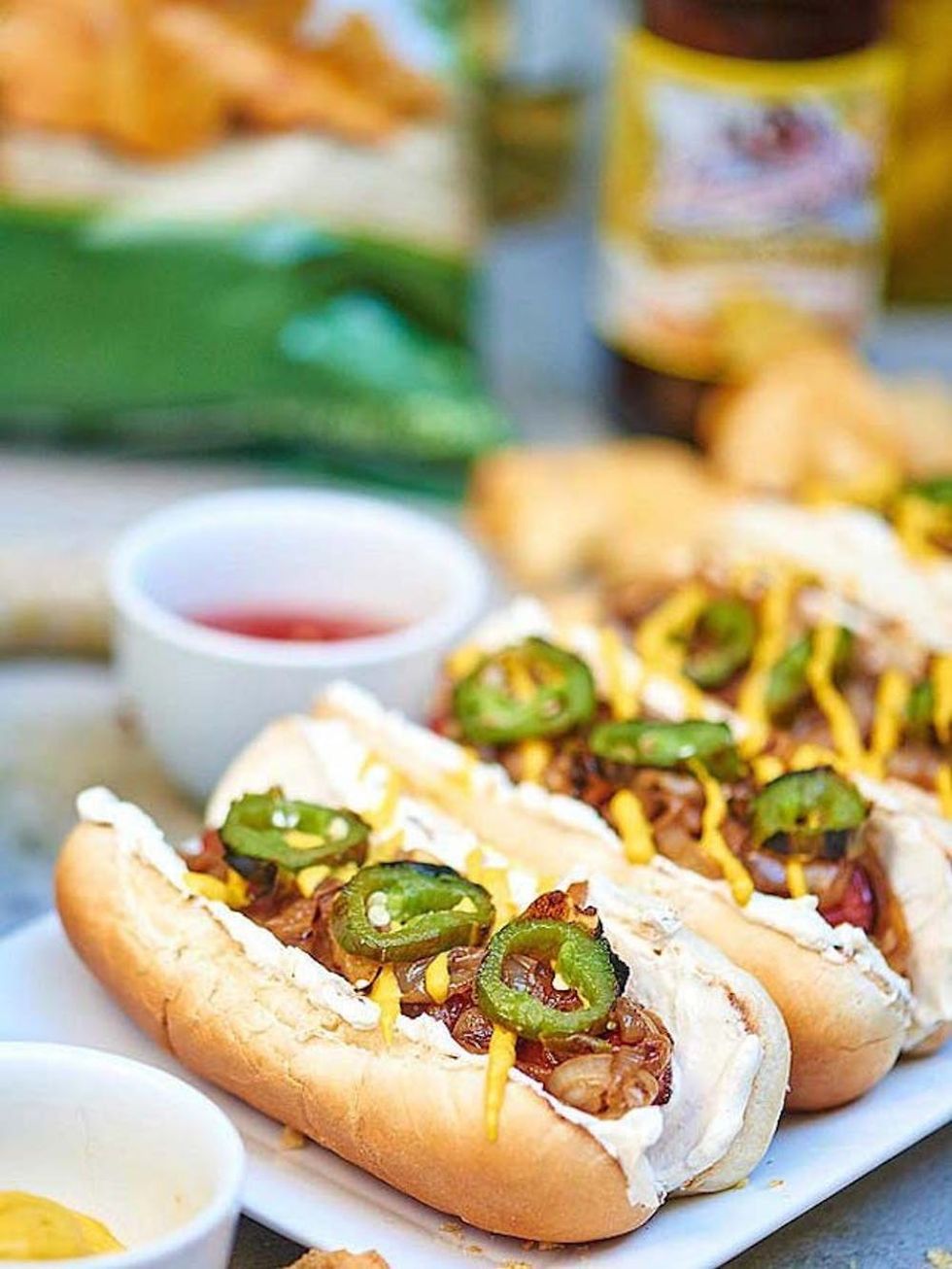 12. Seattle Hot Dog: A classic Seattle dog consists of a hot dog (obvi), caramelized onions and cream cheese. Yes, you heard correctly, and it's amazing. You can add whatever additional toppings you like, but do not under any circumstances omit the cream cheese. We're watching. (via Show Me the Yummy)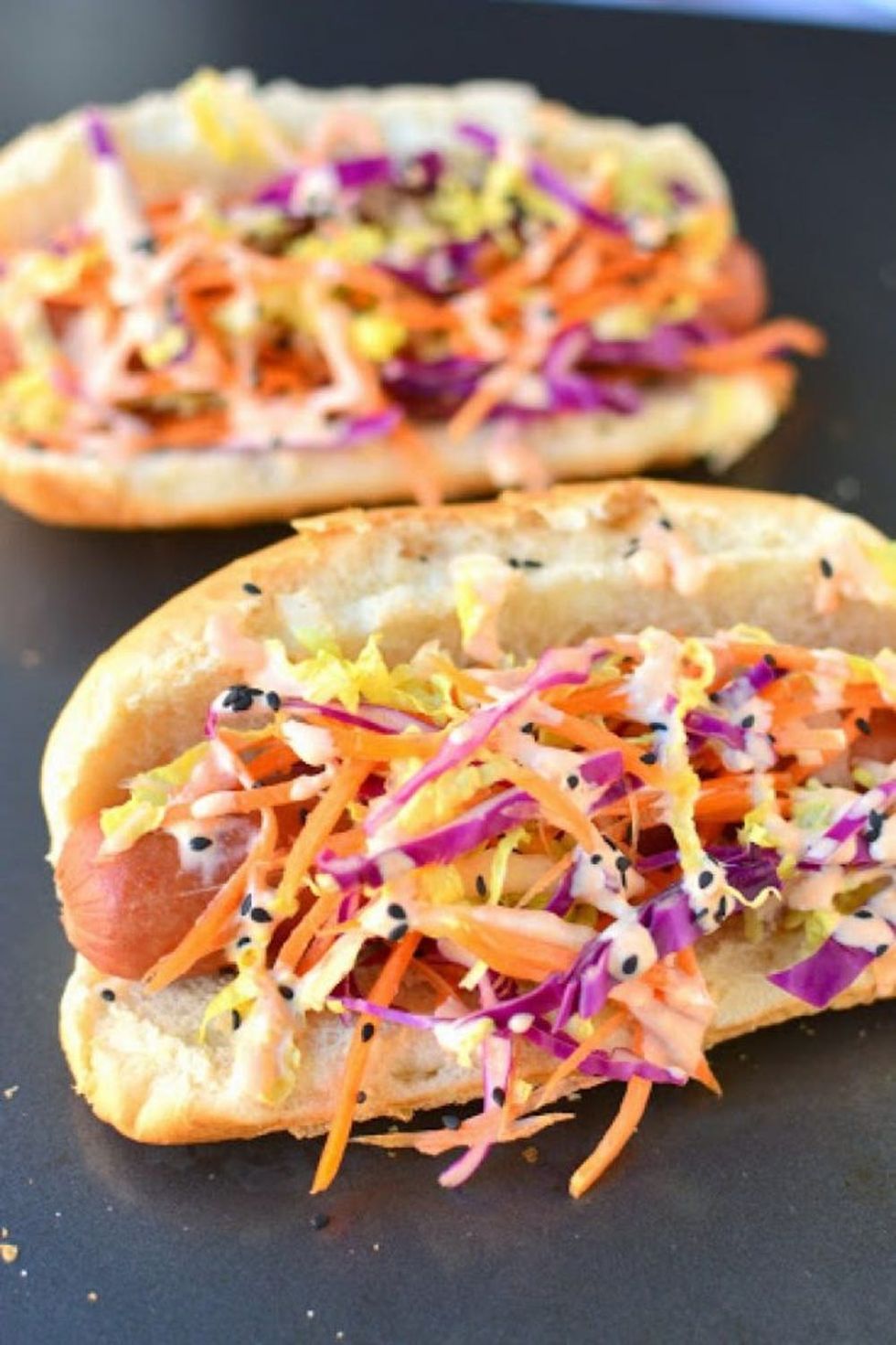 13. Sriracha Slaw Hot Dogs: One category that regular hot dogs lack in is texture. Add a pile of crunchy and spicy Sriracha slaw and that problem is solved instantly. Just don't forget to make extra slaw for next weekend's BBQ too. (via Builicious)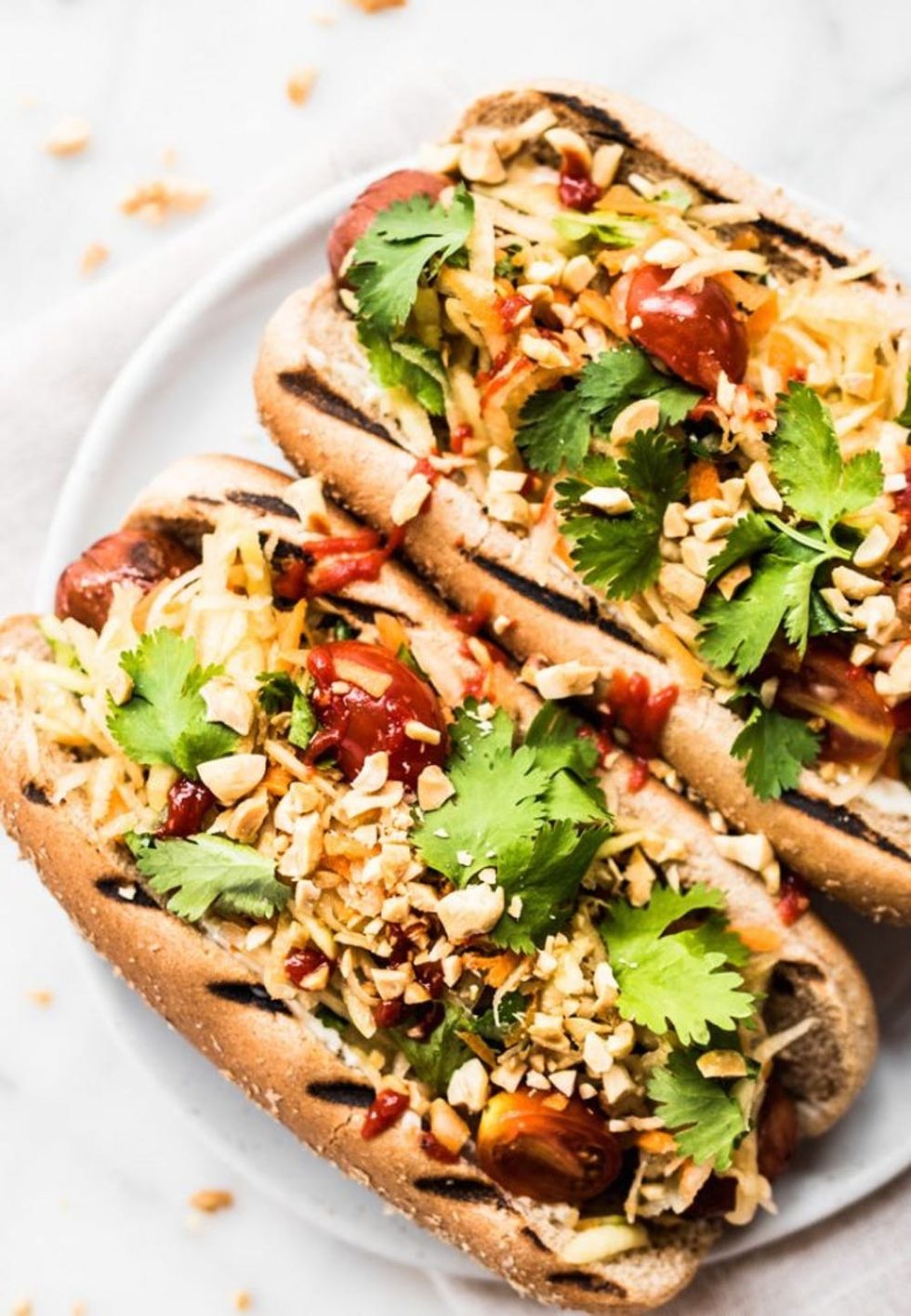 14. Thai Style Hot Dogs: This Thai twist on the American classic is a serious adventure for your taste buds. It's safe to say you probably haven't had a hot dog with green papaya and dried shrimp slaw, but once you try it, you'll be hooked. (via Hapa Nom Nom)
Follow us on Pinterest for more easy + delicious recipe ideas.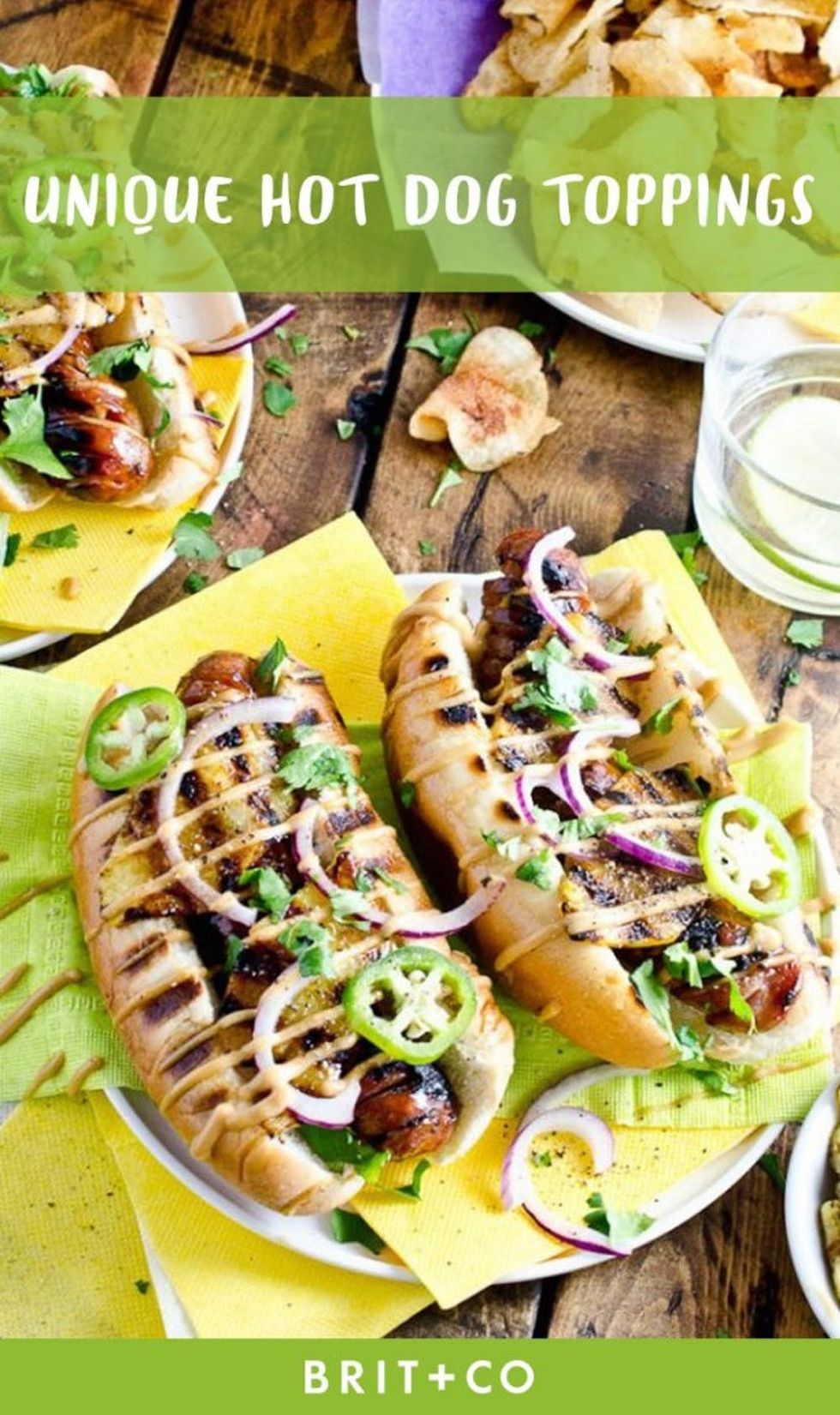 Paige Johnson
Paige is a blogger, food writer and culinary master from Louisville, Ky. She's a newlywed who's obsessed with dogs and renovating her 117 year old home. When she's not working on her blog —
My Modern Cookery
— you can find her binge watching F.R.I.E.N.D.S with a triple shot latte in-hand.