This Inspiring Designer Blends Culture and Fashion in the Most Colorful Way
Feb 14, 2018
Shadé Akanbi leaves a little color wherever she goes. One scroll through the IG feed behind the brand, Printed•Pattern•People, and you'll see why. As the lead designer for this growing global textile collection, Akanbi leans on her Nigerian-American roots, as well as her extensive world travels, to bring lively prints and patterns to the modern world. By blending her own creative aesthetic with that of artisans based locally and internationally, her refreshing approach to art and fashion is culturally inspiring — and gorgeous — to say the least.
We caught up with the designer in an exclusive interview to discuss her muses, motivations, and what's she doing to empower others around her. Scroll down to see the entire candid conversation below.
---
Brit + Co: Who has inspired you / continues to inspire you?
Shadé Akanbi: As an artist and designer, I absorb inspiration from many sources. As someone who is influenced by all different kinds of artists, authors, designers… musicians, creatives, and makers, it's difficult to name them all.
With that said, the two most inspirational figures in my life (and the makers of me) are my parents. My mother, Zina Akanbi-Birden, for instilling strength and courage in me from a young age. She always believed and told me (which is most important) that I could be an artist. She nurtured my talent as opposed to muffling it and has heavily shaped the woman I am today. My father, Olayinka Akanbi, who passed suddenly in January 2011, immigrated to the US from Nigeria to receive his college education. Although he wanted me to follow his footsteps and pursue a career in engineering, he never stopped telling me that whatever I wanted to do, I needed to work hard and do it well.
When I was 13 years old, he took my sister and I on our very first plane ride ever, and ventured on a 17-hour trip back to Lagos to visit my grandmother, meet the rest of the family, and see with my own eyes this far away land I had only viewed in pictures. I stayed there for one month. I was introduced to so many unknown variables during that time, and even though I was with my family, I remember often feeling a bit intimidated and overwhelmed with all the newness. That trip was a definitive life moment for a number of reasons. Not only did it unearth the voyager in me from a very young age and inspire me to keep exploring the world around me, but by exposing myself to a plethora of multicultural people, places, patterns, and prints, I have continued to take steps outside of my comfort zone, in faith and with purpose in all areas of my life… and I have only been rewarded because of it.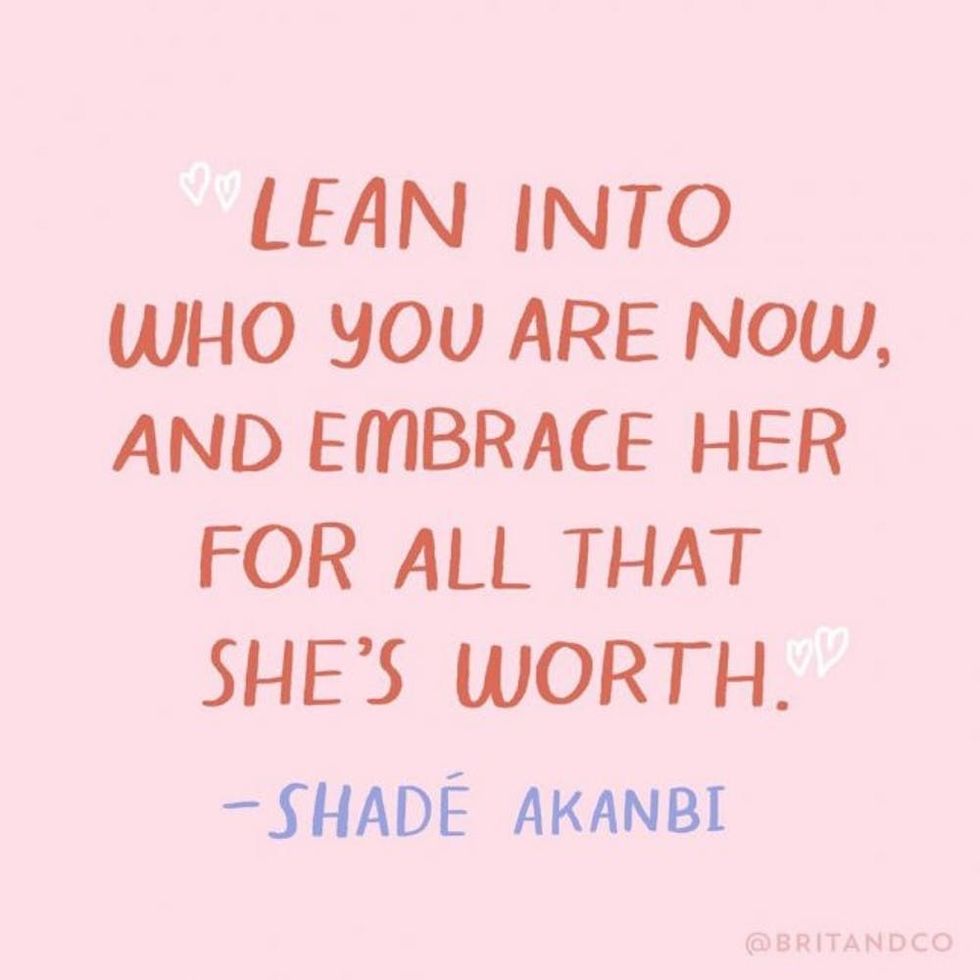 B+C: What would you say to inspire your younger self?
SA: I am the oldest of three girls in my family and I remember telling my baby baby sister (who is 10 years my junior) this when she was going off to college and I would tell my younger self this very same thing: All through your developmental school years, from elementary, to middle school, then high school, you have vigorously spent your time trying to assimilate your personality, your style, everything to be just like your peers. You think that being like everyone else is the goal. You think that will make things easier for you later, if you can just "blend in."
Well, when you get to college, you'll realize that everyone isn't trying to blend in, but instead working on ways to figure out now how to stand out! When you are released from the safety net that is formal education, standing out from the crowd is what will propel you forward. You will need to undo all of that conditioning that you inadvertently did before you got there. You will need to remember who you are, where you came from, what you like and dislike… and it's completely okay if those things aren't popular among your friends. They will still be your friends and if not… the ones who are meant to be in your life will be revealed then too.
So instead of taking another four years to figure that out, just start now. Lean into who you are now and embrace her for all that she's worth. And honestly, she's worth everything. Your ideas, your thoughts, your capabilities… the way you carry yourself, dress yourself, see yourself… it's all right. And it's all you. No one else has that… and that is your power. Take your power now and let it be the fuel that takes you through the rest of this beautiful journey called your life.
B+C: When do you feel most creative?
SA: I actually feel most creative in my work when the odds are stacked against me. Whether it's budget constraints, colors that maybe visually don't seem like they marry well together… or even when the people I'm working with or around (when it comes to certain projects/clients) have doubts about the end product, I am my best in those moments. I consider my resourcefulness one of my superpowers and I love a challenge. I'm confident in my ideas and design aesthetic and believe that staying true to who I am in my work always enables me to produce something beautiful and meet (if not surpass) expectations, no matter what… every single time.
B+C: How do you use social media to inspire others?
SA: When I first joined IG, it wasn't to inspire others, but rather to inspire myself. It's my personal mood board, my visual journal, my photo album… all published on one platform. It has always been an honest reflection of the many facets that shape who I am as a whole. I often use #itsinthedetails because it's a personal motto that's woven throughout everything I'm cultivating into my actual real life. My faith, my dreams, my ideas, my art, my love (for people and for what I do)… it's all included in the details of what I showcase on my feed.
In this day of social media where we are able to filter and share only what we think will be perceived in the best way, there is liberty found in embracing exactly who you are, and that's what I try my best to do, authentically via my platform. I love my perfectly imperfect colorful and complicated ways… and being able to share images that reflect exactly what I want to say about myself and my business, expressing my candid thoughts, and making connections (especially those that have started online and grew into real-life friends and partnerships) are just a few of the rewards that I have received from joining the social media community. It's been a welcoming blessing and humbling experience for me that others are inspired by this as well and find it relatable.
B+C: What issue should we be paying more attention to?
SA: I believe we should still be paying attention to the many ways women, especially women of color, are left out of certain circles or capped when it comes to advancing in society on a number of platforms (professionally, economically, socially, etc). Having witnessed and even living out this experience to this day, it's crazy to me that we still have to work twice or three times as hard to be afforded those same opportunities as everyone else.
B+C: What obstacle do you want to see women overcome in 2018?
SA: I want for us get over criticizing each other and instead make a sincere and consistent effort to celebrate one another. There are plenty of social, economic, and cultural biases already in place built to keep us down, so we've got to continue to unite together, show up for one another, and lift each other up. We are so much better… together.
What other inspiring females are you following? Let us know @BritandCo!
(Design via Sarah Tate)
Sarah Schuh
Home Decor. Entertaining. Travel. Lifestyle. 'Grammer, dreamer, trip planner. Forever coming up with my next creative endeavor. Until then, I'm documenting everything I like on paper, er, the digital world.
Creativity