'The Bachelor': 7 *Major* Moments from 'Women Tell All'
Feb 26, 2018
Warning: Spoilers ahead! Do not read unless you have watched the February 25 "Women Tell All" episode of The Bachelor.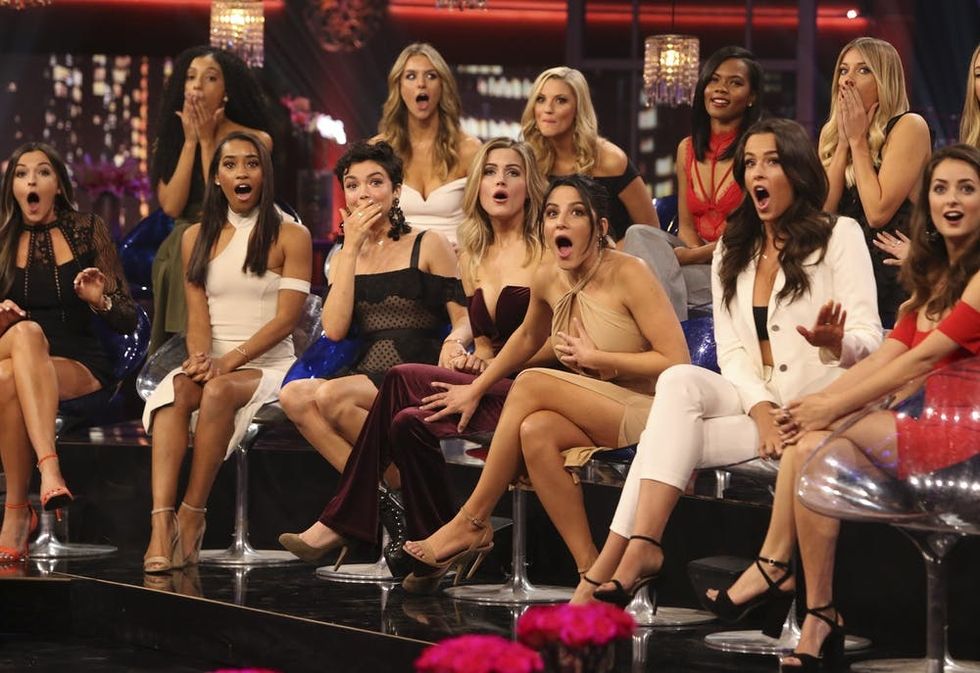 ---
Well, friends, we're down to our final three ladies on Arie Luyendyk Jr.'s season of The Bachelor, which means it's time to check in with the other two dozen or so he sent packing. Unfortunately for us — but fortunately for Arie — not everyone could make it to the Women Tell All special, so he only had to face 18 of his exes. As you can tell by everyone's shocked faces in the photo above, though, there was still plenty of drama to go around. Here are the seven biggest moments of the night: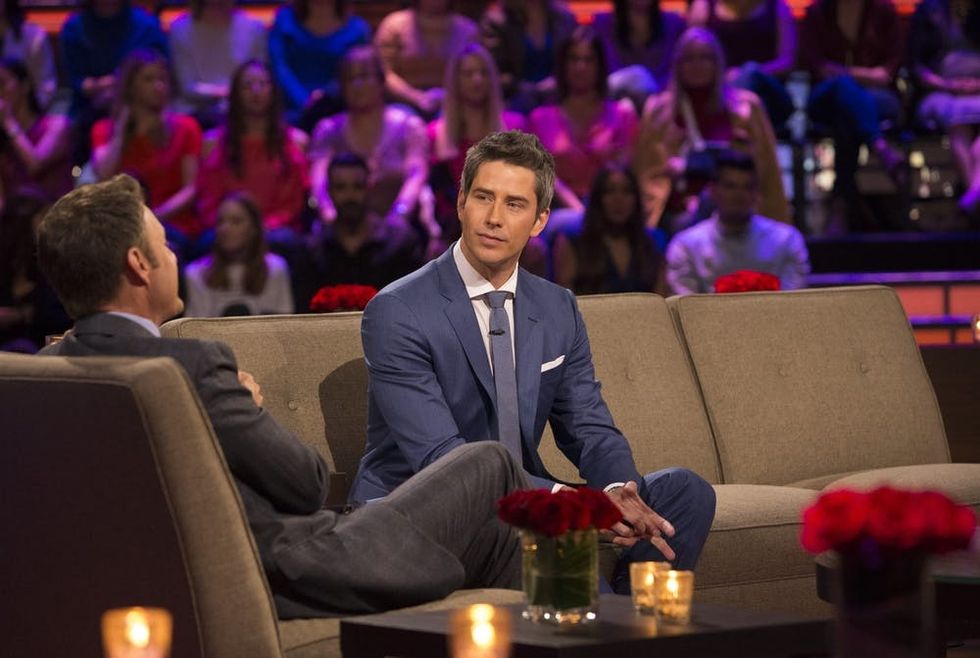 1. Caroline Confronts Arie
Viewers may not remember Caroline from her time in the mansion, but she definitely made her mark at Women Tell All. Toward the end of the special, when Arie came out to face the ladies he rejected, Caroline called him out for some as-yet-unaired drama that will supposedly "play out in the weeks to come," according to Arie.
"I know what you did," she began, cryptically, "and I don't know how you could do that. I just really don't understand. But I really hope you found what you're looking for. You don't need to answer me, but I needed to say it."
She didn't elaborate, but based on Arie's response and Chris Harrison's promise that the upcoming finale is "truly the most dramatic ending in Bachelor history" — he swears he means it this time — we have a feeling something big is going down in the next two episodes.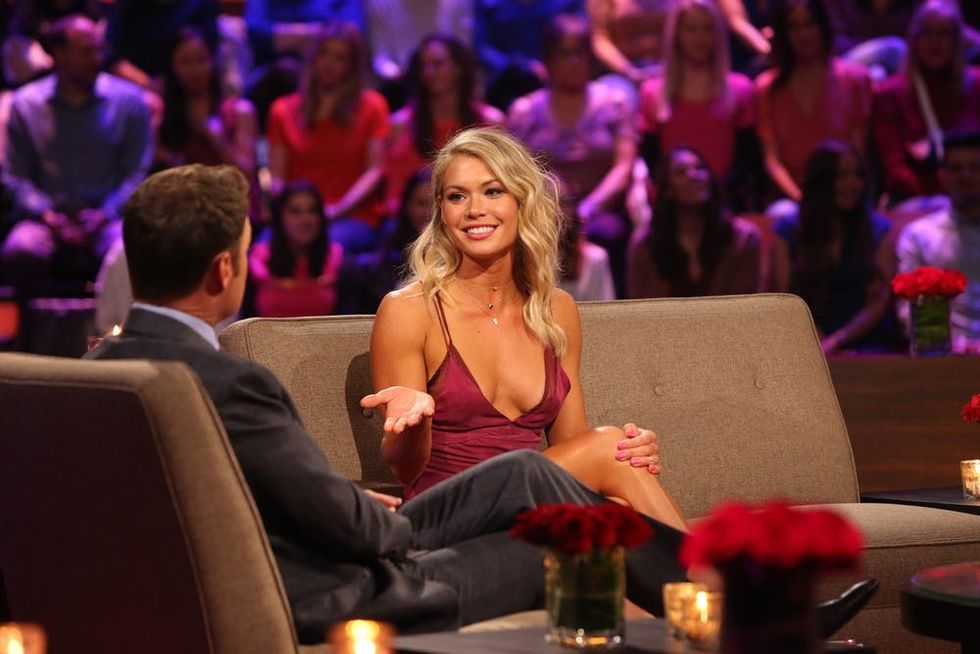 2. Krystal Clashes With… Everyone
Time did not heal all wounds where Krystal and her fellow contestants were concerned. The majority of the women still had a lot of unresolved anger toward her, and she wasn't exactly feeling warm and fuzzy about them, either. Tia accused her of playing games, Lauren S. called her inauthentic, and Caroline straight-up said she acted like a "sociopath" in all of her interviews.
Krystal fought back by noting that the women talked about her just as much as she talked about them, and then going back to the argument that she was there for Arie and "really focused" on their relationship. When Seinne said they were just looking for an acknowledgment that calling them desperate and talking down to them was "not okay," Krystal explained why she called them desperate — but still declined to apologize. She eventually said she was sorry that she "couldn't see" how she was affecting the other women.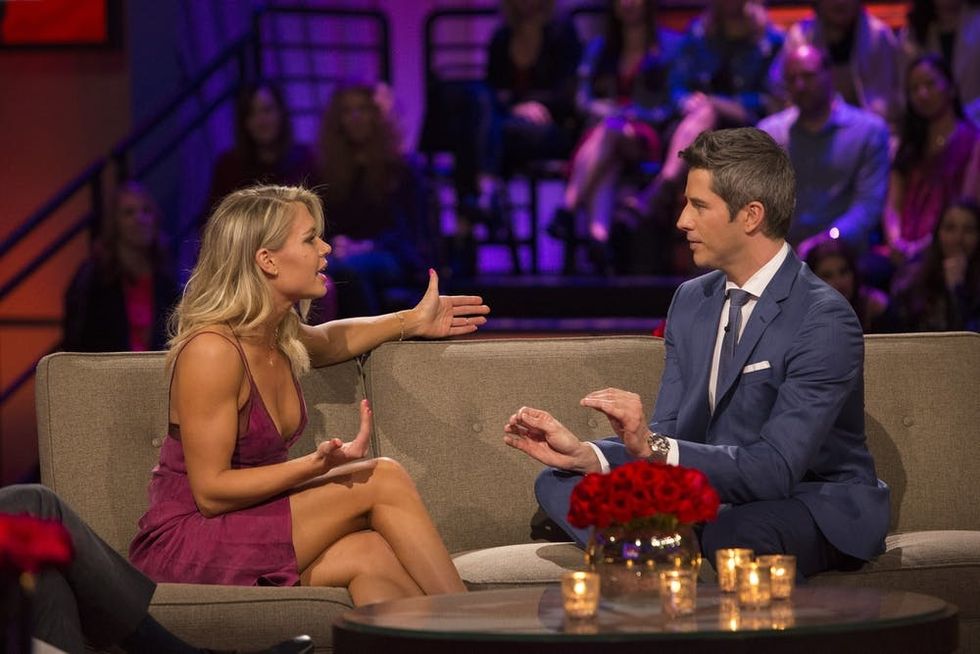 3. Arie Gets Into It With Krystal
These two were hot and heavy very early on in the season, but you'd never know it from seeing them now. Arie greeted Krystal with a handshake — and not even a friendly one — and when she asked why their goodbye was "a little cold," he laid into her about everything she said and did when he wasn't around.
"In a way, looking back now, I think I feel it was pretty appropriate," he said, to gasps and cheers from the audience. "It just sucks to see how you actually were to how you were with me. I just feel like there was a whole other side to you that I didn't see until I watched back. … Seeing the comments that you made were not only hurtful to me, they were hurtful to them, and so, it doesn't make me happy. And I feel like maybe I dragged it on way longer than I should have."
4. Krystal Finds Her Happy Ending
On a much more positive note, Krystal revealed that the show helped her reconnect with her younger brother, who had been homeless but was inspired to get back in touch with their family after seeing Krystal talk about him on The Bachelor. "It was all worth it," she said tearfully.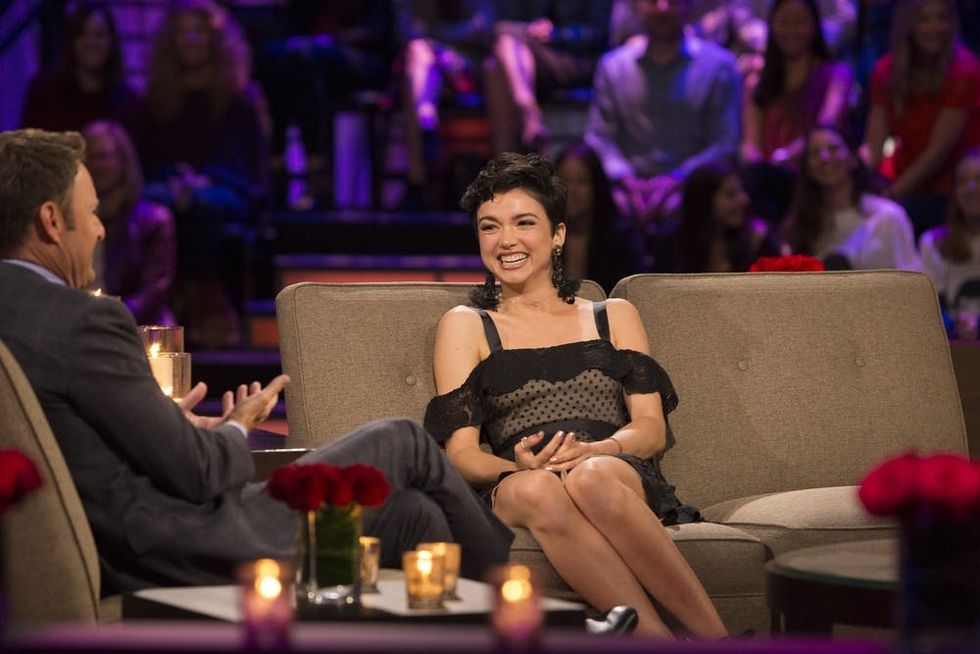 5. Bekah M. Defends Her Age — and Calls Her Mom
A lot of the conversation about Bekah M. this season revolved around her age, and that was certainly the case at Women Tell All, too. She rightfully pointed out, though, that she isn't that much younger than the other women — there were a few 23- and 24-year-olds on the show this year — and further argued that she was better than some of the older contestants at handling interpersonal relationships and communication.
Speaking of communication, Chris Harrison made Bekah call her mom to talk about the whole missing-person saga — and to let her know that Bekah might be missing again for a few weeks this summer when she heads to Mexico for Bachelor in Paradise!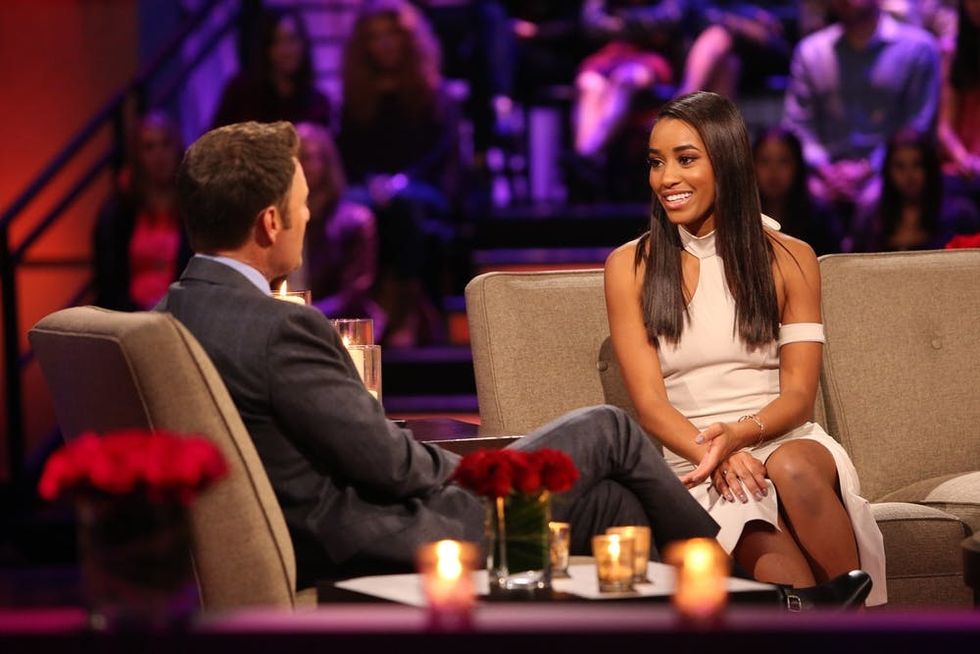 6. Seinne Charms Chris Harrison
Seinne's turn in the hot seat just reaffirmed how interesting and smart and poised she is. Even Chris Harrison couldn't help gushing a little about all of her "amazing attributes" and accomplishments, although he did ask a weird question about how men "typically handle" that. (Is it something they have to "handle"?)
"Something tells me you're not going to be single for long," he said, to which she quipped, "We'll see. If you know anyone, send them my way." So either Chris wants to date Seinne himself or he's setting her up to be the next Bachelorette, and honestly, both seem like pretty good options.
She might have some competition for the latter, though — which brings us to Tia.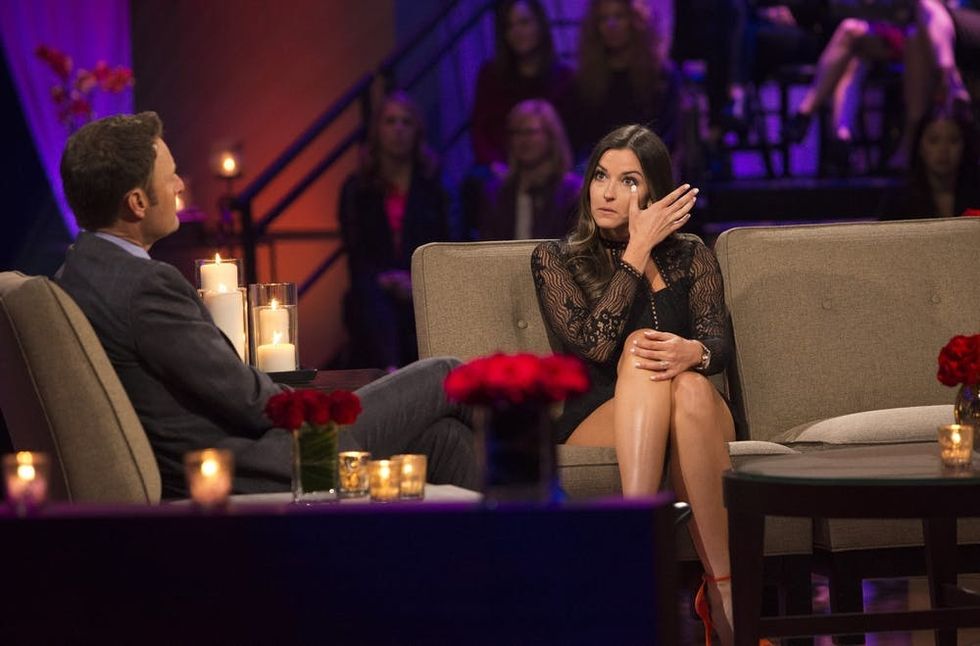 7. Tia Puts Herself Out There (in More Ways Than One)
Tia fell hard and fast for Arie, so she was — and still is — devastated by their breakup, especially since Chris Harrison told her that Arie wondered afterward if he'd made a mistake sending her home. She's clearly not over him yet, but she seems hopeful about finding love with someone else someday.
"How lucky am I to have felt something so special and so real with someone, even though it led to heartbreak?" she said. "I'm open to the chance to fall in love again, for sure."
Sounds like something a future Bachelorette might say, no?
(photos via ABC/Paul Hebert)
TV