The Hottest Spring Style Trends to Flatter Your Figure
Mar 29, 2017
Here at B+C, we are *all* about the notion that women can rock anything they put their minds to, and with spring fashion trends rolling out, we want our fellow ladies to feel empowered, beautiful, and inspired no matter their body shape. With that in mind, we're supporting brands that embrace women wholeheartedly from the inside and out. Extra love for those that provide affordable, stylish pieces (:
---

Blush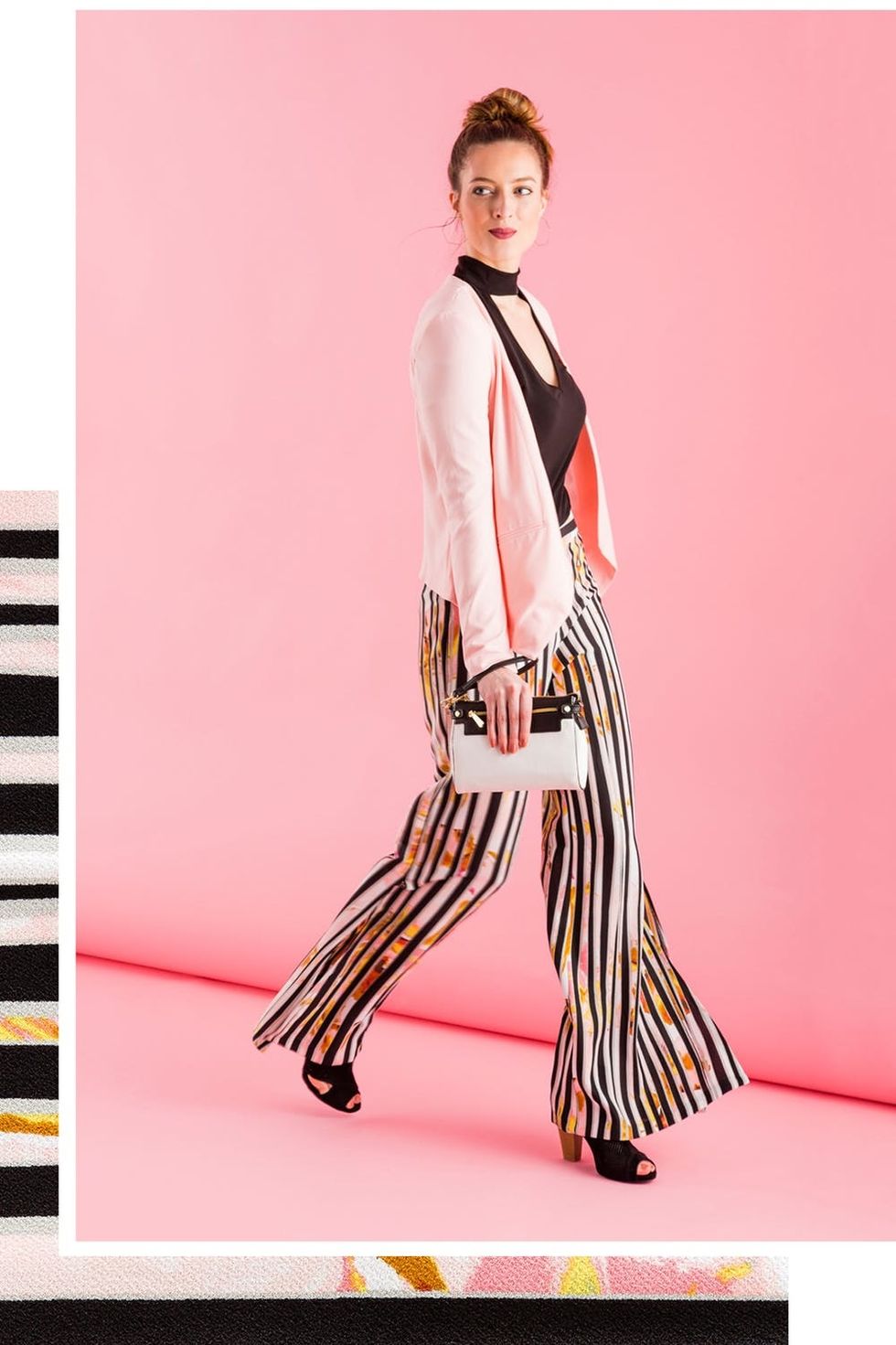 For this look, B+C Brand Analyst Alisa Magennis is channeling her inner boss babe with some serious attitude to get things done in blush, the season's updated neutral. With her tall hourglass body, she elegantly glides in these wide-legged pants, while the cute blush blazer creates a structured top to keep the whole outfit looking prim and proper.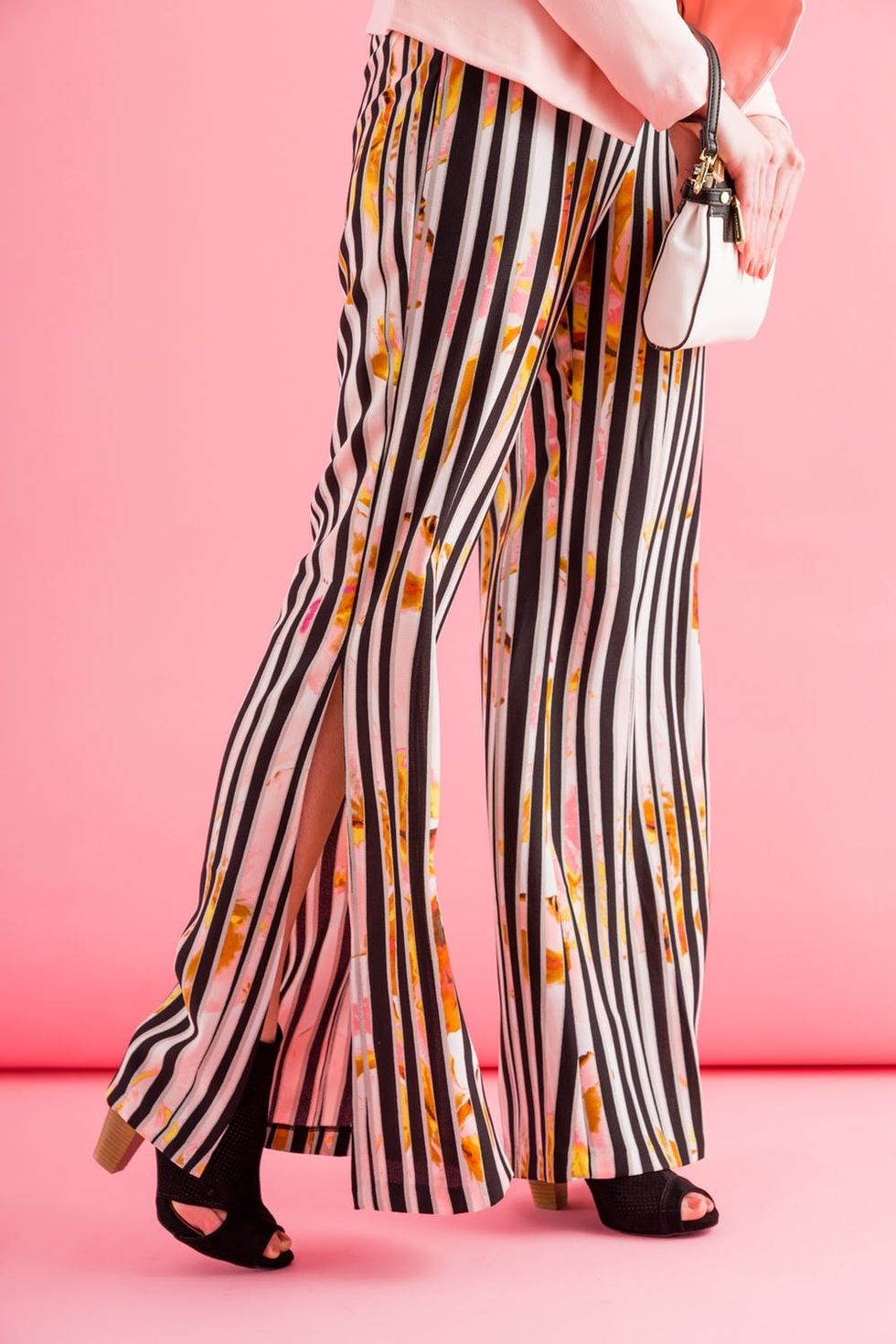 Seriously, we're obsessed with these bold striped pants. We love the way it elongates her body, giving her legs for *days.* Also, who else is swooning over these surprise side slits?!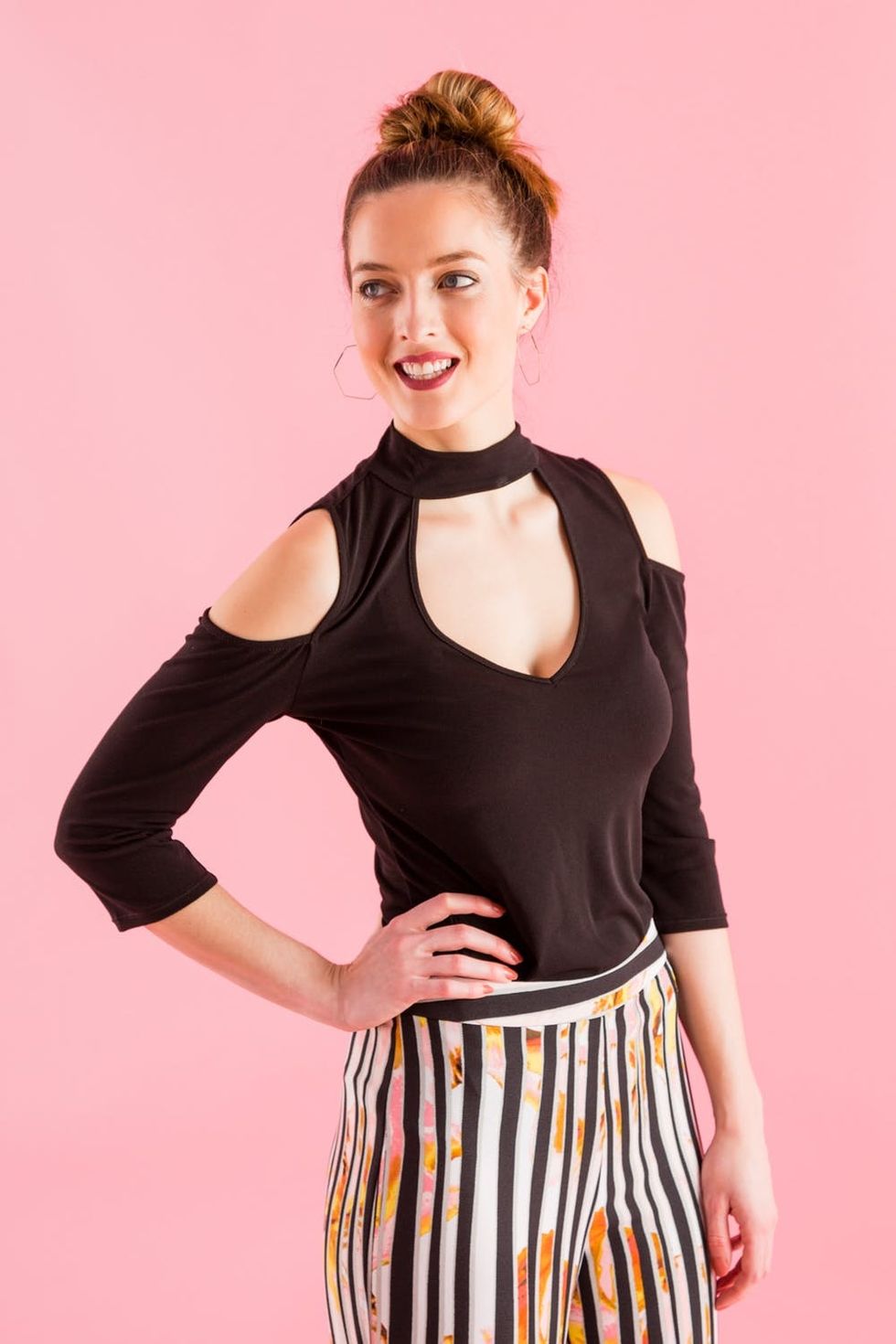 Next up, we've got B+C beauty maven Beth Wischnia, the face of the Obsessed AF video series, showing us how to keep it minimal, yet stylish while being on the road. This look offers structure and fun for a day out on the town or a speedy jet session to your next destination. The properly cuffed sleeves of the top provide a nice contrast to the grungier raw denim, creating an effortlessly casual, chic look.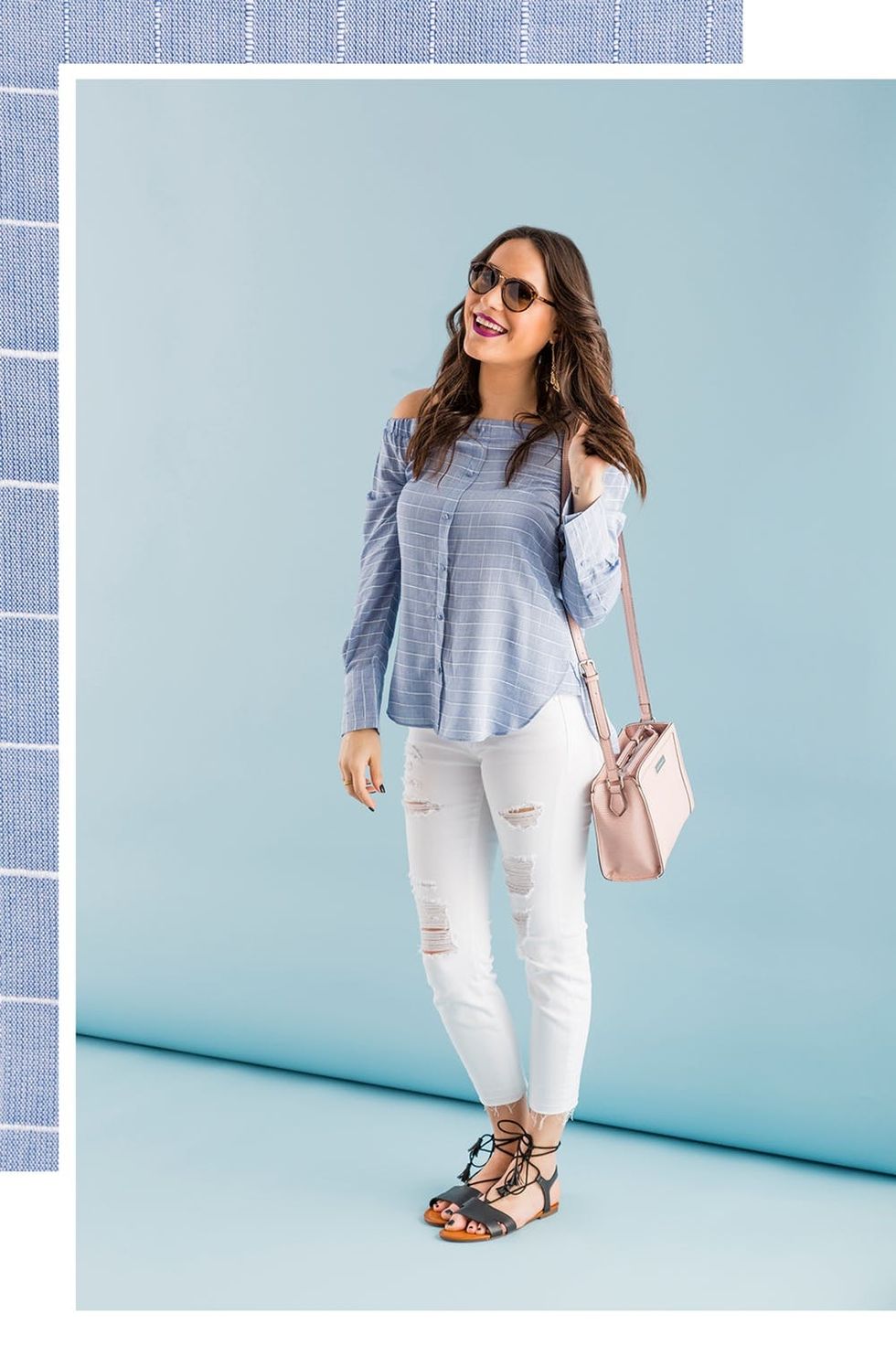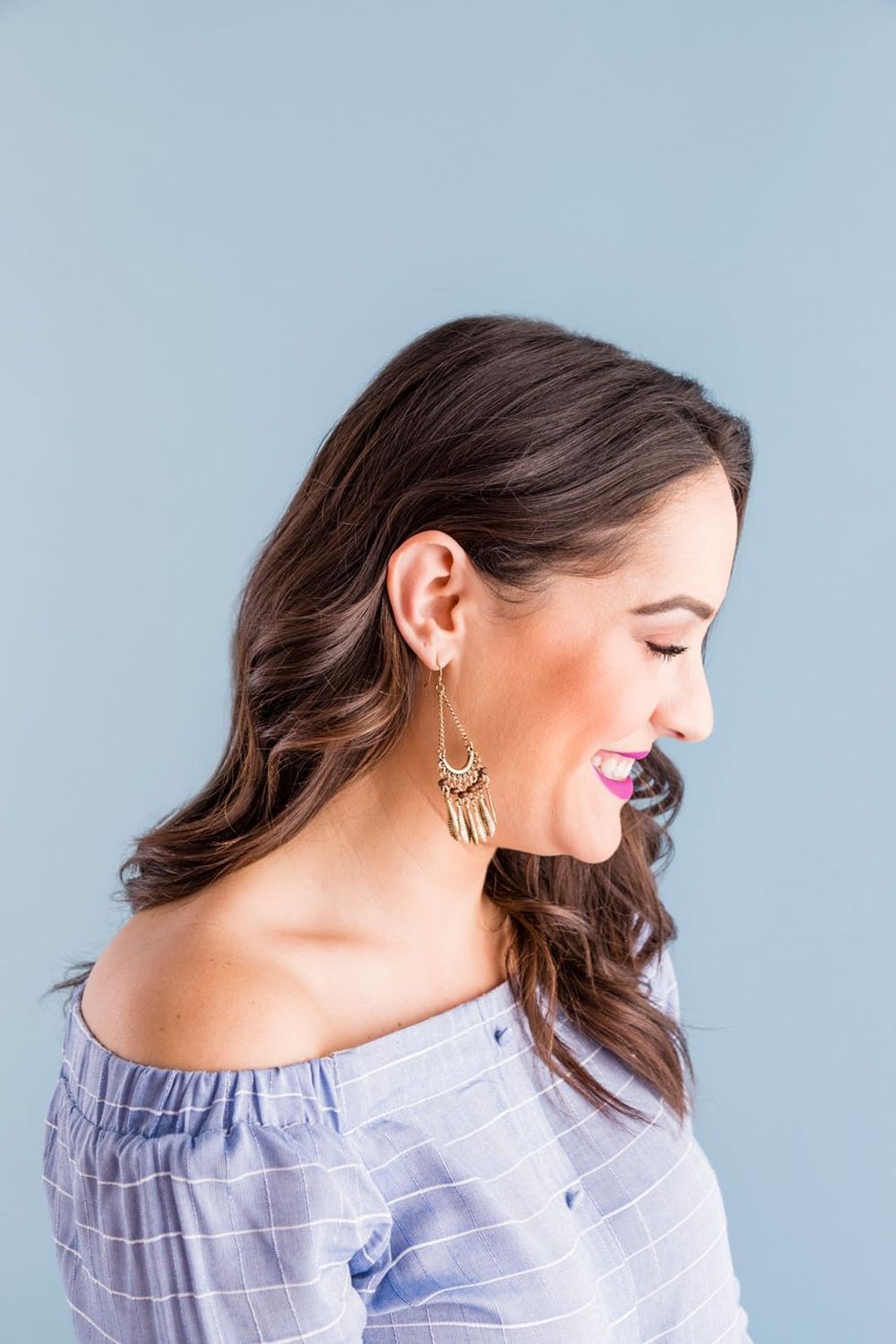 We love the way this off-the-shoulder top falls upon Beth's square shoulders, drawing attention to the collarbones — a tasteful way of showing off skin, without being overt. It's also reminiscent of menswear with the thick cuffed sleeves and grid line pattern, but def reinvented for a feminine touch. Bonus points for a top that adjusts for different sized busts and shoulders! Put on some brass drop earrings and berry pink lipstick to keep the look fun and flirty (: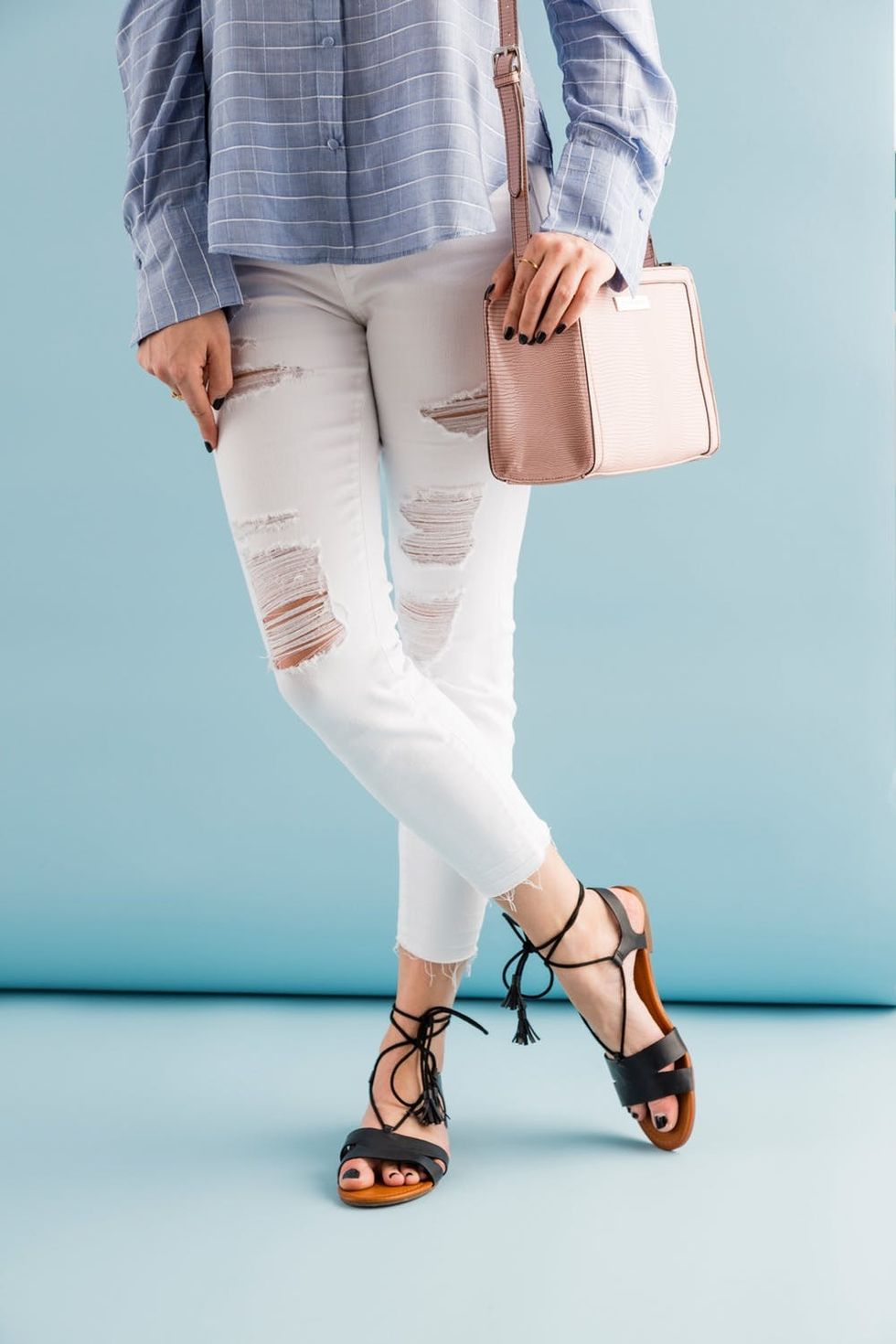 With warmer days ahead, spring is the best time to rock cropped denim, and this pair perfectly grazes above Beth's ankles and gives a salute to the latest raw edge denim trend. Also, the shape of these jeans creates a beautiful balance with the exposed shoulders, gracefully accentuating her hips, thighs, and booty. Pair it with some cute lace-up sandals and a pink structured bag, and you're ready to head out the door!
Get the look:Worthington Modern Fit Long Sleeve Button-Front Shirt ($36), a.n.a. Destructed Skinny Denim Ankle ($44), Arizona Bruna Womens Flat Sandals ($40), Liz Claiborne Pink Cassie Crossbody Bag ($60), EL by Erica Lyons Gold Over Brass Drop Earrings ($20), Glance Sunglasses ($26)
Floral Prints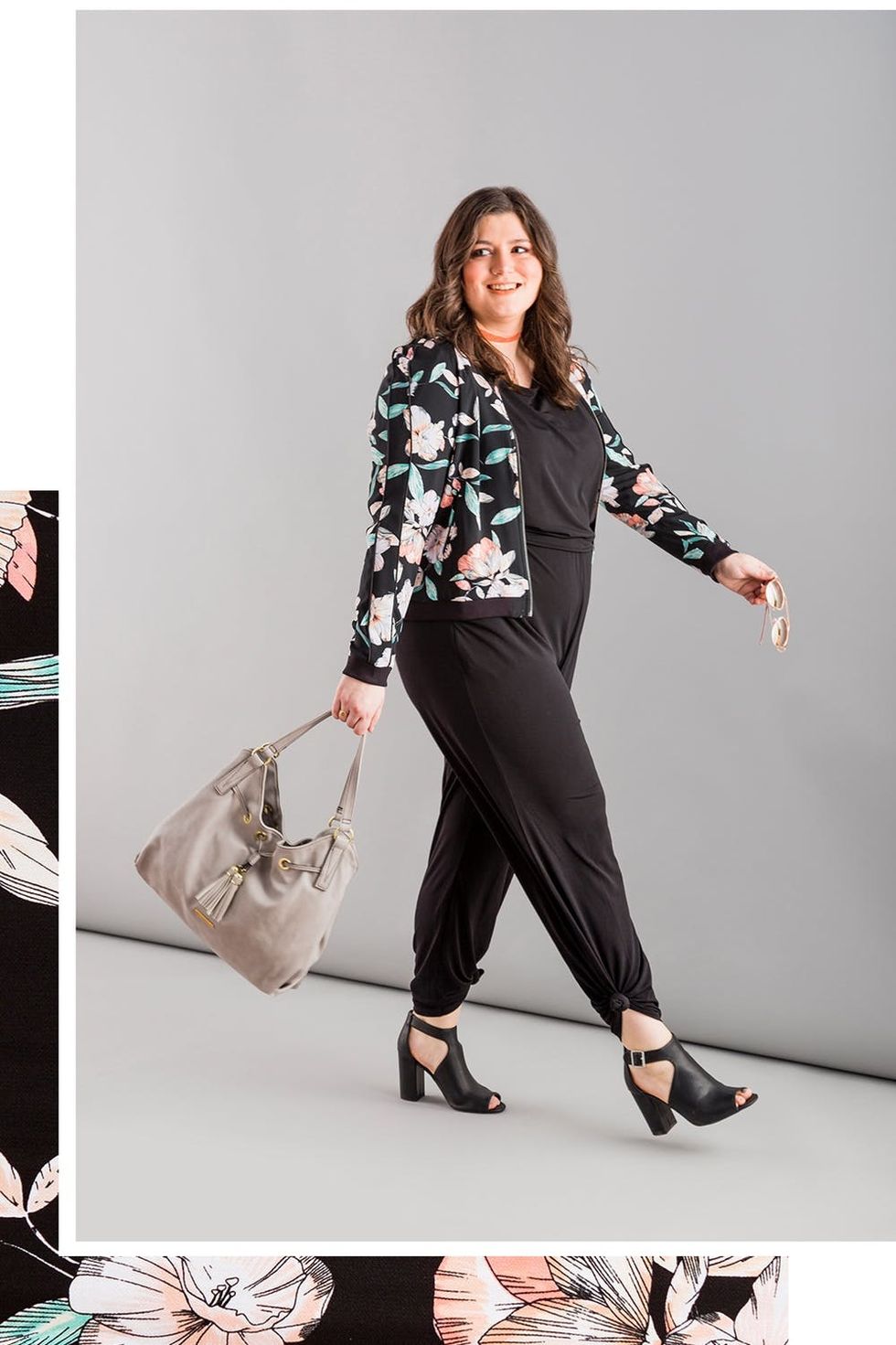 Lastly, we have the lovely Caroline Hetzel, our DIY Production Associate on the video team. She's bringing floral prints to the next level with her classy jumpsuit and adorable open-toe booties with block heels. Who knew that the bomber, a traditional military clothing piece, could be transformed to be fab spring streetwear? When paired together, the casual floral bomber and chic jumpsuit create a stellar outfit. Top off the look with a tassel-accented bag and rose gold sunnies for some natural boho vibes.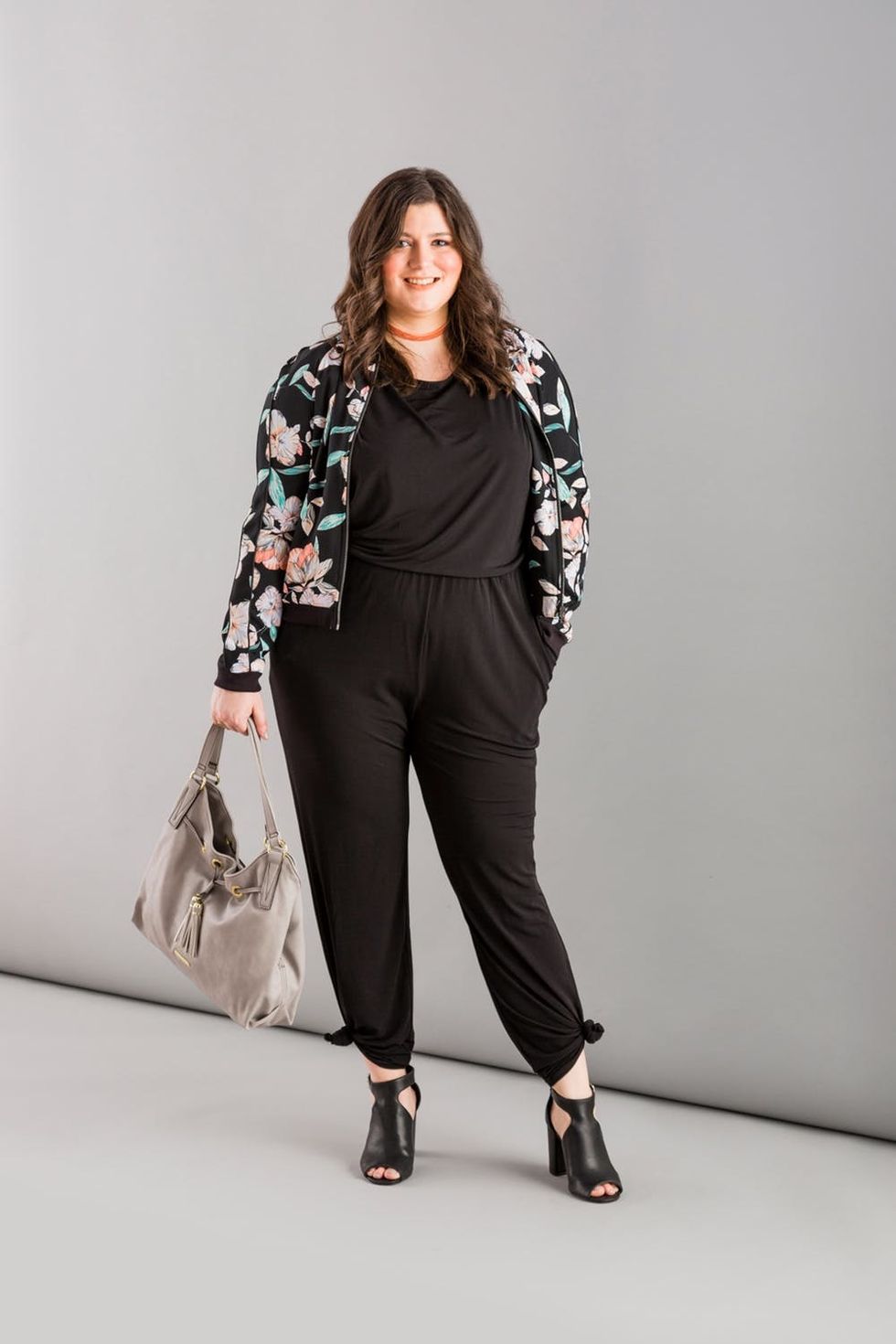 We looooove a good jumpsuit, and this boat-neck one fits Caroline's apple shape and killer curves perfectly. The mid-band accentuates her waist line, while the floral printed bomber becomes her showstopping conversation piece.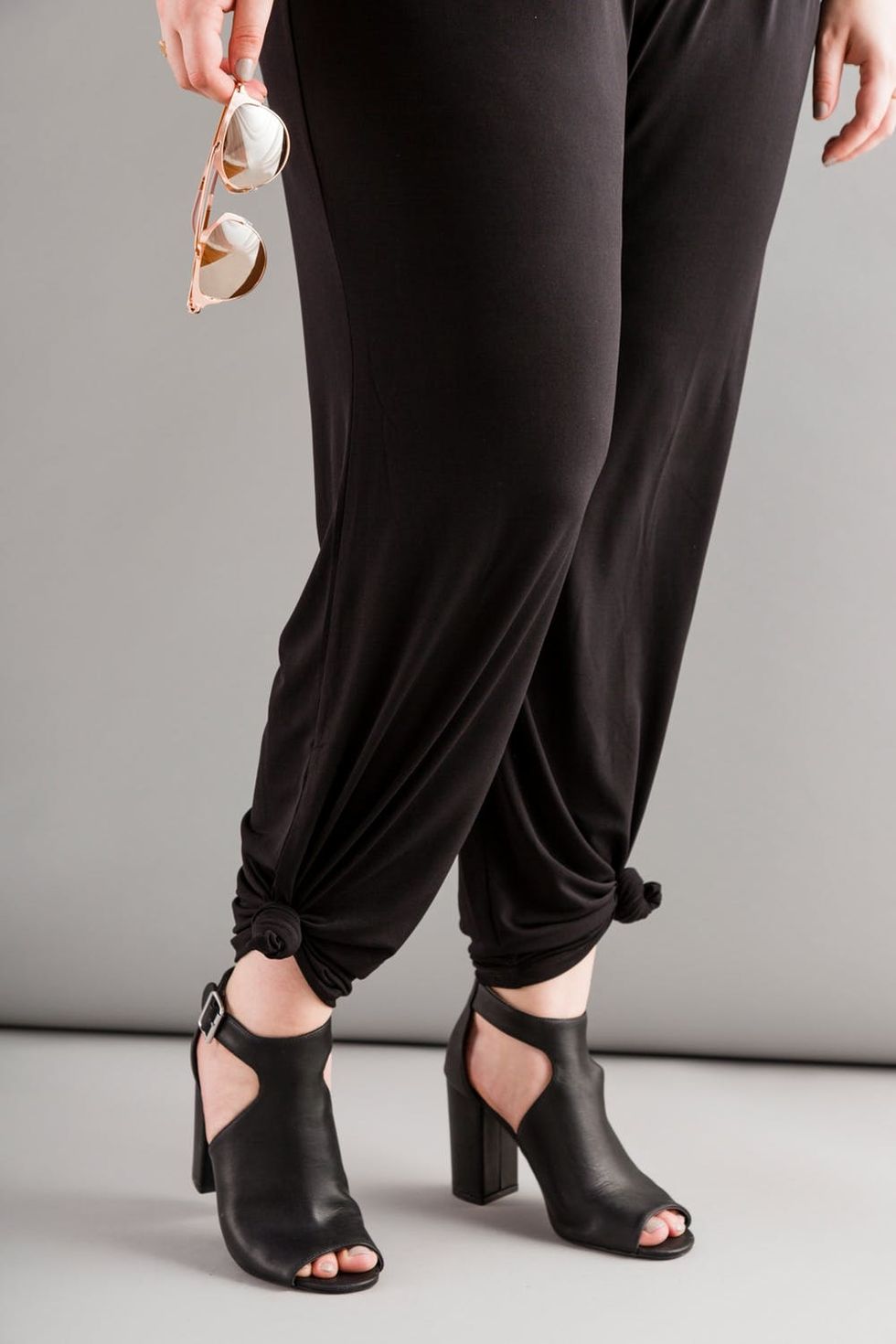 For an extra special touch, we tied up the ends of the jumpsuit to shine some spotlight on her ultra-cute block heels – a huge trend this season. We especially love how it gives the jumper this playful "cropped" look — a timeless trend that is known to highlight and lengthen the legs.
Get the look:Decree Zip Up Black Floral Bomber ($60), nicole by Nicole Miller Black Boat Neck Jumpsuit ($75), Qupid Chester 66 Womens Heeled Sandals ($60), City Streets Womens Choker Necklace ($7), Liz Claiborne Leanne 4-Poster Shoulder Bag ($75), Fantas Eyes Sunglasses ($22)
Annnnnnd that's a wrap — with these affordable prices and slay-worthy outfits, you can def catch us at JCPenney for the latest and hottest styles this spring season. Holla if you'll be there too!
What spring fashion trends are you rocking? Share your OOTD with us on Instagram and make sure to include the hashtags #SoWorthIt and #britstagram.
Models: Alisa Magennis, Beth Wischnia, Caroline Hetzel
Production + Design: Karen Pham
Makeup + Hair: Misty Spinney
Photography: Chris Andre