Why #ThighReading Is Trending and Why It's Important to Follow
Jul 28, 2015
What the body positive movement is doing on social media right now is showing us that things that were once considered to be "flaws" are actually marks of history and are incredibly beautiful — like no thigh gap, scars, cellulite and stretch marks. Sure, staying positive about our body image can sometimes be a struggle — we're human after all, and we all face our fair share of adversity. But there are stories of triumph that propel us on, like Instagram recognizing that #curvy is an empowering word and bringing it back. Tess Holliday said it best: #effyourbeautystandards.
There's a new movement on Twitter that is sweeping social and teaching women to love a part of the body that has long been the source of many an insecurity: the thighs.
---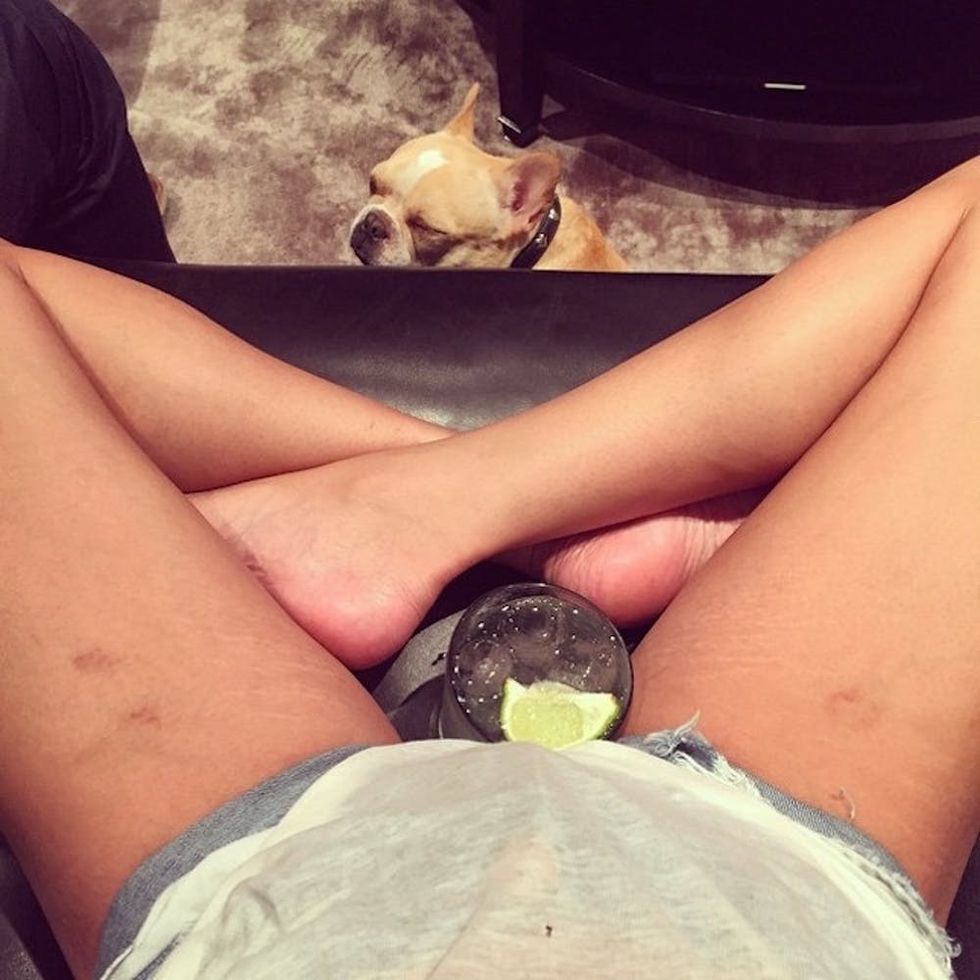 A little while back, in a bid to be the realest and coolest celeb on Instagram, Chrissy Teigen posted this awesome, Photoshop-free pic of her thighs, with bruises and stretch marks. She captioned the photo: "Bruises from bumping kitchen drawer handles for a week. Stretchies say hi!"
Recently, thanks to a trending hashtag, women are following suit. Here's what you need to know about #ThighReading.
palm readings <<<< thigh readings pic.twitter.com/eaXBcVO7HX

— EMO SLUT (@princess_labia) July 20, 2015
Twitter user @princess_labia took this photo of her thighs and stretch marks. She told MTV News that she was just sitting with her legs criss-crossed when she began feeling her stretch marks and realizing some of the grooves were deeper than others, just like the palms of our hands. She decided to snap a pic and asked others to follow suit. Thus, a hashtag was born.
https://twitter.com/PUNKAFHALSEY/status/623572282208841728
@princess_labia #thighreading PS I love you 💘 pic.twitter.com/w9OzBu5lJx

— bullfish (@p_aigeelizabeth) July 20, 2015
gained too much weight and made a change in my life #bodypositive #thighreading pic.twitter.com/ASYyd3slCm

— PrettyMiki (@MikayleMaree) July 26, 2015
Every day I become more and more comfortable with myself and my body. I am more than my stretch marks. #thighreading pic.twitter.com/JpasREW6tl

— ragamuffin (@indeliblestar) July 27, 2015
Another #thighreading and like my bike says, I'm ~caliente~ 🔥🔥 pic.twitter.com/3lMLXsYeAS

— TOM BRADY'S MISTRESS (@virganja) July 27, 2015
Because I got over being negative about myself. I am beautiful, scars and all. ☺ #thighreading #bodypositive pic.twitter.com/GXIDdTHSpI

— Emily (@cubbycake101) July 27, 2015
Birth marks, stretch marks, childhoodscars, freckles. #ThighReading #BodyPositive #LoveYourBody pic.twitter.com/OTa6mgSHiz

— VᎧᎿᎤñᎥᏣᏌ (@Veronicunt) July 27, 2015
https://twitter.com/dcembryo420/status/623524656050352128
To all the women out there, we salute you.
What do you think about the latest body positive movement? Share with us in the comments below.
(h/t MTV, photo via @chrissyteigen)
Kimberly Wang
Kimberly Wang writes about all things pop culture, tech, style, and beauty. She's a Bay Area transplant and has an MFA in Creative Writing from Columbia University. On a sunny New York day, you can find her hanging out with her mini schnauzer Isabelle Jellybean on a blanket in Central Park.