As Seen on the Today Show: 10 Pinterest-Perfect Halloween DIY Ideas
Oct 10, 2013
---
If you're a frequent Brit + Co. reader, then you clearly know that Halloween party season is upon us! We've shown you all sorts of chic, classic, and creepy Halloween ideas, but what about bringing everything together for one big blowout? I popped on over to The Today Show this morning to show the folks there how to use Pinterest to pull together a perfect Halloween party.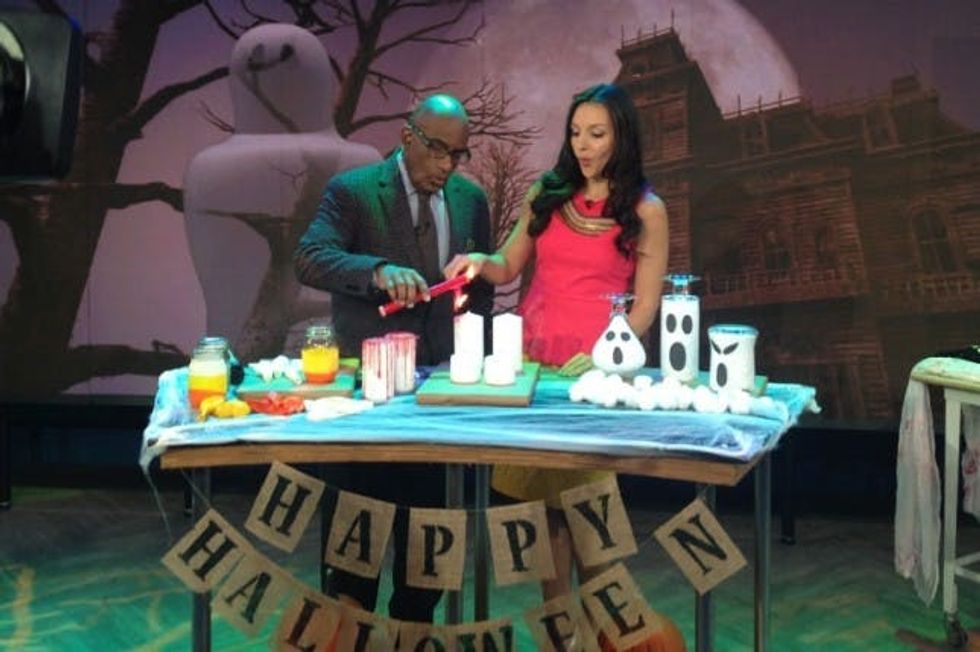 Since your front door is a focal point for Halloween, we'll start with the great outdoors. Here we go!
Mummy Door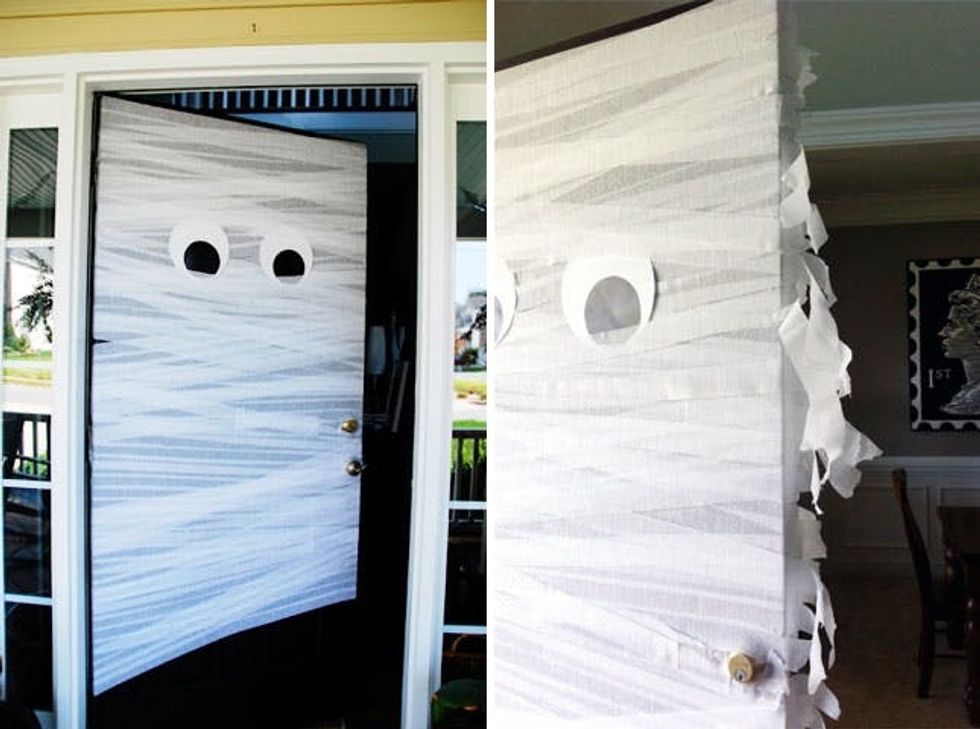 The door itself was simply transformed into a mummy door using white crepe streamers wrapped all the way around. You can cut out eyeballs from construction paper. How easy is that? (Pinned from
Honey & Fitz
)
No-Carve Pumpkins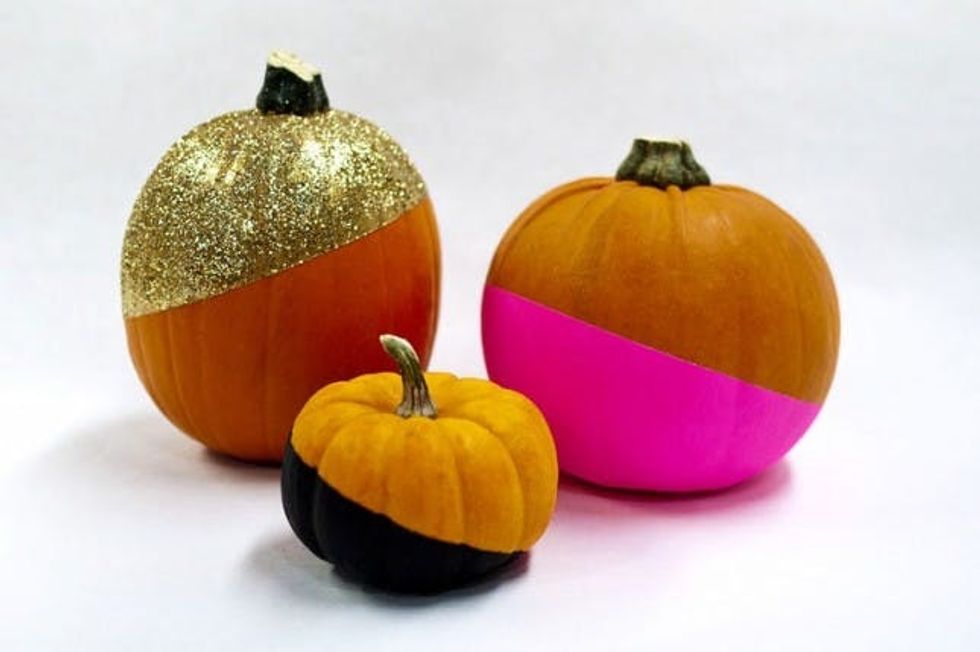 If you're not into the mess of carving pumpkins, we've got a few ways to keep the Halloween spirit without having to use a knife. These no carve pumpkins were decorated in a colorblock pattern (so on trend this year!) with basic acrylic paint and painters tape. (Pinned from
Brit + Co.
)
Spider Pumpkin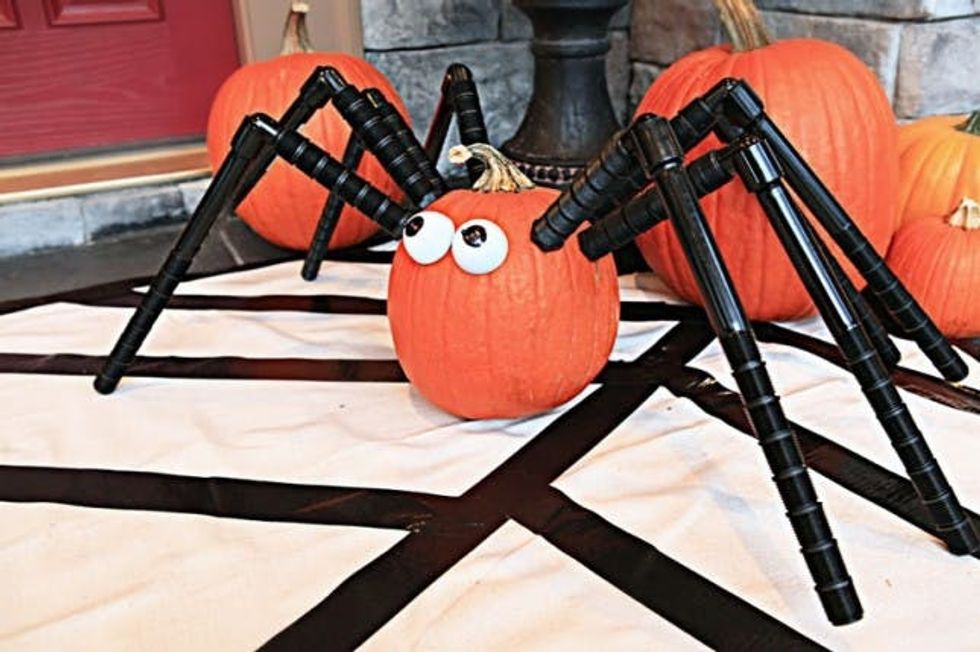 Creep your trick-or-treaters out with a gigantic spider! Use sprinkler pipes to create legs and painted egg cartons for eyes. Done and done! PS: This took me all of five minutes to make. Not joking. (Pinned from
Bower Power
)
Spider Web Welcome Mat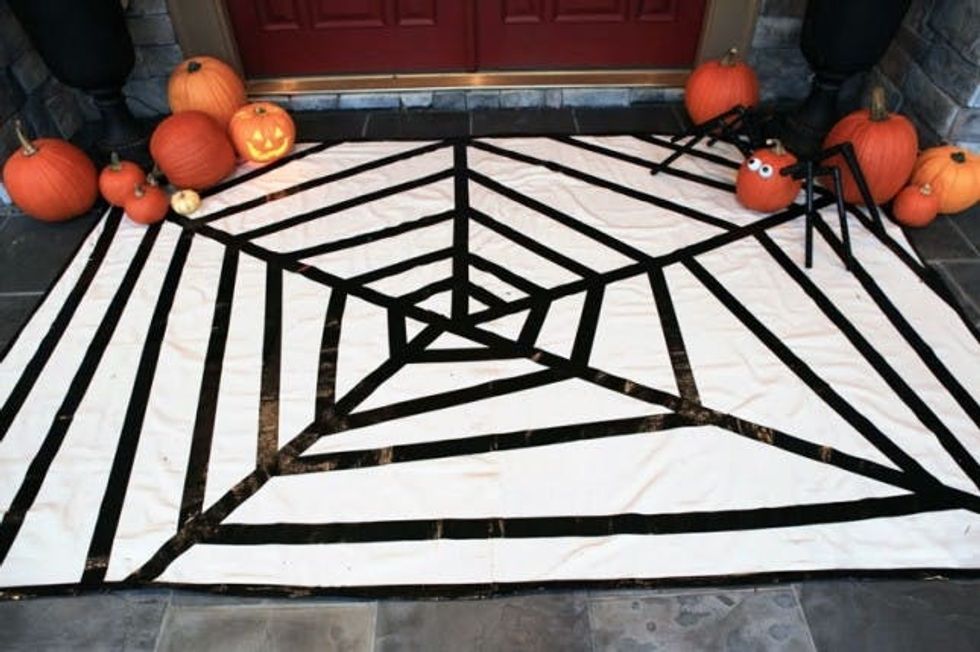 Every spider needs a web! This clever idea uses a canvas drop cloth covered with black duct tape and took me all of 15 minutes to make. Your trick-or-treaters will love it! (Pinned from
Bower Power
)
DIY Marquee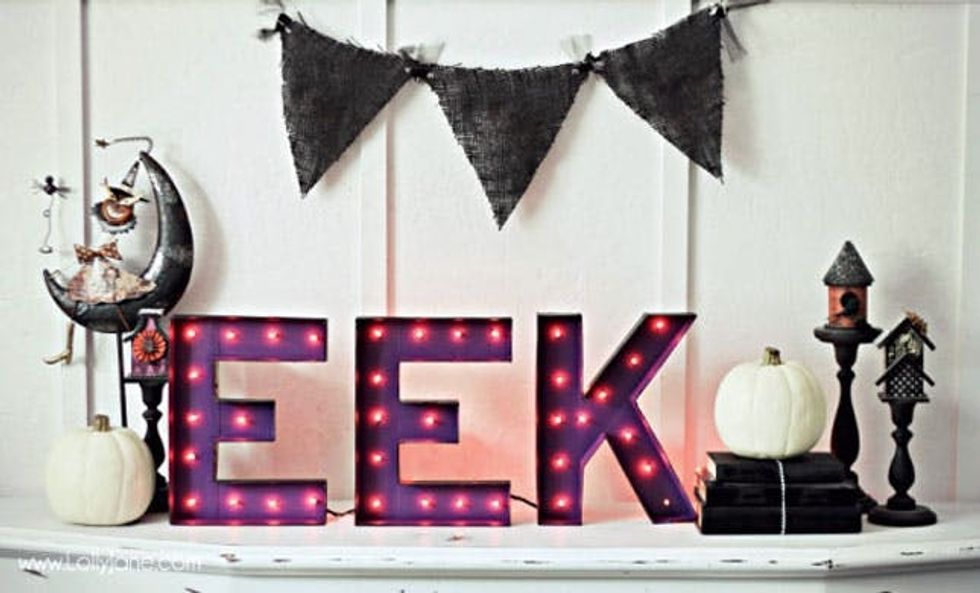 For a bit of added flair on the porch, we created a DIY BOO marquee sign inspired by by this EEK sign. These are cardboard letters you can find online or at your local craft store, spray painted orange, and then strung with lights. (Pinned from
Lolly Jane
)
Monsters in the Bushes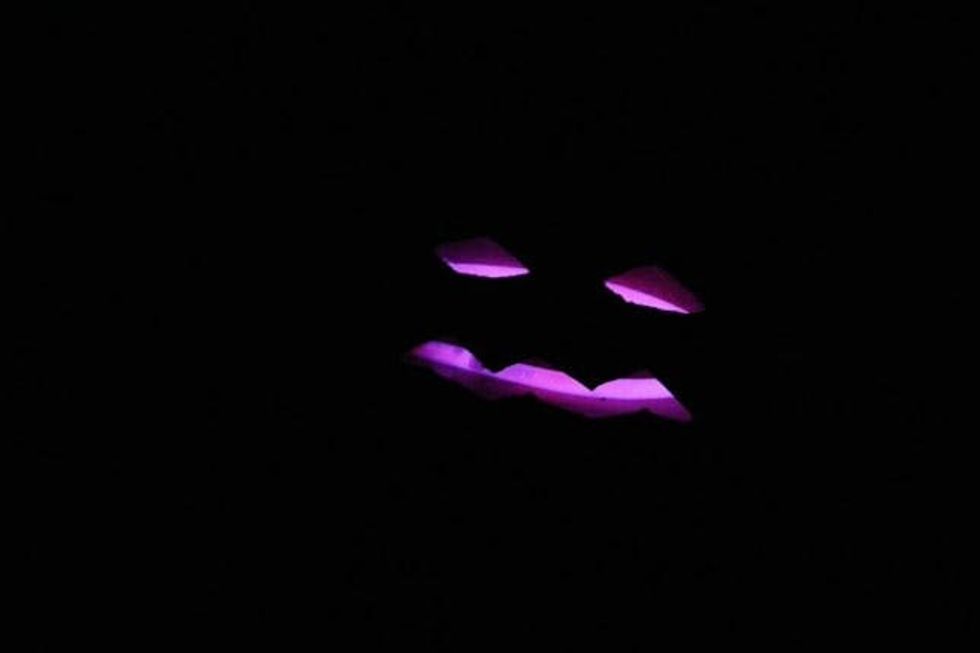 And speaking of lights, want to really freak trick-or-treaters out? Create monsters in the bushes using toilet paper rolls, and glow sticks. Simply cut slits in the cardboard rolls, place glow sticks inside, and hide it in the bushes. (Pinned from
The Purple Pumpkin Blog
)
Candy Corn Mason Jars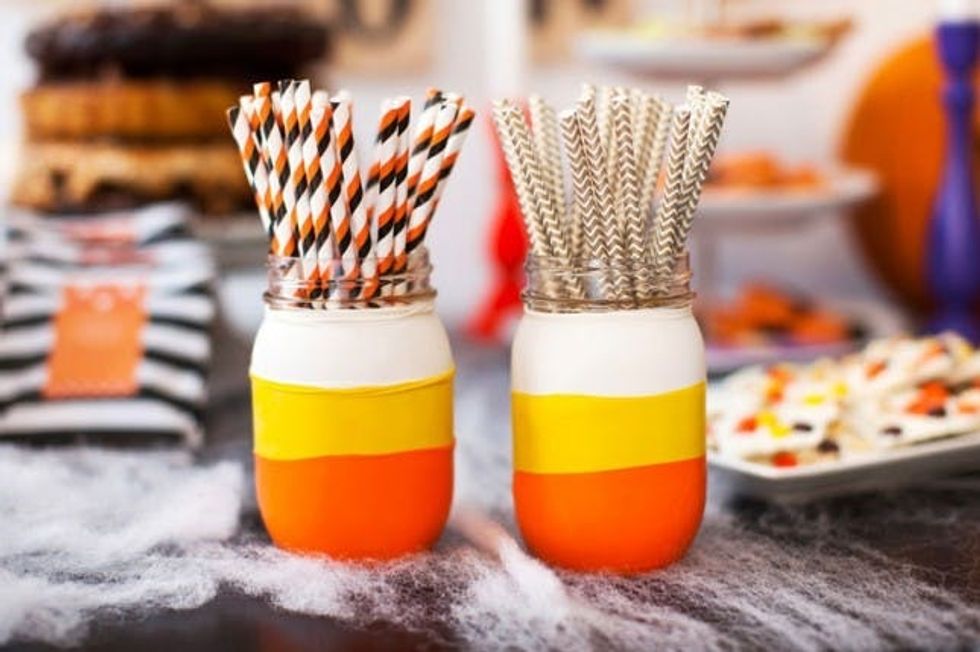 To create an illuminated walkway on your porch, turn to one of our favorite DIY bascis. Balloon-dipped mason jars! Just add a tea light. (Pinned from
Brit + Co.
)
Bloody Candles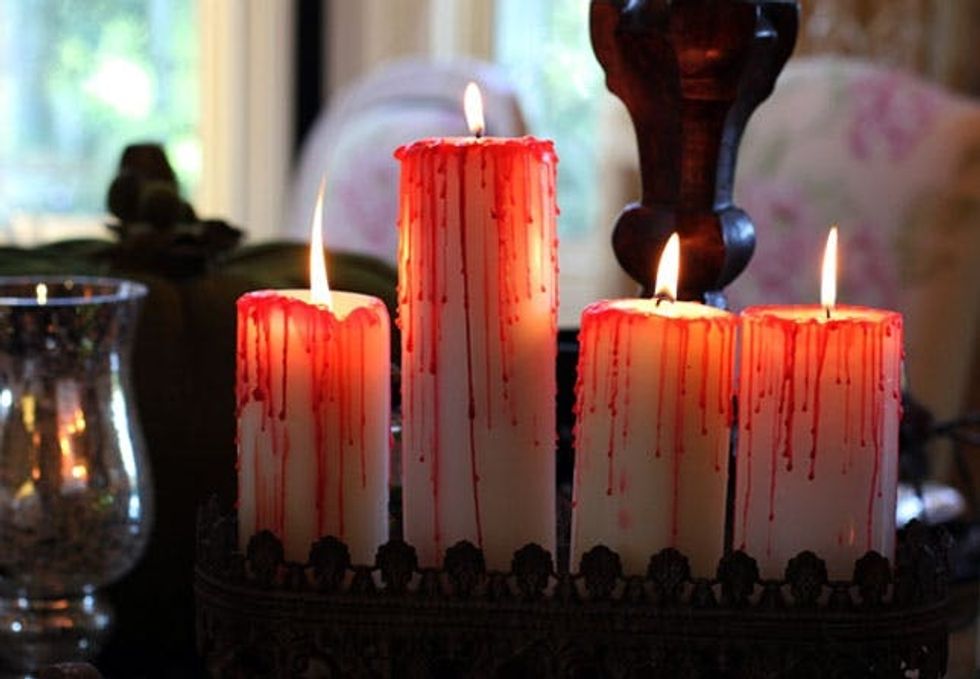 For another fun candle trick, try melting hot red candles over white pillar candles to create a bloody candle scene. These make for awesome conversation-worthy centerpieces. To go full-out creepster, check out our
creepy Halloween party
scene you can recreate. (Pinned from
Lilyshop
)
Glass Ghosts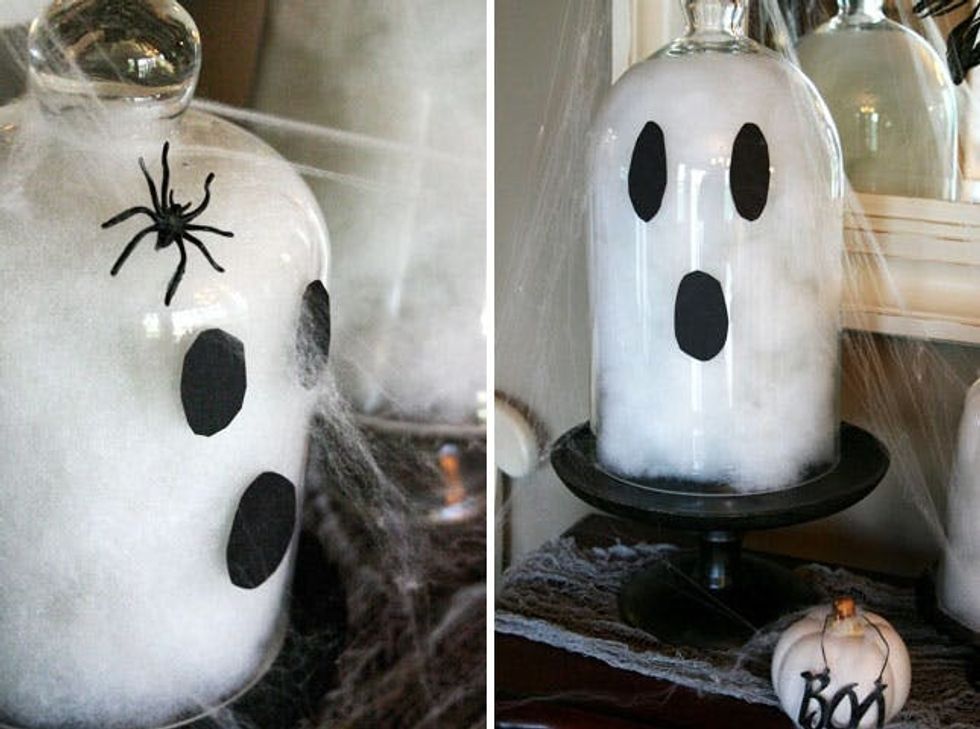 If you've got any old vases or apothecary jars, you can easily turn them into cute glass ghosts to place around your home. Just shred up some cotton balls inside and glue on some black paper eyes. This took me all of two minutes! (Pinned from
Chic on a Shoestring
)
Pin the Spider on the Web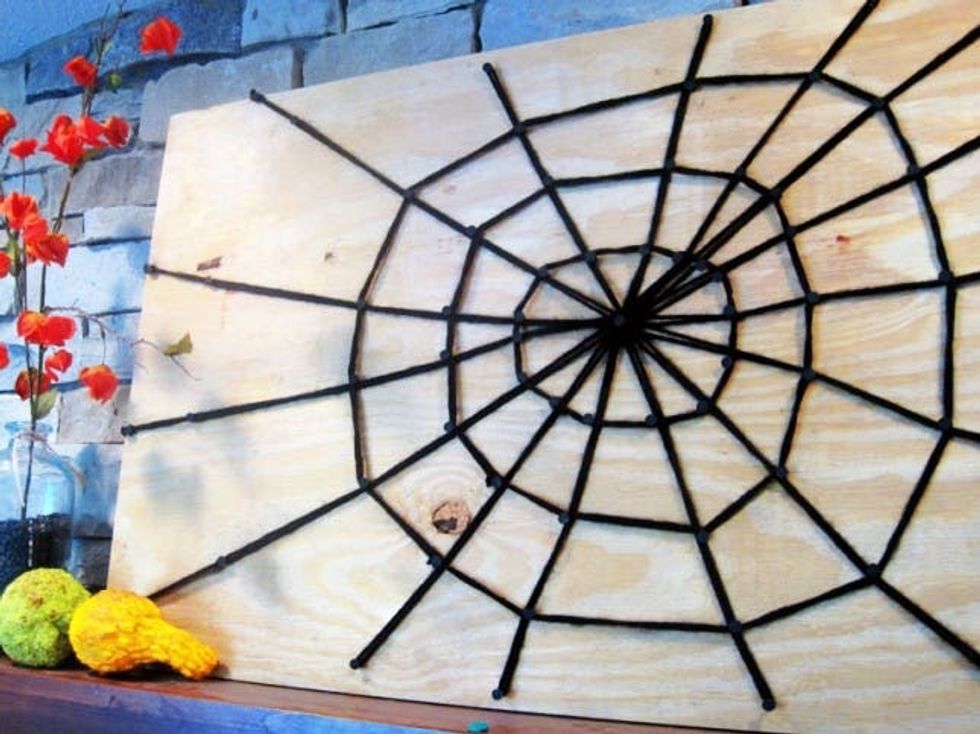 And finally, decor that doubles as a game! That's right, we're playing Pin the Spider on the Web. I made this spider web using some plywood, nails, and a bit of black yarn. You may recognize this method from our
Air Plant Brit Kits
or
Nail String Art Basics
posts. (Pinned from
A Soft Place to Land
)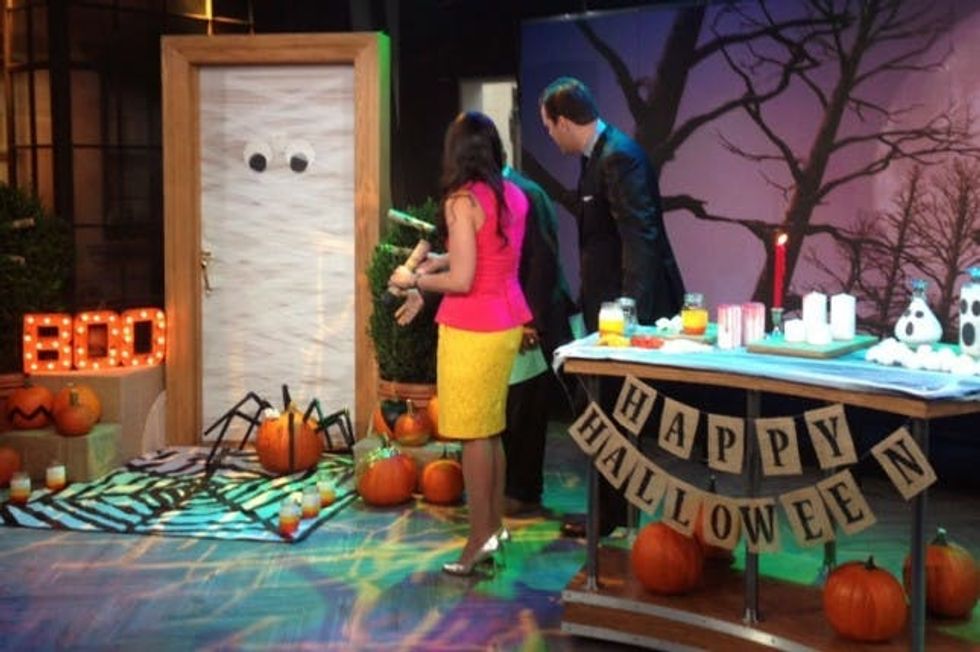 TODAY Halloween Board
where I'll be guest pinning all October long!
Brit Morin
Hi, I'm Brit, the founder and CEO of Brit + Co. I'm a young mom of two, tech nerd and design-inclined lady who has a zillion hobbies and curious about... just about everything! My mission from the beginning has been to unlock women's creativity and courage to try new things so that they can find the path to their true passions.
Party