How This YouTuber Gets Her Natural Curls Camera-Ready
Mar 03, 2016
If you've ever scoured Instagram looking for #hairinspo, then you know those girls. The ones whose hair is just, well, ridiculously perfect and absolutely amazing (cue the jelly emoticon now). How do they do it? Lucky for you, we're getting up close and personal with those Instababes and asking them to spill their fab hair secrets.
This week's #Hairenvy puts the spotlight on Dominque Jeffries, aka @NiqueNique321, a vlogger from Mississippi who truly embraces that "curly hair don't care" attitude. Fed up with heat-damaged tresses, Dominique did something drastic — she cut off all her ends and never looked back. She then started a YouTube channel full of advice and inspo to help other women embrace their natural texture (can you say "hair hero?"). We got the lowdown on how she keeps her curls fresh (spoiler alert: it involves pineappling), what it takes to turn a bad hair day around and why fingers are way better than a brush.
---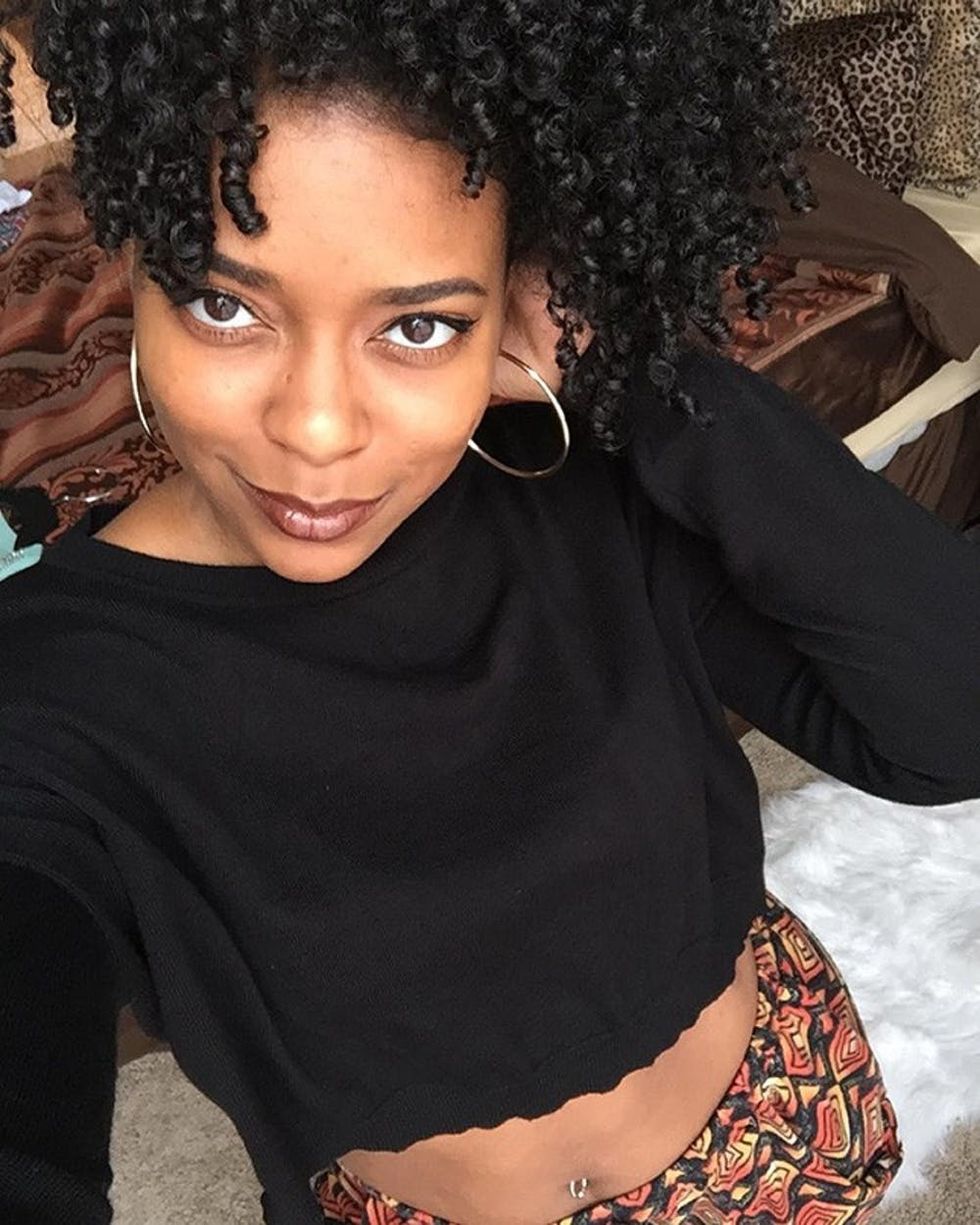 1. What is the first thing you do to your hair when you wake up? Take my hair down from the pineapple, which is basically a loose ponytail on top of your head, and shake it like crazy!
2. Take us through the rest of your morning hair routine. Once my hair is loose from shaking it, I spritz a little water and reapply a little product to refresh my hair, if I need to. Then I tilt my head over, rake my fingers through the roots, scrunch my ends. When I'm done, I flip my head back, shake my hair again, and let the strands fall where they may.
3. What products do you swear by when you can only spend five minutes on your hair? A little dab of DevaCurl's SuperCream ($28) or SheaMoisture's Coconut & Hibiscus Styling Milk ($12) are real lifesavers for those busy, rushed mornings! I grab whichever one is nearby.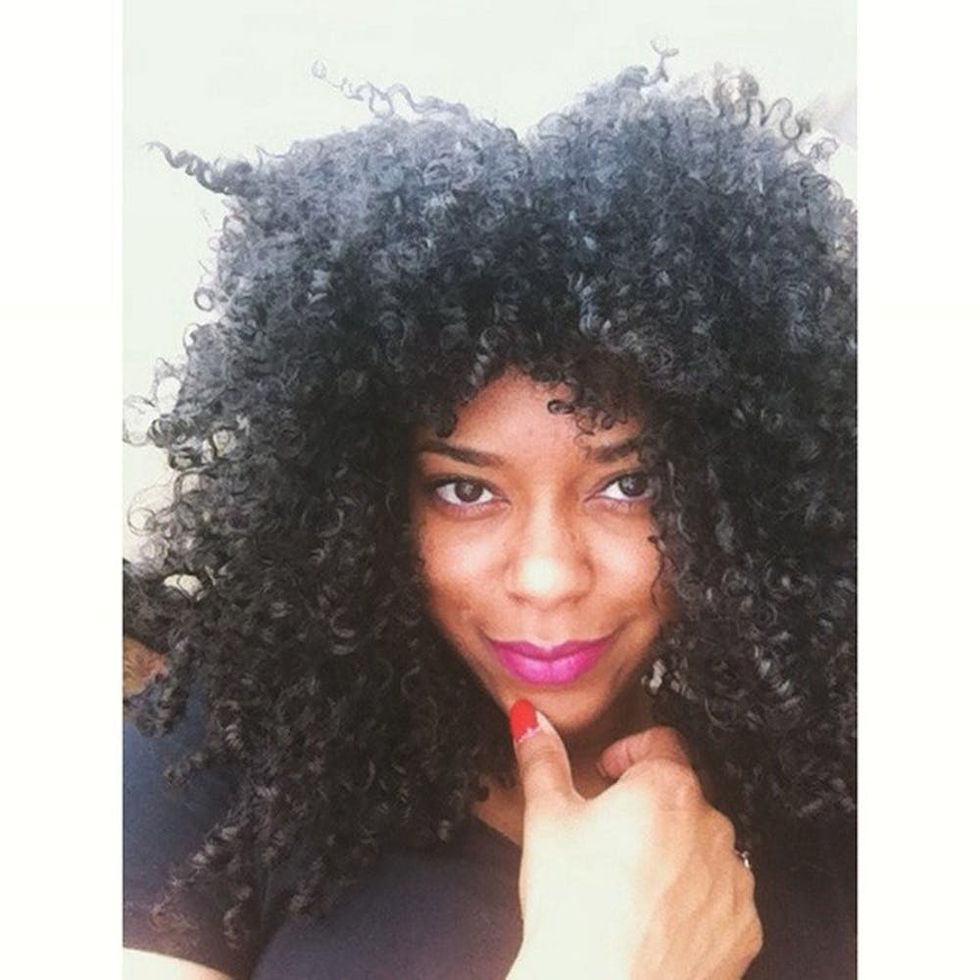 4. What's your go-to tip for making your hair selfie-ready? Fluff, fluff, fluff! And then more fluffing! Sometimes I'll use a pick for extra volume.
5. What do you do when you wash your hair — any special tricks or tips? My current regimen consists of washing my hair once a week. I aim to co-wash (aka conditioner-only washing) at least once during the week, but we all get lazy at times! I like to wash at the roots using warm water with a cleansing conditioner, not a shampoo. I love DevaCurl's No-Poo Decadence ($22) for this. When I'm co-washing, I use DevaCurl's One Condition Decadence ($22) all over. After conditioning my hair, I switch to cold water and rinse it out with my head tilted over. That way, some of the conditioner gets "trapped" in the middle of my head to lock in extra moisture. I also do deep conditioning treatments every other week with masques and add in different natural oils, like coconut oil and EVOO.
6. Air dry or blow dry? I prefer air drying (which I do 99% of the time) because it gives the best definition with the least amount of frizz. But if I've procrastinated on wash day, I'll use a diffuser after letting my hair dry for about 20 minutes or so.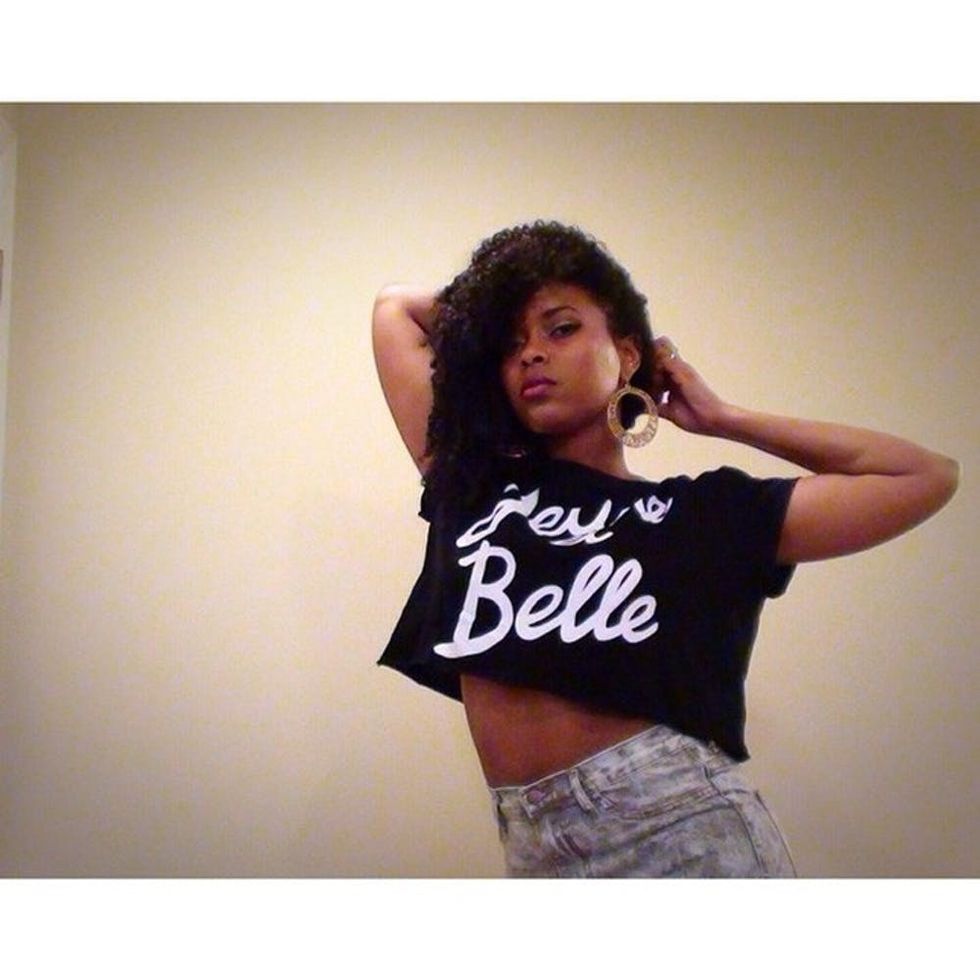 7. What's your current go-to style, and why? Like I always say, I like my hair BIG and wild! "Curly hair don't care" is my motto. Wash and go is almost always my daily style.
8. Favorite work hairstyle? Wash and go.
9. Favorite date hairstyle? Wash and go. (Do you see a pattern here? Lol!)
10. Do you have any before-bed or nighttime hair care secrets? If so, what are they? All I do at night is throw my hair up in a pineapple. If needed, I'll put a dime-sized amount of oil on my ends. I also like to sleep on a satin pillowcase to prevent frizz, dryness and breakage. I even take it with me when I travel.
11. What's the one hair product you can't live without? Hmmm, that's tough! But if I absolutely had to pick just ONE product, it would be DevaCurl's No-Poo Decadence ($22) because it's the only cleanser I use.
12. What styling tips do you have to keep your curls looking fresh? The key to keeping my curls on point is moisture. I reapply moisturizing products when needed to prolong the number of days I can go before having to wash my hair again.
13. What tools do you use on your hair? My main tools are my hands, which are the best for getting through the curls. I use my fingers to detangle my hair while wet. Other than that, I use a pick when I want to pump up the volume, a hair bonnet dryer for deep conditioning and a diffuser for those lazy wash days.
14. Do you have a specific haircut that enhances your curls? Twice a year, I get hair trims by a certified curly hair stylist. She uses the DevaCut technique to shape my hair in layers.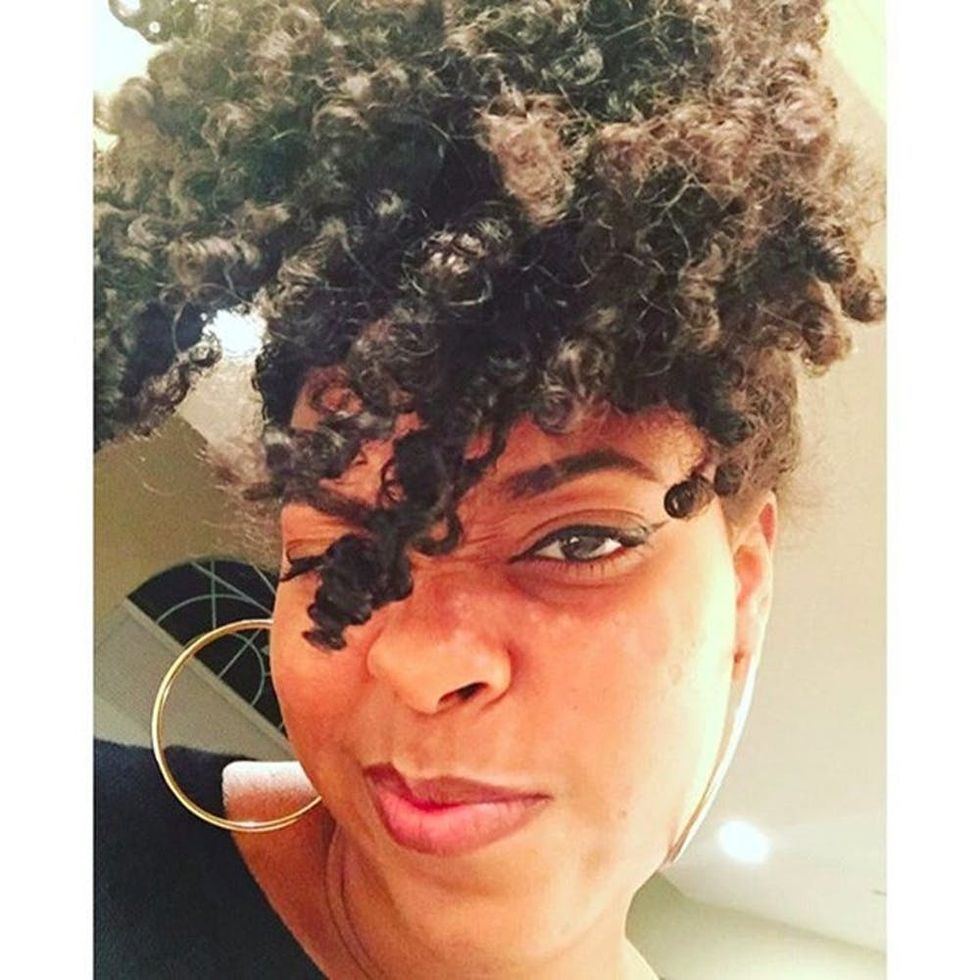 15. Do you ever have a bad hair day? Yes! When it's cold, I get lazy about washing my hair. On bad hair days, I toss my hair up in a messy bun, dress it up with earrings and a little makeup and just go with it.
16. Embracing your curls is your motto, so what do you recommend to anyone who's hesitant about going natural? I always tell people who are thinking of going natural to be patient. Results aren't going to happen overnight. But with consistency and a little TLC, your hair can blossom. Embrace it and love it — it's what makes you truly unique.
Follow us on Pinterest for more genius hair hacks and inspo.
(Photos via @NiqueNique321)
Hair