10 Ways to Style a Plain White Tee
Aug 07, 2012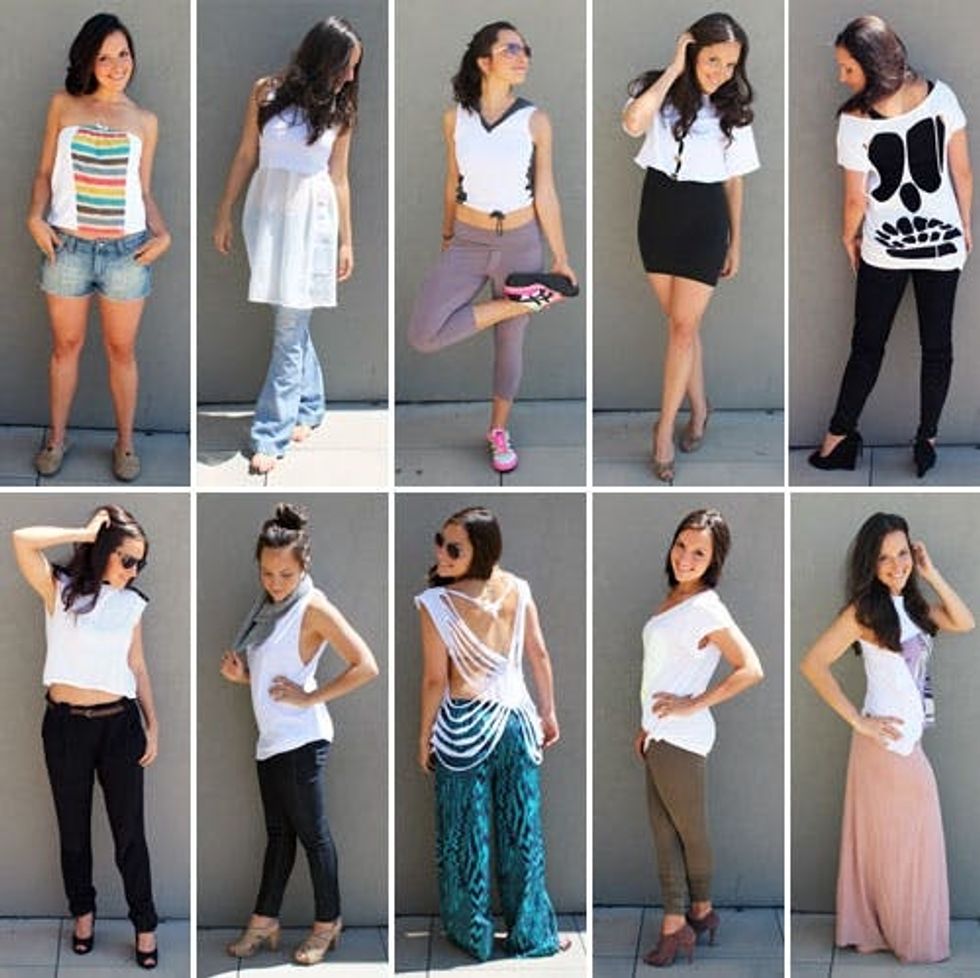 ---
Few things beat a classic white tee. Throw it on with a pair of jeans, cork wedges, a long necklace, and you're good to go just about anywhere. Best of all, white tees are such a staple that you can find them at just about any corner store, grocery store, mall, or pharmacy. Seeing as we love style hackery oh-so-much, we decided to take on the classic tee, and came up with 10 new ways to restyle, rework, and totally transform it. If you have any questions about specific tutorials below, be sure to leave us a note in the comments.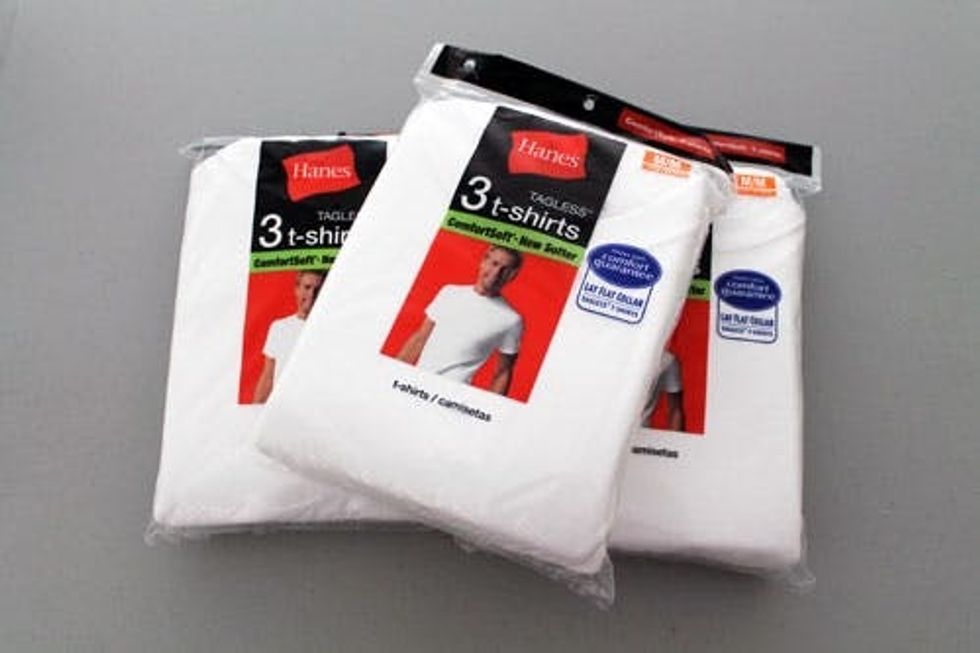 We went with a few 3-packs of men's undershirts by Hanes but, for most of these tutorials, you can use any old t-shirt you've got. If you have any questions about steps in the how-tos below, be sure to leave us a note in the comments.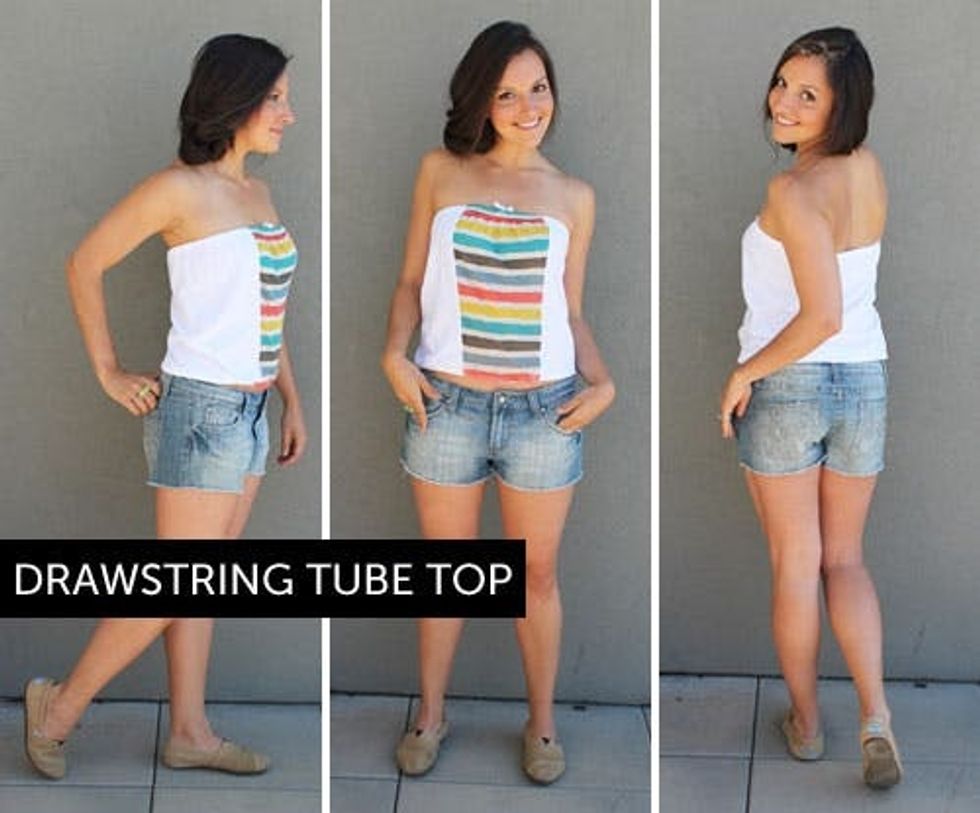 1. Drawstring Tube Top
Grab a pair of tricked out cutoffs and throw on this top for a day of summer fun. We love the bright stripes and casual tone of this number, and can see it becoming a summer staple pretty quickly.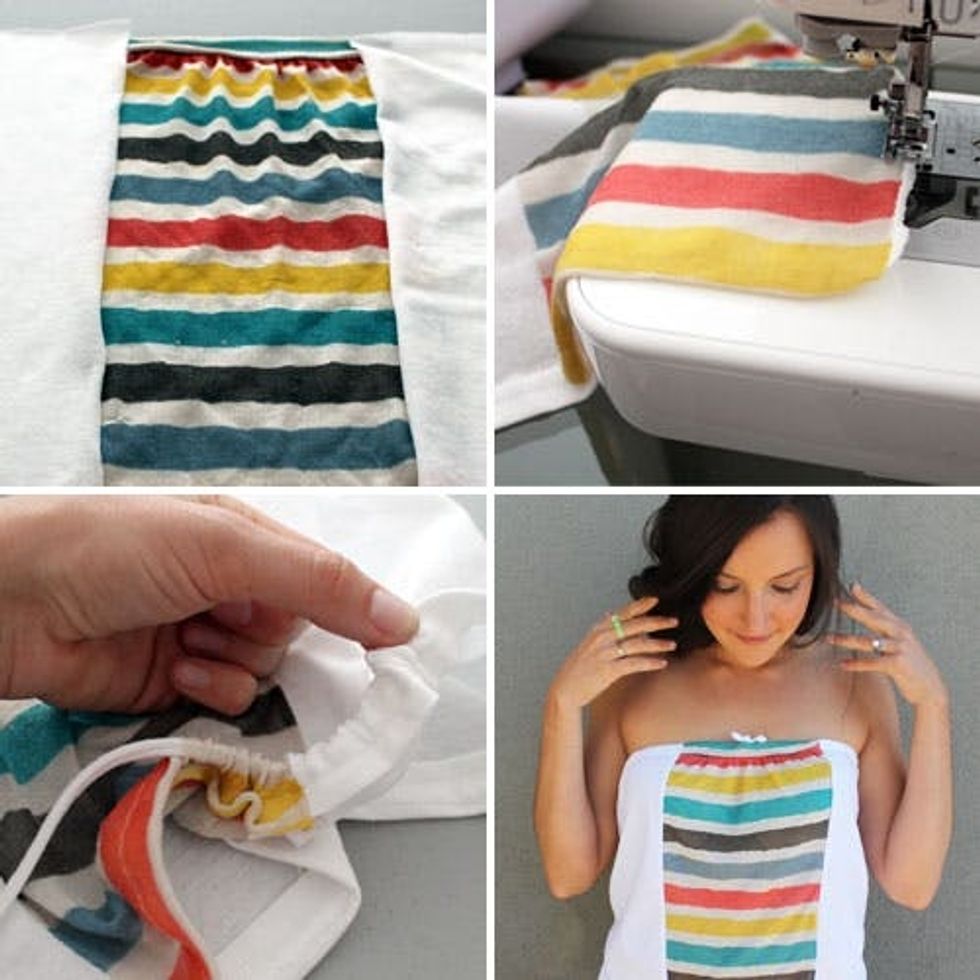 To create this look, You'll want to cut off the sleeves and collar of your tee. Then trim the bottom so it's a length that works for you. Next, cut down the middle of the front and measure a piece of fabric that will fit. We used a jersey knit scrap from a hemmed skirt. Sew the whole thing together. Iron over the hems for the top and bottom and sew again. Then pull a drawstring through (with some of that excess t-shirt) using the old safety pin technique.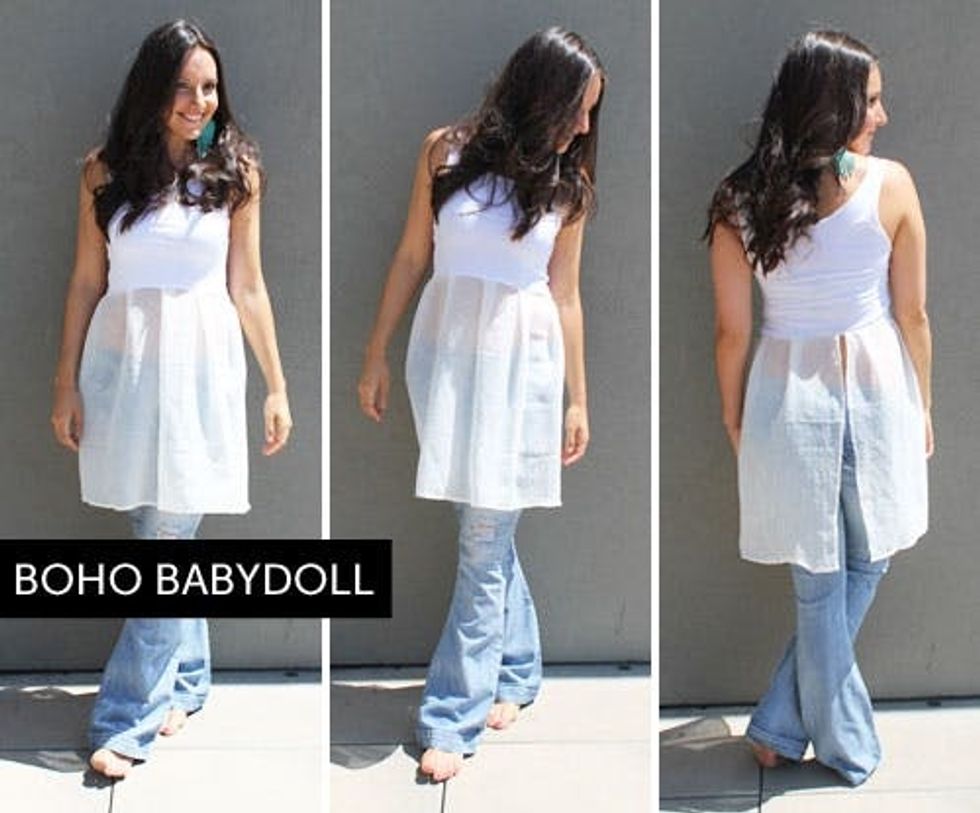 2. Boho Babydoll
This look is definitely a romantic one and makes us think of a refined take on hippie chic. On Brit, we paired the top with some comfy jeans but you could easily take this to a dressier level but layering over an opaque slip dress and throwing on heels.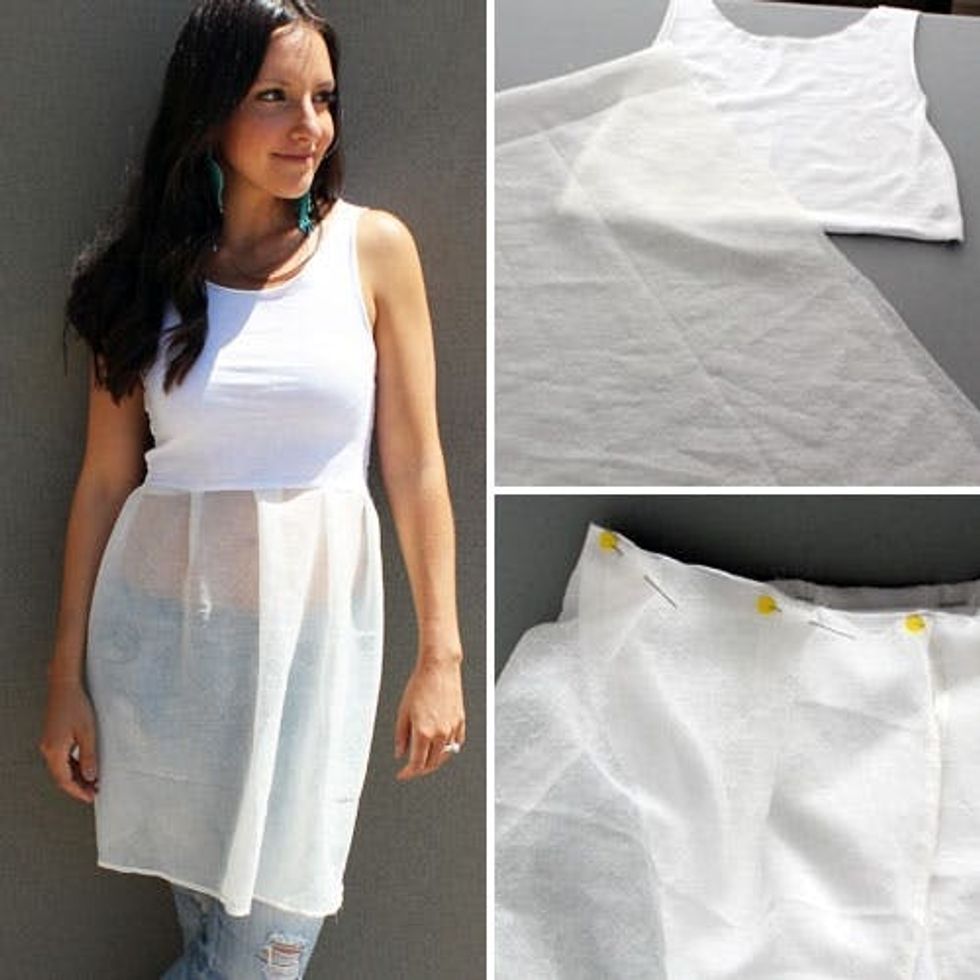 For the how-to, you can go ahead and consider your tee a piece of jersey fabric at this point. Cut out a tank top shape that works for you. If using a men's undershirt, you'll likely have to take in the sides. Take a sheer fabric (like chiffon), and pin to the bottom of the tank. Create pleats so you get a nice flow.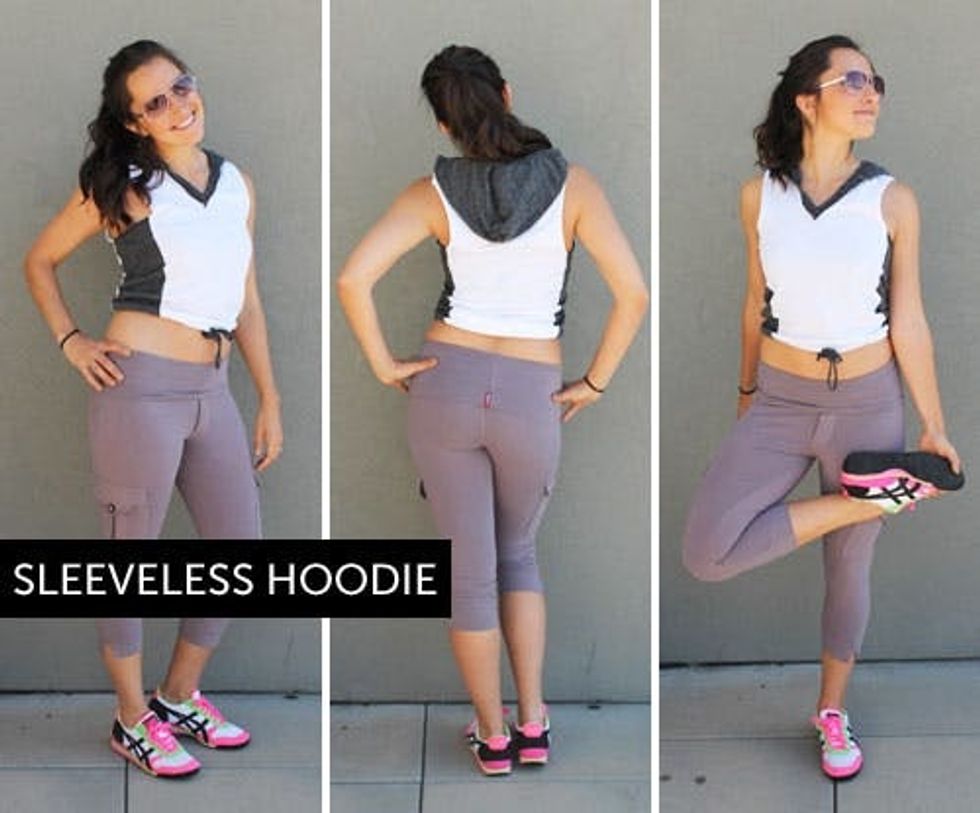 3. Sleeveless Hoodie
Maybe it's time to up your workout style game. Take an old tee and anything you've got with a hood, and combine the two to create this sporty look.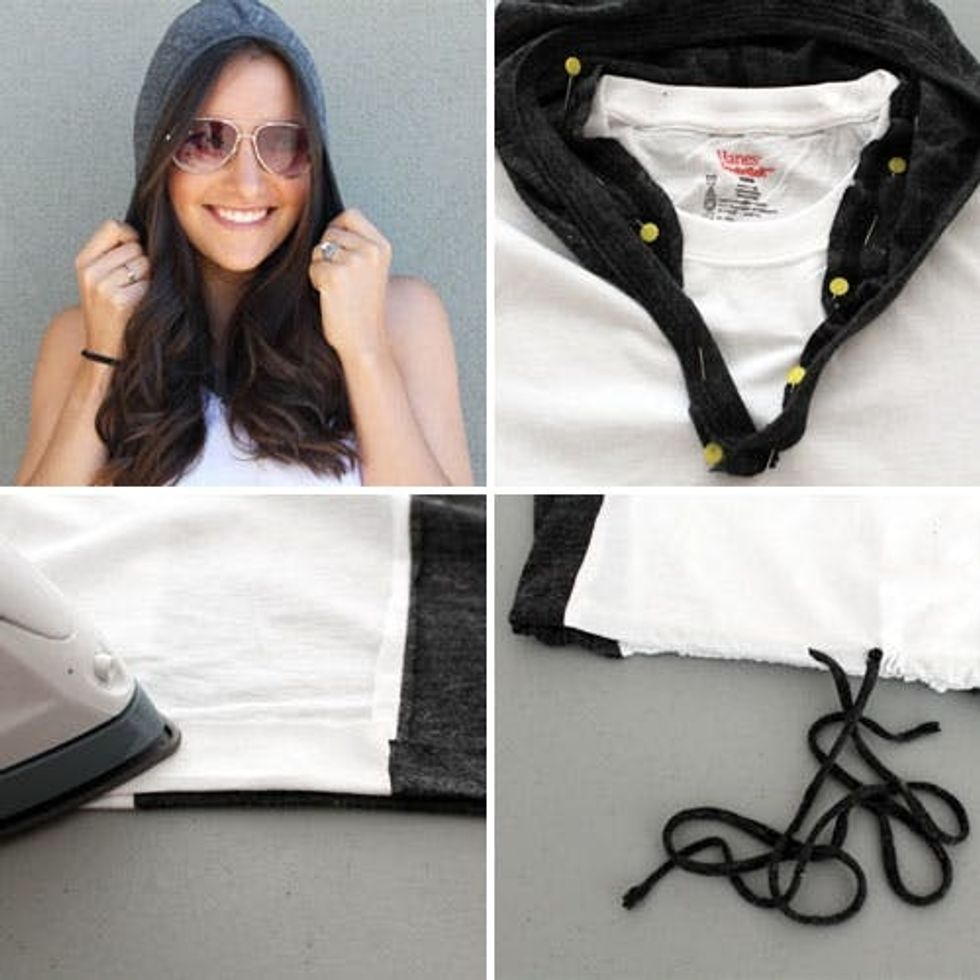 For our top, we had an old hoodie with a tear in it so we cut out the hood as well as a strip of fabric for the drawstring and two pieces of fabric for the sides of the shirt. Cut off the sleeves of the tee and the collar, and cut down the sides. Attach the hoodie fabric pieces, and then hood. Hem the bottom and pull a drawstring through, and you're done!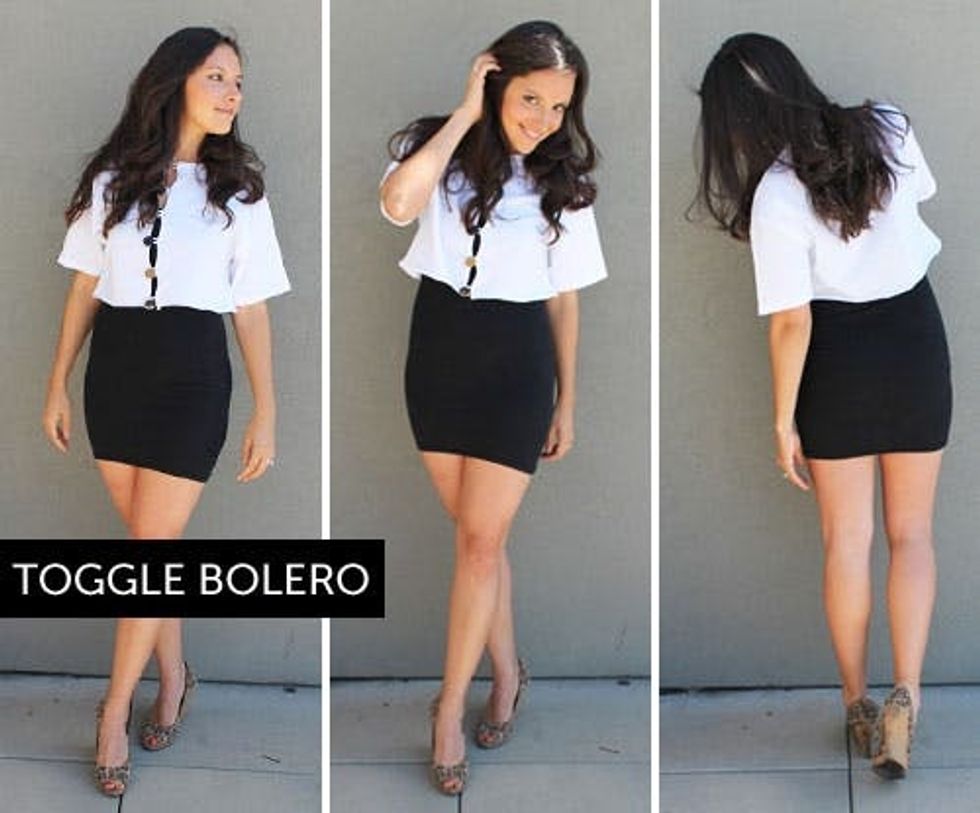 4. Toggle Bolero
Time to class up that white tee for a night at the theater! Throw it on over a little black dress with heels or a maxi with sparkly flats. Perfect for taking a day look into night.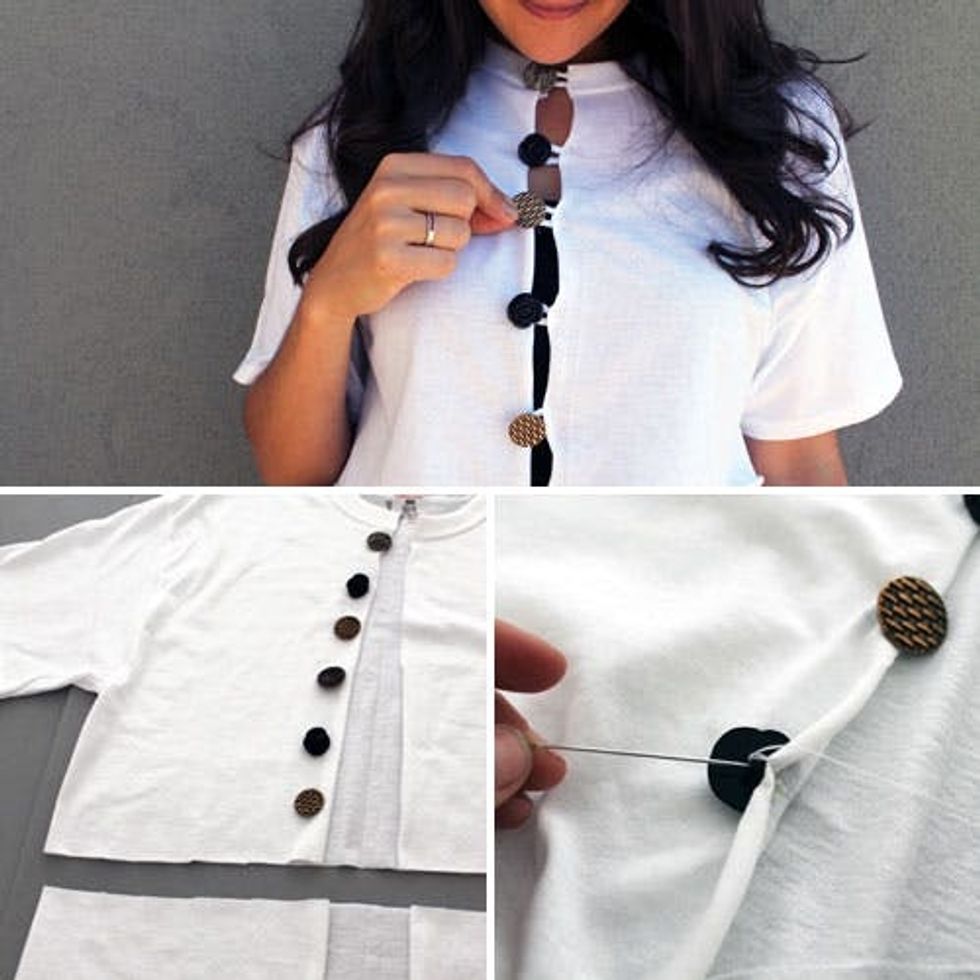 For this one, we cut off about half the tee (lengthwise). Cut it down the middle and sew on your buttons. Use excess fabric to create loops for the buttons, and that's it.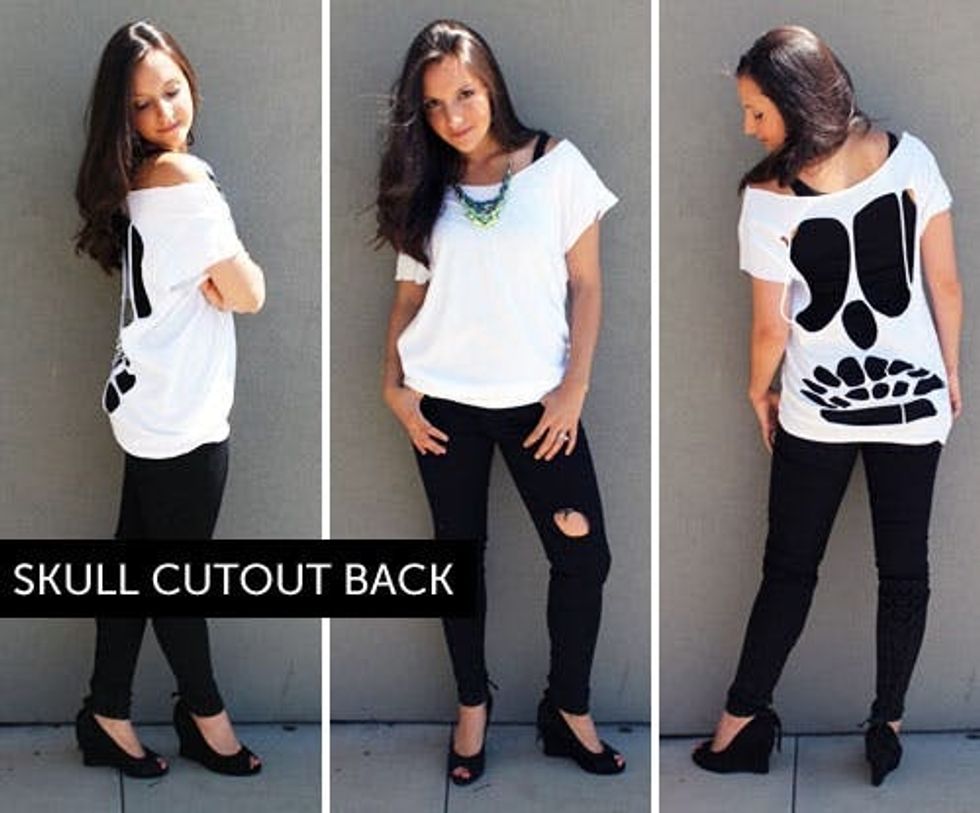 5. Skull Cutout Back
From classing it up to getting a little bit edgy, this crazy skull cut out is super simple to make and totally fun to rock. This would be perfect for a non-costume Halloween party (those exist?) or one of those nights you know you'll be staying up until sunrise.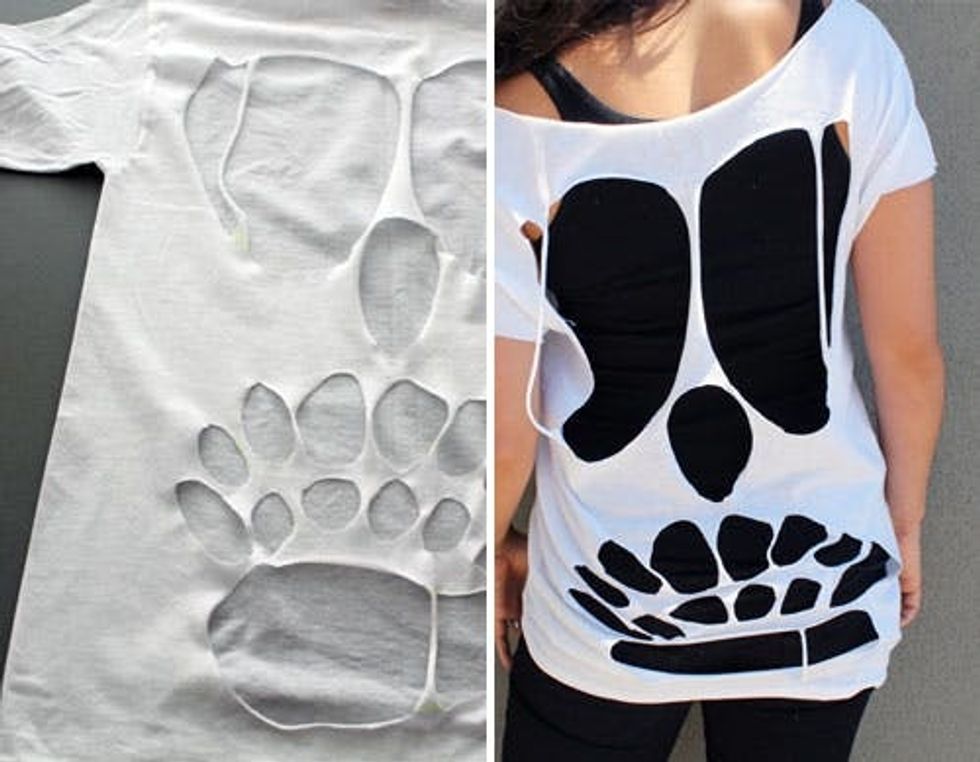 This one is really all about cutting it up. Simply draw out the pattern you want and cut!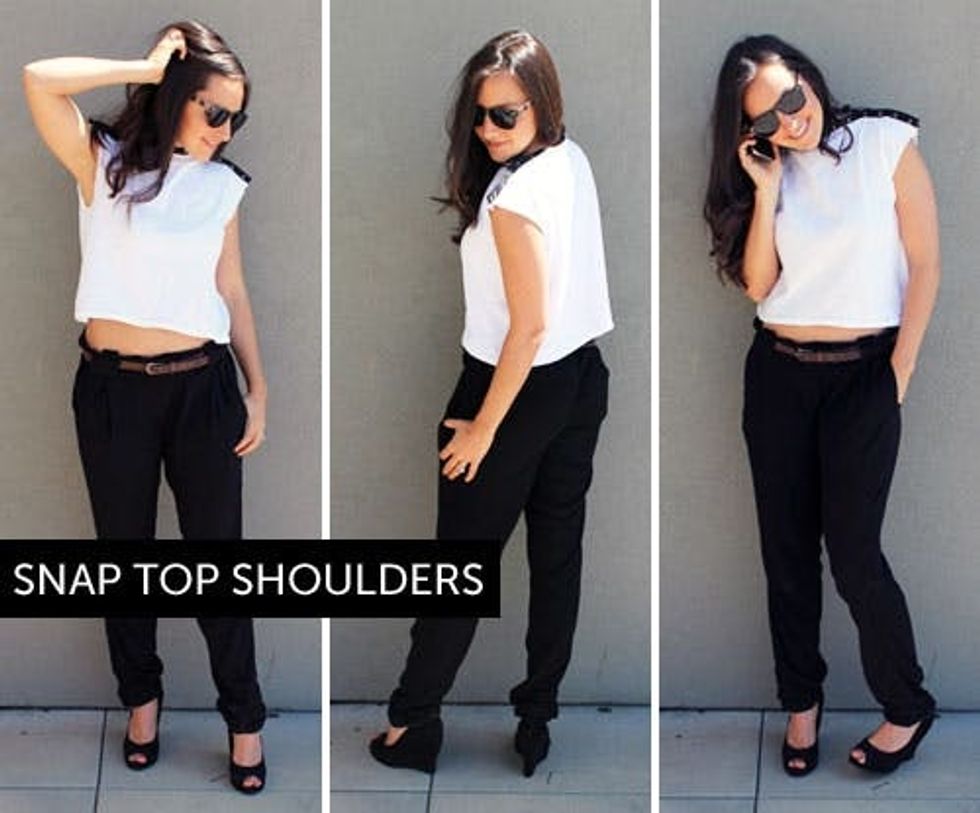 6. Snap Top Shoulders
Can't decide if you want an off-the-shoulder look or a boat neck? Add snaps!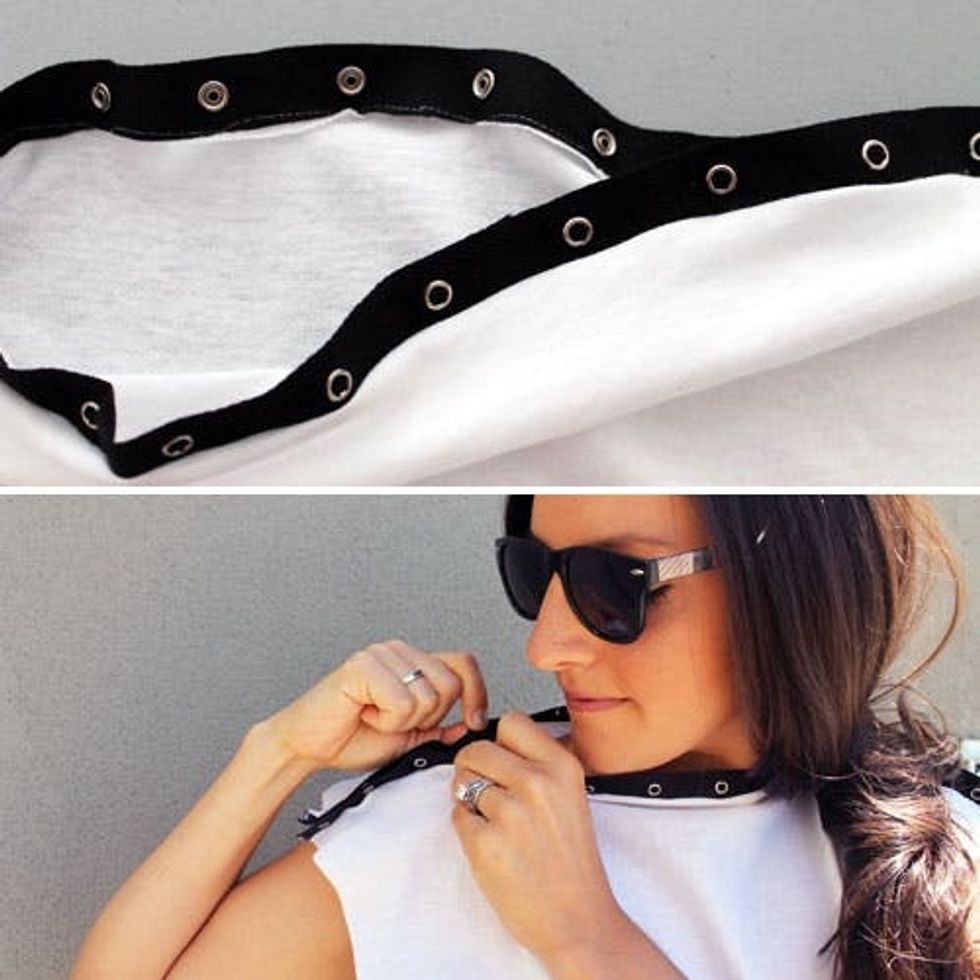 We used snap trim to create our top, but you could also do something similar with individual snaps or a zipper. Cut your tee across the top and bottom so that it's basically a square (but with the sides still connected). Sew on the snaps across the top, hem the bottom if you like, and you're good to go.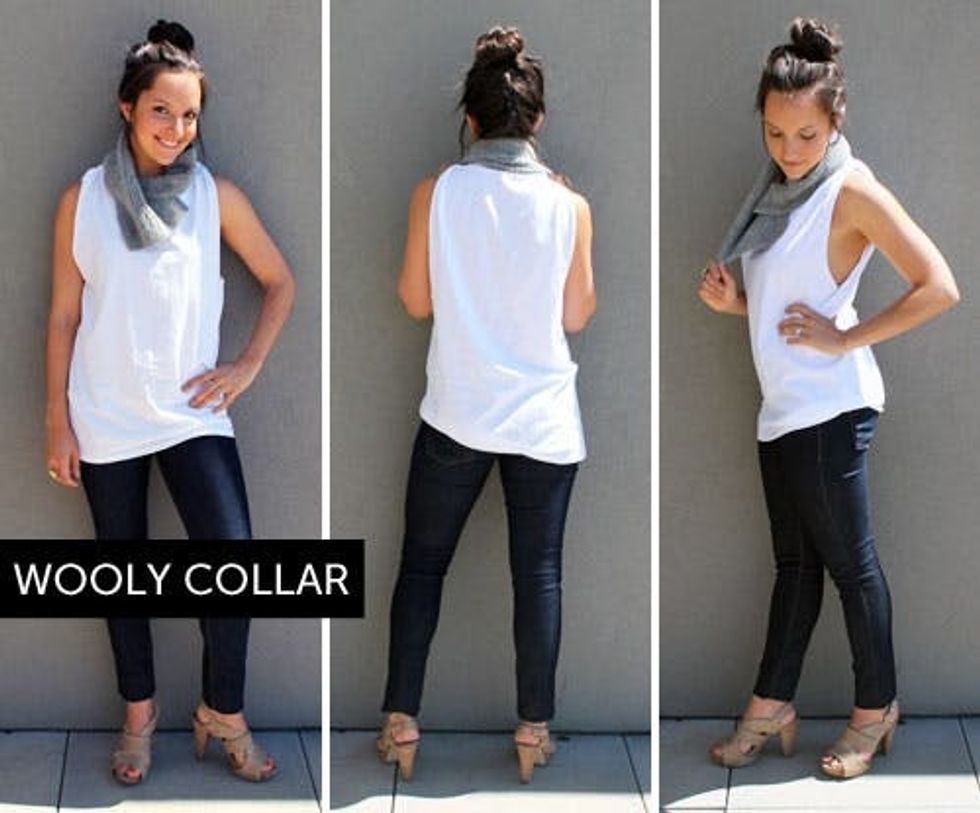 7. Wooly Collar
Remember when we turned scarves into camera straps? Well, we happened to have half a wool scarf left over from that project that was just begging to unite with a tee. This is a great one for chic-ing things up, and looks great with skinnies and a top knot.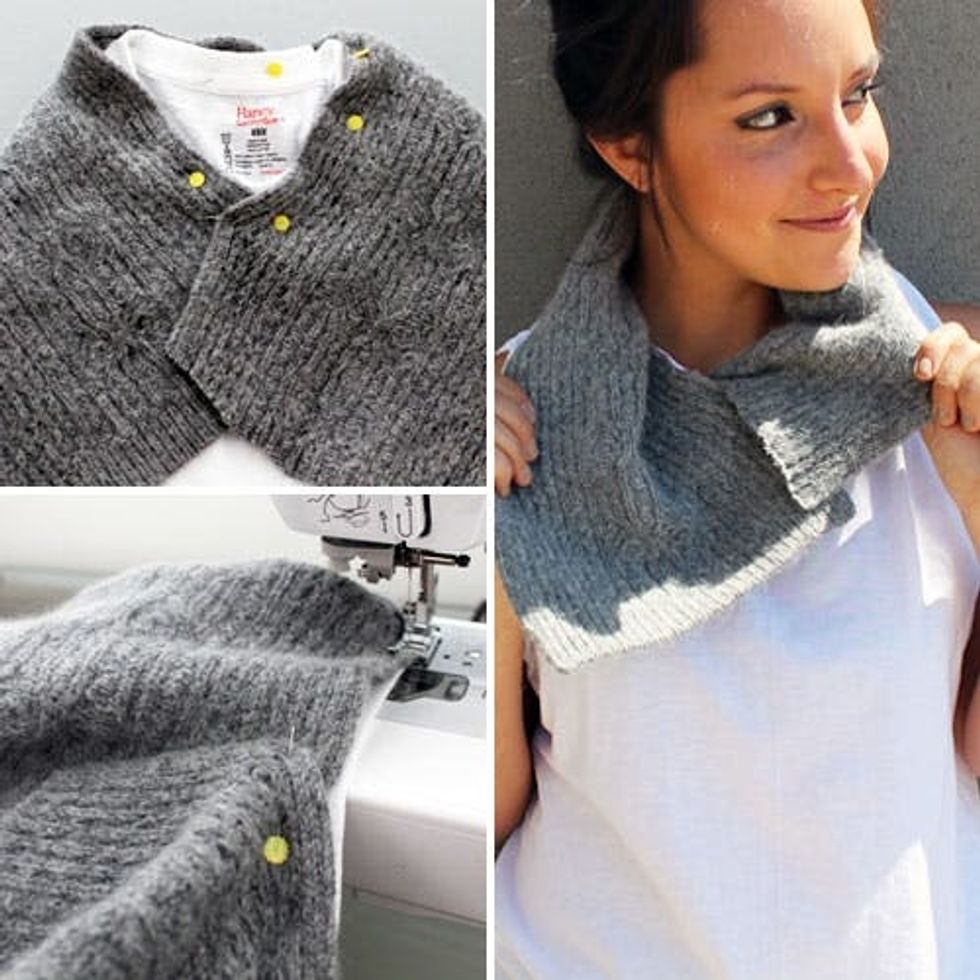 Cut the sleeves off your tee. Then pin the scarf around the color, almost as you would around your neck. Sew, and cozy up!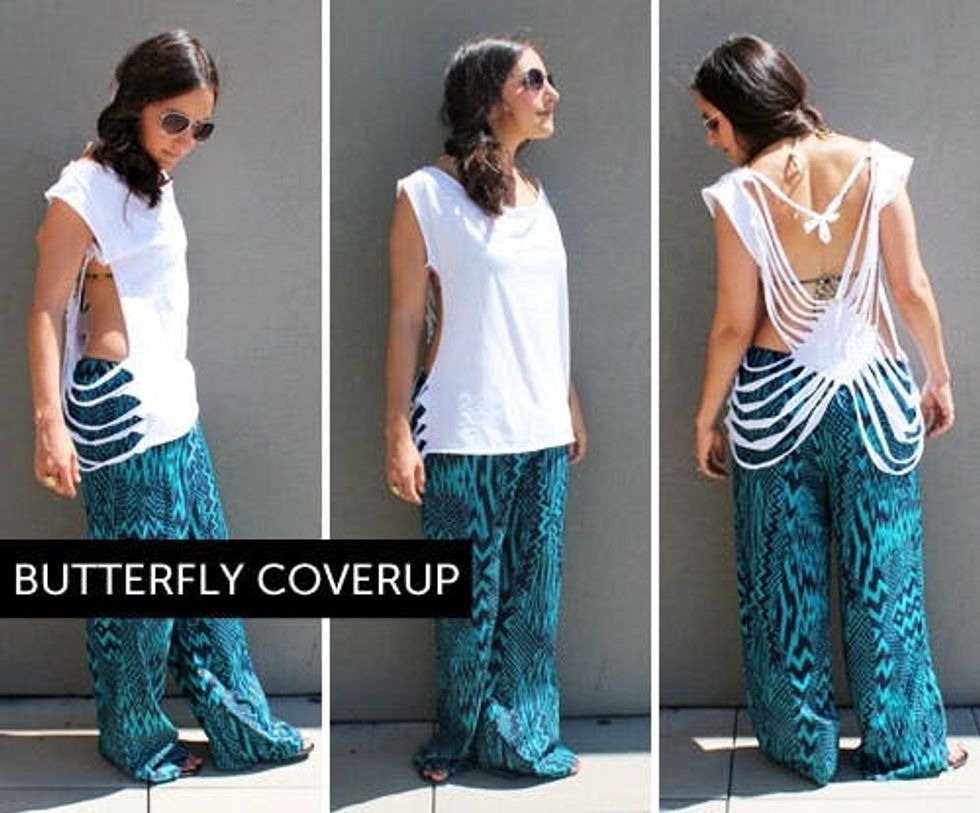 8. Butterfly Coverup
Heading to the beach and need to whip up a quick coverup? Scissors and a basic white tee to the rescue! No matter where you're traveling, you'll likely be able to find these two things. Even a pocket knife'll do the trick.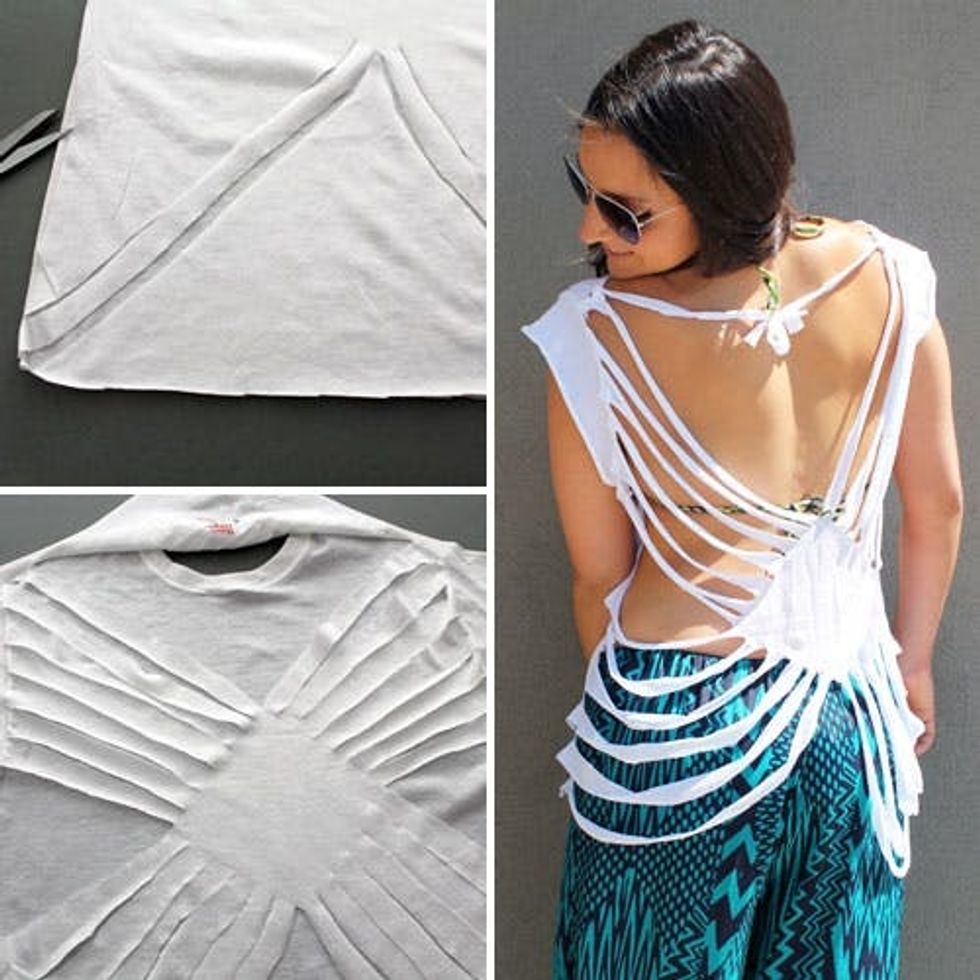 Trace out a diamond shape (use a square and turn it!) in the middle of the back of the tee. Then cut diagonally up and down to each corner. Cut out a triangle at the top and bottom, add a tie at the top, trim the sleeves, and that's it.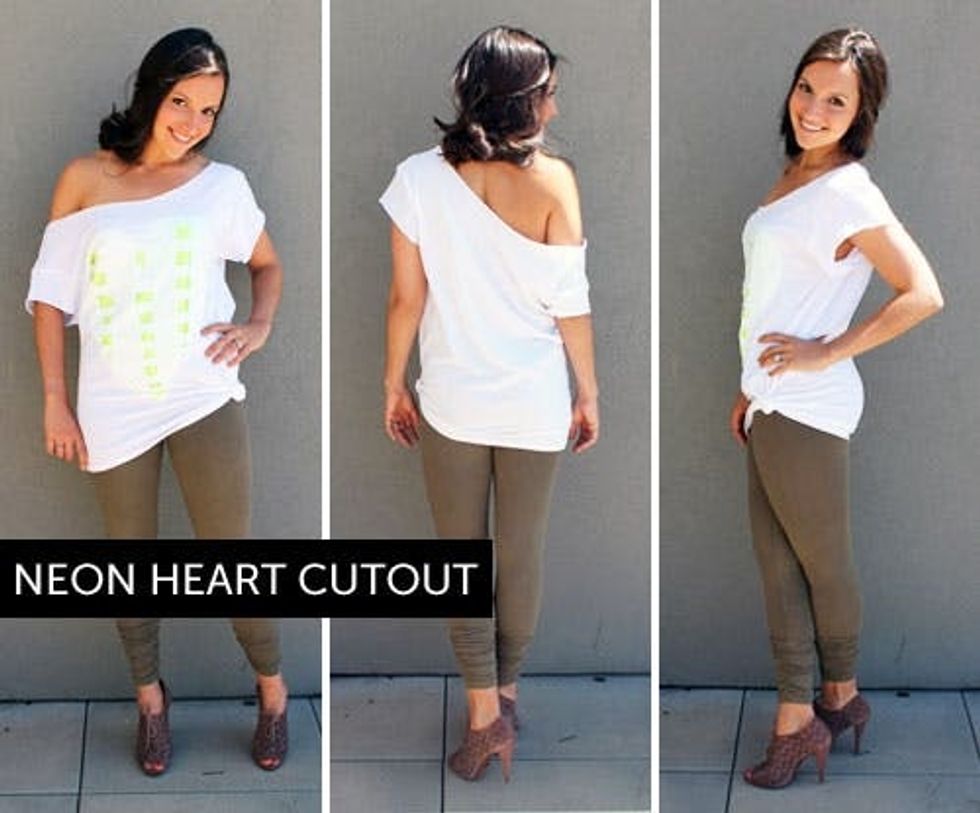 9. Neon Heart Cutout
Love neon but need a slightly more subtle look? Layer it up! This is a fun look for a summer festival, and is an easy DIY to do with a bunch of friends for a bachelorette party.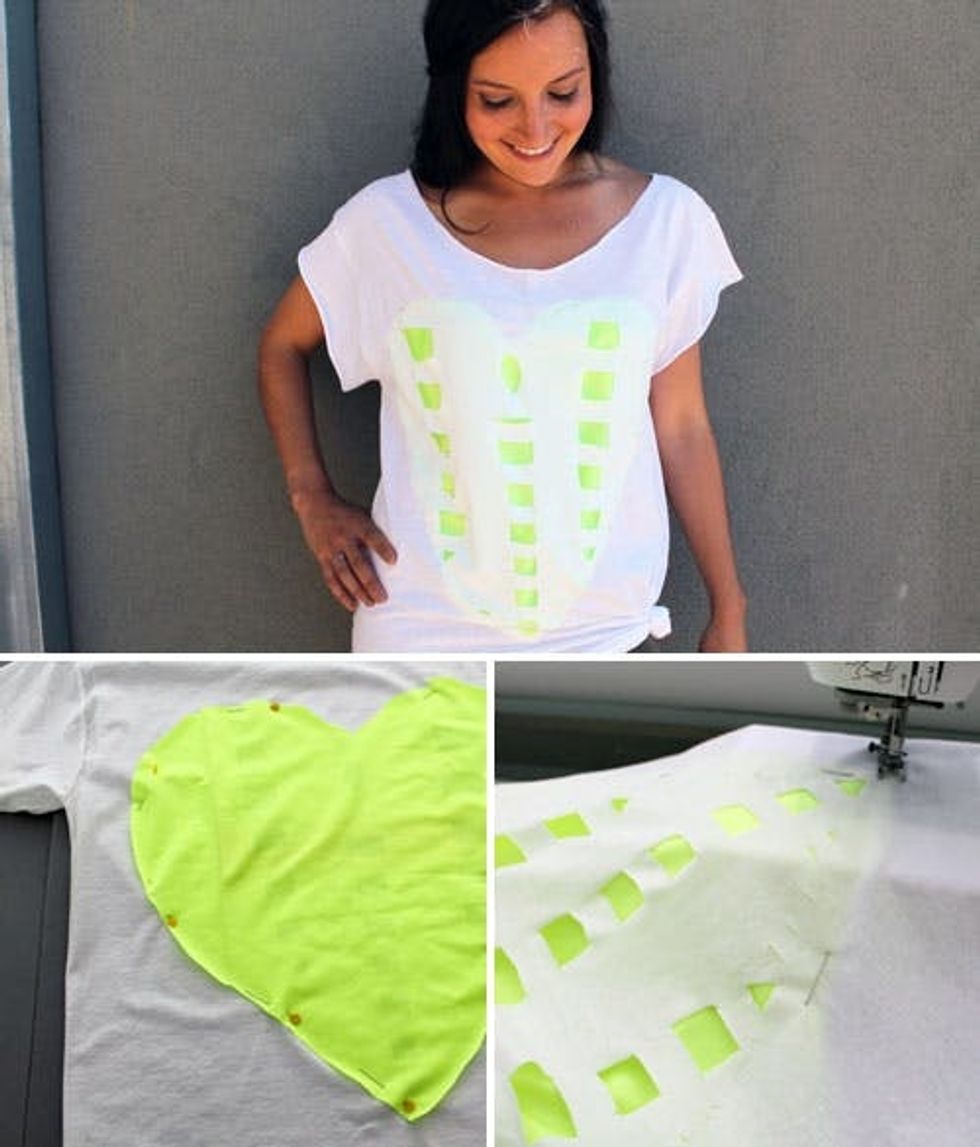 Cut a heart out of neon and trace the shape of it onto the inside of your tee. Then take scissors and cut out little squares on the tee. This will give it the appearance of being weaved but is way easier. Use a sewing machine or needle and thread to sew the heart inside. Trim off an excess neon fabric, and tie a little knot on the side to give some style cred to the '80s.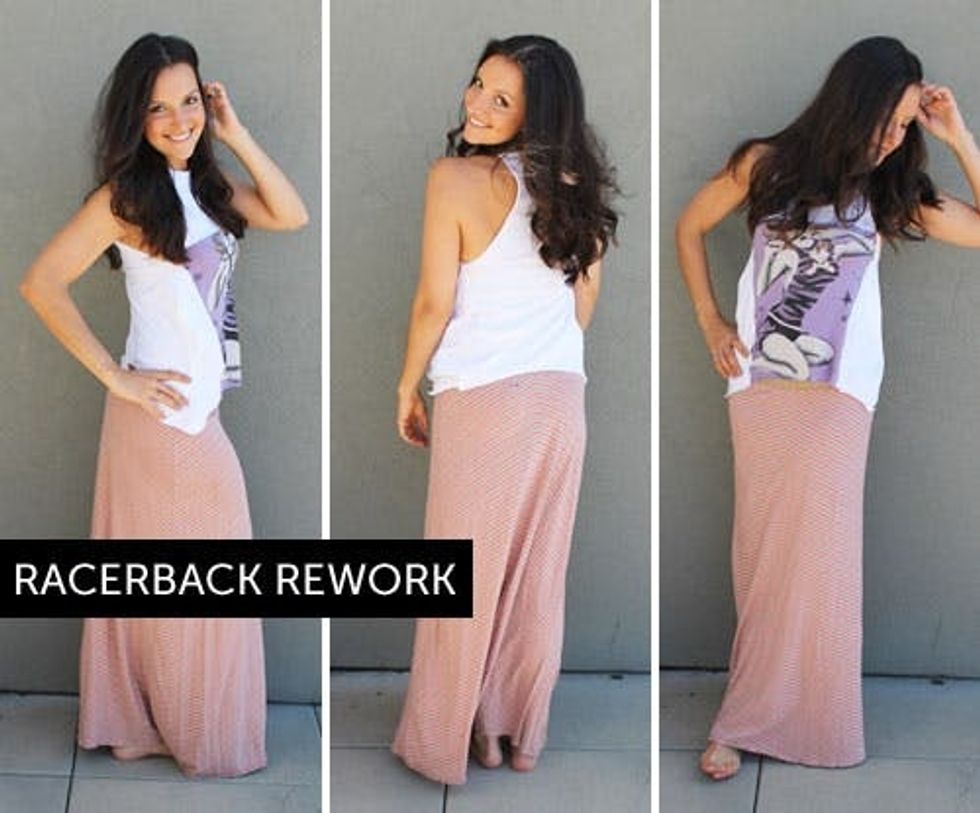 10. Racerback Rework
Finally, a super relaxed look great for a day of wandering. We love the softness of pairing this with a maxi, messy summer waves, and bare feet.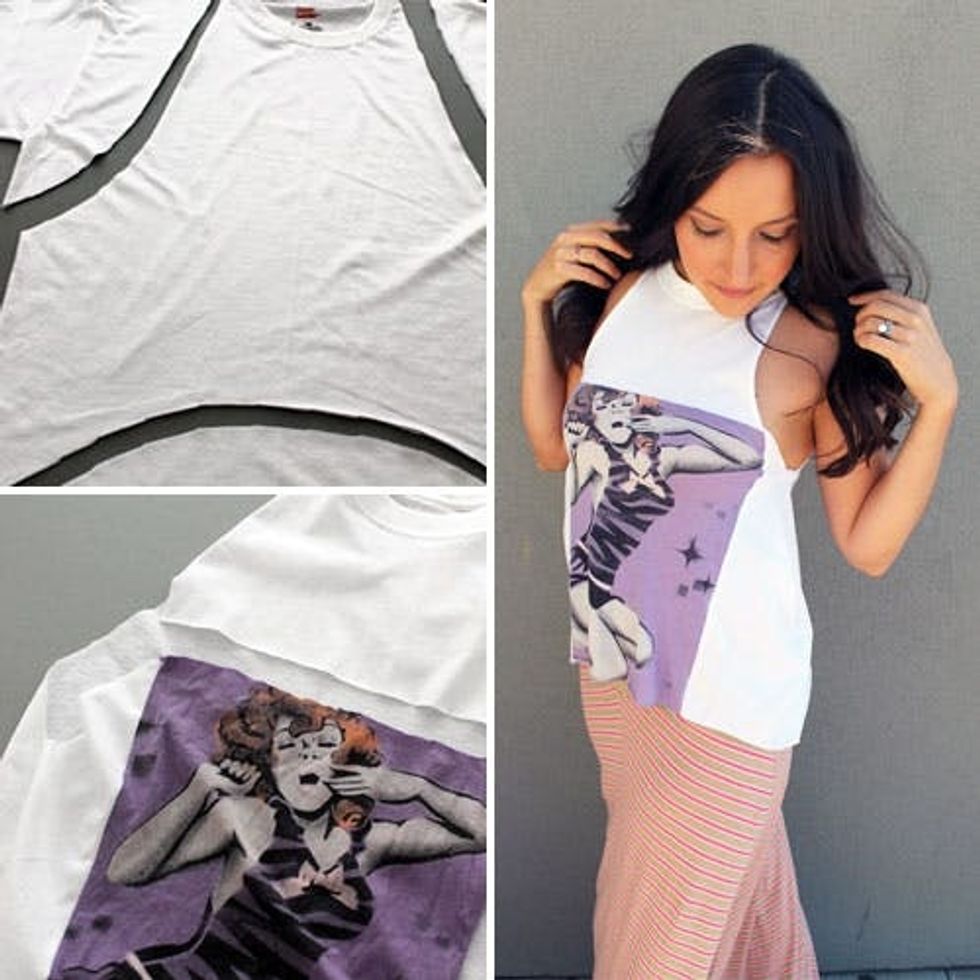 Find an old tee with a print or any piece of jersey knit fabric to attach to this one. Cut out the sleeves in a way that creates a racerback shape. Then cut out a piece of the front of the shirt and attach your other fabric. Hem everything up at the bottom, and get ready to rock.
Misty Spinney
Misty Spinney is a hair stylist, makeup artist, and fashion stylist with a strong background in design and deep passion for creativity.
DIY Style
Still haven't taken up that new creative skills you swore you'd learn this year? Or ready to take your design skills to the next level? Let's say so long to the weirdest year ever by checking those big learn-something-new goals off our perpetual to-do lists.
We've teamed up with Clorox to give you the gift of unlimited creativity now through the end of the year. Once you sign up, you can take as many of our 120+ classes as you want for FREE for one whole month!
Here's how it works:

Head to brit.co/learn and sign up for the "All Access Pass."
Use the code "CLOROXCARES" at checkout to redeem your free month of classes.
You will be automagically signed up for Clorox's email list once you redeem your free all access pass. (It's the #1 Choice for Disinfection!)
Your pass lasts one month from when you checkout. This means you have unlimited access to all the classes during that month.
This offer is valid now through December 27, 2020.
Browse our catalog to find the right class for you, tell a friend and take the class together over Zoom, or organize a 'cocktails + crafts' night with a friend in your bubble so you can learn something new together.
What are you waiting for? Time to start learning all the things!

Thanks to Clorox for making this happen! When it counts, trust Clorox.
Lifestyle