3 Whole30-Endorsed Recipes to Make from the New Whole Smiths Cookbook
Jun 05, 2018

---
Cookboomarked! is our new series where we review the latest cookbooks from the foodie influencers you follow. Check back often to find out which new releases are worth your hard-earned cash and the recipes you should try first from each.
If you can't get enough Whole30 recipe inspo, we get it, which is why our ears perked up (and our mouths started watering) when the founder of the program, Melissa Hartwig, emailed Brit + Co to tell us about the first ever Whole30-endorsed cookbook. The Whole Smiths Good Food Cookbook ($30, out June 5), written by Michelle Smith, contains about 50 percent Whole30-compliant meals that are all so, so easy to assemble (with minimal ingredients and steps). The rest, while healthy, sprinkle in a few "naughty" ingredients like cheese, oatmeal, and rosé. Hartwig explains in the foreword of the book, "Hey, it's not the Whole365, and in my food freedom, a little rosé is A-OK."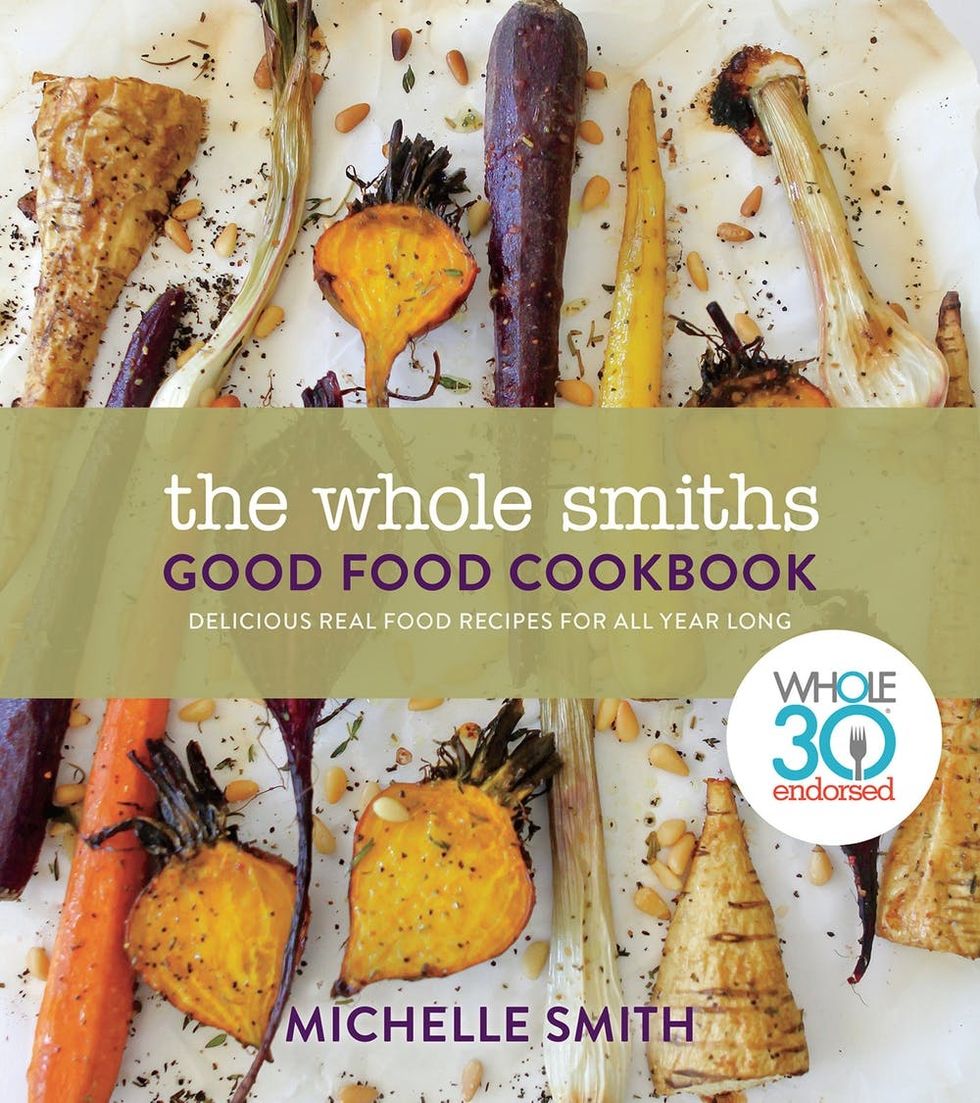 Because we're curious what to cook up first, we asked Hartwig to share her fave recipes from the book.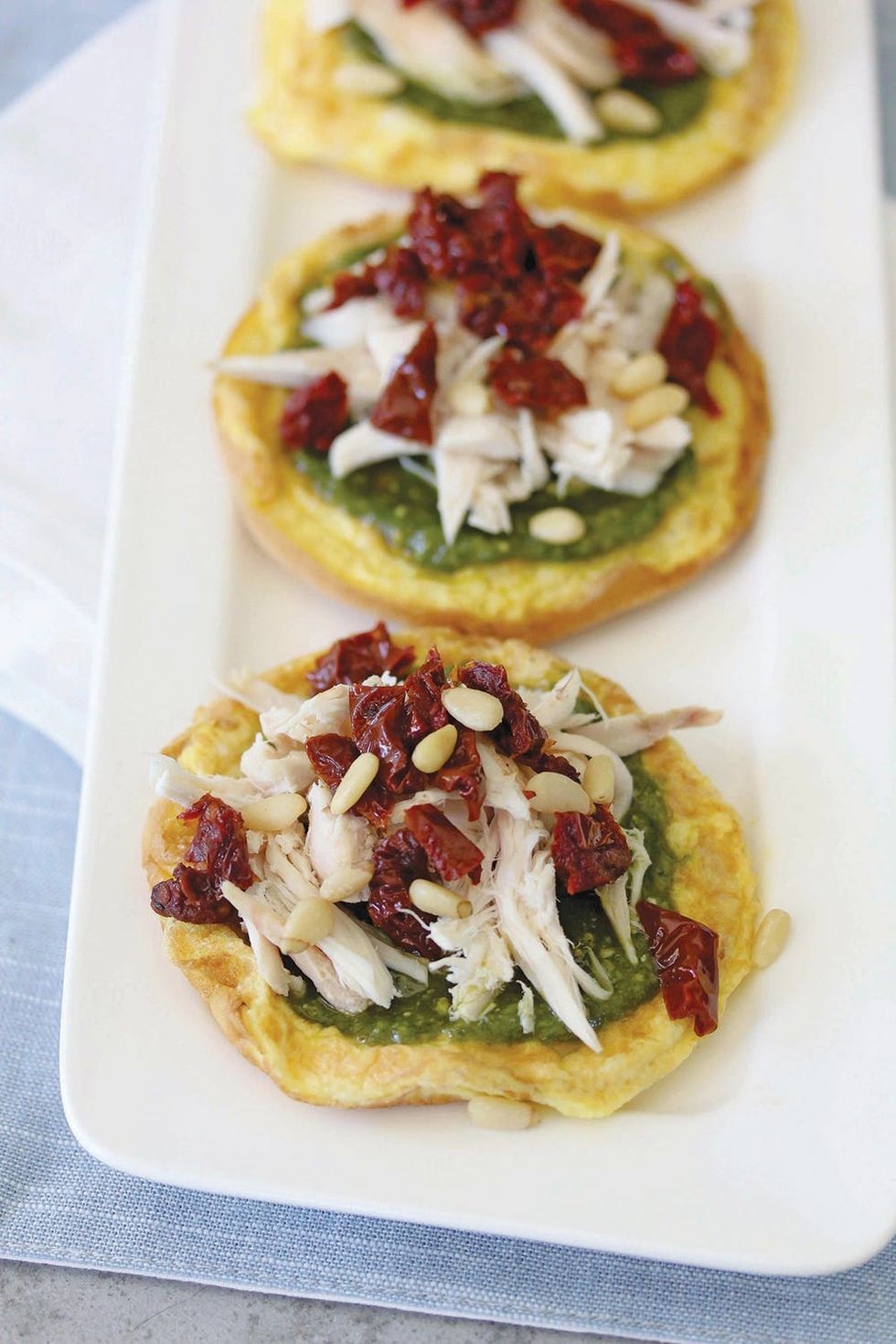 Chicken, Pesto, + Sun-Dried Tomato Egg "Pizza"
(Serves 4 to 6)
"I love the flavor of pizza, but the gluten and dairy don't love me," says Hartwig. "This version brings back all my best pizza memories in a super-nutritious package. Cooking these in individual egg pans means everyone can choose their own toppings, too, so if someone wants to add mushrooms or doesn't like tomatoes, it's a breeze to customize."
Through my food blogging journey, I've met lots of other food lovers and bloggers. Kristen of Living, Loving, Paleo has been particularly inspiring to me. Whether it's treating her Crohn's disease through food or being a ninja in and out of the kitchen (yes, she really does Ninja Warrior training!), Kristen is living proof that food is power and that we are all in control of our health. Kristen is also the master of delicious, healthy breakfasts. So when I was thinking about Whole30 breakfast recipes for this book, I called her up to join me in the kitchen. The result is this amazing dish. The brilliant flavor combo was all her, and it's so good you'll be tempted to eat the entire batch. The secret to these egg "pizzas" lies in the mini nonstick egg pans we used. They fit exactly one scrambled egg and make the perfect base for any sort of "pizza." You can find them at most kitchen supply stores or on Amazon.
Ingredients:
For the pesto:
To assemble:
Directions:
1. For the pesto: In a blender or food processor, combine the olive oil, basil, pine nuts, cashews, and salt and blend on high or process for 30 seconds, or until the pesto is well combined but not perfectly smooth. Set aside.
2. To assemble: In a nonstick 4½-inch egg skillet over medium-low heat, heat ¼ teaspoon olive oil. Pour in enough of the beaten egg to coat the bottom of the pan and cook until the edges start to round, 1 to 2 minutes. Flip the egg and cook until the edges are slightly golden and the egg is cooked through, 20 to 30 seconds. Transfer to a plate and repeat with the remaining egg.
3. To serve, spread 2 tablespoons of the pesto onto each cooked egg round and top with about 2 tablespoons of the shredded chicken and 1 to 2 teaspoons of the sun-dried tomatoes. Garnish with pine nuts, if desired.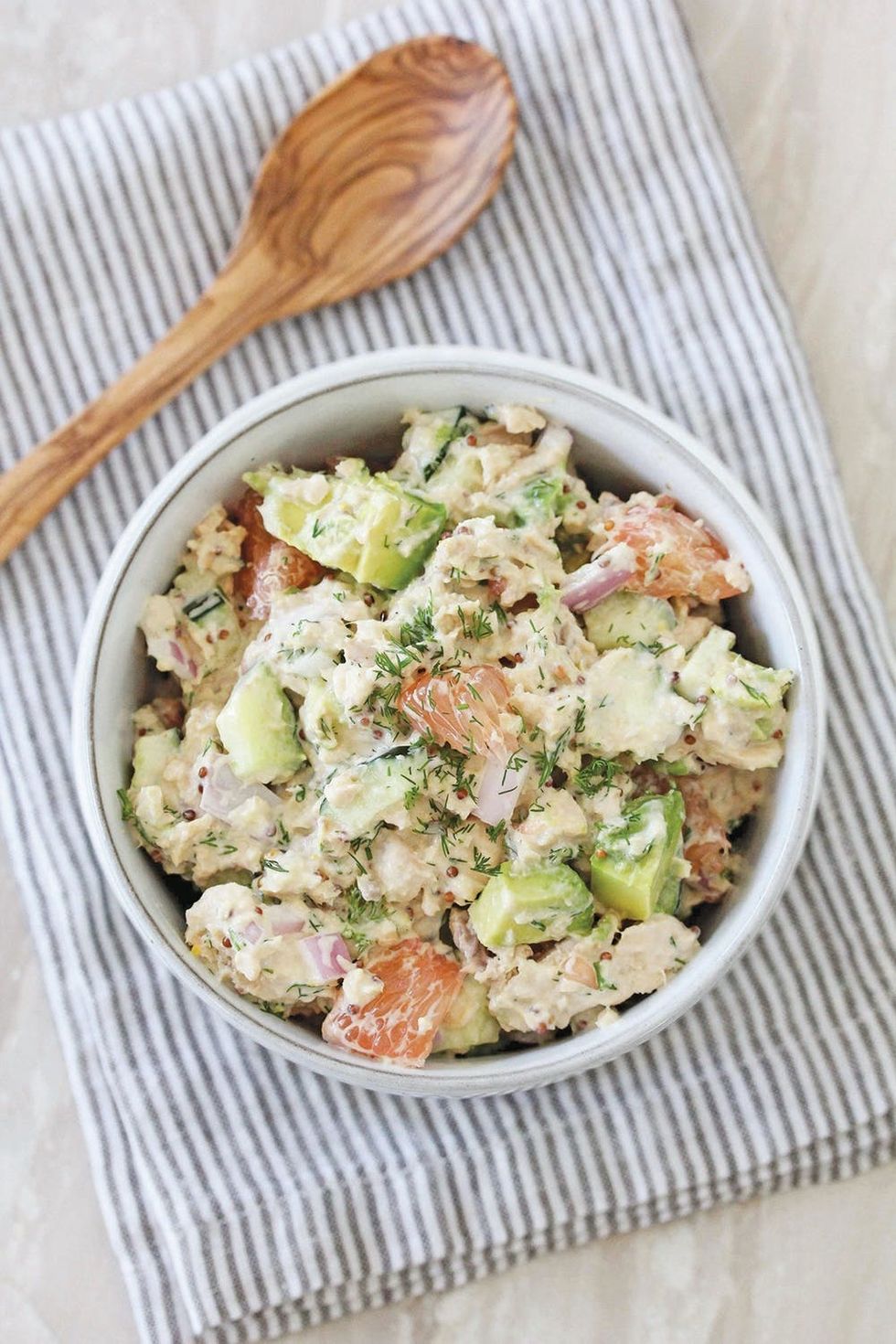 Salmon Avocado Salad
(Serves 2 to 4)
"I've been making this for lunch since I caught a sneak-peek early in the development process, and it ticks all my boxes: whips up in no time, easy to make ahead, and uses ingredients I always have on hand. (The grapefruit is the secret ingredient!)," Hartwig tells us. "I love serving this over arugula or baby kale; no dressing required."
Step aside, tuna salad! We have a new friend in town: salmon salad. And she's amazing. I use canned salmon for this recipe to keep it convenient for lunches, but you can always substitute cooked fresh salmon.
Ingredients:
1-Minute Mayonnaise (Makes 1 Generous Cup):
Directions:
1. To make mayo: In a tall, wide-mouth mason jar or similar container, combine the olive oil, egg, Dijon mustard, lemon juice, and salt. Let the ingredients settle for a moment.
2. Place an immersion blender directly over the egg and begin to blend. Leave the blender in place for 5 seconds as the oil and egg begin to emulsify, then start to very slowly move the blender up and down until the oil and egg are fully emulsified, about 30 seconds. Cover and store in the refrigerator for up to 1 week.
3. To make salad: In a large bowl, combine the salmon, cucumber, mayonnaise, onion, dill, mustard, salt, and lemon pepper and toss. Gently fold in the avocado and grapefruit.
4. Serve on its own or over a bed of your favorite greens.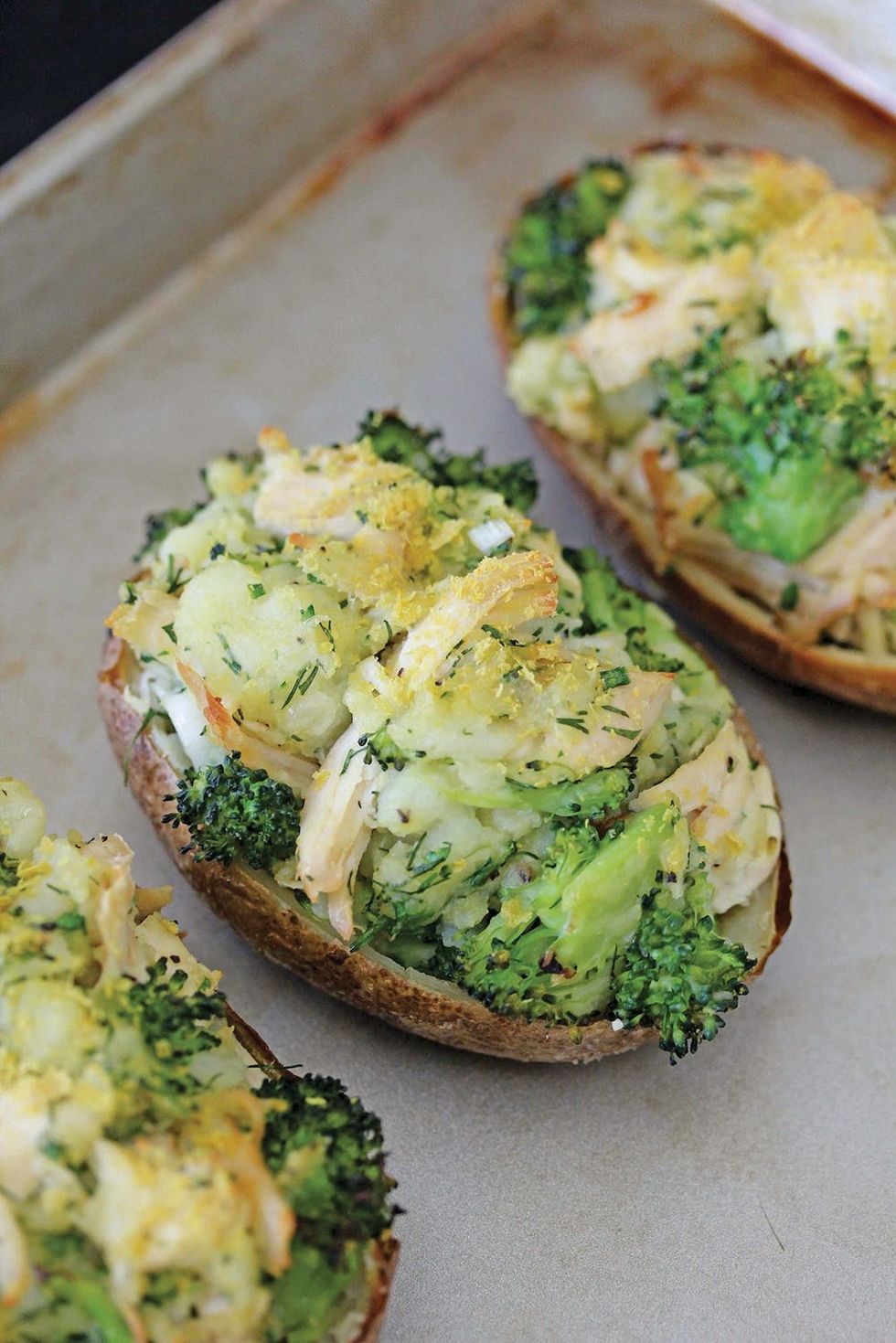 Broccoli Chicken Ranch Potatoes
(Serves 4 to 6)
"The Whole30 community is obsessed with this version of twice-baked potatoes," claims Hartwig. "It's an entire meal in one delicious veggie-loaded package, perfect for reheating at the office or an easy breakfast the next morning. Buying pre-cooked chicken at your local grocery store makes the prep for this a breeze too."
I really wanted to include a Whole30-compliant twice-baked potato in this book. Even though twice-baked potatoes usually have cheese (and lots of it), I decided to make a go at creating a version so loaded with flavor and goodness that nobody would even miss the extra dairy. I'm here to tell you that I succeeded.
Directions:
Show us your creations by tagging us on Instagram @BritandCo.
(Photos and recipes excerpted from The Whole Smiths Good Food Cookbook © 2018 by Michelle Smith. Reproduced by permission of Houghton Mifflin Harcourt. All rights reserved.)
Anna Monette Roberts
As Brit + Co's Food Editor, Anna Monette Roberts has an insatiable appetite for developing tasty dishes. When she's not dreaming about her next meal, she's . . . well, probably cooking up her creations. Her favorite foods include chewy chocolate chip cookies, Rosé Champagne, and gooey French cheeses — in no particular order.