15 Amazing Ideas for Throwing the Perfect Bastille Day Soiree
Jul 14, 2016
Okay, it's that time of year! The special day in July where we celebrate a great nation's independence. That's right — we're talkin' about Bastille Day (wait, what?!). As we slowly recover from the passing of our country's big day, let's not forget that we've still got another set of red, white and blues to celebrate this month, but this time with a French twist. Whether you're looking to repurpose your Fourth of July decor or you're simply crazy about planning killer events, we've got the inspo you need to throw the *perf* Parisian bash. From too-cute eclairs to a decadent Champagne fountain, scroll on and find the must-have decor for your Bastille Day festivities.
---
1. Sparkler Cake: What's a party without cake? Bring an American touch to your French-themed affair with a sweet vanilla cake coated in red, white and blue pretzels. Just don't forget the set of faux sparklers to give your sweet confection that extra wow factor. (via Sprinkle Some Fun)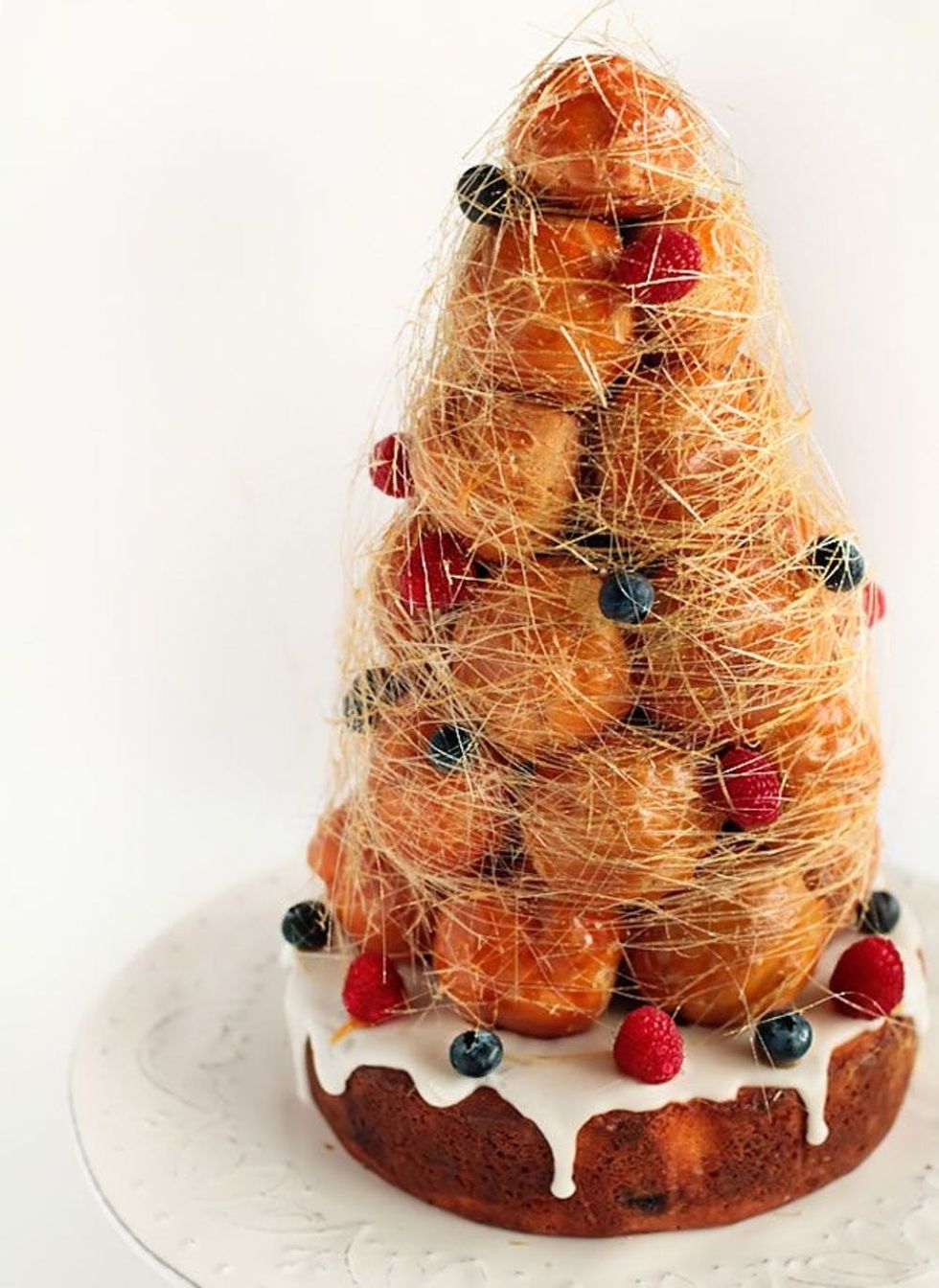 2. Croquembouche Cake With Lemon & Berries: Calling all culinary royalty! Place the perfect Bastille Day centerpiece on your party table with this swoon-worthy croquembouche. With fresh fruit and icing repping the country's colors, this fancy AF dessert has got Parisian love written all over it. (via Raspberri Cupcakes)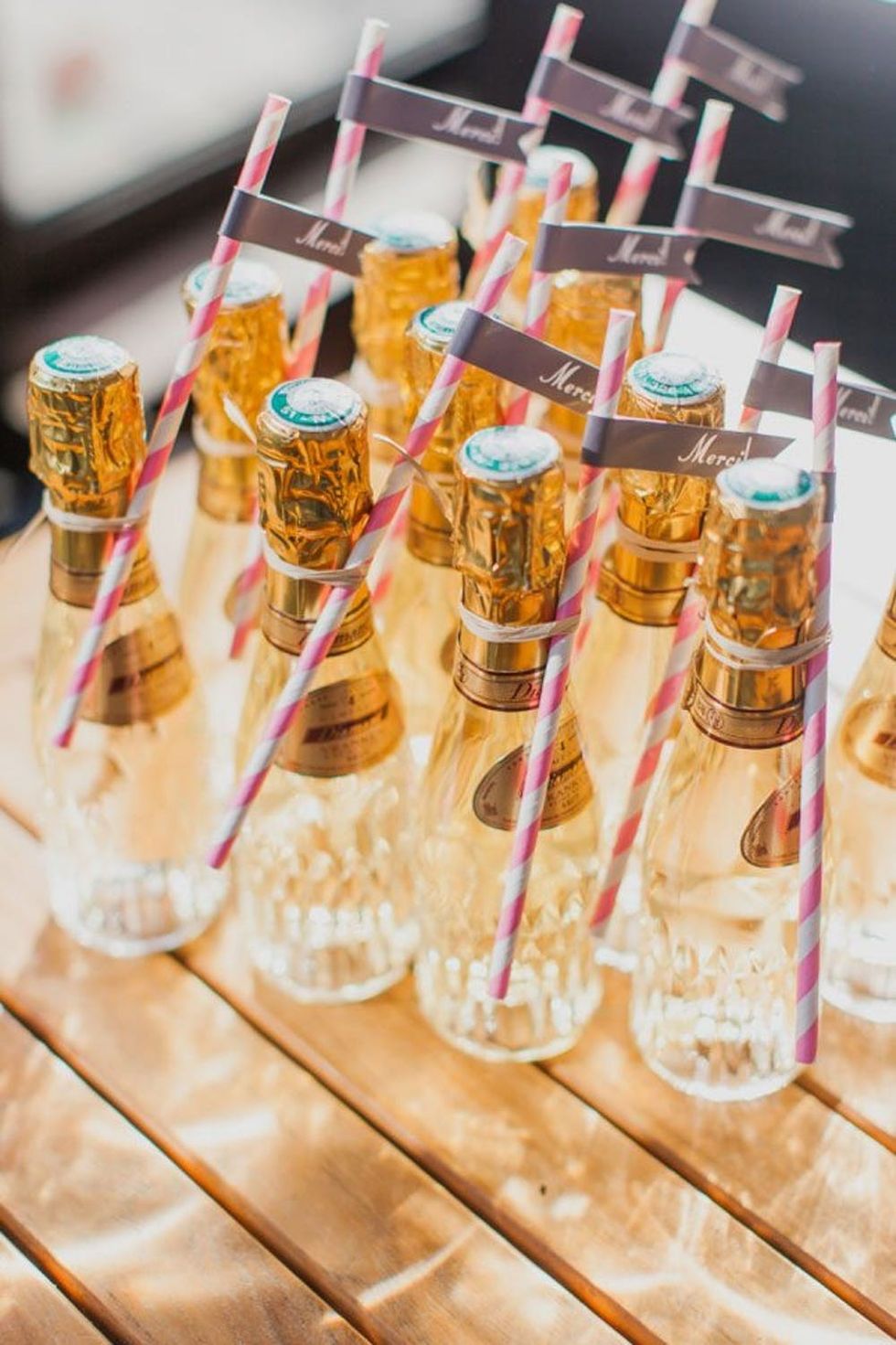 3. Champagne Party Favors: Just when you thought Champagne couldn't get fancier. Nothing says "merci" like getting your own mini bottle of bubbly. (via Mademoiselle Fiona)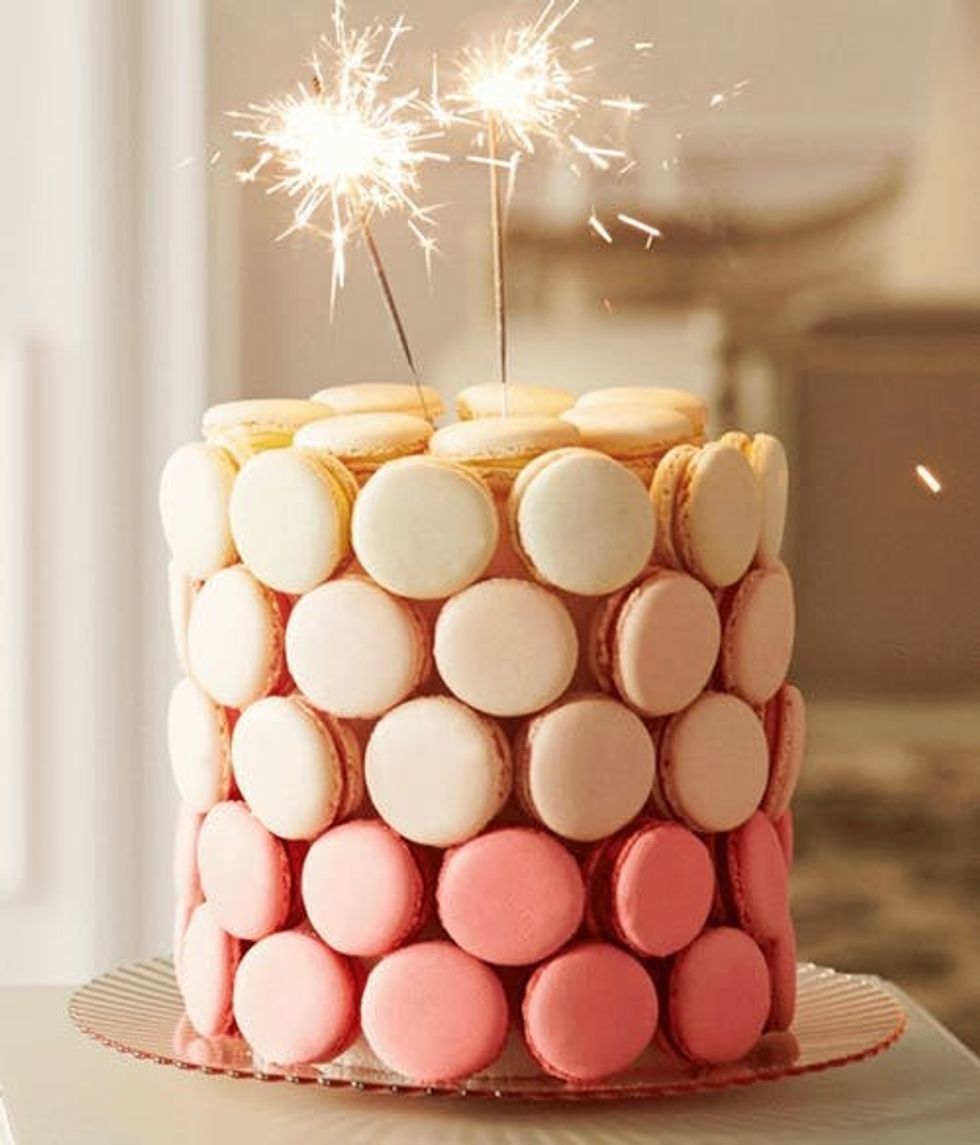 4. Macaron Cake: Ombre macarons and sparklers?! This gorgeous dessert takes the cake (pun totally intended) for the most romantic sweet treat in our roundup! (via One King's Lane)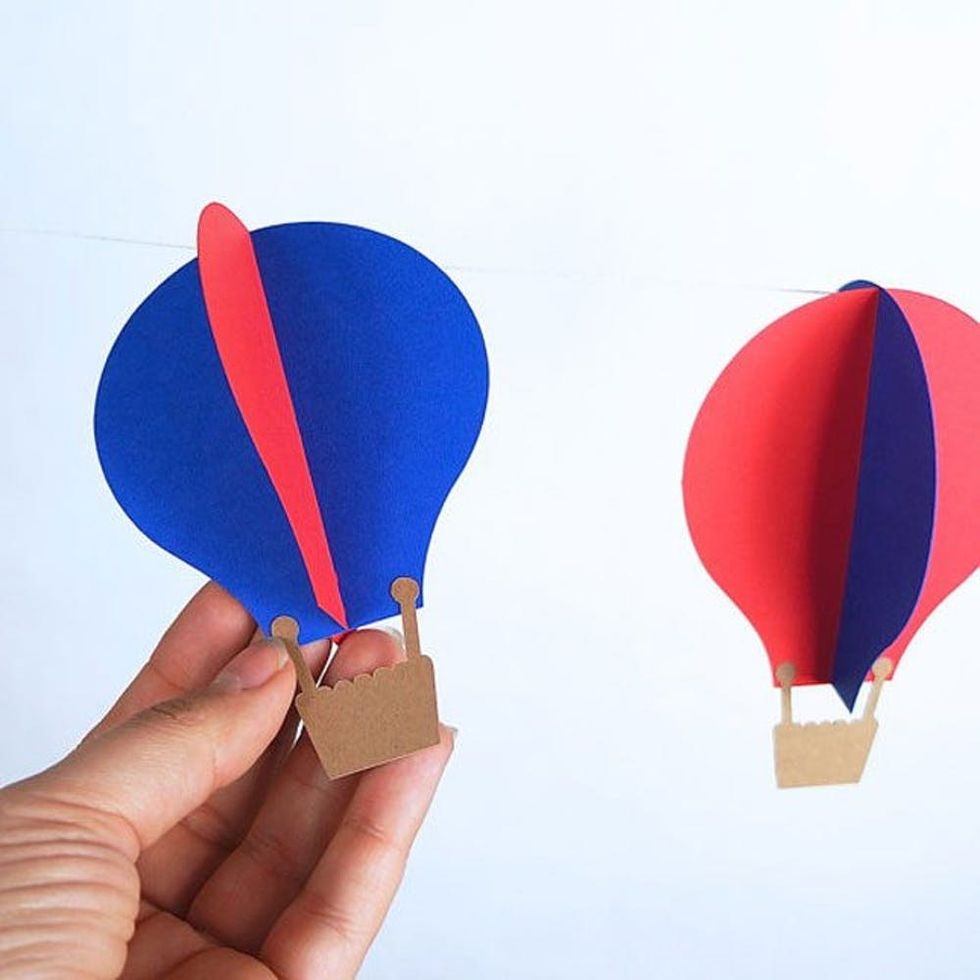 5. Especially Paper Garland Kit, Hot Air Balloons ($12): Add extra whimsical charm to your Bastille Day event with these adorable little hot air balloons hanging across your walls. This playful piece of decor is ideal for giving your party a travel-themed atmosphere.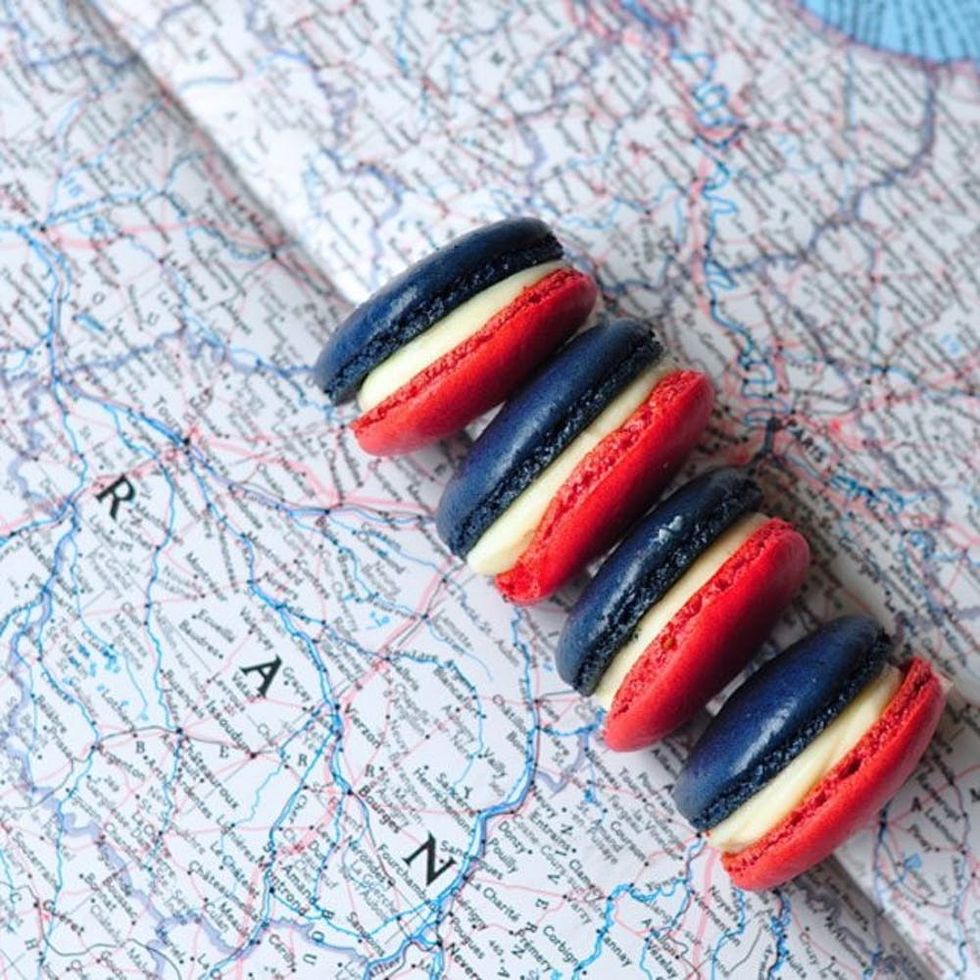 6. French Flag Macarons: When we think of French food, macarons almost always come to mind. Who can resist this sugary sweet (not to mention gluten-free) treat? This July 14, celebrate Bastille Day right with one of the country's signature desserts decked out in red, white and blue. (via Eat. Live. Travel. Write.)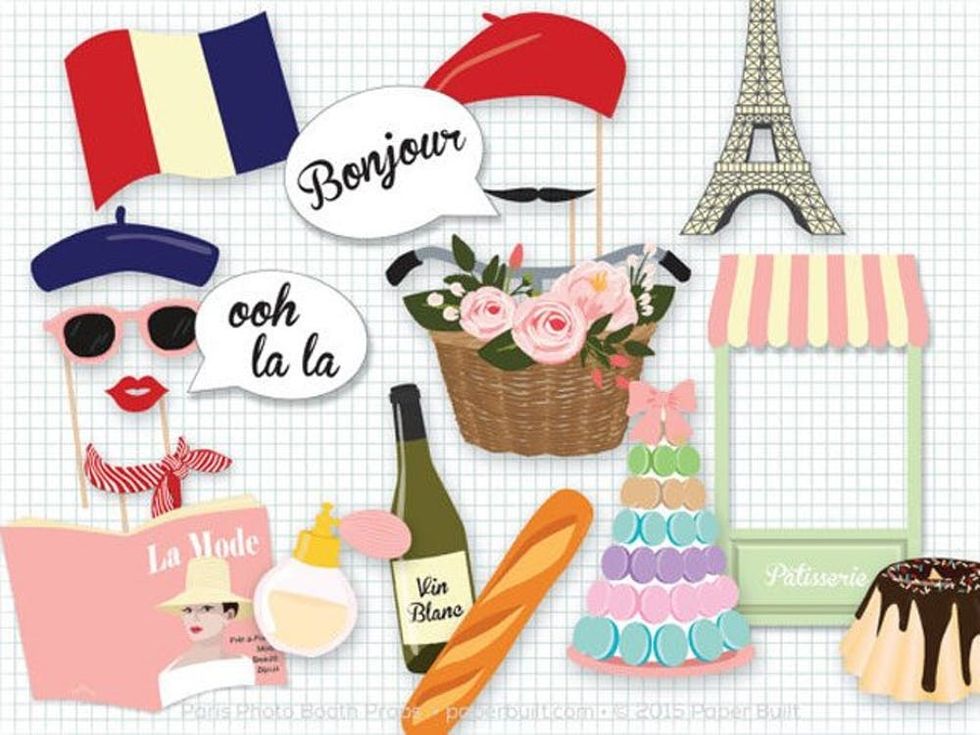 7. PaperBuiltShop Paris-Themed Photo Booth Props ($5): A themed photo booth takes your party from good to ah-mazing! Download these fun and flirtatious props to give your guest some sweet memories they can take home.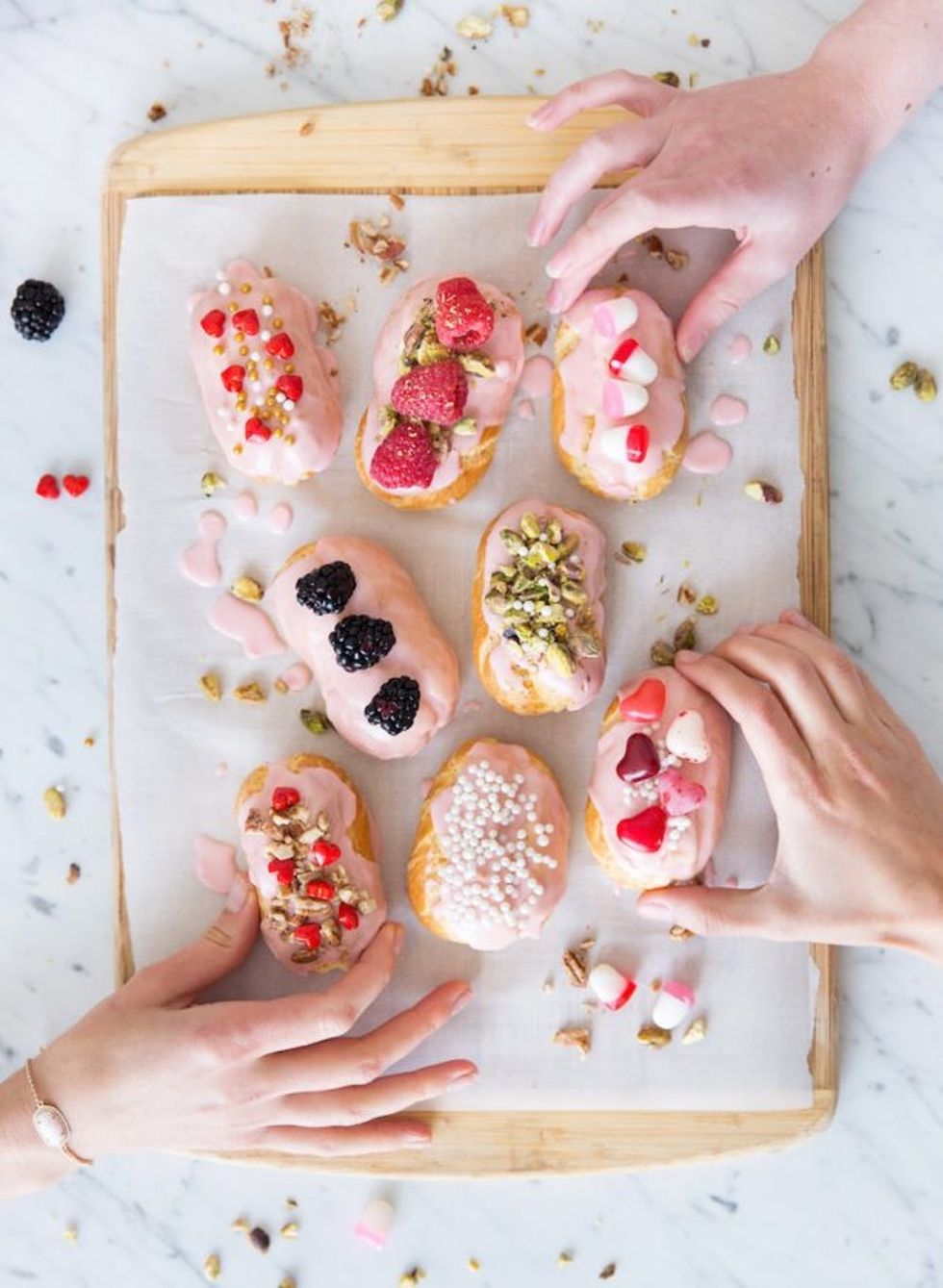 8. DIY Mini Eclairs: These pretty and pink eclairs are glamorous enough to serve in The Grand Budapest Hotel. Give your French desserts a cinematic flair by making these almost-too-gorgeous-to-eat pastries. (via Camille Styles)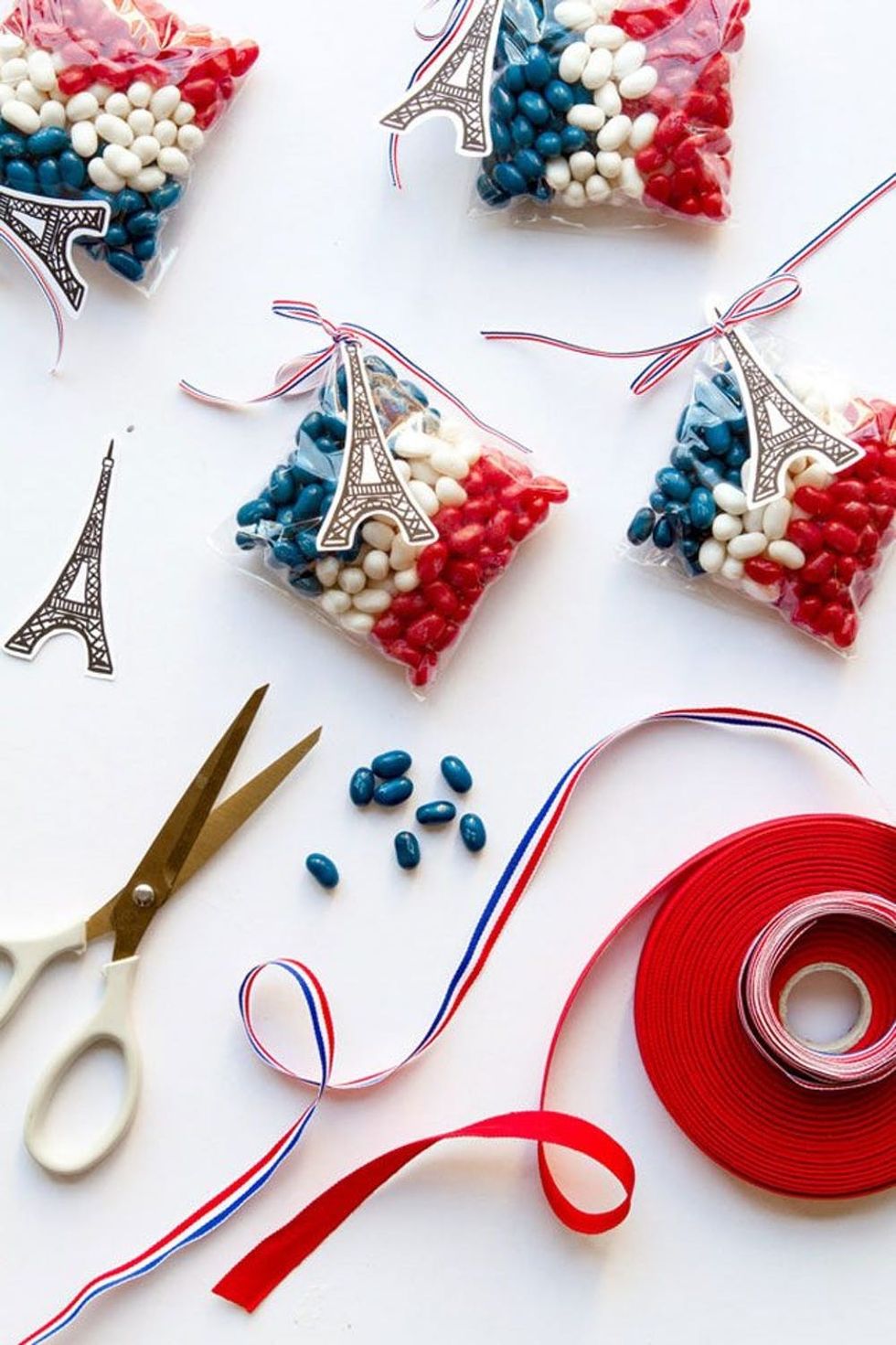 9. DIY Jelly Bean Favors: Any great party host knows that sending guests off with goodies is the capper on an already excellent night. Give your party goers a charming parting gift: little baggies filled with jelly beans arranged into a Tricolor. (via Oh Happy Day!)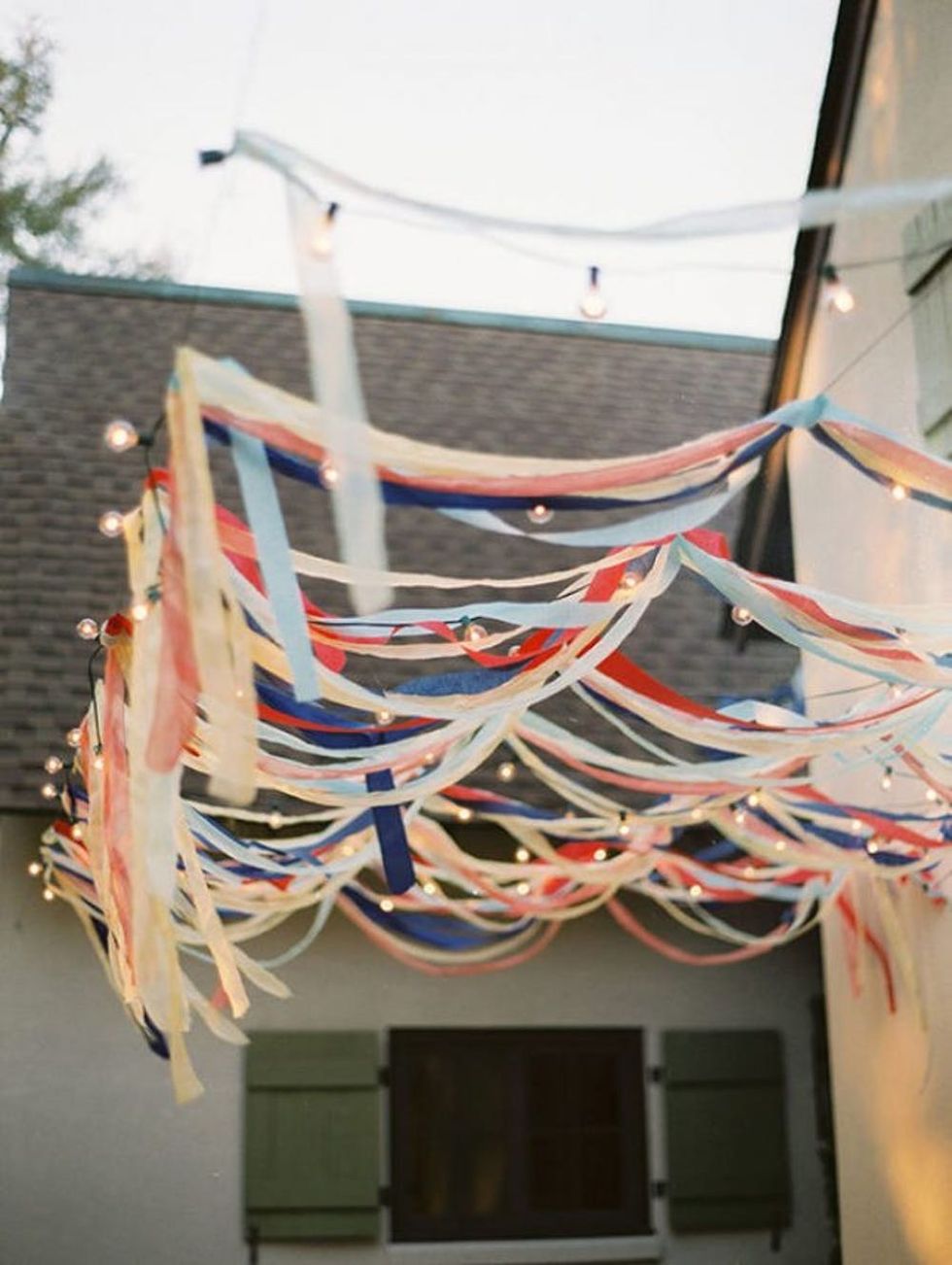 10. Red, White and Blue Streamers: Give your Bastille Day barbecue an extra soft touch with faded streamers mixed with hanging lights. This romantic setup kicks American cookouts to the curb. (via Virgil Bunao Fine Art Weddings / Style Me Pretty)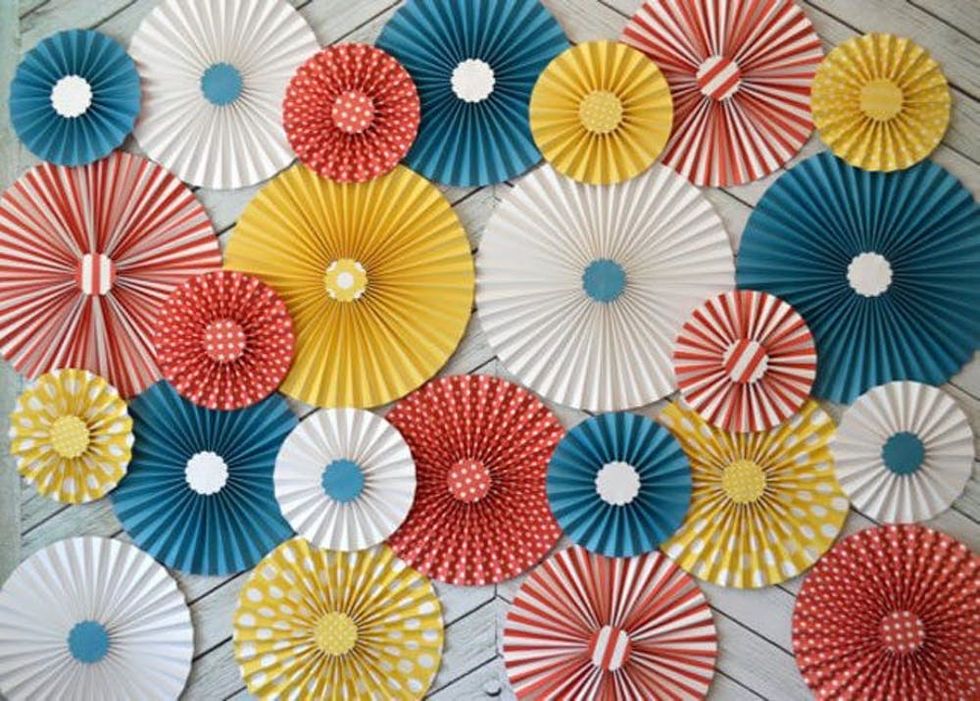 11. The Papier Studio Vintage Circus Inspired Paper Rosettes ($88): Drawing your party inspiration from Midnight in Paris? Give your Bastille Day bash an old world aesthetic with paper rosettes influenced by the roaring '20s. Now all you need is a chic flapper dress!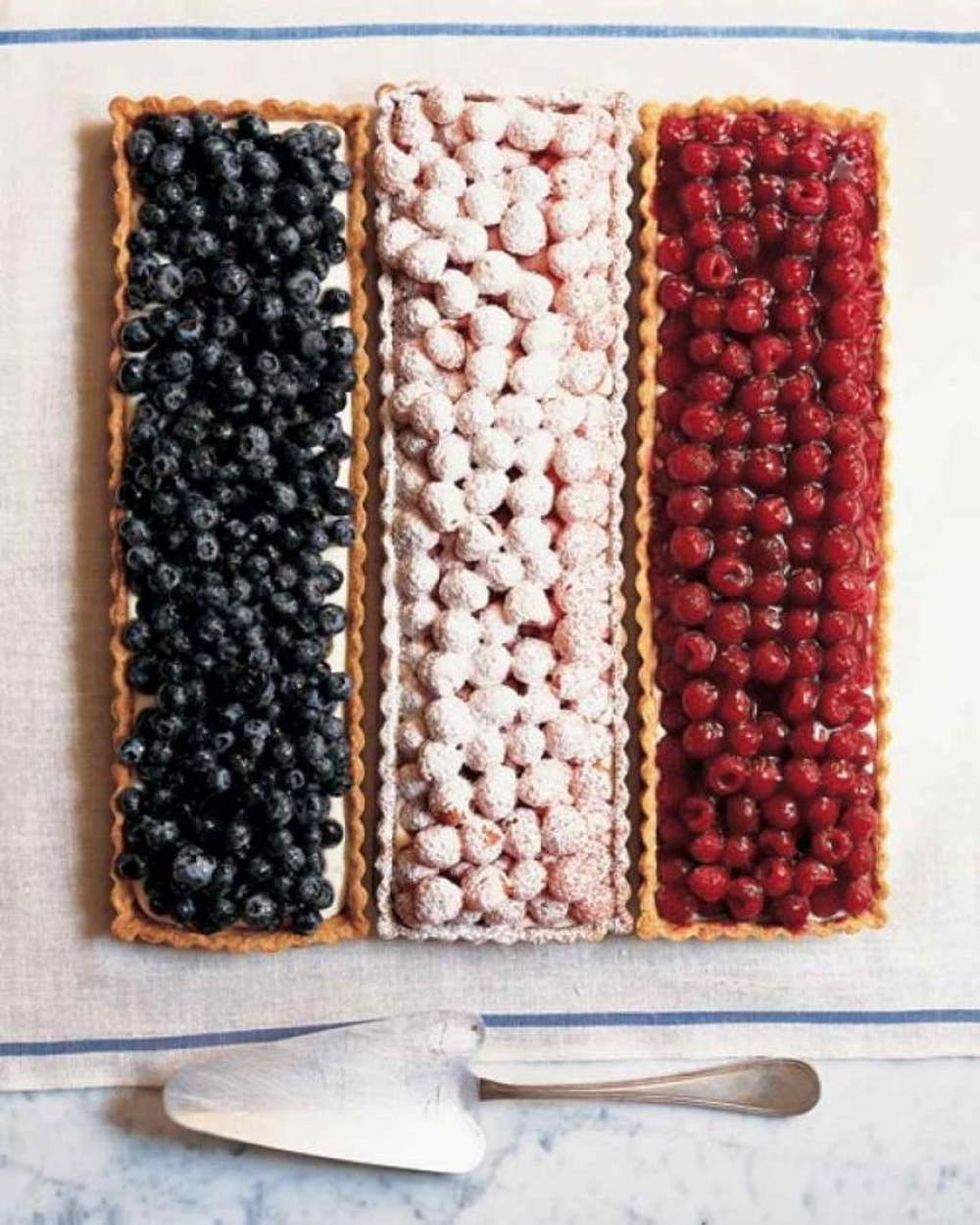 12. Flag Berry Tarts: What's better than one scrumptious tart? How about three, subtly arranged into a flawless French flag. (via Martha Stewart)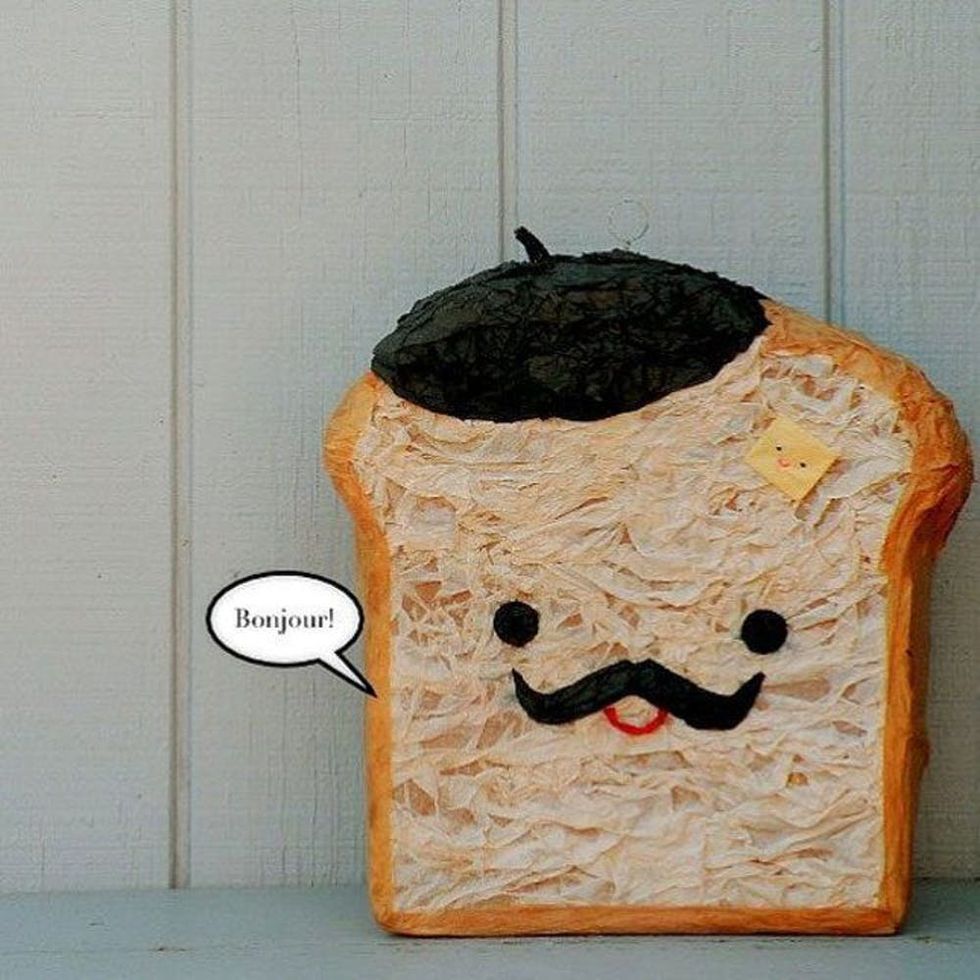 13. Whack Piñatas French Toast Piñata ($45): In a whimsical way, French toast falls under the realm of French cuisine too. Take a childlike approach to your Parisian party by displaying a cute character piñata for party goers to enjoy.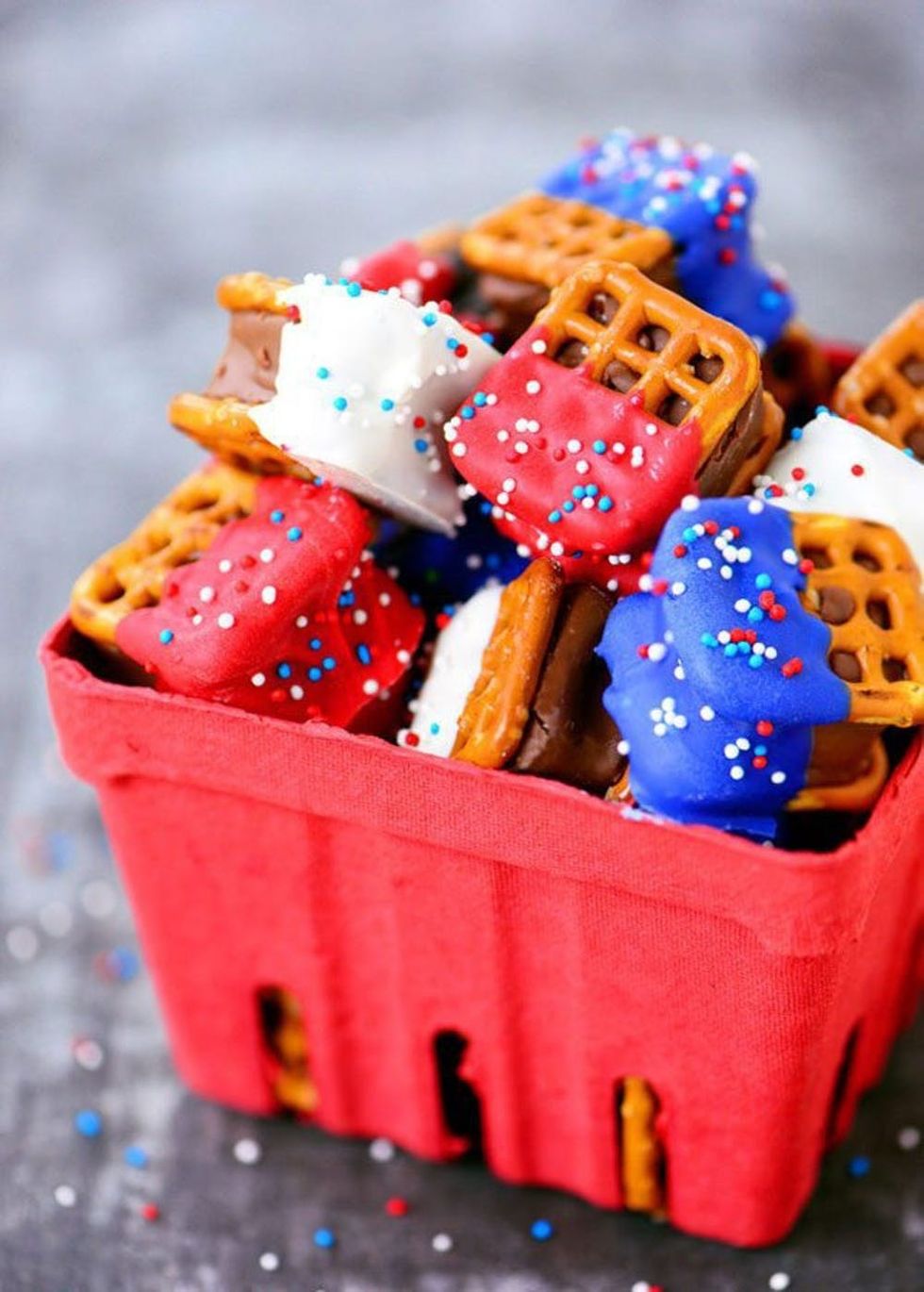 14. Red, White and Blue Pretzel Bites: Classic French colors meet American munchies in this crunchy treat. Don't forget the sprinkles after frosting these salty-sweet snacks! (via The Gunny Sack)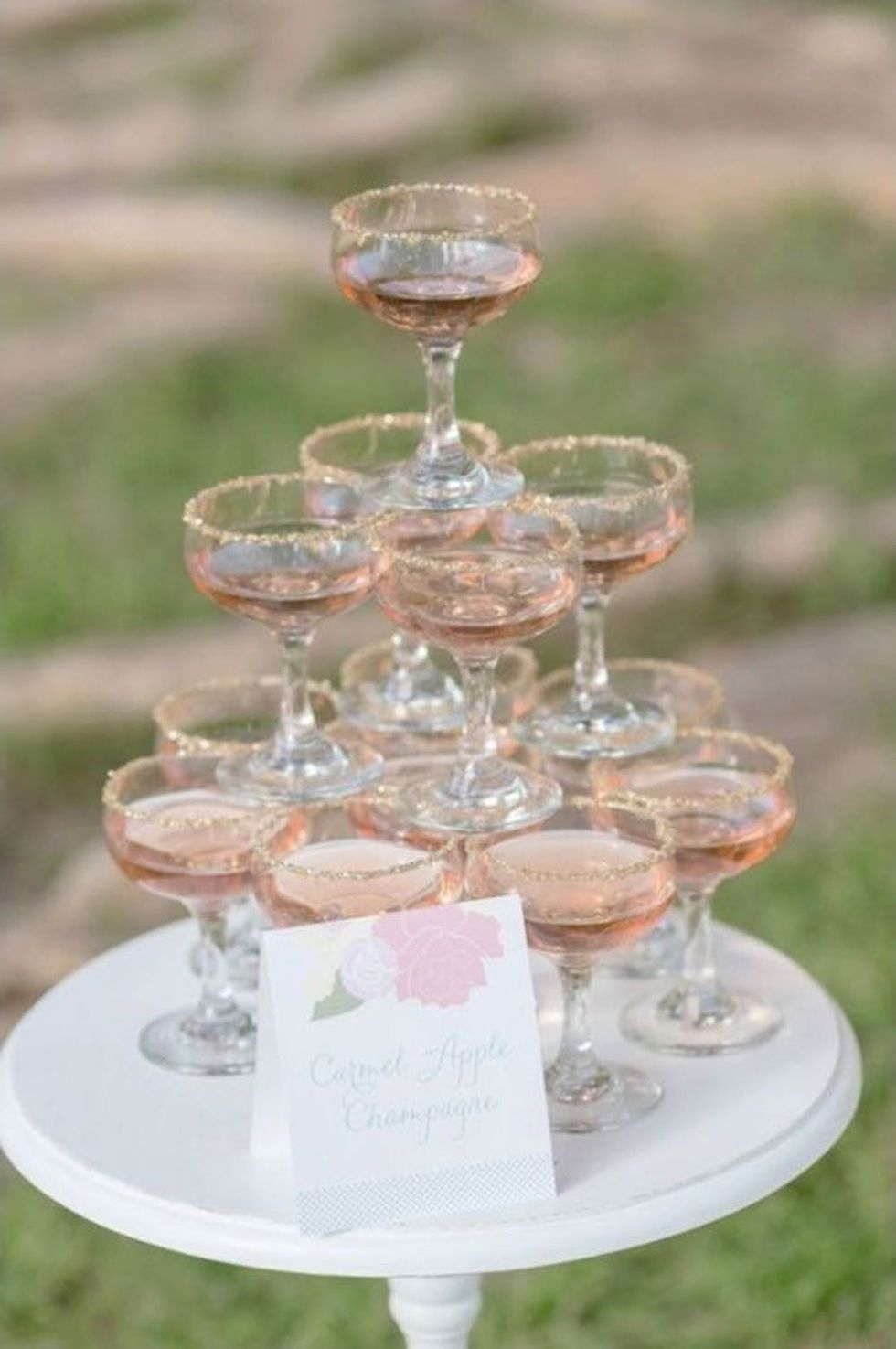 15. Champagne Tower: Gatsby's got nothing on you! Give your Bastille Day event over-the-top sophistication with a Champagne tower fit for the creme de la creme. (via David Manning Photographer / Wedding Chicks)
Are you celebrating Bastille Day? Follow us on Pinterest for more party inspo!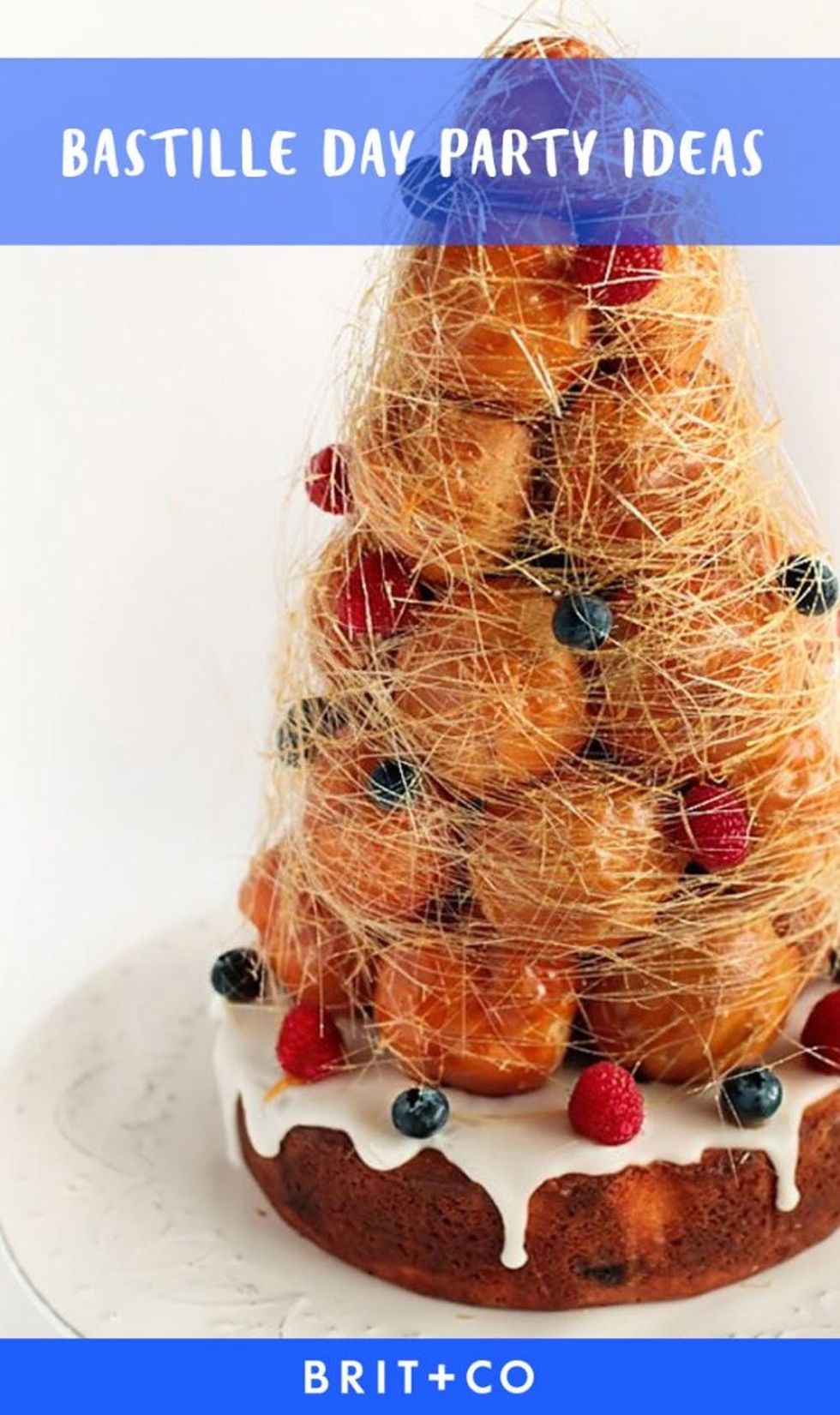 Brit + Co may at times use affiliate links to promote products sold by others, but always offers genuine editorial recommendations.
Wendelle Co
Wendelle is a Brit + Co contributor and a notorious pop culture and film junkie (with a passion for everything '90s). When she's not writing, you can find this San Francisco native brunching with her bestie or working at a wedding or two. You can follow her latest escapades on her Instagram @WheresWendelle