9 Pregnancy-Friendly Summer Recipes
May 14, 2018
The summer swelter just isn't pregnancy-friendly. Between your burgeoning bump, the humidity, and the added heat that a 350-degree oven brings, cooking is pretty much out of the question. Or is it? Whether you just aren't into sweating over a fiery stove or morning sickness makes you sensitive to cooking smells, these summertime recipes are perfect picks for the soon-to-be mama. And keep in mind — it's barbeque season! That means you can easily trade a crazy-hot summer kitchen for a breezy outdoor grilling session.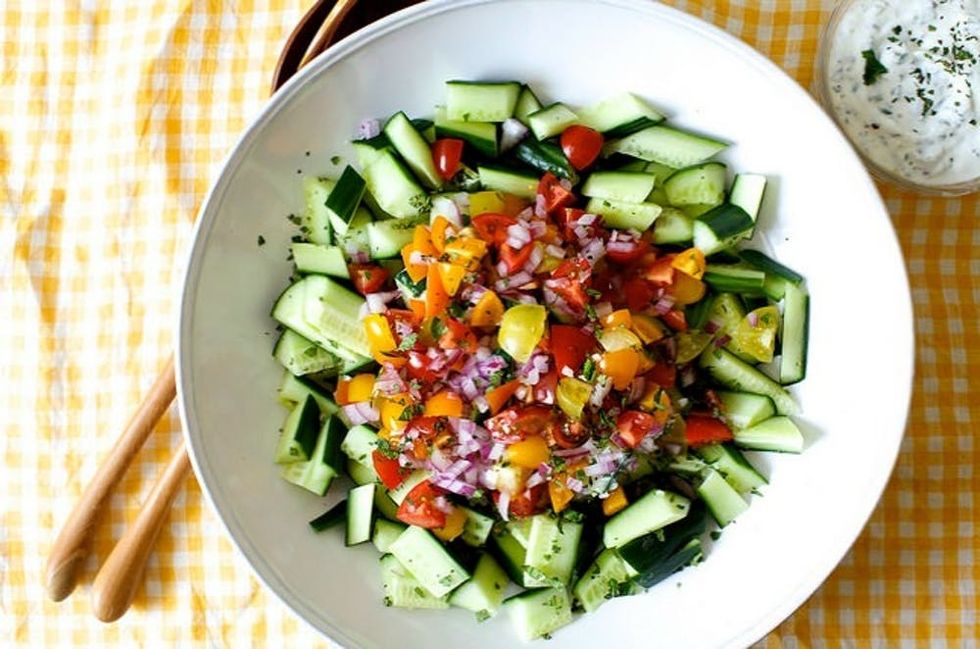 ---
1. Cucumber Yogurt Raita Salad: This fabulously fresh salad is the antidote to a steamy summer day. Forget about tossing boring ol' greens into a bowl with store-bought dressing, because this salad is a major step up. Not only is it chilled, but it also includes a yogurt-yummy calcium source and ginger to quell those morning sickness blues. (via Smitten Kitchen)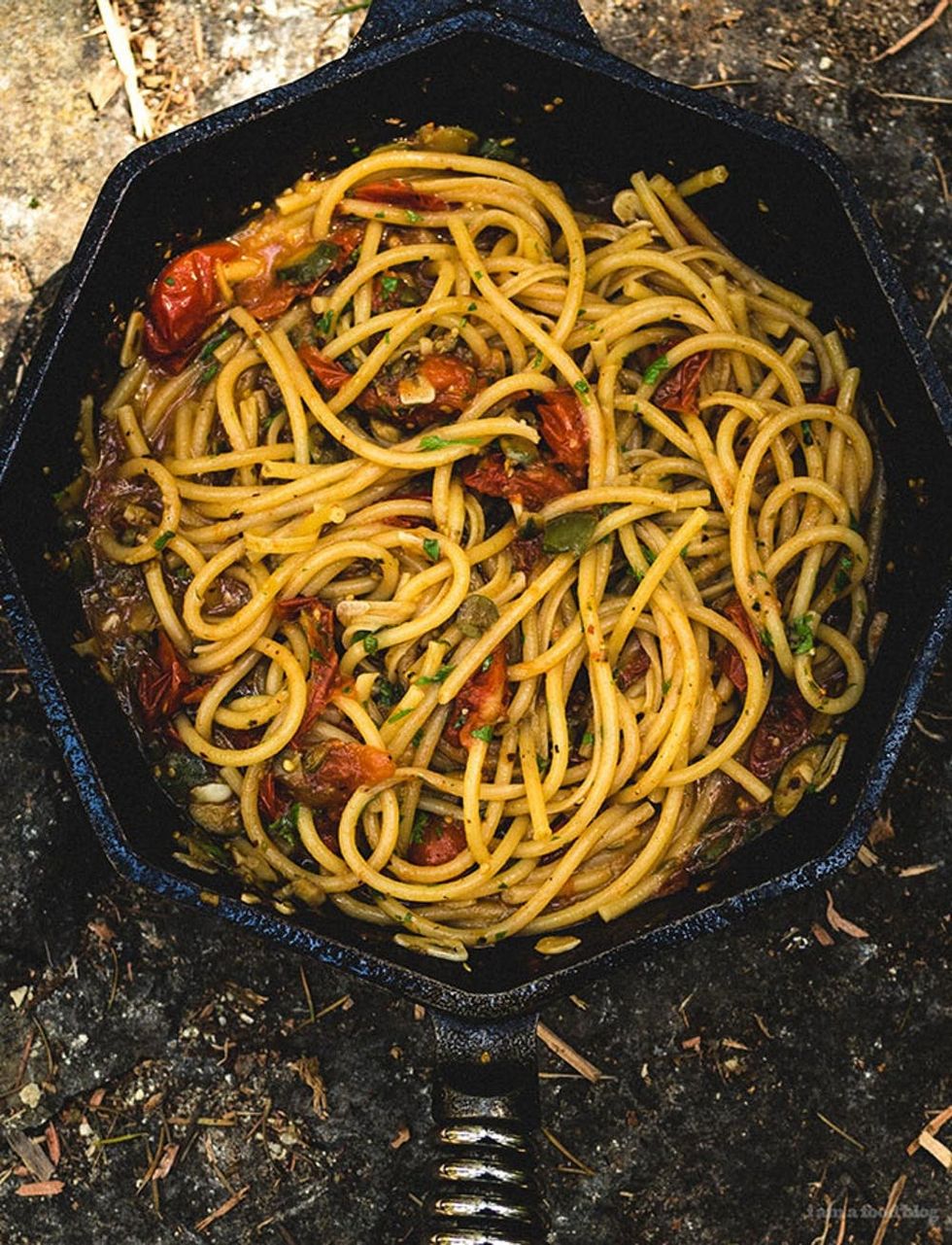 2. One-Pot Pasta Puttanesca Recipe: Before you pass this one by thinking there's no way to make pasta without heating up your kitchen, take a closer look: This is camp cooking at its finest and a meal you can easily whip up outside. Plus it includes anchovies — which are high in healthy omega-3s but typically low in mercury content. (via I am a food blog)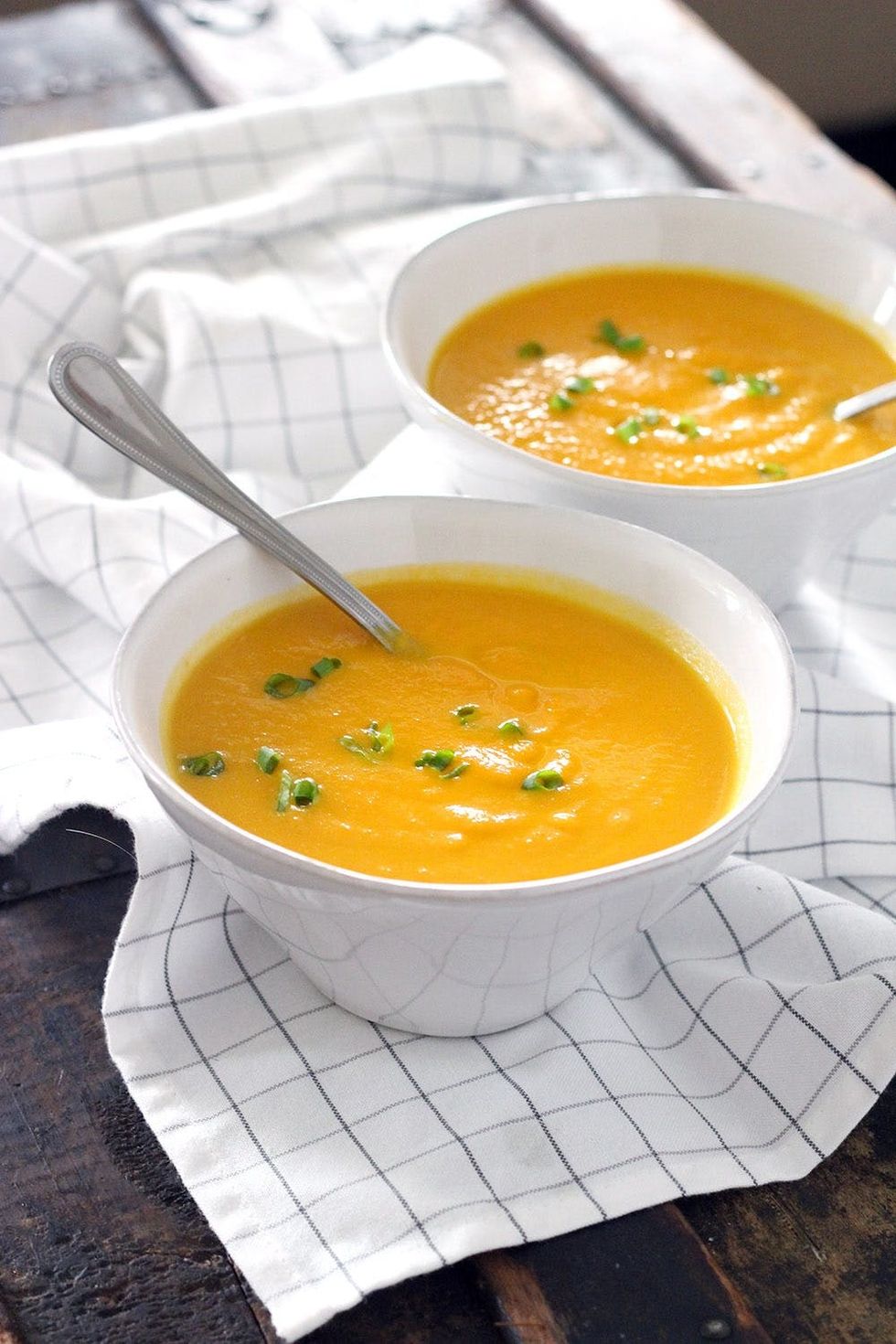 3. Carrot Ginger Soup: The beauty of this recipe is that you can serve it cold. And no mama (pregnant or not) wants a steaming hot bowl of soup in July. Along with the chilled factor, this soup is packed with healthy goodness, including ginger to help with that morning sickness! (via Bowl of Delicious)
4. Grilled Shrimp Salad: Head outside and grill up your favorite omega-3-rich shellfish on a skewer. Add it atop a fresh salad and you have summer perfection. Like anchovies, shrimp is one of the lower mercury-containing seafood picks. (via Rachel Cooks)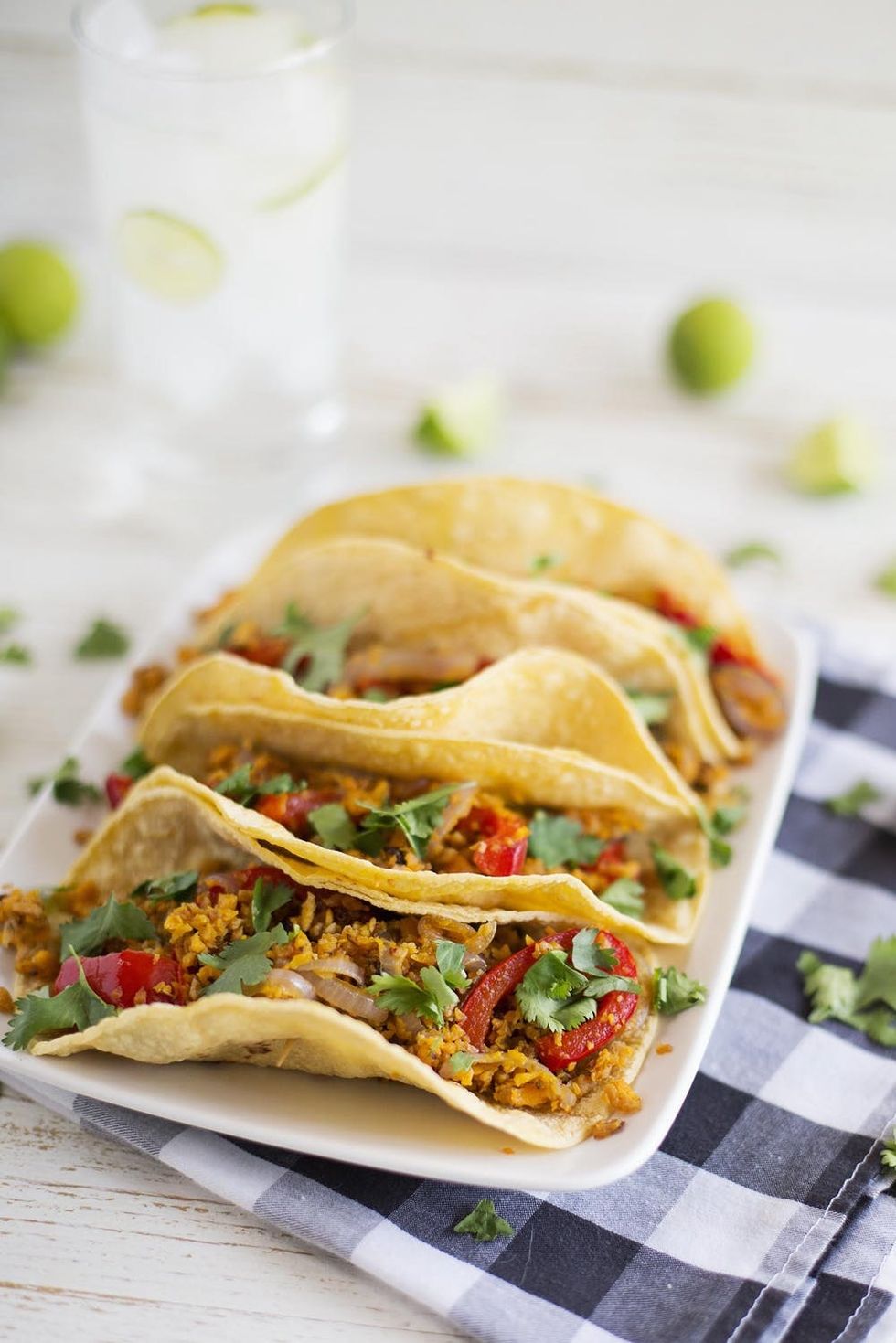 5. Sweet Potato Tacos: If you can stand to cook in the kitchen, this taco treat might become a summertime staple. It's common for cooking smells, especially meat cooking smells, to kick the mama-to-be's morning sickness into overdrive. When ground beef tacos become a major no-no, this veggie alternative can take over. (via A Beautiful Mess)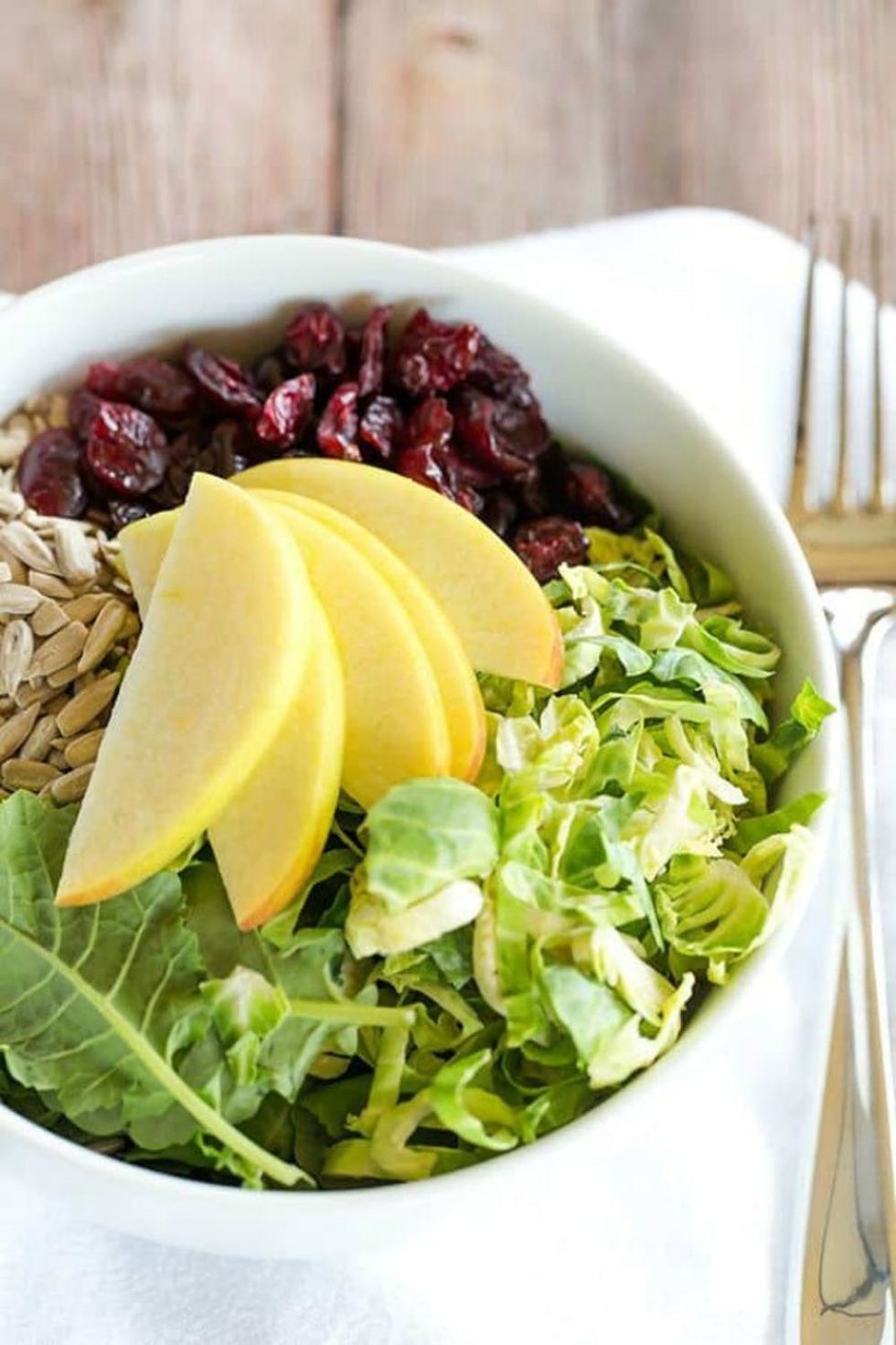 6. Kale and Brussels Sprouts Salad: Even though you might want to dine on fried Twinkies and bacon cheeseburgers, your pregnant body needs some good-for-you food too. And that's exactly what this refreshing summer salad offers. (via Brown Eyed Baker)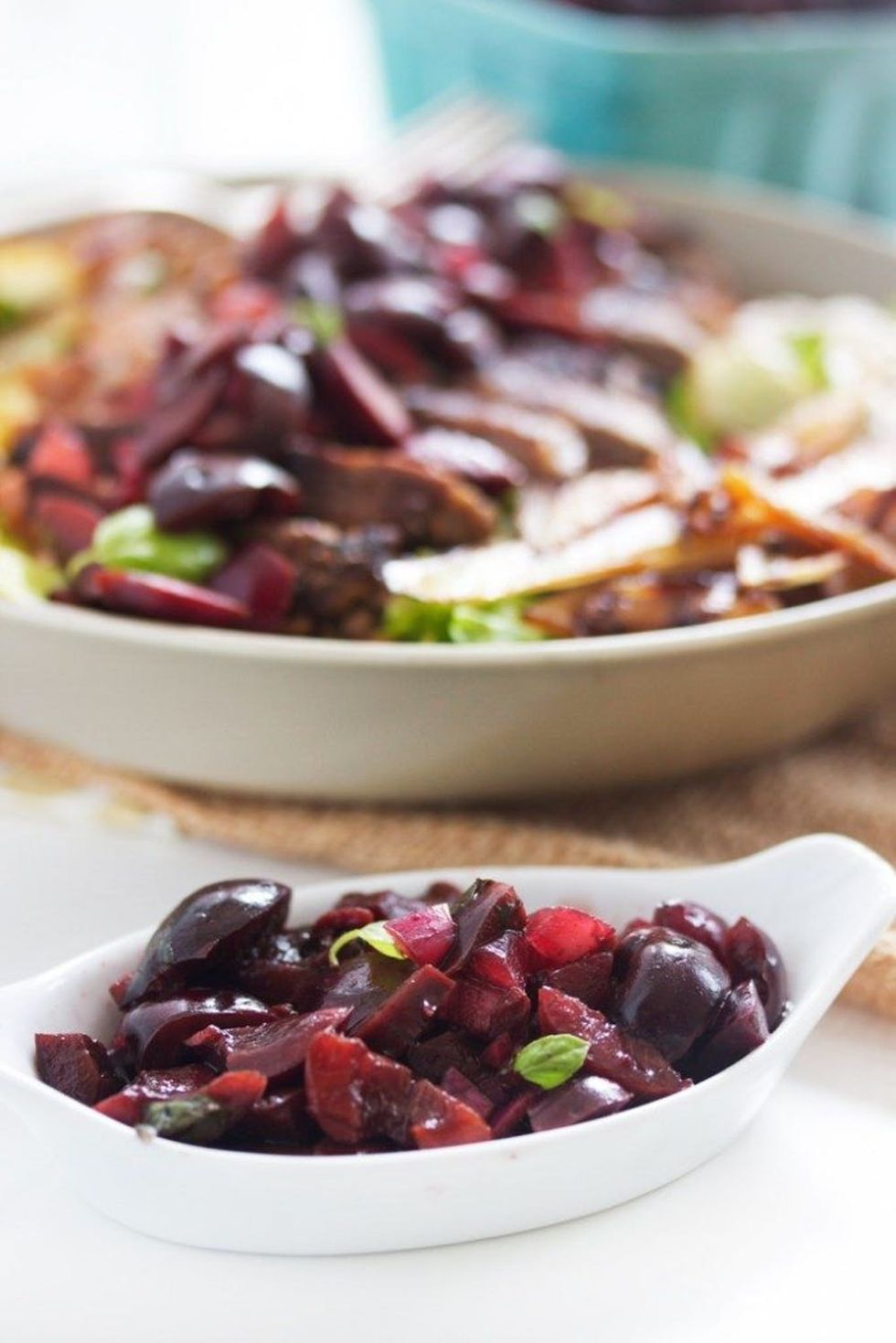 7. Steak Salad With Cherry Salsa: Steak may seem more like a winter comfort food than something you crave in the summer, but it's packed with the iron and protein that you need. To start with, choose a lean cut, trimming the fat. If the smell of meat cooking, and the heat that's required to cook it, bothers you, have your S.O. grill it outside. (via Lexi's Clean Kitchen)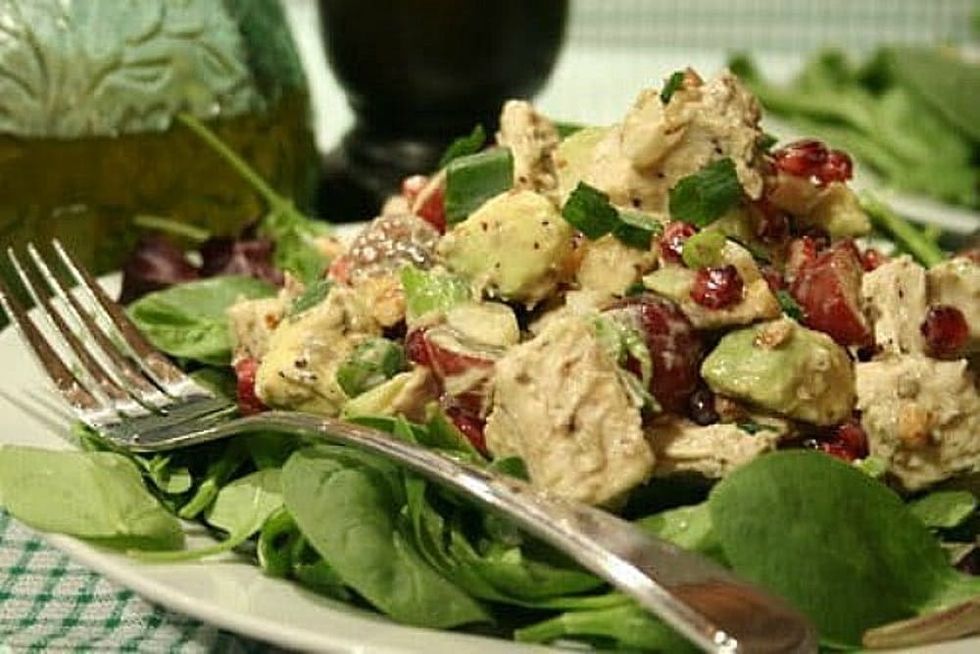 8. Cold Chicken Avocado Salad: If a steaming plate of chicken doesn't sound that appealing once the temps start to hit 90, this chilled version will meet all your preggo protein needs. And who doesn't love avocado? (via The Healthy Foodie)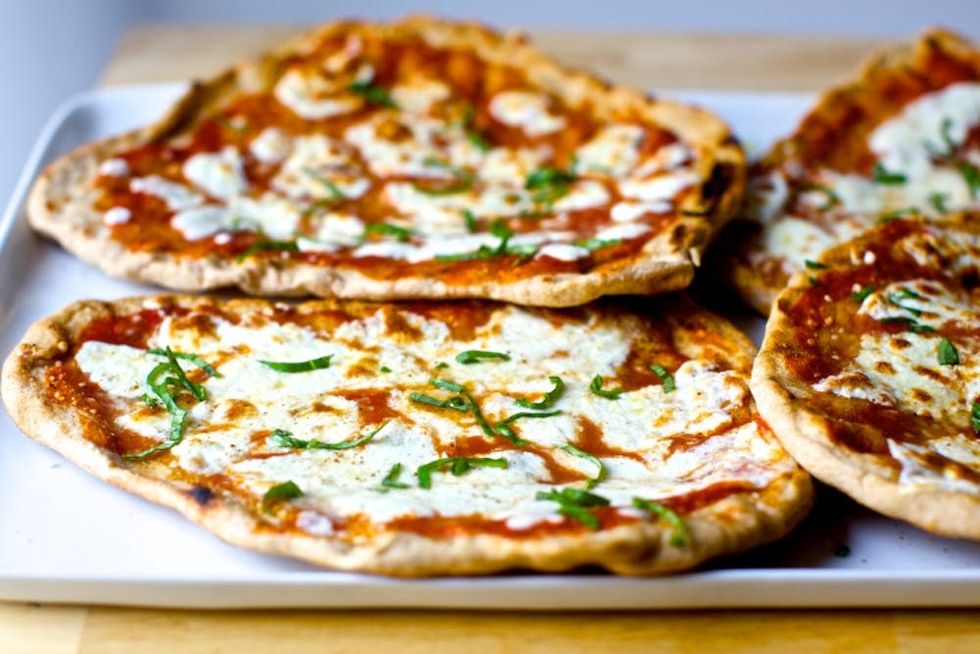 9. Grilled Pizza: Before you pass on homemade pizza out of fear that the long cooking time will overheat the house, consider this grilled version. You can make it margherita or top with anything you choose. And the best part is that you cook the entire thing outside on the grill! (via Smitten Kitchen)
What's your favorite summer recipe? Share your pick and tweet us @BritandCo!
Erica Loop
Erica Loop is a freelance writer living in Pittsburgh. When she's not busy creating kids' activities for her blog Mini Monets and Mommies, you can find her trying to hang out with her teenage son, being chased by her two Olde Boston Bulldogs or teaching a children's karate class (she's a third degree black belt!).
Pregnancy