Ladies Get in Formation With These Three Beyoncé Costumes
Oct 25, 2016
I'm sure I'm not alone when I say that every day I wake up wondering how I can be my best Beyoncé. As a dancer, she is THE ultimate performance icon. And as a woman, her strength and career inspire me to be my best and never let haters bring me down. Also, she is gorgeous and has amazing style, so I dress up as her whenever I can :) (Check out five ways to be Beyoncé and how to dress like Nicki and Bey from "Feelin Myself" remix.)
This year I picked three outfits from the Formation Tour and turned them into Halloween costumes, teaming up with Misty who did amazing hair and makeup to really transform us into a troop of Beyoncés. Follow along to learn how to make these Bey costumes so you and your girl gang can all get in formation as Queen B.
---
Formation Beyoncé Costume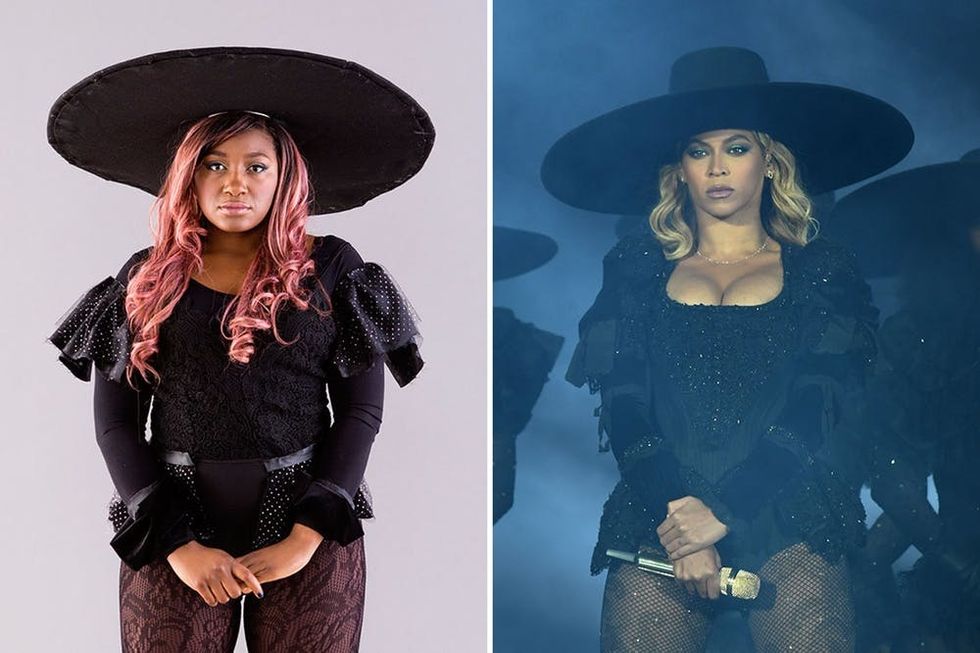 Beyoncé opens the show with her hit "Formation" and a crew of twenty strong ladies behind her. They all come out in ornate black leos, black boots and amazing large black hats. We put this outfit together with a few Amazon purchases, a mix of black fabrics and cardboard for the epic hat. (Photo Credit: Larry Busacca/PW / Contributor)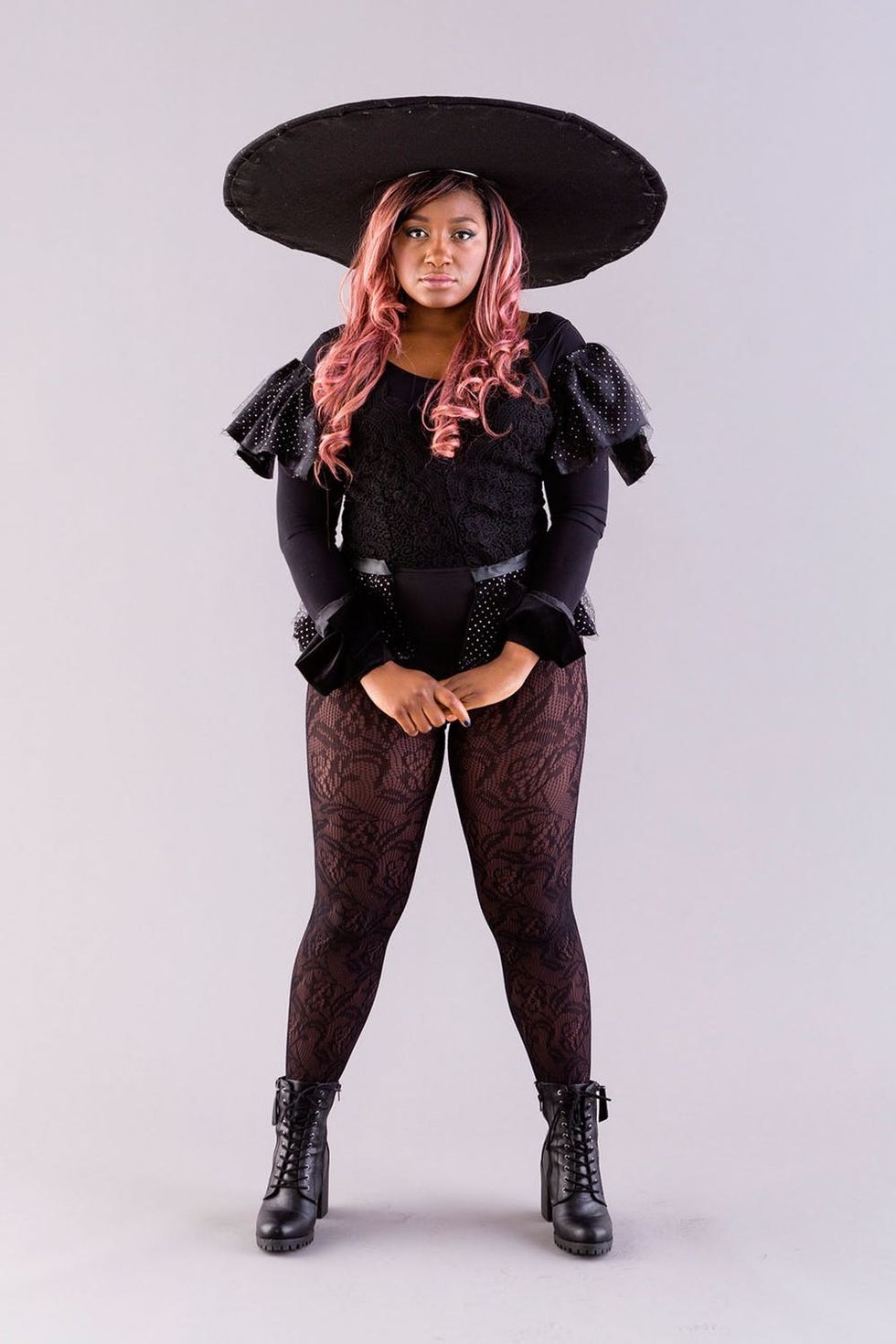 This Beyoncé-inspired leotard is made up of two leotards that we bought from Amazon (here and here), layered one on top of the other. Pick up a mix of velvet, fake leather and black sparkly fabrics to make the waist skirt panels, shoulder details and wristbands. I cut rectangle pieces of fabric and then used hot glue to create an accordion fold on one side of the fabric. Glue the accordion side of the fabric to the section of the leotard that you wish to embellish.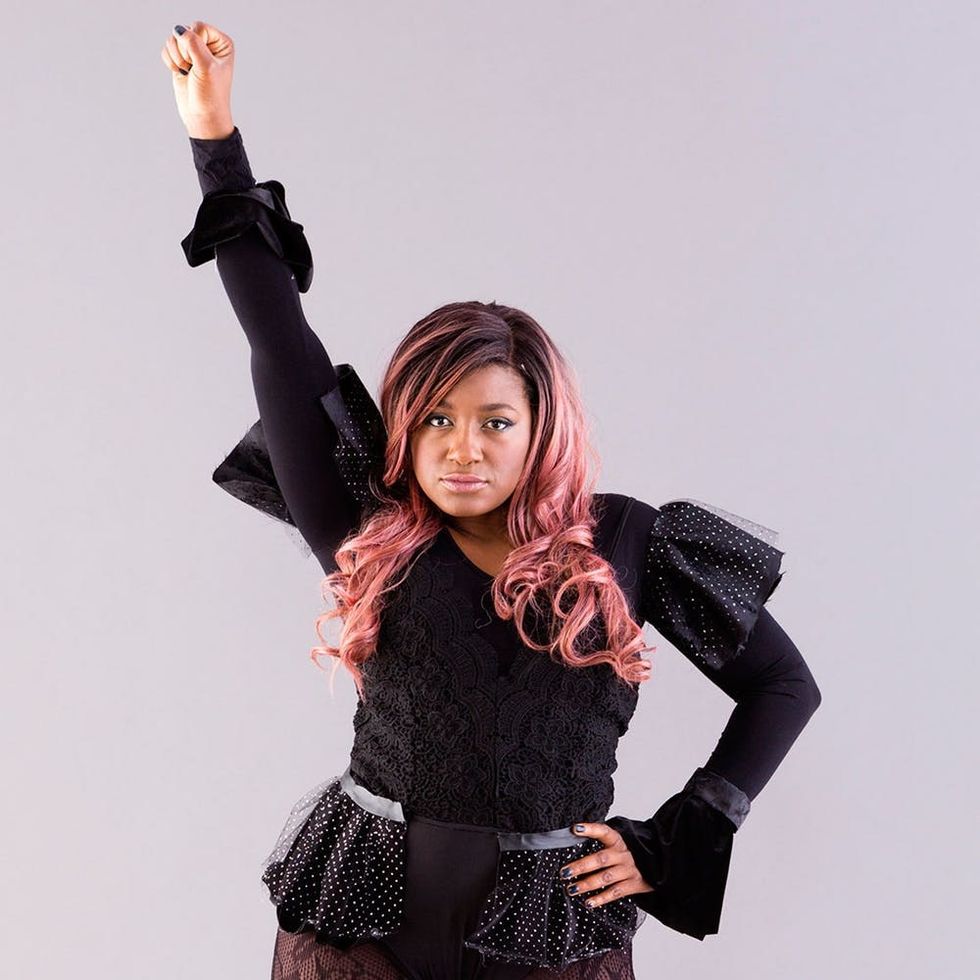 For this look, all you need is a heavy smoldering smokey eye and a nude lip. Oh yeah, and always bring the glowing skin when channeling Miss B!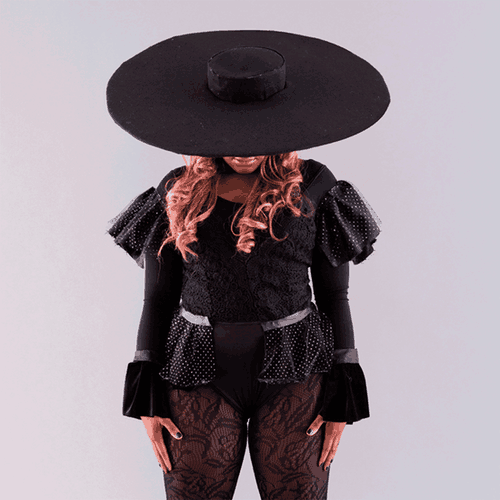 Okay ladies, let's talk about this hat. Head to your local craft store to pick up a cylinder hat form and one yard of black felt. Find a large circle to use as a stencil (I used the top of a side table) and trace onto cardboard. Find the center of that circle and trace the circle from the hat form. Cut out your cardboard so you are left with a donut shape. Wrap and adhere the felt around the donut and hat form using a hot glue gun. Lay the hat form on top of the donut shape and then create tabs that are glued to the inside of the hat form to the underside of the donut shape.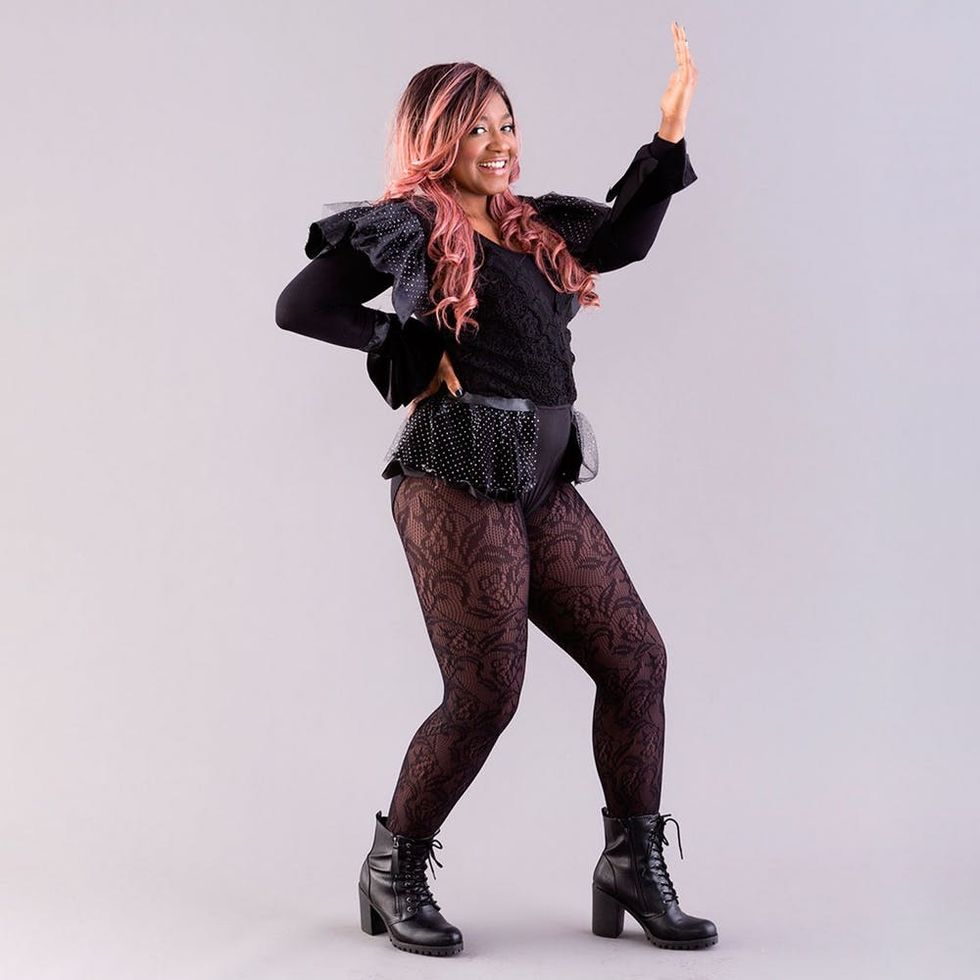 Finish off the costume with heeled combat boots, floral lace tights and, of course, your inner diva with killer dance moves.
Freedom Beyoncé Costume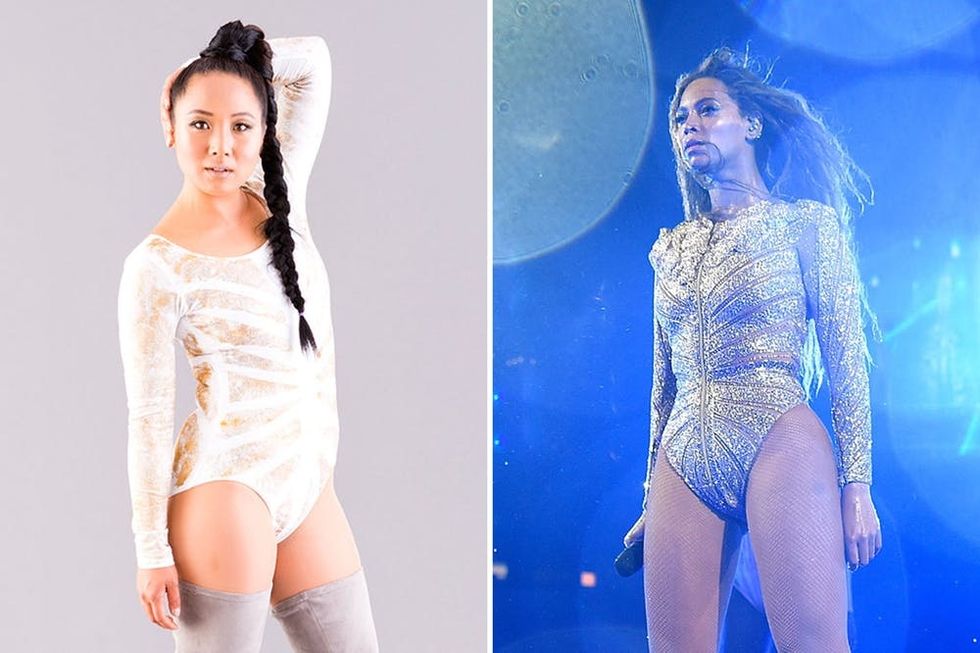 If you didn't know, Beyoncé turns part of her stage into a mini pool to do an epic water dance while she belts out her song "Freedom" from Lemonade. Like really?! Who ever thought you could pump 1700 gallons of water into a section of your traveling stage — only Beyoncé. (Photo credit: Kevin Mazur / Contributor)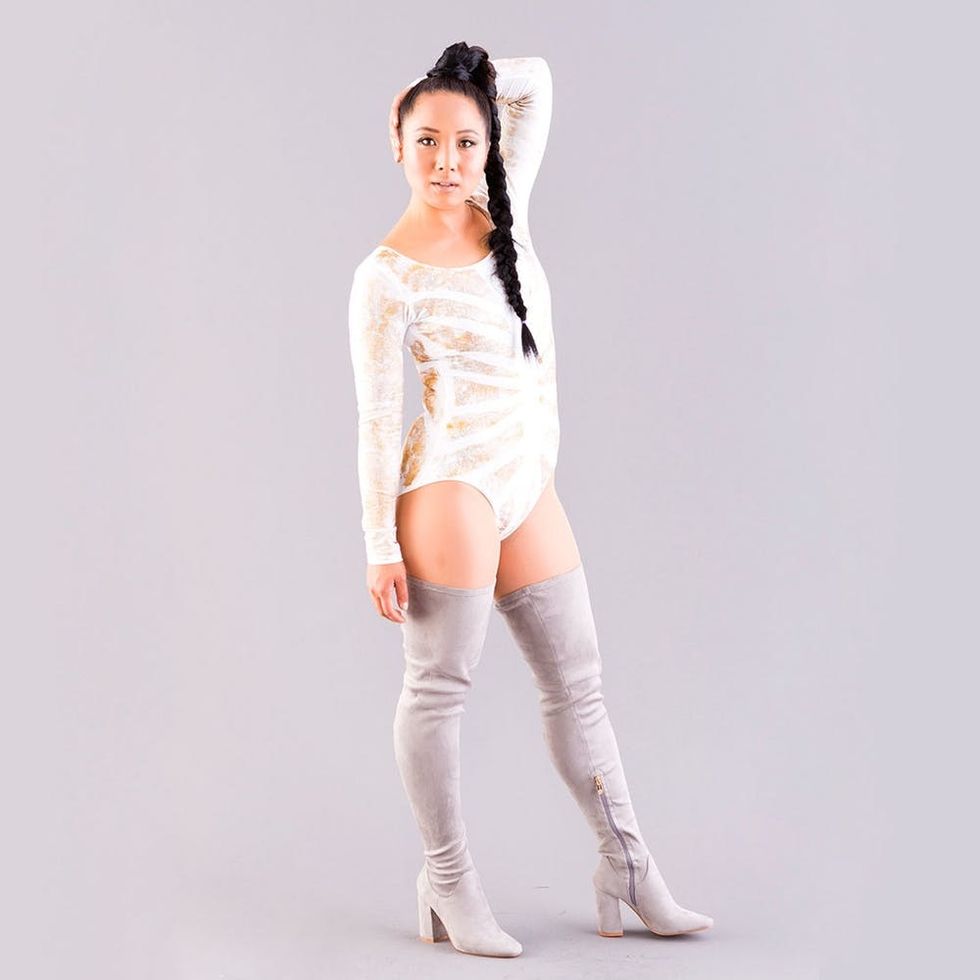 I love sparkles, and this costume really stood out to me when she wore her hair in an epic long braid during her show in Germany. I'm pretty sure this is actually what I'll be for Halloween, but in the meantime, I had Anita model it for me.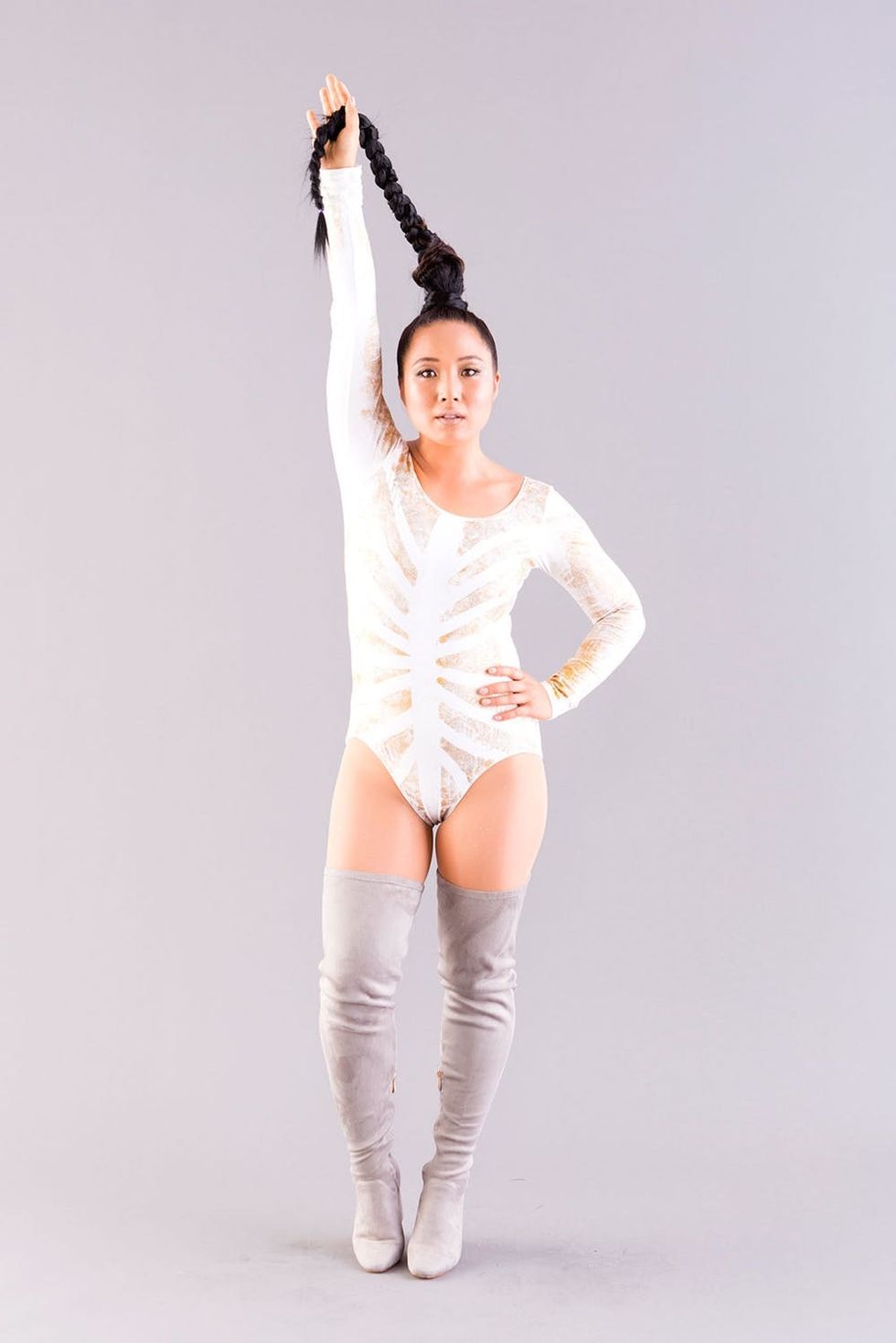 I bought a basic white leotard from Amazon and used gold, silver, rose gold and white glitter mixed in Mod Podge to get the sparkle effect. Lay tape down the center of the leo and then in diagonal stripes that extend to the sides. Then pile the Mod Podge and extra glitter on top. Once dry, peel away the tape to reveal your design. Warning: The leotard will crackle a whole bunch when you put it on, but your pattern will remain the same.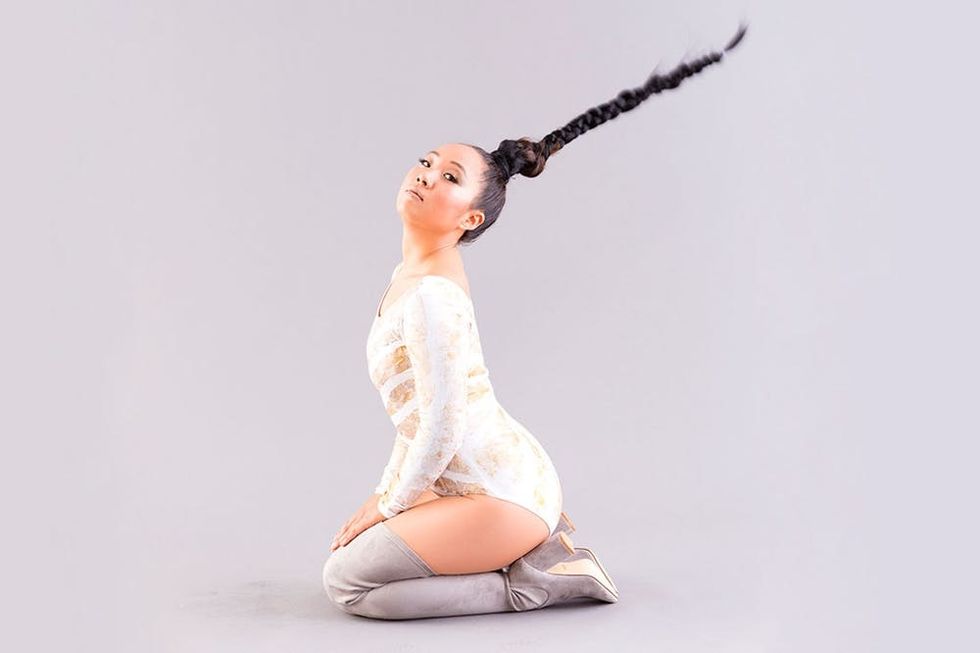 That hair, girl! We used 30 inches of fake hair to braid into Anita's own locks of love. If you can find hair extensions that are longer than 30 inches — go for it! Finish off the outfit with a pair of thigh-high boots. They will make you feel a little more clothed.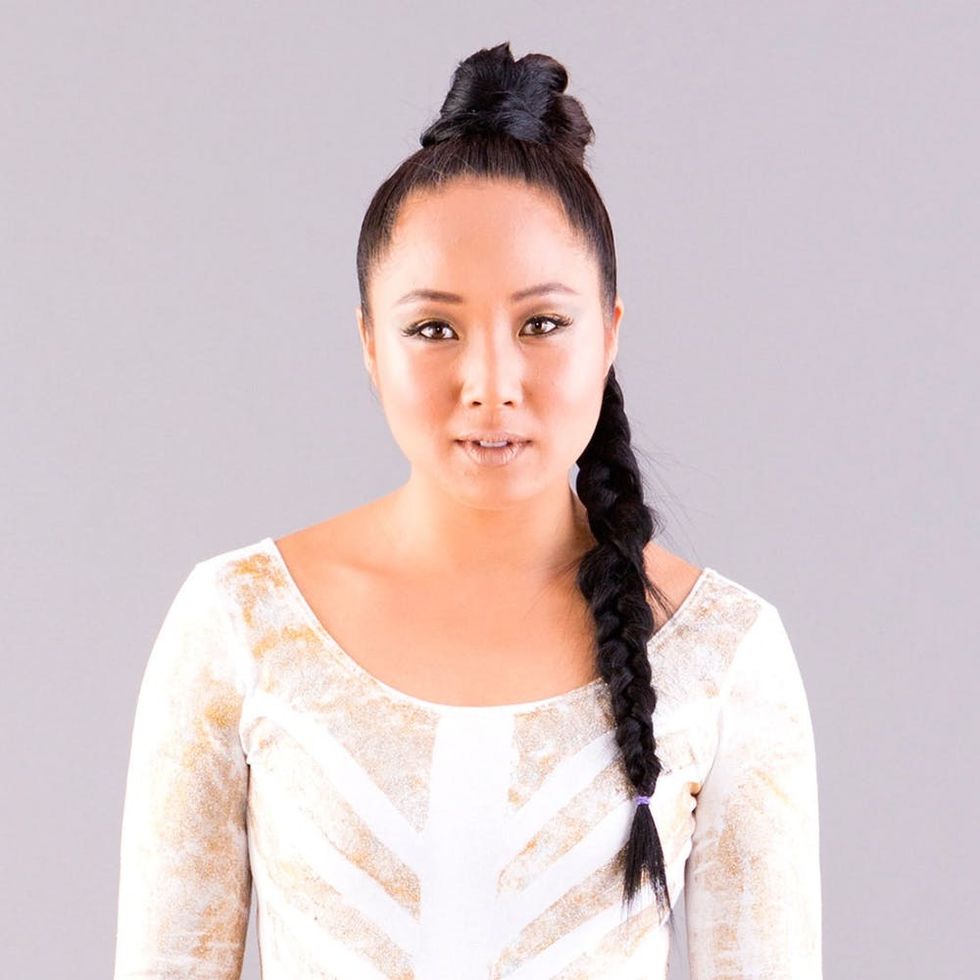 This pony-braid was done fairly fast! Add in a set of the longest hair extensions you can find for the extra length and hair to create her top knot booty braid. I attached the hair by wrapping it around the base of her ponytail, and then wrapped a piece of the ponytail around it to pin in place and disguise the faux hair. Once secure, braid and spray!
For her makeup, really layer on a highlighter to your T-zone, brow bones and inside corners of your eyes for that luminous glow. Add in a dramatic cat-eye winged liner in black and a matte nude lip to seal the deal.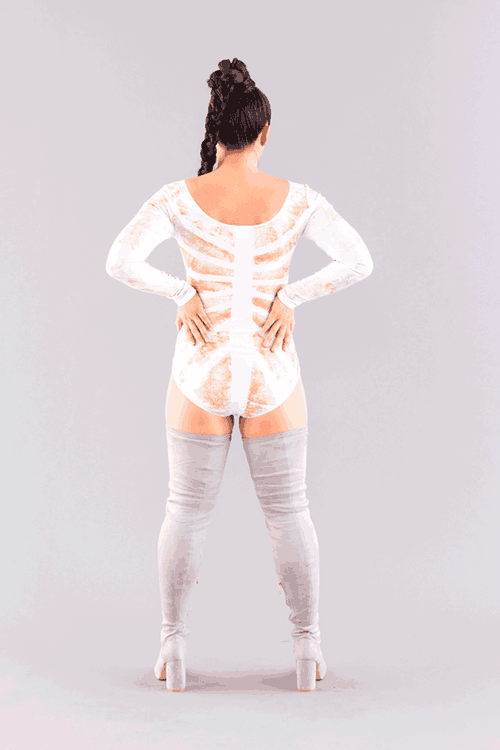 The gif that inspired it all.
Crazy in Love Beyoncé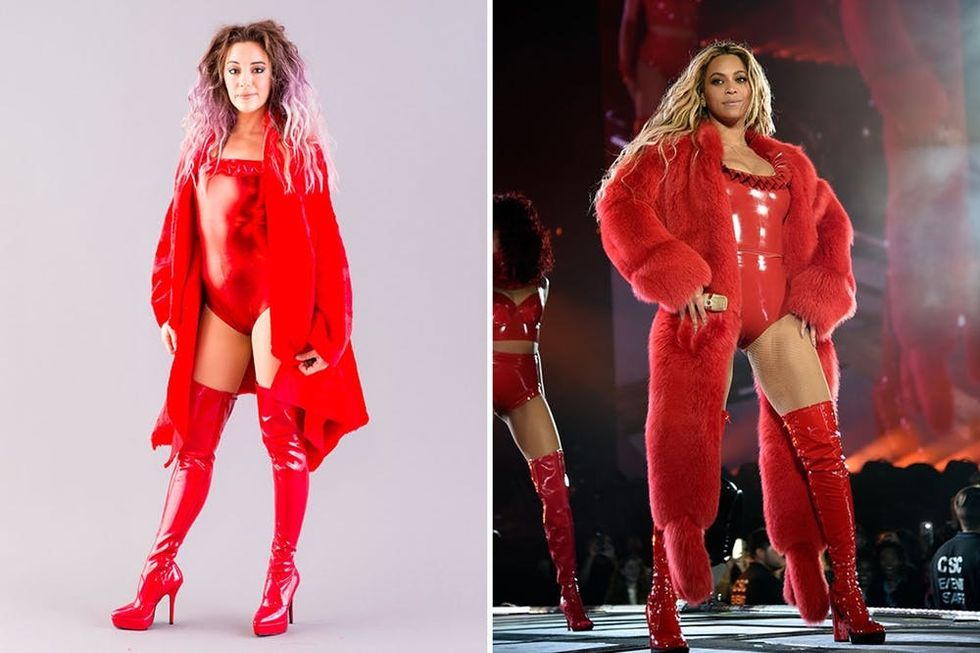 The Formation Tour was all about Beyoncé's latest album Lemonade, but she didn't leave out her classic hits. She rolled out this amazing red latex costume while dancing in rectangular boxes and singing an oh-so-sultry version of "Crazy in Love." (Photo Credit: Kevin Mazur / Contributor)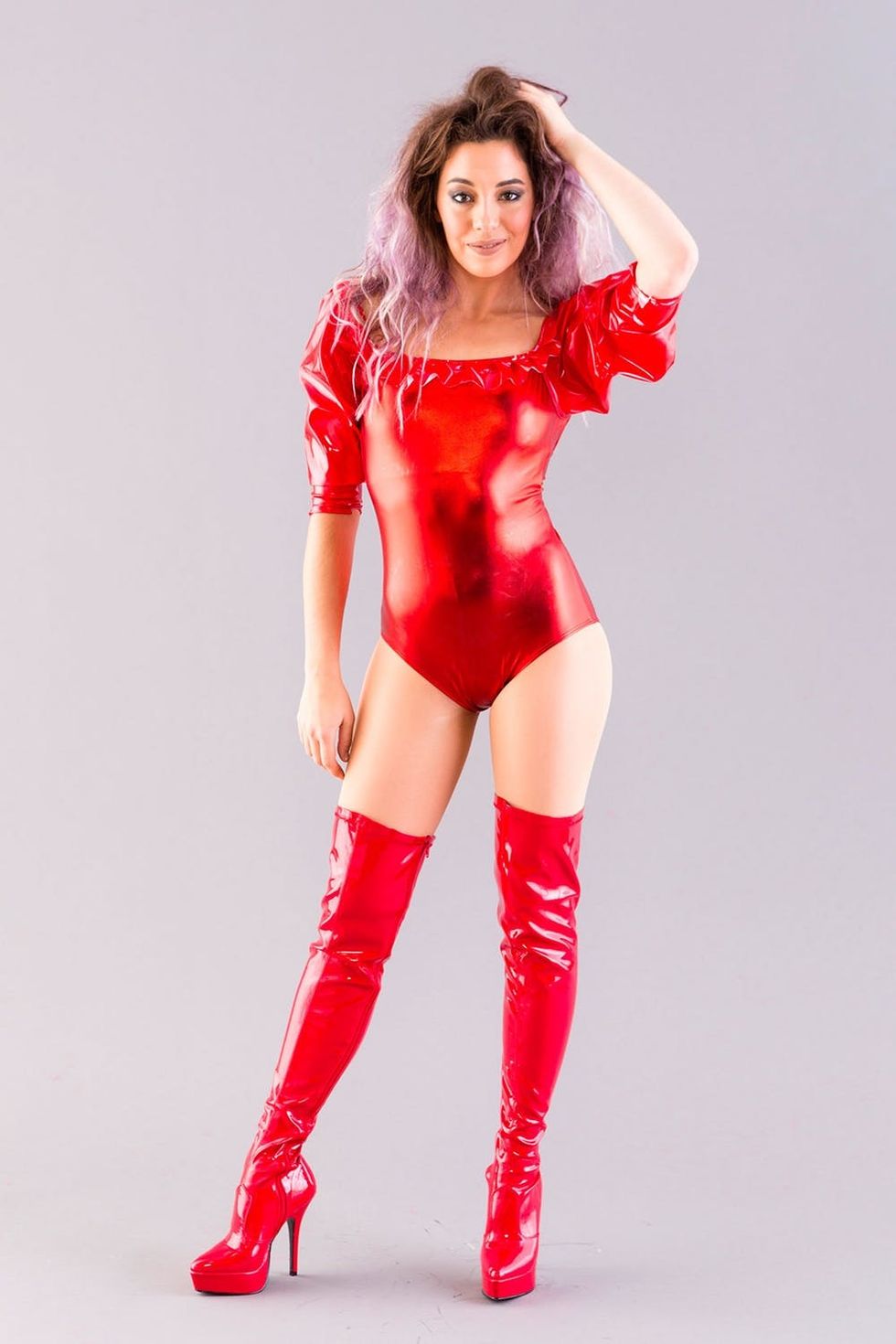 The key pieces in this costume are the red leotard and the thigh-high red boots. Head to your local fabric store to pick up red fashion vinyl to sew on sleeves and an accordion collared trim. This part isn't easy, since you need to sew a sleeve onto a spaghetti strap — but take it slow, use sewing pins and buy extra vinyl for mistakes.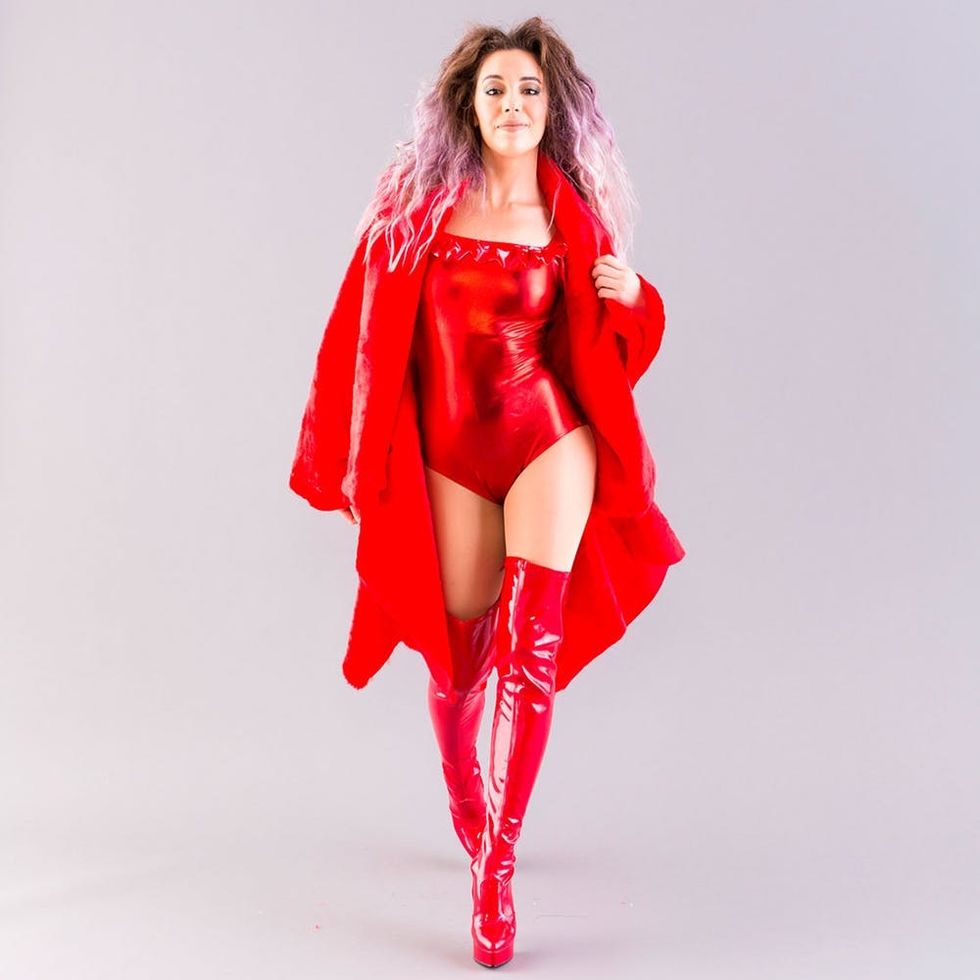 For the coat, I bought 1.5 yards of red fur fabric and followed this kimono tutorial. I added an extra strip of fur along the collar to make it denser.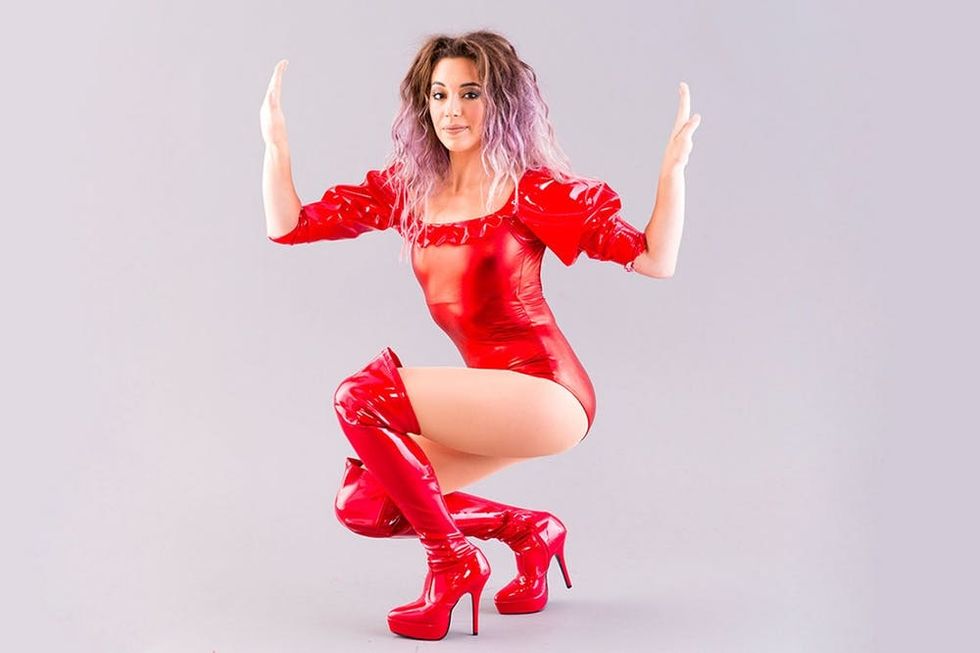 To get this larger-than-life hair, backcomb throughout your entire head from your roots to the mid-shaft of your hair. Then place extremely small sections into a 1/4-inch-barreled hot iron. Once you have most of your hair curled and cooled off, you can shake the curls out with your fingers and then back comb into them for that big hair don't care moment!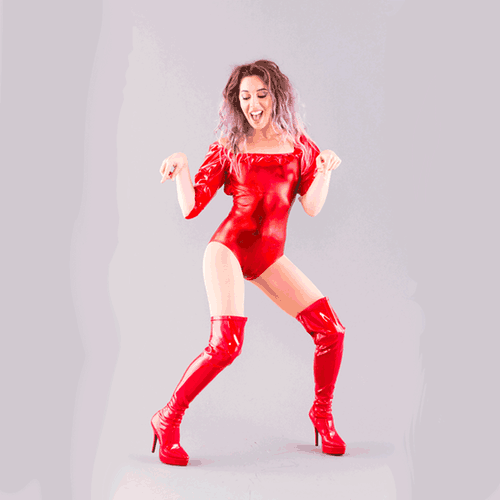 You should have heard us in the office during this shoot. We had so much fun and I loved how Natasha and Anita embodied their best Beyoncé's.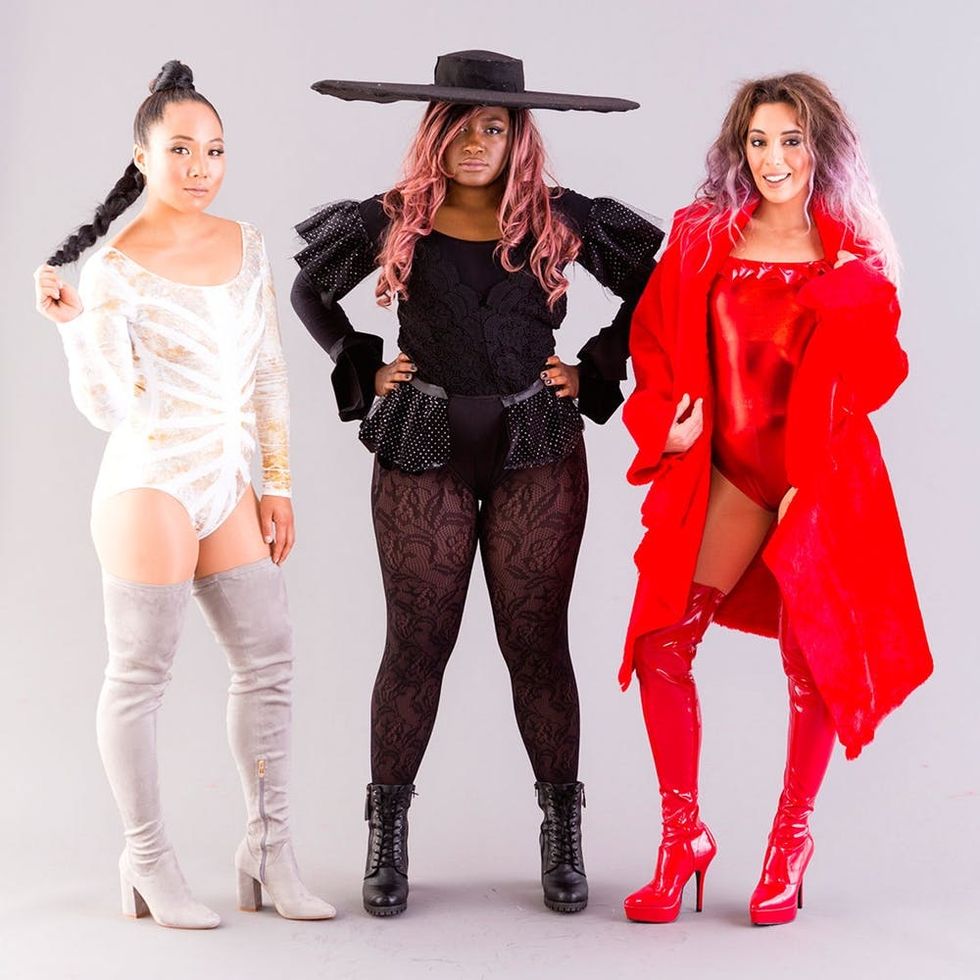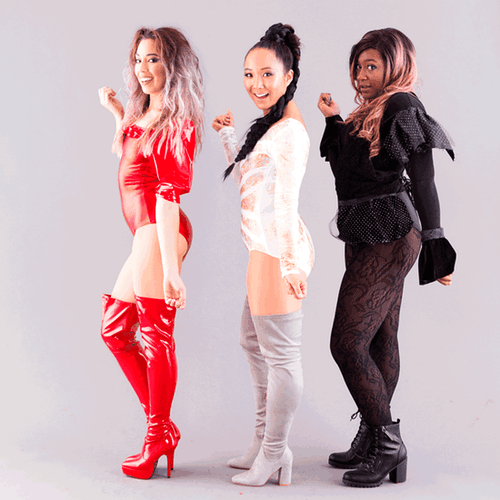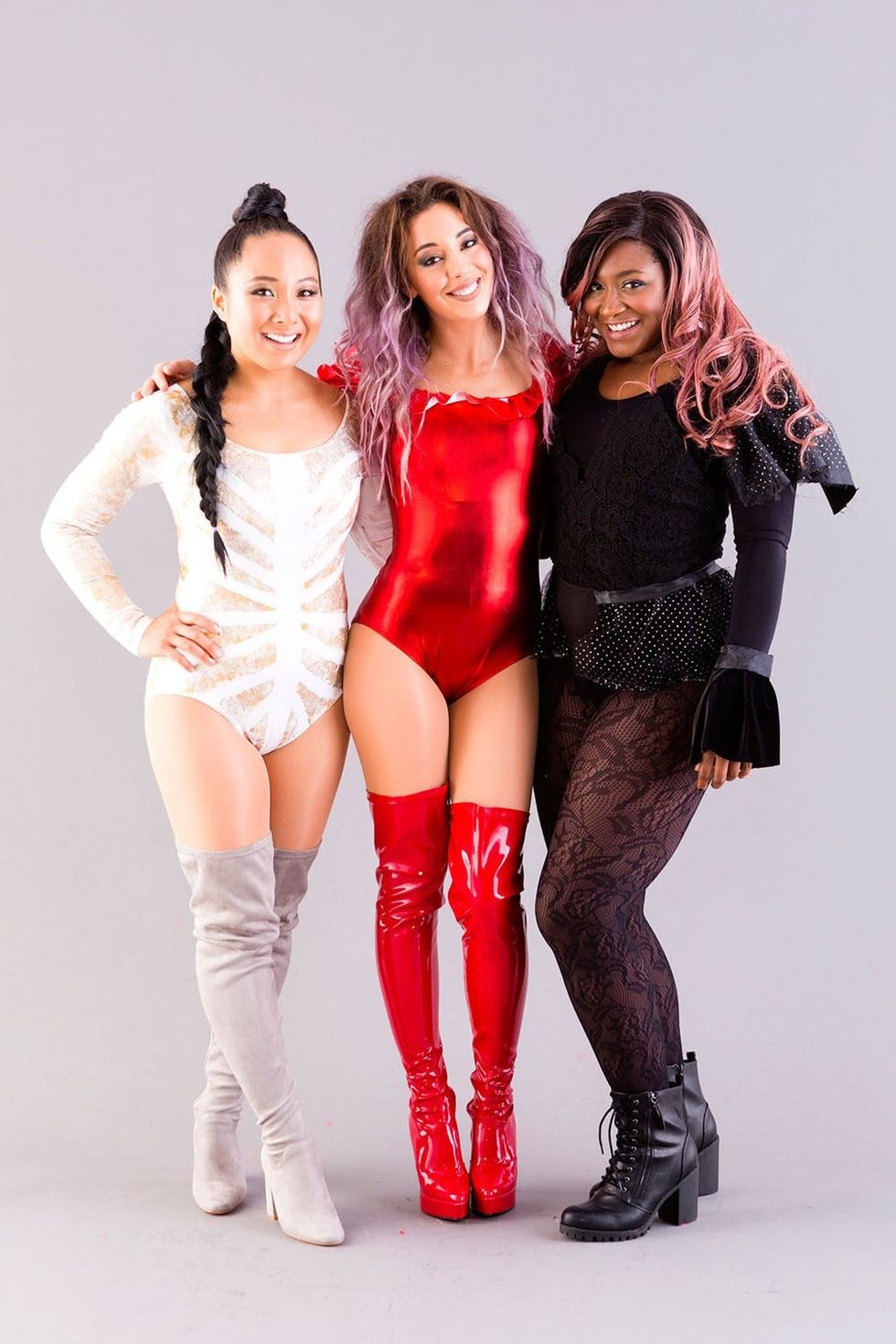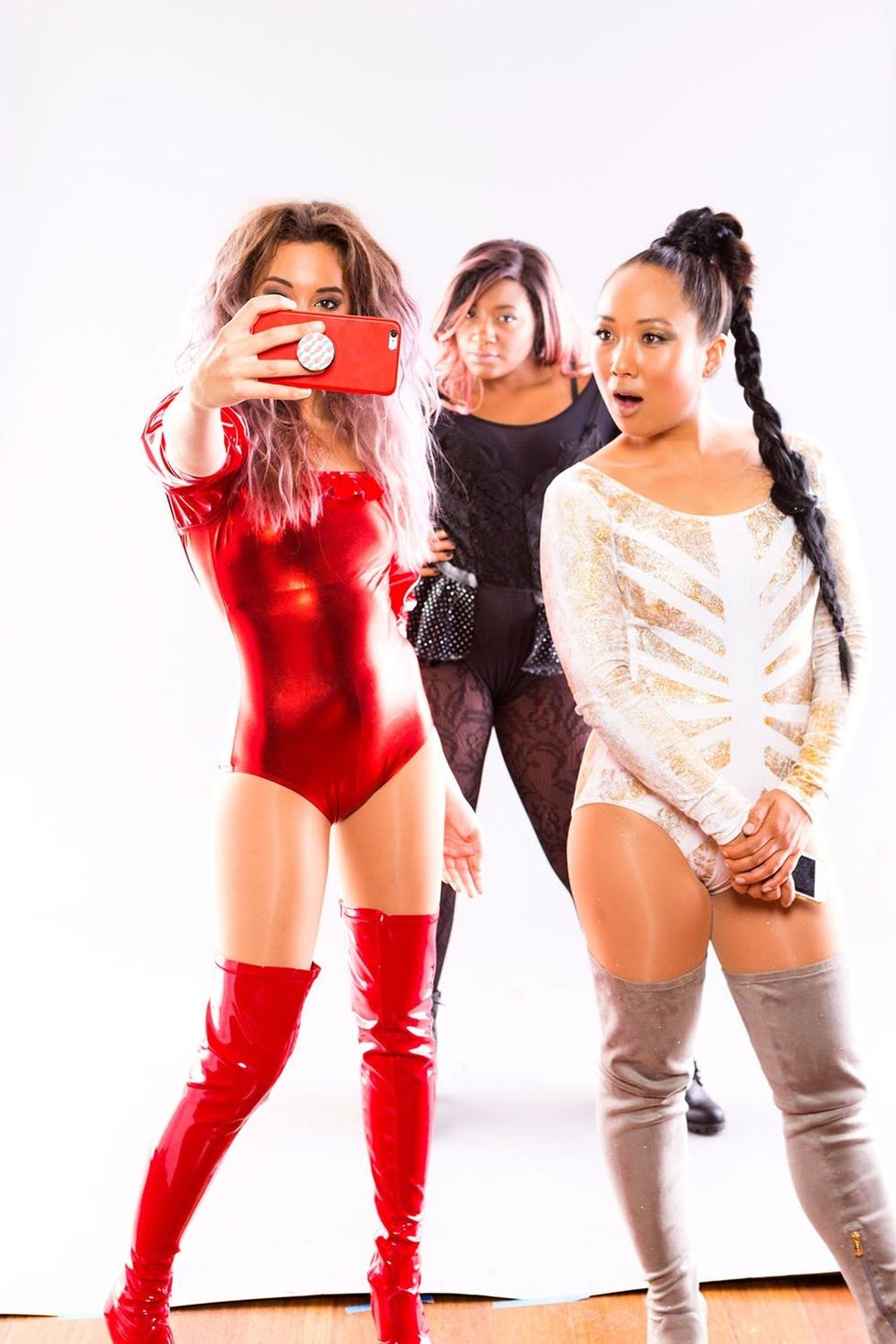 So thankful for these ladies and all the ladies of B+C. Special thanks to Misty for making us all feel truly like Beyoncé.
Will you be dressing up as Beyoncé this Halloween! If so, you need to tag me (@kellaybryden) and B+C on Instagram, using the hashtag #iamcreative! It will MAKE MY DAY. Please do it :)
DIY Production and Styling: Kelly Bryden
Models: Kelly Bryden, Anita Yung, Natasha Thomas
Hair + Makeup: Misty Spinney
Photography: Kurt Andre
Brit + Co may at times use affiliate links to promote products sold by others, but always offers genuine editorial recommendations.
Kelly Bryden
Kelly Bryden, an east coast native, is stoked to be a part of the Brit + Co team. Design, DIY, and fashion are her passions. If she isn't crafting you can catch her on the dance floor or wrapped up in aerial silks.